This vegan Portuguese caldo verde is really easy to create at home and deliciously tasty! A simple recipe that's been a much loved favourite for centuries and with good reason. With aromas of garlic and onion making the base, this soup also uses potato and kale resulting in a hearty, healthy classic. So as those winter nights draw ever closer this wholesome soup is sure to warm your cockles.
In a land of avid fish and meat eaters, Portugal can seem a bit daunting to the ethical eater. Fed up of missing out on regional specialties and traditional dishes? Yup, us too, that why Portugal is our Region of the Month and we will be giving you an insight into the cuisine and culture along with some delicious vegan recipes of the national favorites.
History
As an ex-colony country, Portugal had links to Goa, Macau, Angola, Mozambique, Cabo, Brazil and Malacca (Malaysia). Because of this the Portuguese had access to spices from all over the globe and this can be found in their varied cuisine. Black pepper, saffron, vanilla, cinnamon and chillies (found in the famous piri piri seasoning) are all spices which ordinarily would not be found in Europe at the time. The Portuguese also traditionally use a lot of garlic and olive oil in their cooking. Having all these exotic spices meant that Portuguese food never lacked in flavour.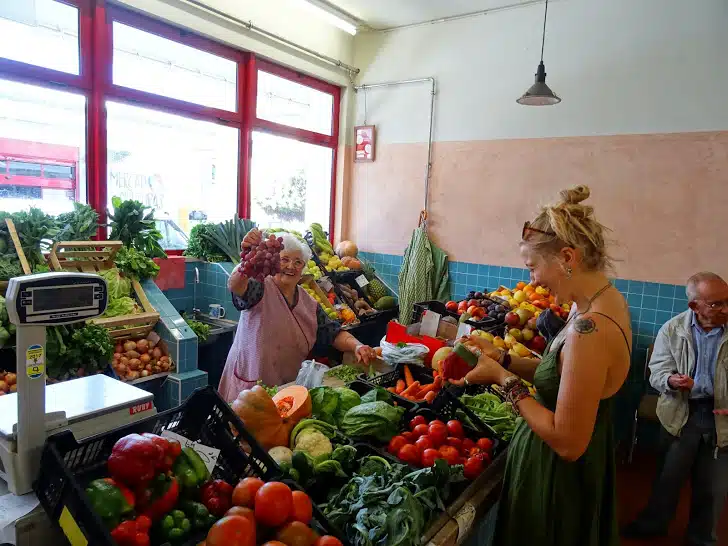 Food shortages at the time of the Second World War still affected Portugal despite them not being involved. This along with the poverty that impacted the country under the rule of
President Salazar meant that the Portuguese had to be resourceful in the kitchen. When using expensive ingredients such as meat and fish the Portuguese got creative and were sure to let nothing go to waste. Dishes would be heavily vegetable-based but always contained some form of meat as people wouldn't want to throw away anything that the human body could eventually digest. Feijoada trasmontana, a bean stew, has a variety of meats added for good measure such as pig hocks, knuckles or ears! In the olden days and still in rural areas families raise their own livestock and are sure to use of every gram of meat. This means that even dishes characterized mainly by veggies will have some form of meat or stock lurking somewhere in the ingredients
Portuguese cooking is distinctly meat and egg based and when it comes to sweet treats it's a
similar un-vegan story. Both the Romans and the Moors, who both ruled Portugal, had a love for eggs in their cooking. Later, as Catholicism spread across the country, many of the monks and nuns were paid by the poor in the form of chickens and eggs. This has caused a long lasting passion for eggy cuisine!
To be blunt, Portuguese food is not "vegan friendly", nor has it ever been. Therefore, unfortunately for us loving vegans, eating traditional foods in Portugal can prove problematic and it's no surprise to find a bit of sausage floating in your soup. With a country that is so rich in culture and proud of their culinary heritage, it would be a huge shame to miss out! So, here's our take on some Portuguese classics with a Veggie Vagabond tweak! Cruelty free, super scrummy and staying authentic!
Caldo Verde
Soup is a popular dish in Portugal and is served hot or cold all year round. One of the most traditional Portuguese soups is Caldo Verde, which means green soup. Originally from the Minho and Tras-os Montes region in the North of Portugal, this soup was historically cooked on the fireplace in a big pot. This served the purpose of cooking the soup and also warming the house! Caldo verde combines; potatoes, kale, olive oil, garlic and salt. Linguica or chourico (pork sausage spiced with paprika, garlic, chillies and salt), is sometimes added towards the end of cooking. Traditionally a few slices would be added for flavour and because people couldn't afford to add any more than that.
Often served at celebrations such as birthday's and weddings, Caldo Verde is most famously served at Festa de São João do Porto (The feast of St. John party in Porto) every June.
Thousands of people flock to the city of Porto in Northern Portugal every year on the night of June 23rd. They fill the streets in celebration and pay tribute to Saint John the Baptist in a party of sacred traditions. The festival has been held in the city for more than six centuries and one interesting tradition still practised today is for people to hit each other with garlic flowers or soft plastic hammers. Other traditional activities include; music and dancing in the streets, jumping over flames, releasing illuminated flame-propelled balloons and eating barbecued sardines and caldo verde. The festivities can often continue in to the early hours the following morning with people dancing and playing music in the streets until dawn.
Recipe
We were eager to try caldo verde as soon as we arrived in Portugal! We were disappointed though to find very few vegan versions of the dish. Eventually we found some vegan restaurants which had exactly what we were looking for! After trying it we discovered why it has been a Portuguese favourite for centuries. When we left Portugal we didn't want this to be the last time we would get to enjoy this tasty classic so we decided to recreate it at home. It's a simple and cheap recipe so an easy one for you to try and its also quite healthy, especially if you follow our recipe. We made enough for two large bowls which filled us up as a lunch. If you are serving as a starter I suggest halving the recipe as the soup can
be quite filling. Trying to keep it authentic we garnished our soup with a vegan chorizo sausage (Linda McCartney chorizo and red pepper sausages), which is optional but adds flavor and keeps the soup as traditional as possible whilst still being vegan.
This soup is really tasty with strong flavors of onion and garlic, perfect to keep those autumn colds at bay. It's a simple recipe and only requires one bowl so minimal fuss! As the days grow colder and nights grown longer this soup is a perfect warming dish to enjoy whilst cosied up with some comfy socks on – sublime! Let us know what you think of this recipe in the comments below and tag us #veggievagabonds on instagram
Ingredients :
1 white onion
6 cloves of average sized garlic
Olive oil (for frying and a drizzle to garnish)

Salt
Pepper
Vegetable stock (I use Kallo because it's organic, has no MSG and uses less salt than regular stock cubes)
2 average sized potatoes (roughly 300g)
500g of kale
1.5 litres of boiling water
Optional: 1 Linda McCartney chorizo sausage
Method;
1. Heat the olive oil in a pan on a low heat and slice the onions in to strips.
2. Once the pan is hot add the onions and some salt and stir until they become translucent.

3. Crush or slice the garlic, I suggest crushing as it releases the flavour better, and add to the pan stirring often.
4. Chop the potatoes in the cubes and once the onions and garlic have browned slightly add to the pan along with the boiling water.
5. Add the vegetable stock and salt and pepper as desired. Allow the potatoes to soften stirring occasionally.
6. (If you are adding in the sausage now is the time to put them in to the oven on 180 degrees, make sure you turn it over halfway through.)
7. After about 20 minutes the potatoes should soften, using the back side of the spoon crush the potatoes in the pan.
8. Add the kale stirring occasionally allowing all of the ingredients to infuse.
9. After about 7 minutes the kale should be cooked.
10. To serve pour in to two bowls. If you're adding the sausage chop it up in to slices and garnish each bowl then drizzle with olive oil.
Let us know what you think of this recipe in the comments below and #veggievagabonds on instagram!