This vegan Portuguese honey, almond and orange cake is zesty, delicious and bursting with flavour. The recipe is based on a Portuguese classic that has been popular for generations and with good reason. Using no refined sugars this cake instead uses agarve nectar and fresh oranges for sweetness giving it a sharp, authentic taste. The result is a truly sublime vegan twist on an amazingly traditional Portuguese cake.
In a land of avid fish and meat eaters, Portugal can seem a bit daunting to the ethical eater. Fed up of missing out on regional specialties and traditional dishes? Yup, us too, that why Portugal is our Region of the Month and we will be giving you an insight into the cuisine and culture along with some delicious vegan recipes of the national favorites.
History
As an ex-colony country, Portugal had links to Goa, Macau, Angola, Mozambique, Cabo, Brazil and Malacca (Malaysia). Because of this the Portuguese had access to spices from all over the globe and this can be found in their varied cuisine. Black pepper, saffron, vanilla, cinnamon and chillies (found in the famous piri piri seasoning) are all spices which ordinarily would not be found in Europe at the time. The Portuguese also traditionally use a lot of garlic and olive oil in their cooking. Having all these exotic spices meant that Portuguese food never lacked in flavour.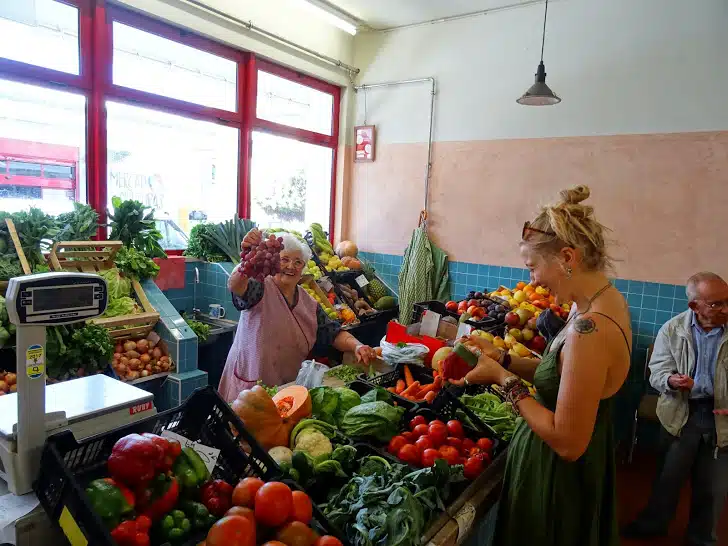 Food shortages at the time of the Second World War still affected Portugal despite them not being involved. This along with the poverty that impacted the country under the rule of
President Salazar meant that the Portuguese had to be resourceful in the kitchen. When using expensive ingredients such as meat and fish the Portuguese got creative and were sure to let nothing go to waste. Dishes would be heavily vegetable-based but always contained some form of meat as people wouldn't want to throw away anything that the human body could eventually digest. Feijoada trasmontana, a bean stew, has a variety of meats added for good measure such as pig hocks, knuckles or ears! In the olden days and still in rural areas families raise their own livestock and are sure to use of every gram of meat. This means that even dishes characterized mainly by veggies will have some form of meat or stock lurking somewhere in the ingredients
Portuguese cooking is distinctly meat and egg based and when it comes to sweet treats it's a
similar un-vegan story. Both the Romans and the Moors, who both ruled Portugal, had a love for eggs in their cooking. Later, as Catholicism spread across the country, many of the monks and nuns were paid by the poor in the form of chickens and eggs. This has caused a long lasting passion for eggy cuisine!
To be blunt, Portuguese food is not "vegan friendly", nor has it ever been. Therefore, unfortunately for us loving vegans, eating traditional foods in Portugal can prove problematic and it's no surprise to find a bit of sausage floating in your soup. With a country that is so rich in culture and proud of their culinary heritage, it would be a huge shame to miss out! So, here's our take on some Portuguese classics with a Veggie Vagabond tweak! Cruelty free, super scrummy and staying authentic!
Vegan Orange, Honey and Almond Cake
During the 15th century monks and nuns paved the way for confectionary throughout Portugal. To starch their laundry nuns and monks would use egg whites! This meant a lot of leftover egg yolks that had no use. With a bit of creativity and a lot of time on their
hands they conjured up an array of recipes that have been enjoyed for centuries. Rita João and Pedro Ferreira, authors of the Portuguese pastry encyclopedia Fabrico Próprio: The Design of Portuguese Semi-Industrial Confectionery, write, "These places of faith and seclusion were often true laboratories of creation, where the religious dedicated themselves to rescuing old recipes, or to testing new ingredients from all over the world." With so many convents in Portugal, the variety of sweet treats was abundant and enjoyed across the country. In the Évora district alone there were 11 convents in the 16th century! The monks and nuns had a sense of humour naming pastries; "angel's double chin" and "bacon from heaven".
The main ingredients used would be egg yolks and sugar with flour, nuts, cinnamon, vanilla, coconut and other spices. Today more than 200 delicacies are still prepared to their original recipe!
Traditional European oranges were very bitter and were only ever used for marmalade. That all changed when the Portuguese brought over sweet oranges from India and China. Sweet Oranges became popular amongst the wealthy in Europe. But when they were first introduced oranges were very expensive and could only be enjoyed by royalty and the very wealthy. As time went on and sweet oranges became more widely available, lay people were able to afford them and it wasn't long before the orange cake was a favourite across the country.
Recipe
As with most Portuguese cakes this recipe isn't traditionally vegan friendly as it contains the ever present eggs. But never one to miss out when it comes to a tasty treat, here at Veggie Vagabonds HQ we have devised a super scrummy vegan version that is zesty, gooey and scrumptious. This cake uses no refined sugar and instead uses agave nectar and orange for sweetness. I think it's that much better using naturally sweet ingredients rather than processed sugar. This is also my first recipe cooking with that vegan favourite that is flax meal. I've always been put off by the price tag but decided to try something new as It's also very good for you! The end result was a success – I am a convert and look forward to many more recipes with flax eggs. So give this spin on a much-loved classic a go and let us know what you think in the comments and #veggievagabonds on instagram.
Ingredients;
250g plain flour
100g ground almonds
4 teaspoons of baking powder
1/2 teaspoon of salt
5 tablespoons of flax meal
10 tablespoons of water
1 cup algave nectar
rind and juice of 3 oranges
icing sugar to dust
Method;
1. Grease a baking tin, roughly 20cm, and preheat the oven to 160 degrees.

2. Make the flax eggs by mixing the flax meal with the water and leave to set for about 10 minutes.
3. Blend the four, ground almonds, baking powder and salt until evenly combined.
4. Once the flax eggs have set whisk with the algave nectar, then add the orange zest and juice.
5. Fold the wet mixture in to the dry mixture until fully combined.
6. Pour the mixture in to the baking tin and bake for one hour or until golden and a toothpick comes out clean. 
Let us know what you think of this recipe in the comments below and #veggievagabonds on instagram so we can see your your creations!