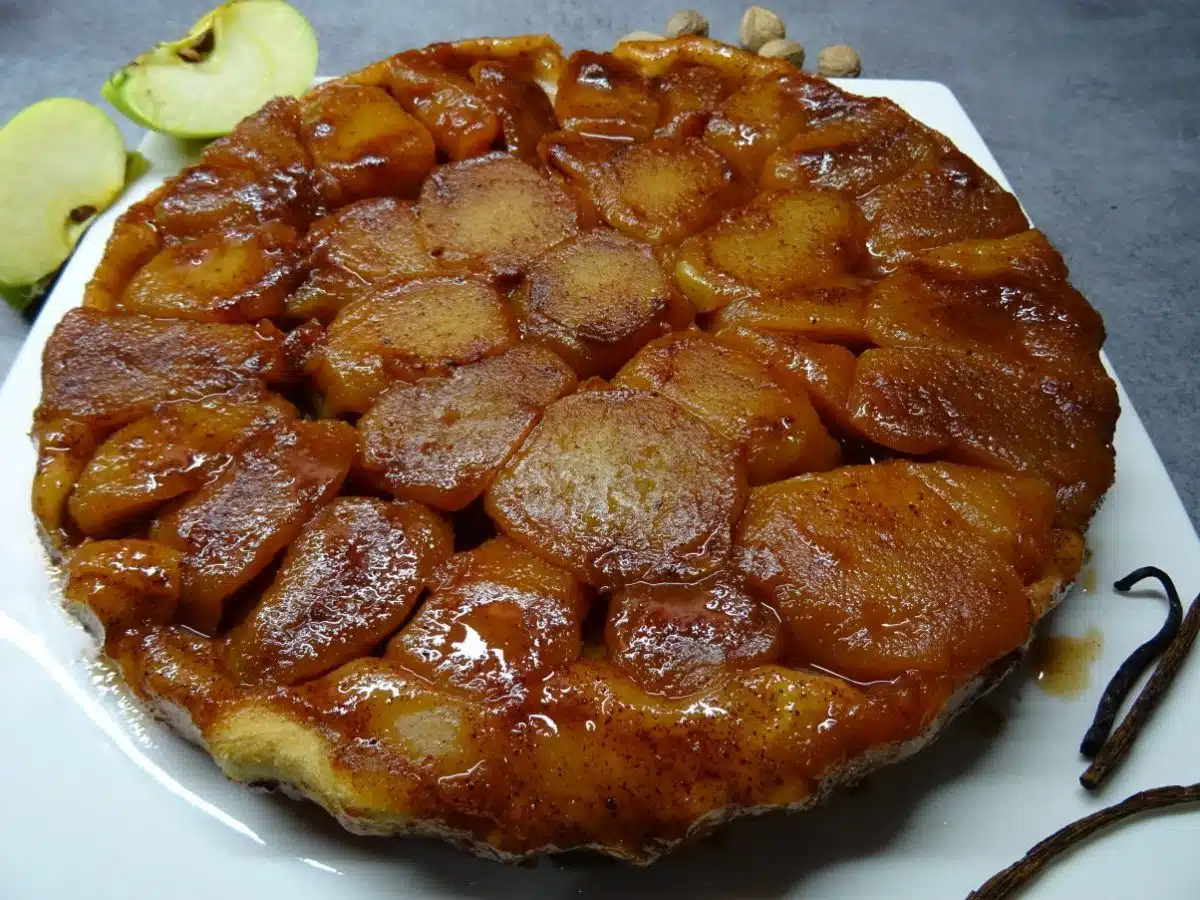 Sticky, sweet and with perfectly spiced undertones; this vegan tarte Tatin is a veganised version of the much loved traditional French dessert.
Whilst pedalling through France we've learnt a few things; French people are very hospitable, it's common to drink tea from bowls, cycling uphill is easier without 40 kg of extra weight, peeing in public toilets is a risky move and most importantly traditional French food is hard to come by as a vegan.
If you've been following our journey you'll know that we've been staying with locals throughout France, be it for a night or sometimes a few weeks, which has given us a true insight into French culture. Whenever we've been welcomed into someone's home they've greeted us with warm smiles, as if we've been old friends, and made us feel right at home. It really has been a fantastic experience.
Often our hosts have prepared us a home cooked meal and have been surprisingly accommodating of our veganism. For many it's been the first knowingly vegan meal they've prepared! As we'd sit down for dinner and exchange stories we would always ask the same question at some point or another:
"What traditional French food can we try that's vegan?"
And every time we would get the same thoughtful expression, followed by the same answer:
"Nothing".
We always love experimenting with classic dishes when we're travelling and trying to give them our vegan spin. In France this has actually been a necessity as nearly every traditional recipe contains some animal product.  
When cycle touring you work up quite an appetite, which is great as it means you can indulge that little bit more at meal times. However, this only works when there is food to indulge on. In France we've been burning a lot of valuable calories just to find something plant-based. In Northern France this was particularly the case as the countryside is vast and you can cycle for miles and see nothing but farmers land. On the rare occasion you might pedal through a small village but surprisingly it was tricky to find any shops or grocers.
One thing you might be likely to find is a boulangerie or bakery. Usually very sweaty and smelly, when we would eventually found one my eyes would light up at the sight of sweet treats, delicious pastries and decadent cakes. In my very disjointed French I would always ask:
"Do you have anything without egg, milk and honey?"
Can you guess the answer? We ended up eating a lot of bread. Don't get me wrong the baguettes are amazing but after cycling 65 miles the sight of a scrumptious sugary dessert is a lot more appetising. 
As soon as the opportunity arose to get creative in the kitchen I seized the chance and got my bake on. Whilst staying with our hosts Hildé and Pete in Fericy it was the first time cooking on something other than a camping stove. Tarte Tatin is something I've always wanted to try but have never had the chance. After talking with Hannah, our hosts daughter, I decided this would be the perfect dish and got creating right away.
Similarly to the original creation of this classic dessert my first attempt was a bit of an improvisation. Unlike the classic, unfortunately, mine was a bit of a flop and didn't turn out well. Very politely J, Hilde and Pete made the right noises and said they enjoyed it but tactfully said it was "different" and " unique".
So it was back to the drawing board or in this case the kitchen to get creative again and alas, success! The second attempt was a triumph and we feasted on a modified and improved vegan tarte Tatin on our last night in Fericy with our new friends. 
History
The tarte Tatin is believed to have been created by accident in a Lamotte-Beuvron roughly 100 miles south of Paris in the 1880s. Stéphanie and Caroline Tatin were two sister who ran the Hotel Tatin with Stéphanie being the chef of operations. The story goes that Stéphanie was overworked one day and whilst making a traditional apple pie left the apples cooking in the butter and sugar for too long. Upon smelling the burning she tried to rescue the dish by putting the pastry base on top of the over cooked apples and putting the whole thing in the oven. After turning out the upside down pie she was surprised at how much her guests enjoyed it. 
The tarte became a signature dish of the hotel despite the sisters never intending to do so – they never published the recipe or wrote a cookbook. It wasn't until after they passed away that the recognition was given to them by Curnosky, a famous french author and owner of the Parisian restaurant Maxim's.
For this vegan tarte tatin I've substituted the butter for agave nectar and made the pastry from scratch. I think it's great to create a whole dish from start to finish so you can feel a sense of pride knowing you made it all yourself (even if it doesn't always turn out as intended).
This recipe is time consuming as it has many elements but overall isn't too difficult. The only tricky part I would say is flipping the tarte over. I always give the tin a good tap to loosen it up and so far it's always done the trick. Enjoy the recipe and let me know what you think in the comments below or on social media with the #veggievagabonds.
Vegan Tarte Tatin Recipe
Serves: 8 slices 
Preparation time: 1 hour 
Baking time: 20 – 25 minutes  
Ingredients:
Roughly 9 apples peeled and quartered (this will depend on the size of the apples but you'll need enough to cover the base of the tin when quartered)
2 vanilla pods
2 teaspoons of ground cinnamon
2 teaspoons of ground ginger
1 teaspoon of ground nutmeg
2 1/2 tablespoons of lemon juice
200ml of agave nectar
150 grams of brown sugar
For the pastry:
400 grams plain flour
100 grams of vegan butter or margarine
50ml of water 
Method:
1. Begin by making the pastry by adding the flour to a large bowl followed by the vegan butter. Then rub the mixture together with your fingers to make a breadcrumb like consistency.
2. Slowly add the water bit-by-bit whilst continuing to mix with your hands to make a smooth ball of dough.
3. Leave the dough in the fridge to rest for about 30 minutes. 
4. Meanwhile peel the apples, cut into quarters and remove the core.
5. Preheat the oven to 180° C.
6. Add the agave nectar, sugar, lemon juice, nutmeg, cinnamon, ginger and vanilla to a pan on a high heat to bring the mixture to a boil then reduce to a simmer.
7. Add the apples to the mixture and cook until softened stirring occasionally to ensure they cook evenly.
8. Allow the apples to cool slightly then begin to arrange them in the tray. Place them flat side down and as tightly as possible covering the whole of the tray.
9. Roll out the pastry and place on top of the apples pushing it down so that it hugs the apples. You can then cut the excess pastry off the sides.
10. Place the tin in the oven to bake for about 20 – 25 minutes until the pastry has browned nicely.
11. Allow the tarte to cool for about 15 minutes before carefully tipping upside down to serve.