Start the day from your tent in the most delicious way possible with this easy 3 ingredient vegan pancake recipe
---
When it comes to camping breakfasts, pancakes are the ultimate way to wake up with a smile in your tum. They're cheap and incredibly tasty, acting as the ideal vehicle for sweet or savoury toppings, plus they're great for sharing.
Vegan pancakes appear a little more indulgent than your standard porridge affair, which can give the illusion that they're complicated to get right. This simple vegan pancake recipe debunks that myth though, as there are few ingredients and you can customise the toppings to suit your fancy.
These vegan pancakes are my favourite thing to eat on outdoor mornings as they're so damn tasty. Plus, they're incredibly easy! You can whip up a tasty batch whilst nattering about the day ahead around the camp stove first thing.
This vegan pancake recipe is:
Delicious
Easy
Versatile to be sweet or savoury
Quick to make
Minimal fuss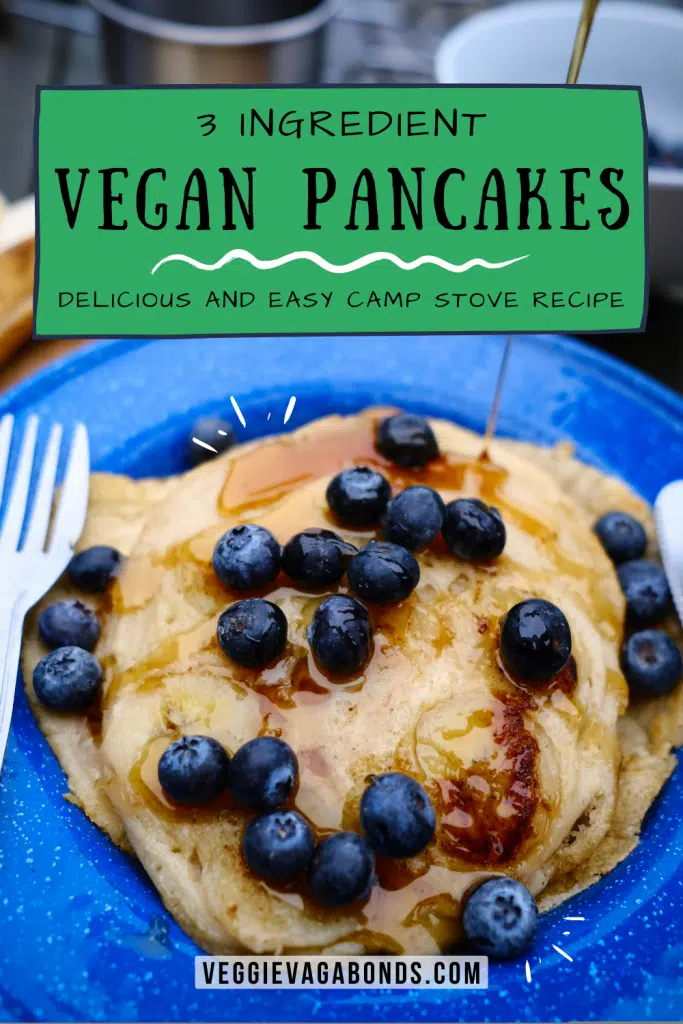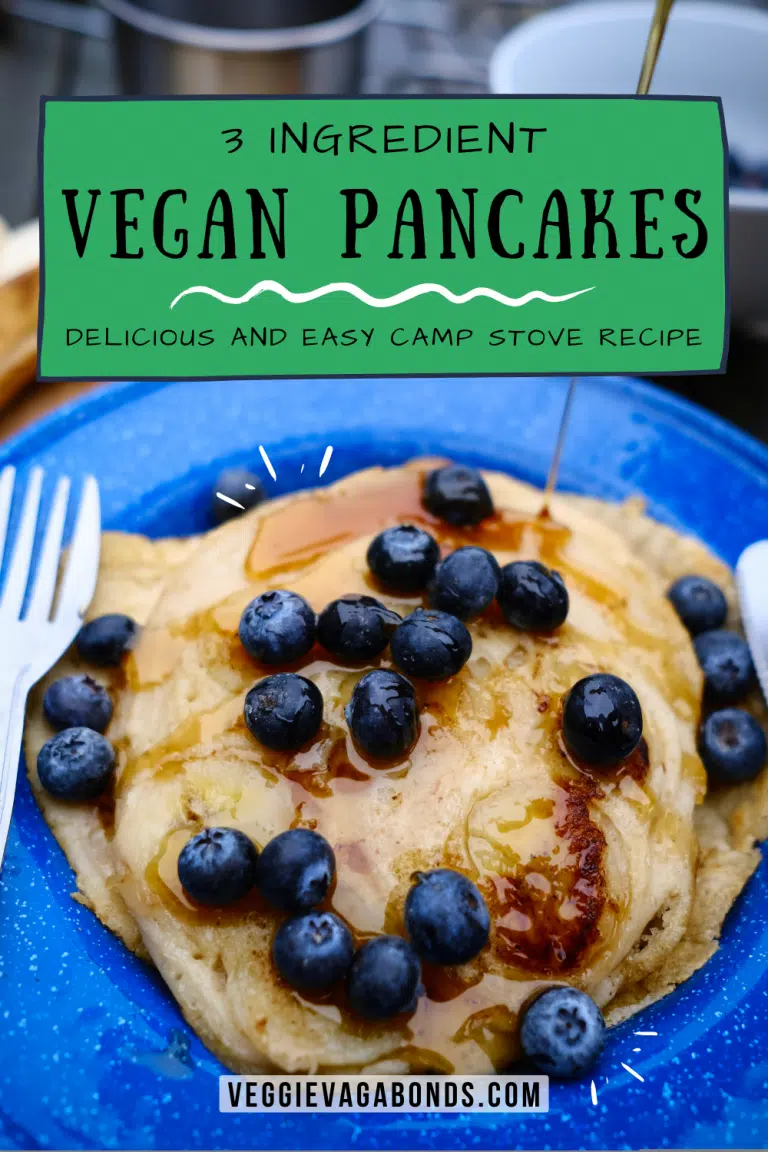 How to make vegan pancakes
As I said, pancakes can get a rep for being a bit of a challenge (not what you want when the mountains are calling and you still need to break down camp).
For this reason, this 3 ingredient pancake was created with adventure in mind.
They're super easy to make, using minimal ingredients but with tasty results.
1) In a bowl or container, mix the flour and baking powder. At this point, you can also add a pinch of salt or a teaspoon of sugar if you want the batter a little flavoured. You can easily skip this step though and your pancakes will still be incredibly tasty.
2) Add the milk and whisk thoroughly to ensure there are no lumps in the batter.
I used almond milk but you can sub this for any plant milk of your choosing.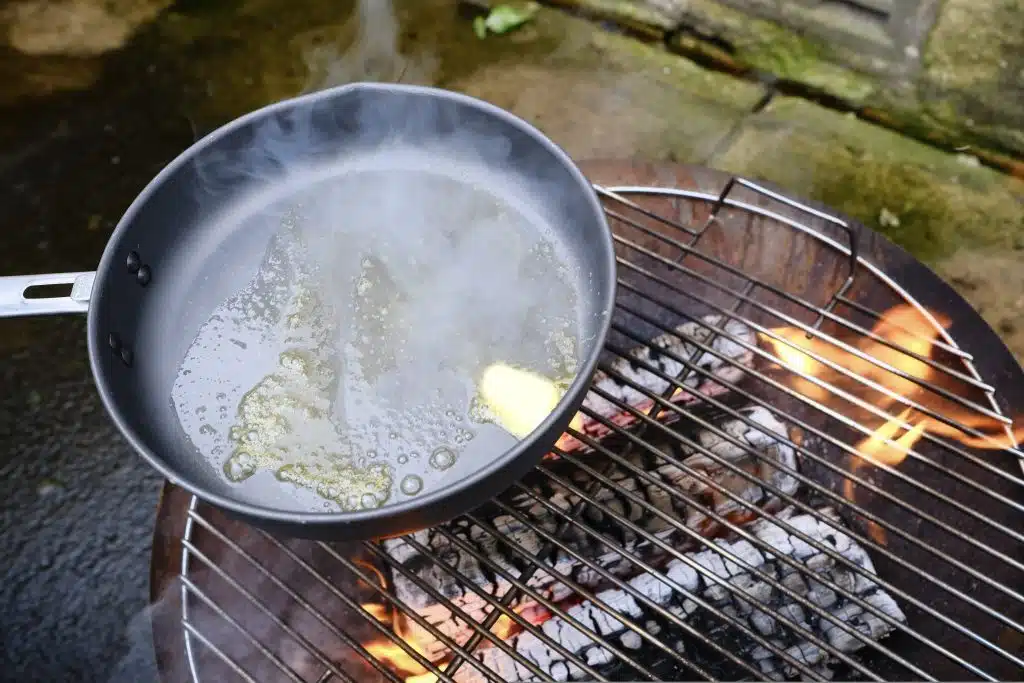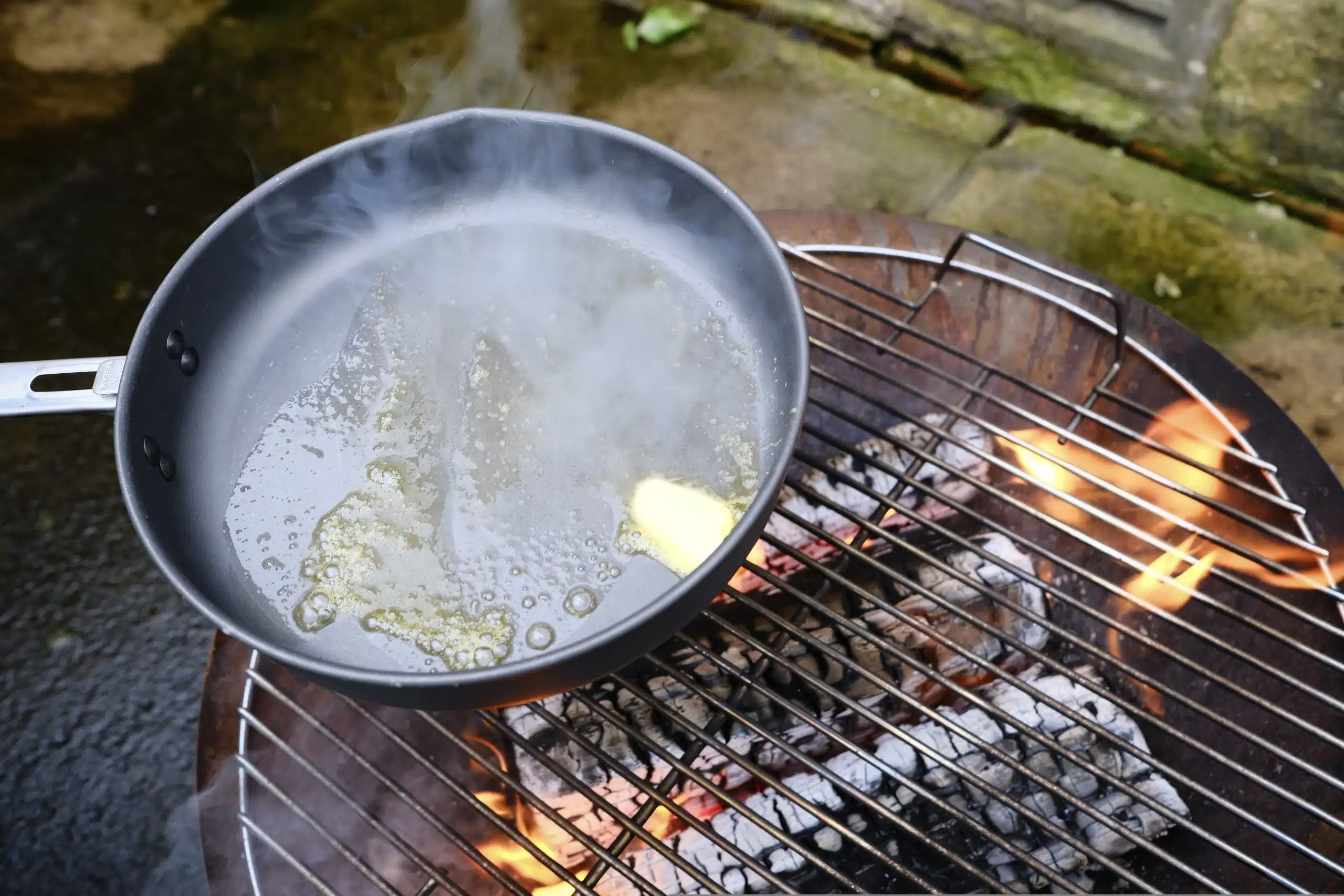 3) Add a splash of oil or margarine to a piping hot pan over the stove or fire. Then pour in the batter to your desired size.
4) Let the mixture cook for a good few minutes before any poking or prodding. This gives the pancake a chance to form properly and stops them from falling apart when it comes to flipping them.
This is also a good point to add any extras to your batter. I recommend vegan pancakes with banana, as they're the optimum morning munch for eager wanderers. Simply slice your banana and place on your pancake as it cooks.
If banana isn't your thing, for sweet pancakes you could us:
Blueberries
Chocolate chips
Apple or pear slices (nice with cinnamon!)
Marshmallows (for the more indulgent)
Mixed berries
Peanut butter
If you fancy savoury pancakes:
Sliced mushrooms
Spinach leaves
Baby tomatoes
Tofu
Vegan sausages or facon!
What else do you love to add to your pancake creations?
For more vegan recipes and ethical adventure inspiration, be sure to sign up for our mailing list below!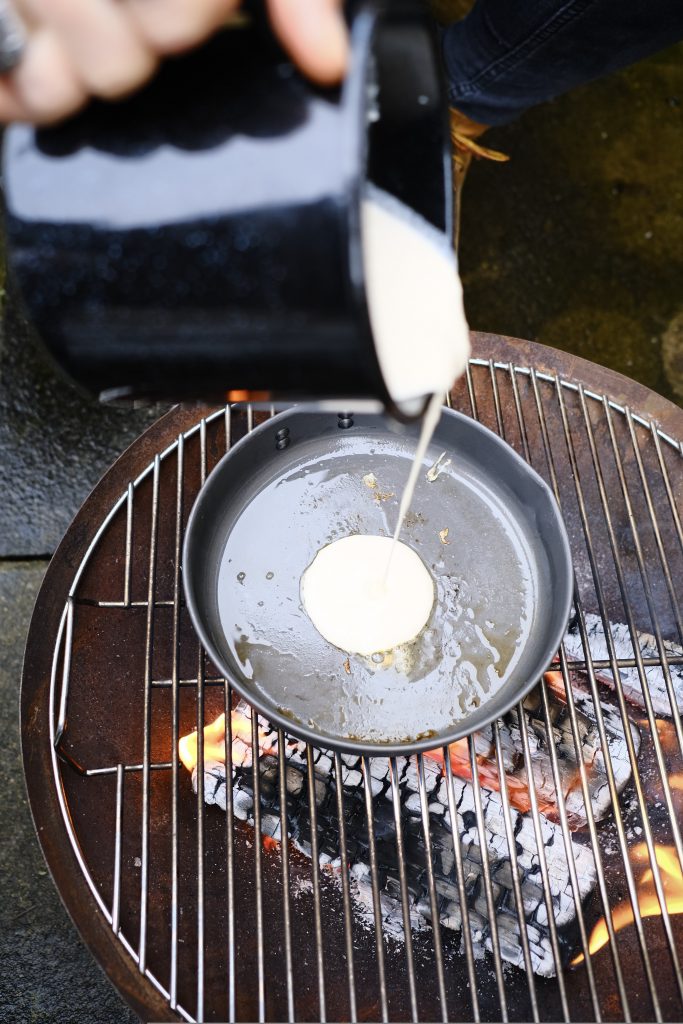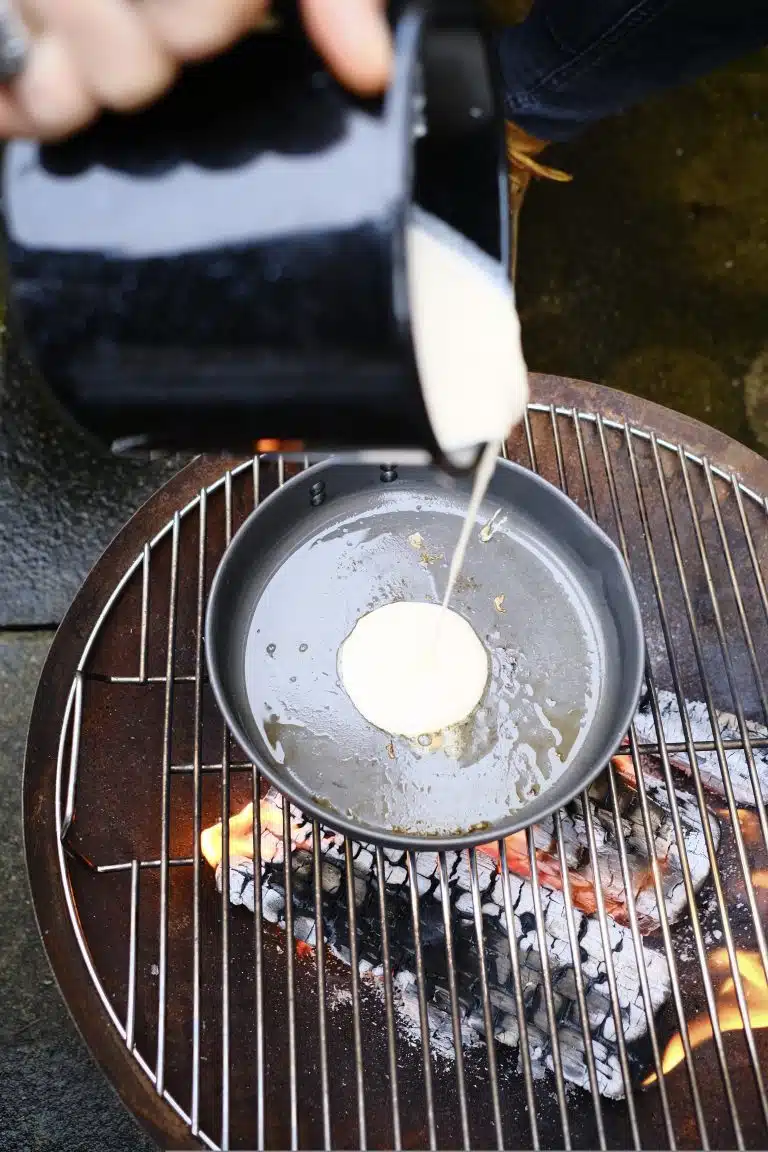 5) After about 3-5 minutes you'll start to see bubbles forming and this is a good indication of when it's time to flip them. If you're brave, like J, go for the one-handed-pan-flip. If, like me, you think breakfast is too sacred to take a chance with, opt for flipping with a spachelor.
Depending on how hot your pan is the pancakes may take longer, so pay attention to those bubbles to know when to flip them.
6) Let your pancakes cook on the other side for slightly less than the first side. If you like them a little crispier, then cook them for a little longer and once you're happy with them, stack them up to tuck in!
---
Looking for more vegan camping breakfasts? You're in the right place…
---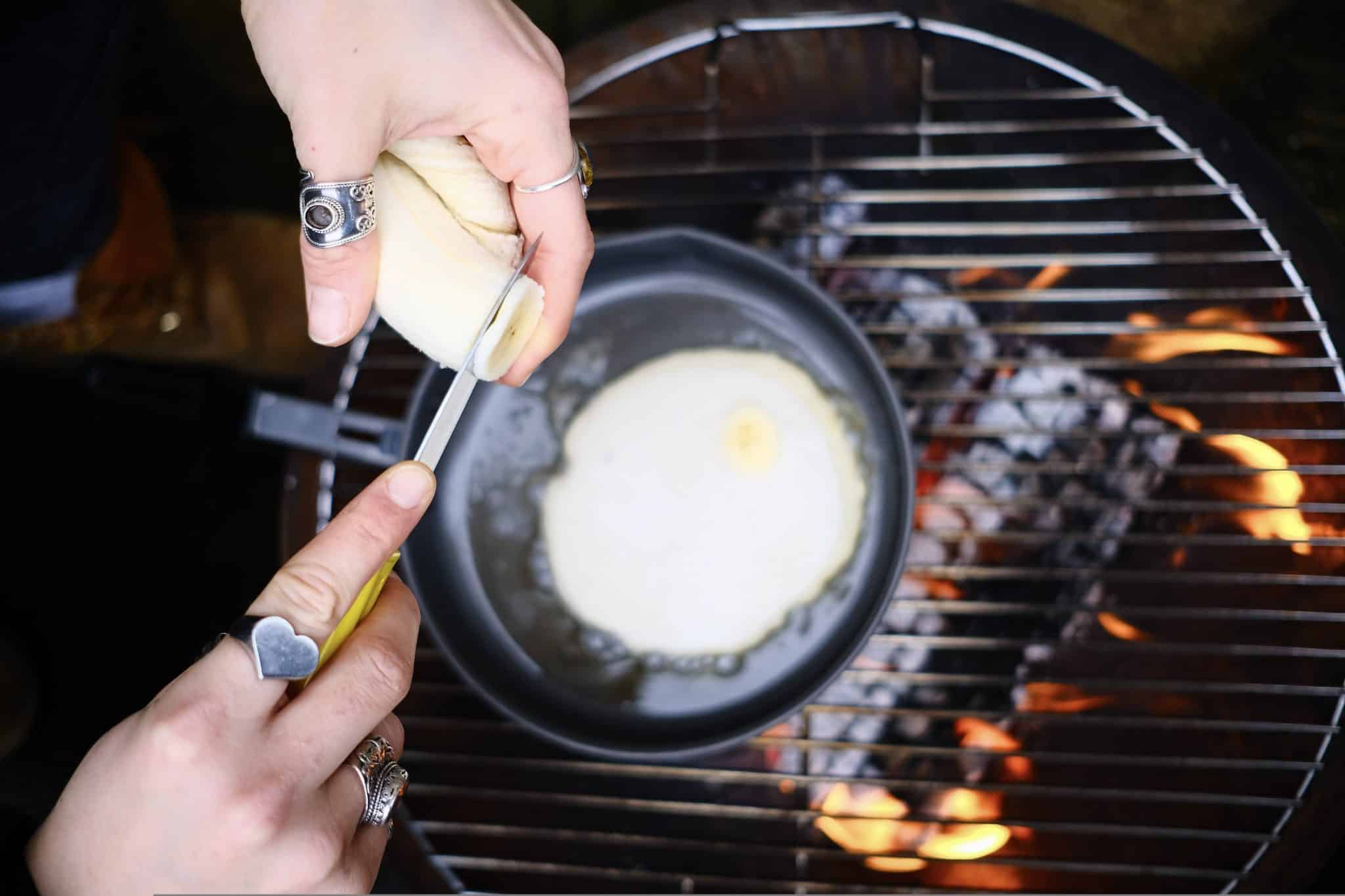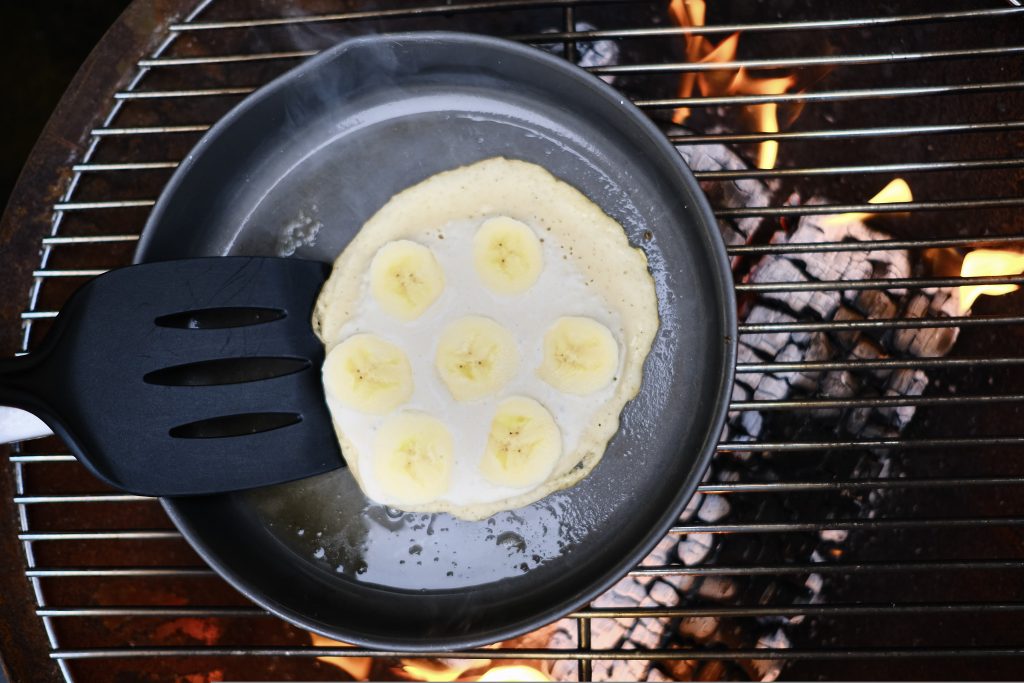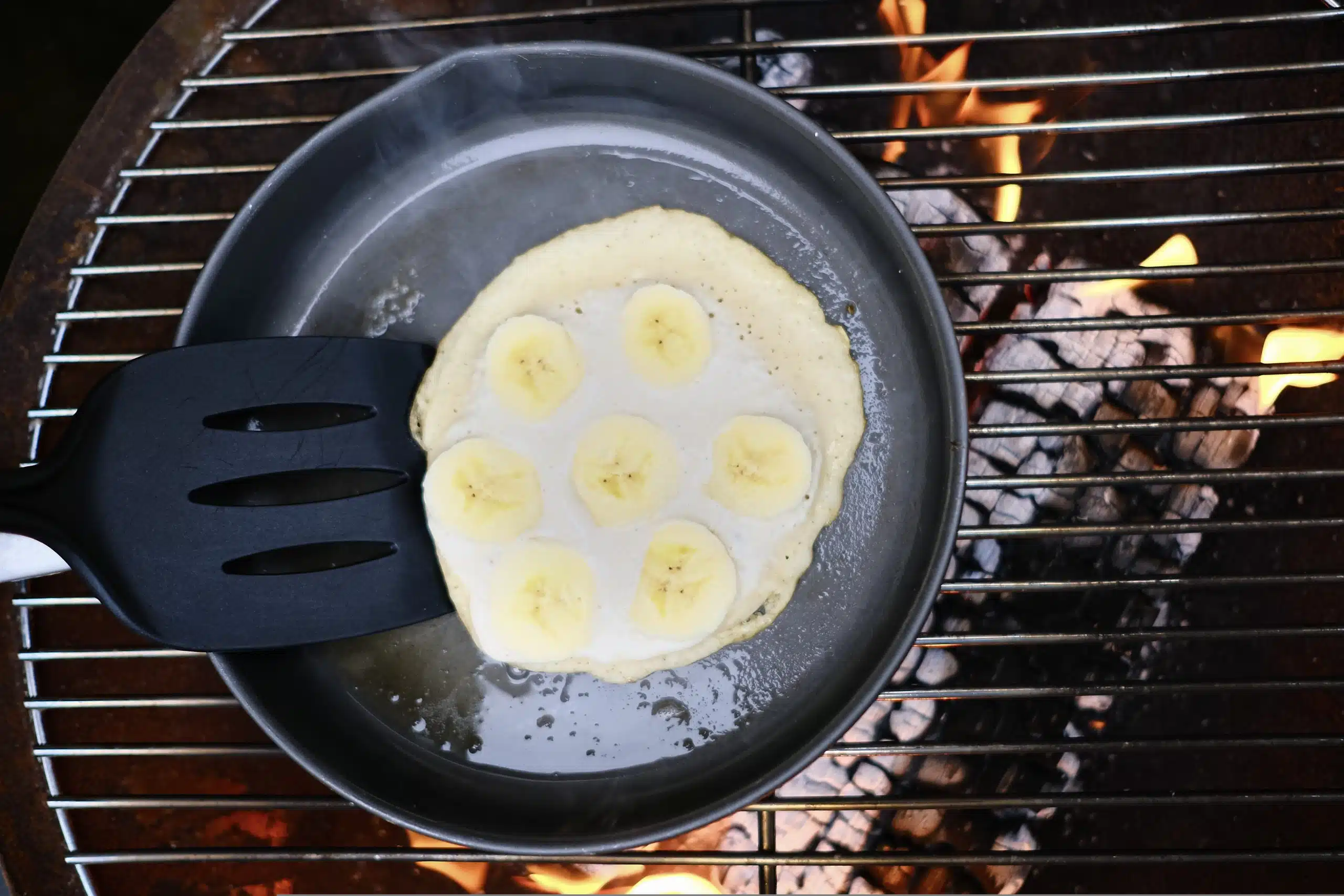 Top tips for your 3 ingredient vegan pancakes
– Pre-mix your dry ingredients at home as this saves time and mess when at the campsite. You can also adjust the measurements to account for how many days worth of pancakes you want.
– Let the batter sit for 5-10 minutes before cooking, as this gives the flour chance to absorb the milk and thicken up. In the meantime, whilst you wait it's the perfect time to put your coffee on to brew.
– Keep your pancake size to the size of your heat source (fire, stove, flame) as otherwise, the middle will cook a lot faster than the edges.
– Oil or grease your pan between pancakes to stop them sticking as this is the fastest way to ruin a pancake.
– Keep an eye on those bubbles as they tell you when it's time to flip. Avoid the temptation to take a peek on the underside beforehand, as they'll most likely tear.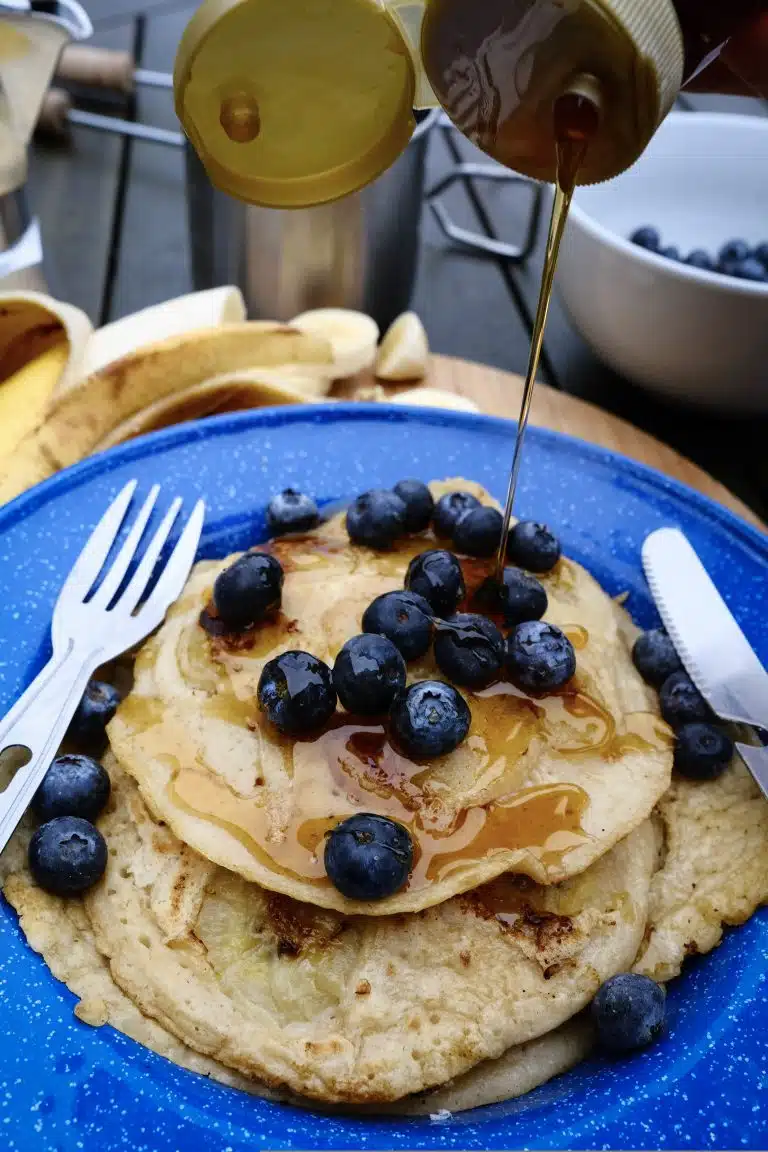 The ideal vegan camping breakfast
These 3 ingredient vegan pancakes are served best with slices of banana, then fresh blueberries on top and lashings of maple syrup. They're packed with plenty of goodness to get you rearing to go in the morning when your energy tank needs a top-up.
With only 3 main ingredients and customisable toppings, we love these vegan pancakes as an easy camping breakfast, ideal for mornings in your tent or on a campfire.
You can whip them up with a warming brew, giving you time to focus on the day's adventures ahead. Or, treat yourself to some evening pancakes, sharing with fellow campers as the sun drops its head over the horizon.
Made too many? Turns out they're great rolled up and munched on for lunch. So don't be shy and use every last bit of that batter.
Planning an adventure? Check out our vegan camping food guide for some tasty inspiration for your trip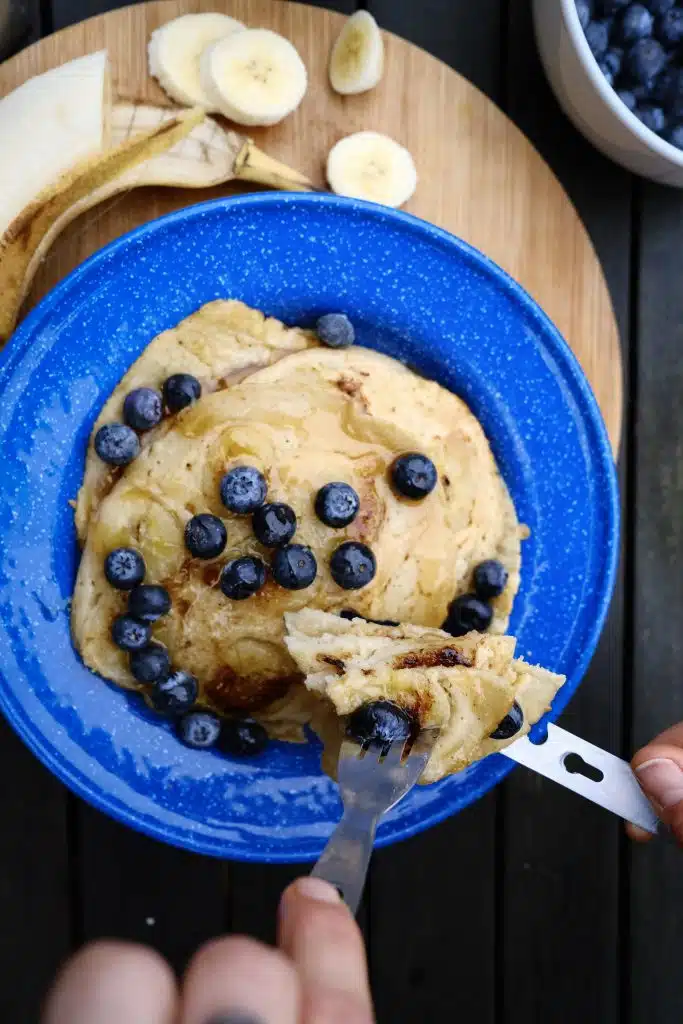 Give the recipe a try, tell us what you think in the comments below and tag us on social media – happy camping!
3 Ingredient Vegan Pancakes
Simple and delicious 3 ingredient vegan pancake recipe that's perfect for camping breakfasts.
Ingredients
1

cup

plain flour

1

cup

almond milk

1

tsp

baking powder

oil or margarine for frying
Optional extras
1

pinch

salt

1

tsp

sugar

1

banana

125

grams

blueberries

4

tbsp

maple syrup
Instructions
Heat a pan over a hot flame.

Mix all the dry ingredients: flour and baking powder, also the salt and sugar if you're using them.

Add the oil or margarine to the pan and pour in the batter for one pancake worth.

Place sliced bananas if using them and let the batter cook for 3 – 5 minutes or until you see bubbles before flipping it.

Cook for 2 – 4 minutes on the other side.

Serve with fresh blueberries and maple syrup.
Nutrition
Calories:
226
kcal
Carbohydrates:
50
g
Protein:
4
g
Fat:
1
g
Saturated Fat:
1
g
Sodium:
202
mg
Potassium:
209
mg
Fiber:
3
g
Sugar:
20
g
Vitamin A:
36
IU
Vitamin C:
6
mg
Calcium:
165
mg
Iron:
2
mg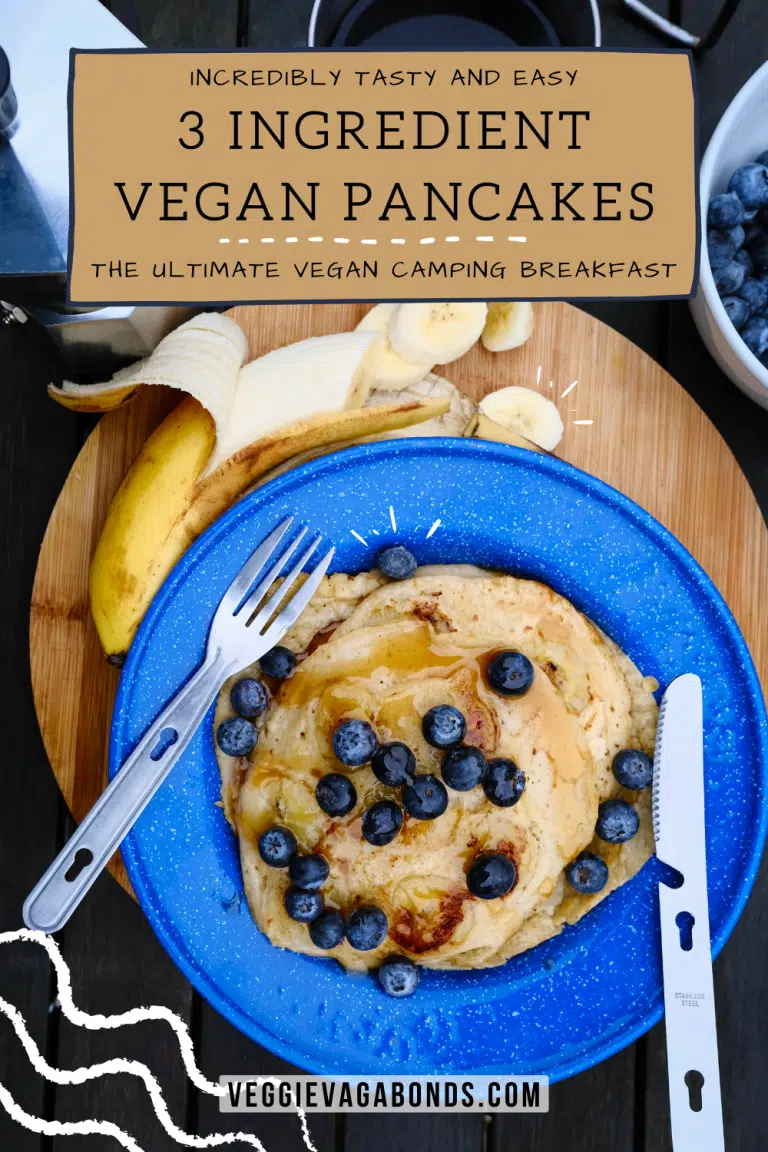 3 Ingredient Vegan Pancakes – Ultimate Camping Breakfast