Finding the right accommodation in France can be quite complicated – it's a BIG country with many options – this article covers all the ins and outs so you can find the right thing for your adventure!
---
France is one of the most visited destinations in the world and it's not surprising why. We were meant to be here for 1 month, we've now been here for 8 (and counting). Whilst the country might be famous for the Eiffel Tower, its cuisine and the Lourve, France is also an absolute dream for adventure-seekers – that's what has kept us here!
From North to South, East to West, France is crammed full of outdoor pursuits suited to every person, at any time of year. Hiking, climbing, cycling, skiing and snow sports, rafting, paragliding, mountaineering, surfing… you name it, France has it.
So, whilst most information on the internet focuses on accommodation for sightseeing and holiday-makers, we'll be showing you how to find the best options for adventure-based trips. From mountain refuges and countryside camping to conveniently placed hostels, hotels and self-catering rentals. All the places you can lay your head as close to the action as possible.
Use this guide to help you find the best accommodation for backpacking in the Alps, cycling Euro Velo routes, climbing trips to Fontainebleau and surfing in the Basque County, plus everything in between. Oh, and we've also got some unique suggestions for free accommodation and money-saving tips you're gonna love!
P.s. this guide will also work for regular visits too, just expect some stunning scenery!
In this guide to accommodation in France, you'll find:
Part 1: France Accommodation Essentials
How much is accommodation in France?
Best get to the crucial part quickly, because, France ain't a cheap country for accommodation. Getting an idea of costs before means you can plan your trip better and also save yourself some money.
If you're looking at this and thinking 'balls, there's no way I can afford France', we've got some money-saving tips and free accommodation ideas at the bottom. France most definitely IS worth the extra expense – the adventure opportunities are never-ending!
Accommodation prices in a nutshell
Hostels, mountain refuge & camping – €10 to €30 per night per person (camping per tent)
Budget private rooms, small hotels, self-catering rentals – €40-€60 a night for a 2-person room
Midrange private rooms, hotels, self-catering rentals – €80-€120 a night for a 2-person room
Flash stuff – Skies the limit!
In most cases hostels, mountain refuges and camping will be the cheapest option. Occasionally, in rural or smaller areas, it might be cheaper to get a private room, rather than pay for 2/3/4 people in a hostel.
Private rooms in France generally start around €30.
Prices often rise on weekends, holidays and high season. If you're looking for mid-range accommodation, you can generally find cheaper prices booking further ahead or for longer periods of time. It's also important to bear in mind that accommodation in Paris, the South of France and the Alps are generally more expensive.
When to visit France
France is a year-round destination but accommodation choices significantly change depending on when you plan your trip. Rates can drop by up to 50% outside of peak season and then become hard to book in busier months – plan accordingly!
Low-lying areas and around the coast – The high season is during the summer, particularly July and August when it's important to book ahead. Some places in coastal areas may shut during the winter however many others remain open and have reduced rates.
Mountain regions – Mountain areas vary depending on what activities are available over the course of the year. Places like the Pyrenees or Chamonix are popular for skiing but also have hiking and cycling in the summer, making them busy year-round. Other mountain regions which are not used for skiing may be difficult to reach or find accommodation during the winter months.
Skiing regions – Busiest during Christmas and the school holidays between February and March – important to book ahead. Many amenities in ski resorts close down for the summer months and accommodation may become sparse.
Part 2: How to Find Accommodation in France and Book
For some types of trips, booking in advance is fairly crucial. If you are:
Planning on visiting remote areas with limited accommodation

Will be travelling during peak season

Want to stay in a specific place, like a small and popular mountain refuge

Will be on a short, fast-paced trip
Aim to get planning at least 6 months before. This way you'll have a full range of options, will save time and hopefully some money.
If you're more flexible, will be travelling through quieter areas at quieter times then you can be more relaxed. In our experience finding accommodation in person did not save any money.
When planning an outdoor trip, these are the steps we'd advise:
Pick an activity you want to do e.g. climbing

Pick a destination for the activity e.g. climbing in Fontainebleau

Decide when is the best time to visit e.g. climbing in Fontainebleau is best in spring and autumn

Start searching online for accommodation straight away
With your destination and dates chosen, these are some simple steps to searching for accommodation online:
Use Google Maps to see all accommodation options in the area
This way you'll be able to see whether camping, hostels, hotels, self-catering etc is the best option and whether to stay somewhere close to the action or further away. You can also see if demand is high and how far in advance you should book.
2. Decide on your accommodation type and do a more detailed search
Using specific websites you can then search for 'camping in Fontainebleau' or 'self-catering in Fontainebleau'. In the next section, we'll look at the best places to find each type of accommodation.
3. Compare options, check reviews and book
When you've got specific accommodation choices you can compare prices online, check reviews on websites like TripAdvisor and then make your booking.
Travel Essentials 

Some of the best accommodation is only practically reached with your own transport. Renting a car might be a good option to save time and money. 
Where to find accommodation at a glance
More than 100 hostels across France

Good budget options starting from €10

Can be more flexible with booking
Airbnb
Great for finding local self-catering or small accommodation

Can find locations right in the outdoors and good for activities

Prices starting from €10-€20 a night
Booking.com
The biggest selection of accommodation in France

Covers hostels, hotels, campsites, B&Bs and self-catering

Can save time by looking at the widest selection in one place

Competitively priced
Part 3: Types of Accommodation in France
Camping
In French – Camping
The French love camping, and, if you're planning an outdoors trip then you probably will too. Many are located in stunning natural areas all over the country, making them a wise choice for outdoor-lovers.
Options vary from simple camping municipaux to swanky, well-equipped glamping sites. You can take your own camping gear, or it's possible to rent tents, yurts, caravans, pre-pitched luxury tents and trailers.
Most campsites in France run from Spring to Autumn, though you may find some in warmer southern regions available through the year. If you're wanting to visit a particularly popular area and stay at a well-located site, it's wise to book ahead.
Depending on the campground, you might be charged per person, per tent or per car. Some also charge more for larger tents and all have additional fees if you're wanting an electric hookup for RVs or vehicles. Expect to pay a holiday and electric charge, though this is generally very small.
Unfortunately, some of the best campsites are not easy or even at all possible to reach directly by public transport. You may have to get creative with local transport and then a thumb by the side of the road.
Warning: France also has plenty of campsites for local travellers (not tourist travellers). If you use Google Maps for searching make sure you check it's one for tourists!
Good Points
Often close to hiking trails, cycling paths, climbing areas or natural attractions

Some of the cheapest accommodation in France

A good choice for bigger groups, families and people booking last minute

Independent and self-sufficient
Bad Points
Can be difficult to find in mountainous areas

Sometimes difficult to reach

May not be an option in winter months

Need to bring camping gear

Exposed to elements
How much do campsites in France cost?
€10-€30 a night for a 2-person tent. Camping Municipaux is the best budget option, offering no-frills camping options.
How to find campsites in France?
Campsites are definitely best found online and we found the most comprehensive selection was found using Google Maps and searching 'camping' in your area of interest. You'll find the national website Camping France very helpful and booking.com has 249 camping options in the South of France alone.
When we cycled the Via Rhona, we only booked campsites ahead during the peak summer season. At other times of the year, it was easier to just find the campsite online and then just turn up.
Find more camping info in our guide here
Hostels
In French – Hostel or sometimes auberge
Hostels come in many shapes and sizes, varying from swanky hostel-come-hotels, to cheap and cheerful youth hostels. Normally, you can find at least a single hostel in bigger towns or areas frequented by visitors. This makes them good bases for exploring local outdoor pursuits but are less often in the heart of the outdoors.
Dorm sizes vary from 4 up to 50 (yes, 50!), with mixed and single-sex options, communal showers, toilets and cooking facilities.
As with most accommodation, in popular areas during peak season you may need to book ahead. And, as with most hostels, be prepared for big groups of touring children in the summer!
Good points
Cheap

Cooking facilities mean you can save money and prepare food for your adventures

Easily accessible and good stop-off points before moving to more remote parts

Don't need to book as far/at all ahead

Sociable and good for solo adventurers

Generally open through the year

Can be a good source of outdoor information and advice

Luggage storage can be useful
Bad Points
Not available in less developed areas

Further from natural areas

Small hostels may not be able to store large outdoors equipment or bikes

May not enjoy dorms or communal living

Can be busy
How much do hostels in France cost?
€10-€30 per bed per night in a dorm room. Privates generally cost €40-€60. Auberge de Jeunesse or Youth Hostels are the cheapest you'll find and can be found in most cities/popular towns.
How to find hostels in France?
If you are travelling in peak season or to an area with a limited selection of accommodation, it's best to book hostels online, particularly if you're in a larger group. If you're staying in a city with multiple options it is possible to just turn up, however, it's not the most time-effective for short trips.
Most hostels in France will be featured on Hostel World but you'll also find them on Airbnb AND sometimes booking.com – it's worth comparing the prices between the three. Some hostels are not well advertised, so Googling 'Hostel' or 'auberge de jeunesse' + your destination is a good method.
For more outdoor advice and adventure inspiration, be sure to sign up for our mailing list below!
Mountain refuges
If you're hiking, climbing or backpacking, mountain refuges are a dream come true. These are generally cabin-style accommodation, conveniently positioned up in the mountains in uninhabited areas, close to walking paths or frequented peaks. If you're looking for a quintessential French mountain experience, you should look to mountain refuges!
Refuges are generally marked on hiking, climbing or topographic maps and come in a variety of standards. Some are like simple mountain B&Bs, serving food, having hot showers and preparing lunches (though they are NOT very vegan-friendly, so be prepared!). Others may just be an un-maintained shelter with no services, or toilets/showers etc.
All refuges are either guarded or unguarded (looked after by a guardian or run collectively by users). Generally, it's only guarded options that have more extensive facilities, however, all refuges require you to bring your own bedding or sleeping bags.
Some are open throughout the year whilst others may only be open during the summer months. Many popular spots get booked up quickly in peak season so it's key to book ahead.
It's very important to do your research before – DO NOT plan a difficult hike to a refuge without first checking it is open/accessible.
Good points
Right in the heart of the outdoors with beautiful surroundings

Cheap and informal

An incredible outdoors experience

Make good bases for alpine activities or to plan backpacking trips from one to another

Good for meeting like-minded people

More facilities than camping and protection from elements
Bad points
Most refuges are hard to access and may require a long hike to reach

Can be difficult to reach unless you have your own transport

Great option for alpine activities (hiking, climbing, mountaineering, mountain biking) but not practical for others

Only really available in mountainous regions or national parks

No closeby amenities (you're in the mountains)
How much do mountain refuges in France cost?
Guarded refuges cost €10-30 per night per bed. Meals generally cost €15-€20 euros for a large, simple meal. Many of the unguarded refuges have an honesty box where you can leave money – €10 per person is normally given. Other very simple huts may be free.
How to find mountain refuges in France?
Successfully using mountain huts does require some forward planning. Some are public, private or run by local alpine organisations – the two websites below have a good amount of resources where you can plan your stays or book guarded options. You can also find refuges on topographic or online maps, however, make sure they are open before you hit the trail!
Gîtes & self-catering rentals
Gîtes in France are locally-owned self-catering accommodation and can very useful if you're planning to stay in one place. They're spread in some very convenient locations for outdoor pursuits, can suit a variety of budgets and are a nice way to stay in non-touristy surroundings.
Self-catering and holiday lettings in France can be useful options if you are staying in one area for longer periods of time. Normally this is done either renting whole properties or individual rooms in local houses and hotel complexes that have cooking options.
Good points
Huge variety of accommodation, from French cottages to chalets, spread across the country

Can find accommodation suitable for most types of outdoor trips

Opportunity to stay in a local home or community

Can find some incredible properties!

Renting a whole property gives you lots of amenities (cooking), is relaxing and a good place to leave all your stuff

Good for groups

Gîtes are nice to support the local economy
Bad points
Typically gîtes are for whole properties and might not be suitable for smaller groups or individuals

Many have a minimum period of staying (normally 3 nights)

Not as practical for things like cycle touring or trips where you're moving quickly

Popular gîtes may get booked quickly

Not a budget option

No staff around for help or advice

Late check-ins and early checkouts

may be impractical without luggage storage
How much do gîtes/self-catering cost in France?
There is a huge variety and the cost will largely vary depending on the area and season. Prices start from roughly €50 per night for two people and €70+ for midrange choices.
How to find Gîtes/self-catering in France?
Gîtes and self-catering accommodation in France will need to be booked in advance. The two best websites are Gîtes de France and Holiday Lettings, which both have a big selection of local self-catering options. Most Gîtes are also advertised on Airbnb and for self-catering Booking too.
Chambres d'hôtes (B&Bs)
Chambres d'hôtes are small B&B-style accommodation, often staying with a local family in their house, chateau or farm. It's a great insight into the local culture and a good chance to meet a local family. Breakfast is included and dinners can also be arranged. Though they're not so common in cities, you'll find plenty in rural areas.
Good Points
Great way to experience local culture

Good choice in the French countryside

A prepared breakfast can be convenient

Good amenities and staff can be very helpful for trip planning
Bad points
Can be more expensive than other types of accommodation

Not as common in alpine, urban or coastal areas

May also have a minimum stay

No access to cooking facilities
How much do Chambres d'hôtes cost in France?
A double room starts around €40-€60 with prices going up to roughly €100 for midrange options.
How to find Chambres d'hôtes in France?
For short trips to specific/popular areas, it's wise to book ahead. If you're flexible and going to a larger area, you could also find them in person.
Very similarly to Gîtes, many options can be found on Gîtes de France or advertised locally too. Booking.com and Airbnb also have plenty featured.
Hotels
Hotels are in abundance but finding cheap hotels in France can be hard work. For an outdoors trip, this could be a consideration if you want to have more comfort, plus you can find some pretty incredible boutique hotels. Having plenty of amenities, your own space and staff for help or guidance can be very appealing if you're planning some intense outdoor activities in one area, so you can just come back and relax once the day is done.
Good points
Comfortable with many amenities, won't need to bring extras

Food and restaurants on-site can be useful

Many can organise outdoor trips or tours

Bag storage can be useful

Can offer late/early check-in/checkout
Bad points
Most expensive option

No cooking facilities

Less selection in natural areas
How much do hotels cost in France?
Prices start from around €50 per night for a double room, for midrange options you're looking at €70+. Hotels in Paris are very expensive, so if you are entering France via the capital, try and get out quick!
How to find hotels in France?
France really does have a huge selection of hotels which means they're fairly easy to find but again it's generally best to book online. The biggest selection of hotels will be found on booking.com and hotels.com.
Free accommodation and awesome experiences
Wild camping/free camping
Whilst this might not be possible for all types of trips, wild camping (camping in natural areas outside of a campsite) can often be the best option when you're constantly moving through natural areas e.g. hiking or bike touring.
Wild camping should be approached with caution as it is a legal grey area. A few tips you should always follow are:
Make sure you camp away from developed areas

Set up camp late and leave early

Respect the rules of private and protected areas.
You can find more information about wild camping in France on Rural Camping or if you're planning on campervaning in France.
If you're planning on cycle touring France, Warmshower is something you DEFINITELY should experience. Simply put, it's the Couchsurfing for cycle tourers, just without the pervy guys. Generally, you are invited to stay with a local for one or a few nights, often you are welcomed for food and it's an opportunity to meet many like-minded tourers
France is an incredible country for Warmshower and you can find hosts in almost any town very easily. Not only is it one of the most practical types of accommodation if you don't fancy wild camping, but it's also great to meet locals, experience the culture and make friends.
In our opinion, Couchsurfing is not quite as great as it once was but it should still be considered. This platform is where you can find local hosts who offer you their couch. In most cases, it's not actually a couch, just an informal place to sleep. It can be a great way to meet locals in a variety of different locations, however, it's becoming increasingly harder to find hosts.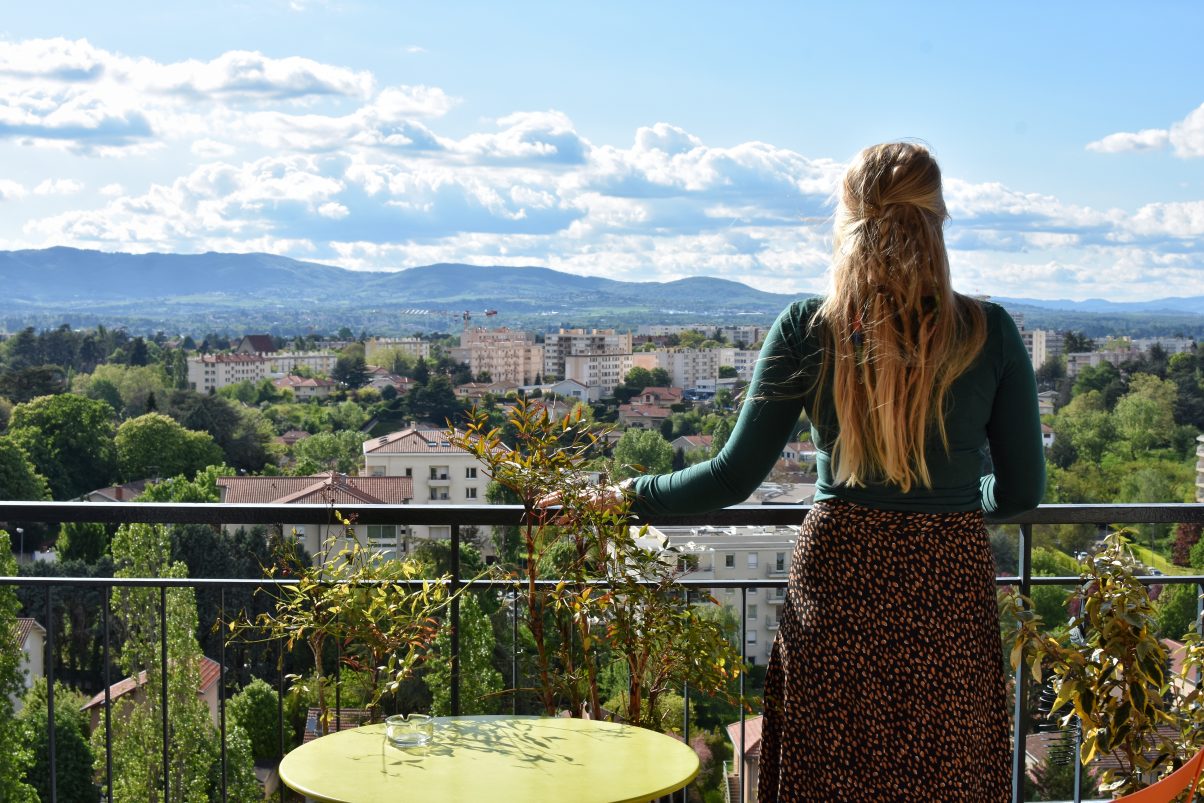 If you're planning a longer stay in France then housesitting could be a consideration. You look after someone's house and possibly pets, in exchange for staying in their house, which could be anything from a cottage to a castle. You do have to look after the house but if you find the right location you can spend part of your day absorbed in outdoor pursuits whilst still respecting all your housesitting duties.
If you're interested in housesitting in France, Trusted Housesitters is the biggest platform with thousands of exchanges available.
Work Exchange
Similarly to housesitting, if you're planning a longer trip a work exchange can be a fantastic choice. Normally you exchange roughly 25 hours of work a week for bed and board, though you can also find different arrangements. The work hugely varies, but is normally hands-on activities like gardening, DIY or permaculture. You can also find work exchanges in outdoor areas which might incorporate things like maintaining natural areas or helping with outdoor pursuits.
Hosts are normally flexible with the days you work so you can plan 3/4 days away to go off and adventure. It's a great way to travel on the cheap, explore areas and get to know the local community.
We wanted to spend time bouldering in Fontainebleau so we arranged a work exchange to spend a month climbing in the forest. Our days were spent gardening and walking the dogs and our evenings and weekends were spent bouldering in one of the most famous spots in the world. We also made some awesome friends along the way!
If you're interested in a work exchange, Work Away has the biggest option in France and is how we've done it in the past.
Ski season
Want to go skiing in France, or absorb yourself in winter sports, but don't have much money? Doing a ski season can be the perfect way to spend the winter in the mountains, earning some good money and adventuring on your free time. You'll find a whole variety of jobs, from cooks and cleaners, to hosts and outdoor guides. You'll normally get a ski pass plus many other perks and meet lots of similar-thinking adventure junkies! Season Workers is the best source for ski season jobs.
Part 4: How to Find Cheap Accommodation in France
Hostels and campsites are the cheapest options

For groups, self-catering accommodation may be cheaper than individually paying for a hostel bed

Save up to £34 on your first Airbnb booking with this code

Finding accommodation with cooking facilities will help you save money on food

Rural areas generally have cheaper accommodation than cities

If you're planning a longer stay in one spot, see if you can negotiate a discount on the price per night

If you have a car, try and find accommodation with free parking

Going during low-season will likely have cheaper rates 

Get creative and embrace the free options

If you get a free breakfast, make the most of it!
Accommodation in France for Outdoor Pursuits and Adventure Trips
Now, when you're planning your adventure-filled French holidays you'll know exactly what to look for. The country is filled with such incredible outdoor pursuits and such different accommodation types, hopefully, this guide will help you pick the perfect thing for your trip!
Still don't know where to stay in France? Drop us a comment and we'll share some extra advice!