The possibilities for outdoor pursuits in Sierra Nevada National Park are pretty incredible – check 'em out!
---
Sierra Nevada National Park in southern Spain is an adventurer's paradise, with a large number of Spain's 3000-meter peaks including the highest peak in the Iberian Peninsula, Mulhacen (3479m).
Criss-crossed with hiking trails and dotted with lakes, vertical rock walls and vivid rivers pushing through narrow canyons… there are a lot of fun adventure activities in Sierra Nevada National Park!
Spanning across 85,883 hectares of land between the provinces of Granada and Almeria, there are an additional 89,966 hectares of natural park connected to it. Altogether this means, lots of outdoor potential.
This guide takes you through everything you need to know and the different adventure activities you can try. Jump ahead to:
Keep reading to check them out!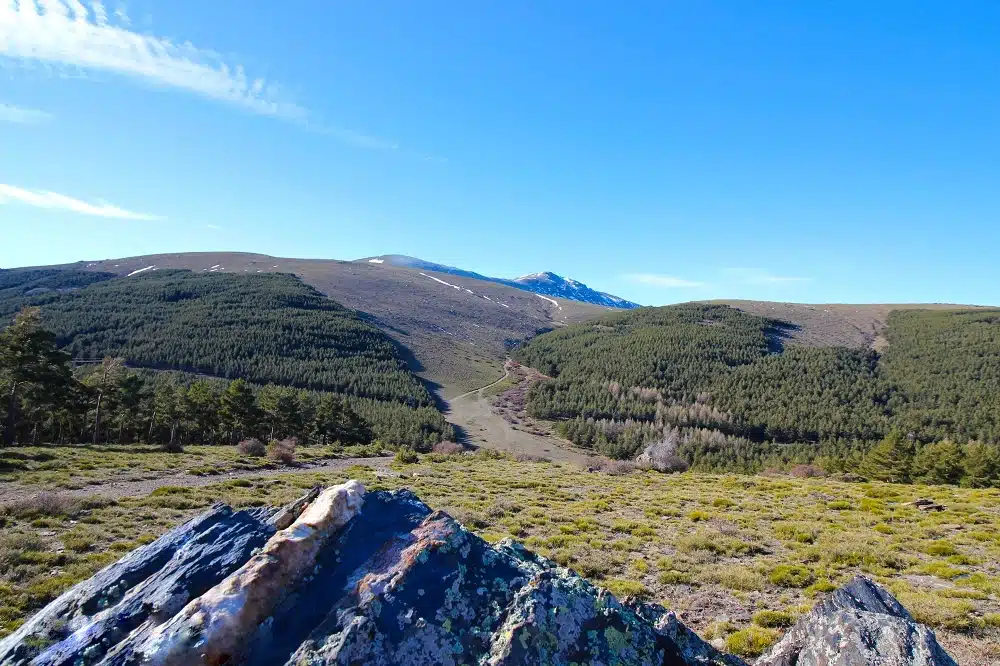 Things to know before going to Sierra Nevada National Park

Before going to Sierra Nevada National Park there are a few things to keep in mind to make sure you respect nature and the wildlife. This wonderful natural space needs help preserving!
First of all, make sure you leave no trace. By bringing as little disposable items as possible, you avoid creating more waste in general. So small things like bringing your own reusable water bottle, bamboo cutlery and other reusable camping gear, you can make a big difference for the planet and for Sierra Nevada National Park too.
Another thing that not many people think about is that toilet paper and organic food rubbish, like apple cores or banana peel, take a long time to decompose and should never be left in nature.
What happens with the fruit trash is that animals and bugs eat it before it decomposes, and this creates an imbalance to the ecosystem. It also invites wildlife to hang around campsites and scavenge human food instead of looking for their natural food sources.
If you happen to go to Sierra Nevada National Park in the winter and spring, be aware that there are pine processionary caterpillars in Spain in places with pine trees.
These are small caterpillar larvae that walk head to tail in processions. In some cases can be up to two meters long! This is impressive to see but they can be deadly to dogs and also cause severe allergic reactions to humans.
These caterpillars have millions of poisonous hairs that can hurt you even after they are dead. Cyclists can even end up getting the hairs on their legs, which can swell up severely.
The caterpillars come down from spider-web-like nests in pine trees between January and May, so keep an eye out for them and don't step or cycle on them – or even worse, touch them.
How to get to Sierra Nevada National Park
Sierra Nevada National Park is enormous and goes across both Granada and Almeria provinces, so there are a lot of different places to enter the park.
The most popular entry point and place to stay is the historical city of Granada. However, other popular places are Monachil, Sierra Nevada (the village), Trevelez, Capileira, and even Almeria and its mountain villages (though its more familiar to the locals).
The easiest way to travel to the national park is by car as the bus connections to the places of interest are poor. But, with patience, you can catch a bus to most villages, though you most likely have to spend a night or two there before you can get out again. But that is why you go there in the first place, right? To spend some time there!
Adventure activities in Sierra Nevada National Park
Hiking in Sierra Nevada National Park
This is one of Spain's bucket list places for hiking and it's without a doubt the most popular adventure activity in the park itself. You'll find a whole range of trails, from easy day hikes to demanding multi-day treks across several of the 3,000-meter peaks. You'll be spoiled!
One of the best hikes is Ruta de Los Cahorros in Monachil. It takes you through a gorge with waterfalls, swimming holes, and crossing multiple hanging bridges, including one of the longest ones in Spain, at 63 meters.
But the real highlights are the sections where the canyon wall goes out above the narrow trail and you have to crawl under it or hold onto the metal handles that are bolted into the wall to get past.
Even the highest peaks can be reached in a day. Mulhacen (3479m) can be reached in a day by taking the park bus from Capileira to Mirador de Trevelez. From there it is a 4-5 hour hike up and down and the bus picks you up again exactly 6 hours after drop off.
Also, the second-highest peak in the park, Pico de Veleta (3398m), can be reached from Hoya de la Mora. This hike also takes about 4-5 hours.
On the Almeria part of the National Park, you can even make the easy hike of 2-3 hours to Almeria's highest peak, El Chullo (2613m) from Hoya de la Ragua. But there are also options like Rio Molinos which is just as beautiful and better for beginner hikers.
For more outdoor inspiration and adventure resources, be sure to sign up for our mailing list below!
Rock climbing in Sierra Nevada National Park
Sierra Nevada National Park is jam-packed with exciting beginner to advanced climbing spots and a true haven for everyone that loves the sport. Some of the popular hikes in Sierra Nevada even have alternative routes with climbing pitches, like Veleta Peak.
Awesome places for rock climbing are Monachil, Capileira, Alfacar, Loja, and Los Vados. Some of these walls are besides popular hiking routes, like Los Cahorros. There are multiple climbing companies offering organized climbing trips for all levels and equipment rental.
Wild Camping in Sierra Nevada National Park
Wild Camping in Sierra Nevada National Park is illegal, BUT, setting up your tent for the night while hiking through is allowed (awesome news for adventure hikers that love to cross those mountains!).
You'll need a permit, which you can obtain by contacting the National Park authorities by email. Since they seem to change that email address quite frequently, your safest bet is to contact one of the tourist information centres in any of the villages around the national park, like Capileira or Trevelez and ask for more information there.
You will need to inform them when you plan on camping, your wild camping spots, how many people, and how many tents. You need to bring the permit with you either printed or as a screenshot on your phone (but make sure you have enough battery) in case you get stopped by the park rangers.
Sierra Nevada National Park is a splendid place to go wild camping so if this is your thing, don't hesitate in going on a multi-day trek and bringing your tent.
Read up on where there are water sources too, as there are rivers and streams around the park but also large stretches without water. A popular multi-day hiking route is to both Veleta peak and Mulhacen peak, which are quite close to each other.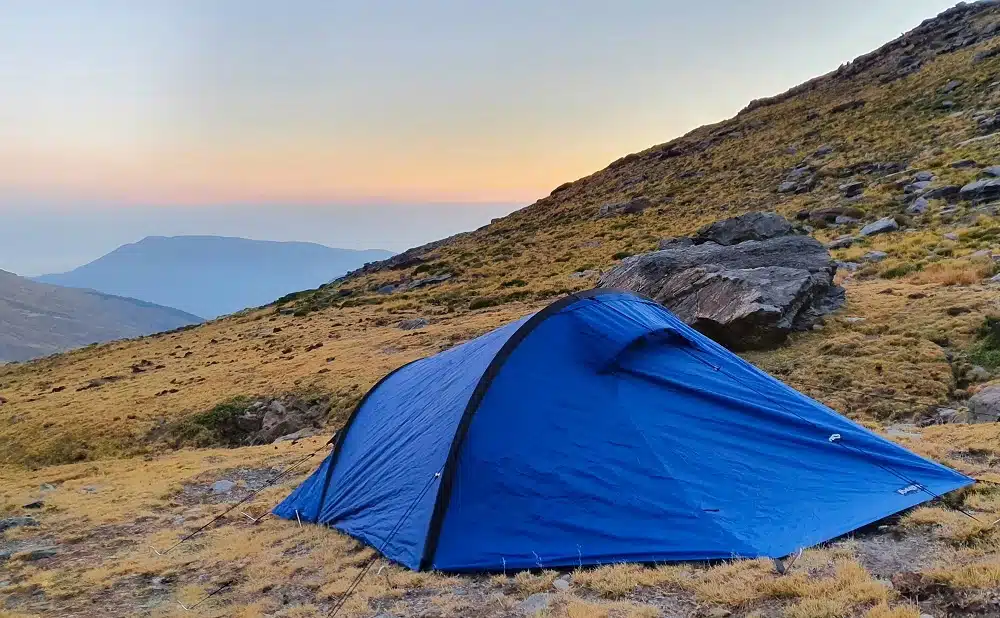 Trail running in Sierra Nevada National Park
There is no doubt Sierra Nevada National Park is an amazing place for trail running.
This is an extremely popular sport and many trail runners go for the high peaks in the summer months. But this is an activity you can do all year round as parts of the national park are lower than the usual snow limit.
There are wide open landscapes and trails through forest, steep hills, and flat land to explore. Only you can set the limit for where to go.
Looking for vegan trail running shoes? Check these out!
Skiing and snowboarding in Sierra Nevada National Park
Sierra Nevada National Park is home to the southernmost ski resort in Europe with one of the longest seasons.
Between November and April, you can enjoy the slopes on the mountain Veleta at around 3000 meters. The ski lifts go from Sierra Nevada (the village) and once you get up to the first stop, there is a myriad of slopes to choose from with additional ski lifts.
Whether you are a beginner or not, go skiing in Sierra Nevada and you'll find amazing slopes for sure. You can also find bars and restaurants where you can take a break and enjoy local food and drinks in the nice winter sun with astounding views.
In Sierra Nevada (the village), you can rent all necessary equipment as well as book lessons if you're new to the sport. The village is a great place to stay if you plan on skiing for a few days.
Cross-country skiing in Sierra Nevada National Park
In the months of February and March (sometimes earlier or later if the snow allows it), you can go cross-country skiing at Puerto de la Ragua, which is right at the limit between Granada and Almeria.
There are 15 kilometres of prepped cross-country skiing tracks with up to 7 different routes. This winter wonderland sits right between Almeria's El Chullo and Granada's Morron Sanjuanero and boasts some breathtaking views.
You can rent cross-country skis, skiing poles, and skiing shoes right there. Due to periods of high snowfall, you always need to check if the road is open, so you can actually get there and always bring chains for your car in case it gets slippery.
Cycling and mountain biking in Sierra Nevada National Park
Sierra Nevada National Park has some of the most scenic roads in the country.
Narrow, winding mountain roads crisscrossing the natural landscape which are perfect for cyclists. Whether you like road cycling or mountain biking, there are tracks all over the park.
In the summer months, the high mountains are extremely popular with an abundance of excellent cycling routes going all the way up to Pico de Veleta and even Mulhacen can be reached by bike.
You can rent a bike and equipment for your needs in Sierra Nevada (the village) or in Granada among other places.
Canyoning in Sierra Nevada National Park
Canyoning has increased in popularity in Sierra Nevada National Park and there are a few places where you can go on organized tours for this enthralling activity.
For the most experienced, there is a high-difficulty canyoning route in Trevelez that you can go in the month of September.
For everyone else, there is a particularly fun route that goes in Tajo Bermejo in the Alpujarras mountains of Granada, in the national park. The difficulty level depends on the time of year, but this is a great way to experience the national park from a different perspective through narrow gorges with vertical drops.
If you are into action, canyoning is definitely a great way to spend your vacation in Spain. There are various canyoning companies offering tours with experienced guides where you can rent equipment.
Paragliding in Sierra Nevada National Park
If you like to experience the places you travel from the air, paragliding in Sierra Nevada National Park is the activity for you!
Imagine flying above the captivating mountain peaks, spotting lakes and trails from a birds-eye perspective, with your guide pointing out all the different peaks for you along the way.
Paragliding above the national park is definitely a fun activity to do for any adventure traveller. You'll find different paragliding companies offering tandem flights from Granada.
9 Awesome Adventure Activities in Sierra Nevada National Park
There is no doubt Sierra Nevada National Park is a dream for active tourism with high peaks, narrow canyons, endless trails, vertical cliffs, and astounding beauty. Whatever your passion for adventure is, there is something for you to enjoy in Sierra Nevada. Just make sure you leave no trace and respect the wildlife.
An article by Linn from Andalucia Hiking
Linn Haglund is an avid traveller from Norway that has spent most of her life abroad, living more than 8 years in Andalucia. Her passion for hiking made her realize just how hard it can be to find the information you need about hikes in Andalucia. This led her to create the destination blog Andalucia Hiking, a resource for hiking in this incredible corner of Spain.