Over the last 6 years we've been in a constant cycle of adventuring and adventure planning – this is exactly how we do it!
---
Whether you're looking to do your first mini cycle tour around your local landscapes, you're scheming a global expedition of gargantuan proportions or thinking about something in between, some element of planning has to be involved. Even if you're one of those wide-eyed kamikazes who let spontaneity and chance call the shots, some thought and preparation is a must, even if it just stays in your noggin.
This adventure planning guide is exactly what we use from the first day of ambitious daydreaming to stepping out the door. It can be used for any type of adventure, regardless of your skill level, the trip style, length, location or severity. Even for day hiking or overnight camping trips, a quick glance over will do no harm.
Do I even need to plan?
The simple answer is: hell yeh! Nothing bad ever came from the right amount of planning but a whole lot can go tits up if you don't. Time is precious, but the time spent planning before will feel like nothing compared to trying to solve problems when you're already on the road.
When you're in the wilderness and far from home, you'll regret skipping a few hours prep after being turned away from a border crossing without a visa or realise your gear isn't up to scratch after the first few miles.
Plus, you'll look like a prize numpty when you return to your mates in the pub and tell them you turned back after a week because of poor planning!
This guide will save you time, money, frustration and likely a lot of pain too. Particularly if you're vegan or you're wanting to make your trip as eco-friendly as possible (which you should!), you gotta think things through before.
At the end of the day, life is better filled with adventure and planning is integral to that. Take a read, start planning and get going!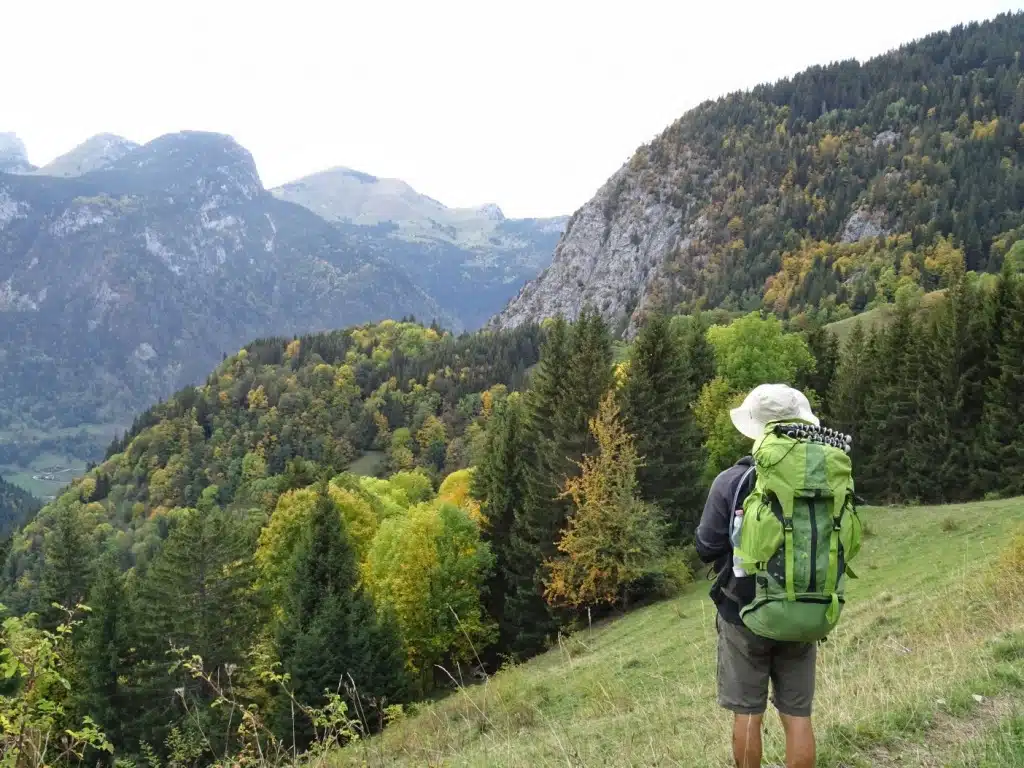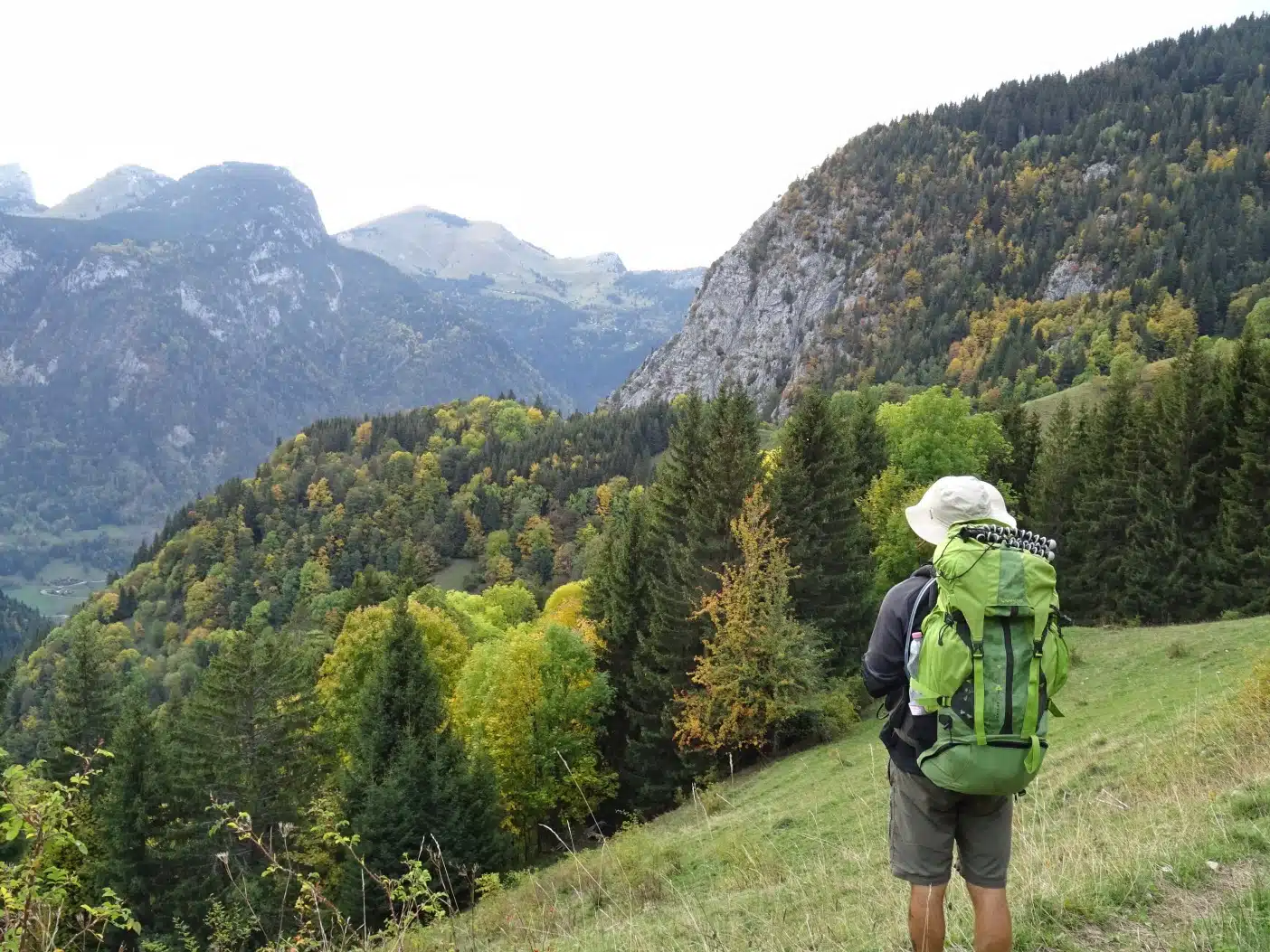 The Adventure Planning Guide Contents
This article may contain affiliate links, they will never cost you more money but helps Veggie Vagabonds keep making content like this – thank you!
Firstly, the Adventure Fund!
Money, unfortunately, can be one of the biggest obstacles to awesome plans, so why start one step behind? Instead of thinking of an adventure and then beginning to save, our advice is: always be saving.
If you're constantly putting a little bit into your adventure fund, as soon as you have an epic idea you'll be part of the way there. This also means you'll avoid the stresses of penny-pinching for a major trip in a short space of time. Spending the build-up to your trip homebound and living off instant noodles ain't fun, especially when it's instant noodles you might be limited to on your trip.
Finding Time For What You Want to Do Vs. Finding an Adventure For the Time You Have…
A hotly debated topic and something Sarah and I disagree on. Personally, I think the best option is to have the biggest, baddest and boldest idea and then find a way of making it happen. Sarah thinks this isn't always going to be possible, and that sometimes you've just got a month free from any responsibilities and want to fill it with something crazy.
The answer depends on you and your situation.
If you want to think of the trip first and fit in everything else around it, follow this guide as it is. If you've got limited time or other restrictions (like a budget or time of year you can go), get those ideas down first and then go through the rest of the guide accordingly.
READ MORE: 25 Effective Ways to Make More Time for the Outdoors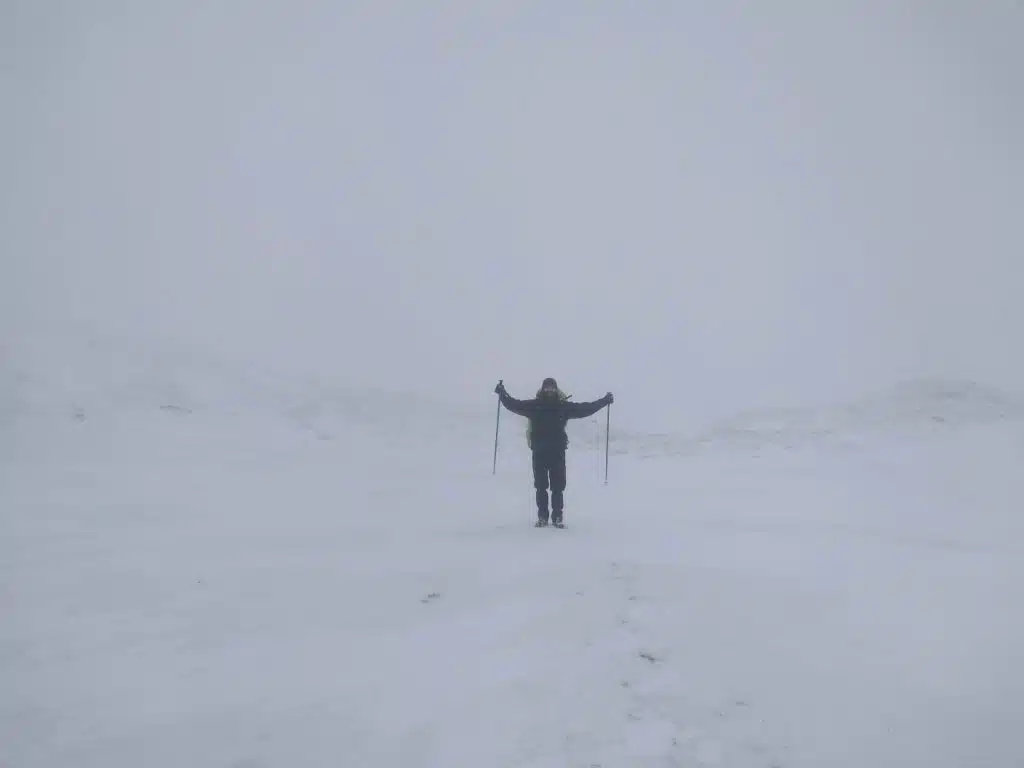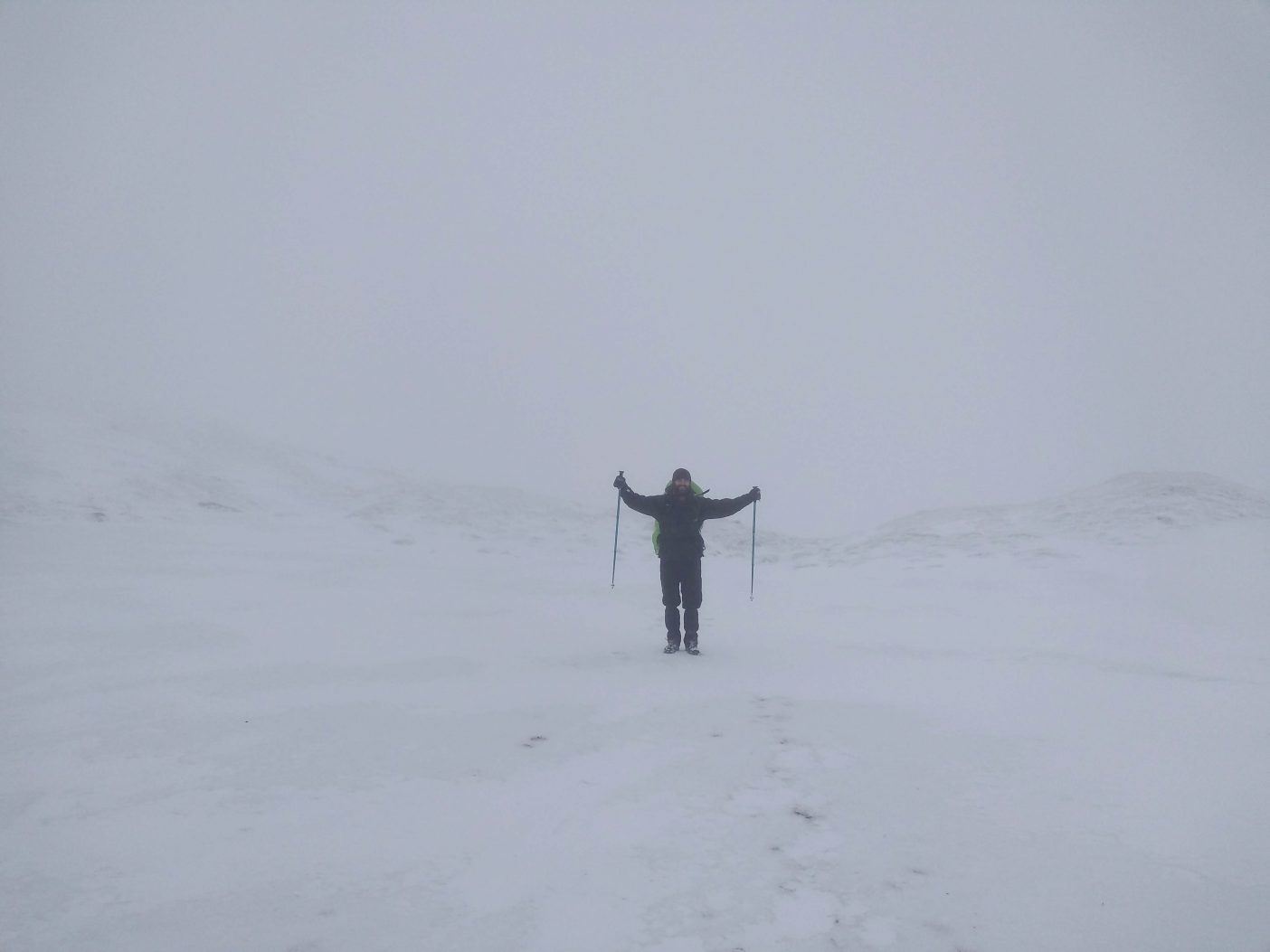 Adventure Planning Stage 1
This is exactly the order of how we'd start our planning process. Stage 1 is where you note down all your ideas, estimations and goals. Go through these points, get your imagination bubbling, adrenaline pumping and start making notes. You might find it useful to get a small notepad and use it as your adventure planner.
Remember, some of the best adventures begin with a single over-ambitious thought!
A quick note: if you have a destination in mind before an activity, read 1.2 first and then keep going through normally.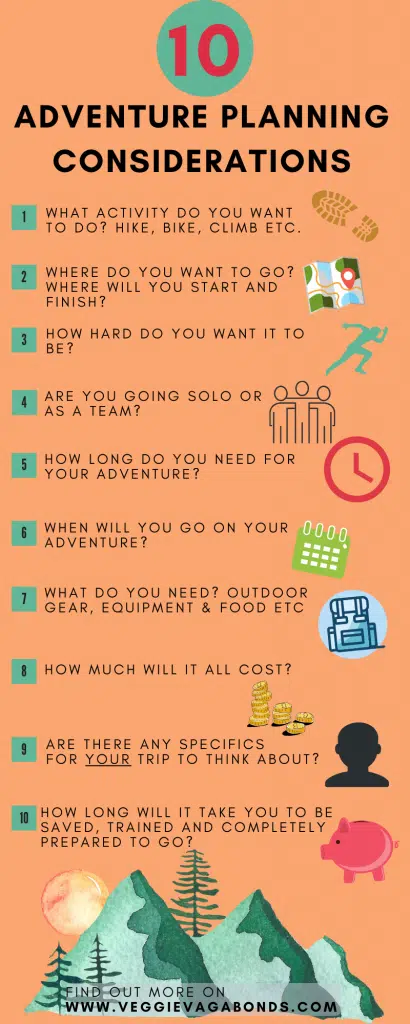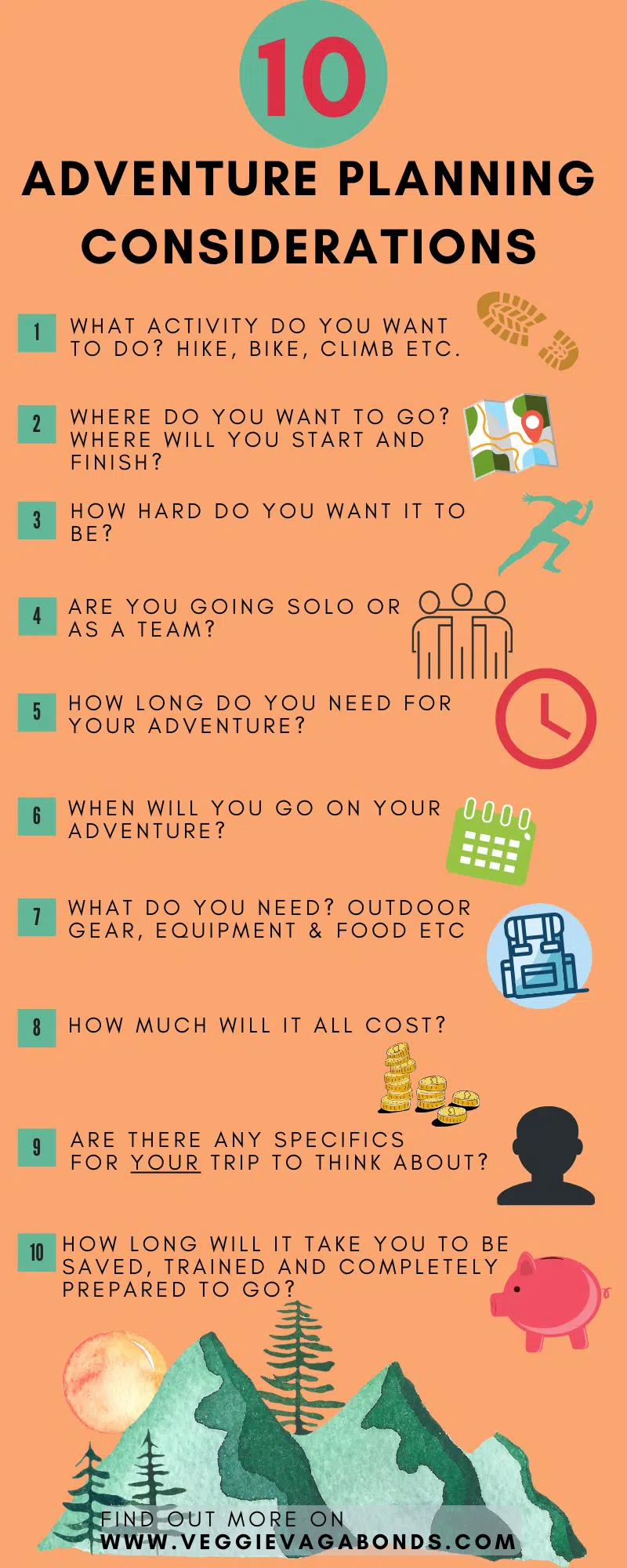 1.1 What activity do you want to be the base of the trip?
One of the main things that separate an adventure from travel or other trips is that it's almost always based around an activity. What exactly do you want to do on your trip?
Do you want a cycling trip, a hiking trip, walking, hitching, paddling, swimming, rowing, skating, sailing, driving… the world is your oyster and this is your chance to push the boat out (potentially quite literally). You could even think of a combination, like Sarah Outen whose epic adventures involved rowing, cycling and kayaking 25,000 miles around the Northern Hemisphere, or our coming E.A.Ex challenge.
At Veggie Vagabonds, we're big fans of human-powered adventures. Not only are they the most sustainable, but you can start them from your front door. You can find some inspiration for them here.
1.2 Where are you going to go, what's the starting point and how will you get there?
Are you planning an A to B route (starting and finishing in different places) or will you be starting and finishing in the same place? Will you begin from your front door or do you need to travel to your starting point? Is there a specific destination, route or challenge you would like to do?
Do you fancy planning a cycle tour like Ed Pratt who unicycled from his front door 18,000 miles around the world and back to his front door, or like Mark Beaumont who drove from the UK to France and began his round the world cycle from Paris? If you've always fancied backpacking in Scotland but are limited on time, maybe you could travel to Scotland and let the real adventure begin there?
Adventures don't need to be traipsing to the other side of the world, and whilst it will add a unique cultural element, you can have an equally awesome adventure right on your front door. Plus, it'll likely be much cheaper with less planning required.
Important: this is a good point to think about accommodation. Are you going to use local accommodation options? Staying in a tent? A bivvie? On a boat? Or even hammock camping?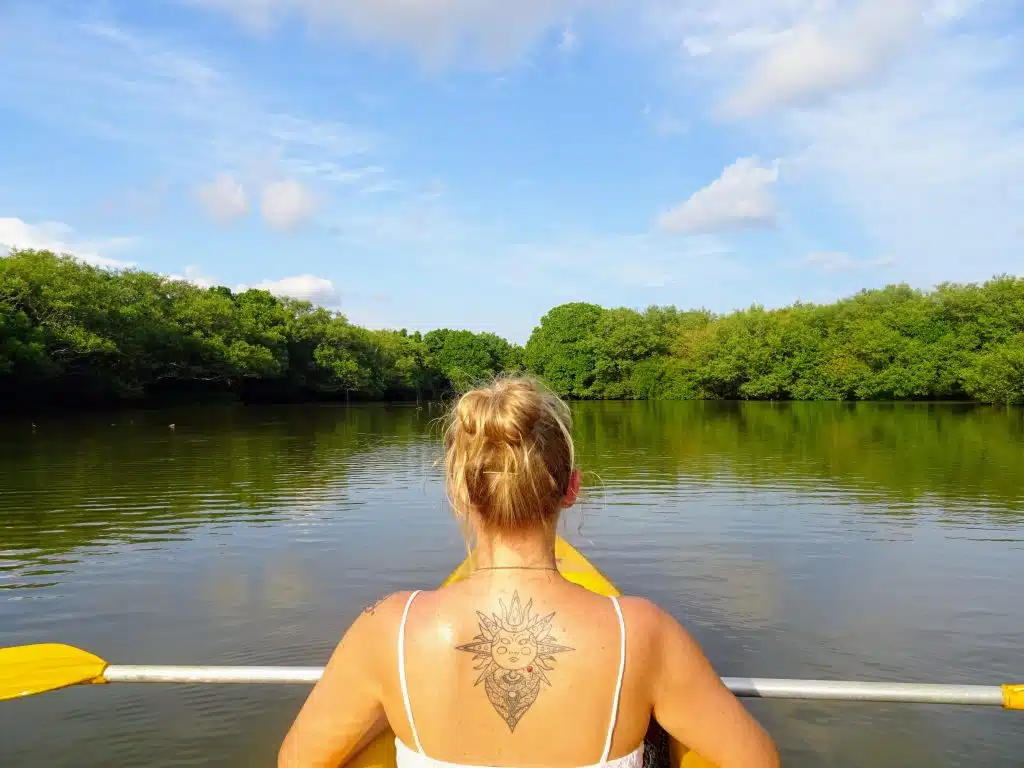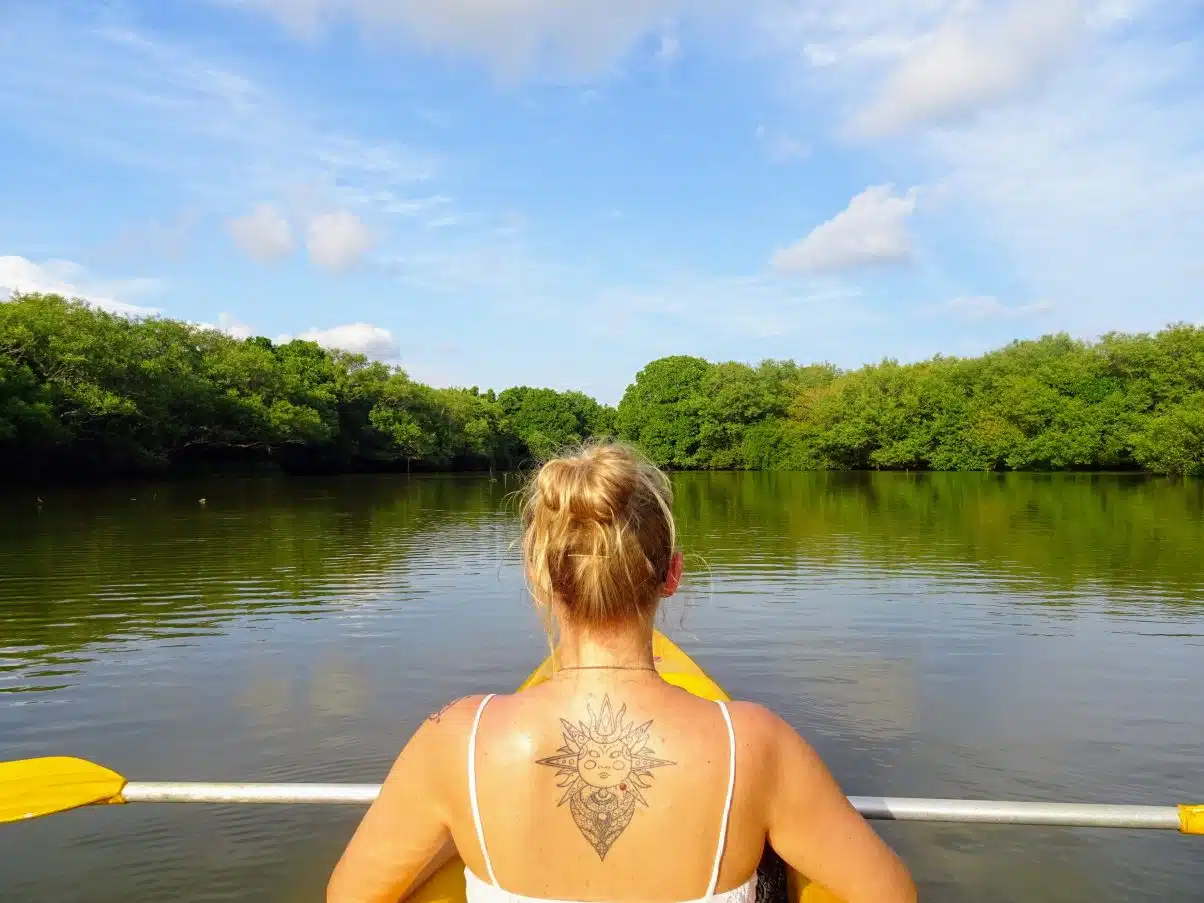 1.3 What type of adventure do you want?
Are you planning a hike to test your endurance and perseverance or break/set records? Planning a backpacking trip to explore new lands and embrace the culture? Or even planning a kayaking trip for some solitary soul-searching and to go with the flow?
Any activity can be made to suit any style of trip, but it's good to decide what you're wanting early on as more challenging trips will likely require extra thought and physical training.
This is also a good point to think about your sleeping options – will you be camping? Will you be stay in other types of accommodation?
1.4 Will you be going on an adventure solo or as a team?
This is something that can really make or break a trip, and your whole experience can be wildly different depending on your choice.
Solo
Nobody to hold you back
Can go at your own pace
Don't have to make compromises and can plan your perfect adventure
Don't need to worry about sharing or cramped living spaces
Nobody else to look out for
Completely self-reliant (can also be negative)
Often more convenient if you're hitching or asking for local favours
You learn a lot about yourself
Team pros
A team can motivate you
Shared skills and knowledge can be crucial

You have people to look out for you and it's often safer

Sharing equipment can mean a lighter load
You have people to share the experience with
Company can be seriously important on remote journeys
More heads will have more ideas and inspiration (really good for planning)
Can make or break friendships and relationships
There are plenty of other pros and cons, what else would you add to the list?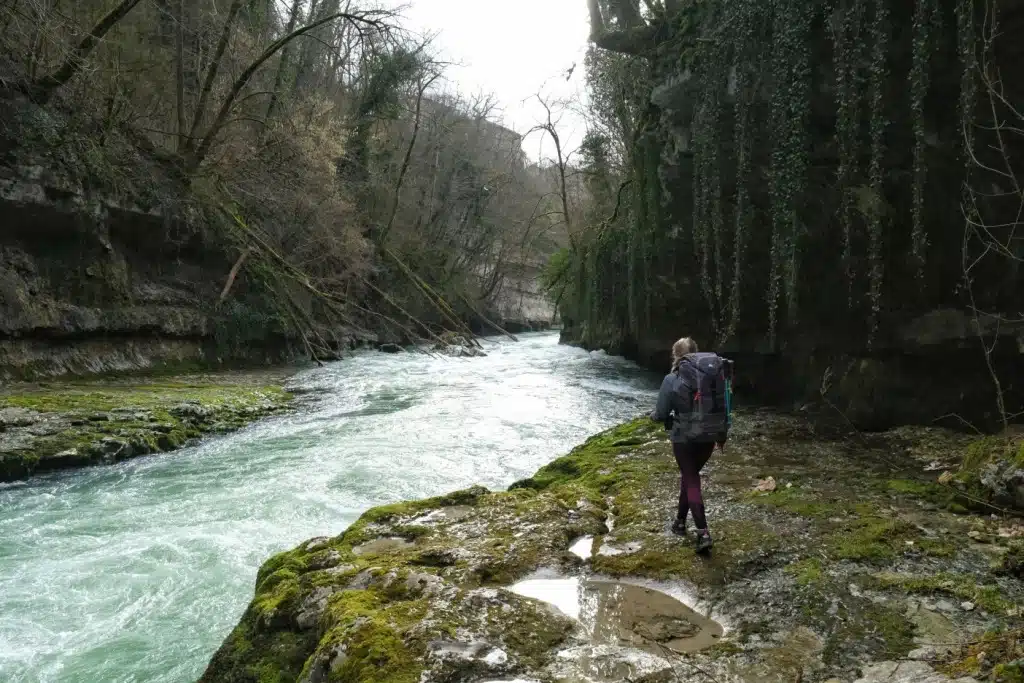 1.5 How long do you need for the trip?
Unless they're cancelled or shortened, you'll rarely hear of expeditions that finish earlier than planned, but they often have a way of taking longer. Give yourself ample time and don't be overly optimistic about your pace or ability. For any type of trip, plan how long it will take from leaving your front door to returning home, not just the time you'll be in the wild.
If you're planning an adventure which involves covering distances, like a sailing or a coast to coast trip, roughly estimate the distance of your route and how many miles you can cover each day. You can then vaguely see how long it might take.
Remember to factor in rest days and detours for supplies. If you can cover 20 miles a day, this might not be possible to maintain for months on end. Also, think about altitude gain or environments that might be slower to pass. For cycle touring, 10 miles crossing a city will be completely different from a remote straight and road conditions will also affect the time it takes.
Weather and seasons play a HUGE role. Harsh conditions will be harder to move with (unless you're fortunate to have a continuous tailwind) and whole regions might be impassable during certain months. This is particularly important to factor in if you're planning longer-duration journeys where seasons will change or you're passing through different climatic areas.
For static trips, like spending 3 months in a remote landscape, for example, you can be pretty sure it will take 3 months (as long as nothing goes wrong). Just take into account the time it takes to travel back and forth from your destination.
Important: even if you're planning on record-breaking time, estimate it will take longer, particularly If you have commitments shortly after your trip or need to return to work. And whatever you do, don't make the mistake of trying to start work a day after months of physical punishment – it won't go well!
1.6 When to go on your trip?
There many things which can determine this, but some things to think about are:
Weather and seasons – your plan might not be possible year-round
Religious or cultural festivals
Going in quieter times may be cheaper than peak season
Do you need permits or visas? Are they available throughout the year? Can you turn up and acquire them or do you need to organise them in advance?
Do you fancy gruelling wintery conditions or the slog of moving through the heat?
Might wildlife or environment hinder your plans at certain times? Traipsing through the Highlands in summer and you'll be hounded by midgies; cross the Carpathians mountains in late summer and you'll likely come across bears…
Are you going for a specific event? What are the dates?
When are you and potentially your team able to go?
Do you need to think about your health in relation to your trip?
Really importantly, when will you be ready to go? If your trip needs lots of planning, training and prep, don't make the mistake of going too quickly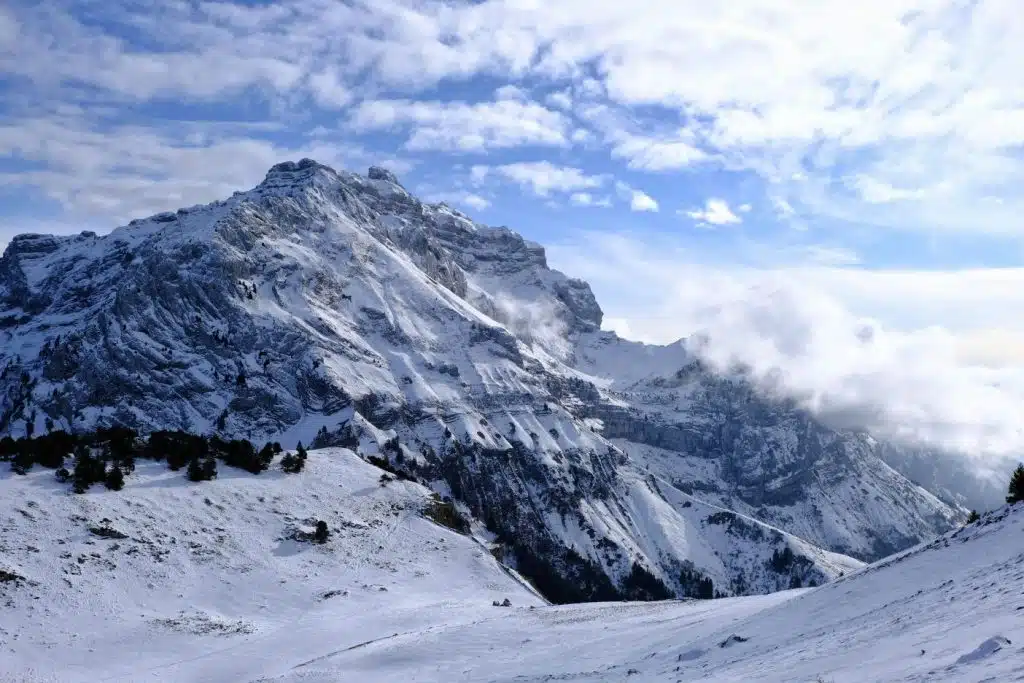 1.7 What do you need for your trip?
With all of the previous points thought of, you can now start to think about all of your outdoor gear and equipment. You should try and make an exhaustive list early on (this is where having a team helps to think of everything) and at this stage, list everything you might need, then you can whittle it down later on.
Every trip will require a different packing list but these are some areas to look at:
Activity-specific equipment (bicycle, kayak, walking poles etc)
Sleeping equipment (tents/hammocks/bivvies, sleeping bags, roll mats etc)
Outdoor essentials (penknife, compass, map, water purifiers, GPS etc)
Cooking equipment (stove, pots, bowl/cutlery)
Clothing
Health and medical items
Electronics (phone, camera, iPod etc)
If you're not sure what you need, here's an idea for camping, bike touring, bikepacking and hiking, or our Gear + Reviews section.
You can also get some great advice on activity-specific Facebook or Reddit groups for your particular activity/trip.
You might need to do some searching online to estimate prices; in the UK we use Alpine Trek for most outdoor gear and Wiggle for everything bicycle-related. In North America, REI is a mammoth resource that will likely have all the outdoor gear you could need at a good price.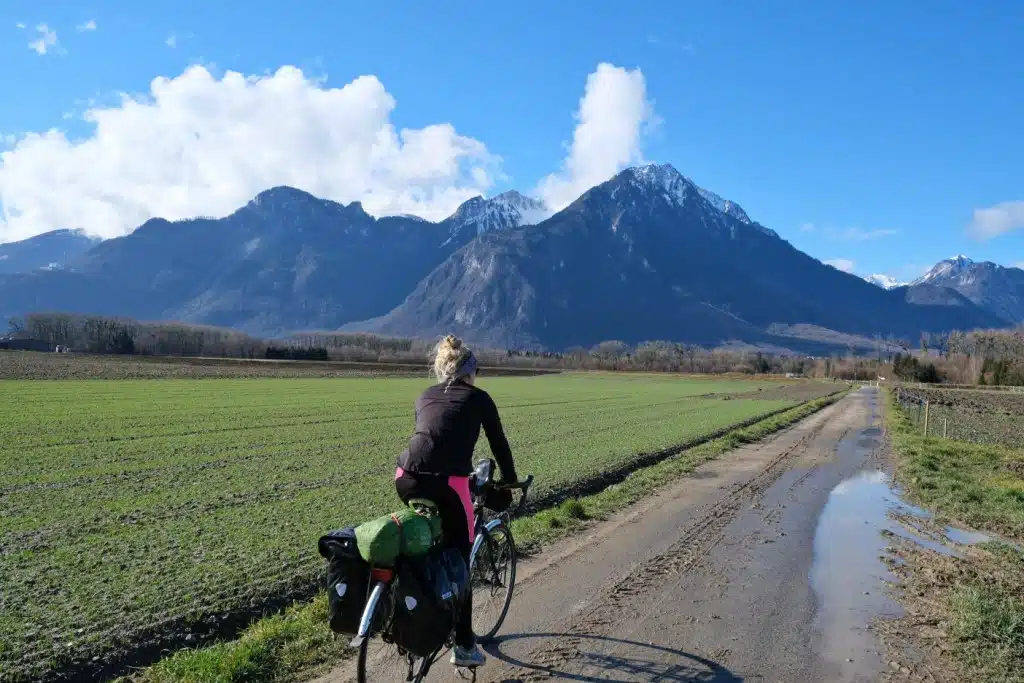 1.8 How much will it cost?
Ahh, the dreaded one – how much is this crazy thing going to cost? Try and make as accurate an estimation as you can, so you don't get stung further down the line. Like the estimated time, it's safer assuming it will cost more than it actually does. Also, make sure you keep some extra cash aside in case things go wrong.
Some likely trip costs:
Do you need to buy additional gear?
Will you need to pay for transport?
Will you need to pay for any accommodation on your trip?
How much will food and liquids cost?
Are there visas or permits you need to pay for?
Do you need any vaccinations or extra medications for your trip?
Don't forget about travel insurance!
Are you likely to buy gear/repairs/supplies on the road?
Do you need to pay for things at home, like bills or direct debits that will come out whilst you're away?
If you're looking at this and thinking 'shit, this trip is never going to get off the ground' – don't let it dampen your spirits. Give yourself more time to save, think about what is really a necessity and tighten your belt – it will be worth it!
1.9 Trip specifics, veganism and sustainability
Every adventure is beautifully unique, so in the early planning stages you should think about any specific things you need to plan or consider.
If you're a vegan adventurer, this is a good point to think about vegan gear or vegan food that might make things trickier. Our Vegan Adventure section should have a lot of answers for you.
And, no matter your trip, it should all be aiming to make our time more eco-friendly. How can you help make it a lower-impact adventure? These guides to eco camping and sustainable hiking have some good foundations.
Check out our vegan camping food guide to help you plan staples and recipes for your next trip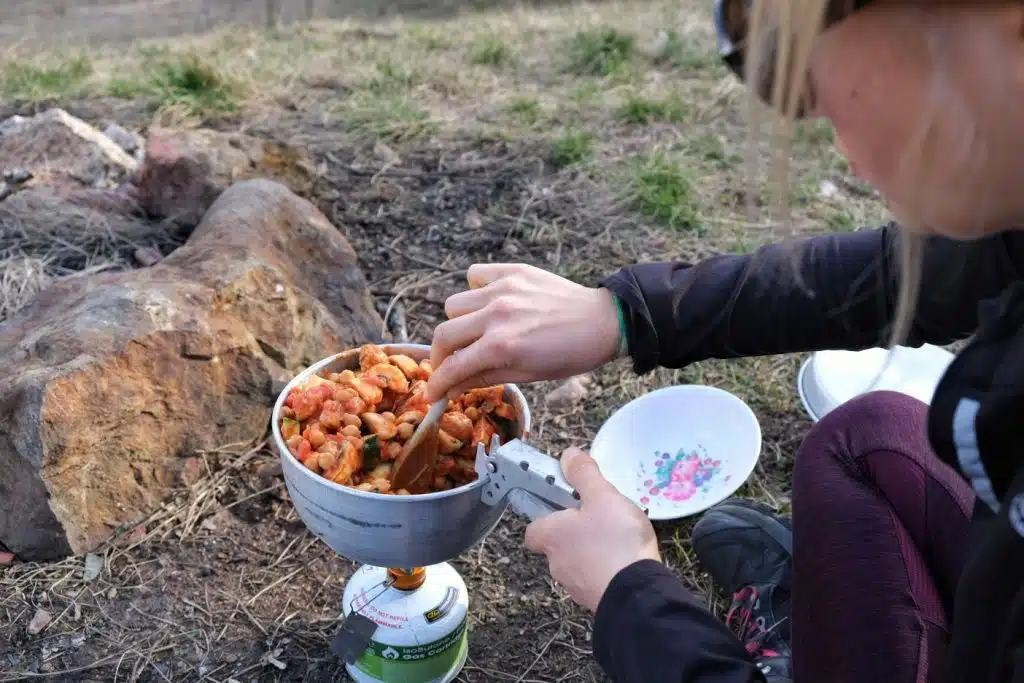 Adventure Planning Stage 2: Putting Things Into Action
With all the paper planning done, this is where you can really start to get the ball rolling and wait for the inevitable sh!t, I'm actually doing this moment!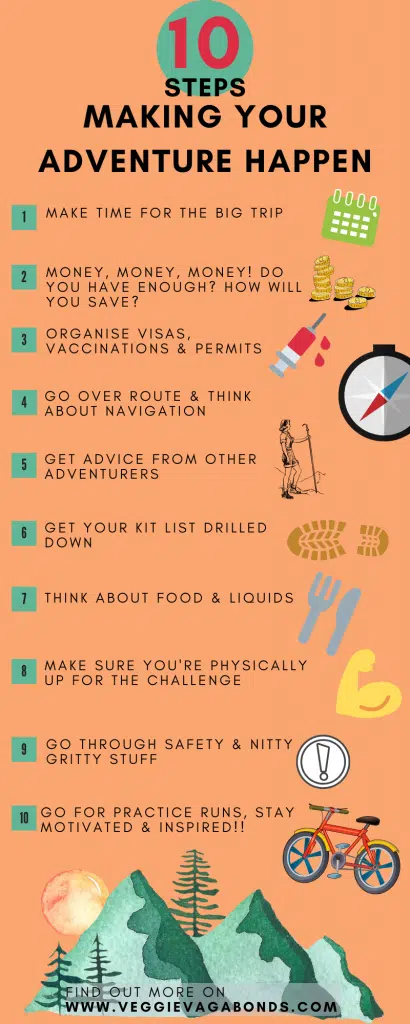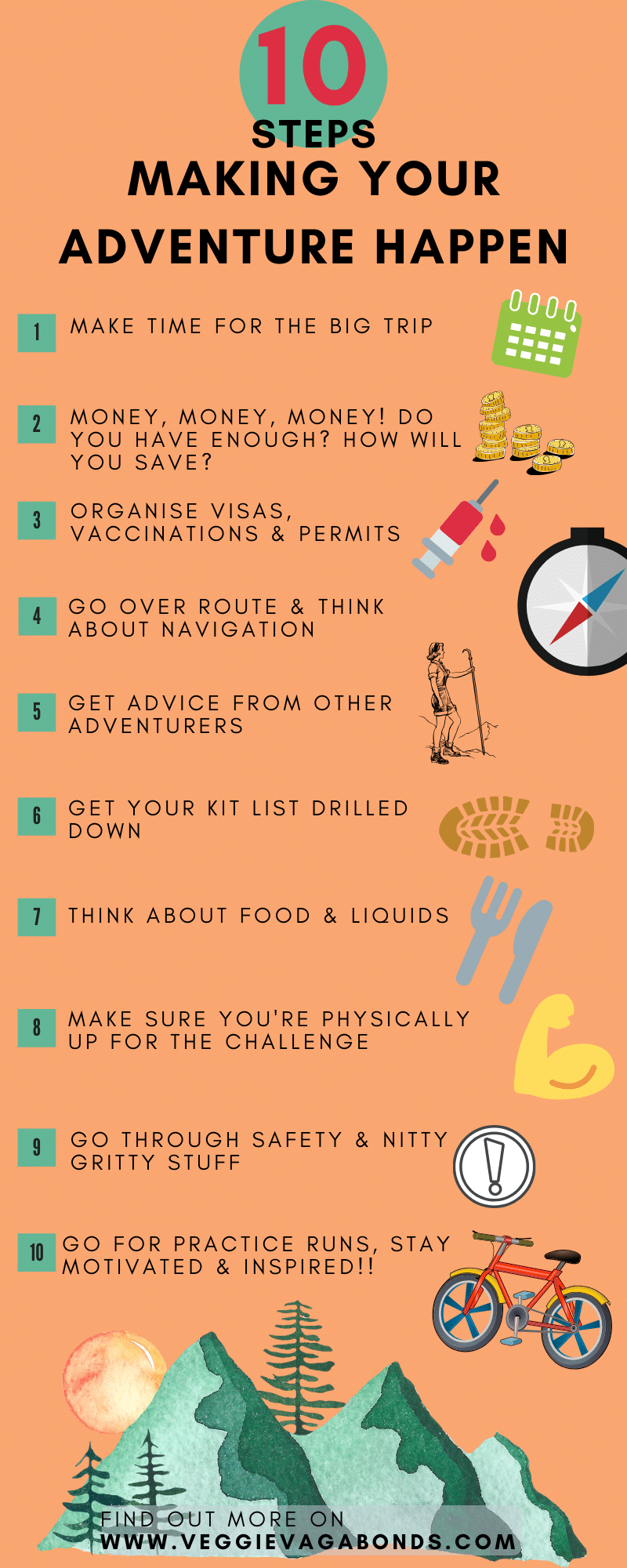 Action 1: Make time for the big trip and plan necessary arrangements
Yes, this is where you tell your boss, family or loved ones you'll be spending 6 months living from a tent in a remote wilderness… and for many, this might be requesting rather than telling, so it's damn important.
If you think this might be difficult, think how incredible this experience will be, get creative with your pitch and, hopefully, others will see your point of view and share the enthusiasm. Whether it's an employer, spouse or even parents, try and show how much the trip will benefit you, and in turn your relationship/productivity at work.
Use this time to:
Officially book time off work
Make arrangements with partners, loved ones, family etc
Think about your home: if you're renting, could you sublet your room? If your home is being left empty, do you need a friend to check on it from time to time?
Do you have pets that will need looking after?
Do you need to cancel any future plans or reschedule things for before/after your trip?
Once you've got the time, it's official – now tell some more people! Sean Conway says this is one of the best ways to commit to trip.
Action 2: Money, money MONEY!
With your costs estimated, take a look at your Adventure Fund and see how your doing.
If you need to start the Adventure Fund from scratch or add more money in, start thinking about monthly/weekly deposits, how you can cut back on daily living costs and when it's likely you'll have enough wonga to hit the road.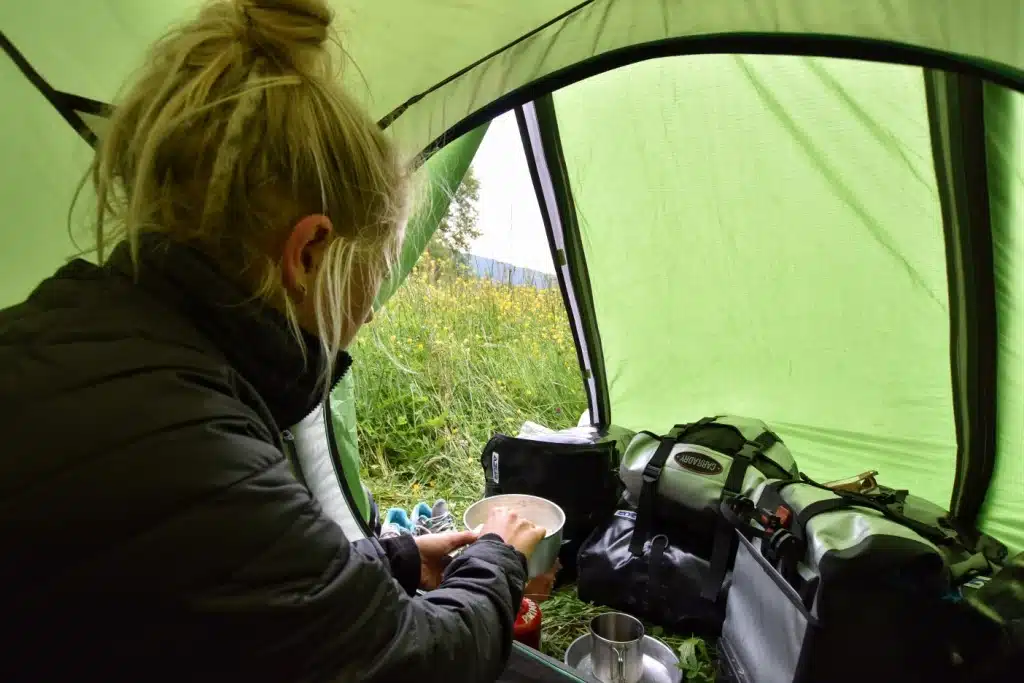 Action 3: Organise visas, vaccinations and permits
These can all take a surprisingly long time so it's good to get it done early on. Follow your national advice to find out about visas and vaccinations (here's a link to the UK Gov Travel Advice). If you're planning a long way ahead, make sure you're accurate with visa timings and that vaccinations don't expire.
For individual permits, for national parks or mountain access for example, this will depend on your individual trip.
Action 4: Go over your route and think about navigating
Whilst you don't necessarily need to plan out every mile of a round-the-world trip, it's good to get at least a rough idea, particularly for physically harder trips or ones where you're aiming for fast times.
When we completed the UK Three Peaks Challenge by Bike (probably the most gruelling experience of our lives) we planned every inch of the 7-day route, along with shops to buy supplies and places to camp. This was because we were tight on time and couldn't afford setbacks. Trying to figure this out on the road would have been hell!
Whether you're going on a straightforward path or an intricate one, always take a navigating system with a backup. Use a GPS (Garmin eTrex 22x UK/USA), Map and compass or phone app to accurately plot your route.
For many adventures, following an already established route is quicker and safer. You just need to make sure you know the route is well marked and how/where you can eat, sleep and resupply along the route. Mark this on your mapping system.
Other trips might require you to plot your own route which can take more time but is often more rewarding. For large scale planning, it can be best to start on Google Maps and then focus on areas with regional or local topographic maps. Maps.Me is also good for hiking and land travel whilst Ride With GPS is good for planning cycle tours.
Remember – plan for developed areas, geography and altitude. Once you've decided your route you can upload it onto your GPS with waymarkers for points of interest, like a shop, shelter, camping areas etc.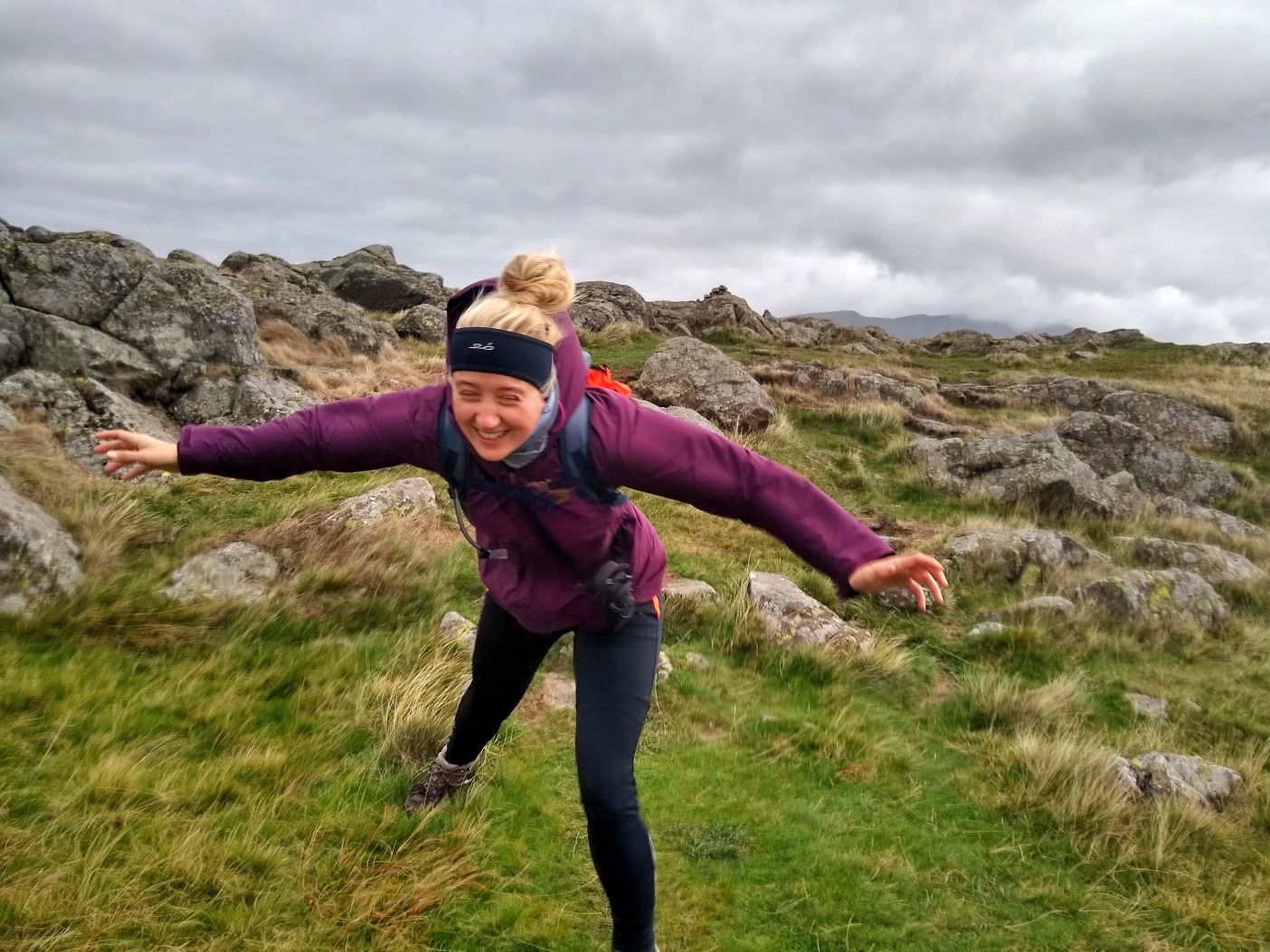 Action 5: Get advice from other adventurers
Get tips on the route, when to go or your outdoor gear by getting busy on social media, making some friends and seeing if they've got any pointers for your plans.
Besides it being damn useful, it's also a great way to find some like-minded pals and get some inspiration. Even pro adventurers will likely give some advice for trips if they've done something similar.
For our Three Peaks Challenge, we got in touch with Sean Conway who'd done a similar thing and he sent us his GPX files to take a look at. For our coming E.A.Ex, the cycle touring community on Facebook has massively helped with our GPS systems and climbers from around the world have advised on lightweight equipment via Reddit. When in doubt, ask. And, if you'd like any advice from us, drop us an email or a comment – we'd love to help!
Action 6: Get your kit list drilled down
You should already have a big list, but now with some added knowledge and advice from others you can go through and decide what's a necessity. Only invest in items you'll truly need and, unless it's for safety, only pack things you'll definitely need.
Start by going through the new list and noting the equipment you already have, then check it's still in good enough condition.
If you're buying additional equipment, you can usually source them second-hand from online marketplaces like eBay, Gumtree (Craig's List in USA) or outdoor gear groups on Facebook. This will keep costs down and be more sustainable
Sometimes it is the best option to buy new, just shop wisely!
A quick note on gear
Don't feel like you need the best, lightest-weight, most advanced gear on the market, just make sure you're safe and you get the right equipment for you and your adventure.
If, for example, it's not a technical trip, you won't be going into higher altitude or remote areas and you're confident about having good conditions etc. chances are you can make do with surprisingly little.
Find out what you really need for your trip and prioritise the essentials.
Super importantly: It's everyone's responsibility to opt for eco-friendly choices and this guide to ethical outdoor gear explains how to make your trip lower-impact.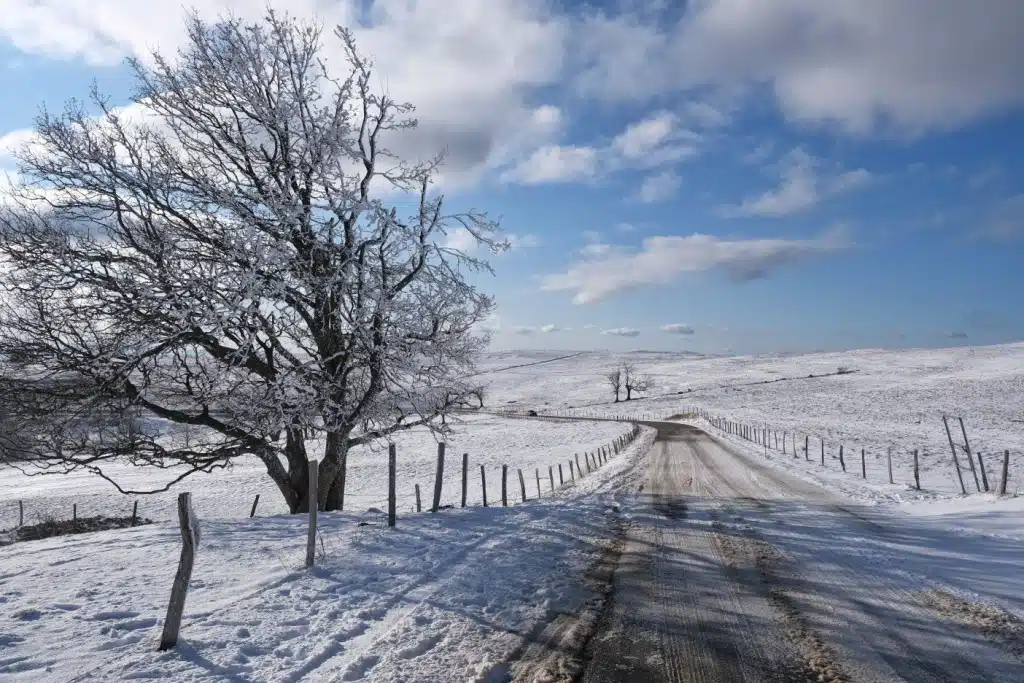 Action 7: Think about your food and liquids
Any physical adventure is going to be hugely reliant on maintaining a nutritious diet. Even for day trips, you'll struggle without the right energy and liquids.
First off, make sure you're able to carry enough water. When you're active, it's recommended you drink at least 1 litre of water every two hours. This will go up in hotter temperatures or during more strenuous activities. Water bladders can be a good lightweight option for carrying big enough quantities.
Also think, is water going to be easily accessible throughout your trip? Will there be drinkable water or will you need a filter? Will there be hot conditions and the need for more liquids?
What are you going to eat? Will you be making camp stove recipes or buying it from shops/eateries? Will you carry food supplies for the whole journey or will you pick them up along the way?
Your food needs will depend on your style of trip, but at the very least you'll need high-energy snacks to maintain a pace. We like things like energy balls or flapjacks which are easy to eat on-the-go. Obviously it won't be possible to have these for the whole of longer trips but it can be a nice way to start off.
Important for vegans or people with dietary requirements: this is a really crucial part of the planning process and it can make or break your adventure. For shorter trips it's easy to take all your food with you but not for longer trips. If you're going to be passing through foreign countries and you have a specific diet, it's really important to do a bit of research before and find some good food options to pick up along the way.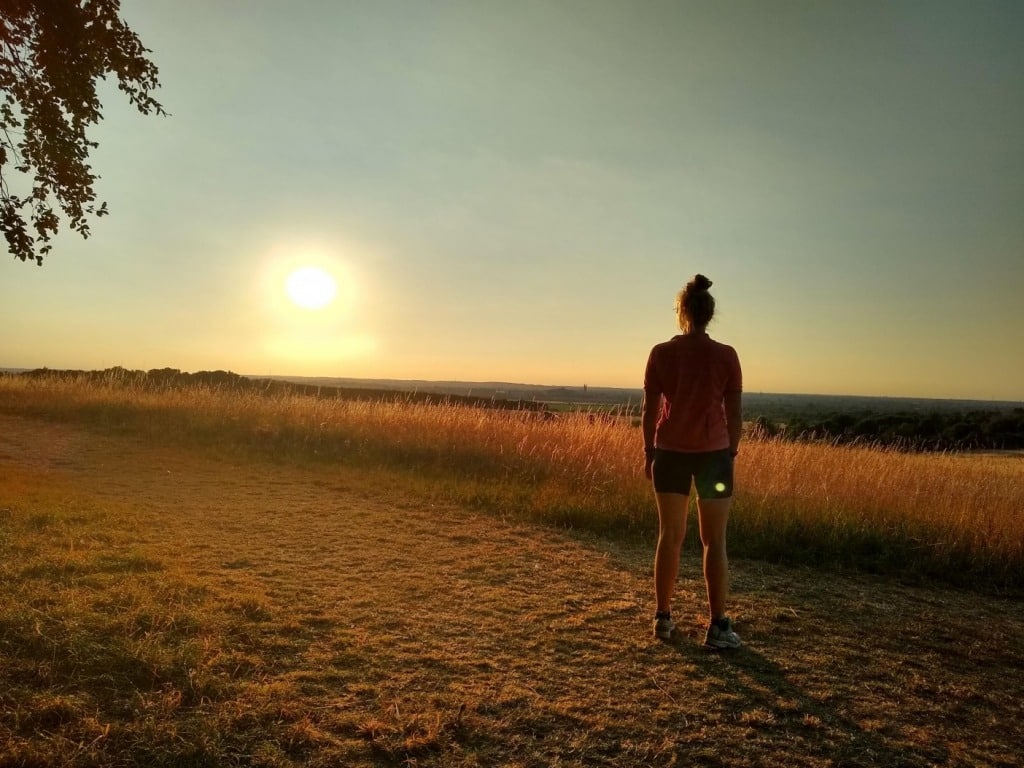 Action 8: Make sure you're up to the challenge!
Depending on your chosen adventure, you might need to start some kind of physical training more than 6 months before you even leave, others might require no training at all. An honest self-assessment will be needed, and again, don't over-estimate your ability!
For our Three Peaks Challenge, we began properly training 5 months before and when it came to the actual challenge we were bloody glad we did. For our E.A.Ex we need to maintain a high level of endurance for the cycling and hiking aspects of the trip but have also done climbing courses to ensure safety.
This is another time when it's good to get advice from fellow adventurers; see what training they did or what they'd recommend. The internet is filled with incredible sport-specific resources and training routines so get surfing.
Action 9: Think about safety and nitty-gritty stuff
These might seem like small things but they can still hinder the trip if they're overlooked
What health items or medication do you need to take with you?
How are you going to carry your money? Cash, travel cards etc?
Do you know the emergency numbers for the countries you're travelling through?
Are you confident with camping and/or wild camping? This guide will help
Do you have all the skills you need? Do you need to practice bike maintenance, map reading, knot tying, bushcraft etc?
Do you need to brush up on your camp stove cooking?
Have you told people of your route and put in any necessary safety precautions?
Double-check your gear list and make sure it's all well-maintained
Double-check your route
Double-check your spending costs
Are there any other nitty-gritty things you think are important to think about? Let us know in the comments!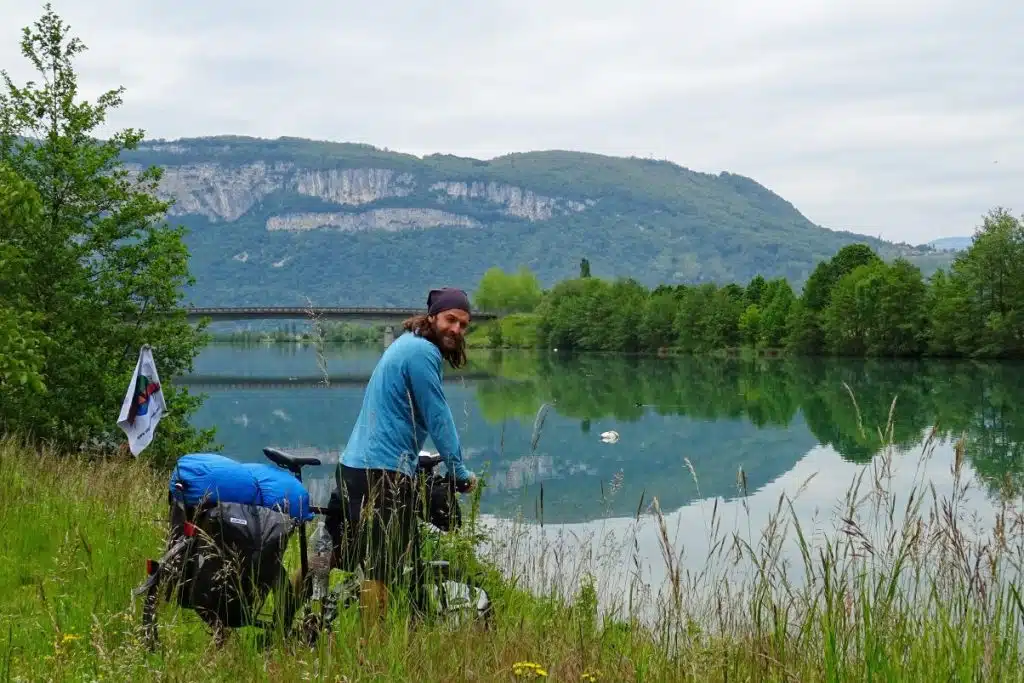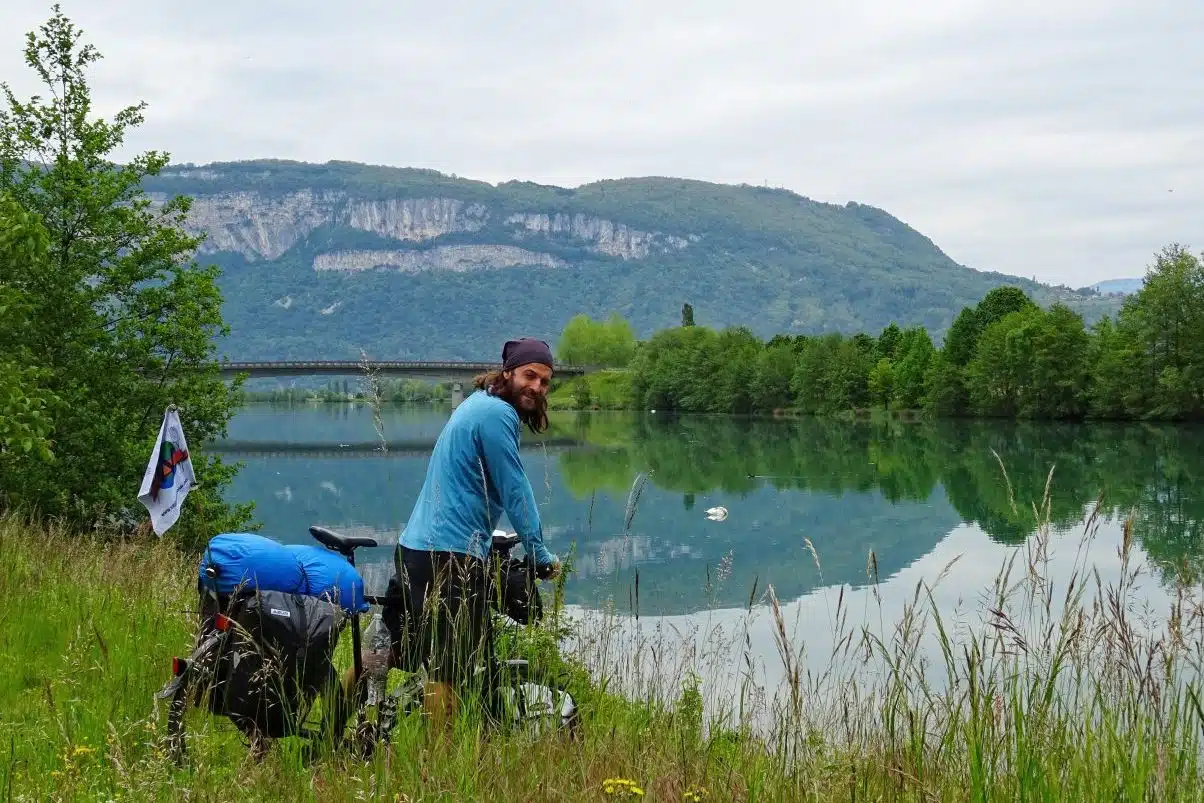 Action 10: Go for practice runs
Yes, this will be damn fun but it's also crucial for your main adventure. Going for a completely kitted-out test run will enable to your iron out any flaws with your gear, systems and plans. If you've got lots of new gear, it'll help break them in and also build up some speed with things like tent pitching, bag packing, meal making etc.
Don't go for some epic adventure, pick something pretty straightforward and closer to home, so it won't be major doom if everything goes up sh!t creek. Test out your gear, navigation system, meals/energy and any other aspects which are important to the trip.
Maybe you're sure about some of your equipment running smoothly, but have you used it in combination with new stuff? Is it comfortable? Is it safe? Is it secure?
Action 11: Stay motivated and inspired
Depending on how forward-planning you are, there could be a long time between reading this and the day you tie your laces and head out the door. It's dead important to stay focused and motivated, particularly if you've got plenty more saving, training and prepping to do.
Keep yourself feeling hungry and inspired by constantly feeding yourself adventure content. Keep yourself dosed up with outdoor books, films, documentaries or podcasts.
If you're planning a cycle tour, grab yourself a copy of Full Tilt by Dervla Murphy; planning a long vegan trail run? Check out Eat and Run by Scott Jurek; going on a gruelling climb? Watch one of these climbing movies.
Also, if you're saving, training and prepping seriously hard, remember to reward yourself.
Staying restrained is hard for long periods of time and you don't want to feel bitter about your awesome decision. Every now and again have a day off, treat yourself to nice meal, some pints at the pub, buying a good book etc.
The build-up to a great adventure can often be as memorable as the trip itself; make sure you enjoy it!
Ready for some planning? If you liked this Adventure Planning guide and want more resources, sign up for our mailing list here!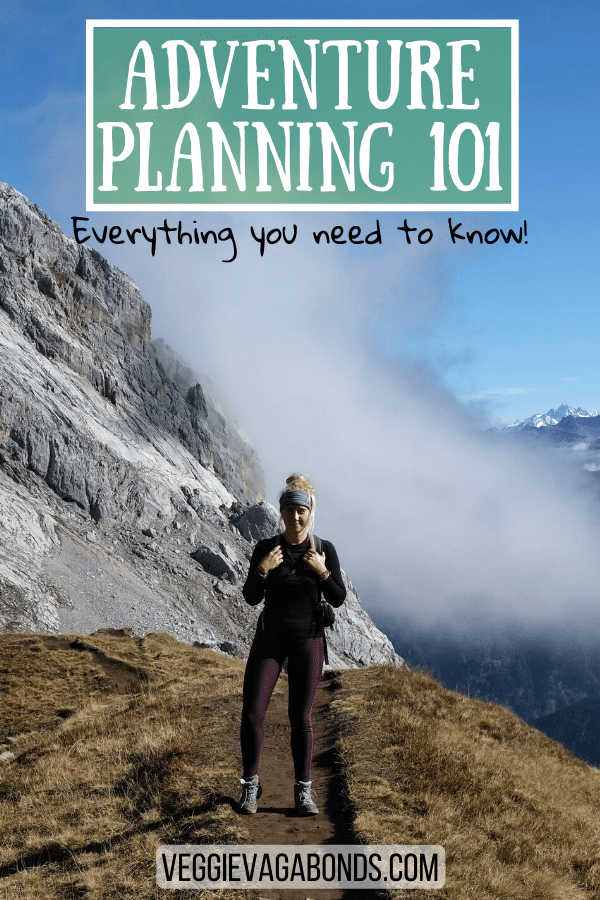 Adventure Planning 101: the Ultimate Guide to Planning Outdoor Trips
There we have it, every step you need to take towards your challenge/trip/expedition. It really doesn't take so much time and it's definitely worth it. Life really is so much better filled with adventure and hopefully this guide can help you add plenty to yours too. If you want anymore tips or advice, drop us a comment or send us an email – we'd love to help out!
Keep exploring…
The Complete Beginner's Guide to Hiking
Here's Why Ethical Adventures Mean the World