"if nothing can go wrong, where is the adventure?"
---
For us, and probably for many of you, life is all about adventure. It's about feeling exhilarated and pushing yourself to go higher, faster, further and seeing and experiencing new things. It's the things that get the hairs on the back of your neck standing on end and your heartbeat racing.
Every day we're thinking of our next perfect adventure and we're constantly discovering the most incredible adventures other people have had
But… what about the adventures that don't go to plan?
They happen all the time, regardless of if you're Bear Grylls or Paris Hilton, somewhere along the line there will be bumps in the road.
These 'bumps in the road' often make much better stories, I mean, what would Touching the Void be if nothing went wrong?
We decided to reach out to the pros for their experiences that didn't quite work out. This is a lighthearted collection of stories from when adventure travel goes wrong, honestly submitted by professional adventurers from around the world.
This article may contain affiliate links. If you make purchases through these links we may make a small commission, this is never of any extra cost to you but helps support Veggie Vagabonds, thank you!
Stacey, Love Your Travels – Sky Diving and Shoulder Dislocations
Skydiving is probably the last adventure trip you want going wrong on your travels. That moment when you're 28 years of age, you have the world at your feet and your like, yeah I can handle sky diving. Well at least I thought it could.
It was never on my mind to go sky diving, it was a spur of a moment thing and I thought why not. With previous shoulder injuries that were in my early teens and nothing really happening since then, I thought I would be fine. Oh, how wrong I was.
I chose to skydive at 14,000 feet with Sky Dive Jurien Bay which included over a minute free falling! The views of the Indian Ocean and the Western Australian coastline were pretty spectacular. Where it went horribly wrong, pretty much at the start, was when I was pushed from the plane. You have to spread your arms out and with the force and gush of the winds, my shoulder dislocated and popped out. It was pretty horrific, all I could do is cross my hands to my opposite shoulders as this is what felt most comfortable for me. Luckily my tandem instructor was able to get me to the ground quickly enough to be then transported to a hospital. Would I go skydiving again? Hell No! Not any time soon.
Ruben, Gamin Traveler – Disaster on Mount Rinjani, Indonesia
I was climbing Mount Rinjani a trekking adventure of 3 days and 2 nights in Senaru (Lombok, Indonesia). The summit is 3,726 meters high and to complete the itinerary you have to hike for 10 hours the first two days. The views are amazing and the trekking is well organised. You pitch the tent with an amazing view of the crater and can then enjoy the sunset. Everything was going great, we reached the summit but then when we were going down I injured my leg to the point I couldn't walk down. Going up was okay but when we were going down it triggered something excruciating in my lower leg muscles.
After this happened I had a completely different hiking experience. Without my injury I could go down in 2-3 hours but with my injury it took me more than 10 hours to reach the finish point. Because of the terrain no one is able to pick you up with a vehicle so that wasn't an option. Fortunately, on the way down I was able to talk and meet most of the porters working with organising tours. They're really amazing people and I enjoyed a couple of small towns especially because of how nice the people were. Not to mention the local food in the mountains! Even with this pain I was able to take pictures and enjoy the scenery and landscapes. I'll definitely recommend this trekking to everyone, it's one of my favourite adventures on my travels!
Jacky, Nomad Epicureans – Quad Biking in the Agafay Desert
My husband and I are not what you would call adventurous. We enjoy exploring cities, we do like a bit of walking in the forest, but you will probably never see us rock climbing or skydiving. However, when we were in Morocco we decided it would be a great idea to go quad biking in the Agafay desert. It was affordable and included pick-up from our hotel as well as all equipment, some snacks, a traditional Berber meal, and of course safety instructions. As I had never been on anything like a quad bike before, I was worried. Surprisingly I did just fine during the first few rounds we made on the bikes, but my husband was visibly struggling. The instructor took a couple of minutes to show him again and everything seemed to be fine afterwards. So we drove off into the desert.
Most of the route was relatively straightforward with a few bends and hills along the way. The trouble started when we approach a narrow path with steep ditches to either side. I was driving behind my husband and everything seemed just fine until I blinked for a microsecond and found that my husband had somehow driven the bike head-first into the ditch! I don't think I had ever been so scared in my life as I was then. Fortunately, he was fine and without major injuries. The tour guide even managed to retrieve the bike without any damage. I was very happy as they were genuinely concerned about his safety and checked several times whether my husband was ok. They then navigated the bike for him over the narrow path before we continued onward.
When we returned back to our riad we checked more closely for injuries and fortunately, he was completely fine. A couple of bruises and pulled muscles were easily treated with some painkillers from the pharmacy. It is worth noting that my husband had troubles operating the quad because he was trying to drive it like a motorbike (hint: don't do that) and had taken off his glasses as they felt uncomfortable under the helmet. These two things together were what led him down the ditch – lesson learned! All in all, I'm glad we went on the trip and I'm very happy with the tour operator we had chosen. However, I'm a bit ashamed to say that we did not have any travel insurance. While monetary concerns are obviously second to my husband's life, this could have been a very costly affair for us. Definitely buy travel insurance, no matter where you go or how soft you think your adventure is. You just never know!
Gemma, Two Scots Abroad– Hiking Disasters on the West Highland Way, Scotland
To celebrate our 30th birthdays we decided to get the girls together for a week of adventures along Scotland's West Coast. The West Highland Way is a 96 mile hike which starts just outside of Glasgow in Milngavie and ends in Fort William, a perfect way to see Scotland's scenery. We planned six days of walking with various friends and family joining us along the way. My friend, Helen, had previously completed the trek with her partner so we felt pretty confident as we left in the sun. Day one was a breeze for most, we celebrated with some fizz and a soak in the accommodation hot tub.
The next day disaster struck, one teammate couldn't suffer the blisters developed on day one so stepped out. Helen and I set off on our way leaving the stunning Balmaha behind to then get lost in what can only be described as 'the land of twig trees'. We fought with the spiked branches and boggy ground for hours before admitting defeat which resulted in a taxi boat to night two's accommodation. Day three was the day of doom for me. I've been fit all of my life but my body gave up. My Achilles were burning hot and squeaking. Thankfully walking sticks make great crutches in a crisis. For hours I pulled myself along on the sticks.
Talek, Travels With Talek – White Water Rafting on the Zambezi River
Rafting the Zambezi River in Zimbabwe was not on the agenda that day but once we saw the sign advertising the tour we figured, why not?  
On the riverbank next to the rafts the guide gave us one basic instruction: if you overturn, DO NOT LET GO of the raft's rope no matter what. We departed and immediately were overtaken by massive rushing rapids. I often relive the next few seconds in my mind. It always happens in slow motion. The raft began to lift from the front until it had no option but to tip over. I was furiously holding on to the rope but the raft was falling in a direction that I knew would break my arm if I didn't let go. But I remembered the guide's instructions that whatever happens YOU CANNOT LET GO. 
In the milliseconds it took for this to happen I weighed my options; if I broke the cardinal rule and let go I might drown, but if I continued to hold on my arm would break, I wouldn't be able to swim with a broken arm and would definitely drown. I let go. Everything went fast forward. Immediately I was swept into a whirlpool and sucked underwater.  My shoes and watch were torn away. I kicked furiously trying to reach the surface where I saw light but no matter how hard I tried I couldn't reach it.  The whirlpool was too strong. I began to think that if I didn't reach the surface within the next few seconds I wasn't going to make it. I remember being sad at this realisation. Suddenly I broke the surface and a fellow rafter grabbed my hand leading me to the raft. That was the scariest experience in my travels and adventures. And yes, I would do it again.    
Natalie, A Pair of Travel Pants – Namibian Desert Mishaps
It was March 2018 and we had 4 weeks to travel Namibia by car.
"We'll stay in the middle of the desert to see the stars!" We crooned. "It'll be great!"
Except it wasn't.
A few hours later, we got planted firmly in the middle of a 6km-long driveway, ankle deep in soft sand, as we tried to dig out our very stuck Ford Fiesta. We were in nowheresville, Namibia and it was hot.
If you haven't been to Namibia, I'll give you the quick and dirty: Namibia is beautiful, but it is empty and big. Oh, and there is no cell service outside of the major cities; if you get stuck you are STUCK until someone finds you.
It took hours before a 4×4 drove up the driveway we were in. They were a very sweet German couple who were ready to help us out. It took two tries to get us out of the sand.
We drove for 4 hours after that trying to find somewhere else to stay! We bumped our way over gravel and rocks desperately trying not to pop a tire or get lost and run out of gas, racing the waning sunlight. Finally, we found a campsite 70 kilometers out of our way.
The good news is that we did see the stars, but the bad news is our car got its windshield cracked, busted a rear suspension coil and we collided with the German's 4×4 as they pulled us out of the sand, denting the trunk. Whoops. Bye, bye car; hello thousands of dollars' worth of damage.
The moral of the story: don't drive a 2×4 in Namibia. Once we upgraded to a 4×4 our adventure became SO MUCH BETTER and we were able to enjoy Namibia's wonders much more.
Josh, The Lost Passport – Riding a Minsk in Vietnam
Riding a 40yr old two stroke Belarusian Minsk across the remote parts of northern Vietnam already sounds like an amazing adventure gone wrong. The scenery was some of the most amazing I had ever seen, the people were incredibly friendly, and the food was unreal.
Then I learned how often the motorbikes actually break down.
In the space of 10 days and about 1000km my Minsk was capable of the following breakdowns; flat tire three times, fouled up spark plug every day, engine filled with water in a river, frame snapped clean into two pieces, rear swing arm bolt snapped clean though, exhaust pipe fell off, brake lever snapped and throttle cable broke.
I count myself lucky having background knowledge on motorbikes, knowing how to repair minor issues.
Then my last spare tire tube shredded on a remote trail hours from the next closest town north of Ha Giang, I realized I was finally the deep end. After pushing the motorbike for over two hours to the closest main road, I finally came across some Vietnamese farmers who knew all too well what a flat tire looked like.
With a little help from the locals we managed to transport the motorbike to the next town for a late night repair at a roadside mechanic. A 4 hour ride became a 12 hour mission, but we finally succeeded and hit the road again. 
Lea, Zen Travellers – Gorilla Scares and Hungry Belgians
Group travel always carries some risks and often the people in the group can either make or break an experience. This was exactly so in Uganda when I went to Bwindi Impenetrable Forest to track gorillas. My husband and I were matched with a group of people we had never met before on the morning of our trek. Two members of the group, a Belgian couple, had missed the memo from the hostel about choosing your breakfast and packed lunch the night before, so they had nothing to eat, and only one bottle of water between the two of them. In other words, they were ill-prepared for the 8 hour day we would be adventuring in the rain forest in search of gorillas.
Growing up next to the mountains in Canada, I've seen what can happen to people when they don't bring enough water and food on strenuous hikes and it's not pretty. I was afraid that these two would hamper our group's ability to track the gorillas, but they ended up being fine. At some point it seemed to become a source of pride that they had no hunger and they even refused people's offerings of snacks and extra water. We ended up having to track the gorillas for over 4 hours before we found them and was surprised when the two not-hungry Belgians kept up.
They weren't finished being the ones everyone in the group would go home talking about though. As we followed the moving pod of gorillas through the forest, myself and another person became separated from the rest of the group. At the same time, a male silver back decided he was going to cross the path as well. Before doing so however, he looked up the path at us, and then down the path toward the rest of the group, and feeling threatened, he grabbed the nearest vine and punched one of the Belgians right in the arm! The guide told him to get down, so he dropped to the forest floor as the silver back flashed his massive teeth at the rest of the group before darting off.
The Belgian was ok and not even all that shaken by what had just happened. He casually mentioned that he had also been chased through the jungle when travelling in Borneo by an orangutan famous for biting people. This guy clearly has a history with great apes. The couple started dragging their feet on the way back, but still refused my bag of trail mix that I offered them. They were insistent on making it in and out of the impenetrable forest without eating. I mean, one of them had survived a gorilla punching so not having food probably seemed pretty minor in comparison.
While a gorilla-punching incident and ill-prepared hikers should have been a recipe for utter disaster in Uganda, in this instance it fortunately worked out for everyone. Nevertheless, when I saw the Belgians back at the hostel, they had about six plates of food between the two of them on their table with a couple of extra-large beers to wash it all down. I guess their hunger had finally returned.
Nicola, Kic Travels – Hungry cows on Laguna 69
Last month, whilst travelling in Peru, my husband and I hiked the Santa Cruz Trek. As we were running out of time in Peru we didn't spend much time planning, we just hired some equipment and went.
The first day we took a little detour to hike to Laguna 69. Plenty of other people were doing the same route so we didn't think it would be difficult. We reached Laguna 69 shortly before midday, but in our rush to get going we had completely underestimated the altitude! Without acclimatisation at 4550m we felt awful! We took a quick snap of the lake and turned around to find a lower camping spot for the night.
We reached the campsite exhausted. We put the tent up, curled up and passed out in an altitude induced slumber.
At around 4 am I woke up desperate for the toilet. As I crawled out of the tent I realised that my bag was missing. By torchlight I discovered the contents of my bag scattered around the campsite. There was no obvious culprit around so I packed my bag back up and brought it back inside.
At sunrise I woke up and discovered, once again, that my bag was missing. I opened the tent door to find my backpack in the mouth of a big black cow, who was attempting to chew holes in it! I got up thinking he would give it back, but he just stared at me and continued gnawing at it. This went on for a good 20 minutes before my husband threatened her with a stick and she dropped my backpack in a soggy mess on the floor. I had to carry that bag and wear its soggy contents for another 4 days before we could wash it!
Jane, Wicked Walkabout – Moreton Island Snorkelling Problems
Moreton Island is not far off the coast of Queensland, near Brisbane. It is a popular Island for 4 wheel driving and camping as well as having a lovely resort, the Tangalooma.
The island is also well known for fabulous snorkelling off the beach at a spot where an artificial reef was created when a number of barges were deliberately sunk and left to rust and form soft corals. The colourful fish that swim there are, apparently, just so pretty to see.
I researched and really wanted to be sure it would be fine for our family of four to spend a small fortune and cross over on the day ferry as foot passengers and have a fun day out.
Off we went, a couple of hundred dollars later, with our snorkelling gear to have a fun day. We disembarked the ferry which pulled up on the beach by the Tangalooma wreck with stunning blue waters and a calm sea. Being hungry we walked towards the resort only to find that unless we had booked special day passes or accommodation – forget it. We were not even getting close to any restaurants. The 'guard' was pretty rude about it all too and quite officious.
With no food supplies and feeling really 'hangry' we walked way back along the beach to at least snorkel and see the fish we had come to swim with… alas, the waves had picked up it was far too choppy to go out.
With no shelter, no food, too far to walk to any other attractions and a whole day waiting for the ferry to return… we were not happy little 'vegemites' as we Aussies might say. Still, the ferry crossing was pleasant.
Chris, Being a Nomad – Kilimanjaro Altitude Sickness
The first time I tried to climb any mountain higher than 4,500 meters, it all went horribly wrong.
I'd booked one of those expensive adventure package trips to climb the 6000-meter high Kilimanjaro, the tallest mountain in Africa
After several days of safari, our group went to tackle the mountain. On the way up, we saw a man on a stretcher being carried down by four Sherpas (local guides). For sure, I didn't want to be one of those guys.
But the problem was I hadn't really trained for Kilimanjaro. Plus, although this wasn't entirely my fault, I didn't have enough time to acclimatise. Because of the heat, I sweated a lot at the start of the 8-day trek, lost a lot of water, and never managed to properly rehydrate.
Once I'd reached 4,300 meters and after about four days, I started to get flu-like symptoms. I liken altitude sickness to getting a hangover backwards, starting off mild until you feel kind of drunk with a headache. I wanted to carry on but, as I shivered inside my down jacket, my group advised I should turn around.
Fortunately, I saw sense. My guide and a Sherpa helped me back down the mountain. I was so delirious, I thought a man passing with a head torch was a shooting star. But I recovered quickly and after about half an hour, I was bounding down the slope. My experiences climbing Kilimanjaro and later almost drowning in Zanzibar taught me an important lesson.
It's not about the status of what you've done that's important, but the experience you have along the way. I was disappointed I didn't make it to the peak, but I did get to see majestic Kilimanjaro from its foothills, its white crater peaking above the clouds.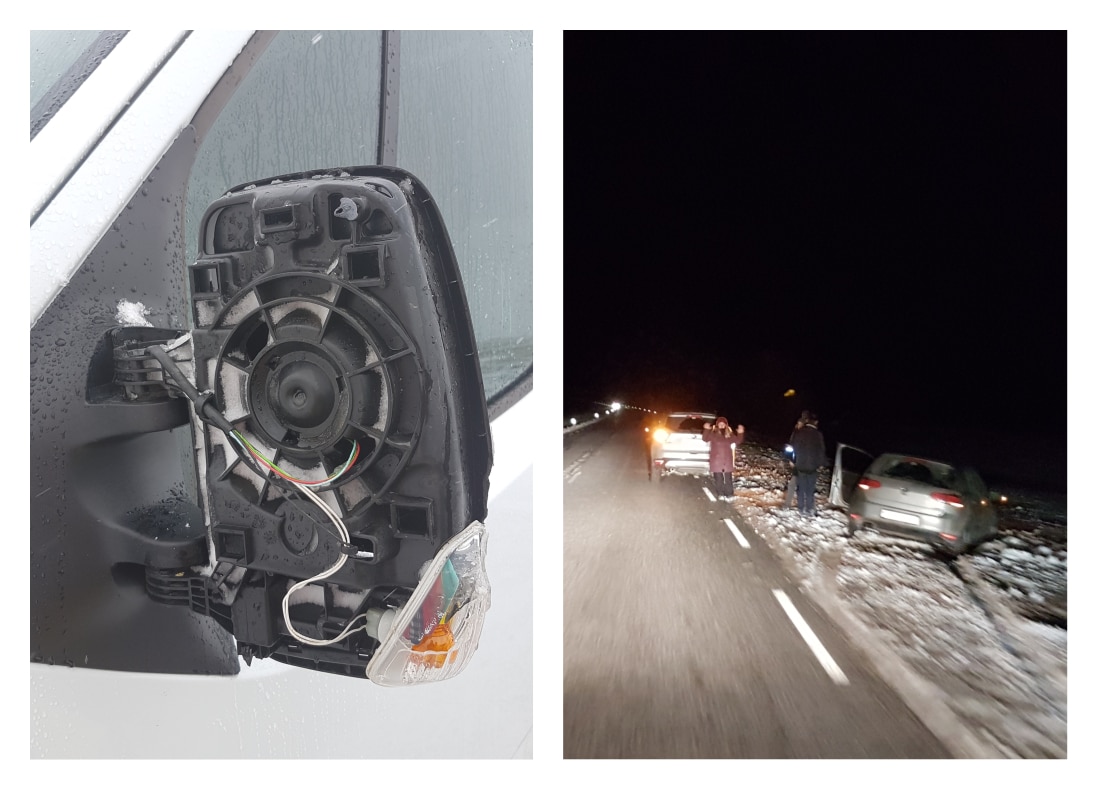 Christine, Christine Abroad – Angry Icelandic Drivers
When we travelled to Iceland last year, we rented a camper van and did a road trip around the island. It was in March, so the weather was quite crazy with both strong winds, sunshine, and snow storms.
On one of the evenings, after a days adventures, we were driving for a couple of hours to reach our campsite. It started to get dark and when I say dark I mean that they don't have any street lights along the main big road in Iceland (except in some towns). Not only was it pitch black outside but it also started to snow quite heavily.
Along the way, we could see cars that had been sliding off the road into ditches – lucky there were already people helping them so we didn't have to stop.
When there was around 15 minutes left for us to drive the weather got even crazier. There was so much snow that we couldn't see anything except the lights of the oncoming traffic and also cars behind us (you can see the lights of the cars from a crazy long distance since there are no street lights).
I saw a light from behind, so I started to slowly drive a little bit closer to the side to be kind and make some more room if the driver wanted to pass safely. It wasn't a car but a big truck that was driving full-speed during the snowstorm. The truck didn't give me enough time to move to the side, it hit our side mirror and pushed us off the road in the middle of nowhere. We were really lucky not to be seriously injured.
Luckily I kept control over the car and even had time to honk several times. Unfortunately the driver didn't care at all, they just drove on.
Not only did we have to pay 1000 USD for a new side mirror but it also ruined the rest of our trip since we had to wait 2 days to get the car fixed. Because of the delay we didn't have enough time to drive around the country, serious bummer.
Epic Road Rides – Tenerife Cycling and the Proper Planning
As road cyclists that love to travel, we've had a heap of experience in planning rides in new destinations and are usually pretty accurate with estimating the time it will take to complete a ride. However when cycling in Tenerife recently, we got it totally wrong!
We were riding in the north of the island, doing a loop of the Masca mountains (which are stunning by the way!). This was day 1 of our trip and it was a classic case of not being properly prepared. We'd set out on the 100 km ride later than expected, in a rush, with a semi-charged phone and only a little food.
Not having cycled in Tenerife previously, we hadn't fully appreciated how persistently steep the road gradients are or how quickly darkness falls when you're so close to the equator…
So at 6pm, in the growing gloom of nightfall, we found ourselves about 40 km from home with a 19km, 1000m climb ahead of us. We had 5% phone battery, no food, and just a couple of euros. Luckily the phone battery lasted just long enough to make a call and arrange an emergency pick-up. But it really brought home the importance of proper planning!
Owen, My Turn to Travel – Thank god for the porter
It was New Year's Eve and we were heading back to our campsite atop Mount Roraima, ready to relax after day 3 of our trek. We were set to kick back, open a bottle of wine and bring in the New Year. Our guide Ash brought us in circles along to the summit of Mount Roraima for a view that we will never be able to forget.
Mount Roraima is a table top mountain and the summit is like a whole new world, which inspired the novel "The Lost World". It looks the same, from every angle; black sandstone, wet swamps and weird rock formations.
Unlike native guides, Ash is from Caracas; she's a young city girl who has been guiding trekkers up Mount Roraima for a mere for years. Her pace quickened, her face looked puzzled and she muttered to herself. We could tell something was wrong and it was at that point that we realised we were lost in the wilderness.
She told us to stay put while she went to look for help. Nervously we waited as the skies opened and the sun went down. 30 minutes went and Ash wasn't back. We sought shelter under an overhanging cliff as the rain got heavier.
1 hour went past, it was dark and freezing. We laid out our sleeping bags and huddled to keep ourselves warm. Ash still wasn't back.
2 hours later, we gave in and were ready to spend the night in the cold, wet wilderness. Then, we saw a beam of light and a rugged man came to us – drenched and worried. It was our porter! We quickly packed and followed him, picking up our lost guide along the way, who was sitting on a rock, crying and feeling guilty. 
We finally made it back to our campsite an hour later with hot soup waiting for us. I was the coldest, wettest and most traumatising welcome to a New Year – ever.