Sharing all the backpacking tips and multi-day hiking hacks you'll need to crush your first trail (and LOVE it!)
---
Truer words were never spoken than, "You don't know what you don't know."
Did you know that there are six fundamental backpacking areas to cover that will have you ready to escape into nature lickity-split? But look online and you will find seemingly infinite lists of beginners' backpacking tips to slog through, only to come up with just a few useful nuggets.
Most of what is out there you'll already know from day hikes.
Obvious things like the following are common sense:
Check the weather before you leave
Start with an easy route
Go with a friend the first time
Take your time packing (AKA – do not try to throw it all together the night before you leave)
Useful bits of knowledge can be learned by investing in classes like Wilderness Navigation, Wilderness First Aid, and Bear Awareness – which are always a good idea – you could also learn the hard way on the trail… OR you could save time and money by getting expert advice from other experienced backpackers – like us!
This guide has everything you need to know!
Keep on reading to find ace tips on:
This article may contain affiliate links, they will never cost you more money but helps Veggie Vagabonds keep making content like this – thank you!
What is This Post About?
This post is a straight-up, no-nonsense list of actionable backpacking tips broken down into six fundamental areas. Useful information pre-trip and while you are on the trail. Basically, everything you need to focus on for your first backpacking trip.
Why?
Because one bad trip experience may make it the last one you want to take. Our mission is to make your first backpacking trip an easily attainable goal that won't confuse you, frustrate you, or break the bank. Instead, you'll have an epic time!
These are the six fundamental areas you will plan your first backpacking trip around:
Sleeping, Eating, Hygiene, Comfort Level, Footcare & Gear.
---
---
Fundamentals of an Awesome Backpacking Trip
1. Sleeping – You Need A Good Night's Sleep
If you haven't spent much time sleeping outdoors, you might find it a little intimidating. Perhaps because of the night sounds you'll encounter, the worry about comfort or even being unsure about peeing outside… whatever the reason, these tips can help!
Sleep with your window open at home to get used to night-noises before you go
Set up your tent, then spend a night or two in your garden or even your living room
On the trail, have adventure-filled days so you crash out as soon as you hit the sleeping pad

Bring earplugs

(nature sounds are mostly soothing but a choir of cicadas can be tough work, not to mention snores from fellow campers…)
For more comfortable camping, get familiar with your gear and use it in fitting weather situations e.g. is your sleeping pad, tent and sleeping bag cut out for your trip?
Backpacking in cold weather: items like batteries, electronics and water filters can freeze in cold weather. Make sure they're in your tent overnight AND if it's seriously cold keep them snug at the bottom of your sleeping bag.
2. Eating – You CAN Eat Healthy on the Trail
If you're working hard, you need to be filling up on nourishing grub.
Pre-prepared dehydrated food has come a long way, and some of it is rather tasty. However, just like any other processed meal, it may not be the healthiest choice.
To cut down on nasty stuff, try dehydrating or prepare your own meals.
There are loads of delicious vegan backpacking meal recipes if you know where to look for them (wink, wink).
One thing the newbie backpacker tends to do is pack too much food. Do you know what you want to have for supper a few days from now? I know we don't…
The solution: Don't pack too much food and instead use bail-out points to resupply as you go.
Resupplying allows you to make some fresher food choices along the way too.
A common mistake with bad consequences some beginner backpackers have made is sitting too close to their camp stoves when boiling water. Out on the trail, you may not have the most secure surface to cook on. A spill can happen fast, and you want to dodge it and avoid a very painful mistake.
Never sit close to a boiling camp stove.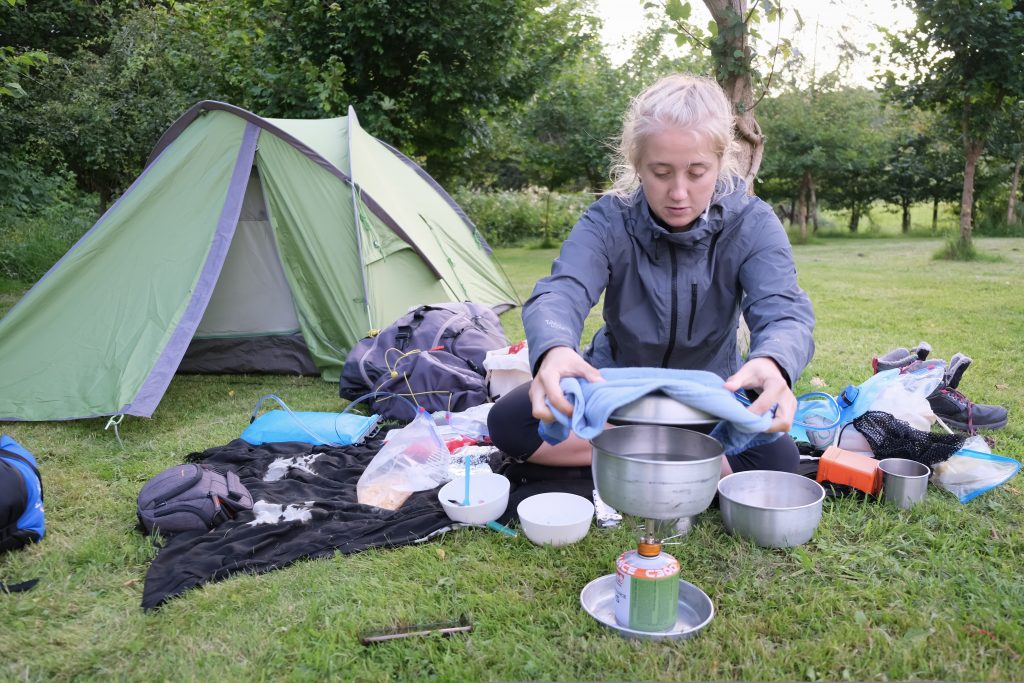 3. Hygiene – Everybody Poops and FOPO
Pooping in the woods is one thing almost every novice backpacker struggles with. One of the biggest challenges to noobs is FOPO.
FOPO stands for: Fear Of Packing Out. Specifically, packing-out your toileting paraphernalia, such as used toilet paper and sanitary items. Packing-out is part of the seven Leave No Trace Principles. To make your FOPO experience easier, you can either buy or make a poop kit.
What to Put in a Poop Kit?
One large Ziplock to carry your poop kit in
A trowel
A smaller Ziploc for soiled items
Hand sanitiser
While we are on the subject, it bears mentioning that your diet on the trail may change from what you are used to. That can cause severe stomach upset.
Pack meds to deal with constipation, diarrhea, and nausea. You'll be glad you did.
Want more expert outdoor tips, backpacking hacks and gear recommendations? Sign up for our mailing list below to be kept in the loop!
4. Comfort Level – Body & Mind
Setting out on a multi-day backpacking trip for the first time is a big deal. You may feel way out of your comfort zone physically and mentally. But, make your first trip a good experience and you'll be hooked!
Physical Comfort
No cotton, seriously. Cotton holds moisture that can cause you to catch a chill or even experience hypothermia. Never take it on the trail.
A little trick to help keep your pack lighter is to reuse your undies and socks. For instance, today's undies get turned inside out and worn tomorrow.
Only carry as much water and food as you need, too many extras will weigh you down.
Know that temperatures can range widely between day and night. Dressing in layers is the way to deal with this.
Pack a lubricating product to deal with any chafing.
Stretch after tough days to help reduce muscle soreness.
Try and wear something other than your trail clothes to sleep in – spare base layers make great pyjamas!
Don't push yourself to stick to a schedule. You might not be able to do the distances you thought you could and pushing yourself too far can cause soreness or even injury.
Mental Comfort
A familiar routine is mentally comforting; here are some tips for keeping up your positive trail vibes.
Download an audiobook, listen to podcasts or music.
Bringing a small notepad to take daily notes can be a great mindfulness technique.
Bring a keepsake or special item that can keep you inspired.
Don't avoid contacting friends and family if you're feeling too far from home.
Embrace chatting with other backpackers.
Stretching, meditation or mindfulness can be super powerful on the trail.
Stash a secret hoard of your favourite

snack.
5. Footcare – Backpacking Tips of Awesomeness
At the end of the day on the trail, your feet may be sore and swollen. This can happen whether you are on your first trip or your 31st trip.
Clean your feet at the end of every day.
Bring flip flops to air out and keep trench foot at bay.
Make sure your hiking boots fit properly and are well broken in.
Deal with hot spots on your feet as soon as you feel them.
You'll never regret soaking your feet in a cold stream at the end of your day.
Have blister plasters as a last resort
6. Your Backpacking Packing List & Gear
A few words about gear: starting out, your backpacking kit list doesn't need to be full of all the top-of-the-line stuff right off.
It's definitely worth investing in the backpacking essentials and saving on other bits of kit. When you know what you like, then you can start to think about investing in higher-quality backpacking gear.
These are the essentials:
Sleeping mat
Hiking boots, shoes or trail runners
Backpack – have it properly fitted in-store and learn how to balance it.
First Aid Kit – know your first aid kit, what is in it, and how to find what you need fast.
YOUR PACKING LIST: Once you've got your whole packing list decided, ask an experienced backpacker to take a look through and see if there are any unnecessary items you can cut out. You can even send it over to us in the comments to take a look at 🙂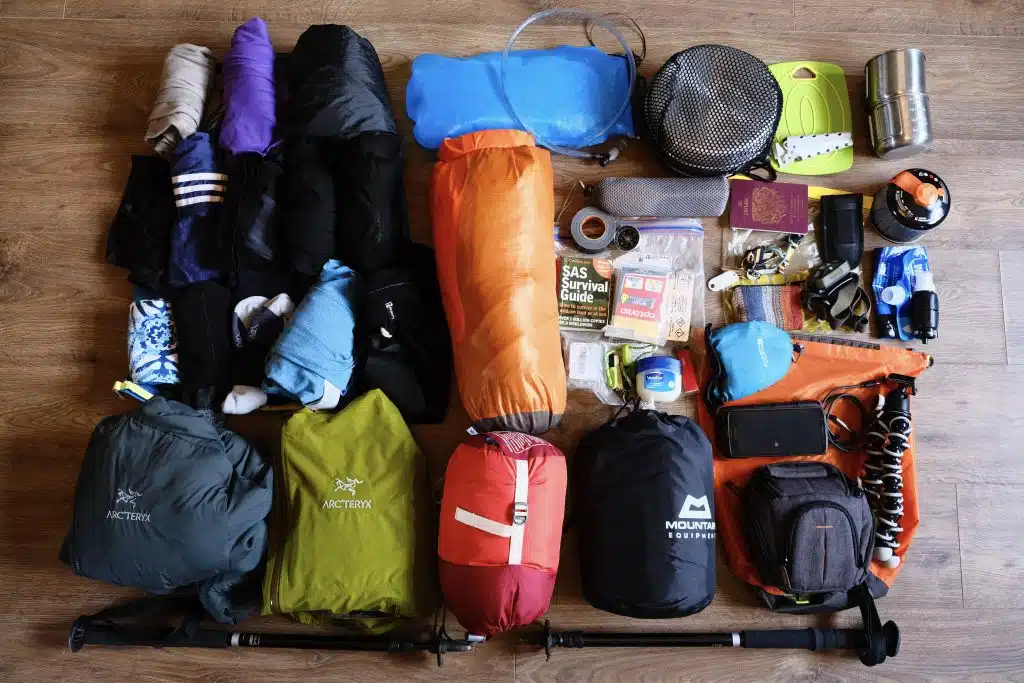 A Few Thoughts About Dental Floss, Thread, Duct Tape, and Bandanas
Dental floss or thread might not seem like a backpacking staple, but, on the trail, it has MANY uses.
Three Uses for Dental Floss or thread
Sewing: Repairs for gear and clothing
Emergency stitches: It's the last resort but it works.
Clothesline: If you end up getting wet and need to dry out some clothes, dental floss or thread will do the trick
Three Uses for Duct Tape
Wrap a little duct tape around your water bottle to have it handy.
Patch it up: You can use duct tape to patch everything from water bottles to a rain fly.
Emergency: Duct tape can be used to remove thorns and is also excellent for securing a splint
Repair: If you break a tent or trekking pole, duct tape can save your trip. It will hold together until you can have your item replaced.
Three Uses for a Bandana
The only cotton item you are allowed.
Oven mitt: for handling hot cooking pots.
Cover food: if flies and wasps are around.
Wipe up spills: rinses out easy.
Did someone say pee rag…
Getting out on the trail for the first time is often a bit overwhelming. Thinking you need a huge list of things creates barriers to entry for many enthusiastic first-timers. The truth is, you don't know what you will want or need until you have gone on a few trips and experienced different terrain, distances, and weather conditions.
Take your time, enjoy your journey, be safe, and say hello if you see us on the trail!