For backpacking or adventure trips, our homemade berry fruit leather recipe has become our favourite snack!
---
When weight and space are an issue, it can be difficult to get all the nutrients you need on the trail. That's why this easy fruit leather recipe is ace, as it's lightweight, super simple to eat on-the-go, can easily be stored in your backpack for weeks and is packed with goodness.
They're also the ideal low-waste snack too – ethical adventurers here we come!
Although a dehydrator isn't your typical household appliance, if you're doing a lot of outdoor pursuits and don't want to carry a ton, it's worth getting one for this reason.
These fruit rolls have a zingy sweet taste of the berries against the subtle taste of apple, which is SO awesome after a hard day in the wild. It's quickly turned into our adventure staple!
This article may contain affiliate links, they will never cost you more money but helps Veggie Vagabonds keep making content like this – thank you!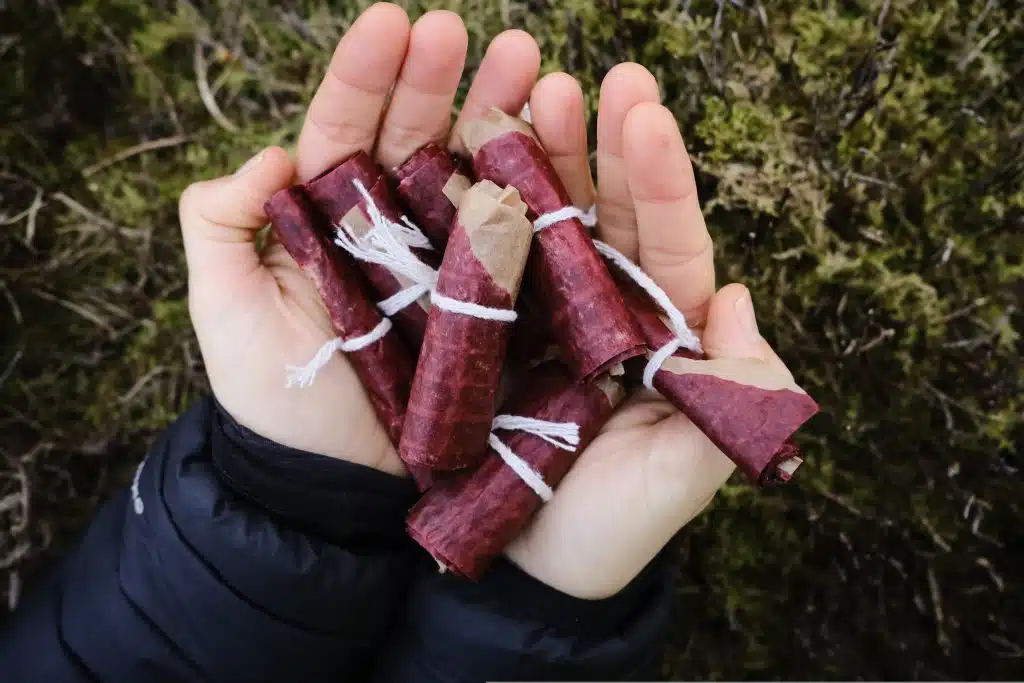 Getting your daily dose of goodness
When trying to skimp on weight for a trip, it can be mighty tempting to just pack in countless packets of super noodles. Don't get me wrong – they certainly have their place on a backpacking menu – but they're not the most nutrient-rich.
On a multi-day trip, nutrition is seriously key, especially if you're pushing yourself along tough trails and summiting peaks. A meal or two of noodles ain't the worst but you will need the right nutrients to keep you powering on and feeling strong.
That's what makes these little red rolls are so ideal.
They're crammed with all the goodness of super berries and apples but cut out the issues from lugging around fresh fruit.
1-2 fruit leathers is the same as a serving of fruit, and it's packed with:
Fibre
Antioxidants
Nutrients such as Vitamin A, B and manganese
Helps to lower inflamation
Good for your heart
I've found this recipe is a great way to give your body some of that goodness it craves on the trail. Plus I'm a fruit fiend, so I relish in the chance to gobble down something refreshing and tasty in the outdoors.
If you're looking for more information on lightweight carbs and protein sources, check out our resources to help you plan what to take for your next trip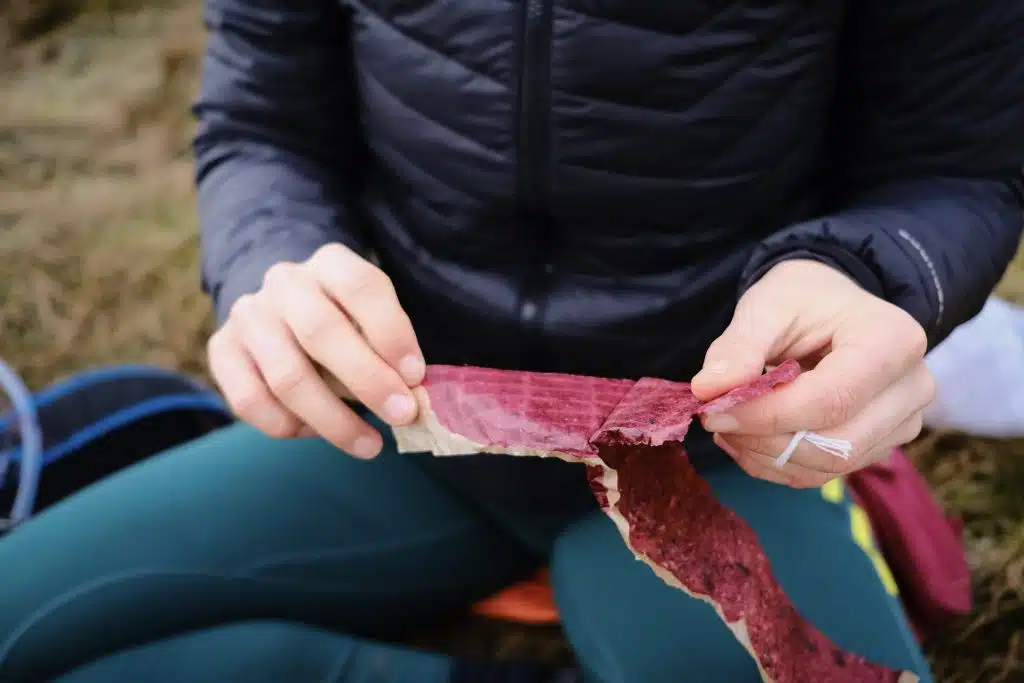 Want more vegan adventure food? Sign up for our mailing list for recipes, gear adventure inspiration and panning tips!
Ideal backpacking food
Let's face it: when it comes to hiking or backpacking, a lighter backpack = a happier adventurer.
Things like your sleeping bag have to stay put, but being able to swap out fresh fruit for these leathers is a game-changer. They're so lightweight and can easily be stuffed into your rucksack in a resealable bag, ready for whenever you want them. It makes exploring wild landscapes so much more accessible.
They're also incredibly easy to eat, so you can happily scoff them whilst on the move or in a hurry, without any sticky residue on your fingers.
A low-waste snack made for adventurers
Being in your natural surroundings makes you really appreciate how incredibly beautiful and fragile they are. That's why reducing your impact whilst exploring is so important and homemade snacks are one of the easiest ways to cut down on waste in the outdoors.
Making these leathers means you cut out the plastic most shop-bought snacks are wrapped in. Plus, you can reuse the string you wrapped them in for your next recipe and the baking paper is completely compostable, (providing it's unbleached).
How to make fruit leathers in a dehydrator
1. For this recipe I used frozen mixed berries as they're a lot cheaper than fresh. You can use fresh and they'll work the same (if you do, you can skip this step to go straight to step
If you're using frozen berries then begin by defrosting them. You can either leave them in a bowl to defrost at room temperature, or heat them at a low heat for about 10 minutes.
I used a mix of blackberries, strawberries, redcurrants and blackcurrants. You can sub for mixed berries of your choice but remember berries like strawberries will make your leathers sweeter, whereas fruits redcurrants will make them more sour.
2. Whilst your berries thaw, peel and core 4 apples. Make sure there's no peel or pips left, as these won't taste good in your fruit leathers. Then roughly chop into 1cm squared cubed. You can do this really roughly as it's going to be blended but it just makes it a little easier to do so.
3. Once your berries have thawed add them to the food processor along with the apple chunks and blitz until the mixture is completely smooth. This will take about 10 minutes and you may need to press down bits that come up the sides.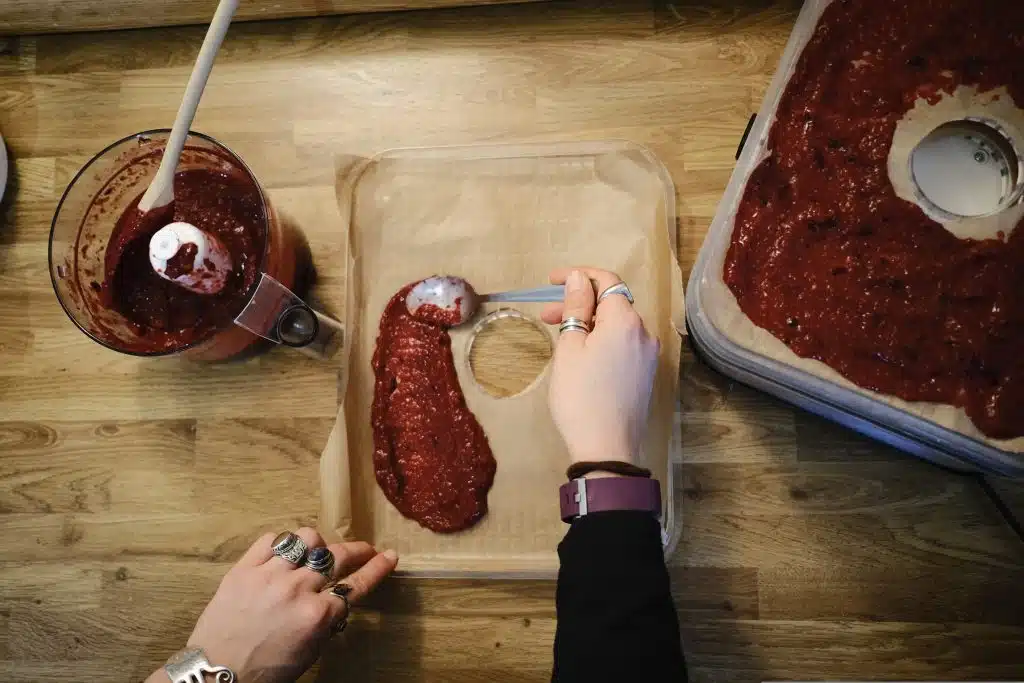 4. Meanwhile prepare your dehydrator trays by lining them with baking paper. Depending on the type of dehydrator you have this may vary. For the VonChef dehydrator I use, I cut the baking paper in rectangles according to the size of the trays, then cut a hole in the middle for the air to flow through.
5. Next spread your blended mixture onto the baking paper about ½ cm thick. You can spread it thinner, which will give you more brittle fruit leathers and won't take as long to dry out.
Top tip: make sure you spread your mixture evenly so it dries out at the same time across the tray.
6. Stack your trays and set your dehydrator to 70°C. Depending on the type of dehydrator you have, the total time may vary slightly but it'll be between 6-9 hours. I recommend rotating the trays every hour so they dry evenly. The ones at the bottom will dry out faster than the ones at the top.
7. Once dried, leave them to set for 20 minutes, then cut into rolls from the baking paper, roll and tie with string. You can also peel them off the baking paper then roll, but I find them a lot easier to eat and transport hiking straight from the baking paper.
How to store fruit leather
The great thing about these easy fruit leathers is they're super simple to transport. They can take a battering in your rucksack and don't need to be kept in the fridge.
Simply keep them in an airtight container or zip seal bag for a month on the trail or at home.
Although these fruit leathers are ideal for the trail, they're also great at home as a delicious, naturally sweet snack to have on hand.
---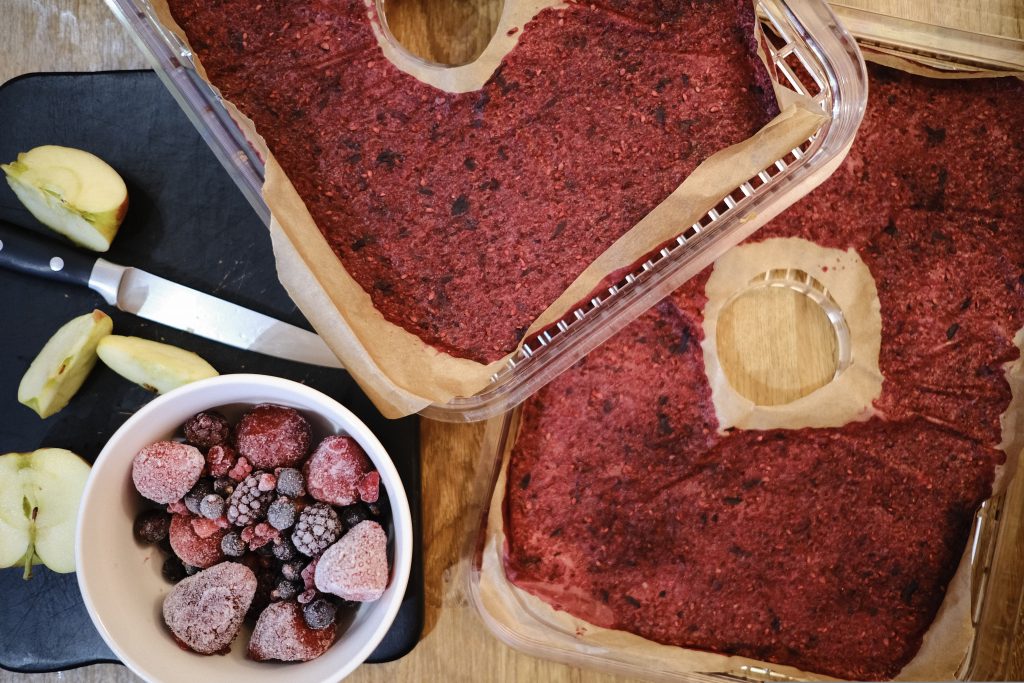 Let us know what you think of the recipe or if you have any questions in the comments below!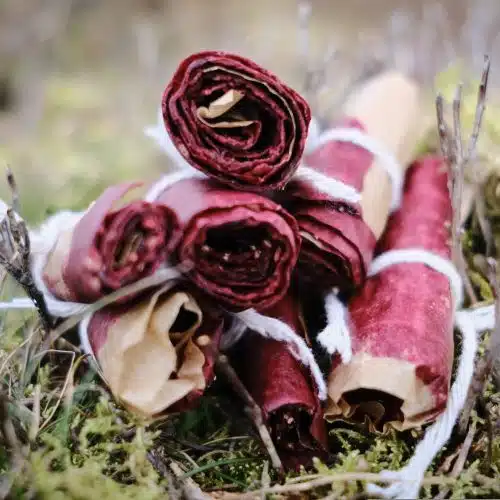 Berry Fruit Leathers
A delicious way to get some fibre and nutrients on the trail, these lightweight berry fruit leathers are a refreshing snack for the outdoors.
Ingredients
500

g

mixed berries

– I used a mix of frozen blackberries, strawberries, redcurrants and blackcurrants

4

apples
Instructions
If using frozen berries begin by thawing them, either leaving to defrost at room temperature or heating on a low heat for 10 minutes.

Meanwhile, peel and core the apples being sure to leave no peel or pips. Then chop roughly into 1cm squared pieces to make them easier to blend.

Add the berries and apple to the food processor and blend until smooth. This will be about 10 minutes and you may need to scrape the sides of any mixture throughout.

In the meantime, prepare your trays by lining them with baking paper.

Once the mixture is smooth, spread it evenly over your trays about ½cm in thickness.

Stack the trays and set the dehydrator to 70°C to dry out.

Rotate your shelves every hour so they dry evenly. It'll take between 6-9 hours for them to dry completely.

Once dried let them set for 20 minutes before rolling and tying. Your berry fruit leathers are ready to eat right away or can be stored in an airtight container for up to a month.
Nutrition
Calories:
35
kcal
Carbohydrates:
9
g
Protein:
1
g
Fat:
1
g
Saturated Fat:
1
g
Sodium:
1
mg
Potassium:
58
mg
Fiber:
2
g
Sugar:
7
g
Vitamin A:
35
IU
Vitamin C:
3
mg
Calcium:
5
mg
Iron:
1
mg