A simple guide to help you pick the best 2 person tent for your adventures!
---
Pick the right tent and every season can be camping season. You can wander into the wilderness with peace of mind knowing you have security, comfort and shelter on hand and ready to spring up in a matter of minutes.
Right now, camping is more popular than ever and this means you'll find heaps of 2 person tents specifically designed for cycle touring, backpacking, mountaineering, water-based trips and anything in between. They can be the perfect cocoon for you and your adventure-companion or for one person with tonnes of room for extra gear.
All these options are awesome but it can make finding one pretty long-winded. Plus, it'll suck realising you got the wrong tent when you're perched on the side of a mountain…
This guide is filled with tips to help you find the right tent with our review of the most popular options for a whole host of different adventures. You'll find tents from:
Vaude // The North Face // Marmot // Hilleberg // Terra Nova // Vango // MSR // Big Agnes // REI // Nemo // Mountain Hardwear + More!
Know what you're looking for? Jump ahead to…
Part 1 – Finding the right 2P tent 101
This article may contain affiliate links, they will never cost you more money but helps Veggie Vagabonds keep making content like this – thank you!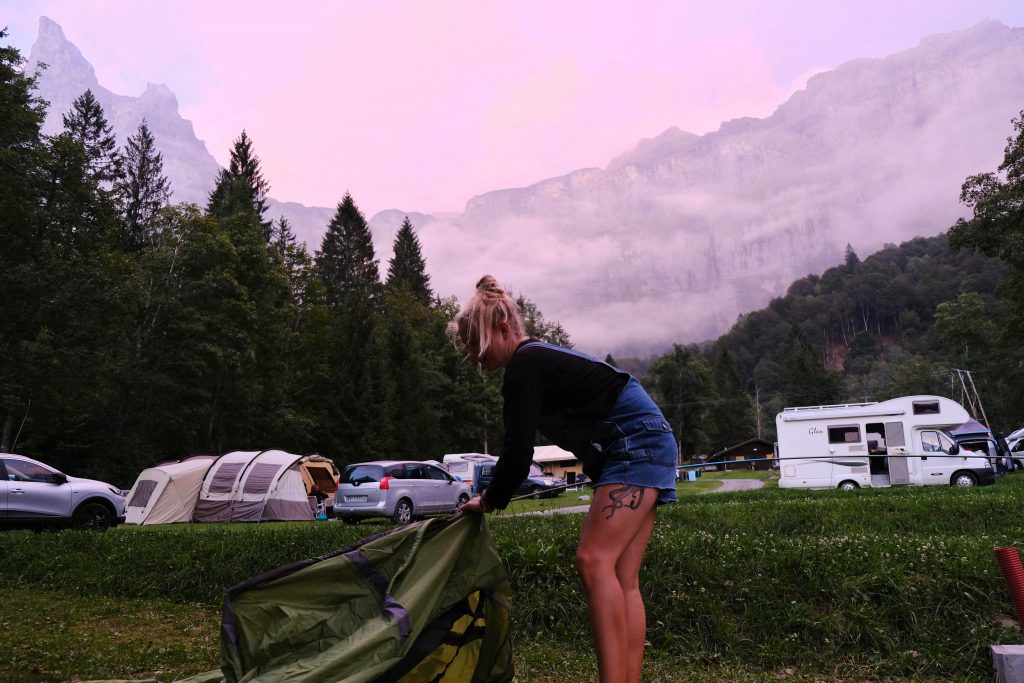 1. Finding the best 2 person tents
A quick 101 on tents and how to pick the right one for you…
1.1 Tent shapes, sizes and designs
For two-person adventure tents, there are two main designs: dome and tunnel.
Dome tents are typically freestanding (don't need to be pegged), quicker to pitch and are better suited to harsh conditions. Within this, you also have geodesic designs.
Tunnel tents are sometimes slightly heavier but they often offer more space and liveability.
Within both of these types, some designs offer more or less sleeping space and height, a variety of different openings (tent entrances) ventilation options, storage facilities and vestibules (covered porches and open areas).
1.2 What do tent seasons mean?
How suitable a camping tent is for different weather and climates is measured in seasons.
1 & 2 season tents – only suitable for calm and dry weather. Very few tents are advertised as this and none are featured in this guide. Even if you're sure of good weather, go for 3 seasons to be safe.
3 season tents – typically designed to be lightweight, packable and versatile. Suited to cope with fairly heavy conditions throughout the year and also have good ventilation for warmer weather. A nice option for a variety of outdoor trips.
4 season tents are heavier and sturdier, suited for harsh conditions, torrential rain, strong winds and snow. They're good as winter tents as they typically have less ventilation and focus on keeping you warm.
5 season or expedition tents these are professional-level tents used for the most brutal of conditions, like alpine ascents and winter exploration. Heavy, expensive and high-tech.
At Veggie Vagabonds we're on a mission to make the outdoors as accessible and eco-friendly as possible. Want more outdoor gear recommendations, ethical reviews or sustainable tips for your adventures? Sign up for the mailing list below!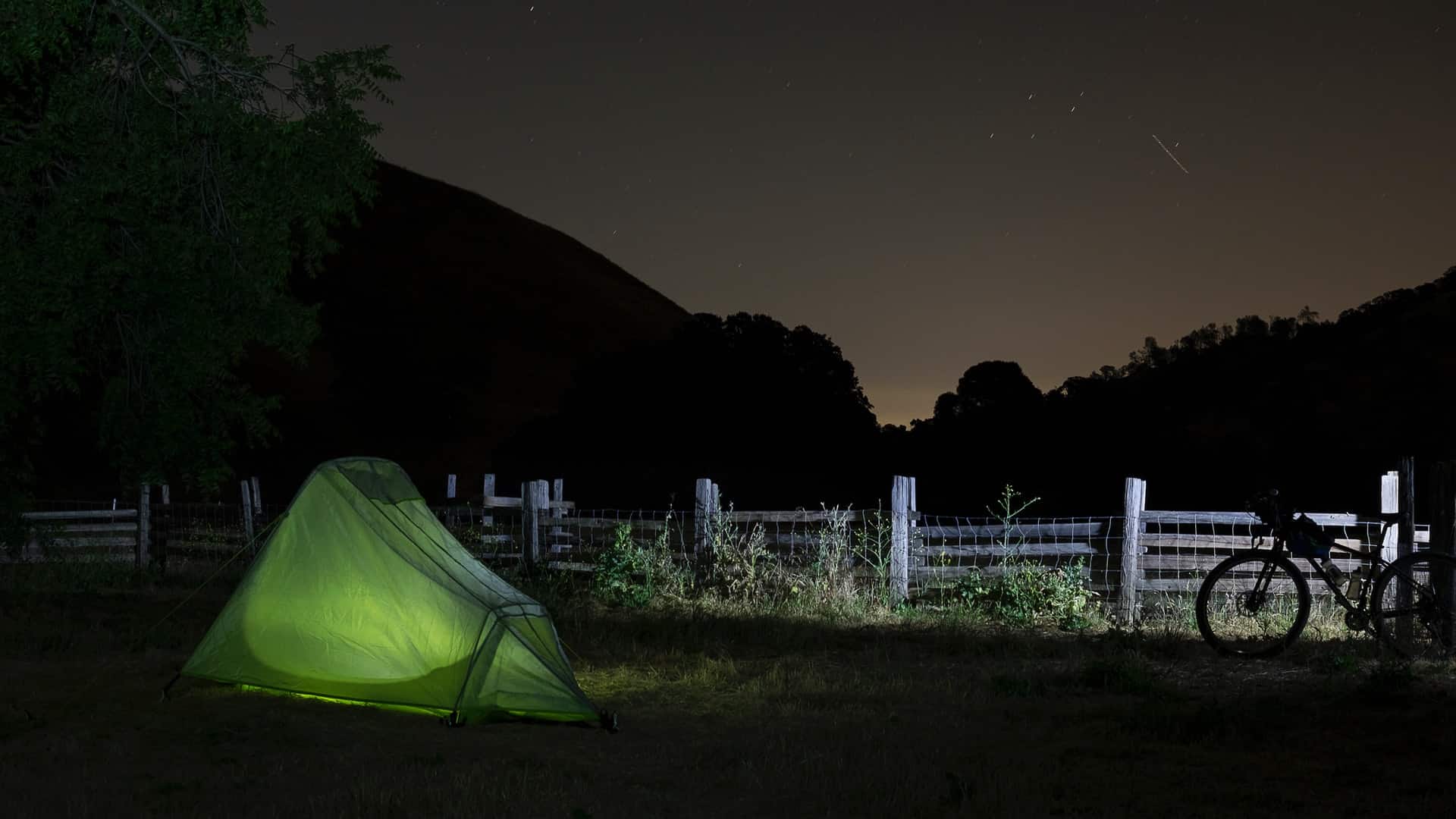 1.3 How much do tents weigh?
Two man tents typically range from 1 to 3 kg.
1-2 kg – lightweight
2-3 kg – average
3-4 kg – heavier
4+ kg – weatherproof/expedition tents
Want to go lighter? You might want to check out tarp, hammock or bivvy options. Find 'em on REI or Cotswolds.
1.4 How much do tents cost?
As a general rule of thumb, lightweight 2 person tents that are more weather-resistant become more expensive. So, the most expensive options are typically 3-4 season tents which are also very light.
You can easily go to a local supermarket and pick up a cheap tent for £20-£30 but we wouldn't advise using these for any situation where you might need shelter. In the garden, park or even festivals these may hold up for a few outings but they're not designed for outdoor trips.
For adventure-ready tents expect to pay:
Budget – less than £100 (the cheapest on this list is £40)
Average – less than £200
High-end – £300-£500
Professional – £500+
Not sure if you need to spend this much? Find out below…
1.5 How to Pick the Right Tent for You
There's no universal 'best camping tent', instead you should think about your priorities and what you'll be using the tent for, then pick the right option for you. Here are a few thinking points:
What weather conditions will you be using the tent in?
Do you want a versatile tent to suit a range of outdoor pursuits or a more specific one?
Do you want something small and easily packed or larger and spacious?
Is weight a big priority?

Will you have a lot of gear to store?

Do you want an easy to pitch tent?
What is your budget?
Will you appreciate more living space, want to sit up or cook in the tent?
TOP TIP: When you're outside your tent becomes your home and safety so it's not something you should scrimp on. Spend some time find the best and most suitable tent possible, then save money on less important gear – you won't regret it!
Want more camping tips? Our beginner's guide is full of them!
1.6 Tents and Sustainability
As large pieces of outdoor gear which use a great amount of synthetic materials, tents can have a big environmental impact. Unfortunately, there isn't a huge trend in tents that use green or recycled materials though there are a few (you'll find some further below).
Because of this, the best way to make camping more sustainable is through your actions on your camping trip. Our guide to eco-friendly camping has lots of tips for you. You can also do your best to give your gear a longer life with tent maintenance (find out more here) and opting to buy second-hand.
Oh, and if you're wondering are tents vegan? Yes, you're safe, all the tents on this list are made from synthetic materials.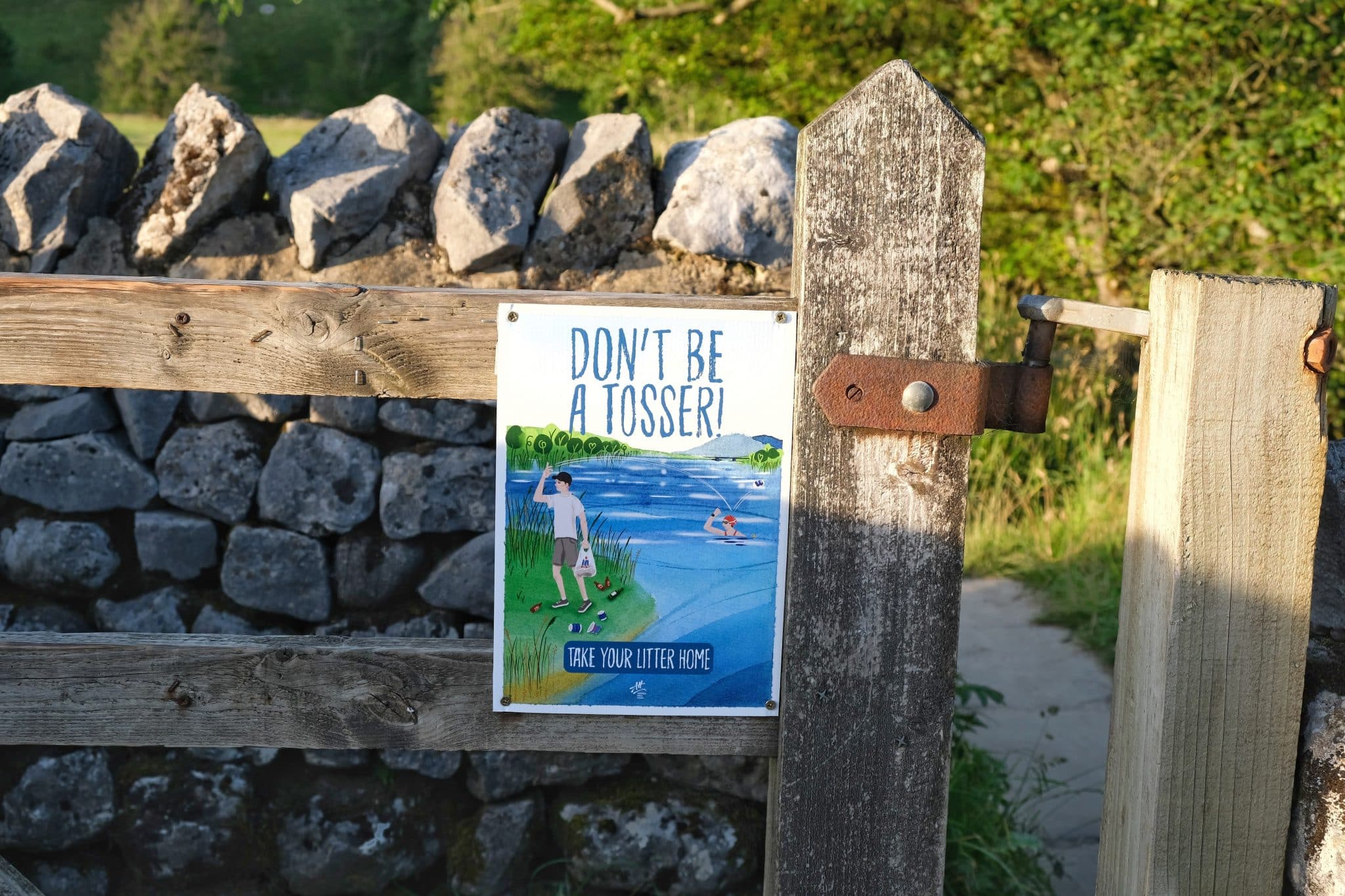 1.7 Tent Terminology
Tent footprint – a thin ground covering that goes under the tent which helps protect tent materials and add another layer of insulation from the floor.
Vestibules – the covered areas around the tent living space e.g the porch, mudroom, spaces before tent outer wall.
Rainfly/outer tent – the waterproof outer layer of a tent (most tents are doubled-layered and the rainfly is on top of the mesh layer).
Inner tent/mesh – the inner section of a double-walled tent, normally made from mesh.
Guy ropes – thin ropes attached from the rainfly to tent pegs in the floor to secure the tent.
Denier – how thick the tent material is, normally shown as 40D, 15D etc. The higher the number the thicker and typically more durable but heavier.
Freestanding – a tent that doesn't need guide ropes and can stand just with tent poles.
Semi-freestanding – if the main tent body is freestanding but other parts, like a porch or vestibules, need a pole to erect them.
Packed weight – the weight of the tent with all elements included e.g. poles, tent pegs, footprint (if included), inner and outer layer.
Minimum weight – many people may choose to use a tent without the outer layer, tent pegs or additional features. This is what the minimum weight refers to.
Hydrostatic head – tents with a polyester material (most of them) use this to measure how water-resistant the material is. The higher the number the more water-resistant the tent.
1.8 Tent Q&A
Q. Can you use a 3 season tent in winter? Yes, though it probably won't be suitable for harsh winter conditions and you should take extra precautions with additional layers and thermals.
Q. Can you use a 4 season tent in summer? Yes, but you'll likely roast! Winter tents are designed to keep you warm and won't have good ventilation.
Q. Can a single person use a 2 person tent? Hell yes! If you need more room there's nothing stopping you even getting a 3 or even a 4 person tent. Just bear in mind it will likely be heavier and you'll have to carry it on your own.
Q. What else do you need for a camping trip? The essentials are a tent, sleeping bag (here's our guide) and a camping pad. You can find our full camping check list here.
Q. What's the best 2 person tent? There's no single 'best tent' but below you'll find some awesome options for different types of campers.
1.9 How the Tents Were Picked
Below we've reviewed some of the best and most popular 2 person tents available now.
They've been picked based on our experience, user reviews and are selected from highly-trusted brands. Our choices strike the best between price, quality, weather-resistance and weight, with options picked to suit a variety of adventures, adventurers, outdoor pursuits and conditions.
Keep reading below to find the best camping tents for you!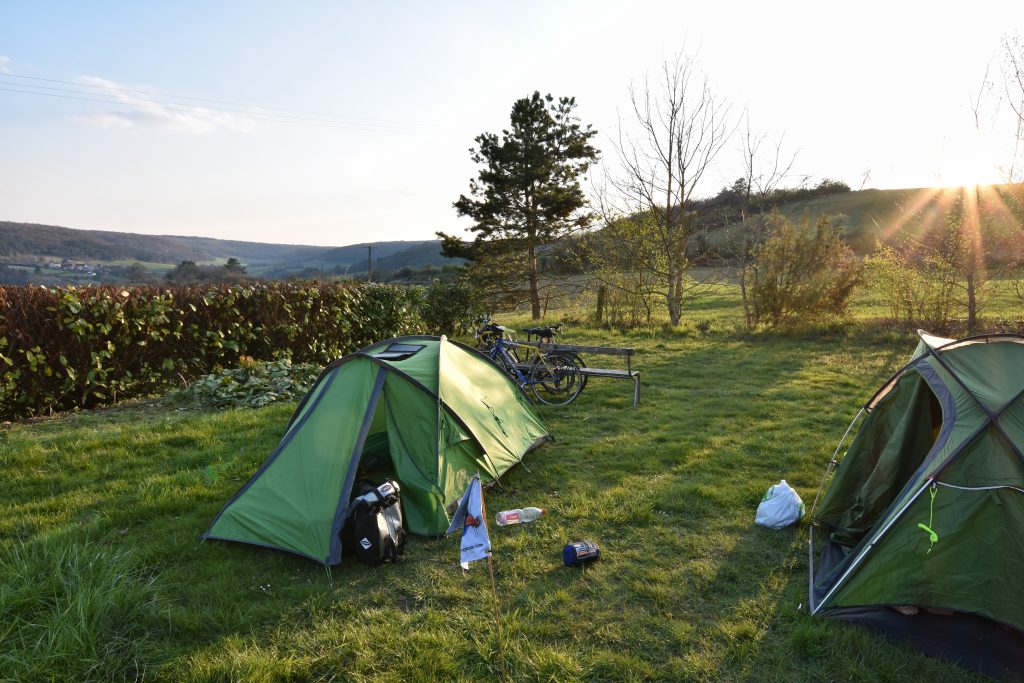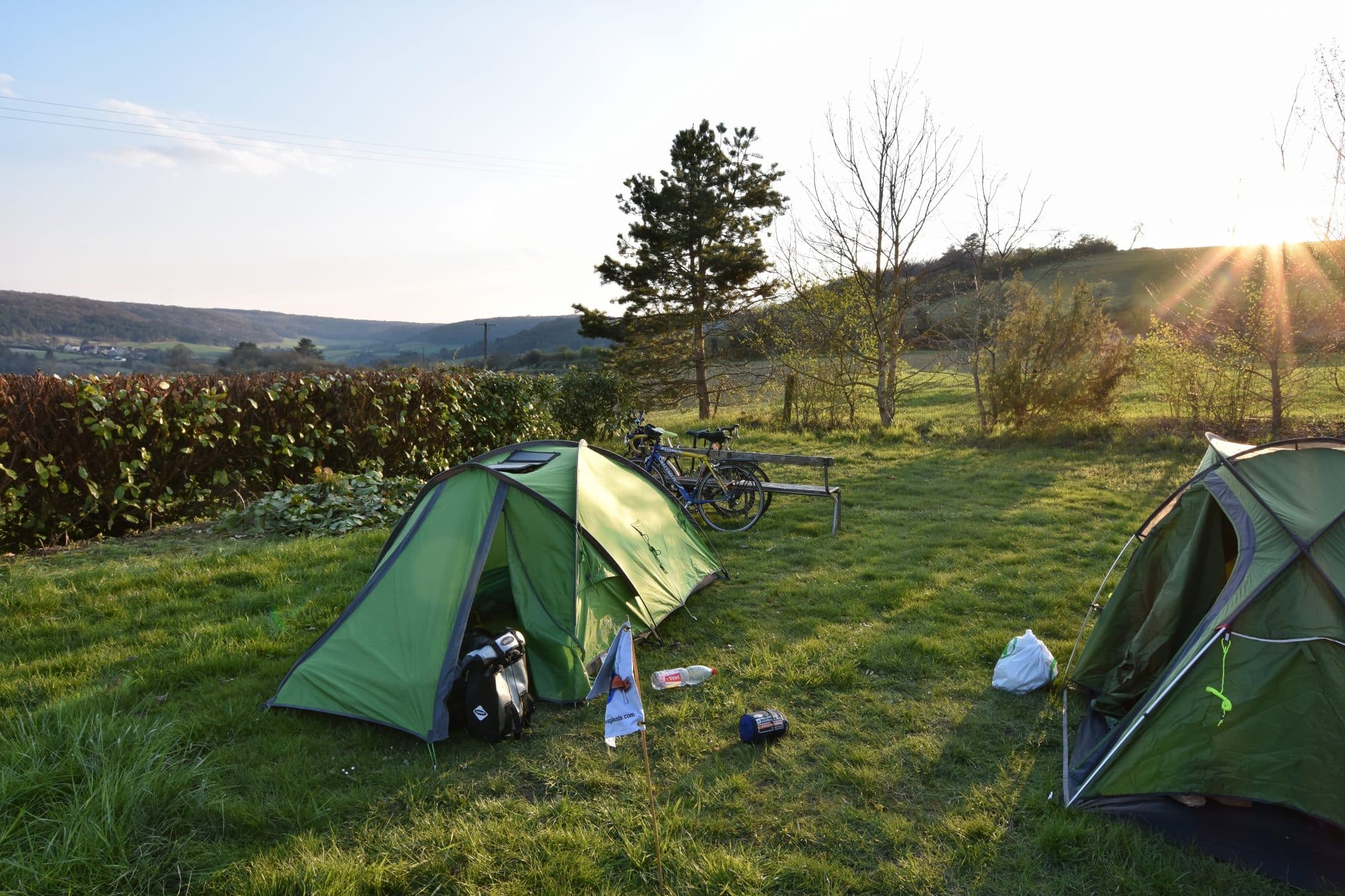 2. The Best 2 Person Tents on the Market
Jump to our top picks…
Big Agnes 2 Person Tents
Big Agnes C Bar 2
1.8 kg // 3 season // Free-standing dome w. front opening // £190 // Best tent for beginner backpackers and value
If you're looking for value for money, look no further. Lightweight, 3 seasons, freestanding and a decent price!
A really pretty awesome tent from Big Agnes, an award-winning US brand. The C Bar has nice size inside, with enough room for two to sit up in and cook your camping grub. It's a freestanding tent for easy pitching and the mesh inner walls offer good ventilation, making it handy for across three seasons. Considering the quality and spec, this backpacking tent is great value for money and would make a good option for first-timers.
Buy now on
---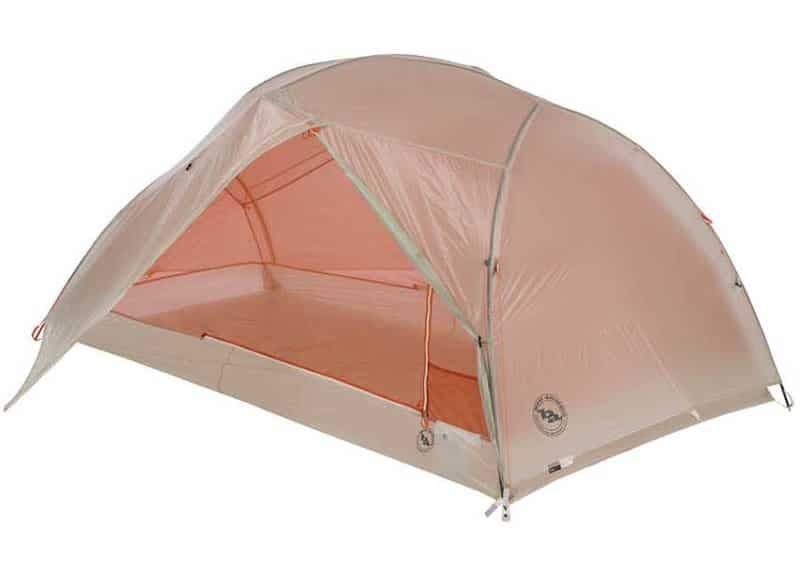 Big Agnes Copper Spur 2
1.1 kg // 3 season // Free-standing dome w. 2x side openings // £500 // Best tent for summer backpacking
A seriously popular tent for lightweight backpacking, great for warmer weather
If you're planning a long backpacking trip where weight is an issue and you're expecting some warmer weather, the Copper Spur is one of the best 2 person tent options out there. Yes, the price is steep but it does offer a sweet balance between reliability, weight and practicality.
At just over 1 kg the tent is still hardy and simple to pitch, with a good amount of living room, 2 side openings and 4 internal pockets for storage. This makes it comfortable for longer trips and when the sun comes out you can whip off the flysheet and go super ventilated. We would prefer tent poles to prop up the openings rather than needing trekking poles but it still makes a nice addition to any backpacking checklist.
Buy now on
---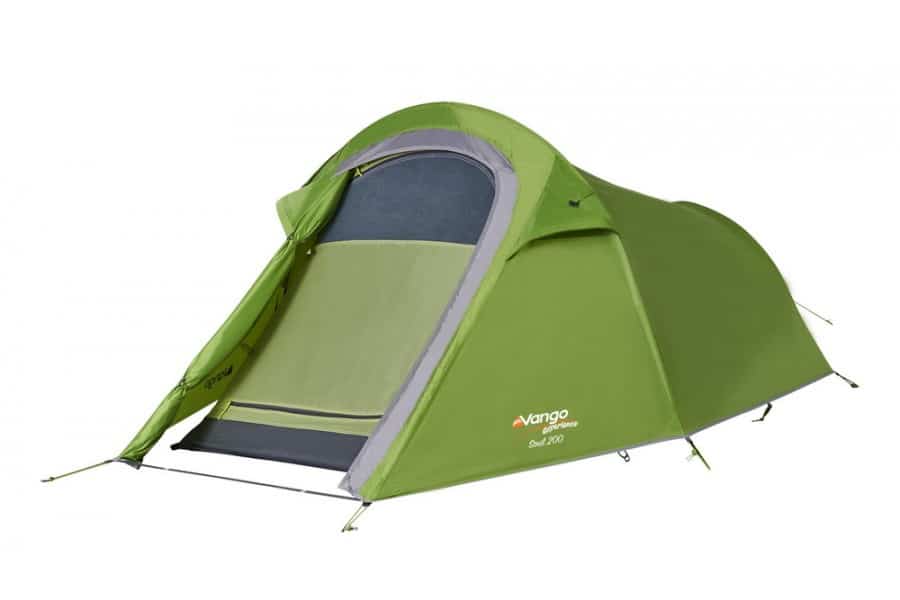 Vango Soul 200
2.1 kg // 2-3 Season tent // Tunnel with front opening // £50 // Best tent for tight budgets
Have a smaller budget? This Vango tent cuts costs but not quality
Considering it's more than a tenth of the price of some other options, this two person tent still has awesome features. It has a highly waterproof and durable fly (70D) and a very simple pitching process. You've got a small porch area for cooking or gear and just over 2 kg it's not too heavy either. We think it's the perfect first-time tent for moderate conditions.
Buy now on
---
Vango Nevis 200
2 kg // 3 Season tent // Low tunnel with side opening // £80 // Best tent for first expeditions
A wicked option for first expeditions and fast adventures with a nice price
Another tent we have personally tried and it's hard to fault it for the price. The lower tunnel design doesn't give much room for living space but there's enough space to cook on the side vestibules and leave wet gear.
It's perfectly suited for shorter trips hiking, backpacking or cycle touring in questionable conditions or moving to higher altitude, helped by the impressive water-resistance (3,000mm). At just 2 kg it could also be a great 1 man tent if you're wanting more room for gear or living.
Buy now on
---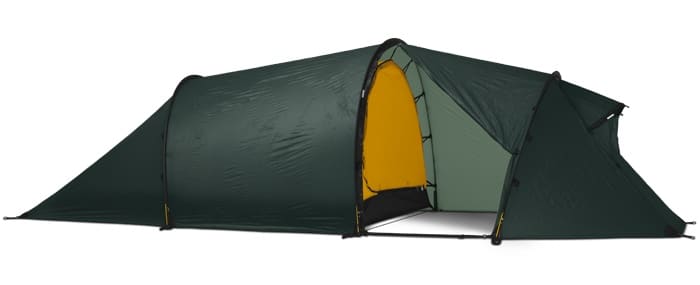 Hilleberg Nallo 2 GT 2
2.9 kg // 4 season tent // Spacious dome w. front opening & large porch // £905 // Best two person tent for cycle tours
Hands down one of the best cycle touring tents but with a hefty cost…
Hilleberg tents are renown for being of the highest quality and ready for some nasty conditions. If you're planning some impressive touring to distant lands it could be the right choice for you.
Why is it good for tourers? The Nalo is a four-season tent which comes in at a still-respectable weight but offers awesome living space. The front vestibule is absolutely perfect for your panniers or even to fit a smaller bike in. Despite the larger design, it's a specifically designed winter camping tent that can deal with torrential rain, snow and high winds. Though, for these reasons, it's not as great for summer camping.
This model has won heaps of awards and comes with a lifetime warranty. It's a professional tent that comes with a professional price tag. Consider it a home for life!
Buy now on
---
Nemo Hornet 2
1 kg // 3 season tent // Semi-freestanding dome w. 2x side openings // £280 // Best tent for lightweight backpacking
Super breathable, super easy to pitch and super lightweight – your first aid kit will probably weigh more!
This is another cracking ultralight 2 person tent that is perfectly designed for long backpacking trips in nicer conditions. The freestanding design means you can easily pitch on rocks and won't have to worry about guide ropes and pegs. There are surprisingly generous vestibules on the side for cooking or gear and a decent amount of headroom too. Whip off the fly for some starry night time gazing or keep it on for bad weather, it's treated with silicone for extra waterproofing!
Considering the weight and spec, the Nemo Hornet is considerably cheaper than many other lightweight backpacking competitors and would be a worthy investment.
Buy now on
---
Vaude Terra Hogan UL 2P
1.8 kg // 3 season tent // Front-drawn dome with front opening // £400 // Best tent for eco-friendly outdoor trips
A super green tent that can handle some serious adventures
Vaude is a pretty stellar company that makes active steps to have a more positive environmental impact. The Terra Hoga tent is made from sustainable materials, is Bluesign approved, PFC free and ethically produced – rad!
A nice front-opening dome structure that is lightweight but also offers a spacious front vestibule for backpacks or outdoor gear. Considering the weight, there's great protection from the elements with tear-resistant double siliconised walls which block UV rays and are great for water beading.
You've still got plenty of ventilation options which make is a nicely adaptable 2 person hiking tent that will help to protect the landscapes you're exploring.
Buy now on
---
Terra Nova Laser Competition
1.25 kg // 3-4 season tent // Low tunnel with side opening // £390 // Best tent for serious adventures
All-weather protection in a small, lightweight and reliable package!
Terra Nova tents have the highest reputation and their products are built to perform for the long haul. Fittingly, they're also on the more expensive end of the scale. Still, this compact and ultralightweight backpacking tent is our top pick for fast-paced adventures camping in rough conditions and it's won heaps of awards too.
It comes with Featherlite camping poles and titanium tent pegs and you can cut weight by just using the fly and groundsheet. The low design is great for high winds and bad weather but you've still got decent room for storage and cooking in the vestibules. A go-to expedition tent, good for exploration, climbing or wild camping, that can deal with pretty much anything you throw at it.
Buy now on
---
MSR Hubba Hubba NX 2
1.72 kg // 3 season tent // Dome with 2x side openings // £380 // Best tent for comfortable backpacking
Highly versatile, light, durable and comfortable for longer backpacking trips
It's almost impossible to go on a backpacking trip and not see a Hubba Hubba or two. It's crazy popular and has raving reviews but it is more expensive than other similar two person camping tents.
The dome tent design is great for longer trips with additional headroom and lofty vestibules for backpacks or hiking boots. For poor weather, it's got rain gutters on the tent openings and is waterproofed with silicone and polyurethane for downpours.
There's also a decent gap between the fly and the inner mesh to avoid condensation if temperatures increase or you fall inside your tent sweating from some heavy trekking…
Altogether, it's a solid 2 person backcountry tent that makes for comfy camping, perfect for longer-term adventures. Though, If you're going for stealthy camping, we'd opt for the darker colour schemes.
Buy now on
---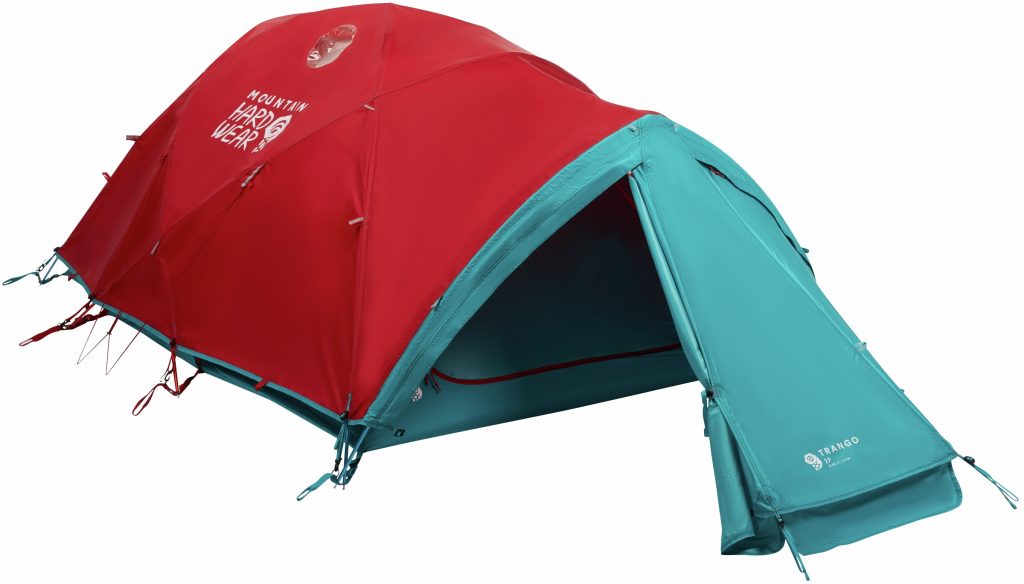 Mountain Hardwear Trango 2 Tent
3.9 kg // 4 season tent // Free-standing dome w. front entrance // £700 // Best tent for mountaineering and high altitude
One seriously tough tent for first ascents or mountain expeditions
The most durable and weather-resistant option on this list. The Trango is a 4 season expedition tent designed for harsh winters and mountain conditions. Think polar expeditions and camp 4. It's not light and it's not well ventilated so you wouldn't want to even consider this for anything else.
This freestanding mountaineering tent design has sturdy DAC Featherlite poles and real tough nylon ripstop fly, floor and inner materials. For boots and mountain gear the inner porch is useful and there is impressive space inside the tent.
It's not for everyone but if you're planning an adventure to some of the most hostile parts of the world then this is a good contender.
Buy now on
---
The North Face Eco Trail 2
2.8 kg // 3 season tent // Free-standing dome w. 2x side openings // £200 // Best tent for ethical adventures
Made from completely recycled and durable materials that are designed to last
A tent made from recycled materials in the fly, ground and inner tent wall is pretty awesome and it's great to see more and more sustainable North Face products!
And it's not just eco-friendliness, this two man tent is made from seriously tough materials and is great for colder adventures through three seasons and mild winter action. There's large vestibules on the side and the inner tent has two handy side openings. If the weather does heat up you can easily drop weight and take the fly off.
It's freestanding and pretty versatile so we think it's one hella cool tent for backpacking adventures!
Buy now on
---
Marmot Tungsten UL Hatchback
2.3 kg // 3 season tent // Spacious free-standing dome w. large porch & 2x side openings // £280 // Best tent for cycle tourers on a budget
A brilliant two person cycle touring tent with a friendlier price tag
Considering the size of the Tungsten and it's protection from the elements it's pretty lightweight and gives you enough room for heaps of gear and living space.
The domed inner tent is freestanding with two handy openings and good ventilation so if it's warmer you can easily drop weight and ditch the fly. This makes it super versatile and you can also buy a version without the large porch area.
Its bright colour means it's not the best wild camping tent and the Nalo is better for winter conditions but we think this is a pretty solid choice for 3 season cycle touring or mild winters.
Buy now on
---
REI Co-op Quarter Dome Tent
1.3 kg // 3 season tent // Freestanding dome w. 2x side openings // £271 // Best tent for backcountry camping
A box-ticking tent which is cheaper than its rivals and gives solid competition
REI really hit the nail on the head with high quality products at prices that won't make you cry. The Quarter Dome 2 person backpacking tent is ultralight and versatile with ample living space for longer stints on the trail or thru-hikes.
The inner section has a simple design that'll be up in minutes, with two large side openings and great breathability. Outside the ripstop tent materials are thick and if the temperature does drop the fly will still be comfortable for 3 seasons.
An underrated tent which gives many more expensive models a run for their money.
Buy now on
---
Tent comparison chart
| Tent | Weight | Season | Style | Price |
| --- | --- | --- | --- | --- |
| Big Agnes C Bar 2 | 1.8 kg | 3 season | Freestanding dome | £190 |
| Big Agnes Copper Spur 2 | 1.1 kg | 3 season | Freestanding dome | £500 |
| Vango Soul 200 | 2.1 | 2-3 season | Low front-opening tunnel | £50 |
| Vango Nevis 200 | 2 kg | 3 season | Low tunnel | £80 |
| Hilleberg Nallo GT 2 | 2.9 kg | 4 seasons | Tunnel w. large front vestibule | £905 |
| Nemo Hornet 2 | 1 kg | 3 seasons | Semi-freestanding dome | £280 |
| Vaude Terra Hogan UL 2P | 1.8 kg | 3 seasons | Tri-dome | £400 |
| Terra Nova Laser Competition 2 | 1.25 kg | 3/4 seasons | Low tunnel tent | £390 |
| MSR Hubba Hubba NX 2 | 1.72 kg | 3 seasons | Freestanding dome | £380 |
| Mountain Hardwear Trango 2 | 3.9 kg | 4+ seasons | Freestanding dome w. large front vestibule | £700 |
| The North Face Eco Trail 2 | 2.8 kg | 3 seasons | Freestanding dome tent | £200 |
| Marmot Tungston | 2.3 kg 3 | 3 seasons | Freestanding dome w. large vestibule | £280 |
| REI Co-op Quarter Dome | 1.3 kg | 3 season s | freestanding dome | £271 |
2 person tent comparison table
Need more help finding a 2 person camping tent? Drop us a message in the comments at the bottom!
The 13 Best 2 Person Tent Options Compared + Buyer's Guide
Found the tent you were looking for? When camping is concerned, the tent really is the bee's knees so it's worth investing in something reliable that will keep you safe and sheltered at the end of sweat and mud-filled days in the wild. Take your time and find the best thing for you!
Any other two person camping tents you'd include in the list? Need more advice? Tell us in the comments below!