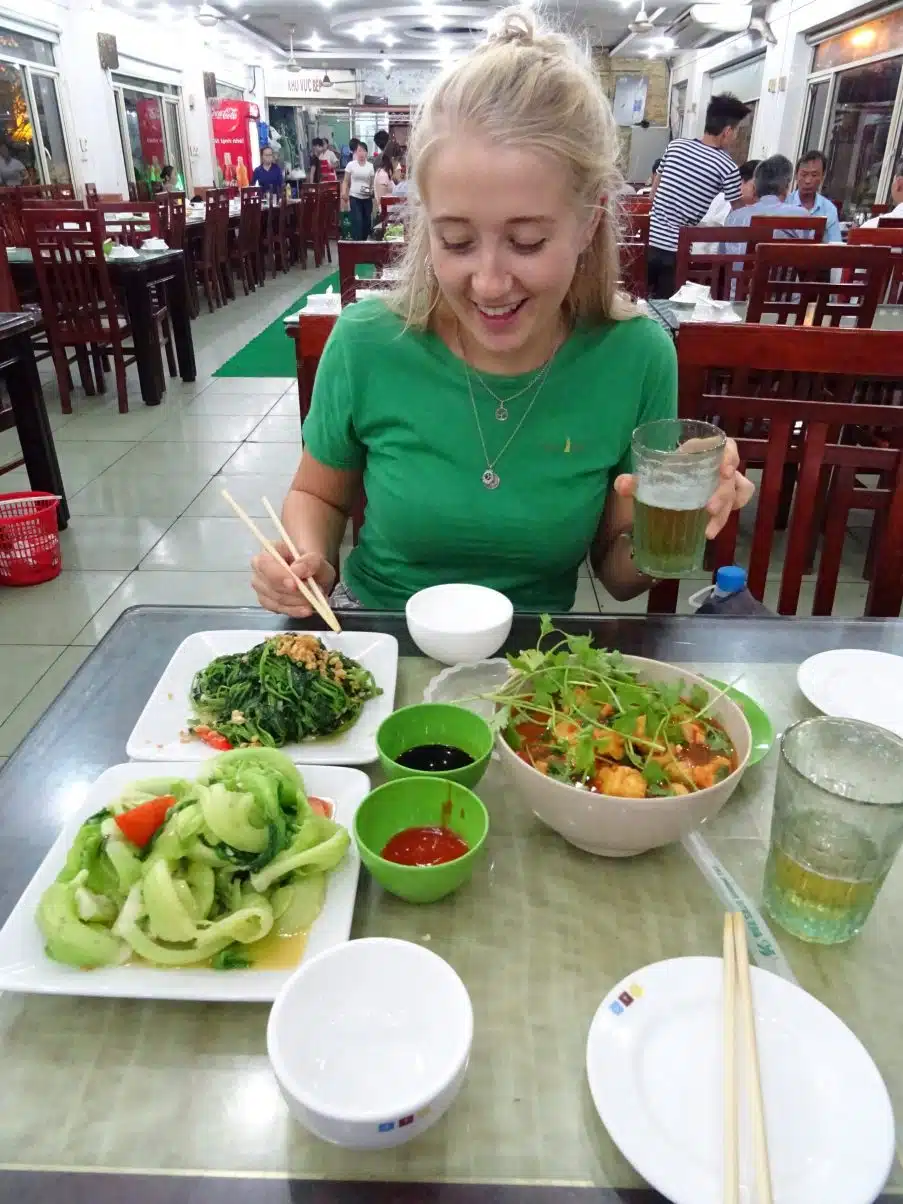 Vietnamese cuisine is world famous but it's probably the last place you'd think of for vegan food. Despite what you may have heard the bustling capital Hanoi can be a haven for the ethical eater with some of the most unique and delicious vegan foods around the world. With over 50 vegan restaurants there's such a huge variety of eateries you can find delicious, fresh and affordable vegan food on almost every street. After a year living in the capital, we tried every bit of vegan grub we could find and put together a list of the best ethical eats you'd be crazy to miss in Hanoi.
If you're not familiar with Vietnamese food then you're in for a treat. The cuisine has a huge variety of vegetables, a bewildering amount of mock meats and more tofu than you'll know what to do with. Plus, vegan menus don't actually change that much from meaty ones, they make the same dishes using vegan products, alternatives and mock meats.
Hanoi can be a godsend to vegan foodies as you won't miss out on any of the local specialities and can constantly find something new to try. To those of you who don't like mock meats then you're going to have a terrible time they have plenty of other amazing dishes available too.
Without further adieu, here are a whole bunch of the best ethical eats in Hanoi, tried and tested by the Veggie Vagabonds. We've also got a nice little map at the bottom so you can find them real easy!
133 Nguyen Dinh Thi, Hanoi, Vietnam
Open Mon-Sat 10:00-15:00
This was quite honestly one of our highlights of Vietnam (and we fucking loved Vietnam). A lunch buffet for 30.000 VND run by a charming Buddhist family. It's nothing much to look at but the food is fresh and mouth watering and the family are so friendly you'll want to move in.
What's The Food Like?
A buffet with 10-15 different dishes, including soups and salads, vegetable dishes, rice and noodles and plenty of mock meat dishes. They have nice healthy red rice, free tea and a selection of traditional drinks.
What's The Place Like?
It's small and busy, with metal stalls and tables. The family who run it don't speak English but it's easy to get by with hand gestures, grunts and body language. There are family photos and Buddhist decorations dotted around and in the back room you're quite literally sitting in their living room! It's quite quick service and as there are limited seats it's not the best place for a relaxed drink if you come during peak times.
A lot of expat English teachers eat here, along with locals and other travellers. It's quite a good place to meet like minded people as it's always filled with interesting folk from around the world.
How Much?
30.000 VND buffet. Unbelievable. I challenge anyone to find a better quality buffet anywhere in the world for less money!
Where and When?
Open Mon-Sat 10:00-14:00
A nice location overlooking the Tay Ho lake with outdoor seating in the summer. It's a 15-20 minute walk from the Old Quarter but there are plenty of beautiful temples around so you can tie them in with a kick ass lunch.
Timing is important here. Come before 13.00-13.30 for a good selection of food. They get very busy and run out of food fast!
What Should I Eat?
Always start with a soup and make sure you try their pork and coconut dish!
109 Tran Hung Dao, Hoan Kiem (at Le Duan), Hanoi, Vietnam
Open – 9.00 – 23.00
This was always our first choice if we were celebrating (or really, really hungry). An Lac Chay is definitely one of the best vegan restaurants in Hanoi and is probably the most impressive vegan buffet you've ever seen.
What's The Food Like?
An Lac Chay has a HUGE amount of dishes all included in a lavish vegan buffet. A selection of Phó, starters and sides, spring and summer rolls, hot dishes, cold dishes, rice, salads, soups, fruits and desserts will without a doubt put a big vegan smile on your face. The food is fresh, uniquely flavoured and the buffet changes regularly so you can keep coming back for more.
What's the place like?
Set on two floors, the restaurant is relatively formal and is popular with wealthy looking Vietnamese families. Despite this we always felt comfortable looking withered from a long day at work and wearing scruffy clothes. Traditional decorations, spacious tables, relaxed atmosphere and extremely friendly staff make it is very easy to order pot after pot of tea and spend all day eating. They have English menus and English speaking staff.
How much?
At 100.000 VND it's slightly more expensive than others, however, you really get what you pay for.
Where and when?
Open – 9.00 – 23.00
An Lac Chay is conveniently located just near the train station and less than a 10 minute walk from the Old Quarter. It's away from the craziness of the centre, so when you're full of food you don't need to worry about running across roads and dodging scooters. Located down an unassuming passageway and with so many other vegan restaurants close by, it actually took us quite a few attempts to find the right place. If you're going between 5-7pm on Friday or Saturday it's probably best to book as it gets pretty busy.
What Should I Eat?
The tofu rolls and ché!
164 Au Co, Tay Ho District, Hanoi, Vietnam
Open 7 days 9.00 – 21.30
This place is such a great find; a small family run restaurant serving freshly made, completely vegan, Vietnamese food. The family that run it are incredibly hospitable and give the place a really homely relaxed feel.
What's The Food Like?
The menu is small but packs vegan versions of Vietnamese classics like Bánh xèo (a Vietnamese savoury pancake) and Bún riêu (a famous vermicelli soup and broth). All of the dishes are perfectly flavoured and made to order. They also have a killer cơm bình dân, with a selection of homemade dishes to try. All portions are generous and served with love.
What's the Place Like?
A really friendly atmosphere with owners that are always happy to see you. The restaurant is small and informal with stalls and benches to sit on. The menu is on the wall so you can point to whatever you think looks tasty (it's all bloody tasty:). It's nothing much to look at but who cares, you're here to eat!
How Much?
Dishes range from 10.000 VND for summer rolls to 45.000 VND for main dishes or large soups. Drinks are also cheap and they do great juices.
Where and When?
Open 7 days 9.00 – 21.30
Slightly out of the centre and not likely a place you'll just stumble past. For this reason it's really popular with locals and expats who know where it is. It is DEFINITELY worth the trip and is only a 15 minute walk from the Old Quarter.
What Should I Eat?
You'd be silly not to try the Bánh xèo and Bún nem.
147b Au Co, Tay Ho, Hanoi, Vietnam
Open: Mon-Sun 8:00am-9:00pm
If you're a veggie vagabond then there's a good chance you already know about Loving Hut. With branches all of the world serving up bloody beautiful vegan munch, you're lucky enough to have 5 in Hanoi! All Loving Huts in Hanoi have similar menus however this one was our favourite.
What's The Food Like?
There's an unbelievable selection of vegan Vietnamese classics like phở bò (beef noodle soup) and phở gà (chicken noodle soup). You can also try different regional variations like their Hue style noodles, Vietnamese porridge and a variety of fish mock-meats. The soup noodles are fresh, quick to arrive and in big quantity. This is a great place to come if you want to try a vegan selection of famous Vietnamese dishes.
What's The Place Like?
One of the smaller Loving Huts, clean, bright and informal with a family run feel. They have an upstairs balcony with outdoor seating which is really beautiful in the afternoon when the weather's nice. Some of the staff speak English and they have large and easy to read English menus.
How Much?
Most dishes are 30.000 – 50.000 VND, summer rolls and spring rolls are 6-7.000 VND and they also have a pizza for 100.000 VND which we never actually tried.
Where and When?
Open: Mon-Sun 8:00am-9:00pm
In Tay Ho district in the North of the city, it's an expat strong hold with lots of bars and music so you can make a night of it! It attracts a lot of locals and expats and is unbelievable on the 1st and 15th of the month when they have their buffet. It can be busy from 6-8 on the weekends and service can take slightly longer.
What Should I Eat?
Rau muống xào tỏi (garlic fried water spinach) – we ate this up and down the country but at Loving Hut it's out of this world!
Hue style noodles – Hot damn they tasty!
65 Quan Su, Quan Hoan Kiem, Hanoi, Vietnam
Open 7 days 8.00 – 20.00
Just above a veggie market and just next to an impressive Buddhist temple, you can make a whole ethical day trip out of this great vegan restaurant. With a lunch buffet, set meals and loads of fresh teas you're spoilt for choice!
What's The Food Like?
It's all about the set meals and the buffet. The set meals have a great variety of dishes, normally a rice, a selection of vegetable dishes, a salad, soup and a mock meat dish. You'll find tons of Vietnamese soups, noodles and rice on the menu and portions are plentiful and flavoursome.
For lunch there's a buffet for 100.000 VND, however it's just around the corner from An Lac Chay who will always win the 100.000 VND buffet crown.
What's The Place Like?
Smart and clean atmosphere with white crockery and silver cutlery. Despite the formal appearance as long as you're wearing some sort of clothes you'll feel comfortable. We never experienced the restaurant being particularly busy, so you're always able to get a table and you can munch at a relaxed pace. You're also quite likely to be joined by some of the monks from the temple next door which is a humbling touch.
How Much?
The set meals are 40.000 – 60.000 VND and the soups, noodles, veg and rice dishes are a similar price. The best value for money are the set meals and they're bloody tasty.
Where and When?
Open Mon-Sun 8:00-20:00
Less than a 5 minute walk from the Old Quarter towards the train station and next to a the Quán Sứ Temple which is worth a visit on it's own.
Although we never came at this time, we've been told that on the 1st and 15th of the lunar calendar it's incredibly busy. Either an cultural experience or day to avoid depending on how you want to look at it. They shut earlier than other restaurants so don't be caught out by the 20.00 closing time!
What Should I Eat?
The aubergine soup is a bargain for 35.000 VND and is big enough to share.
Bún riêu cua  (crab rice noodle) is frickin' awesome.
Where are they all?
Vegan Days and the Lunar Calendar
If you're planning on visiting any vegan restaurants in Vietnam, keep an eye on the lunar calendar. Traditionally on the 1st and the 15th of the month (full moon and half moon) many Vietnamese will abstain from any animal products. This means that many local restaurants will only sell vegan food and many vegan restaurants will have big buffets! It also means that vegan restaurants will be unbelievably busy, filled with local families and may be overbooked/run out of food. Plan accordingly!
Just a Reminder…
Whilst you're probably going to be blown away by the amount and quality of vegan restaurants in Hanoi, outside is a very different picture. Vietnam is a world leader in illegal wildlife trade and a huge variety of animals are stored, sold and killed in public. For the animal activists out there Hanoi can be hard to digest. Check out our article 'A Vegan's Year in Hanoi' to find out more.
Are there any other amazing vegan restaurants you discovered in Hanoi? Tell us in the comments box
Share me!
Get our latest articles, adventures and insider news by signing up below - you'll also receive our Ethical Adventure Planning Guide!