Helping you find the right vegan gloves for winter or summer, from cycling and running to hiking and mountaineering
---
Keeping your hands away from the cold and harsh conditions is essential while skiing, hiking, cycling, or just spending time in nature. If you want to enjoy some quality time outdoors, you will need a pair of trustworthy vegan gloves.
Therefore, we've got in touch with all the outdoor brands to find out what they have to offer us outdoor plant-munchers. And there are lots!
Keep reading to find a detailed buyer's guide, as well as vegan gloves for winter and warmer weather, running, hiking, skiing and cycling. All topped up with some tips on keeping your hands toasty whilst using zero animal products.
Jump ahead to find:
"Helping you find the best vegan winter gloves for outdoor pursuits!"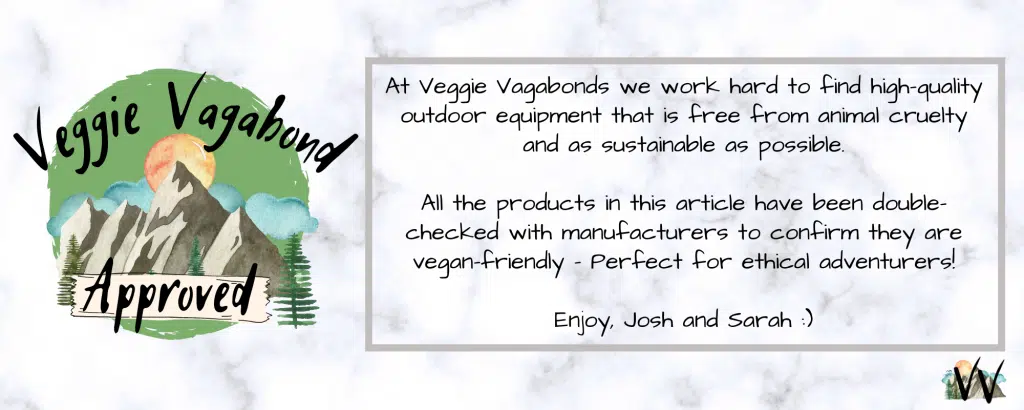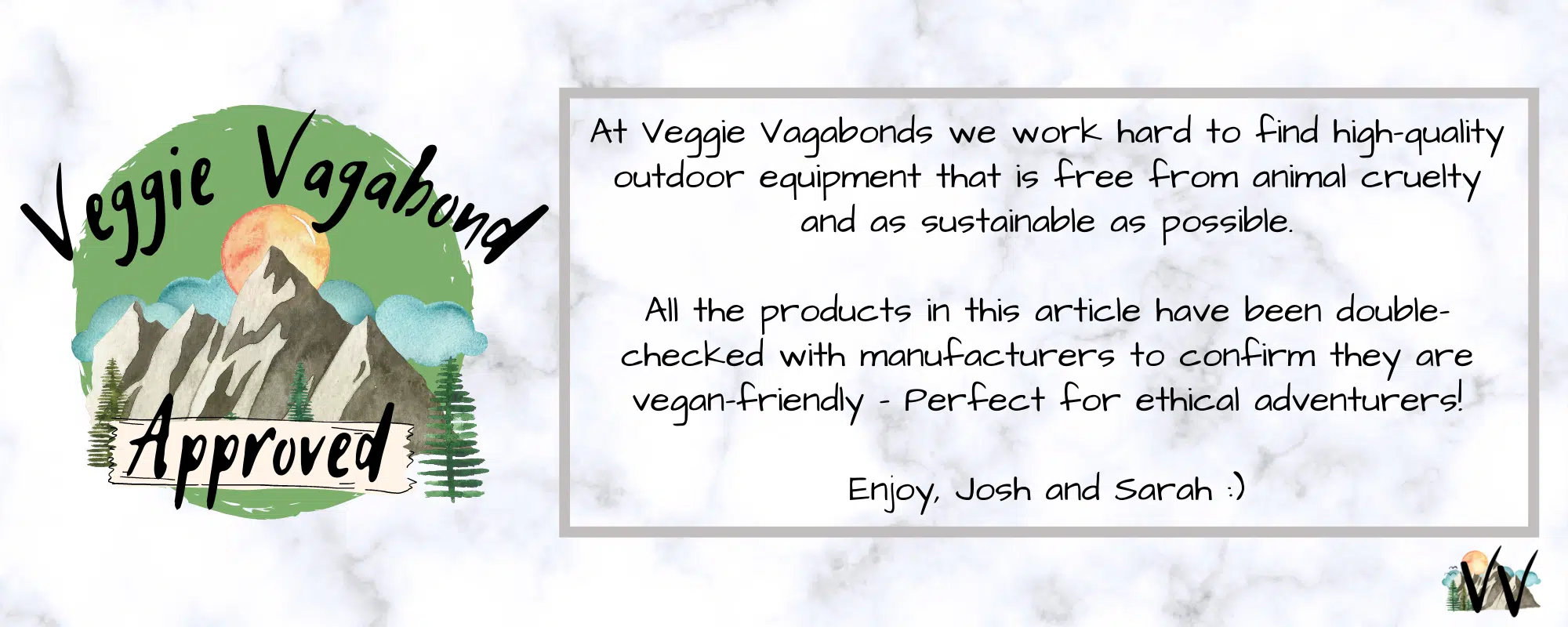 This article may contain affiliate links, they will never cost you more money but helps Veggie Vagabonds keep making content like this – thank you!
1. What's Not Vegan In Gloves
Outdoor winter gloves can often contain leather. This can sometimes be across the whole glove but more often than not, it's on the palm.
Some insulated winter gloves can also contain down, or more traditional softshell gloves might use wool.
On top of these materials, some gloves use beeswax or animal materials in the glues and dyes.
None of these materials are cruelty-free and are easily avoided nowadays. Heavy, smelly and environmentally-harmful leather winter gloves are a thing of the past with the options below.
2. What Vegan Glove Alternatives Use Instead
Luckily, many outdoor brands have developed a way to offer vegans cruelty-free gloves for their adventures. Instead of using leather, vegan winter gloves use synthetic outer layers with a membrane that lets water out but not in.
Down and wool are also often used in the insulating layers of non-vegan gloves. Instead of down, you'll find lots of synthetic thermal insulation like Polarloft and Thinsulate. They mimic down but still insulate when wet and avoid the cruelty to birds. Wool is often replaced by fleece or polyester.
Last but not least, are animal fat and wax-based natural sealants used for gloves. Vegan gloves are cheaper since they use glues with wholly artificial ingredients.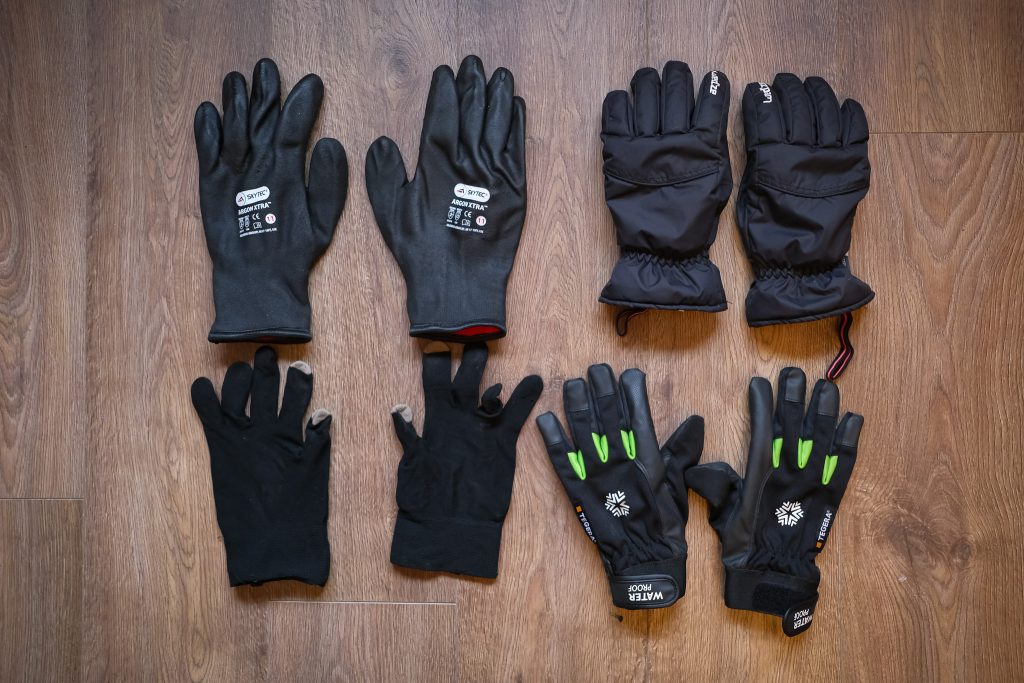 3. Types Of Vegan Winter Gloves
Start by thinking about what type of activity you will use your gloves for and what the conditions will be like. Do you need protection from the cold? Wind? Rain? All three? Will you be moving hard and working up a sweat or going at a relaxed pace? How cold will it be?
The best vegan hiking gloves will be very different to vegan skiing gloves and running gloves etc. Also, depending on the weather conditions you'll want to look out for different things. These pointers below can help you pick.
4. Hardshell Vs. Softshell Gloves
If you're looking for gloves to take hiking, you will first need to consider whether you need hardshell or softshell gloves.
Softshell Gloves
Softshell gloves are better in drier and warmer conditions as they are lighter and more breathable. These are good for higher-intensity activities like trail running, cycling and hiking in shoulder seasons.
Pros of softshell gloves:
Simple
Breathable
Cheap
Light
Cons of softshell gloves:
Not suitable for wet or colder conditions
Might get too cold
Less durable
Hardshell Gloves
Hardshell gloves are used in winter conditions that require touching snow and being in the wind, rain or low temperatures. They are better for things like winter hiking, cycling, mountaineering, skiing etc.
Pros of hardshell gloves:
More insulation
Better waterproofing and windproof
More durable
Withstand lower temperatures
Cons of hardshell gloves:
Bulky
Heavy
Too warm
Hands might sweat inside
5. Mitts (Mittens)
Mittens are always warmer than gloves, and if staying warm is your priority, we recommend buying a pair of vegan winter mitts. They are not as dextrous as gloves but guarantee warmth since your fingers share warmth inside the mitten. Mittens are used in seriously temperatures for hiking, skiing, mountaineering.
They're also good for less active adventures in cold regions when your body will not be generating as much warmth.
Pros of mitten gloves:
More insulation
Comfortable
Warmer
Durable
Cons of mitten gloves:
Too warm
Not as functional or practical

Bulky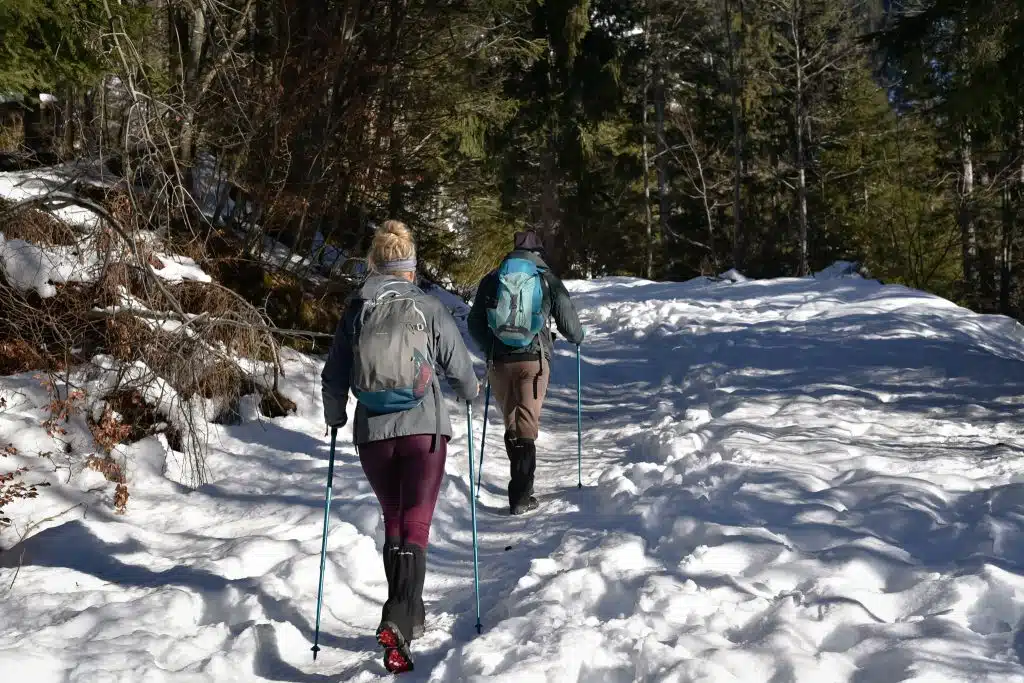 6. 3 Or 4 Finger Gloves
Another option if you wish to stay warm but still use your hand are three-finger gloves or lobster gloves. These gloves are a mix between gloves and mittens.
Typically, you might have a mitt-style glove where your index finger is separate. Sometimes your index and middle finger are together, apart from your ring and little fingers. You might find other alternatives, but they all aim to maintain the highest warmth possible without sacrificing practicality.
These are useful gloves for winter cycling or MTB, so you can pull the breaks. They're also useful for mountaineering or skiing when you might need better use of outdoor equipment in freezing temperatures.
Pros of lobster gloves:
More insulation
Warmer
More dextrous than mitts
Cons of lobster gloves:
Clumsy feeling
Hard to find
Take a little adjusting to
Can be expensive
7. Thermal-Lined Gloves
For the most warmth, go for gloves with thermal lining. The lining makes the gloves slightly heavier and bulkier, so they're suited to real winter outdoor pursuits where warmth is the priority.
Nowadays there are plenty of vegan down alternatives and wool replacements, with some of the most popular ones being:
Pros of thermal gloves:
Warm
Perfect for skiing and winter activities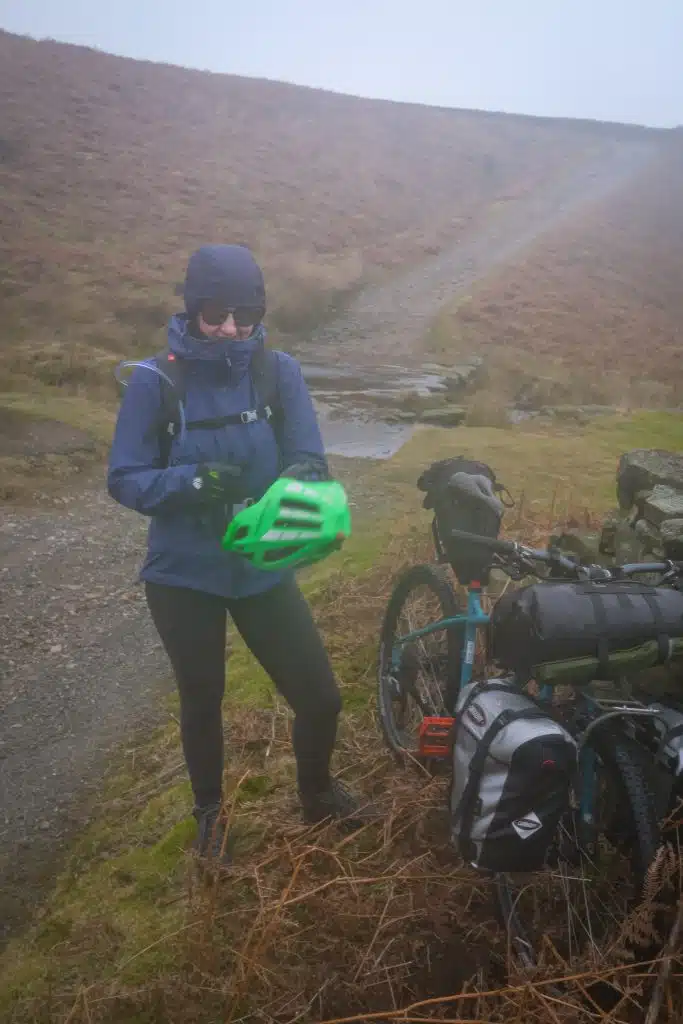 8. Waterproof Gloves or Gore-Tex Gloves
First things first: like virtually all outdoor gear, it's very difficult for gloves to be completely waterproof. Anything which has seams or porous materials leaves room to let water in.
But, better quality gloves will do a better job.
For skiing or mountaineering, conditions are too cold for that much moisture and most decent waterproof gloves will hold up. If it is very rainy and very nearly freezing, like it often is in English winter, then it's slightly harder. For this, we'd recommend looking at some of the work gloves below.
Waterproof vegan gloves are mostly used for winter hiking and skiing, while they can be crucial in winter cycling as well. Look for vegan gloves with a waterproof membrane that will let heat and sweat evaporate from the inside, but not allow any water to enter.
These membranes can be of different types. The most popular one is Gore-Tex, while there are other membranes that different manufacturers use. With Gore-Tex and other DWR-treated gloves, your hands should not be clammy as the membrane stops water from coming in but allows heat to escape. You need to keep in mind that these membranes need renewal or re-waterproofing every few years. 
Pros of waterproof gloves:
Breathable
Extremely waterproof
Wind resistent
Cons of waterproof gloves:
Mostly bulkier than other types of gloves
Not easily machine washable
More expensive
9. Touch Screen Gloves
Today, everything is on our phones, bike computer, GPS etc. and no matter the altitude or activity we are taking part in, they can be crucial. This is why touch screen fingertips on outdoor gloves were invented.
Conductive fingertips on our gloves allow us to navigate our phones and GPS without taking them off in bad conditions. They're mostly found on thinner gloves, but some warmer models also have them.
Pros of touch screen gloves:
Not needing to take off gloves in low temperatures
Easier access to phone and GPS screen
Cons of touch screen gloves:
Mostly used in thin gloves
Thinner fabric on fingertips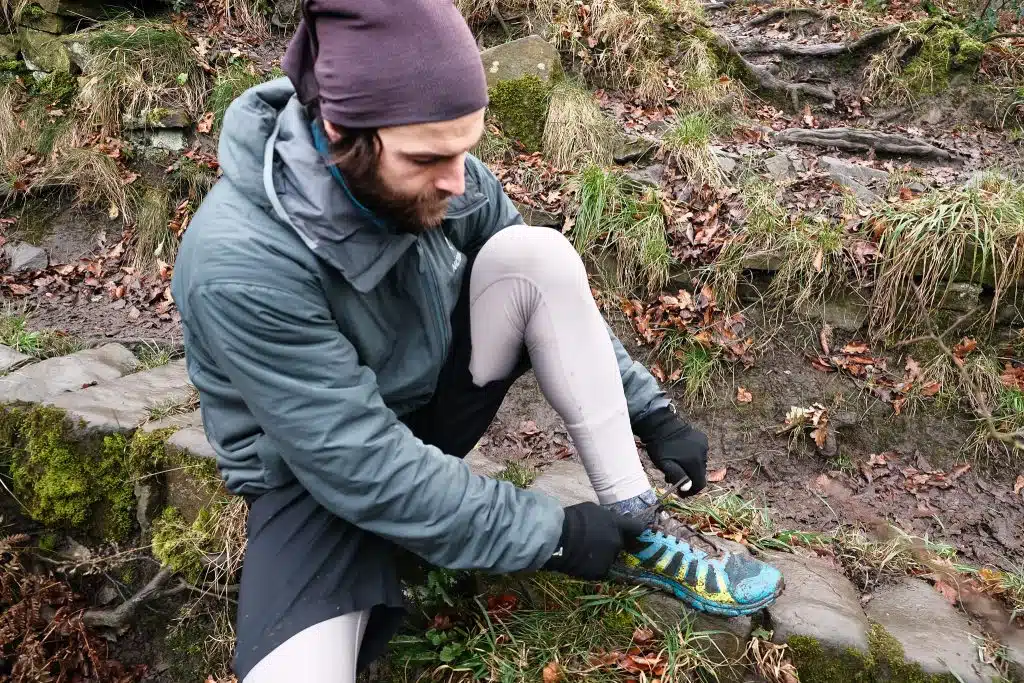 10. Long Wrists/Gauntlet Style
Many vegan winter hiking gloves and mittens for snow activities have longer wrists or gauntlets. The gauntlets are designed to cover your sleeves and allow better insulation by keep the wind away from your wrists. They often have fastening methods or closures like leashes and drawcords on the ends of the gauntlets.
Pros of gauntlet gloves:
Weatherproof seal
Often have leashes
Extra insulation
Protection from the wind and snow
Cons of liner gloves:
Hard to take off
Heavy
Cover your sleeves
11. Glove liners
Thermal glove liners give an extra inner layer of warmth, to go underneath hardshell and softshell gloves on the outside. They are made mostly out of synthetic materials like fleece and quite often have touch-screen fingers/thumbs.
You need to make sure the glove liner is a good fit and not too baggy. The outer glove also needs to be big enough to fit your hand and the liner too.
Pros of liner gloves:
Extra insulation
Cheap
Lightweight and easily stowed
Cons of liner gloves:
Adds bulk
Not waterproof
Can be tricky to get in and out of external glove if not sized properly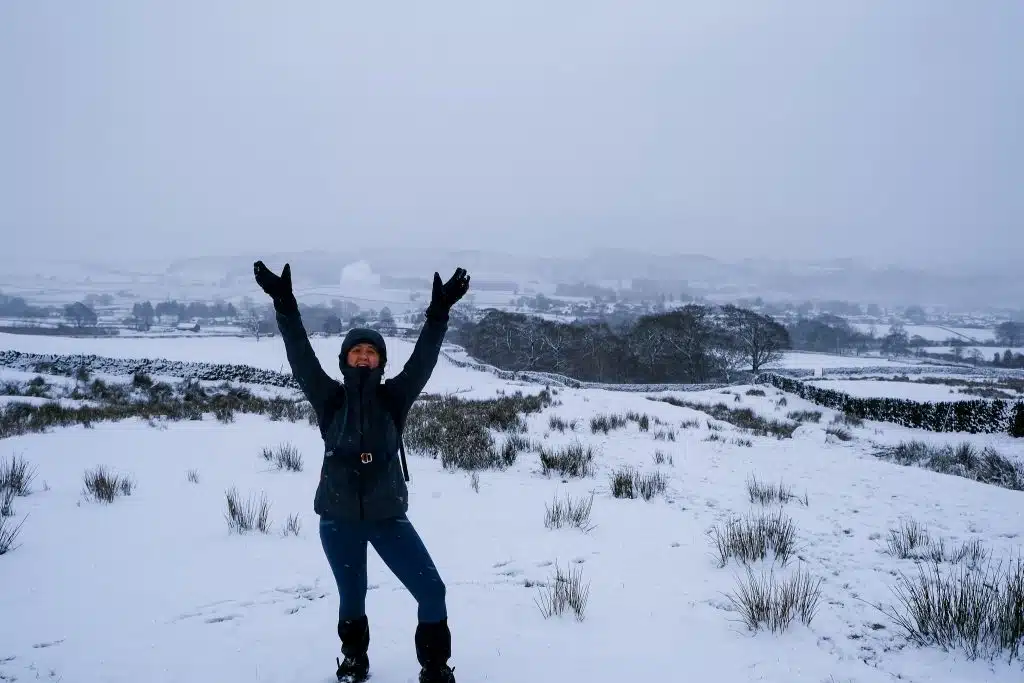 12. Vegan work gloves
Winter gloves from outdoor brands can be very expensive. It can also be hard to decipher all the marketing hype to tell what is a good product that will last.
Winter work gear is often overlooked by the outdoor community but it shouldn't be. Often it's more durable, practical and half the price. This is definitely the case for winter gloves.
There are many jobs, like working in construction, forestry, industrial freezers, at sea, on farms etc. that involve working in cold, wet conditions. Gloves designed for these can often work a treat outdoors too.
They can also be the solution to waterproofing too
Cycling in the UK winter, when it's wet and cold, requires some tough gloves. We've got through heaps of high-end waterproof gloves and, eventually, when it's raining hard enough, the moisture comes through.
Our solution has been to wear thermal liners underneath for warmth and industrial freezer gloves on the outside, which are dip-sealed and completely waterproof. It's not glamorous but it's cheap and it works. More info with the gloves at the bottom.
13. Men's Vs. Women's Gloves
It is possible to get specifically designed vegan winter gloves for men and women. But, the differences are small. Women's gloves have slightly smaller palms and thinner fingers but you shouldn't let gender sway your choice. Go with what fits.
Of course, there is a difference in size between men's and women's vegan gloves. Mostly, female models are smaller in size, while male models are bigger.
If you're not sure, when it comes to fit, you should always try out your pair of gloves before purchasing. This will allow you to check if the palm and wrist sizes fit you, as well as the fingers, whether they are too long or short.
---
Before we get onto the gloves, if you're finding this article useful and would like more vegan adventure resources, we think you'll love our Ethical Adventure newsletter!
---
14. The Best Vegan Gloves for Hiking, Cycling, Skiing, Running and Mountain Adventures
As with all of our vegan outdoor gear articles, we specifically contact brands to check products are vegan-friendly (unless it's clearly stated on their website).
Below we've listed all the gloves which are completely free of wool, leather and down.
Some brands were able to guarantee the products were completely free of animal materials. But, like most items of clothing, other brands were not able to confirm the source of their glues and dyes. These gloves have been listed with a star by their name*.
At the bottom, you'll also find the outdoor companies that didn't have any gloves for vegans i.e all of their gloves contain wool, leather or down. This is not listed to smear the companies, rather to save you time looking.
Mountain Equipment Mountain Glove
Style: Winter glove with extended cuffes
Insulation: Polarloft insulation
Waterproof: Drilite waterproof
Uses: Cold-weather hiking and camping
Cost: £40
With extended cuffs, a drawstring closure and a leather-like palm, these are well suited to cold, tough adventures. The mountain fit has pre-curved fingers and is designed to be very durable.
If you want a warmer version, you can also opt for the Mountain Equipment Mountain Mitt.
Check prices here
---
Sealskinz Waterproof All-Weather Glove*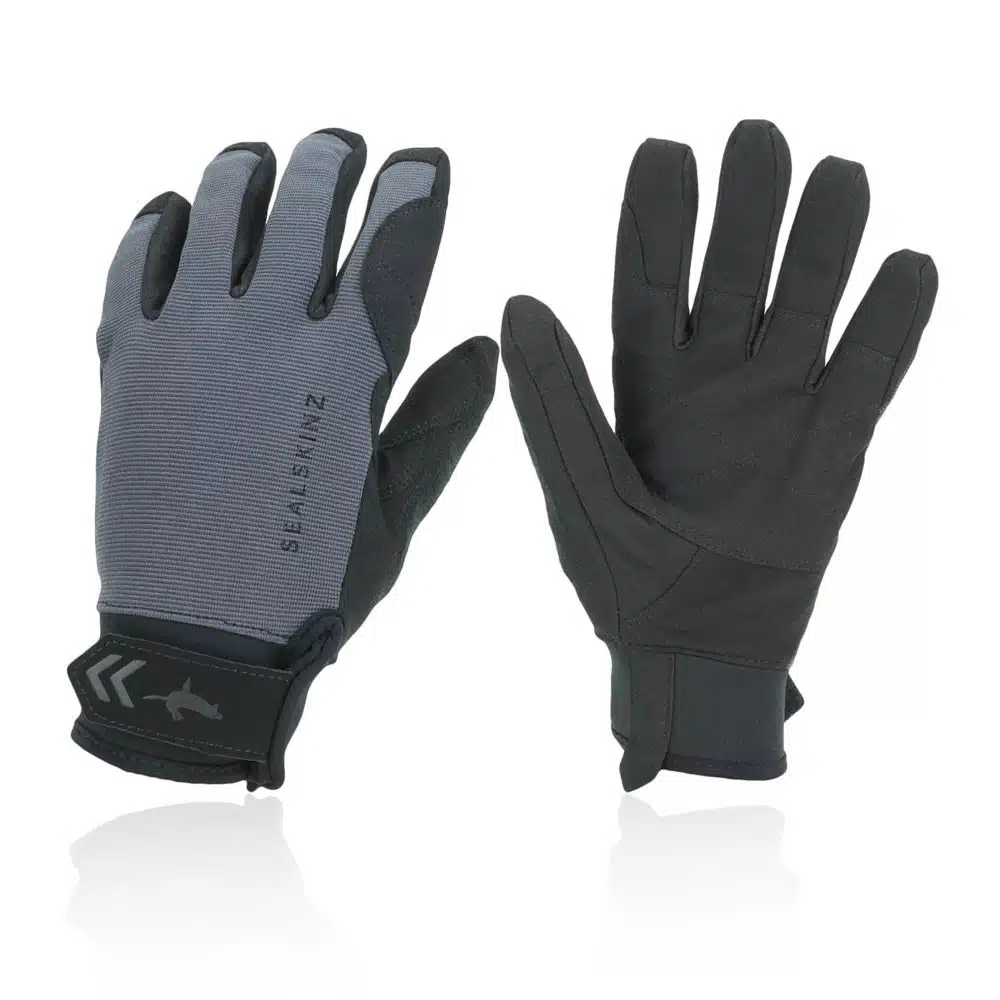 Style: Mid-weight waterproof glove
Insulation: Light insulation
Waterproof: Yes
Uses: 3-season hiking or general outdoors
Cost: £45
A good mid-weight waterproof glove that claims to be 100% waterproof and windproof.
It has touch screen fingers, a PU suede palm and pre-curved fingers for a natural feel.
You'll find it in men's and women's models that both come with a lifetime warranty.
Check prices here
---
Sealskinz All Weather MTB Glove*
Style: Durable mid-weight waterproof cycling glove
Insulation: Light insulation
Waterproof: Yes
Uses: Cycling, biketouring, bikepacking, mountain biking
Cost: £45
Very similar to the previous glove but with extra grip in the palm, padding on the knuckles and durability. Perfect for hard riding!
---
Enlightened Equipment Torrid Mitts
Style: Lightweight insulated mitt
Insulation: CLIMASHIELD Apex synthetic insulation
Waterproof: Water repellent finish
Uses: Cool and dry hiking or outdoor use
Cost: $65
At 63g, these vegan winter hiking mitts have an impressive amount of insulation and great all-weather performance. They're very packable and have a tough 70 Denier outer for added durability. Being a softshell glove, they're best suited to drier conditions.
---
Montane Prism Ultra Glove*
Style: Super lightweight insulated glove
Insulation: 25g Primaloft Silver Insulation
Waterproof: No, DWR water repellent
Uses: Bikepacking, running, 3-season adventures
Cost: £48
The ultra lightweight softshell gloves are only 38g and are super packable but still have Primaloft insulation and a 100% recycled Pertex Quantum Eco outer to shed water.
They're touch screen compatible and perfect for lightweight adventures, like trail running and bikepacking.
---
Montane Tundra Waterproof Gloves*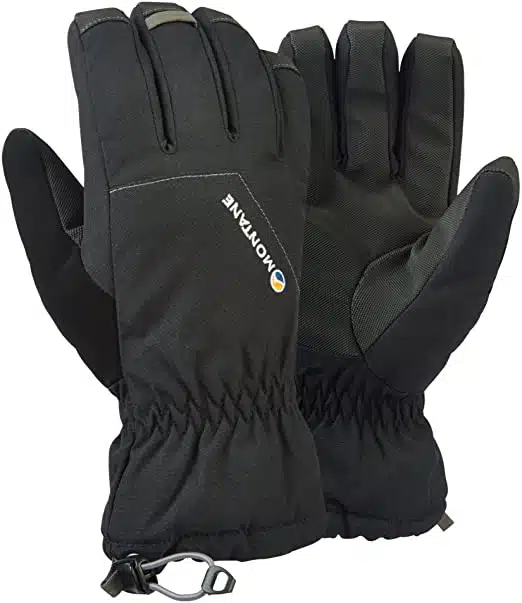 Style: Insulated vegan hiking gloves with gauntlet cuff
Insulation: DRYACTIV 2000 insulation
Waterproof: FREEFLOW Mantle Waterproofing
Uses: Winter hiking, camping and mountain use, or cold-weather cycling
Cost: £40
At 170g and with 500 Denier nylon, they're very durable and offer amazing weather protection.
The soft nose thumb wipe also helps to make it a great option when it gets seriously cold.
---
Rab Power Stretch Contact Glove*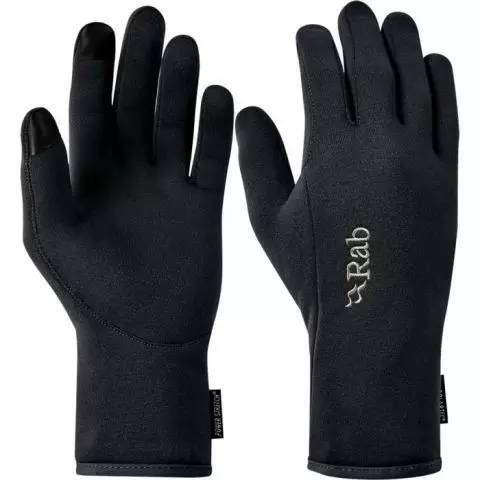 Style: Lightweight softshell glove or glove liner
Insulation: Polartec Power Stretch
Waterproof: No
Uses: Warmer hiking or cycling
Cost £25
An inexpensive pair of softshell gloves that are quick-drying and have conductive fingers and thumbs – useful for phone navigating outdoors.
Use as a standalone glove for hill walking in mild conditions or as a liner glove when it gets really cold.
Check prices here
---
Rab Storm Glove & Mitt*
Style: Heavy duty insulated winter glove
Insulation: Stratus insulation
Waterproof: Porelle Dry waterproofing
Uses: Year-round & tough winter adventures
Cost: £45
A tough glove with impressive insulation, waterproofing and breathability. With the PU palm, it makes it suited to fast-paced adventures in serious cold. Think mountaineering, scrambling or winter bike tours.
For more warmth, you can go for their Storm Mitt instead.
---
Inov-8 All Terrain Pro Running Mitt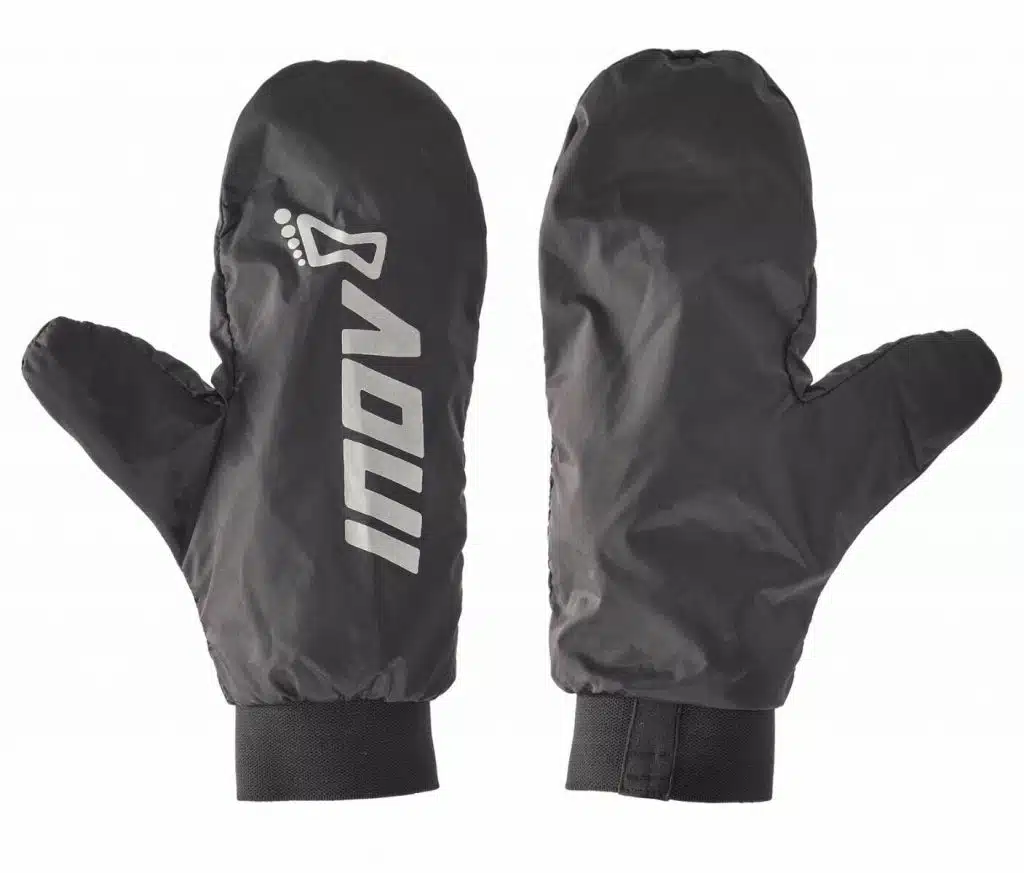 Style: Waterproof running mitt (or over mitt)
Insulation: None
Waterproof:
Uses: Trail running, running, bikepacking
Cost: £25
Lightweight waterproof running mitts than can be worn as a standalone glove for warmth and weather protection or added over the top of other softshell running gloves when the heavens open.
They're super packable and add a lot of warmth when you're moving fast. Can be used as mandatory equipment in UK outdoor trail runs and races.
Though they're designed for trail running, they would also work well for lightweight fast hikes and bikepacking.
If you're looking for a warmer standalone option, check out the Extreme Thermo Mitts.
---
REI Co-Op Polartec Wind Pro Fleece Gloves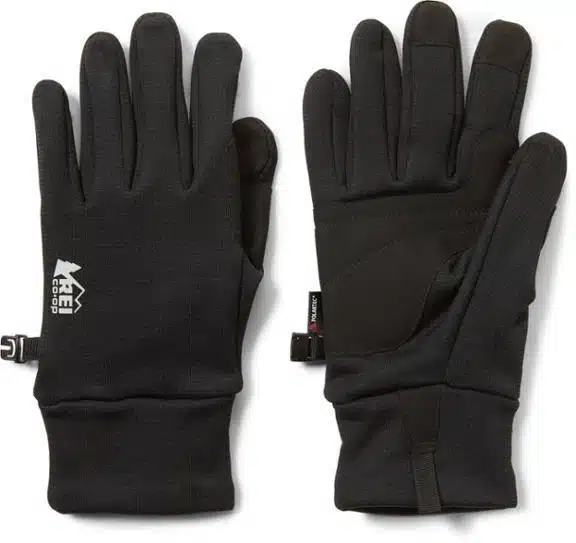 Style: Lightweight softshell gloves
Insulation: Light Polartec Wind Pro fleece
Waterproof: No, water repellent
Uses: Snowshoes, ski touring, via ferrata
Cost: $44
A pair of lightweight vegan gloves with a synthetic suede palm for added grip on things like trekking poles, ski poles, outdoor equipment. The Polartec Wind Pro gives good wind and cold resistance whilst the fleece inner keeps your hands cosy. They also have touch screen fingers.
---
REI Co-Op Switchback Gore-Tex Mittens 2.0
Style: Fleece liner gloves plus GTX and insulated outer mittens
Insulation: Synthetic insulation
Waterproof: Gore Warm waterproofing
Uses: Extreme colds and practicality
Cost: $89
An adaptable option that gives extremely weather-resistant outer mittens with soft and warming gloves liners.
The outer mittens have GORE-TEX shell, breathable fleece lining and a seriously durable build (synthetic leather palms and abrasion-resistant materials). Combined with a long gauntlet cuff, drawcord and soft nose-wipe materials on the thumb.
The inner liner is fleece with sticky silicone strips and touch-screen fingers.
---
La Sportiva Trail Running Gloves
Style: Adaptable trail running glove/mitt
Insulation: Polyester
Waterproof: Water resistance
Uses: Trail and road running
Cost: £35
A technical vegan trail running glove that easily converts from a glove to a mitt. Only 60g with a handy key pocket, smartphone touch sensitivity and an integrated stow pocket for the over-glove. Perfect for your trail running needs!
---
Dakine Titan GTX Mountain Glove
Style: Gauntlet ski or snowboarding gloves
Insulation: Hi Loft Recycled Insulation
Waterproof: Gore-Tex waterproofing
Uses: Snowboarding, skiing and winter sports
Cost: £60
A durable outer shell with Gore-Tex waterproof inserts and Gore Warm technology to keep your hand warm. The Rubertec palm is a leather alternative that helps toughen up the glove for winter outdoor pursuits and handling.
Inside, you've got a thermal liner with touch screen capabilities, on the back you've got a waterproof outer glove and a nice soft thumb to wipe your nose.
The perfect vegan ski gloves or snowboarding options, just make sure to pick the leather-free option.
---
Vegan Work Gloves for Outdoor Pursuits
Skytec Argon Xtra
Style: Fully dipped PVC waterproof gloves
Insulation: Soft fleece lining
Waterproof: 100% waterproof
Uses: Super wet conditions, cyling, hiking
Cost: £10
With a complete PVC coating, these are the best waterproof gloves you'll find. The fleece lining makes them suitable for freezing temperatures and the sticky palm coating gives loads of grip.
They're not pretty and are a little clumpy, but are as waterproof as you'll find for a fraction of the price. It's a recent addition to our bikepacking gear list, wearing thin thermal liners and then these on top if the heavens open.
---
Enjendals Tegera 517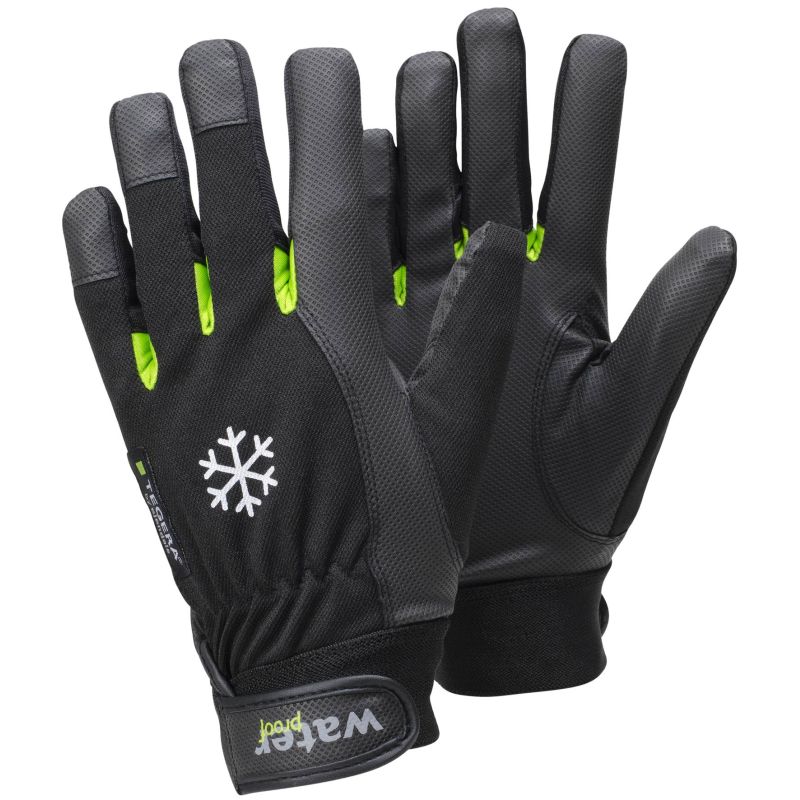 Style: Lightweight waterproof glove
Insulation: Polyester fleece lining
Waterproof: Yes
Uses: Cycling, hiking, mountain use
Cost: £15
Though they're designed as work gloves, we've found they are very similar to regular winter gloves from outdoor brands.
There's an impressive level of waterproofing and enough insulation to take you below freezing. They say down to -10C, but I think this would be a push with wind chill.
The grip is very strong and the built quality seems ace. The wrist strap also helps to keep warmth in and moisture out.
We use them for winter cycling and think they're great until the temperatures drop too far below freezing. Then we opt for the thermal liner and the Skytec Argon Xtra.
Ejendals have lots of other gloves with more insulation if you're going super cold. Find more on the link below.
---
Showa 282 Temres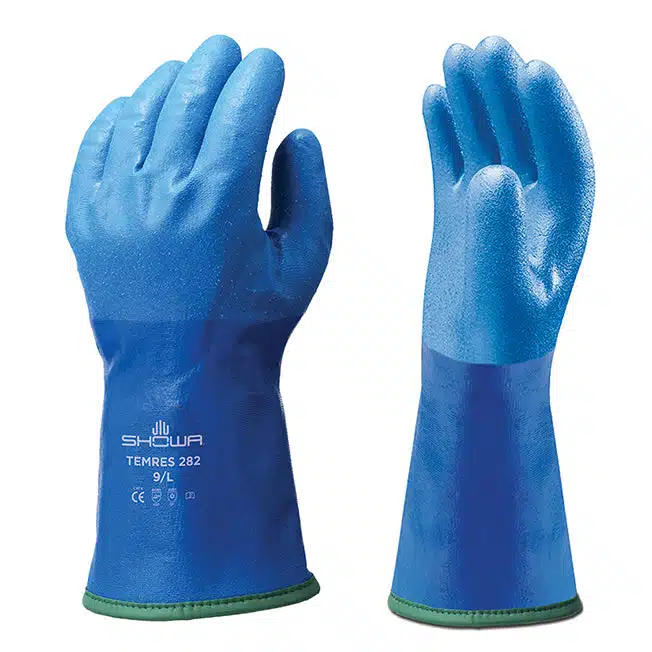 Style: Industrial PU coated guantlet gloves
Insulation: Acrylic liner
Waterproof: Yes, double PU coated
Uses: Mountaineering, ice climbing
Cost: £20
Not one we've personally tried but many North American mountaineers have commented on using them for impressive summits.
They're completely waterproof, durable and have a thermal lining. At the same time, the breathability is impressive.
If it can be used for 7,000-metre summits, chances are it can handle anything you'll throw at it.
---
Brands that don't have any vegan-friendly winter gloves
Once again, this is not to smear the companies, more to save you guys time looking.
Leki – Said that their non-leather gloves are vegan, however we couldn't find any leather-free gloves
Burton – No response
Black Diamond – No response
North Face – "After a quick search I can see that there are no gloves listed as vegan so sadly I cannot recommend any to you."
Hestra – no leather or wool free gloves
If you know any other awesome vegan gloves for cycling, hiking, running, skiing etc. it would be great if you could share them with others in the comments below – thanks!
15. Tips On Picking The Best Vegan Gloves For You
Once you know what glove type you need and if they're really vegan, check out some of our tips on how to pick the right vegan winter gloves for you:
Check the size of your winter gloves before buying them online. It's best if you can check out a few different pairs and sizes in the nearest store before making a purchase.
Zippers or pockets on the inside or outside of your glove wrist are there to store heating packets or hand warmers if it gets too cold for your hands.
If possible, buy vegan gloves with wrist leashes that will stop your gloves or mittens getting blown away or dropped off a mountain.
If your hands fit two sizes of gloves, opt for the bigger size. This way, your hands will be warmer.
Even though it is less durable, check for faux leather gloves. Winter alpinism and ice climbing often use thin leather gloves for a more authentic feeling of the rope or ice axe.
Loops on the fingers and sides of your gloves are carabiner loops designed to allow you easier access and carrying, as well as easier drying of your gloves.
Always have at least two pairs of gloves with you when hiking, cycling and skiing in serious winter. One pair should be thinner and the other thicker. For instance, the thin gloves can be softshell, and the other pair can be waterproof hardshell mitts.