A complete guide to the best vegan hiking foods to keep you energy-filled on the trail
---
Some foods are better suited to the great outdoors than others and the vegan trail food on this list has been meticulously chosen for their hiking suitability.
It's all non-perishable, light-weight and easily stored. This means you can cram them into your rucksack and just focus on reaching the summit without worrying about when the munchies kick-in.
And, as it can be difficult to find reliable vegan food options around the world, all of these hiking snacks are available worldwide and won't break the bank either. Sounds pretty good, right?
So are these foods just good for hiking? Nope, these are wicked choices for any day-long outdoor adventures but they are go-to options for the trail.
After trying and testing pretty much EVERY vegan food options on the trail, these are the ones that made the final cut. You'll also find:
This article may contain affiliate links, they will never cost you more money but helps Veggie Vagabonds keep making content like this – thank you!
1. What makes the best vegan hiking food?
Whether you're hiking a gentle trail, traversing a ridge or pushing for a summit there are certain things you should look for in your hiking snacks.
Nutrition – if you're exerting yourself, you should opt for healthy hiking foods, filled with good energy and carbohydrates to keep you going. You can find more info on our Guide to High-Energy Vegan Foods.
Digestibility – feeling bloated and parping every 5 metres can really lag you behind on the trail. The best food to take hiking will be easily stomached and let you continue adventuring straight away OR even eat as you push on.
Weight – you don't want to be carrying any unnecessary weight and so your hiking snacks should be as light as possible.
Durability – the best hiking snack will be tough and durable so you can chuck your bag around and not worry about spillages/damaged grub.
Practicality – can you eat it on the go? Does it take a long time to prepare? Is it easy to buy/make? Will it get you super messy?
If you're looking for food on different types of trips you might want to also check out our Vegan Backpacking Food Guide or our Vegan Camping Meals & Tips
2. Vegan hiking tips
Make sure you take enough food and water for energy
If you're hiking past shops and amenities you could consider taking less food (a lighter rucksack – yes!) and picking up supplies along the way if you need it
Always keep some backup snacks for later in the day
Make sure you store your hiking food properly, you don't want spillages in your rucksack
Keep a hiking food list ready so you can be prepared for impromptu trips real quick!
Test out different options so you can whittle down the best vegan hiking food for you
Try and consume sweet and higher energy foods before the most strenuous part of your hike and then eat saltier foods afterwards to replenish electrolytes
Whilst food is seriously important, planning your hike properly is also crucial, our Beginner's Guide to Hiking has loads of tips that can be real handy
Oh, and before we get onto the tasty foods, if you're enjoying this article you'll find plenty more vegan adventure content by signing up to our mailing list!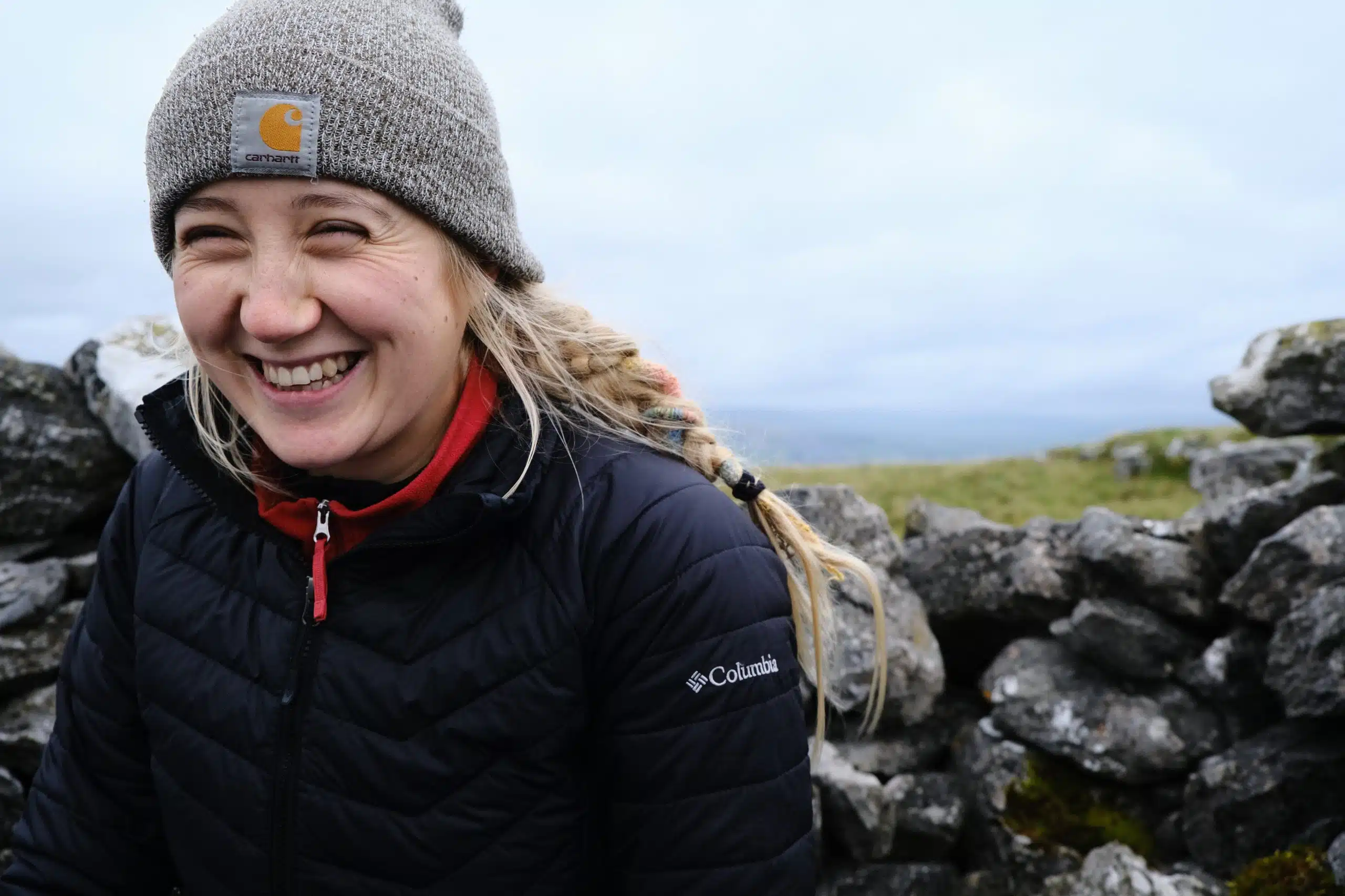 The Best Vegan Food for Hiking!
Dried fruit
Whoever discovered you can take the wonders of fruit and dry them to make them smaller and lighter whilst keeping all the nutrients was a bloody genius. Do you think they realised they created the perfect vegan hiking snack?
It's small and light, has a high concentration of sugars for energy and is filled with iron and nutrients.
Obvs nutrients are always great but when hiking it's the sugars that are really important. Dried fruits are just what you need for a quick boost to reach the summit. Keep them in your pocket for handy munching throughout the day!
These berry fruit leathers are ideal for the trail and a bit of a different way to have dried fruit
Dried dates with peanut butter
You can make these super quickly at home. Just get pitted dried dates, slice them open and spread some peanut butter inside. They can then be easily stored in a sandwich bag.
Not only are they SOOO tasty, they're easy to eat and full of loads of energy – exactly what you want from trail food!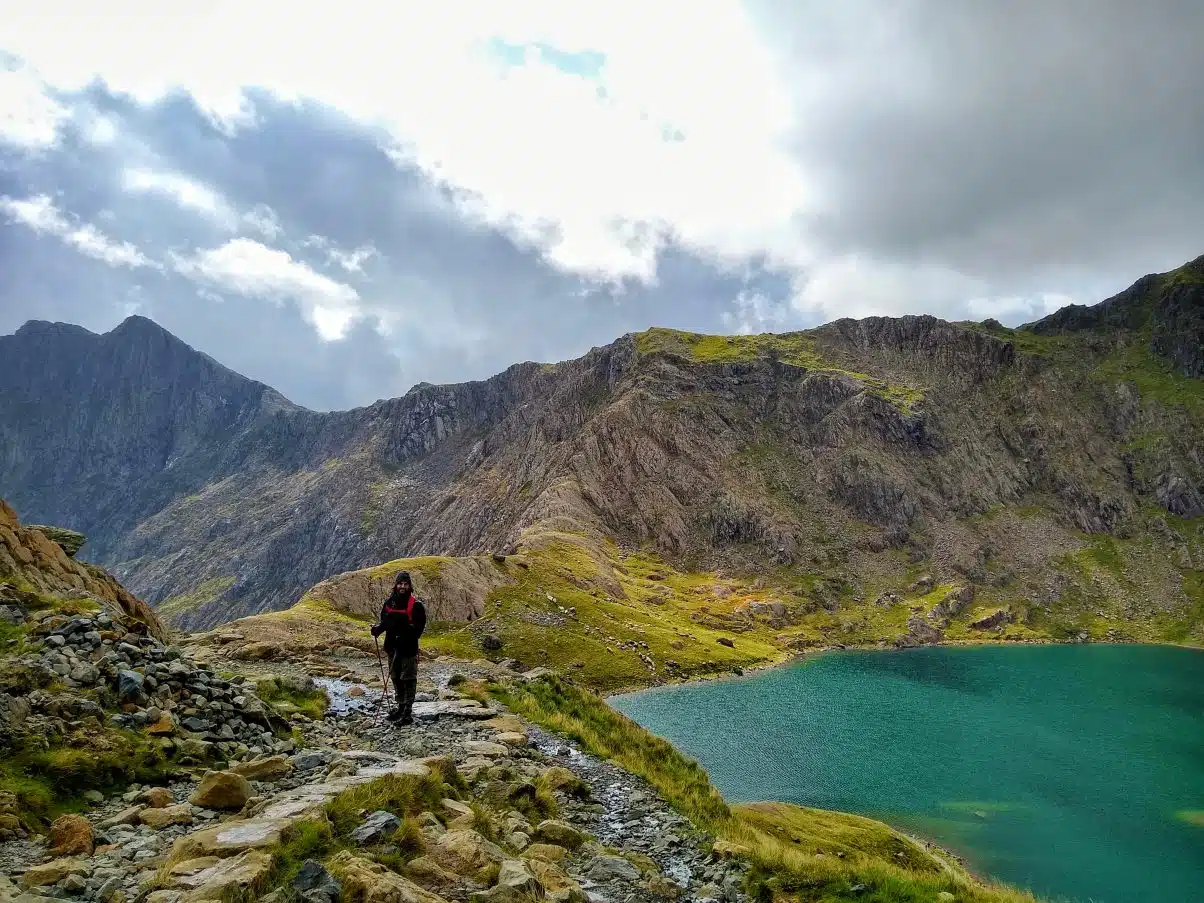 Homemade vegan hiking snacks
Homemade snacks will save you money, plastic and can make the perfect grub for you. Some of our favourites are:
Shop-bought hiking snacks
If you don't fancy making your own, there are lots of hiking snacks that are great for vegans available from shops or online.
Things like Trail or Cliff bars come in vegan varieties, granola bars, vegan jerky etc. or you could even opt for vegan protein bars. These guys will be full of calories and carbs, which is what you need around the trail.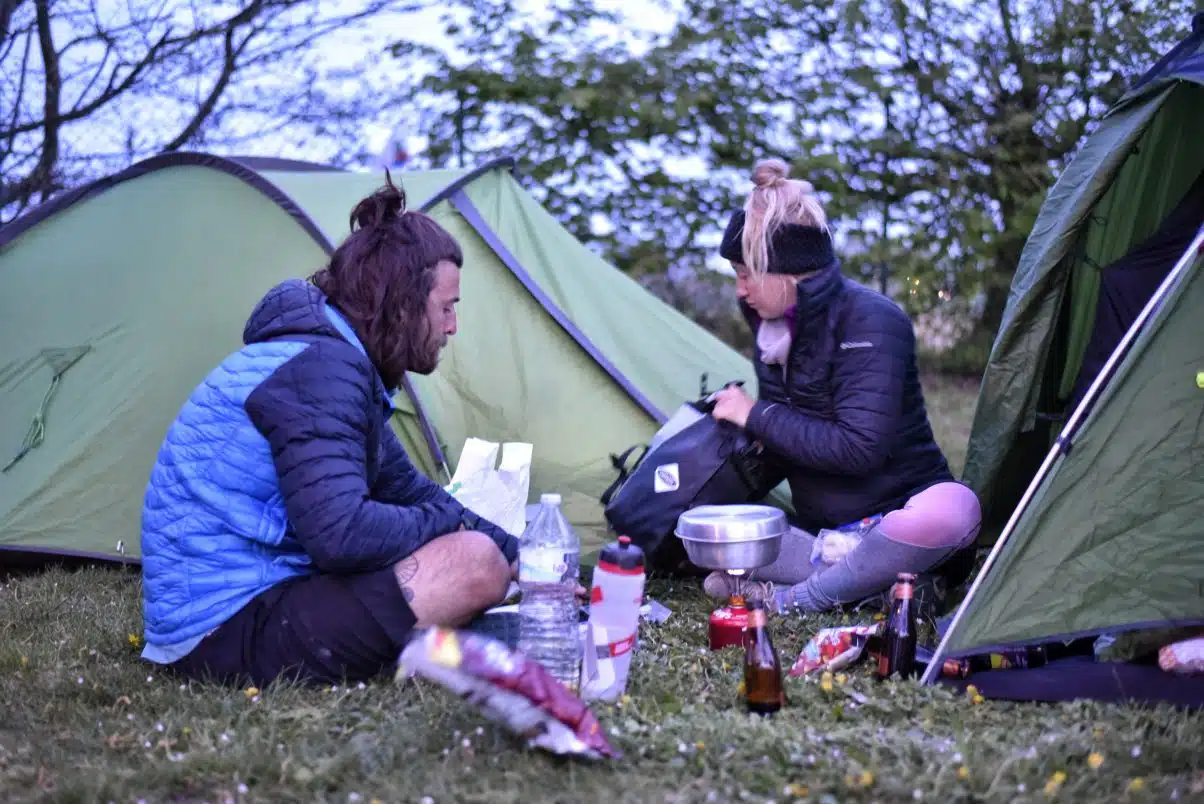 Jam, nut butter and bread
Our go-to hiking lunch on any trail is the famous PBJB sandwich (peanut butter, jam & banana… duh!). It doesn't have to be a sandwich either, it could be a wrap or baguette or another carby vehicle.
It sounds simple but it's the best combination of slow-release vegan energy in the banana, protein in the nut butters and instant energy in the jam. The accumulation of these integral ingredients all smushed together is enough to keep you going when climbing the highest peaks.
BONUS TIP: For superlight storage put the jam and peanut butter into ziplock bags, then you can spoon it straight into your mouth. Definitely one for when the going gets tough!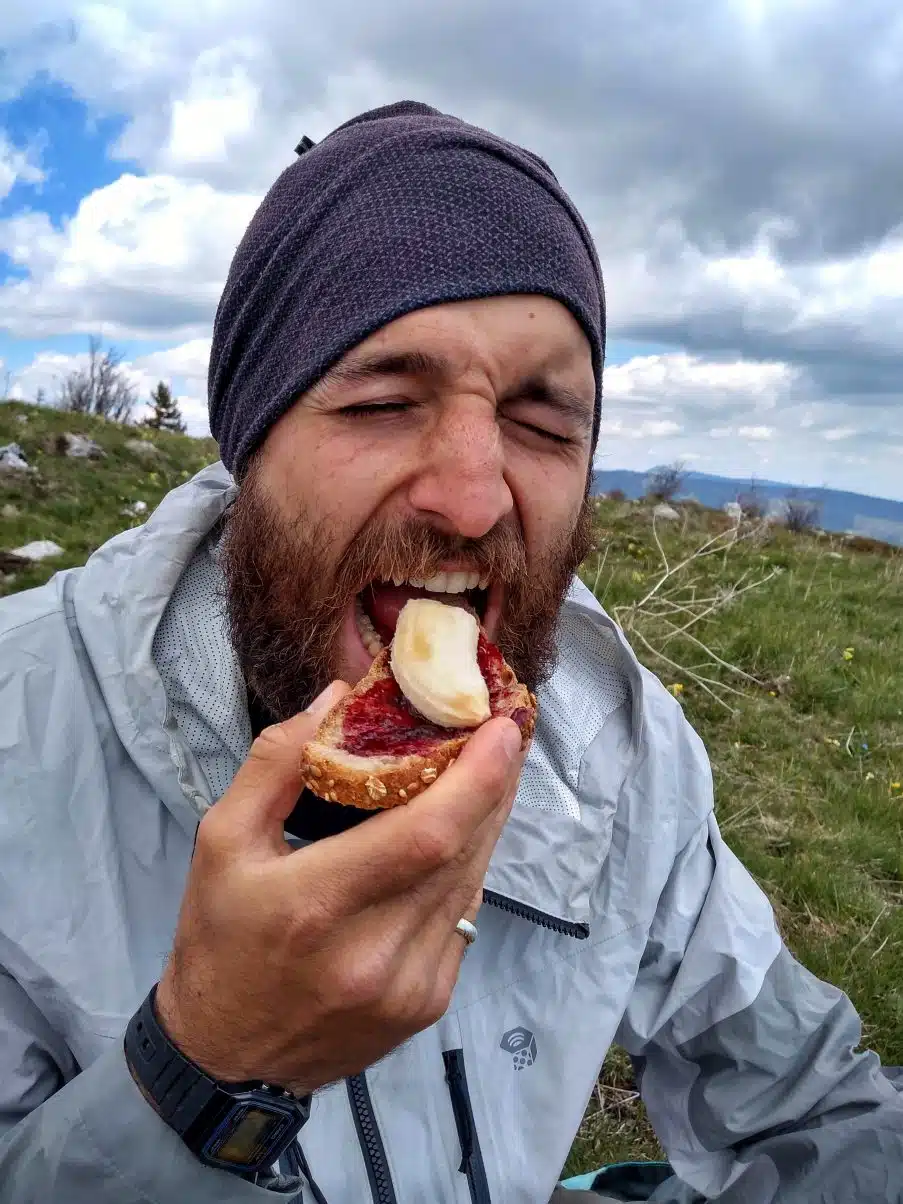 Roasted chickpeas
Your muscles are keeping you moving and upright so thank them with some protein-packed pulses!
Whip up a batch of roasted chickpeas by simply seasoning them with some curry spices or agave and cumin, then bake for 20 minutes until crispy – et voila!
A super lightweight hiking snack that's packed with protein. Just be sure not to use too much salt or oil when baking as this will dehydrate you in the sun's rays.
---
Need some vegan outdoor gear for your adventures?
---
Salted nuts
Salt does have a special place in trail munch, especially if you're hiking in hot temperatures and losing all those vital minerals in your sweat (like J does to excessive amounts).
Our advice: don't eat salted nuts at the beginning of your hike, they'll just dehydrate you. This is particularly important when hiking in the heat. Instead, save grazing on these savoury snacks until the end of your hike or past the hardest points when you're craving some salty goodness!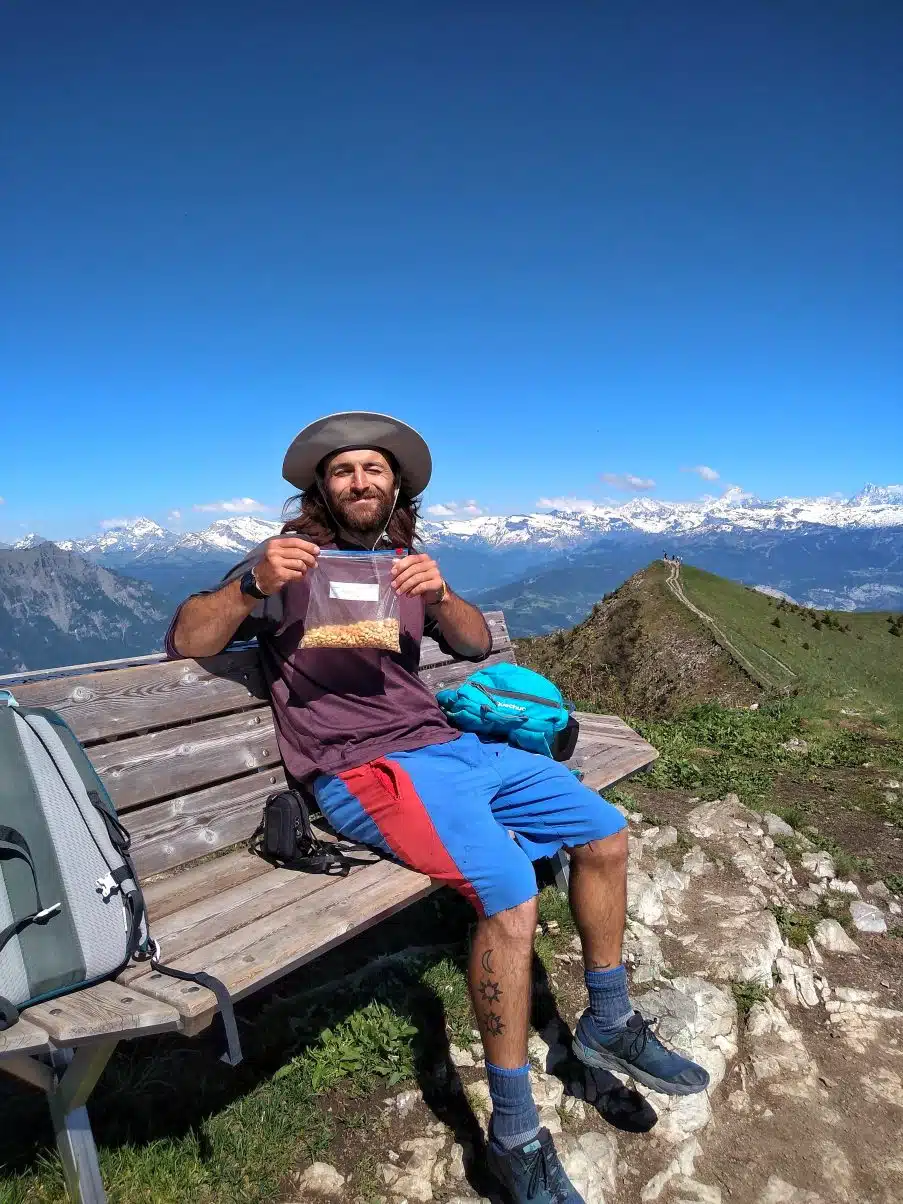 The OG hiking snack ideas and it's 100% vegan-friendly, raw and healthy!
You can piece together your own DIY trail mix that will be chock-a-block with protein, high in calories and slow-release energy. It's also mighty durable and stores well.
Here are some plant-based ingredient ideas for your mix or check out our full recipe on the link above:
Nuts – peanuts, brazil nuts, pecans, hazel nuts, walnuts, pistachio, cashews
Seeds – pumpkin seeds, sunflower seeds, linseed, pine nuts

Dried fruit –

raisins, cranberries, apricots, dates, prunes, goji berries, banana/apple/pineapple rings
You can get super experimental with it… what's your favourite combo?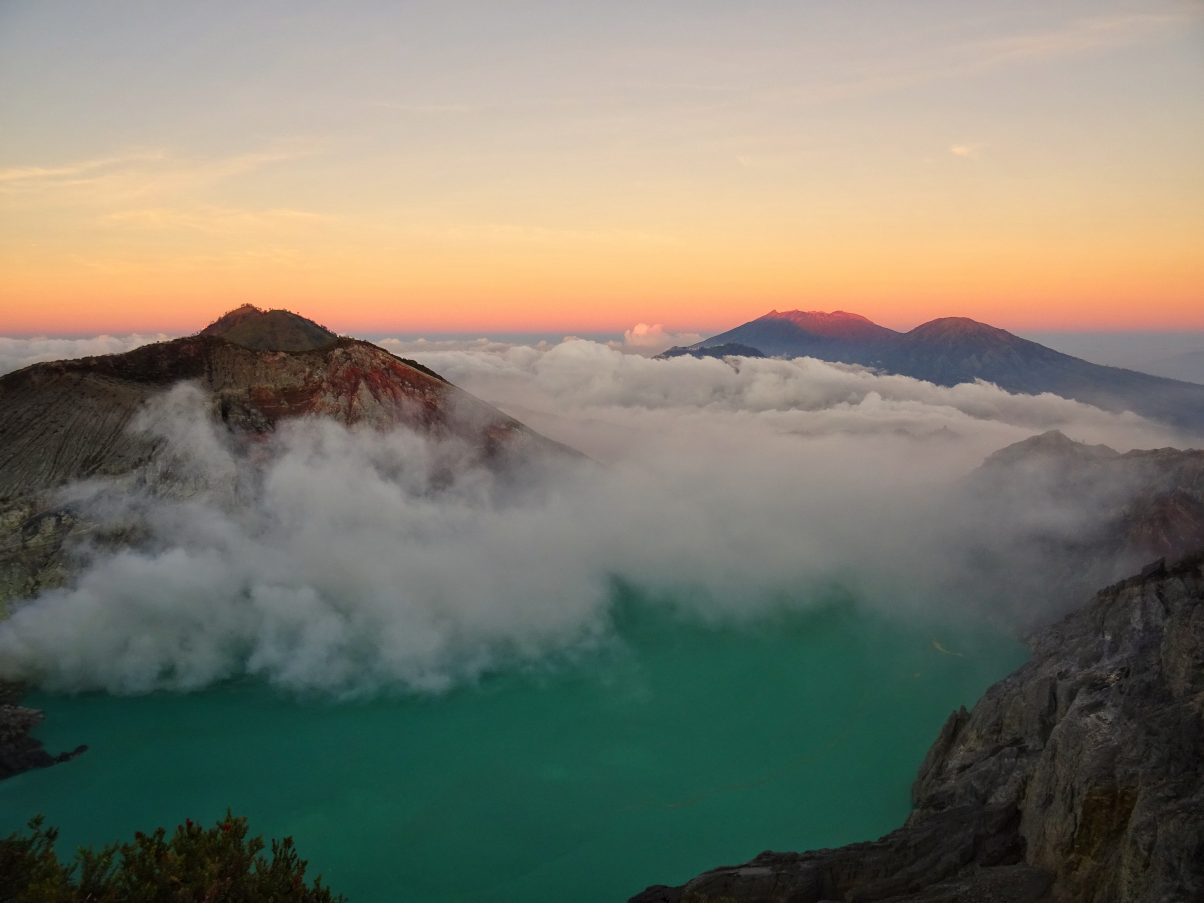 Biscuits
Biscuits are a good choice for a quick injection of oomph as they're loaded with sugar and they're pretty yummy. Be careful with sweet treats as they're not very healthy and relying on them as your only vegan hiking snack may counteract the health benefits of the hike!
Also, as you probably know, be sure to check the label as some varieties may contain animal products.
---
Explore More…
18 of the Best Hikes in the UK
More Advice on Vegan Adventure Foods
---
Fruit (some…)
The world of fruit is so versatile and some are more practical to take hiking than others. Taking a kilo of blueberries and a watermelon, although delicious, isn't the best idea when climbing a mountain.
Fruits such as apples and oranges are a good idea for a short hike as they don't bruise easily and are refreshing to sink your teeth into on a hot day.
Bananas are also a great choice as they're brimming with nutrients and their potassium will help you fight cramp. Again, these are tricky for long distant hikes as they don't travel well. Better yet, mash some into your homemade flapjacks and you've got the ultimate hiking snack!
Have you got any other favourite vegan food for adventure? Tell us in the comments at the bottom 🙂
Your questions answered
Is it better to make hiking snacks at home or buy them?
If you make them, you can make sure they're extra tasty, have all the nutrients you need, don't contain nasty chemicals and can also save on waste. Also, it's easier to make sure they're vegan. However, it is more time consuming and might not always be an option. In which case, go for shop-bought.
Can you get enough energy from vegan hiking snacks?
100%. We've completed gruelling multi-day challenges, big summit pushes and ultramarathons completely plant-based. You can get all the nutrients you need!
What nutrients do you need from a hiking snack?
You want a mix of fast and slow release energy e.g. carbs and sugars, along with some protein and nutrients. This is why trail mix is the perfect trail snack! If you've been sweating, you also need to take back on some salts and electrolytes.
How can you store hiking snacks?
Sandwich bags are good to hold energy snacks, nuts and trail mix. Then we have a mesh, drawstring bag to hold any other bars, dried fruits etc. You should have easy-to-eat snacks somewhere easily accessible, like the top of your bag, for quick snacking on the go. Then you can carry the rest inside the main part of your hiking rucksack.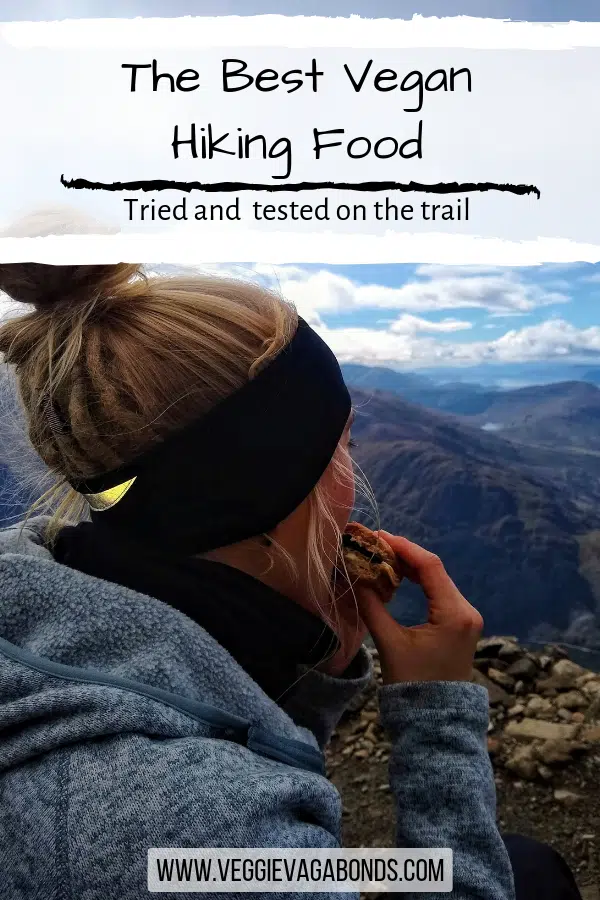 The Best Vegan Hiking Food for Adventure-Driven Herbivores
At Veggie Vagabonds we pride ourselves on being expert vegan adventurers and can recommend these cruelty-free snacks with confidence. Tried and tested after years on the trail, on our Three Peaks Challenge by bike, along pilgrimages in Sri Lanka and now whilst we explore the Alps and surrounding peaks!
Is there anything we missed from the list? Drop us a comment below or send us a message as we love to hear from you guys!