Everything you need to know about finding the best vegan running shoes + 12 brilliant options
---
Out of all the outdoor and sporting products, finding vegan-friendly running shoes has to be the easiest – Wahooooo!
Compared to other sports, and particularly when footwear is concerned, there is HUGE amount of choice for vegan runners. And, the options are constantly growing.
You'll find heaps of vegan running trainers, lots of advice about plant-based running nutrition, inspiring vegan runners like Fiona Oakes and Damian Hall and a huge community of plant-powered athletes kicking ass. You only have to look at the boom of Vegan Runners and people rocking the green jerseys at running events to see our numbers rocketing.
And, thanks to this huge demand, the running shoe brands are listening and ditching the leather. Great work vegans!
With all the options available, this article is here to help you find the BEST vegan running shoe from these brands…
Brooks / Mizuno / Inov-8 / Merrell / Hoka / Topo Athletics / Saucony / Altra / Wills
Keep reading to find heaps of info on:
Right, let's find you some running shoes!
This article may contain affiliate links, they will never cost you more money but helps Veggie Vagabonds keep making content like this – thank you!
What is not vegan in some running shoes? Finding 100% vegan options
There are a handful of animal products that are sometimes used in running shoes. Some are easier to identify than others.
Animal-based materials in running shoes:
Leather – though leather-free running shoes are common, most options on the market are unfortunately still made with leather. This is almost always advertised on the product information online or in-store. Sometimes there is also a label on the shoe if you're shopping in person.
Glues – the clothing industry often uses animal products in their glues and adhesives. This is generally not labelled.
Dyes – the clothing industry can also use animal products in dyes and colouring. This is generally not labelled either.
How to check if glues and dyes are vegan in road running shoes? This specific material information is often not explicitly displayed, however, many brands label shoes as vegan or have a vegan-friendly certification from companies like The Vegan Society or PETA. Alternatively, if you can't find a certification or a vegan label, you can also contact the brands to confirm. This is what we do to double-check all of the products recommended on Veggie Vagabonds.
Want to find more vegan outdoor gear? Or find out when we update this article with new vegan running shoes? Sign up for our newsletter below!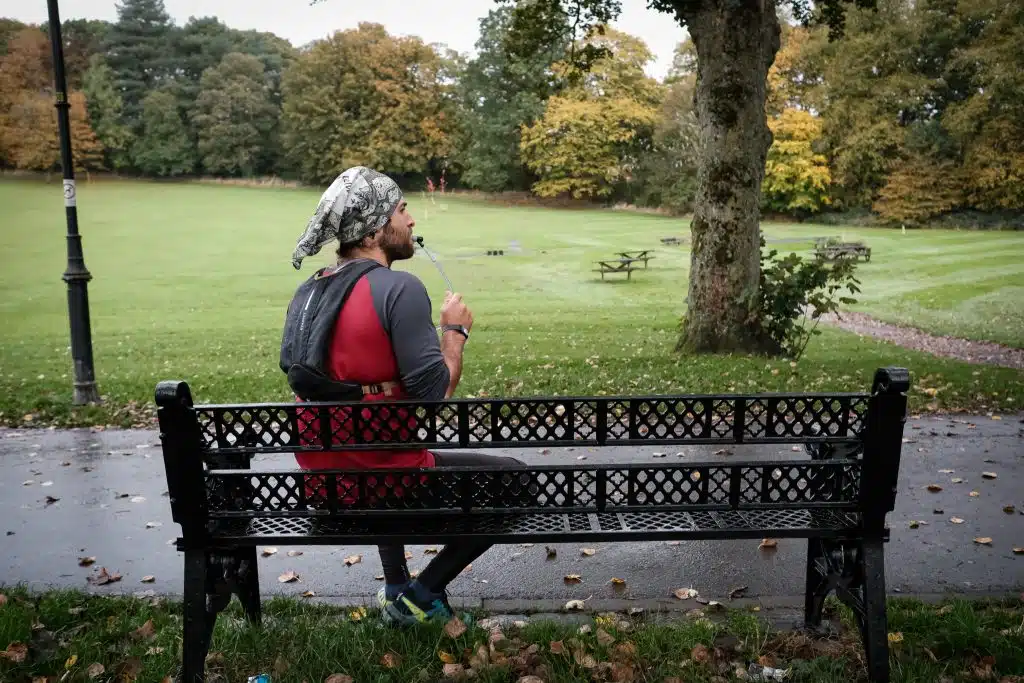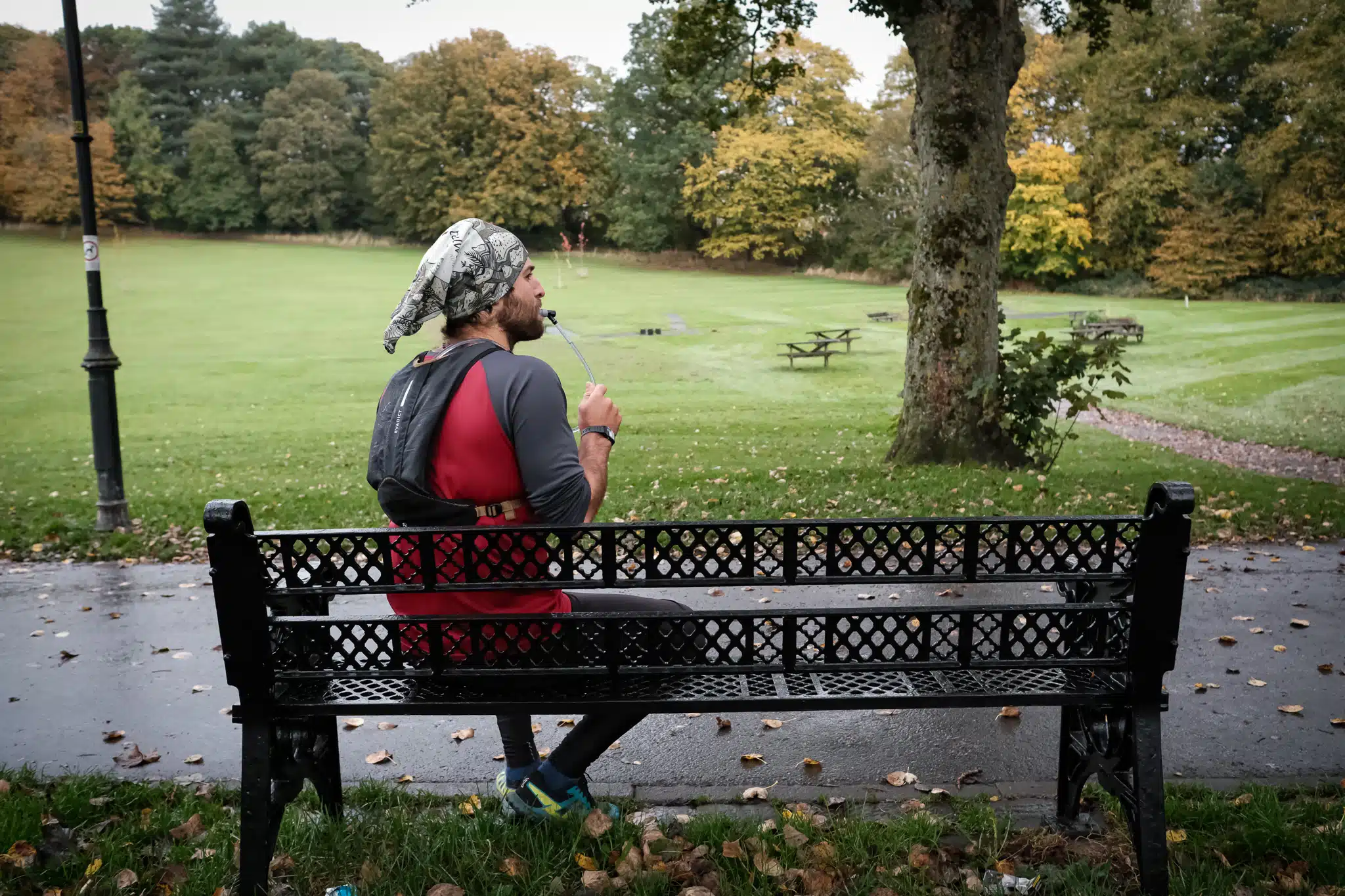 How to pick the right running shoes for you?
With running becoming more and more popular, there's heaps of research going into creating awesome shoes for every type of runner. That means you'll find lots of options – which is a good thing – but it does make your selection process more important.
It's worth taking your time over the choice!
The ideal running shoe will not only make your sessions on the tarmac a whole lot more enjoyable, but it will also help to prevent injuries and let you improve much quicker too.
Things to consider when picking your shoes…
Your running experience – are you new to running? Shoes with a larger drop (8mm or more), more cushioning and stability are often recommended to help your muscles and body adjust to impacts of running.
The conditions – is it going to be wet? Hot? Muddy? Cold? For wet or wintery conditions, waterproof running shoes might be best. If it's going to be hot then you might appreciate lightweight running shoes with better breathability.

Drop

– this is difference in height between cushioning at the front and back of the shoe. Some zero-drop running shoes have no difference in height and so your foot remains flat. Other shoes have slightly raised heel cushioning and angle your forefoot towards the floor. This heel to forefoot height difference is known as the drop. Typically, 10mm to 12mm drop is considered high, 8mm to 5mm is average, less than 5mm is low and all the way to zero drop shoes. It can really impact your running form and everyone has their own preference. You can find out more about running shoe drop here.
Stack height – this is the height of cushioning between your feet and the floor. Typically, shoes with a bigger stack height offer more cushioning.
Cushioning – do you want lots of cushioning or more of a natural, minimalist feel? More cushioning can be good for higher mileage but might not be the fastest.
Stability – would you like your shoes to help with your foot form? If your foot pronates to the inside or outside, you can find models with features to help stabilise this.
Minimalist – if you don't want much cushioning, stability or weight, maybe minimilist shoes are for you? These promote a natural running stride with a large toebox and room for your feet to splay out with each stride.
Most importantly, think about your feet – everyone has different feet. And, nowadays, you'll most likely be able to find shoes that are the perfect fit. Do you have wide or narrow feet? Do you have a high foot arch? Do your feet pronate (lean to a side) when you walk?
Thanks to COVID and the increase in online shopping, many shoe brands have a trial period and money back guarantee. This means you can take your new shoes for as many runs as you like, and, if they're not perfect, you can exchange them. We've tried to include returns information where possible below.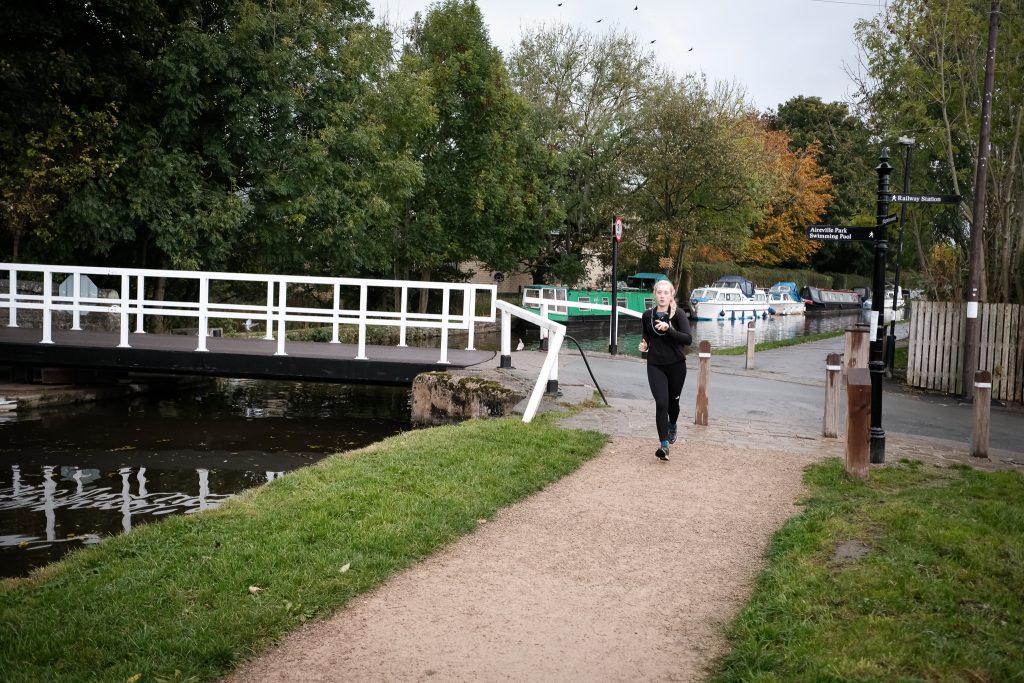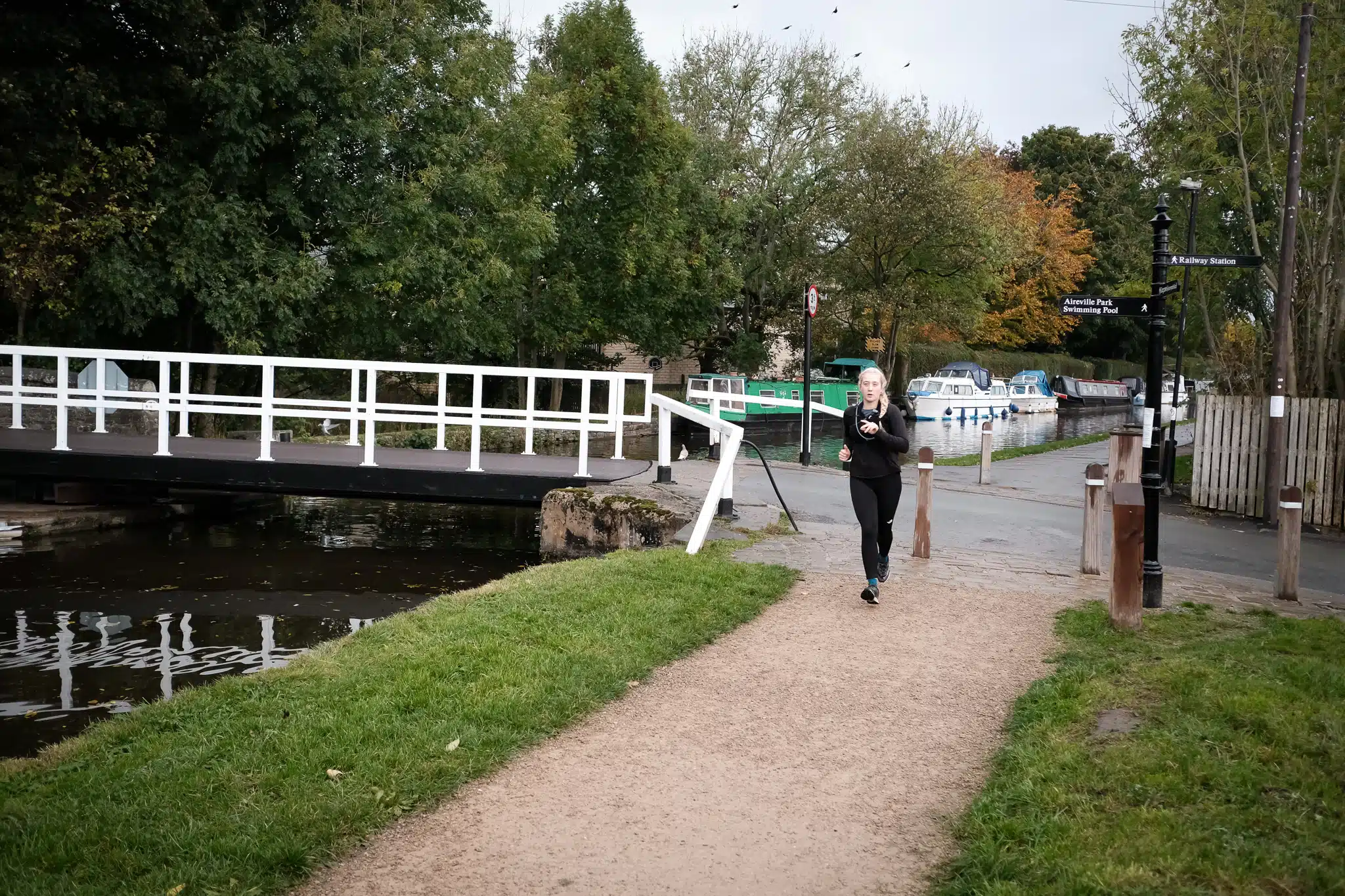 Trail running shoes Vs. road running shoes
These are the two main types of running shoes and deciding which to go for is an important decision.
Trail running shoes are designed for running off-road and are typically heavier, with more aggressive grip, ankle support and durability for knocks and scrapes.
Road running shoes are typically lighter to encourage speed, are sometimes more breathable and may have more cushioning to protect against repetitive strides on concrete.
Which should you go for? If you intend on spending most of your time running on roads, regular trainers are for you. If you're going to be running on a variety of surfaces and in changeable weather conditions, trail runners might be a better option.
You can find our guide to vegan trail running shoes here
---
Looking for other bits of vegan gear? We got ya covered!
---
The 12 best vegan running shoes available now
Keep reading below to find our top picks from the best running brands. If you're looking for a specific type of running shoe, we've also categorised some of the top performers below.
Brooks Vegan Running Shoes
99% of Brooks running shoes are now vegan, which is flippin' fantastic! They also have specific men's and women's running shoes and different shoe widths available for individual models, all helping you get the right fit.
The Brooks return policy is also pretty ace: you get 90 days of testing and a free return if you're not content.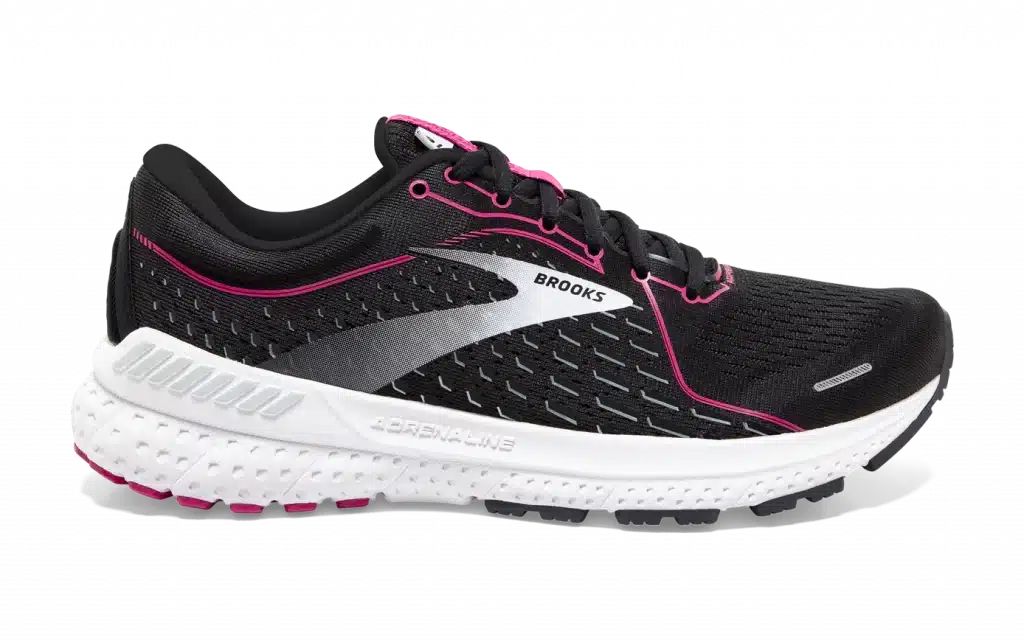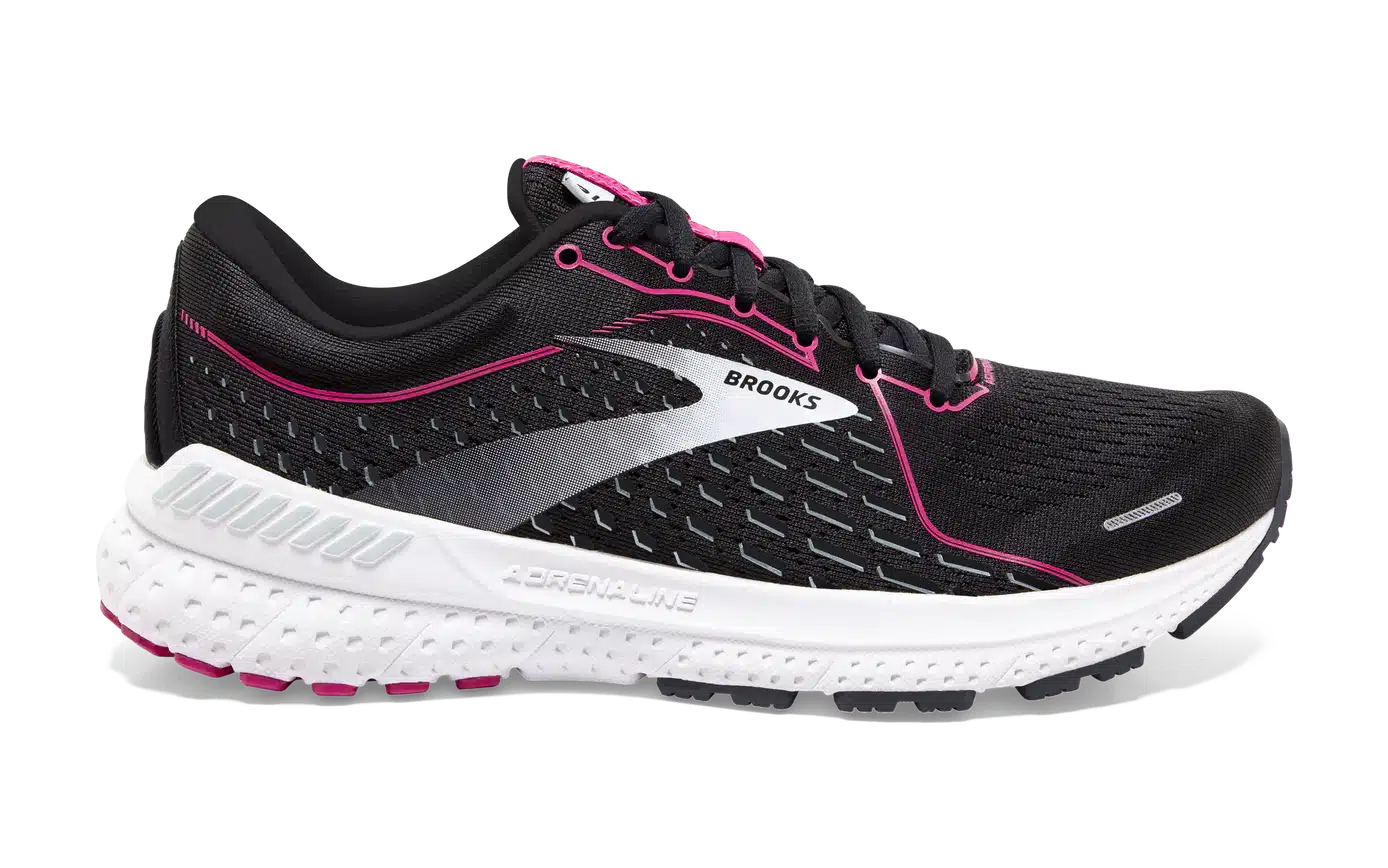 Brooks Adrenaline GTS 21
Price: £120
Weight: 510g a pair
Heel/toe drop: 12mm
Best for: stability
Comfortable, great fit, breathable and secure. The Adrenaline GTS 21 hits the sweet spot for stability, with injury prevention at the forefront of its design.
The patented GuideRails® support eliminates movement within the shoe that can cause knee issues and the firm midsole gives a nice, responsive ride.
With a 12mm drop, these guys are well-suited to beginner runners or heel-strikers.
Overall, if you're looking for no-frills stability in a road-runner, the Adrenaline GTS 21 gets top marks.
Buy Brooks Adrenaline GTS 21
---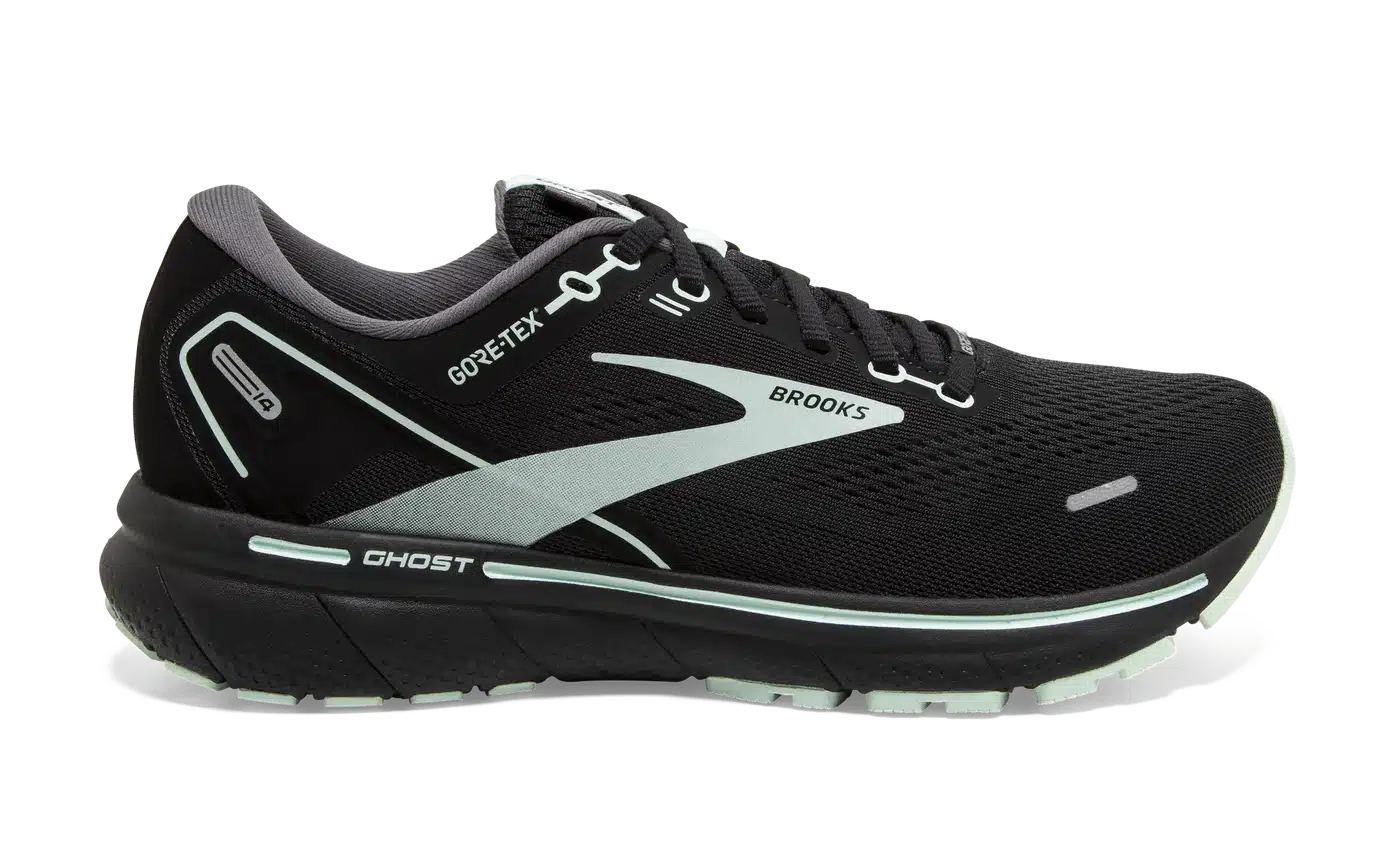 Brooks Ghost 14
Price: £120
Weight: 510g a pair
Heel/toe drop: 12mm
Best for: cushioned and comfortable running
Compared to the Adrenaline, the Ghost gives slightly less support but offers more flexibility and added comfort. Their 100% DNA Loft technology gives their softest cushion and ultimately a smoother ride. Hence the name Ghost, as it's designed to give very discrete cushioning for your feet.
To get the right fit for you, the Brooks Ghost 14 also comes in three different widths: wide, regular and narrow. There's also a Gore-Tex version (pictured) if you're looking for a waterproof option.
Finally, this is a damn super sustainable running shoe. The Ghost is Brooks' first carbon-neutral shoe, made of recycled materials and using reduced manufacturing waste and carbon offsetting!
Buy Brooks Ghost 14
---
Mizuno Vegan Running Shoes
Mizuno has recently announced that their ENTIRE running shoe range is vegan, which is bloody brilliant. That gives you 23 different shoe options just from one brand alone. If they can do it and produce some of the best trainers in the game, let's hope others follow suit too!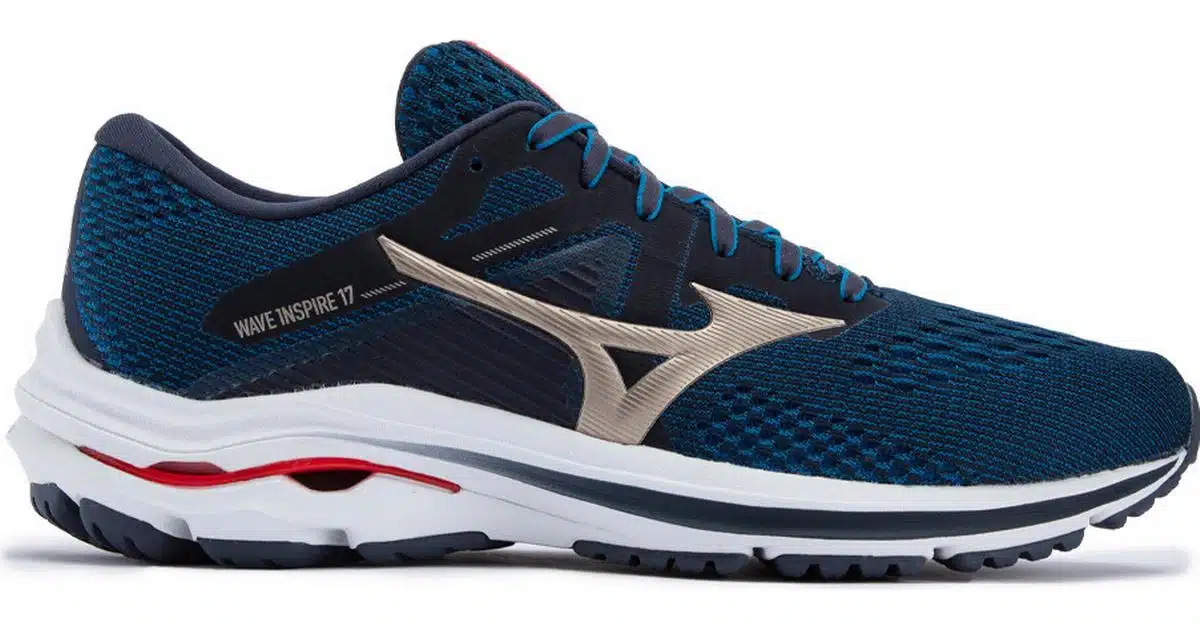 Mizuno Wave Inspire 17
Price: £130
Weight: 480g a pair
Heel/toe drop: 12mm
Best for: beginners and overpronators
The Mizuno Wave Inspire 17 is a great running shoe for beginners and those who need to correct a problem with overpronating (foot rolling to the inside as it hits the ground). They do this with their Wave technology, specifically engineered to help cushion overpronators' strides.
Mizuno's Enerzy Foam heel wedge also increases grip and gives a great amount of return. Combine this with a 12mm drop and you've got an ideal running shoe for first-timers.
Buy Mizuno Wave Inspire 17
---
Hoka vegan running shoes
Hoka have an amazing selection of vegan running shoes and were one of the earlier brands to start confirming vegan-friendly adhesives and dyes.
Typically, their running shoes offer lots of cushioning and protection for a really enjoyable ride. Plus, their shoes look damn cool, just remember: don't just go with a running shoe because of its looks!
Hoka also has a 30-day, money-back testing period. You can run worry-free and return 'em if they're not right for you.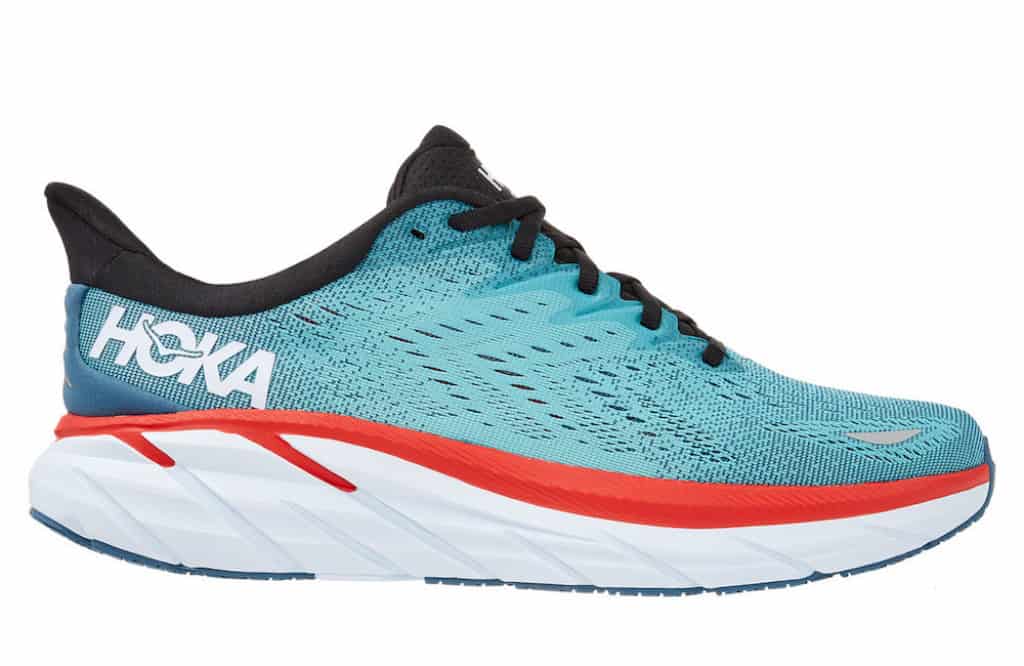 Hoka Clifton 8
Price: £125
Weight: 500g a pair
Heel/toe drop: 5mm
Best for: lightweight cushioning and comfort with a smaller drop
Through the years, the range of Clifton running shoes from Hoka have been seriously popular. The Clifton 8 is the latest upgrade and comes in a regular or wide width.
These guys are lighter, with bouncy cushioning from heel to toe and a really comfortable upper. Despite being built tough, these roomy road trainers are said to feel like running on pillows, and a welcome experience to those who might suffer from joint pain.
With a 5mm drop, these guys are better suited for forefoot strikers.
Buy Hoka Clifton 8
---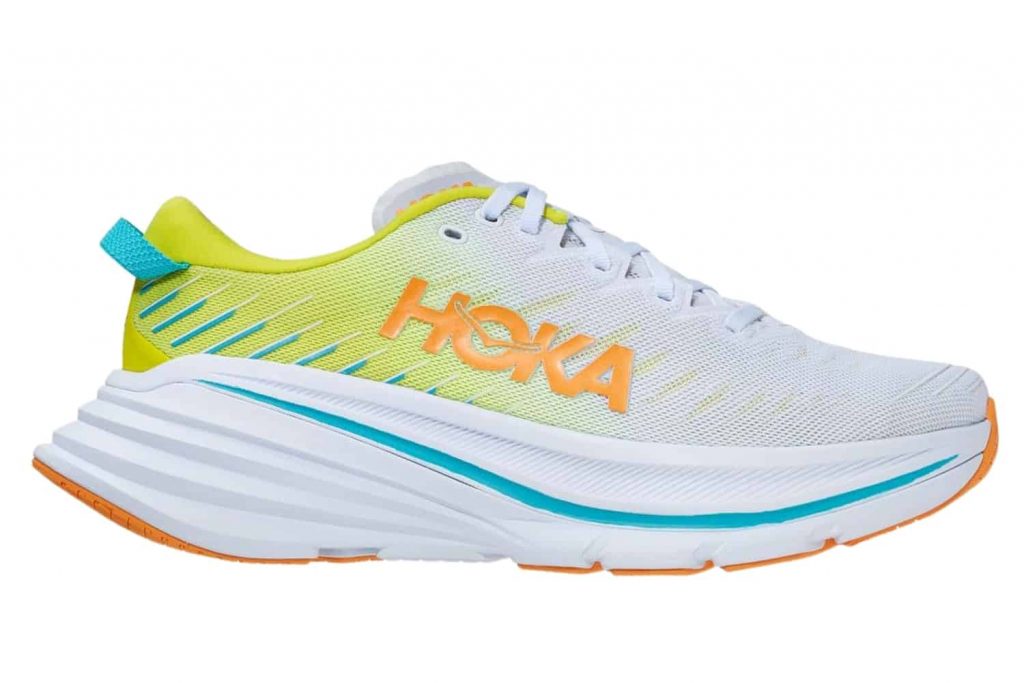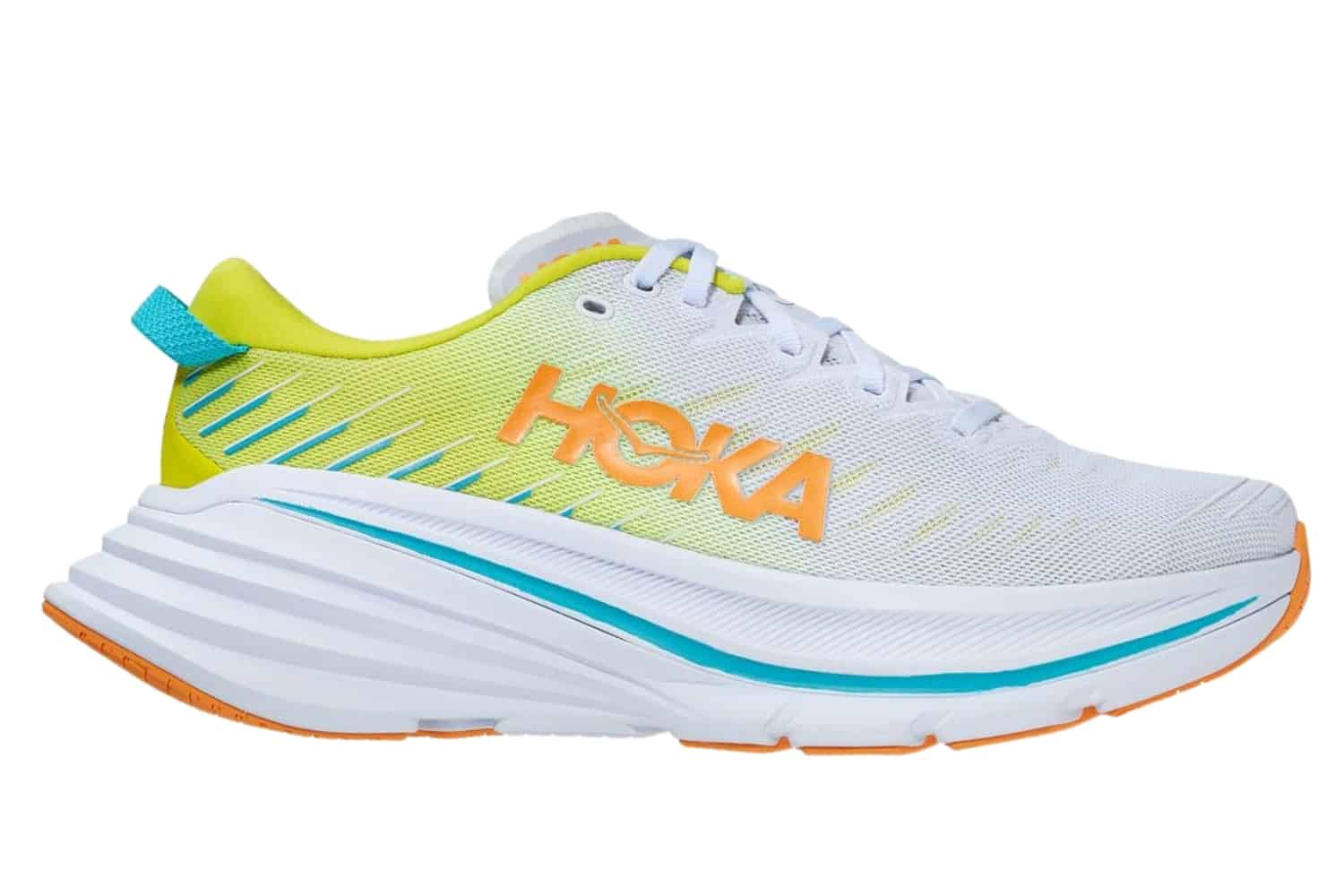 Hoka Bondi X
Price: £190
Weight: 505g a pair
Heel/toe drop: 5mm
Best for: super comfort with a carbon-fibre plate
If you're looking for real comfort or a recovery running shoe, the Bondi is a tough contender to beat.
This is a maximal cushioning road shoe with a seriously plush 33mm stack (thickness of shoe between the foot and the floor) made from compression-moulded EVA. Despite the large sole and cushioning, you get an additional spring in your step from the carbon-fibre plate which helps to propel you forward with greater efficiency.
In the running community, carbon fibre plates are one of the coolest and newest bits of technology. But, this all comes at a price. At nearly £200, the Bondi X is also the most expensive running shoe on this list.
Buy Hoka Bondi X
---
Altra vegan running shoes
Altra may be more synonymous with awesome trail running shoes but they're also bringing out ace running shoes too.
Because of this, you'll find a lot of great crossover options that can excel on the road but are also capable of handling stiff trails too.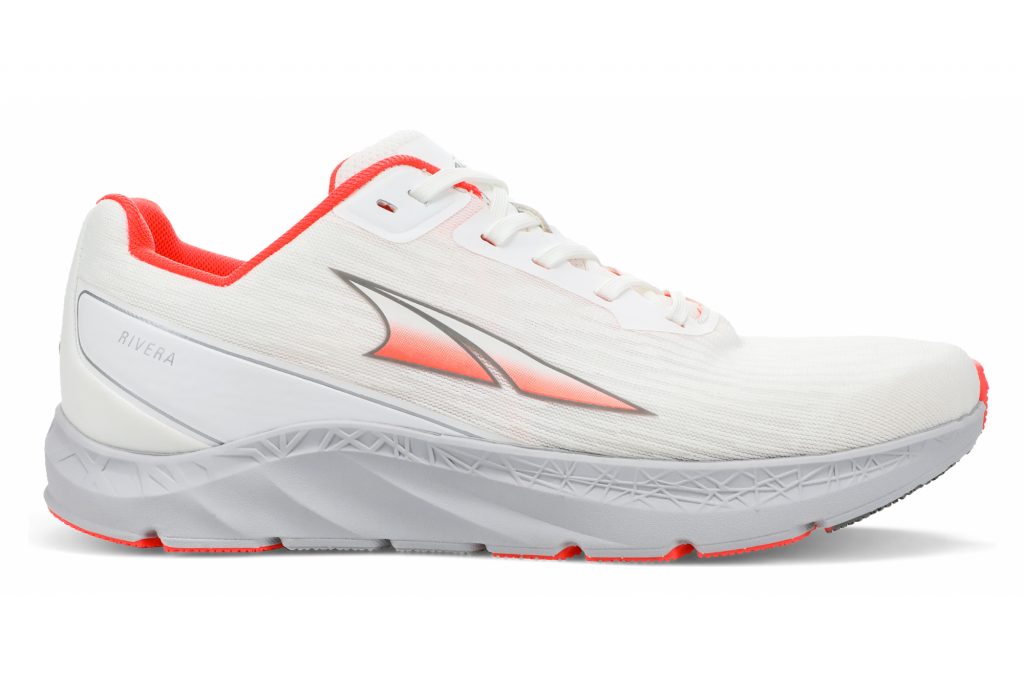 Altra Rivera
Price: £120
Weight: 396g a pair
Heel/toe drop: Zero
Best for: do-it-all comfort
The Rivera is a great do-it-all, zero-drop running shoe, perfect if you're wanting to go lightweight.
These guys are responsive and comfortable but durable and stable, ticking lots of boxes as a daily runner or for the occasional race too.
With a larger toe box and a zero drop, it promotes a more natural running style that you can let rip on the road or treadmill.
Buy Altra Rivera
---
Merrell vegan running shoes
Though Merrell vegan hiking shoes and trail options are best known, they have a few road shoes too, and they kick ass!
All their cruelty-free options are clearly labelled as vegan too.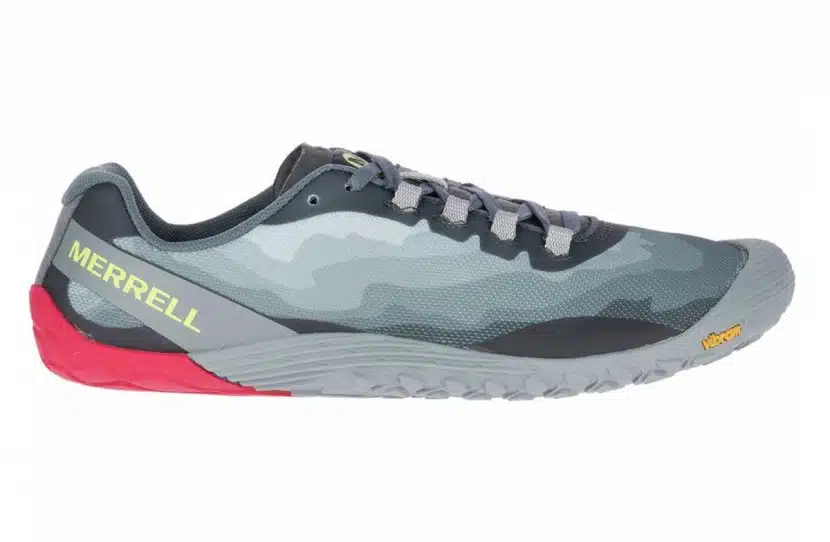 Merrell Vapor Glove 4
Price: £90
Weight: 244g a pair
Heel/toe drop: 0mm
Best for: zero drop, minimalist running shoe
One of the most popular barefoot running shoes around, perfect for that naked feel but giving enough protection for long miles.
Compared to other shoes, you'll notice these guys are very lightweight, with minimal cushioning in the soles or padding in the uppers. Minimalist trainers are designed to let your feet move and strike the floor naturally, with a modest heel arch and a large toe box. The Vapor Glove 4 is a very minimalist option.
There are many strong arguments for going with barefoot running shoes but beginners will need to pay close attention to their running form. If you're looking to go natural, these are some of the best vegan minimalist running shoes you'll find.
Buy Brooks Adrenaline GTS 21
---
Topo vegan running shoes
Topo are a relatively new, US-based running brand that are quickly growing in popularity around the world.
All their models are vegan (besides the Revokr) with lots of lightweight low-drop running shoes, typically with generous toe boxes, ample cushioning and a more minimalist design.
All running shoes have a 30-day money-back guarantee.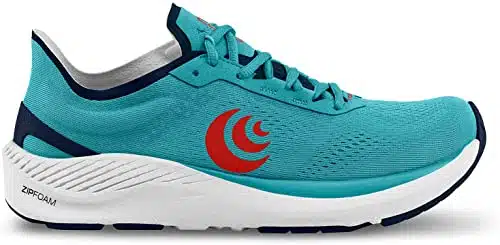 Topo Athletic Cyclone
Price: £120
Weight: 360g a pair
Heel/toe drop: 0mm
Best for: wide, high-volume feet
One of the lightest running shoes on this list, the Cyclone is a neutral shoe with less cushioning and lots of flexibility. Add this to the very thin and breathable uppers and you've got a pretty minimal option that would be great for middle distances in warmer conditions.
If you're looking for a running shoe for wide feet, these are also a nice fit. If you have narrow feet but are still keen, it might be advisable to size down.
For more cushioning and support, the Magnifly 3 from Topo could be a good alternative.
Buy Topo Athletic Cyclone
---
Inov-8 vegan running shoes
Inov-8 are one of our favourite UK outdoor brands and do a whole range of brilliant vegan footwear (all their leather-free shoes are completely vegan).
Their shoes are worn by plenty of elite athletes and ultra runners, with plenty of new technology being incorporated all the time.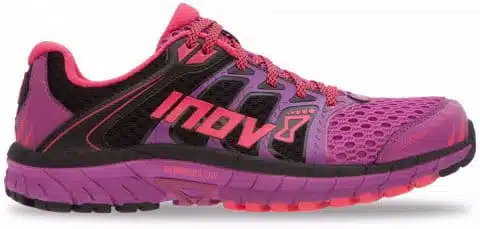 Inov-8 Roadclaw 275
Price: £135
Weight: 550g a pair
Heel/toe drop: 8mm
Best for: long distance road running
The tough Roadclaw is a wide-fitting trainer, designed for long distances on the tarmac. The responsive design helps to keep a spring in your foot whilst the Powerflow midsole adds cushioning and protection for the long miles.
One of the biggest selling points is breathability. The Roadclaw has an ace knitted upper that helps to ventilate your feet. A good option for hot summer training and racing!
Buy Inov-8 Roadclaw 275
---
Inov-8 Parkclaw 275
Price: £140
Weight: 550g a pair
Heel/toe drop: 8mm
Best for: road-to-trail running in bad conditions
Want to start some off-road running but aren't ready to commit to a full trail shoe? The Parkclaw could be a brilliant option.
These shoes have a fairly aggressive outer sole with impressive grip; muddy trails and grass can be tackled with no problem. At the same time, there's ample cushioning and comfort for miles on roads too. Pretty ideal if you're going to be running road to trail, and then some.
For pants weather, the Parkclaw is also a strong choice. They're one of the few shoes on this list with a Gore-tex membrane. Overall, they're super versatile waterproof running shoes that will take you almost any places you're willing to go.
Buy Brooks Adrenaline GTS 21
---
Saucony vegan running shoes
Saucony have been producing running shoes for quite some time but it's only recently they've added some vegan options to their lineup. And, they just so happen to be some of the most highly-acclaimed shoes around.
Saucony Endorphin Speed
Price: £120
Weight: 394g a pair
Heel/toe drop: 8mm
Best for: fast runners and PBs
The motto for the Endorphin Speed road shoe is "Run faster. Not harder." and the shoe is certainly built for speed.
With a responsive nylon plate and ultra-springy cushioning, they are completely designed for smashing personal bests and setting records.
But, unlike some other bits of outdoor gear, it's not all marketing hype. They won the 2020 Runners Worlds Editor's Choice award, the Best in Gear Award for Believe in the Run 2020 and have rave reviews throughout the internet.
Buy Saucony Endorphin Speed
---
Wills vegan running shoes
It always feels good to include options from 100% vegan shoe companies. Wills Vegan Shoes is UK-based, and, whilst most of their shoes are leisurely, their outdoor options are also pretty damn cool.
All items are completely vegan, carbon-neutral and products are sent plastic-free. That's our kind of company!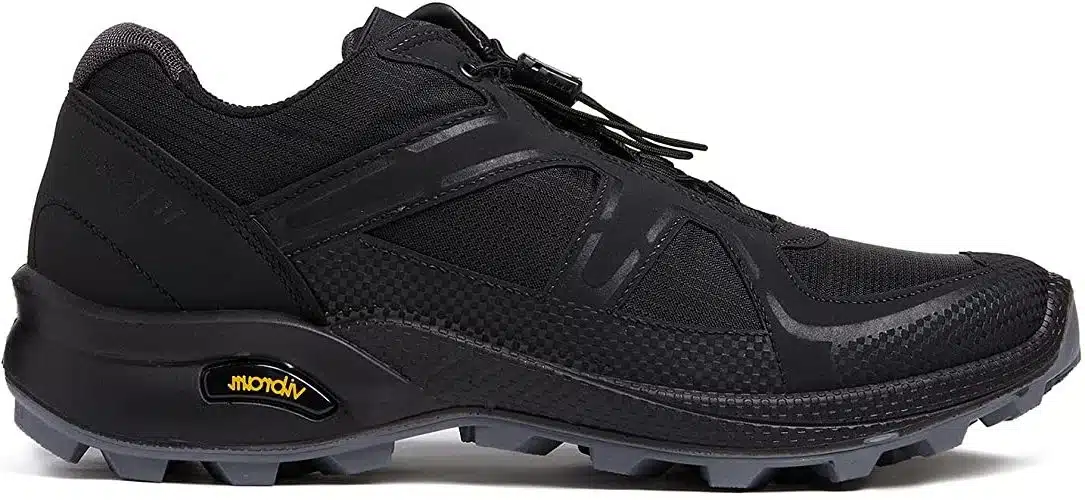 If you're a plant-based runner, chances are you know of Fiona Oakes. She's the vegan queen of running, setting heaps of ground-breaking records around the world whilst also running an animal sanctuary. These are her shoes.
The Oakes trainers are seriously tough and designed to handle anything you could throw at them. Vibram injection soles have super heavy traction whilst the ballistic welded uppers are abrasion-resistant and can take a mighty battering.
Winters, trails, mud, road, gravel, you name it, these shoes will smash it.
Oh, and 10% of sales go to Fiona's sanctuary, Tower Hill Stables. Awesome!
Buy Wills WVSport Oakes
---
Vegan running shoe Q&A
How much do running shoes cost normally?
The average price is around £125.
Are all leather-free running shoes vegan?
Not necessarily. They might also use animal products in the glue or the dyes. All the options included in this list are completely vegan-friendly.
Should you try on running shoes before buying them?
It's definitely better to try them on, but it's not always possible. It is a good idea to get your feet and your gait measured in a store. After this, you'll have a better idea of the running shoes that'll fit you well.
Can women wear men's running shoes? And vice versa?
Men's shoes are typically higher volume and straighter, whilst women's might have a thinner heel and wider toe box. However, it's all down to how they fit. So yes, men can wear women's running shoes and women can wear men's.
If non-leather running shoes still use animal products in the dye and adhesive, should vegans buy them?
That's down to your personal morals. Everyone has a different situation and perspective 🙂
Have any more questions? Just drop us a comment below and we'll get back to ya!