All the tips, advice and recommendations you'll need to find the right waterproof jacket
---
Let's face it: getting outside with a shoddy waterproof jacket is not very enjoyable.
It` starts raining and you optimistically don your waterproof. Within 5 minutes you're trying to convince yourself the rain isn't coming through. You start to feel damp and a chill, then take a peep underneath. You're soaked through.
A good waterproof will mean you can embrace the great outdoors year-round. And, if you're going to be heading out into higher altitudes or looking for winter adventures, getting the right waterproof becomes crucial. It's an invest you'll never regret making (as long as you buy the right jacket!).
There are heaps of options on the market and this guide will help you pick the best one. You'll find sweet options for men and women, topped off with a detailed buyer's guide filled with tips for picking the best jackets for hiking, backpacking, camping and mountain adventures.
Jump in:
This article may contain affiliate links, they will never cost you more money but helps Veggie Vagabonds keep making content like this – thank you!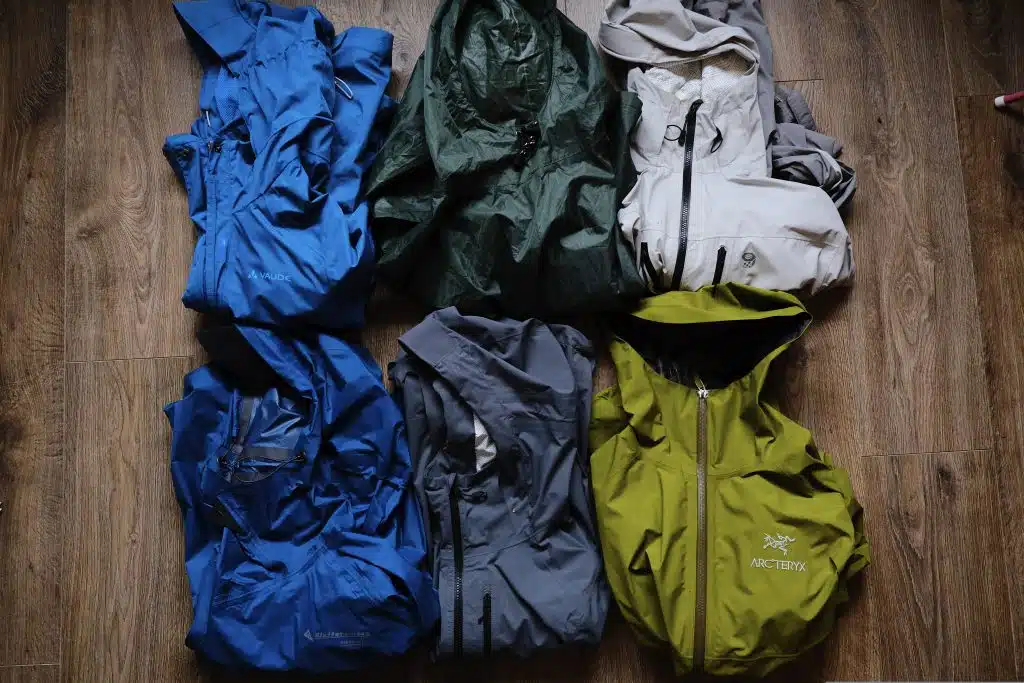 1. Here's why your waterproof is worth the investment
Your jacket is your outer shell to the elements. It'll protect you from wind, rain, hale and anything else Mother Nature might be throwing down. A good one will also regulate your body temperature so you don't overheat.
Whether it's from sweat or rain, if your midlayers and baselayers get too wet, your temperature will plummet and you can get into difficulties quickly.
For casual walking and quick adventures, this will make your time outside much less comfortable. If you're going to be pushing yourself at higher altitudes, hiking in winter or in harsh conditions, it can be dangerous.
Save on smaller bits of kit and invest in the essentials. A good waterproof jacket is 100% an essential.
LINGO: Some people call them waterproof jackets, some people call them rain jackets. Potato Potahto. You'll find options for both below.
---
---
2. Picking the best waterproof jacket for you
There are loads of options nowadays, with lots of different features and specs. Take a read through this waterproof jacket buyer's guide and it will help you find the right one!
The perfect jacket…
The main elements to consider are waterproofing, weight, durability and breathability.
Different jackets are designed to tick different boxes e.g. a lightweight waterproof with good breathability OR a tougher waterproof with great weatherproofing.
Typically, the more boxes you tick or the more specialist the jacket becomes, the price will also rise.
So the crucial question is: what will you be using it for?
Casual walking in light rain – A good walking waterproof jacket will be comfortable and have good waterproofing. You probably don't need to invest in high-spec options that are durable, lightweight and packed with features.
Hiking in bad conditions – Prioritise a jacket that is highly waterproof. For day hikes, you might not need to go for a lightweight option but having something breathable will help to stop you sweating (important in winter conditions).
Climbing and mountains – For climbing and mountain use, you want to go towards more technical waterproofs. On the one hand, you need very good weatherproofing but you'll also need enough breathability to cope with high-intensity activities. It also important to pick something durable so it can cope with bangs and scratches along rocks or vegetation.
Backpacking and multi-day hiking – For most people, weight is going to be a big concern. Going for a lightweight rain jacket with good compressibility will make it easy to stow in your bag when it's not needed. Depending on the conditions you'll be hiking in will depend on how much weatherproofing you'll require, and for multi-day trips the more durable the better.
Pick a waterproof suited to your needs so it can excel for its purpose and have a better lifespan
3. Different design features to look out for
3.1 Waterproofing elements
It seems obvious a waterproof would be waterproof, but some give more protection than others.
Waterproof Vs. Water-resistant – You'll see some jackets advertised as waterproof and others as water-resistant. Most outdoor clothing is water-resistant to some level and can hold off light rain for a short amount of time. A fully waterproof rain jacket will give protection through heavy, persistent rain. In this article, we have only featured completely waterproof options.
Durable Water Repellent (DWR) – This is the outer coating put on jackets to help rain bead and slide off the surface, rather than get absorbed into the material. Virtually all rain jackets have this however the coating will have to be reapplied over time with a product like Nikwax.
2 Layer – The most basic coat construction, with a single outer waterproof layer and typically a mesh inner layer. These are cheaper and lighter but don't give as good weatherproofing. Good for casual use or light walks.
2.5 Layer – 2.5 layer waterproofs add an additional thin membrane which increases the waterproofing of the jacket. They remain relatively lightweight and compressible, making them good for warmer conditions or backpacking.
3 Layer – A 3-layer waterproof adds another level of waterproofing technology which makes them even stronger against harsh weather conditions. These are the most robust jackets with greater durability, though they are heavier and lack compressibility. Good for mountain/winter use when it's unlikely you'll take it off, but also the most expensive.
3-in-1 or insulated waterproofs – For winter or colder conditions, you can get waterproof jackets that also have an insulating layer. These offer very good weatherproofing and warmth but are heavy and only really intended if you won't be taking it off. We haven't featured them here, take a look at our Winter Coat guide instead.
Hardshell Vs. Softshell – Hardshell waterproof jackets are the typical waterproofs that you'll find featured in this article. They are designed with weather protection in mind and are typically not as flexible. Softshell jackets are water-resistant and designed for more mobility. They can be good for active use in very light rain but won't protect from heavy downpours.
Seam Taping –

The best waterproof jackets will have all their seams taped with a non-permeable material to ensure complete waterproofing.

Waterproofing technologies – Typically, these certifications ensure the jacket will be sufficiently waterproof with good breathability. Gore-Tex rain jackets are the most common, however, nowadays lots of brands have their own technology which might incorporate different features, like breathability/mobility.
3.2 Breathability
Breathability is really important if you're going to be a) heading out in warmer conditions b) doing high-intensity outdoor pursuits and c) heading out in winter when you need your body temperature regulated effectively.
Now, most top outdoor brands use materials and technology which protect you from the outer conditions but also stop you from over-heating (to a certain extent).
If you need a really breathable waterproof, opt for a 2.5 layer option with pit zips (zips under your armpits) and technology like Gore-Tex Active.
Sign up for our newsletter to find lots more gear guides, ethical adventure tips and exclusive content
3.3 Weight and packability
Waterproofs tend to weigh anything from 150g to 650g. Weight and compressibility are a bigger concern if you're doing multi-day trips, will be in warmer weather or may be stowing your jacket into your bag.
150g to 300g – Super lightweight waterproofs, often 2 or 2.5 layer with good compressibility and less weather protection.
300g to 600g – 2.5 layer to 3-layer waterproofs with better durability and more weather protection.
600g+ – Heavier mountain jackets with the highest durability and rain protection. 3-in-1 or insulated waterproofs can also weigh substantially more than this.
Lightweight jackets with strong weatherproofing will typically be more expensive. Think about your budget and what your priorities for the jacket are.
3.4 Durability
Durability is the most important for outdoor pursuits when your jacket might be scraped against rocks, trees, bushes, gear etc.
Even a small tear can let lots of water into your middle layers, so for climbers, mountain adventurers or winter wanderers, go for something durable.
The best way to measure a jacket's durability is through its denier, which is the thickness of the waterproof material, shown by a number with a D after a number e.g. 40D
Typically, lightweight rain jackets are around 30D, 2.5 layer waterproofs up to 50D and climbing or mountaineering waterproofs are 60D+.
3.5 Fit and features
Depending on your uses, you might want to look for different things. Here are some aspects to think about:
Tighter or looser fit?
Do you need flexibility and stretchable materials?
Do you need a hood to go over/under a helmet?
Do you want more/less pockets?
Does it need to be easily stowable?
Do you want adjustable cords to tighten/loosen jacket
Do you want a full-zip waterproof or anorak-style?
3.6 Sustainability
At Veggie Vagabonds, sustainability is always a big consideration – we gotta protect the places we roam, right?
Try and opt for jackets which are PFC-free (a nasty chemical) and many adventure brands are now using recycled or responsible produced materials, which is great!
Find out more about eco-friendly considerations in our Guide to Ethical Outdoor Clothing
4. The Best Waterproof Jackets for Men and Women
Arc'teryx Zeta SL
Weight – 309g
Features – 2-layer Gore-Tex Paclite, 40D ripstop
Cost – £280
Best for – awesome weather protection, lightweight, packable
Downside – no pit ventilation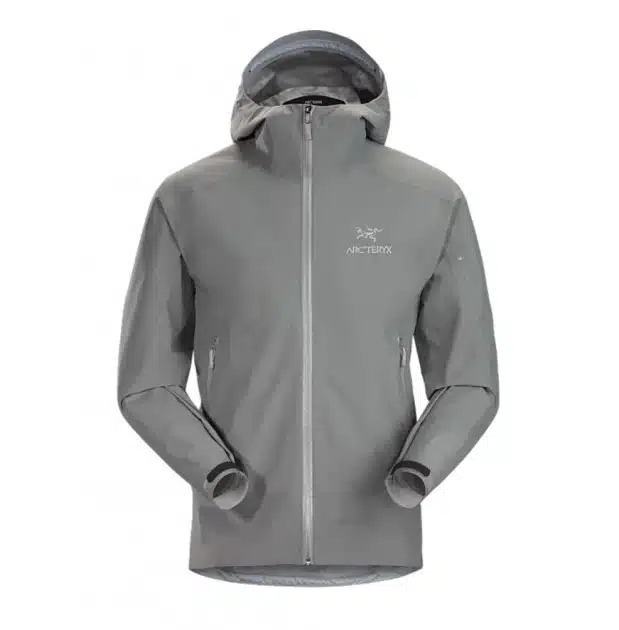 I love this jacket. I've used it hard for the last 6 months and have a wicked experience. It's nice and light but seriously good when the rain starts to come down hard, giving more protection than plenty of alternatives that are much bigger.
For a lightweight rain jacket, the waterproofing and durability are impressive but it still packs up pretty small and has decent enough breathability. Perfect to quickly stow in your bag if the conditions change.
Highly recommended for 3-season hiking or backpacking, with enough protection if you wanted to go into higher altitudes.
Want an Arc'teryx rain jacket better suited for winter and mountain adventures? Check out their 3-layer Beta AR (men / women) which features Gore-Tex Pro.
---
Mountain Equipment Lhotse Jacket
Weight – 550g
Features – 3-layer Gore-Tex Pro waterproofing, 40/80D, pit zips
Cost – £300
Best for – Mountaineering, 4 seasons
Downside – Expensive, heavy
If you're looking for a high-spec waterproof to keep you dry and safe in the mountains, the Lhotse is ideal. It's a favourite amongst UK Search and Rescue teams and for good reason.
It features Gore-Tex Pro, their highest-end technology, tough 80D materials and an alpine-style cut. Its two large pockets are high to allow for a climbing harness and it's also got a chest and internal pockets.
Mountaineers will appreciate the over-helmet hood and pit zips to allow for added breathability.
Considering the specs, 500g is not a bad weight and it's built up a stellar reputation with mountain enthusiasts and professionals.
---
Patagonia Torrentshell 3L
Weight – 320g
Features – 3-layer H2NO waterproofing, recycled materials
Cost – £140
Best for – Versatile, 3-season hiking, backpacking
Downside – not that compressible
This is one of the most affordable 3-layer rain jackets on this list and it doesn't compromise on quality either.
The Torrentshell 3L is an update to Patagonia's 2.5L waterproof and packs in awesome rain protection at an impressive weight and price. It makes the jacket nice and versatile for multi-day trips, tough day hikes or easier mountain ascents.
Considering the performance and weight, you'll struggle to find a better jacket for the price.
---
Paramo Velez Waterproof Smock
Weight – 605g
Features – anorak/smock-style design, Nikwax Analogy waterproofing
Cost – £260
Best for – Versatile, hard-wearing, breathable, sustainability
Downside – Heavy, half-zip might not be for all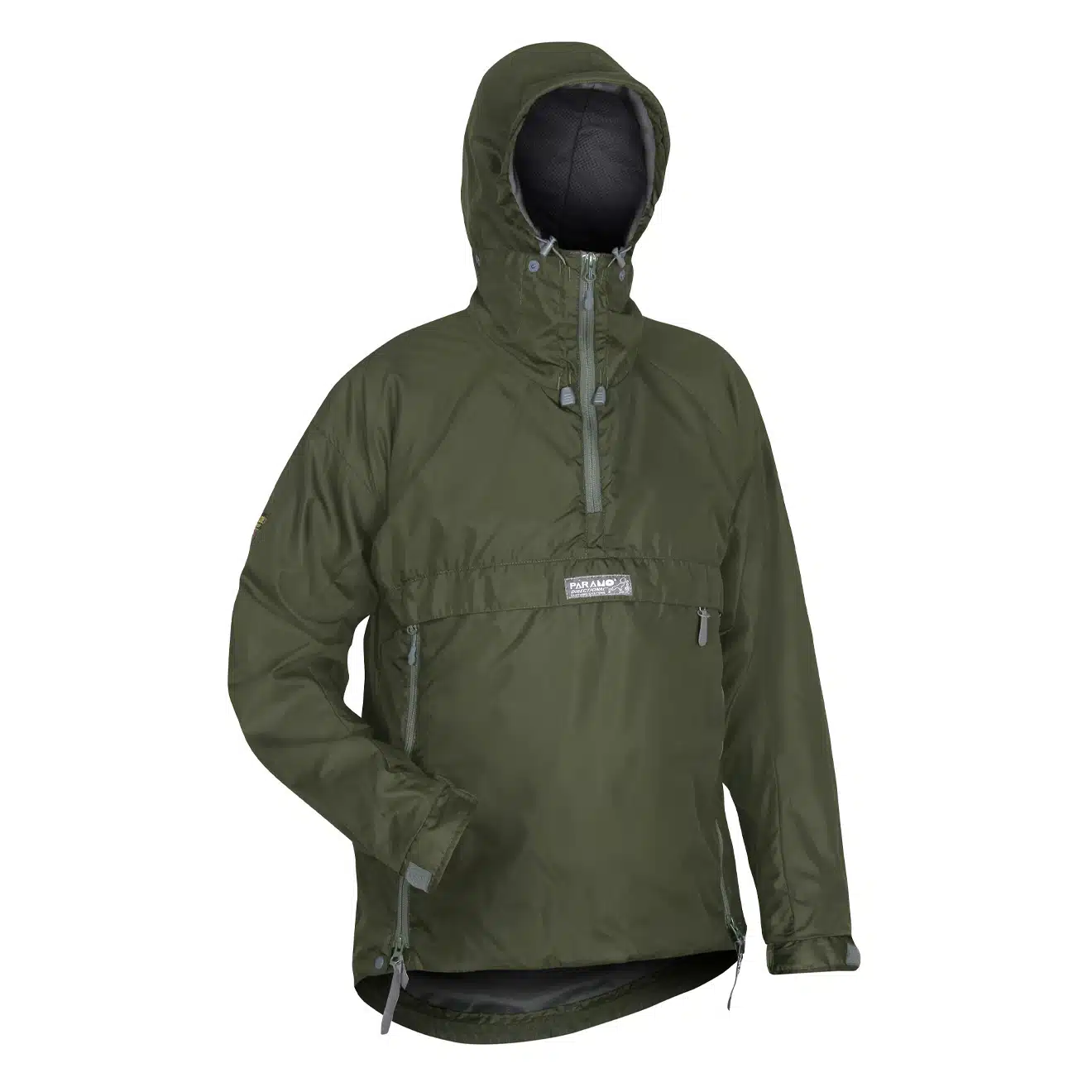 Paramo are a peoples' favourite from the UK, known for practical and reliable gear for the hills.
The Velez is a good option if you're looking for a tough waterproof that you can wear for a variety of outdoor pursuits. The central chest pocket is good for climbing harnesses, there's decent moveability and a baffling amount of vent options (front, sides and arms).
Because of its weight and compressibility, it's probably not best for fast-paced adventures or backpacking but it could do an ace job for outdoor enthusiasts looking for a reliable layer.
This jacket is PFC-free, Fair Trade and fully-recyclable through Paramo. You can also get it in a regular full-zip version.
---
Outdoor Research Helium Rain Jacket
Weight – 179g
Features – 2.5 layer Pertex Shield waterproofing, 30D ripstop material
Cost – £100
Best for – Superlight, massively compressible and stows in pocket, affordable
Downside – one pocket, fair conditions only
If your main priority is keeping the weight down, this is one of the lightest rain jackets you'll find and it compresses to the size of an orange. Despite being less than 200g, the waterproofing is surprisingly good.
This is a great choice for summer adventures and backpacking trips, or even as trail running jacket to throw on through windy or rainy sections.
We've also got to mention the price. For £100, it's pretty bomber and could be the perfect waterproof for the right conditions.
---
REI Rainier
Weight – 370g
Features – 2.5 layer, sustainable, pit zips, affordable
Cost – £60
Best for – Multisport, budget adventurers
Downside – Baggy cut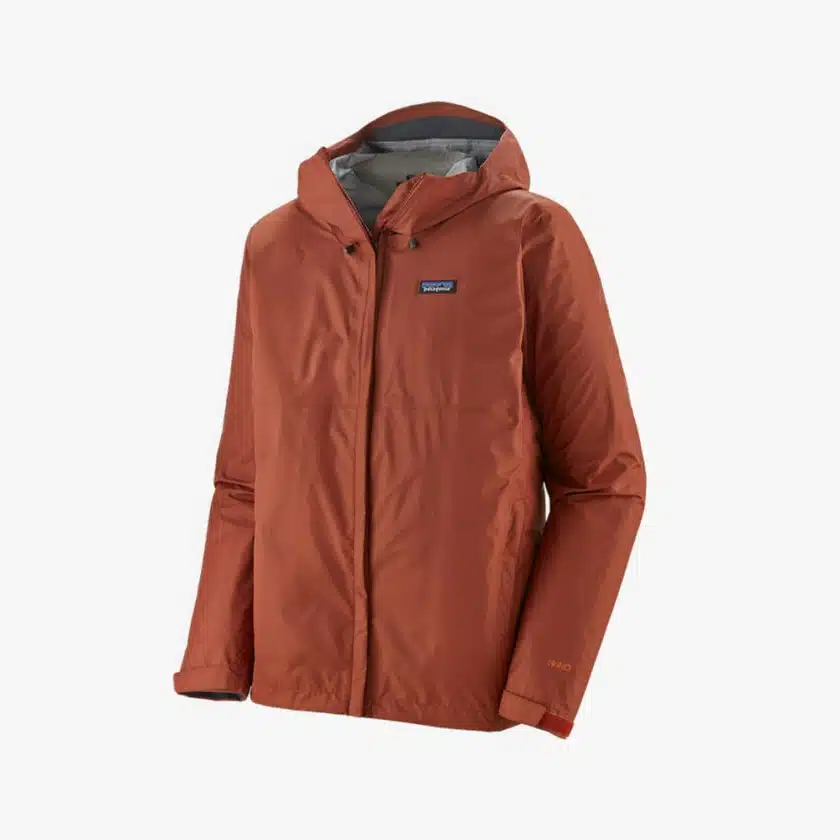 REI products are some of the best value on the market and their Rainier jacket is a safe budget choice for hikers, campers and low-altitude climbing.
It's 2.5 layers with good waterproofing, a decent amount of windproofing, has pit zips and is fairly lightweight. It's also the cheapest rain jacket on this list but you probably wouldn't be able to tell.
REI have also done a great job with sustainability: the jacket uses recycled ripstop, Bluesign-approved materials and is also Fairtrade-certified.
Want a 3L option from REI? Check out their men's Drypoint GTX and women's Zerodry GTX which use Gore-Tex Active technology
---
Marmot PreCip Eco
Weight – 383g
Features – Nano Pro waterproofing, pit zips, roll-away hood, eco-friendly
Cost – £80
Best for – Moderate hiking, climbing and backpacking
Downside – for the price it's hard to fault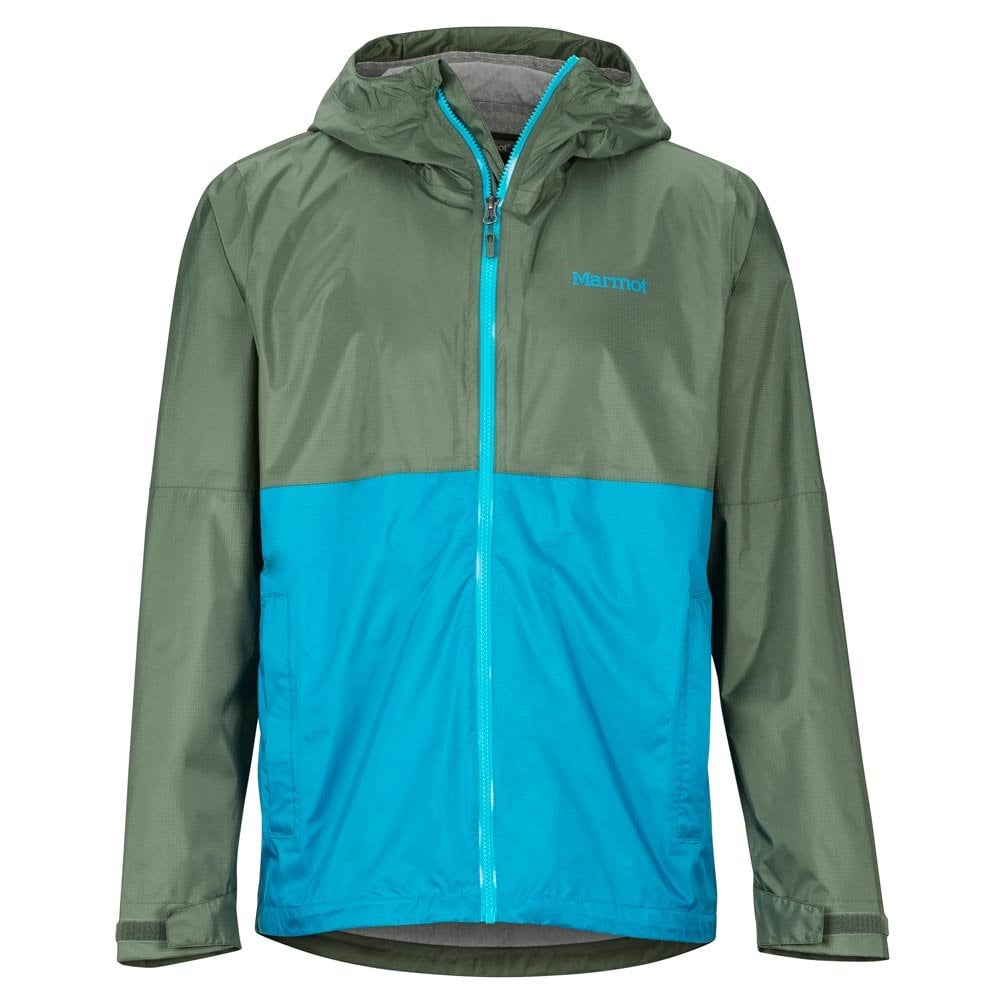 The Marmot PreCip has been around for decades and has been constantly updated to a pretty neat little waterproof.
Within its price category, all elements are massively competitive. Strong weatherproofing, good breathability, low-enough weight and it stows into its pocket. If you've got more money to spend you'll find better specs, but at this price it's damn solid.
A good choice for shorter backpacking stints and the updated Eco version uses recycled ripstop materials whilst being PFC-free too
---
Rab Downpour Plus
Weight – 340g
Features – 2.5L Pertex Shield waterproofing, fleece-lined chin guard, pit zips
Cost – £130
Best for – everyday mountain use, 3-seasons
Downside – pretty ace for midrange
An awesome jacket if you're doing more than just some rainy hill walking but don't want to invest in a bigger 3L outer shell.
340g remains light but with enough durability for some more technical adventurers into colder conditions. The Downpour has all the features you'll need for climbing, scrambling or summer mountaineering and the fleece-lined chin also makes grim days with your hood up a lot more manageable
For a 3-season midrange waterproof, this takes some beating.
For a heavy-duty 4-season waterproof, check out Rab's Kangri (men / women).
---
Alpkit Gravitas
Weight – 170g
Features – 3 layer, highly breathable, slim fit
Cost – £150
Best for – Running, riding, fast-paced and lightweight adventures
Downside – Its weight cuts down versatility
Alpkit are a storming UK brand who make no-nonsense gear that does what it's supposed to.
Their Gravitas is super lightweight waterproof jacket and the lightest 3L option we've found. Normally the superlight options drop in durability or weatherproofing but the Gravitas holds strong.
A great trail running rain jacket, something for bikepacking, MTB or even a lightweight backpacking waterproof.
All the waterproofs compared
---
| | | | |
| --- | --- | --- | --- |
| Name | Price | Weight | Layers & tech |
| Arc'teryz Zeta SL | £280 | 309g | 2-layer Gore-Tex Paclite |
| Mountain Equipment Lhotse | £300 | 550g | 3-layer Gore-Tex Pro |
| Patagonia Torrentshell 3L | £140 | 320g | 3-layer H2No |
| Paramo Velez | £260 | 605g | Nikwax Analogy |
| Outdoor Research Helium | £100 | 179g | 2.5-layer Pertex Shield |
| REI Rainier | £60 | 370g | 2.5-layer |
| Marmot PreCip | £80 | 383g | NanoPro |
| Rab Downpour Plus | £130 | 340g | 2.5-layer Pertex Shield |
| Alpkit Gravitas | £150 | 170g | 3-layer waterproofing |
Your Questions Answered
What are the different types of Gore-Tex?
For jackets, they have three main ranges.
1. Gore-Tex Pro, designed to be rugged and with the highest level of waterproofing
2. Gore-Tex Paclite, designed to be lightweight and compressible.
3. Gore-Tex Active, designed to be breathable for high-intensity adventures.
You can find more on their website here.
Can women wear men's waterproof jackets, and vice versa?
Women's waterproof jackets are fitted to have a larger bust and longer length. To get a correctly fitted jacket, it may not be comfortable to go for the wrong sex.
Can you re-waterproof jackets.
Yes, it is possible to reapply the DWR and strengthen the waterproofing with products like Nikwax. You can find a how-to guide in our Gear Maintenance post.
Is Gore-Tex 100% waterproof
No jackets can be 100% waterproof and their efficiency will worsen over time. Still, high-quality rain jackets with Gore-Tex should protect you from the heaviest of rain but need to be maintained to keep high performance.
Are waterproof jackets warm, or windproof?
Rain jackets are great windbreakers and this does a good job of stopping some cold elements. But, hardshell jackets don't have any insulation so you will need to use warmer mid and baselayers for cold conditions.
Looking for any more advice, or want to recommend a waterproof that isn't listed? Hit us up in the comments below!