This complete bike touring packing list will get you through every adventure, and, it's what we're packing right now!
---
Getting your bike touring kit list right is pretty damn crucial. Whether you're a seasoned tourer or a complete newbie, having an enjoyable trip all comes down to having the right cycling equipment (and perhaps decent cycle route planning as well as not having shit weather).
Over the past few months, we've had a number of emails asking the best way to pack for a bike tour, gear advice and recommendations, so it seemed fitting to put it all into one article.
Everything listed below is what we currently have for our England to India tour (besides about 2kg of walnuts we were given last week) but this packing list would be suitable for any long-distance tour through varied conditions, whether it's cycling in the UK or bike touring Vietnam.
It's designed to comfortably get you through 3-4 seasons camping, without any unnecessary baggage e.g none of those things you discover at the bottom of your pannier after 6 months of no use. It also includes what you need for hiking, sightseeing and general adventuring, plus everything we use to run this blog (which you may not need).
This cycle touring kit list is perfect for cheapskates with high standards, like us. Everything has been painstakingly researched for the best quality and price. It's stood the test of multiple tours and fits comfortably into two front and two rear bike panniers, a small handlebar bag and frame bag. Where possible the actual products we bought are listed, with a brief review from the road and a link to where we bought them from.
Below you'll find:
Summarised list of all the cycling gear

A detailed breakdown of the essential touring gear with gear reviews

Tips and recommendations for finding the best cycling gear to pack for a bike tour
If you've got any Q's or want to share what you take with you on the road then make sure to drop us a comment at the bottom!
Bike panniers, bags & bike add-ons
Camping and sleeping equipment
Camping cooking gear
Stove – Vango Compact Stove
Tea towel
Bowl
Lightweight cooking pots
Can opener
Chopping board
Wooden spoon
Herbs, spices, tea & coffee
Cycling Tools & Bike Maintenance Gear
Bike Touring Clothes
Cycle touring shoes – Merrel Agility Peak Flex
Lycra cycling shorts and trousers
2x Sports shorts
Lycra shorts
Long cycling socks
2x Cycle jersey
2x Loose base layers
Longsleeved mid-layer
Insulated Jacket – The North Face Thermoball Jacket
3x Socks
Thin Gloves
Thick gloves
Warm hat
3x Non-chafing underwear
Cycling sunglasses
Casual Clothes
Baselayer
Trousers
Longsleeved mid-layer
Socks
Underwear
Thermal top and bottom
Hat
Neckwarmer
Electronics
Health and medical
Hand sanitiser
Toothbrush & paste
Baby wipes
Vaseline
Soap
Tweezers
Rehydration salts
Sun cream
Toilet paper

Sudocrem
Miscellaneous Bike Touring Items & Life Savers
Penknife – Leatherman Rebar
Blanket
Bank Card – not sure what bank card to take abroad touring? Here's our guide
Passport
Duck tape
Sewing kit
Lighter
Compass
Notepad
Nail clippers
Headphones

Foil Blanket

Whistle
Take a look through, maybe use it as a template, or compare it with your own. Below we've got a more detailed breakdown of some of the products and tips for finding and buying the right gear for your cycling trip.
If you have any questions about the gear then let us know in the comments at the bottom, we're also interested to know what you use on your tours!
This article contains affiliate links. If you purchase items through these links we may make a small commission. This is never of any extra costs to you but helps to keep Veggie Vagabonds running.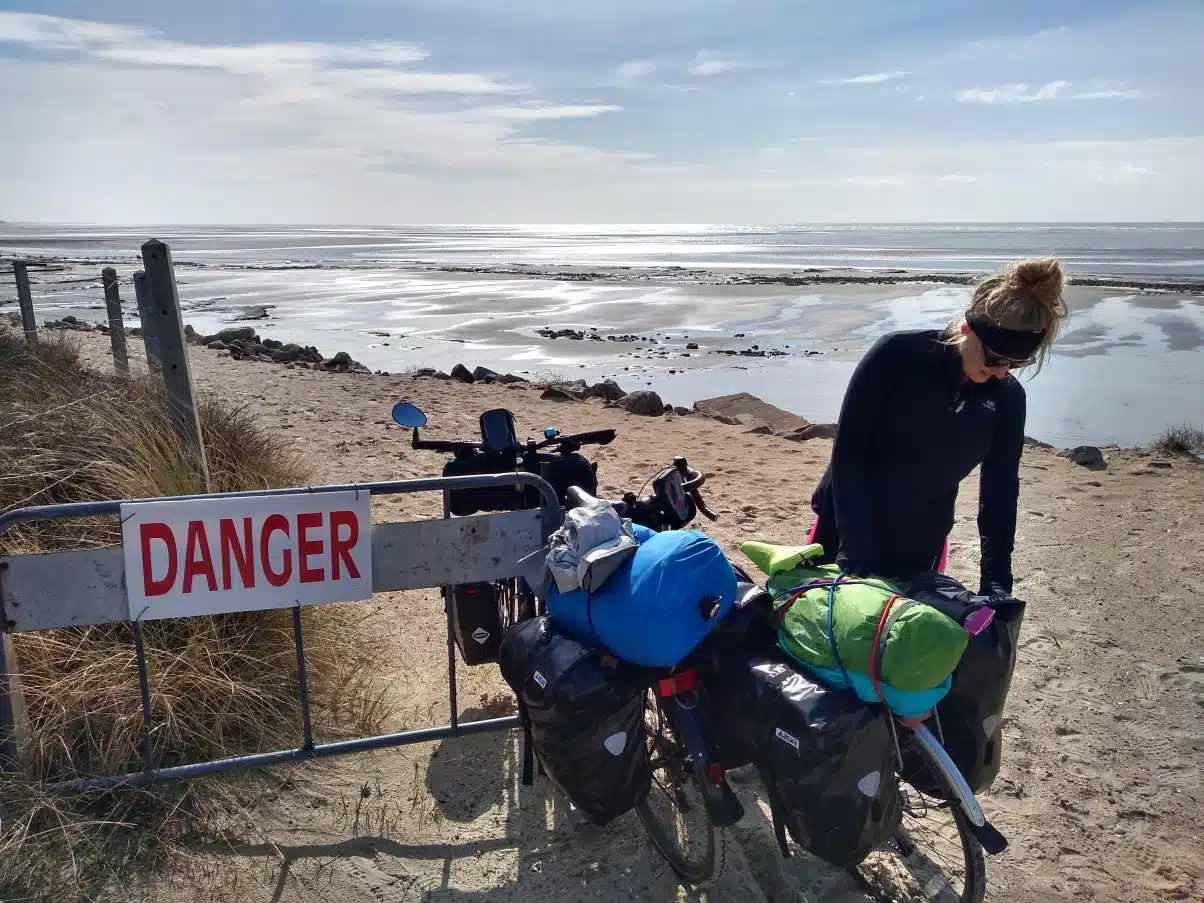 A More Detailed Breakdown…
Cycling Panniers, Bags & Bike Add-ons
Front pannier rack
The Zefal Lowrider is about £30 from Amazon and our overall impression is pretty sweet. Finding the right bike front pannier to fit can be tricky, these can be fitted on bikes with or without front eyelets (quite handy) but can be tricky to mount. Once they're correctly mounted they're sturdy and can hold 18 kg (as printed on the rack) though we have held much more. For the price, they're a great addition to your bike touring setup.
Rear pannier rack
Both our bikes (Surly LHT and Ridgeback World Tour) came with original rear pannier racks. If you're buying a new pannier rack go for a wide one. This way you can easily have your camping tent or sleeping gear strapped along it with panniers on either side. If it's too narrow it can be tricky loading things on and off.
2 x Rear pannier bags
As long as they're big enough, sturdy and waterproof you're all set to go. You don't need to fork out £100+ for Ortliebs but it is worth getting a good quality pair which will last. The Azur 35 litre roll top waterproof panniers are awesome, we picked up a pair second hand for £20 (thanks Tom from Milton Keynes!).
The best cycling panniers will likely come with feet or stands on the bottom which stops them getting worn after scraping on the ground and keeps them waterproof.
2 x Front panniers
The same rules for rear panniers apply to front panniers, just pack them lighter as the steering is a pain if you're front heavy. For the price, Carradice Carradry 20L Universal Panniers are top-notch, hardwearing and watertight.
Most touring bikes are fitted with two sets of eyelets for two bottle cages, if not you can buy strap-on ones. Ours cost about £3 from Amazon and Decathlon and do the job perfectly. Is it worth spending a ton on flashy ones? We don't think so, just make sure the cages have a bit of give so you can adjust them for different sized bottles. What do you think, are expensive bottle cages worth it?
Waterproof phone mount and holder
With offline maps like Guru.Maps and Maps.Me you can have a high level of GPS from your phone. This waterproof phone mount for bikes does just the trick and could also be used for a specific GPS device too.
This is another cheap product from Amazon which is actually very good quality. It's been constantly used for nearly 3 years (and in seriously sh!t weather) and has always impressed. It can strap to any handlebar size and works with touch screen so well worth the money for £10.
If you go with a different product just make sure it is actually waterproof. The last thing you want is to be in the middle of nowhere, cycling touring Patagonia, when your navigating device gets flooded.
Good for essentials you'll need quick access too. Can be used for easy-access items, like a camera, wallet, sunglasses etc. Also very useful to carry a towel and casual clothes so the whole thing can easily be taken to a shower or lakeside easily.
This guy can really save your bacon, it's saved mine on numerous occasions and now I wouldn't ride without it. Even if you're planning on taking the scenic route, it's still useful, even if it's just to see if your riding buddy is still behind.
Small frame bag
Really handy to carry small bits and bobs like bike lights, sunglasses and tools for fixing punctures and pumping up tyres. This Zefal 1.3L cost about £12 from Amazon and is just the right size to fit cycling essentials without getting in the way.
Rucksack
If you're not going to spend the whole time on your bike it's also a good idea to have a light daypack. This Osprey one and is beyond practical, folds to a tiny size and is pretty strong considering its weight.
Even if you're going have your head down for most of the trip, it's also useful when buying food or supplies.
A must for any cycling trip. Even if your panniers are waterproof it's good to get a few just to be on the safe side. They're pretty cheap, super lightweight and come in a variety of sizes. Use them for electronics and valuables; keeping all of your clothes in one also means it's quick and easy to take them out and store.
Tips for Cycling Panniers, Bags & Bike Add-ons
This is arguably the most important aspect of your cycle touring kit list so it's important to get it right. Firstly, it carries all of your other gear and can make your whole touring experience safer and more enjoyable.
1 – Get your touring setup down before you leave
Spend some time going through different pannier and packing options to see what works well for you. This also means thinking about how you arrange the items inside the panniers. At the end of a hard day, you want to know where everything is and be able to access it quickly rather than emptying your life on the side of the road every evening.
2 – Pick good-quality, waterproof panniers
It's worth spending money on better panniers and trying to save on less important bits of kit. Pick ones that will last and keep all of your content safe. It's also important they're easy to get off and on the bike.
3 – Carry enough water
If you're cycling in hot weather don't underestimate how much water you'll need. Especially important if you're going through remote regions. Make sure you have enough bottle cages or places you could carry extra H20.
4 – Make sure you have extra room
If your panniers are completely full you won't have any room for extra food, supplies or water. If you eat like us, you'll appreciate being able to haul a variety of veggies and ingredients!
5 – Go on a test run
No matter how good it looks, or however many times you've practised loading up your bike, go on a fully-loaded test run. We spent ages trying different options whilst bike touring UK before we set off towards India. If anything, it's a great excuse for an adventure but also helps you iron out any problems before you hit the road.
6 – The key to lightweight cycle touring kit is small panniers
Want to make sure you're not loaded too heavy? Taking smaller panniers is a sure step, just make sure you can fit the essentials!
If you're going to be cycle touring in Europe and need some inspiration, check out the Eurovelo routes!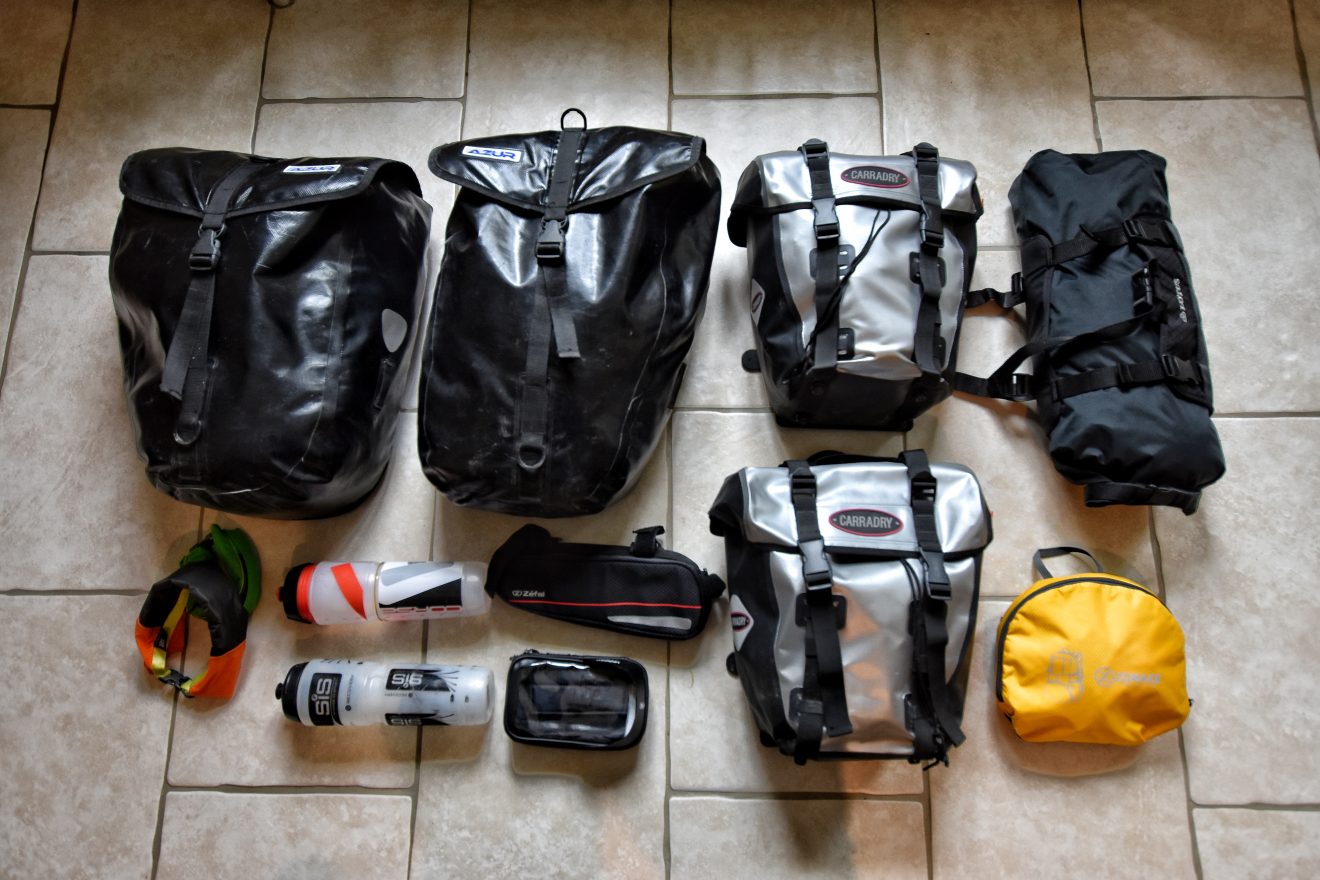 Bike Touring Camping and Sleeping Equipment
Cycle touring tents
It's going to be your home so make sure you're happy with it. Unless you fancy hauling a heavy load then go for something lightweight, weather-resistant and easy to pitch. For the last few years we've used a Vango 2 man tent, the Vango Tempest Pro 200, for the price it's an ideal option for bike touring.
It's pretty light, easy to put up and has enough room to store all your panniers in the front area. It's also got us through Storm Ali, Storm Gareth and heatwaves, so we're pretty happy. We compared a bunch more 2 person tents here if you want to see more options.
Camping mat
The Mountain Equipment Helium mats are comfortable, relatively lightweight and are, most importantly, hard-wearing.
You can find ridiculously lightweight camping mats but they're much easier to puncture. This is quite a good compromise between weight, comfort and reliability.
Sleeping bags
Depending on your personal preference you might want a warm sleeping bag, or to layer more with clothes. We chose the sleeping bag Vango Latitude 300 which is seriously warm (comfort up to -7 and extreme up to -18) but isn't too hot unzipped in warmer conditions.
This is a synthetic sleeping bag which means it's completely vegan. If you want to find out more, here's our guide to vegan sleeping bags
Hammock
Even if you're primarily going to be tent camping a hammock is ace for chilling out or to take on multi-day hiking trips if the conditions permit. Surprisingly small and lightweight even with ropes.
You can buy tiny, lightweight microfiber towels but in cold conditions they often don't wick enough water or dry efficiently. These are a good compromise; still lightweight and small but able to dry a lot of water and dry up quickly.
String fairy lights
Again, not a necessity but a cheap and easy way to light up your tent with an added ambience!
Tips for bike touring camping and sleeping equipment
Your camping sleeping setup will likely determine how much you enjoy your trip. You need to be protected from the elements and you need a good nights sleep, so, along with your pannier setup, this is where you should focus your energy into getting it right.
1 – Is it suitable?
It's very difficult to find camping equipment which is suitable for all conditions. When picking a tent and sleeping gear think about where you're going, at what time of year, and pick outdoors equipment suitable for it. You don't want to be stuck in a thin, summer sleeping bag if you're going to be cycle touring Europe in winter.
2 – Go lightweight
Everyone wants lightweight cycle touring kit and your sleeping gear is an area where you can cut down. Tents, sleeping bags and camping mats can be very heavy so shop around and see if you can find lighter products.
3 – Make sure you can fit in your bike touring tent
You'll be surprised how much space your panniers will take and it's always safer to keep them with you, rather than left on the bike. Check you'll be able to fit in your tent comfortably!
4 – Practice pitching
Another excuse for an adventure. Don't go away without having used your tent before, pitching it could be harder than you expected.
5 – Get the best products possible
This is another area where it's better to invest in products which will last. Skimp on everything else, make sure your sleeping and pannier setup is the best possible.
Explore the Outer Hebrides by bike – check out our guide
Camping Cooking Gear
Just make sure it's hardwearing and lightweight. Metal ones last a lifetime, save on plastic waste and often don't weigh that much more.
Simple metal cups which can be heated directly on a stove and don't weigh much.
Camping stove
There are loads of fancy stoves that promise to boil water quicker than the sun but in our experience, they aren't worth the money. This Vango compact camping stove is super lightweight and works just as well as similar stoves 5x the price.
If you're going to remote regions then perhaps pack two.
Bowl
Pretty much everything you can eat from a plate can be eaten from a bowl, however, porride on a plate isn't so great. Go with a bowl.
Camping cooking pots
Lightweight which won't ruin quickly from the stove. Mess tins are also good options which can be used for storage and cooking. Ours were another charity shop find, bought for less than £5, but they're light and long-lasting.
Chopping board
Lightweight plastic ones slide easily into the back of a pannier and don't take up much extra room.
Wooden spoon
Plastic ones can easily melt on the stove, so go for a wooden one with a short handle to cut down on weight and space.
If you're like us, you'll probably cook loads of food, and this is good for saving spares. Make a big batch for dinner and finish the remainder off in the morning to save time.
Herbs, spices, tea & coffee
Herbs and spices are light and can add variety to your meal. Is it even possible to cycle tour without a tea or coffee in the morning?
Get one with a sleeve so you don't slice your bag apart!
Tips for Camping Cooking Gear
This is an area where you can relax a bit more. Besides the camping stove and cooking pots, these items are easy to find all around the world and won't need to pay much for them.
1 – Only carry what you need
You really don't need much cooking and eating gear, so only take what you're likely to use.
2 – Do take herbs and spices
Even if you're not a foodie, you'll get bored with the same meal every day. Take some herbs and spices to vary things.
3 – Try and buy products that can be packed away together
Camping cooking products can be a bit clumpy, so try and find items which can be packed away together. Our things all fit very conveniently into a small bag and hardly weigh a thing.
4 – Store all your eating gear together
When you're hungry and tired, you want to make eating as quick and easy as possible. Put everything you need to make a meal (food included) in an easy to access bag or pannier so the whole thing can be taken out and brought to your cooking zone.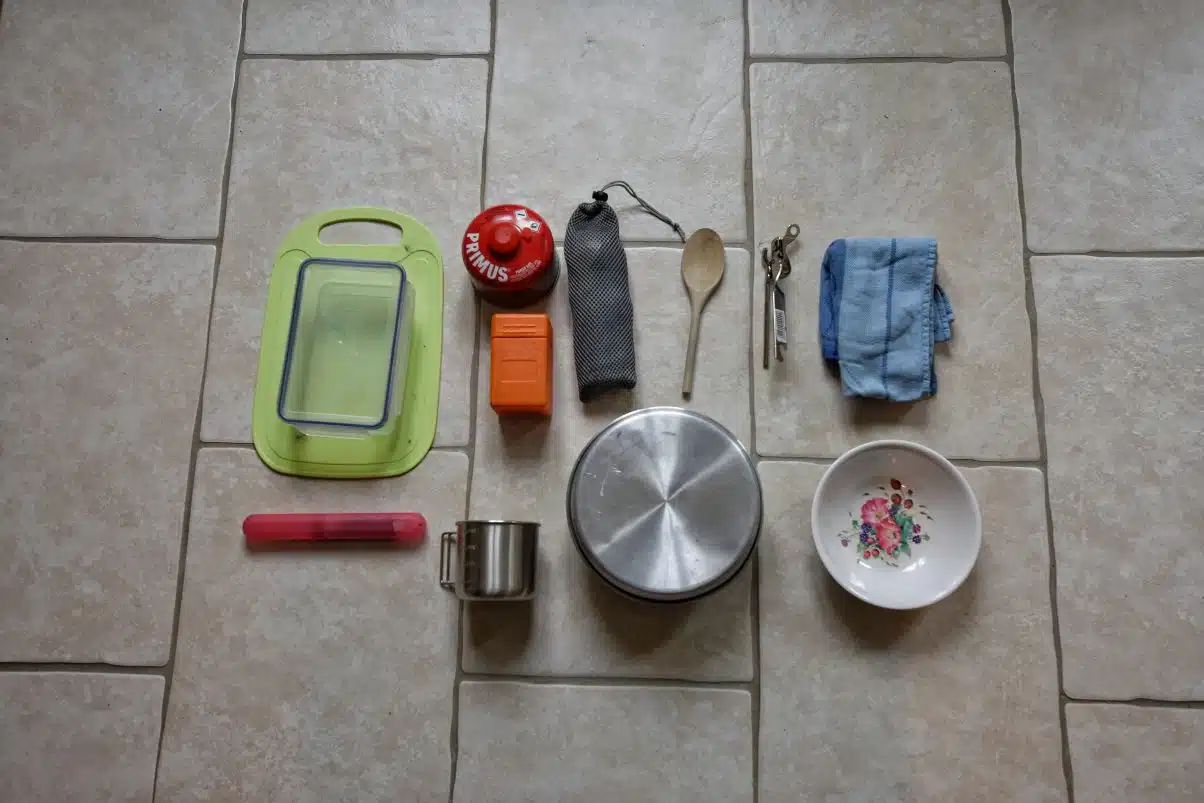 Cycling Tools & Bike Maintenance Gear
***We've updated our bike tool kit here to weigh less and fix more
Bungee cords
Invaluable. Used to strap anything from your camping tent, camping gear, plastic water bottles or even food to your panniers.
Bike lock
If you're going through urban areas then get a good one. It's better to lug around a 1kg lock and not lose your ride, it might also be a requirement for insurance claims. This Kryptonite D-lock and cable work to lock two bike wheels and frames to something sturdy.
Headtorch
A headtorch can be more useful than good bike lights when cycling at night, generally, the battery life is better too. Right now we're using Black Diamond Storm, which is great but it does take time getting used to all the different functions (different colours, single beam, multi-beam, flashing colours, you can pretty much have a disco in your tent…).
Besides all of the options, they're pretty kick-ass, have wicked battery life and are submersibly waterproof which is handy for cycling in bad conditions.
*We've recently upgraded – you can check out our Petzl Swift RL review here.
Some people ride with seriously expensive bike lights but personally we rather a good headtorch. These headlights are £10 from Amazon and for the price are just fine. They have a good amount of visibility and a rechargeable battery which lasts a good 10-12 hours.
Replacement inner tubes
Depending on where you'll be cycling it's probably best to go with Schrader valves as they're more commonly used. Although it's a touch risky you can also use car pumps at petrol stations – just be careful you don't blow them!
Tire puncture tools
Get good quality tyre levers, something to sand down the tyres, some chalk to mark them and good quality patches and glue. Glueless patches can be quicker but often don't last for as long.
Multi-tools
A small Allen key set and a small screwdriver set are cycle touring essential – don't leave without them. Both are small, cheap and able to take most parts of a bike apart and put it back together.
2 x Adjustable wrench
Get two lightweight wrenches so you can unscrew things with nuts and bolts on either side. Also, make sure they aren't too thick so they're able to take off peddles and fit in thinner spaces.
Pump
Whilst it's good to save space, minipumps can take an age to fully inflate a tyre. A mid-sized one with a pressure gauge is a good choice.
Rag for a dirty bike
To clean grease and dirt from the bike and also helps to keep parts if you're dismantling sections of your ride.
Spare fittings and bike parts
We take a bunch of spare nuts, bolts and fittings in case anything falls off along the way. Also, think about spare brake cables and spare inner tubes. If you're in relatively developed areas I don't think you really need to take more spares than this, but that's a personal choice.
Zipties
It's amazing what these guys can do. They're often stronger and more convenient to fit than some metal fittings, are cheap and can be found all over the world.
Tips for Cycling Tools & Bike Maintenance Gear
Most of this stuff is pretty affordable and easy to find but it's bloomin' important to have with you. Taking bike maintenance tools will help keep a small problem a small problem if you deal with it early, rather than an overhaul in the wilderness.
1 – Practice bike maintenance
If you're planning on touring it's very useful to learn how to fix bikes to at least a basic level. And, if you're going to be bike touring in remote locations it's pretty damn important.
You don't need to know how to take every section apart but you should practice basic skills e.g. changing tyres, replacing brake cables, adjusting breaks and changing pads. This Youtube video can teach you everything you need to service a bike, which is more than enough for pretty much any tour!
2 – Consider what you'll need
If you're going to be touring from city to city then maybe you don't need lots of spares? Don't worry about extra tyres and brake pads, you can easily pick them up along the way.
3 – Opt for smaller options
Tools can be very heavy, the ones listed above and shown in the photo below are small and light so you don't need to carry unnecessary weight.
Cycle Touring clothing
Cycle touring shoes
The Merrel Agility Peak Flex are some of the best all-around outdoors shoes you'll find. They're low ankle, gore-tex and seriously lightweight, though they protect you from the elements and are very versatile with temperatures. I literally haven't taken them off for a year, cycle touring, hiking, scrambling, running and they're a dream.
If you want to find out more about the Agility Peak Flex than here's our full review
Lycra cycle shorts and trousers
Make sure they're well-fitted ones with a bit of padding around the sensitive areas. You can just cycle in these or wear shorts over the top.
Sports shorts
A pair of shorts over your lycra cycle shorts will give you extra warmth, protection and a pair of pockets. Take a pair of longer, thicker shorts and a pair of shorter, thinner shorts to help you deal with different temperatures.
Un-padded lycra shorts
It's also useful to take a pair of lycra shorts without the padding for activities like running or hiking.
Long cycle socks
For longer days in the saddle or harsher conditions, a pair of long cycling socks over warm cycle leggings and trousers/shorts is a winning combo. Great for cold weather and tight ones also help you avoid muscle soreness.
Waterproof trousers
Hard-wearing and breathable ones are key for colder climates, they'll keep you warm, dry and also work as a windbreaker. I use a pair of soft-shell waterproof trousers from Berghaus which don't overheat and can also be used for hiking and general wear.
Sub Sports Thermal items are really impressive for the price. They are meant to be crazy tight but boy do they keep you warm, wick away moisture and don't take up too much space in panniers. These guys are hiking and cycling must-haves for cold weather.
Cycle jersey
Take one thin and one thicker one to cover all conditions. You can spend tons on these but we've picked up all of ours from charity shops for less than £5.
One word of caution, don't go for luminous green tops. Bugs will be attracted to you like ants to lollipops and you'll have a swarm around you as soon as you stop.
Baselayers
Often more practical than cycling jerseys and considerably lighter. You can find cheap baselayers (less than £10) and they can be worn casually or for hiking, with thicknesses to suit your conditions. Add them under jerseys for extra warmth.
Longsleeved mid-layer
A thin layer to wear on top of baselayers or cycling jerseys for warmth and a slight windbreaker, just make sure they're quick drying. Ones with thumb holes on the sleeves can give extra warmth over the hand and knuckles which is good for cycling in cold conditions.
A good lightweight fleece will keep you warm when it's not quite cold enough for bigger outer layers. Make sure it's quick-drying in case you get caught in a downpour!
Waterproof Jacket
Ours is actually a hiking waterproof but the long back makes it suitable for cycling and is a solid outer layer. I went for the Mountain Hardwear Ozonic Waterproof as it's good quality, very breathable and can be worn in warm conditions without overheating thanks to the air vents under the armpit.
The only flaws we've found is that they're a bit difficult to zip up or down whilst you're cycling, besides that they're worth the money.
Insulated Jacket
Finding the best insulated jacket is another crucial part of your bike touring gear list – the right one will become your best friend. My North Face Thermoball Jacket is small and packs to less than your average fleece but it's really warm and acts as a good windbreaker. It's also nice and breathable so it's perfect for doing some good miles without overheating.
You can find out full Thermoball review here or if you're looking for more synthetic insulated jackets then check out our buyer's guide
Socks
Breathable hiking socks do a great job and are harder-wearing than traditional cycling socks. They can keep you nice and warm in the winter but don't make your feet overheat in hotter conditions.
Thin cycling gloves
Even warm regions can be cold at elevation or in windy conditions so these are good for warmth and as a windbreaker. Find a pair with touch-sensitive fingers if you're planning on using a phone for GPS.
Hat
A simple beanie hat that wicks moisture and keeps you warm.
Can be used in cold weather over your face or over your head as a hat. They can actually be used for a whole variety of things and work well in a variety of weather conditions. Another top item in the packing list.
Cycling sunglasses
Stops the sun and bugs going in your eyes.
Tips for Cycle Touring Clothes
The best clothes for bike touring is another personal choice but the items above will get you through all but super-extreme conditions, without taking unnecessary things. If you're going to warmer parts you can sub out some of the layers, if you're cycling across the Antarctic then you should probably add a few more!
Generally, make sure your clothes are:
Lightweight

Fast drying

Warm enough for your conditions but only as much as you need

Bright to keep you visible when cycling on public roads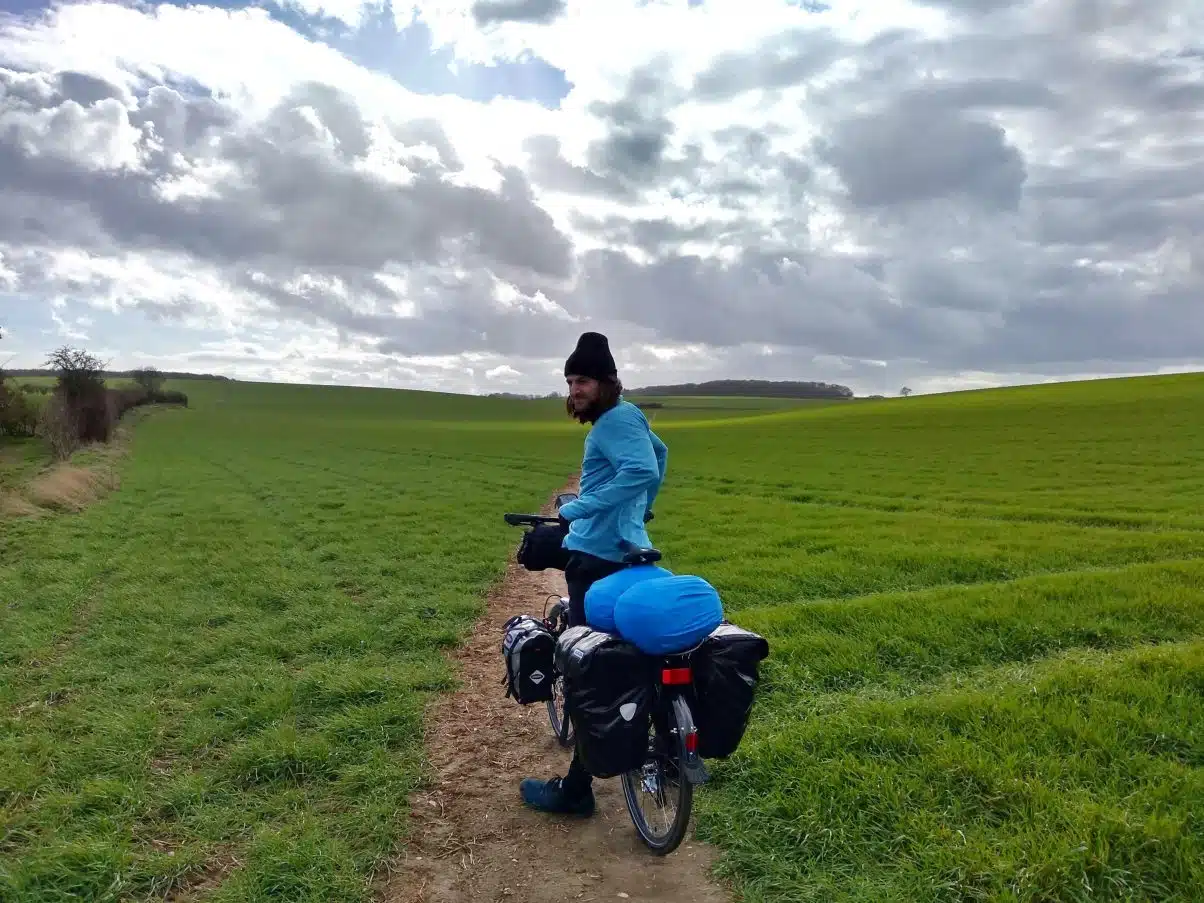 Tips for Casual Bike Touring Clothes
No matter how light you want to pack, it's good to take a few casual clothing options. This is useful if your gear gets wet or dirty whilst cycling so you can change into something warm. Along the road you might also get invited into the home of local people; taking one pair of casual digs will stop you smelling and getting their home dirty.
Aim for your casual clothes to be warm, quick-drying and lightweight.
This is what you'll likely be sleeping in and putting on after a shower so make sure they're comfortable. If you're touring through cold conditions definitely think about taking long-john-style thermal top and bottoms to sleep in, a nice pair of socks and a comfy hat.
Electronic Bike Touring Gear
Cameras & spare memory cards
The Fujifilm X-T30 + 18-55m lens is one of the best mirrorless cameras options for travelling. It's small, light, has decent battery life for a mirrorless camera and most importantly takes killer shots. It deserves a whole review really (watch this space!).
The Sony HX60 compact has an incredible zoom and is a top choice for a point and shoot camera.
Tripod
A recent addition to the packing list has been our DSLR Joby Gorillapod Tripod. It's bloody brilliant, light and well worth the money. You can wrap it around trees or posts with a camera and lens up to 3kg.
Computer and case
We have a Acer R11 Chromebook and a HP Chromebook 11. Both are cheap (less than £200), have insanely long battery life, 4GB of ram, are very lightweight and robust which make them ideal for taking on the road or touring.
Mobile phone
For mobile phones, you can either go for a minimal option with few features and massive battery life, or a smartphone to navigate with and use the camera etc. We opted for a Motorola G6 Play which will last a full 2 days with GPS on aeroplane mode and the camera takes some pretty nice snaps too.
External Harddrive
The perfect way to back up all the photos and videos. The Seagate 1TB External Harddrive is pretty cheap and 1TB is more than you'll need!
Powerbank
You're not always going to be around a power source, so it's good to fill up a powerbank which can keep you going whilst you're off-grid. The Outxe 24,000 mAh Solar Charged Power Bank has enough power to recharge a standard mobile 8-10 times which is pretty good but does take a while to fully charge. It's also water-resistant and dustproof apparently (though we haven't put this to the test) and is solar charged too.
Solar Charger – Forclaz Trek 500
A recent addition from Decathlon and it works pretty well! We strap it onto the bikes and have it charge the powerbank as we're cycling on sunny days.
Tips for Electronic Bike Touring Gear
Obviously, you might not choose to cycle with all of this electronics gear. This is everything we use to run Veggie Vagabonds on the road and it still fits down into a surprisingly small size. If you are planning a digital nomad style of touring then this is a great set-up to keep you going. Or, maybe you want to switch off from the electronics world, it's up to you.
These are some useful tips either way:
1 – Only take what you can afford to lose
Things get broken cycle touring, no matter how careful you are. If it's a prized camera or electronics you can't afford to replace, then leave them at home.
2 – Bring a solution for backing up photos
If you're going to be taking lots of travel photos then make sure you've got a backup system in place so you don't lose them. For us, all photos from the phone are backed up automatically and camera photos are put onto the external hard drive and online once we get wifi.
3 – Make sure your electronics are stored in a secure place
Electronics cost a lot of money so make sure there's a nice, cushioned and waterproof section of your panniers for them.
4 – Don't flash expensive gear around
No matter where you're cycle touring, carrying lots of expensive electronics gear can make you a target. Be careful and try not to make it obvious if your equipment is very valuable.
5 – Solar chargers are a good investment
If you're taking electronics on your cycling journey and there will be sunshine, then take a solar charger. They work well, don't take up much space and can literally be a lifesaver.
Travel insurance is really important on any trip but you'd be a fool to go cycle touring without it. Here's our guide to the best long-term insurance policies, perfect for long cycling adventures
Tips for Cycling Health and Medical Gear
This is another area which is greatly down to personal choice. Below are some bike touring essentials which you should consider taking on every trip, then you can add on any other personal preferences.
Hand sanitiser helps stop stomach upsets and particularly practical when there are no water sources available
First aid kit make sure you've got all the basics and know how to use or administer them
Rehydration salts a dream for adventurers, can be used to replace salts lost from physical activities and also for stomach upsets
Sudocrem great for any skin irritation or to help soothe/prevent chafing
Miscellaneous Items & Life Savers
Penknife
Another vital piece to your kit list. A good penknife can be used for a thousand different situations and the Leatherman Rebar is top of the pile and comes with a lifetime guarantee.
Duck tape
Duck tape is the bomb for quick fixes. Whether it's fixing leaks in your tent, wholes in your panniers, holding your bike lights together or keeping a phone from falling apart, take a roll with you.
Blanket
To sit on for roadside lunches, as a light layer or to cover skin if it's needed in some cultural situations.
Bank Card
We use and highly recommend Starling and Revolut cards, which have no international usage fees and great support.
Not sure what is the best bank card to take abroad on your trip? Take a read of our guide
Passport
Keep this in a very safe and watertight part of your panniers. When you're in a foreign country the last thing you want is to lose or ruin your passport. Personally, it's probably best to keep it with you at all time.
You never know when you'll be away from a proper water source; these purifiers can clean bacteria from even the dirtiest water. It won't dissolve solid bits of dirt so you'll have to filter that out first.
This book is a survival essential and if you like the outdoors, likely the best thing you'll ever buy. It's pocket-sized and has all the info you'd need to deal with any disaster situation and survival skills needed if things go wrong on the road.
Sewing kit
Can be used for sewing clothes back together and in extreme situations for temporary stitches.
You may never use it but if your lighter runs out you'll be very happy you have it!
Foil Blanket
Foil blankets take up no room but can provide a surprising amount of warmth if you get into difficult situations.
Other items you should consider carrying
Whistle

Rechargeable batteries

Lighter

Compass

Notepad

Nail clippers

Headphones
Any questions, opinions or even if you want to tell us about YOUR bike touring gear list and upcoming trips, share with us in the comments below!
The Ultimate Bike Touring Packing List & Gear Guide
Alright then, everything we have in our panniers this very second and all you need to know about putting together your own cycling packing list. If you're new to touring I hope it can be of some help when preparing for your trip and if you're a seasoned tourer we're interested to know how this compares to yours?