This is our first timer's guide to bouldering in Fontainebleau, France with all the information you need to explore this epic climbing destination!
---
Fontainebleau really is the Mecca for bouldering in Europe and the rest of the world too. Only 40 miles south of Paris and set around the beautiful Forest of Fontainebleau, the sheer quantity and quality of boulders in such a small area is completely mind-blowing. You'll find more than 30,000 problems for every level of climber; techy slabs and long traverses, unforgiving roofs, giant dynos and pant-shitting highballs, you name it they've got it. You can watch pros attempt classic problems or explore quieter parts of the forest and have the whole place to yourselves. It really is paradise for climbers and set in truly beautiful surroundings.
Despite this destination being world famous there is surprisingly little climbing and tourist infrastructure so it can be hard to know where to start. Boulder problems are clustered together but spread across many different areas, all with their own characteristics and styles and outside of Fontainebleau town it can be hard to come by food, shops and accommodation which can leave you high and dry in the forest. There's no point in wasting time, especially if you only have a few days, so this guide covers all the information you'll need to you can spend as much time as possible on the rock!
In this first timer's guide to bouldering in Fontainebleau you'll find;
An introduction to Fontainebleau

The climbing, circuits and areas

Getting there and away

Transport

Accommodation

Eating and shopping

What to take, guidebooks and renting gear

Keeping it clean

Super useful links
During our England to India bike tour we were lucky enough to spend nearly 4 weeks bouldering in Fontainebleau and putting together this guide – it was one of the best months of our lives!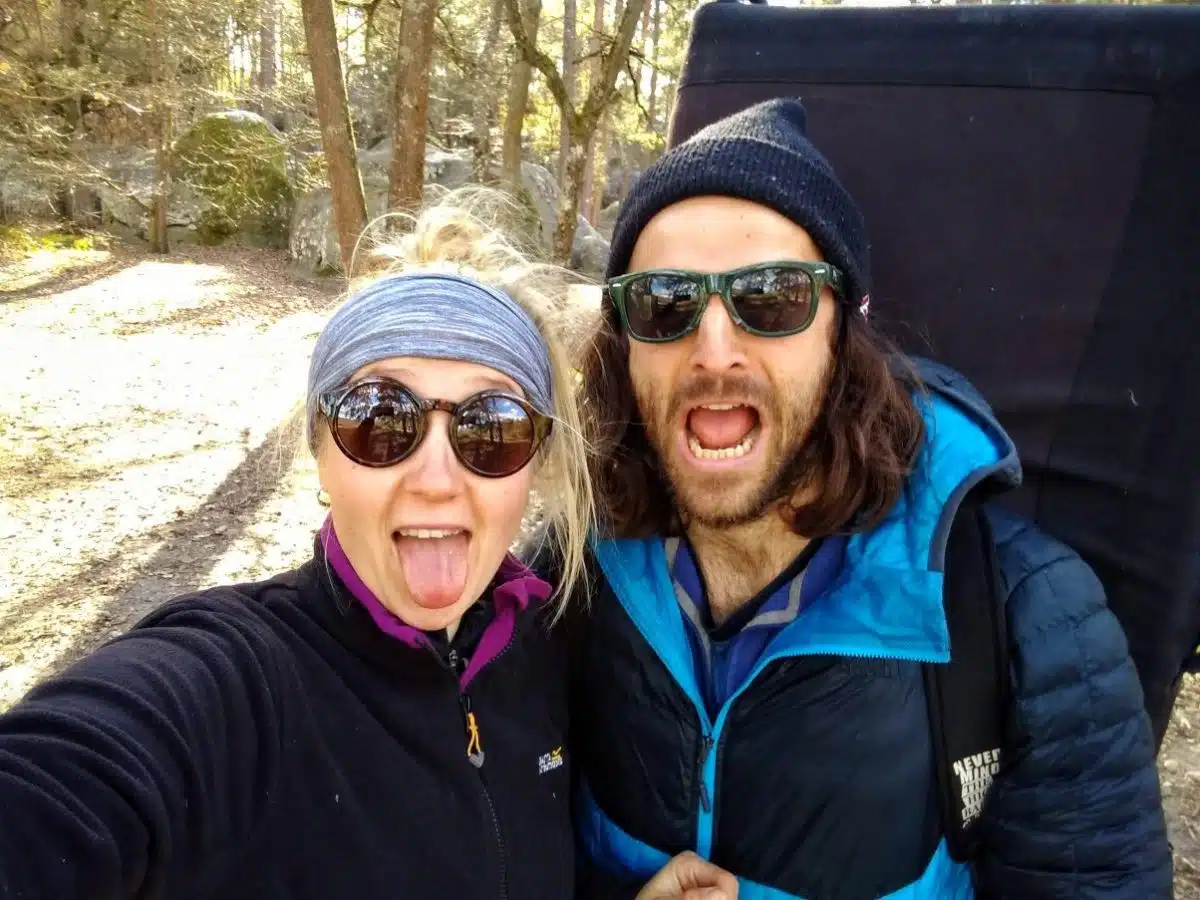 An Introduction to Fontainebleau
Fontainebleau, often called Font by English speakers or Bleau (pronounced blow) by French speakers has been the centre of bouldering since the 1800s. It's one of the places that has pioneered climbing and where the boundaries of possibility have been pushed.
The area is steeped in history and the first climber's guidebook was published in 1945 and the first circuits established in 1946. As bouldering grew in popularity Fontainebleau quickly became a testing ground for the pros and birth place to many climbing legends. Nowadays you'll see climbers from all over the world measuring themselves against Fontainebleau bouldering classics put up decades ago and newer routes carved by younger generations each year.
Although the climbing destination is referred to as Fontainebleau, the boulders actually cover a much larger area. Fontainebleau is the name of the main town, with many of the boulders within Fontainebleau Forest, but many areas also spill into surrounding forests and towns like Milly la Forêt and Nemours.
The Climbing
All of the boulders in Fontainebleau are sandstone, generally set in beautiful forested locations and often have sandy landings. Although there are problems to suit every type of climber the area has a reputation for slippy slopers, seemingly impossible micro-crimps, nervy top-outs and super physical moves.
The Fontainebleau grading system is used but it's best not to pay too much attention to grading. The boulders are known for being pretty tough, with a particularly emphasis on having the right beta. This is made considerably harder in popular areas where holds are polished and slippy. If it's your first time in the forest don't be disheartened if you can't send routes you'd normally send at home or at other climbing spots. Go with routes which feel good for you, regardless of the grading. We spent our first day trying some of the easier problems and getting a feel for the rock which was a much nicer start than feeling destroyed within the first day.
Circuits
One of the greatest aspects of bouldering in Fontainbleau are the hundreds of hand-painted circuits you'll find. These are colour-coded groups of generally 20-50 problems in an area, with the different colours highlighting the difficulty. Each circuit will have a wide variety of climbing styles and arrow markers pointing you towards the next route (though they're not always accurate). Part of the fun is just spending the hunting for the next starting mark. They're a great test of endurance but don't wreck yourself trying to finish a circuit in a day!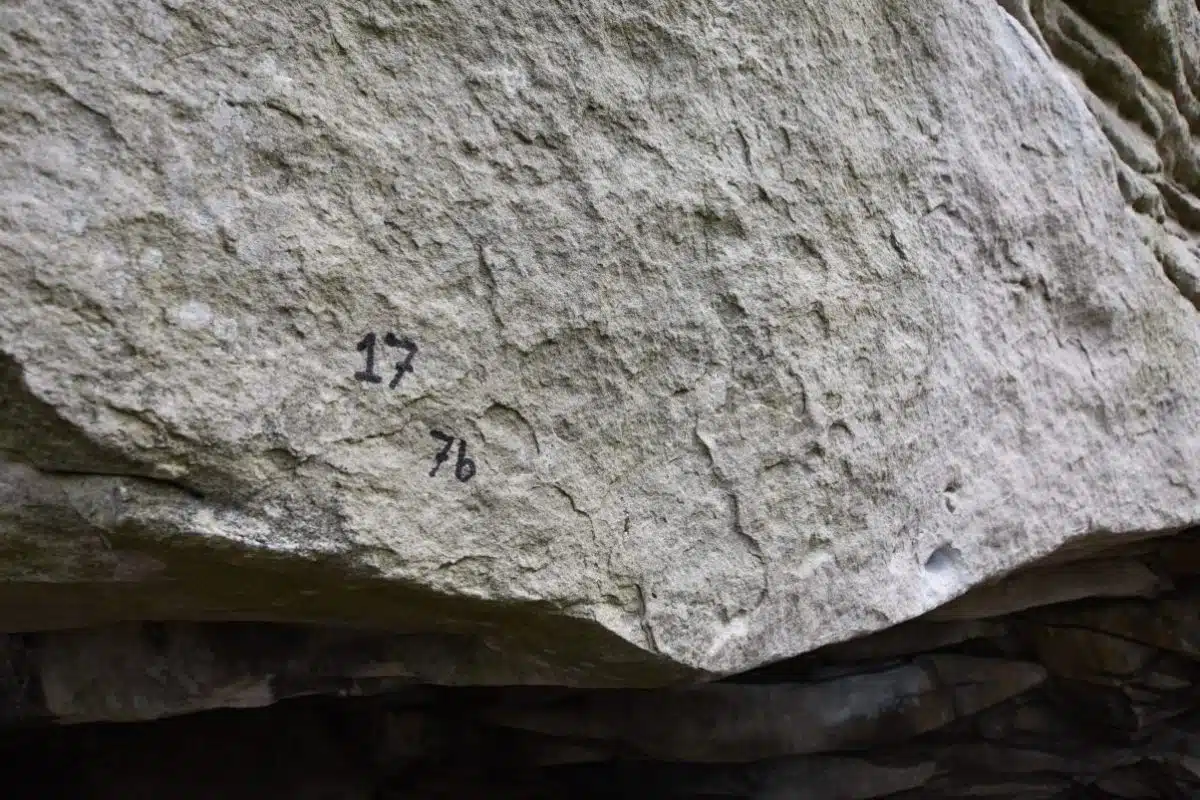 Areas
Where do you even start? There are more than 200 different climbing areas so you can choose a different spot on each day or focus on one for your whole stay. Some of the most famous areas are to the west of Fontainebleau town, with Bas Cuvier, Apremont and Franchard being some of the most popular. Some spots have hundreds of problems and multiple circuits whilst other are smaller and less frequently climbed. 95.2, Apremont and Gorge des Chats are areas which are also quick drying, something important to remember during wet weather.
During our stay we spent the majority of time in Rocher Canon to the north of the forest and it was unbelievable. It is a less climbed area so on many days we had most of the area to ourselves but still has 4 different circuits, more than 500 problems and plenty of unmarked possibilities too.
We also spent many days in Bas Cuvier and it was easy to see why it's so popular. The climbing is beautiful but we would definitely recommend going off-season or midweek to avoid crowds.
Getting there and away
The forest is only 40 miles from central Paris which makes making bouldering in Fontainebleau a convenient journey from the capital. Even if you are staying in Paris you can even make an easy day trip.
To get to Paris there are plenty of hubs for international or local buses, trains and planes.
From Paris to Fontainebleau you can;
Take a train to Fontainebleau Avon which takes less than an hour from Paris, more info here.
Use Blablacar to car pool
Coming from the UK there are plenty of ways to get from England to France without flying and avoid the hassle of bringing your gear on a plane. If you're on foot you can easily get the Eurostar to Paris, or a ferry to Calais and a connecting train to Paris. Both of these options allow things like crash pads and big baggage to be taken on board. If you have your own car then the Eurotunnel or ferry to Calais are both good choices too.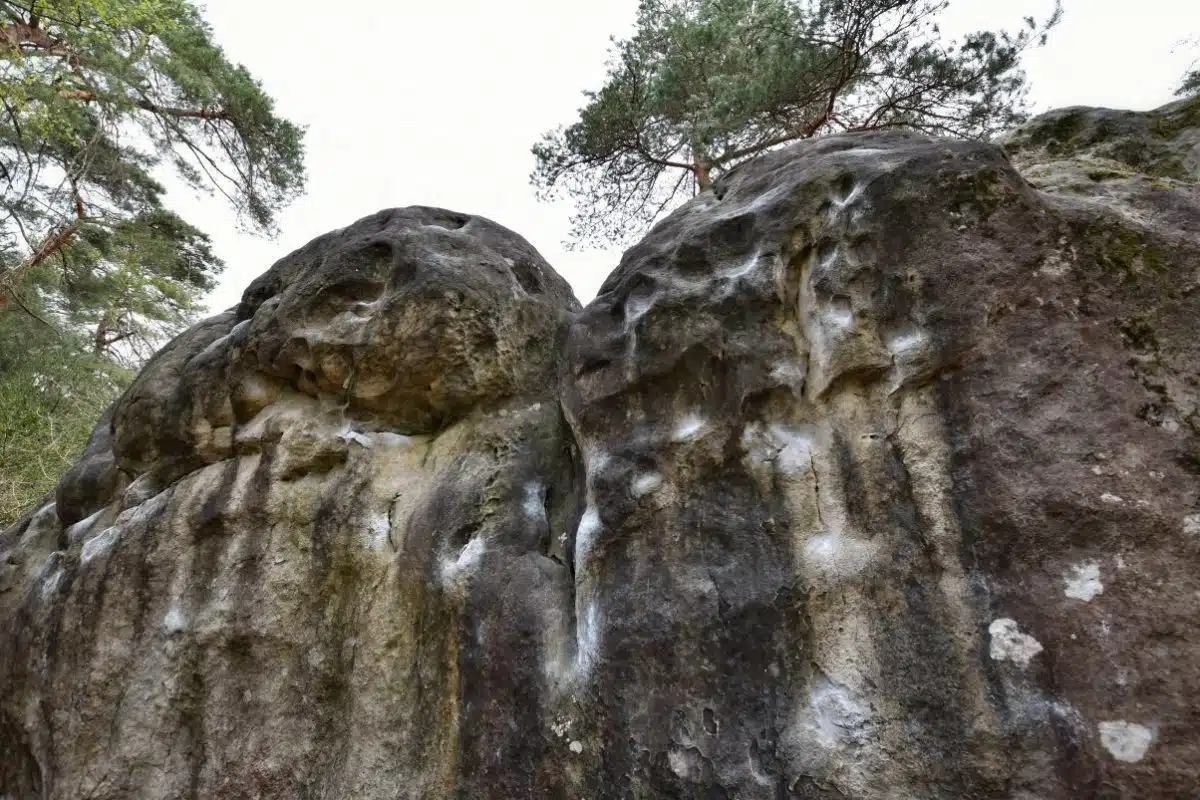 Transport
All of the boulders are spread out, with different climbing areas and amenities across a 25 miles radius. This means if you do want to climb in a bunch of different areas you're going to need to travel. Most of the bouldering in Fontainbleau is connected by roads or small paths which cut across the forests so it is possible to travel relatively easily from one to another. Many of the major climbing areas also have car parks or laybys nearby which make parking cars/bikes easy and often means you won't have far to walk.
Some of the best ways of getting around are;
Renting a car is often the most popular method and gives you the freedom to explore all of the areas and carry your gear with ease. Be careful not to leave valuables in cars, especially in quieter spots, as break-ins are unfortunately common.
Europcar offers one of the most popular services and can be picked up in Paris or in Fontainebleau, click here for more information.
Renting a bicycle is possible and an enjoyable way to discover the forest. There are small roads and paths connecting almost every climbing spot though not all routes are in good condition. Bikes can be rented in Fontainebleau town and also from some accommodations.
The local bus company Trans Dev run in the more developed areas closer to Fontainebleau town. Their fares are pretty cheap but only cover a limited area, their timetable is here.
Hitching can work although it's not common but with many busy roads it's worth sticking a thumb out. If you get to one of the major climbing car parks then you can also chat with other climbers and see if you can jump in with them.
Accommodation in Fontainebleau
Across the forest and climbing areas you'll find a good selection of camping, self catering, hotel and guest house accommodation. Our advice is to pick which areas you want to climb the most and find the closest accommodation to it.
If you're looking for hotels then Booking.com is your best bet and quite often have discounts and promotions.
For self-catering you'll find plenty of Airbnbs which can be a good choice for groups and get you close to climbing spots. Airbnb hosts may also know a bit about the local climbing and can probably give you some insider's tips (you can save £34 off your first Airbnb booking here).
There are plenty of Gites (independent self-catering accommodations found around France) with a great one being The House which is aimed at climbers.
For hostels just south of the forest is Fontaineblhostel, another place very popular with boulderers and offers dorms, private rooms and camping.
Camping is one of the best choices and you'll find a bunch of them online, many who rent out climbing pads too. Camping Le Lido in Moret-sur-Loing, Camping de la Musardière in the Milly la Forêt area and Camping Les Pres in Grez Sur Long are some of the regular picks for bouldering.
Know of any other good accommodation or camping in Font? Tell us in the comments below!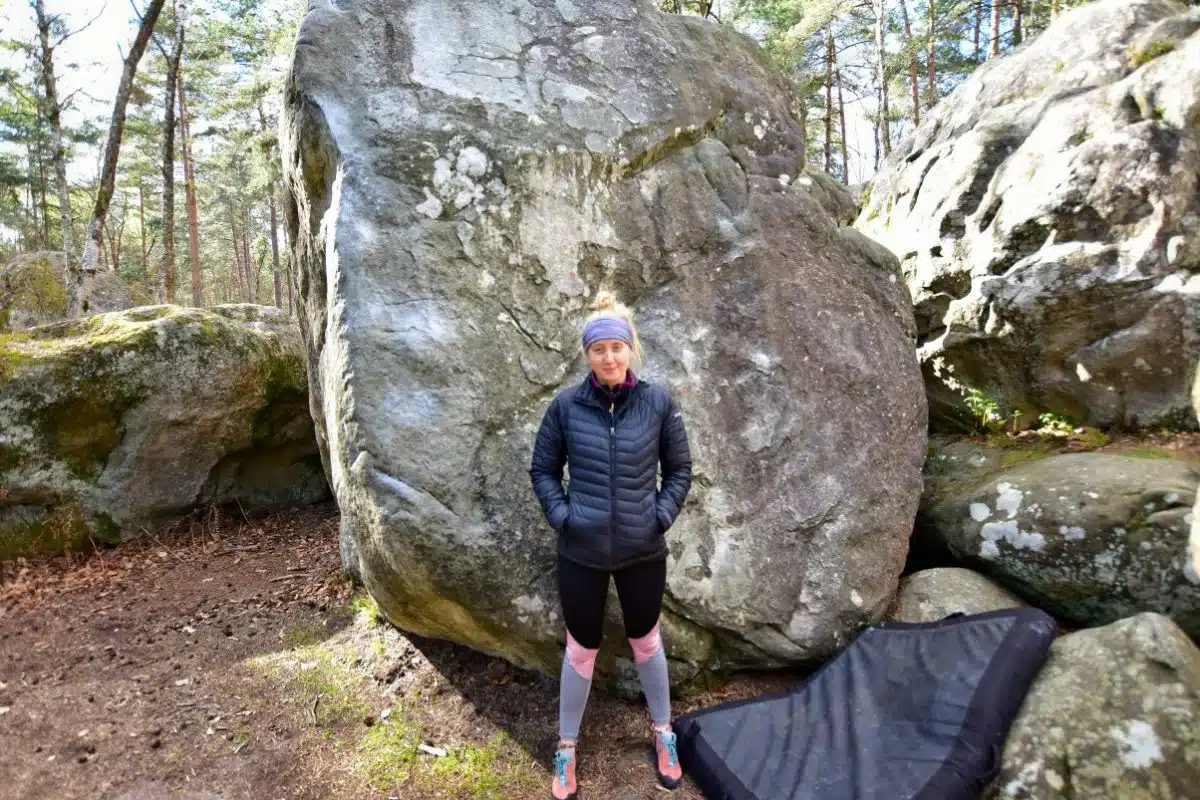 Eating and shopping in Fontainebleau
For the biggest range of food and shopping you'll need to head to Fontainebleau town, where you'll find a variety of supermarkets along with plenty of restaurants, some bars and coffee shops. There's even a Glaswegian bar (the only one we've ever seen outside of Glasgow) and a big market which takes place on the weekends.
There are no shops or restaurants in the forest so make sure to bring supplies for a day with you – a big pack-up is great in the forest. With a number of supermarkets just outside of the forest it's easiest to look on Google or a GPS and see which one is closest to you.
What to take, guidebooks & renting gear
The standard climbing gear: clothes, shoes, chalk, bouldering mat (renting info below), lucky hat etc with a few other important pieces. It's best to take a brush as parts of the forest are getting very worn and treading sand into the rock speeds up this process. Brush it clean before you climb and take a cloth or material to wipe your shoes before you start.
Guidebooks
With 200+ areas, many with 400+ problems, it can be hard to know where to start – that's when a guidebook comes in. These books will be like your holy grail, showing you all the routes in the different areas, where is best for different times/people, circuits, beta, tips – basically everything you need. Most of the guides come into 3 different categories: circuits guides, off-circuit guides and mixed guides.
Two of the best guides are Fontainebleau Fun Bloc (Jingo Wobbly 2012) and Fontainebleau (Montchausse 2001).
Fontainebleau Fun Bloc is an off-circuit guide with more than 7,000 problems graded from 1a to 8c covering the most visited areas of the forest. It's a great book for mixed abilities and groups because of the large grade variety and as it tends to stick to the larger, more popular areas.
Fontainebleau (Montchausse) is another top choice and one you're likely to see around Fontainebleau with other climbers. This covers more than 100 different circuits with around 3,000 problems and gives information on each area along with topographic maps.
Other options are Essential Fontainebleau by John Watson which is an affordable pocket-sized guide to bouldering in Fontainbleau and also Fontainebleau: Top Secret by David Atchinson Jones which covers all of the quieter, lesser climbed areas of the forest with 9,000 different problems.
Renting Gear
It's never easy taking a climbing mat on a train or plane so a lot of people choose to rent one once they arrive to Font. We chose S'cape climbing shop which is in the centre of Fontainebleau town. The mat was €10 a day, with a discount for longer periods, and the guys inside were super friendly and happy to advise on climbing spots.
You can also rent from the indoor climbing venue Karma. Karma also re-sole climbing shoes and besides that it's an awesome gym. If you have some bad weather get down and check out their competition style boulders or sport climbing wall.
Other possible places to rent pads from are the Pizzeria in Arbonne La Foret and The House in Trois Poignons.
READ MORE: Vegan Climbing Shoe Buyer's Guide
Keeping it clean
With any climbing destination or natural area it's important to be respectful but this is especially important in Font. Because of the popularity of the area many of the problems are becoming extremely warn and ruined. In Karma climbing gym we saw a big event publicised to go into the forest for a tidy-up session which was awesome to see. There are also plenty of things you can do to help protect the forest during your trip.
To protect the rock you can;
DON'T CLIMB WHEN IT'S WET it weathers the rock much quicker and holds can break

Lightly brush the rock clean of sand before you start climbing

Make sure you brush your feet before too

Use modest amounts of chalk
To keep the rest of the forest protected;
Don't camp in the woods

Keep to the walking trials

Try not to disturb the local wildlife

Take all of your litter with you

Don't make fires
If you want to find some other tips on crag etiquette there's a nice article over on Up That Rock.
Super useful links
For the absolute best online climbing information in the forest check out bleau.info which has detailed guides on all the areas, boulders and beta. You can also download some of the circuit maps and topographics which is invaluable if you don't have a guidebook.
Not just for bouldering in Fontainebleau but for climbing in general you need to check out 27 Crags and download the app. Here you'll find an interactive map with all the bouldering, sport and trad climbs around the world!
If you're heading to Font and maybe want to find some climbing buddies, get some insider knowledge or read some local climbing stories then check out the Facebook group Fontainebleau Climbing – a lovely online community of climbers.
Lastly, if you're looking for some climbing inspiration to get you excited for your Font trip, check out these awesome climbing documentaries or this interview with Hazel Findlay!
A First Timer's Guide to Bouldering in Fontainebleau
Are you planning your first bouldering trip to Fontainebleau or been in the past and have some useful tips for first timers? Tell us in the comments below!
If you liked this article you might also want to check out
Our England to India Cycling Expedition