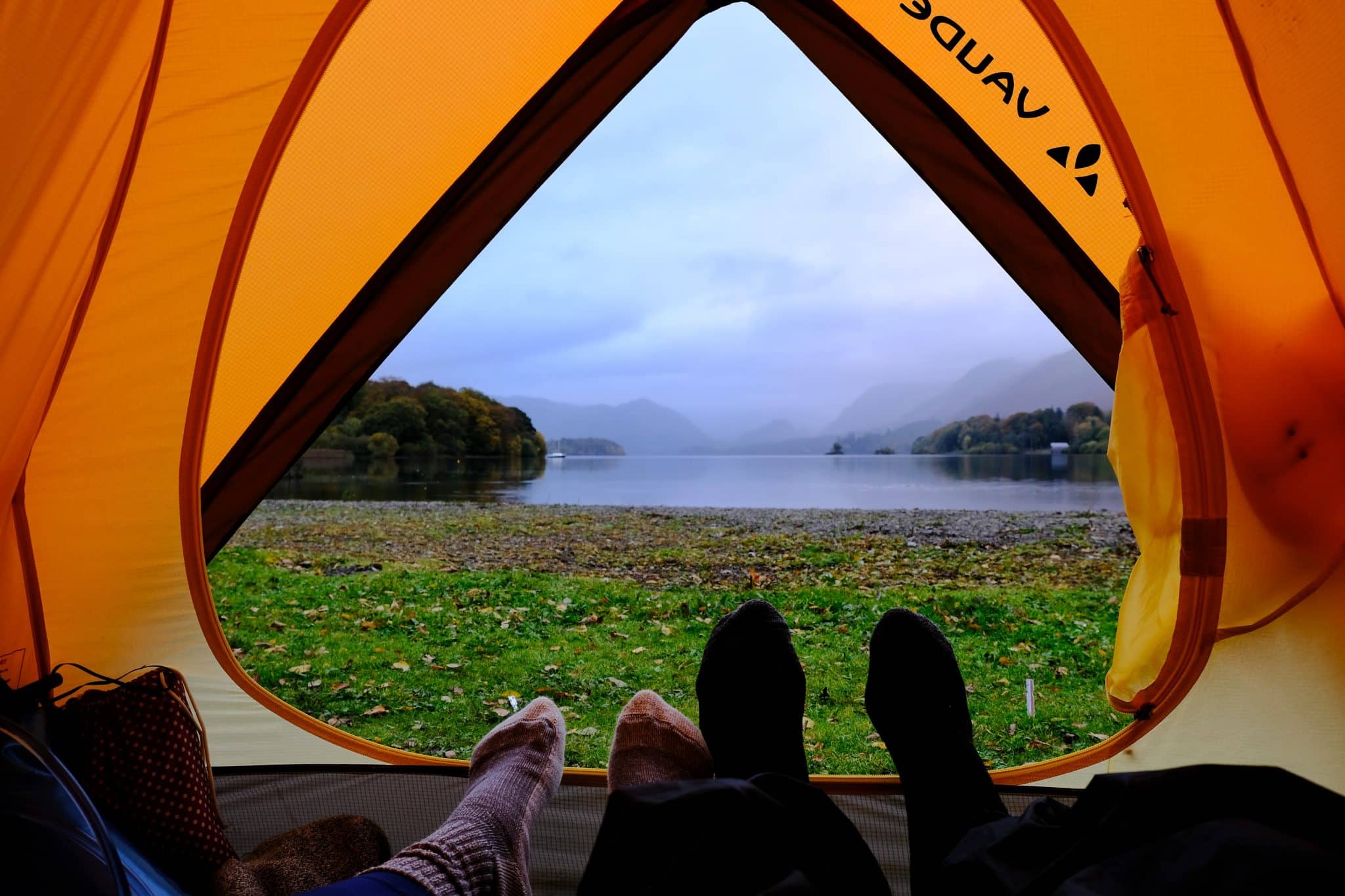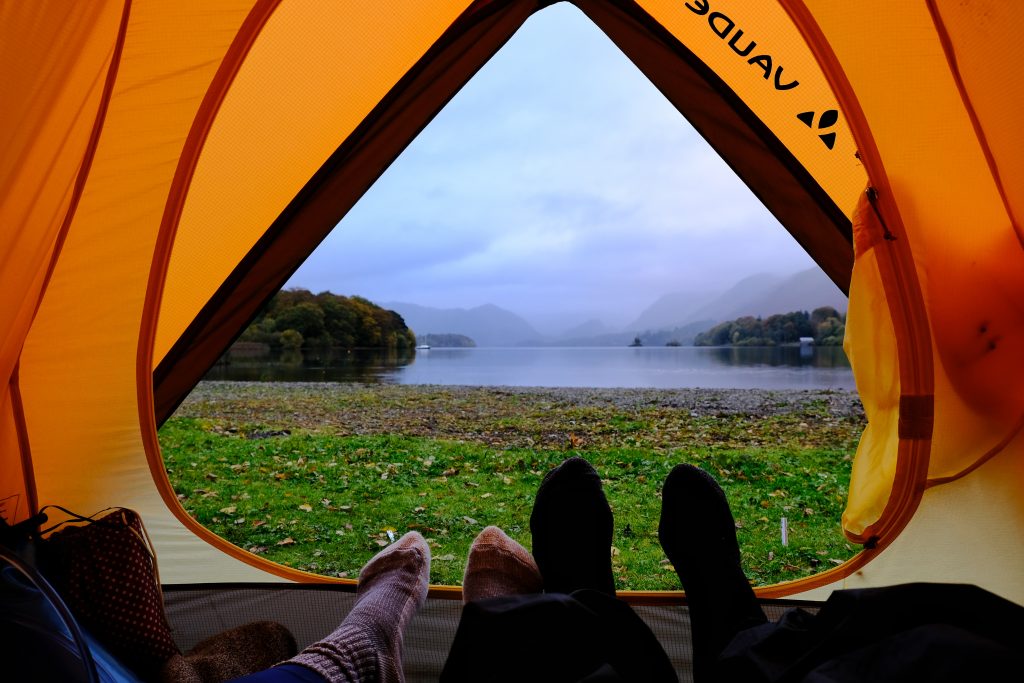 Always wanted to go camping but not sure where to start? This guide to camping for beginners is just the thing for you!
---
There's not much that can rival a camping experience. Do a little planning before, find a good spot and take the right camping gear – we'll bet you'll be hooked after your first trip!
Like with most outdoor things however, if you get it wrong it can be a bit of a nightmare. You're out in the elements and potentially a long way from civilisation. It's real important to know you've covered all bases and this is especially true if it's one of your first camping experiences.
This guide to camping for beginners has everything you need to make your first trip a success, or help you improve on the last ones. It's easy to follow, will save you money, a headache and will help you make the most of your time in your tent!
Jump straight to…
Different types of camping
How to find camping sites
How to find wild camping spots
How long to camp for
The best time to go camping
How to get there and back
Camping costs and expenses
Choosing a camping tent
Making a camping packing list
Camping for outdoor trips (hiking, backpacking, cycling)
How to pick the right gear
The best camping food
Going for a test run
Picking a camping spot
Making camping more comfortable
Lighting campfires
Camping safety tips
Camping etiquette & sustainability Tips
What to do when you get back
This blog features affiliate links. Buying through these links will never cost you more money but will support Veggie Vagabonds and allow us to keep making content like this – thanks for your help!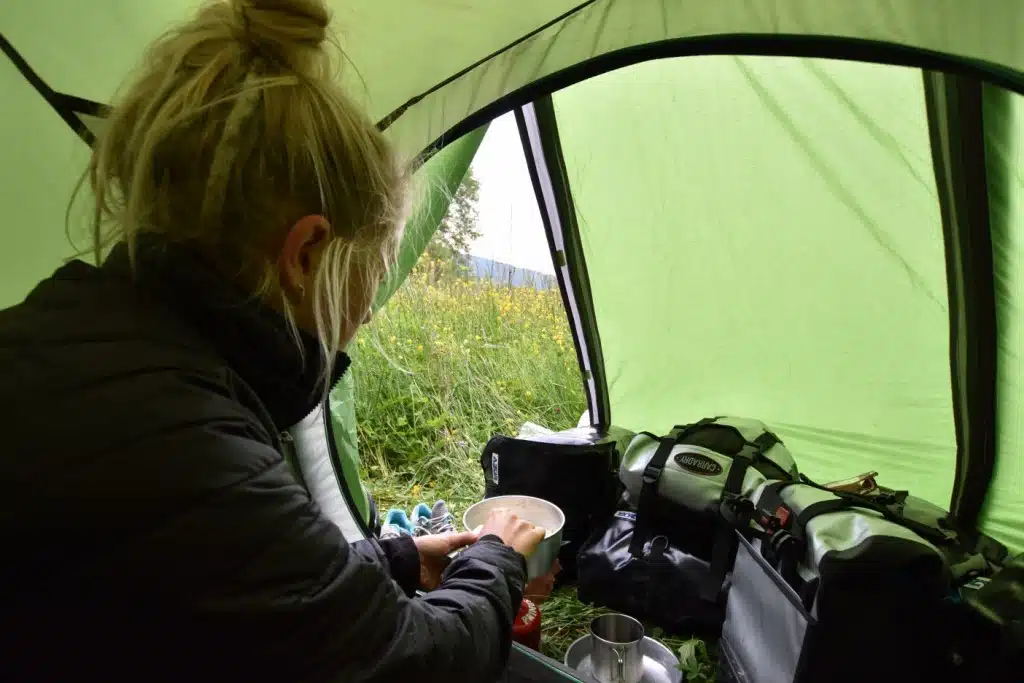 Why go camping?
Camping can be done in ANY country around the world (and in thousands of awesome camping locations in each country!)
It can be completely free

Camping equipment is easy to find

You don't need much experience
It's varied and you can find camping spots to suit everyone
Almost anyone can do it – camping with kids, camping with a dog, camping with a short-tempered partner… no problem!
But, the best thing about camping is the experience it offers.
You're completely surrounded by the natural world, and, if you're camping as part of backpacking or cycle touring trip, it allows you to get deeper and deeper into the heart of the wild!
Rise and fall with the sun, wake to the sound of birds and crash out to the sound of crickets. Spend the day exploring the great outdoors and then come back, light a fire and sit outside your tents thinking about the happenings from the day whilst preparing some delicious camping food. You can't beat it.
Camping is something EVERYONE should try at the very least once. If this guide can help you with your first one, or help make it a regular thing, we'll consider it a bloomin' success!
---
Camping for Beginners Pt. 1 – Planning Your Trip Camping Trip
A little planning goes a long way and it's key to enjoying the time in your tent. Check through this section to find for the first things you need to think about and how to plan a camping trip from scratch.
There are plenty of different options (hammock camping, bivvy bag camping, tarp camping, RV camping) but this guide will be focusing on everything and anything tent camping ie. sleeping in a tent somewhere outdoors.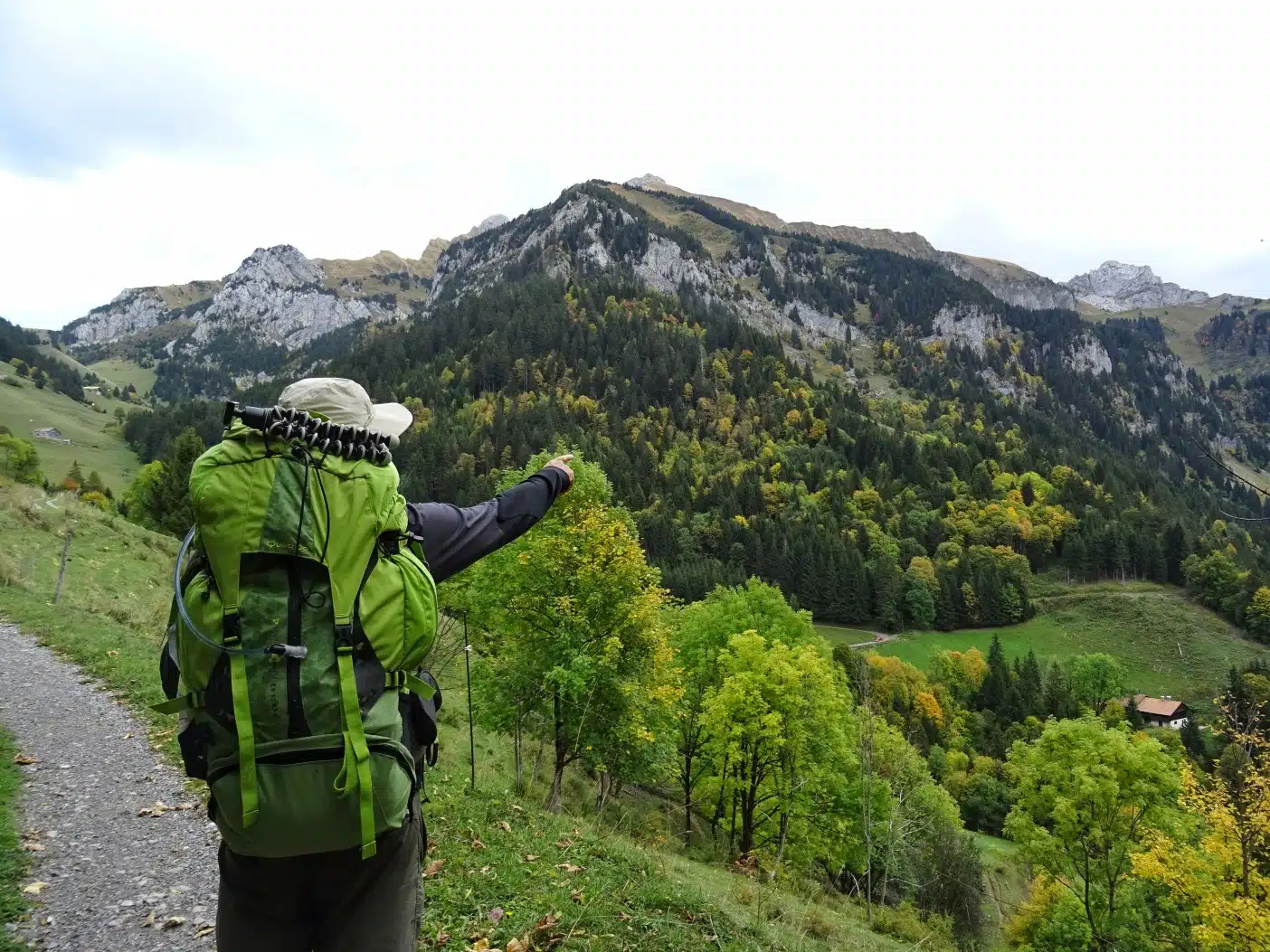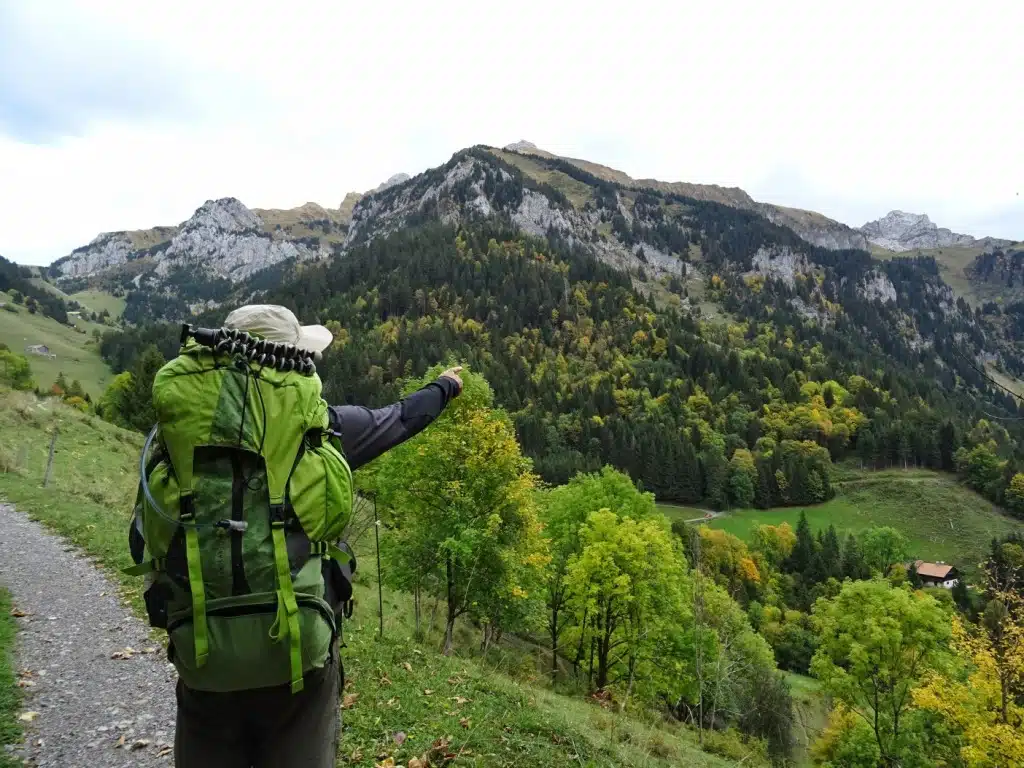 1.1 There are different types of camping – pick the best for you!
1. Camping in campsites – probably the most popular type of tent camping and often the easiest. Campsites can be found across most countries and have a range of amenities, making your camping experience more straightforward and best-suited for beginners. Many campsites also offer tents or accommodation options that are pre-assembled and you can rent, though for the full experience we'd recommend taking your own!
On the negative side, they cost, are closer to developed areas (this could also be positive) and can be busy at more popular sites.
2. Camping in the wild, wild camping, free camping etc (our favourite type!) – this means camping in non-designated camping areas, normally in remote landscapes or national parks. Wild camping allows you to camp in some beautifully wild locations and beat the crowds BUT you need to be self-sufficient and in many countries/areas it is illegal or a grey area so is better suited to people with more outdoor experience.
Camping wild in Scotland is legal on most public lands and should definitely be on a UK outdoor bucket list. Click on the link to check out our guide.
3. Camping as part of a bigger trip – you also might be camping as part of a bigger adventure, like a backpacking trip or a cycle tour. For this, you might alternate between wild camping and campsites. If you are planning a bigger adventure, this planning guide is a must-read!
4. Your garden – if it's your first time camping, the perfect way to test out your gear and see how you find things is closer to home. Try sleeping in a tent in the garden for a night first – it's free, has awesome camping amenities and will give you heaps more confidence for your first time further afield.
1.2 How to find campsites?
The best way of finding campsites is via Google, searching for your destination + campsites.
You can also use Google Maps or other GPS services (though we've found Google has the best results) to search for campsites within certain areas. If you're camping along a longer route, this can often be the quickest way to find places that are located close to your trail/path/route etc.
IMPORTANT: if using Google Maps, make sure the campsite is intended for leisurely visitors and isn't for travellers/residential. We have made this mistake cycle touring a number of times!
Larger accommodation sites like Booking.com also have some more popular campsites available. You can also find a good selection on tourist websites or local campsite databases, like these in the UK:
There are also camping apps that can help you find spots:
1.3 Finding wild camping spots
This can be slightly harder but here are some pointers:
Check whether wild camping is legal/tolerated in your intended area
Get local advice – Facebook groups like Wild Camping UK, Wild Camping in Ireland or our guide to Scottish Wildcamping which can also be great ways to find local spots and wild camping tips
Camp far from developed areas
Set up late and leave early
Be extremely careful with fires
Strictly follow Leave no Trace rules (more info lower down)
1.4 How long to go camping for?
This depends on your wants, desires and experience but if it's your first time something short and sweet is a good idea. There's nothing wrong with an overnight camping trip or a weekend and you can then build on things from there.
Longer-term camping is also brilliant, though it's probably best to get your bearings with some shorter stints first.
1.5 When is the best time to go camping?
This is definitely down to your own personal preferences and the trip you're hoping to have but these are a few things to think about…
Climate and weather – plan for good weather and reliable temperatures to have the most hassle-free trip. Camping in the winter, in snow, rain or storms is still possible (and quite exciting) however you'll need to make sure you're gear is suitable and you'll be comfortable. That being said, if it's too hot you can also be uncomfortable in a sweaty tent.
Wildlife – certain months might see more insects or mosquitoes and breeding season for certain animals (like deers or bears) might cause be something you're trying to avoid or specifically go for.
Other people – for a quieter camping experience think about avoiding peak seasons, holidays and weekends. This is particularly important if you're wild camping and need to find discrete, quiet locations.
Camping permits – some areas may only allow camping at certain times of year.
Want to find more time for camping trips? Check out these tips!
1.6 Getting there and away
Most campsites will have small car parks, so many will be reachable by public transport. To make your trip more eco-friendly however, you should also consider public transport options. Omio is a good travel-planning tool which shows local bus and train timetables and also has a handy navigating tool.
If you're camping as part of a bigger trip, maybe you'll be able to hike, cycle, walk etc. right to the campsite?
When it comes to carrying all of your things, a good quality backpack is good or panniers if you're cycling. If you're arriving by car or public transport a duffel bag (UK/USA) is a great idea or just using big bags for life.
1.6 How much does camping cost? Is camping expensive?
The average campsite in the UK will cost between £10-20, which is generally charged per tent but occasionally is per person. Prices will vary slightly for peak season, holidays, weekends etc. and if you camp for a number of nights you can often get a discount.
Camping living costs can also be very cheap, so if you're looking for a good budget trip it's a very solid option! Looking for free campsites? You should go with wild camping!
1.7 What is glamping?
Glamping = glamorous camping
This is when comfort trumps practicality and you camp with a particularly lavish setup with far more than the camping basics. Many campsites offer glamping options in things like yurts or teepees, some which might be as fancy as boutique accommodation. Obviously, this also comes with a price tag and can be found on some of the links above.
You could also put together your own wild glamping trip, just making sure you're able to carry everything you need. In the next section we'll run through a basic camping packing list and then you can add in any extra luxury items.
I won't lie, we're not big glampers but it could be a good option if you're used to a nice comfy bed and want to find some middle ground before going full-on camp mode!
Finding this Beginner Camping Guide handy? Sign up to the newsletter to receive our latest outdoor guides when they come out!
Camping for Beginners Pt. 2 – What Do You Need for Camping?
Your packing list will be a HUGE factor in having an awesome trip. Beginner camping gear doesn't always need the latest or most expensive but it's best to find the right stuff for you and your needs.
QUICK TIP: run through this section and start piecing together your own camping checklist so you don't forget any vital gear!
2.1 How to choose a tent?
Out of all your sleeping equipment this is the thing you should prioritise. Try and get the best camping tent possible for YOUR trip.
You can find 1-person tents, 2-person tents all the way up to 10+, super lightweight tents, winter tents, summer tents, popup tents… you see where I'm going. Think about your requirements and some of these points:
How many people will you be camping with?
Is space or weight more of a priority?
Are you camping in good conditions or do you need a tent that can withstand bad weather?
Is it going to be hot or cold? Do you need extra ventilation?
Will you need extra room for panniers or a backpack?
Do you want a tent porch or a communal living area where you can cook?
Are you wanting a budget tent or something more expensive
There are thousands of tents suited to every type of camper, your best option is to take a browse and see what works for you best. Expect to pay £20-£50 for a super budget tent and £200-£300+ for an expensive option.
You'll find tonnes more info in our Guide to 2 Person Tents!
Need to get some new gear? If you're finding this guide useful, the links below won't cost you any more but will help us keep creating guides like this – thank you 🙂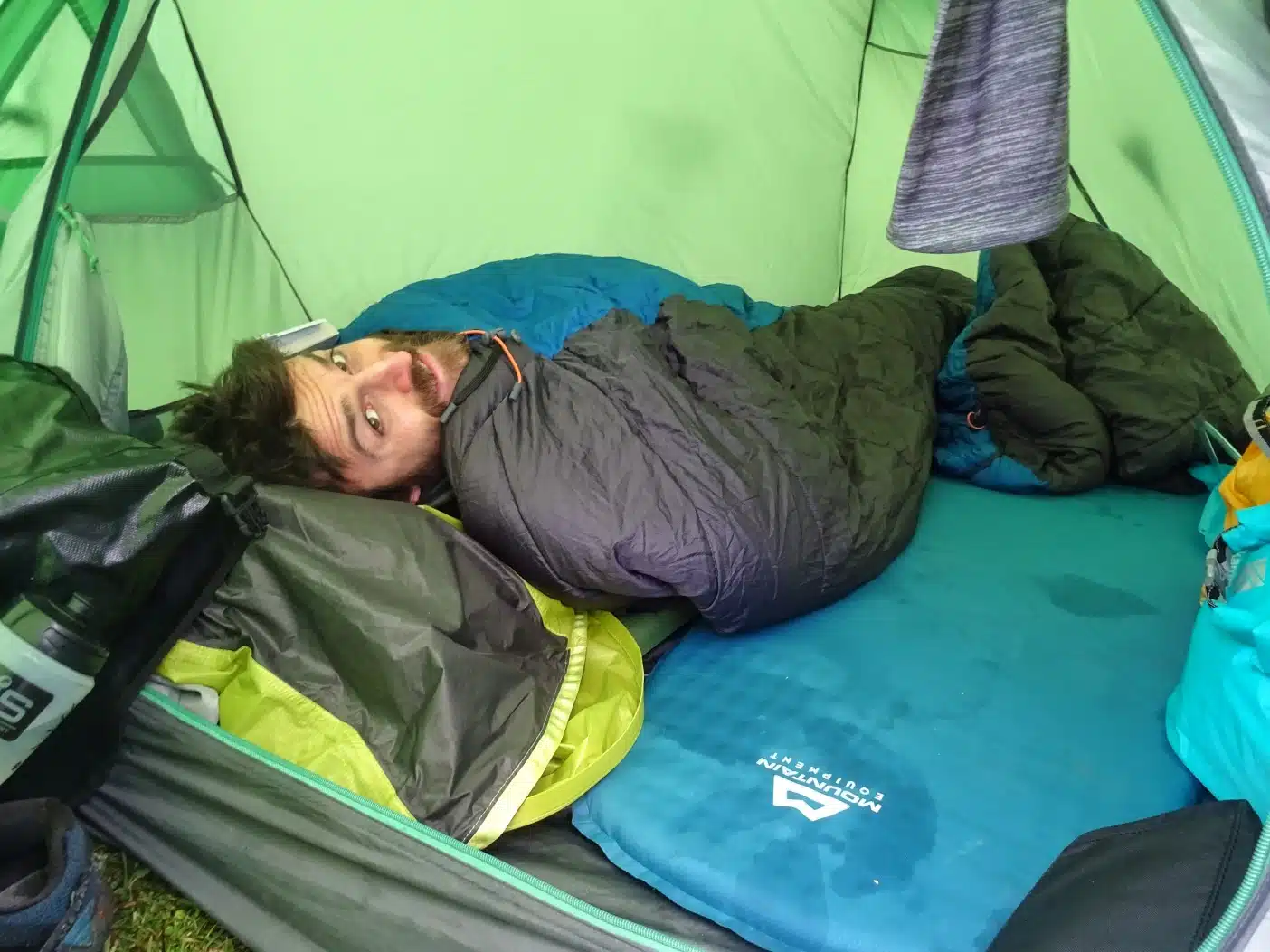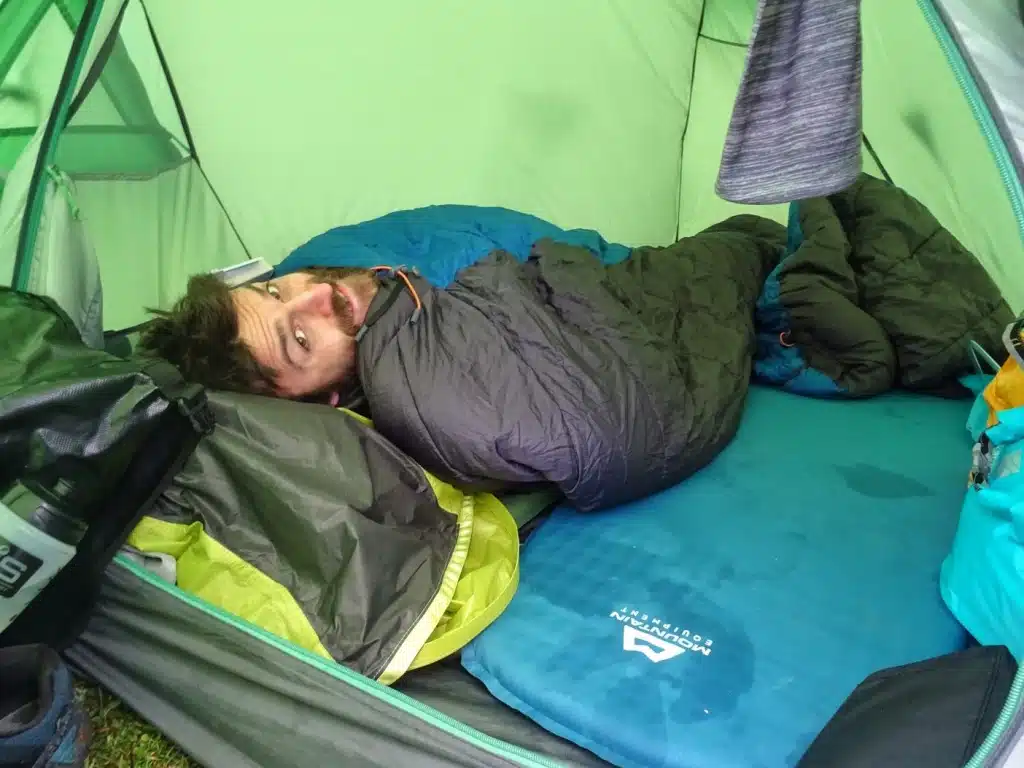 2.2 What else should be on your camping packing list?
Your complete camping gear itinerary will depend on the trip you're going on but below are some camping essentials you should consider taking on every trip.
Tent – a good camping tent will be simple to pitch, relatively lightweight, give good weather protection and have enough room. We recommend the Vango Tempest Pro 2 for a solid 2-person budget option you can use for backpacking and cycle touring.
Sleeping pad (camping mat) – a lightweight sleeping pad should be comfortable and durable. We have the Mountain Equipment Helium which is a good allrounder.
Sleeping bag – take a sleeping bag fit for the temperatures you'll be in. Our sleeping bag buyer's guide has a lot more detail and recommendations.
Lighting

– for safety and practicality you need some form of lighting for your tent. We find

fairy lights

to be smaller, lighter and have better battery life than a traditional lantern but also give your tent a warming glow!

Headtorch – the Black Diamond Storm (UK & USA) is our choice because it's waterproof, 400 lumens and good value.
Water storage – it's really useful to take water storage if there aren't nearby water sources. The Camelbak water bladder holds 3L and come with a mouthpiece so can be used for outdoor pursuits too.
Camping cooking gear – for outdoor cooking at the very least you'll need a camping stove, gas, cutlery, plates and pans but there are plenty more optional items.
A pillow – you can buy camping pillows or we just use our clothes in a dry bag!
Camping clothing – taking comfortable outdoor clothing that's fitting to your climate. A good insulated jacket is one of the first things on our list.
Phone for communication and a form of navigation
Survival and medical items – the important things are a first aid kit, a penknife and a lighter.
IMPORTANT: It's good to be well-prepared but taking too much equipment will be heavy, take a long time to set up and can be a bit of stress. Pick your camping pack list carefully!
For a more complete idea and a full checklist that can easily be carried in a backpack, check out our Camping Gear Guide!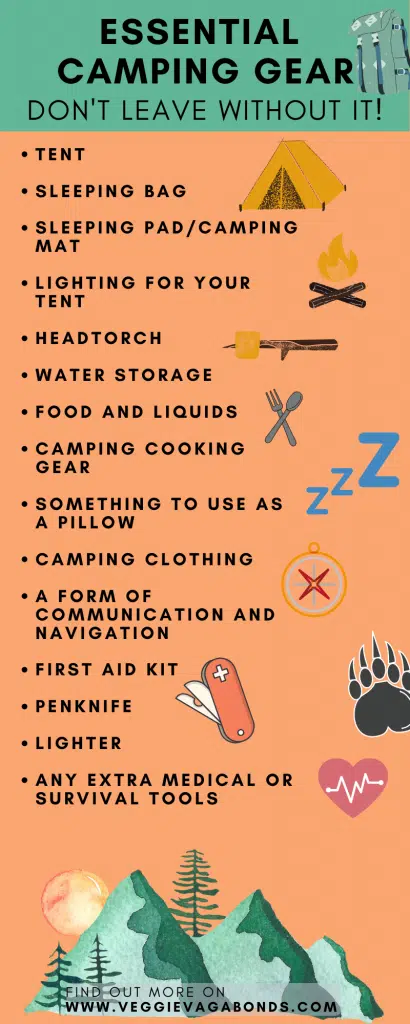 Check out our complete guide on how to repair and maintain your outdoor gear, to help it keep you going for camping adventures to come
2.3 Camping and hiking, backpacking, cycle touring or other outdoor trips
Exactly what you take will be different for each kind of trip. For hiking or backpacking trips, generally, weight is going to be a very high priority and so you should think about buying smaller, lightweight gear. As you'll potentially be in more exposed areas, it's good to look at better quality tents which can withstand worse weather.
The same goes for cycle touring, however it's easier to carry more gear and you'll likely have more things. For this reason, you might consider buying a slightly larger tent, or opting for things which are slightly more comfortable than practical.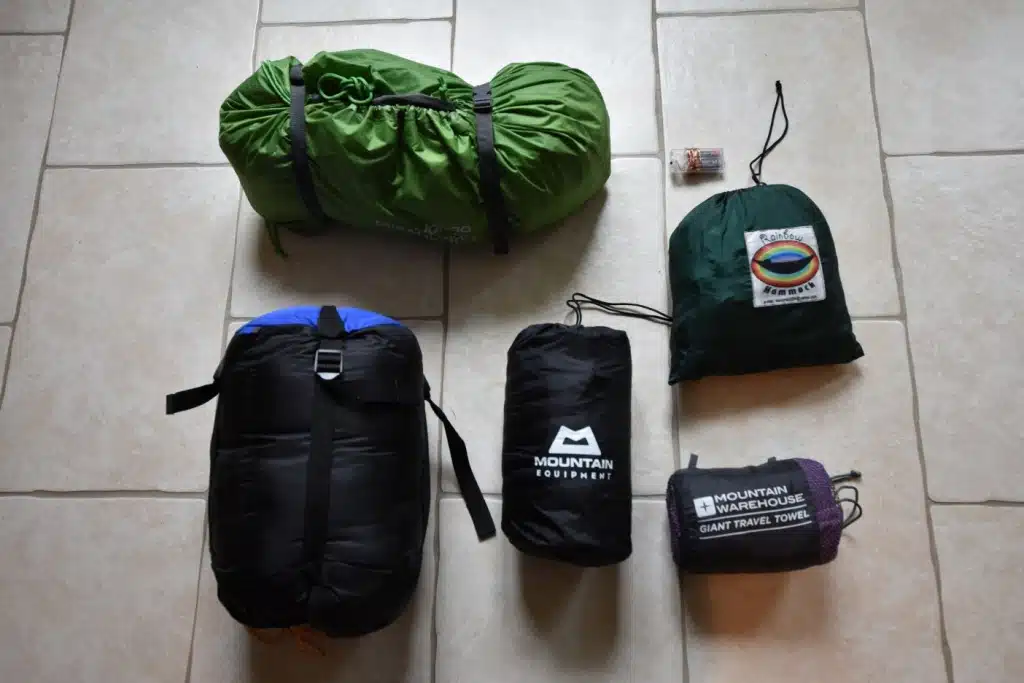 2.4 Picking your camping gear wisely!
With lots of camping equipment you could potentially need for your trip, it's a good idea to prioritise the essentials listed above and save on other items.
They don't have to cost a bomb, just go with something that will last, is from a reliable company and has a good returns policy. You could even buy better second-hand products rather than cheaper new ones?
Buying eco-friendly camping products will also help you protect the environments you're enjoying. Our Guide to Sustainable Outdoor Gear has lots more info on how you can do this.
2.5 What food to take camping?
Food is a big factor as it will keep you filled with energy throughout your trip. You should also decide whether you'll take all the food with you or if you can restock during the trip. Remember, it's always nice to have lots of food but make sure it's feasible to carry it all!
The best camping food will be:
Easily stored and relatively durable
Won't need to be kept cool (unless you bring a cooler)
Relatively simple and quick to make
Tasty and nutritious
If you're going to be carrying all of the food yourself, lightweight is helpful
Options for all meals (breakfast, lunch & dinner) as well as easy to eat camping snacks
For a complete rundown of vegan camping food, make sure to check out this post!
2.6 Going for a test run
This is a really important piece of camping advice, particularly if you're camping for the first time and will be using lots of new gear – GO FOR A TEST RUN!
Before your actual camping trip, pick somewhere close to home OR even in your home/garden just to practice pitching your tent, check everything works and you know how to use it.
Honestly, it's much better to realise you're missing a tent pole in your garden than in the wilderness!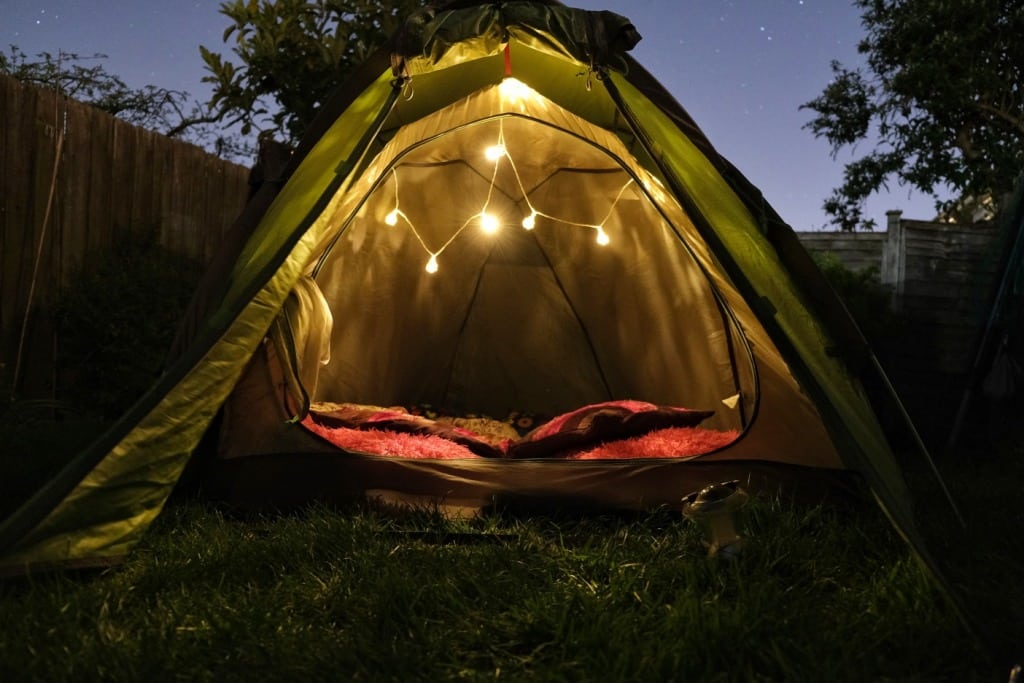 Camping for Beginners Pt. 3 – Camping Tips for Beginners
Now you've got all the planning done and packed all of your camping equipment, these are some tips on enjoying your time there.
Want a good night's sleep? Make sure you pick the best camping spot!
Take your time finding the right place, particularly if you're planning on staying there for more than a few days
Try and pick somewhere on an even floor that doesn't have roots, rocks or anything sharp underneath (this will also stop punctured sleeping pads!)
In warm weather it can be a good idea to find shade BUT camping under trees can be dangerous in windy conditions and you could end up with bird poop on your tent
If it's warm and you know which way the breeze is likely to be flowing, pitch your tent so the door/opening is facing the breeze for the best ventilation
Try and have an unobstructed doorway
Consider the physical geography – open clearings can leave you exposed to strong winds whilst camping near streams or water sources can be boggy and risk flooding with heavy rain
Take the time to pitch the tent securely and fasten any guide ropes
If you're in a campsite, decide how close you want to be to campground amenities (though the closer you are the noisier it could be)
Do you have any other tips for finding camping spots? Tell us in the comments below!
3. 2 Making camping more comfortable
Going camping doesn't have to be any less comfortable than sleeping in your bed. Do these things and you'll have a much better night's sleep in your tent:
Bring the right gear that's suited to your trip, with a comfortable sleeping mat, something to use for a pillow and a sleeping bag suited to the temperature
Bring warm/cool enough clothes
Go to the toilet before bed
Have a headtorch and a water bottle close by
If you're a light sleeper, think about taking earplugs and even an eye mask
Find our full tips for camping comfortably here!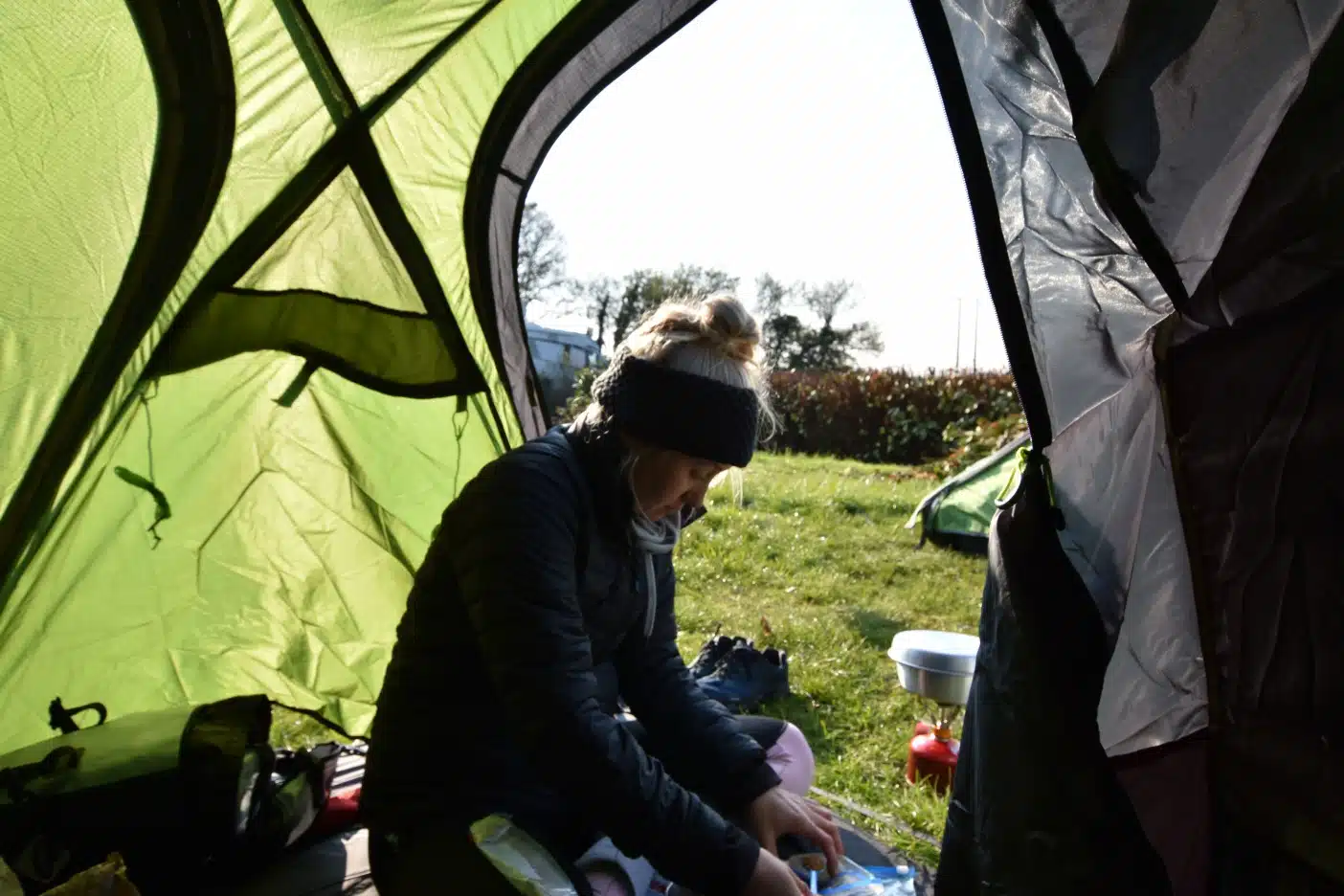 3.3 Lighting campfires
Everyone loves a campfire but you need to be extremely careful. If you're in a campsite, make sure you follow their rules re. fires and even if they're allowed, you should still be cautious.
Keep the fire small with a pit or boundaries to make sure it doesn't spread, be careful of embers or overhanging foliage and check it's 100% extinguished before you leave.
If you're camping in the wild and you don't have much outdoor experience, it's probably safer to avoid fire completely – wildfires can be devastating.
3.4 Simple camping safety tips
If it's your first camping experience, don't be overly concerned about dangers, particularly if you're camping in a campsite. With that being said, there are always risks outdoors but these tips can help you avoid any problems:
Make sure you take a good first aid kit and know how to use it
Pick a safe camping spot and use reliable camping gear
Stay up to date with the weather
Consider going with someone more experience for your first time
Keep hydrated and safe in the sun
Be cautious of wild animals
If you're cooking in your tent, make sure it's well ventilated
Make sure someone knows where you are and keep a backup form of communication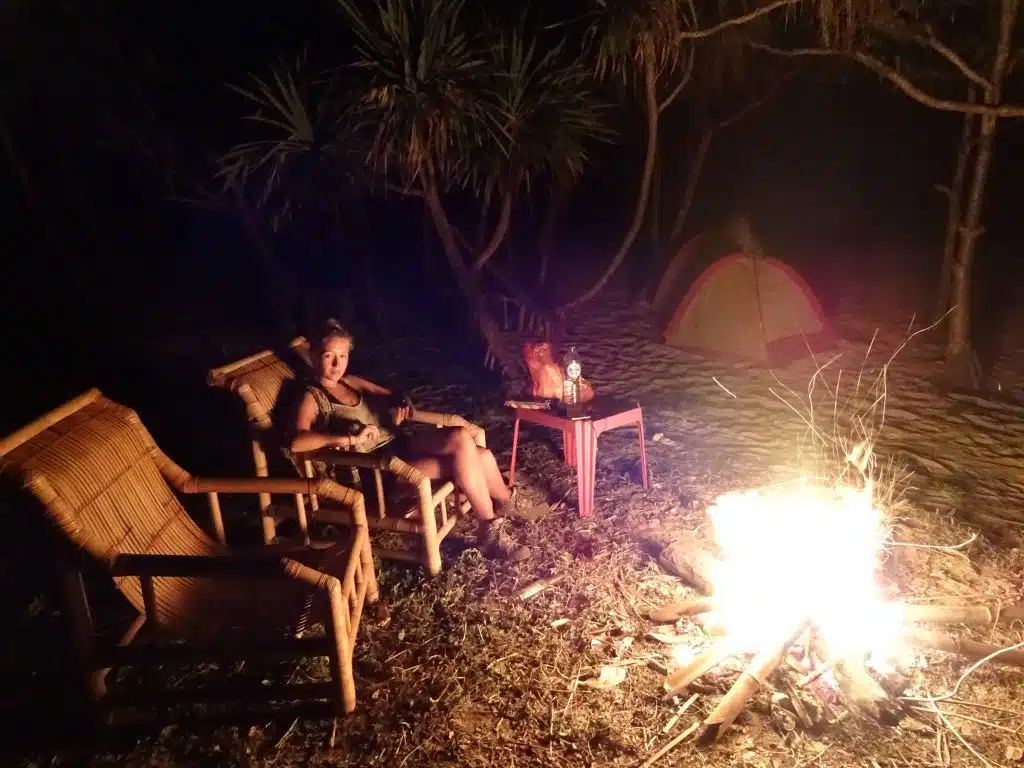 3.5 Camping etiquette & camping sustainably
Campgrounds are very friendly and relaxed environments but there are a few bits of etiquette you should try to stick to:
Respect the rules of the land or the campsite
Keep the noise low, especially when the sun is down
Respect other peoples' space and privacy
Keep campground facilities tidy
And it's also really important to make your camping trip nice and eco-friendly, especially as you might be in fragile natural areas.
The biggest and most important principle is Leave no Trace i.e. respect the environment, don't litter and bring back everything you take with you.
You can also think about travelling to and from the campsite sensibly, using sustainable outdoor gear, being responsible with your waste and having some extra considerations when planning.
Find our full Eco Camping Tips here!
And When You Get Back?
Once you've got back from your time in the wild a simple step which will save you time, money and make your time more environmentally-friendly is maintaining your gear!
Leave your tent to air and pack it away dry. Clean out all of your camping cooking gear. Wash out your clothes and clean your boots. You could even think about re-waterproofing some of your items?
It's all pretty simple stuff but it'll help give your outdoor gear an extra long life.
BONUS TIP: Once you've got all of your gear clean, get it packed back up so you'll be ready to leave for your next camping trip in no time!
What did you think of this beginner's guide to camping? Any extra information you'd like to know? Tell us in the comments at the bottom!
The Complete Guide to Camping for Beginners – Camping 101
Spending the night under the stars in your tent is an opportunity you shouldn't pass up. Yes, there are a few different bits and bobs to think about for your first time but that's why we put together this camping guide for beginners!
If you're still unsure what you need for camping, how to plan different aspects of the trip or what to expect, just leave us a comment and we can share some extra tips.
Keep exploring…
Outdoor fanatic? Vegan adventurer? Nature lover? Sign up for our mailing list and you'll also get the Ethical Adventure Planning Guide!