Incredibly tasty and no-fuss vegan chickpea flour omelette to make at home or on the camp stove
---
Fluffy on the inside and crispy on the outside, this vegan omelette is packed with protein and insanely good. The ideal recipe to whip up at home, or for when you fancy something a little different from your tent in the morning.
Crammed with fresh veggies and best-enjoyed piping hot, it's the ideal savoury breakfast for hungry tums with an appetite for exploring. This recipe is surprisingly easy to whip up with impressive results, for those leisurely mornings huddled around the camp stove with a warming brew.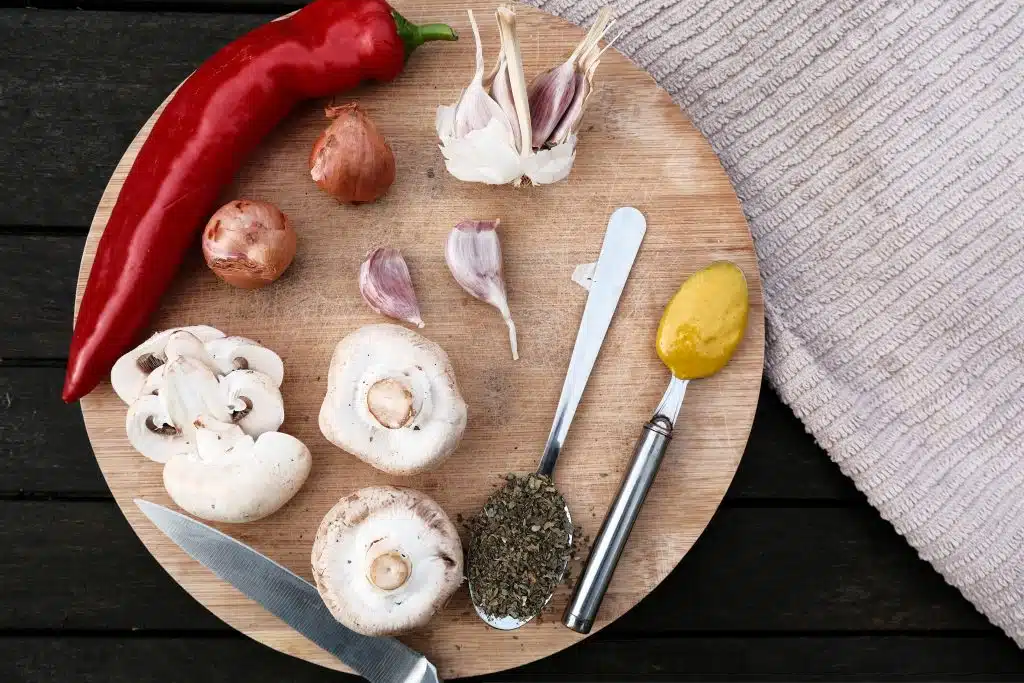 If you're anything like us, no matter you've had for dinner the night before, when breakfast time swings around, you're ready for it. This has never been truer than when camping. There's something about spending the night outside and feeling the warming sun's rays on your exposed skin that ignites a hunger from within.
Want some camping dinner inspo? This creamy vegan dahl or tasty peanut curry are just the ticket to nourish your tum after a day outdoors
For those slower starts to the day this vegan chickpea flour omelette is the perfect morning munch to gobble down. The gram flour is packed with protein, ideal for replenishing your muscles from a day's antics outside. The addition of cabbage, mushroom and pepper adds a burst of flavour and texture, making each mouthful the perfect balance of savoury goodness.
We like to rustle up this vegan omelette when cycle touring, as you have the luxury of extra space in your panniers for all the ingredients. It's also a great choice for those days when daylight is in your favour as it takes a little while to cook. Not the best breakfast for the jam-packed days in winter when you're eager to get going.
Get more tasty vegan recipes sent straight to your inbox by signing up for our mailing list below!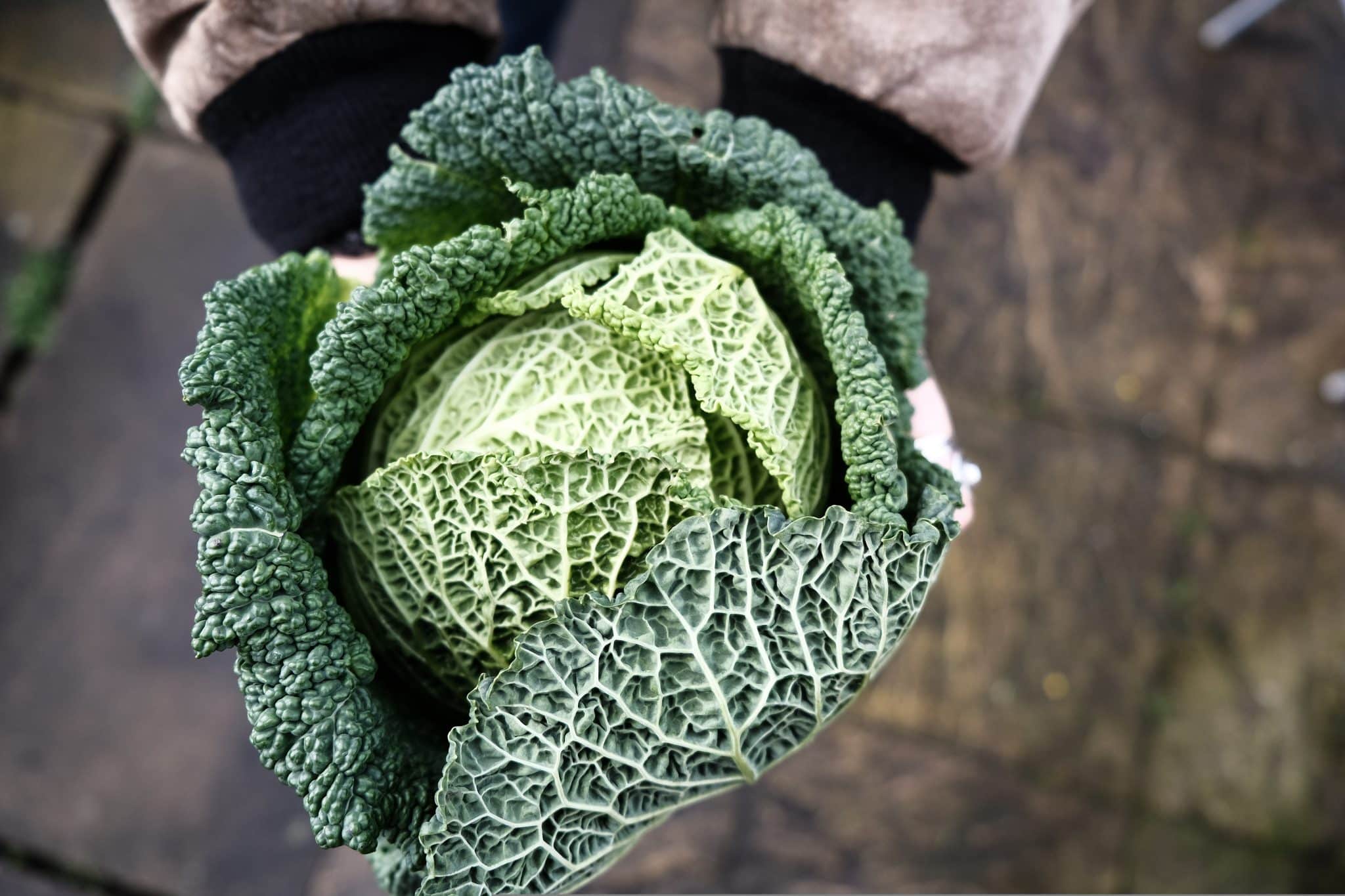 Looking for more camping breakfast inspiration? Take a peek at this delicious tofu scramble recipe or this easy 3 ingredient pancake recipe
This recipe is completely vegan and doesn't contain any yeast or tofu, what's more, you can always mix up the veg to suit whoever you're having for breakfast. If yeast is a go-zone for you, a sprinkling of about a tablespoon of nutritional yeast into the batter adds a cheesy undertone to this dish. It's also a great alternative to sweet breakfasts which aren't everybody's cup of tea first thing in the morning.
Which leads us to, how to make a vegan omelette…
Well, it's easier than you may think. Simply begin by frying off the onion and garlic, before adding the veg to soften a little. If you're feeling extra lazy or fresh onion and garlic is a stretch for your camping trip, you can easily substitute for onion and garlic powder, although fresh does taste better.
Meanwhile, you can whisk up all the chickpea flour omelette ingredients. Put some elbow grease into this part to make sure the batter is fully combined with no lumps, using a whisk or fork will do.
Once the veggies have cooked a little, pour over the gram flour omelette mixture and let the base get a little crispy before the moment of truth. The fateful flip. If you're a little cautious, like me, put a plate over the pan then flip and shimmy the omelette back into the pan. If you dare you can try flipping it with a spachelor, which if successful means you're an original badass.
I recommend a wide spachelor to help you get right underneath the omelette and avoid any breaking.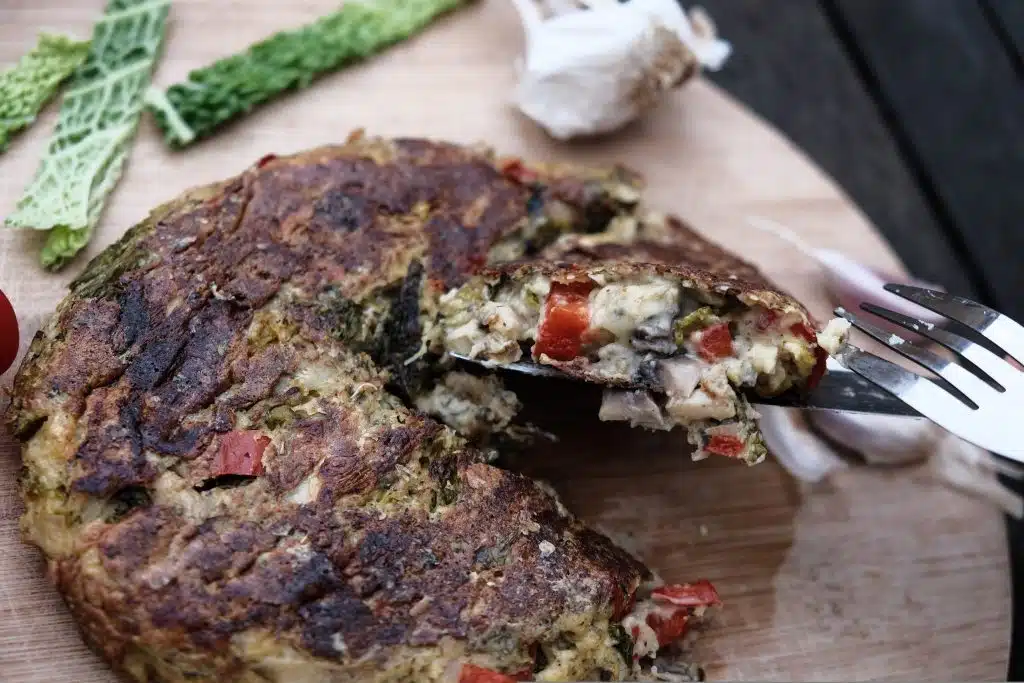 You can make this vegan omelette recipe at home for a lighter meal or it's ideal to make on the camp stove. The consistency is surprisingly not too dissimilar from an egg omelette. You can also multiply the recipe simply but doubling it, depending on how many hungry hikers you have to feed, or how much of an appetite you worked up the day before.
You can also double the mixture and use a bigger pan to make a large omelette, something we like to do when having this recipe at home for an epic breakfast or even dinner.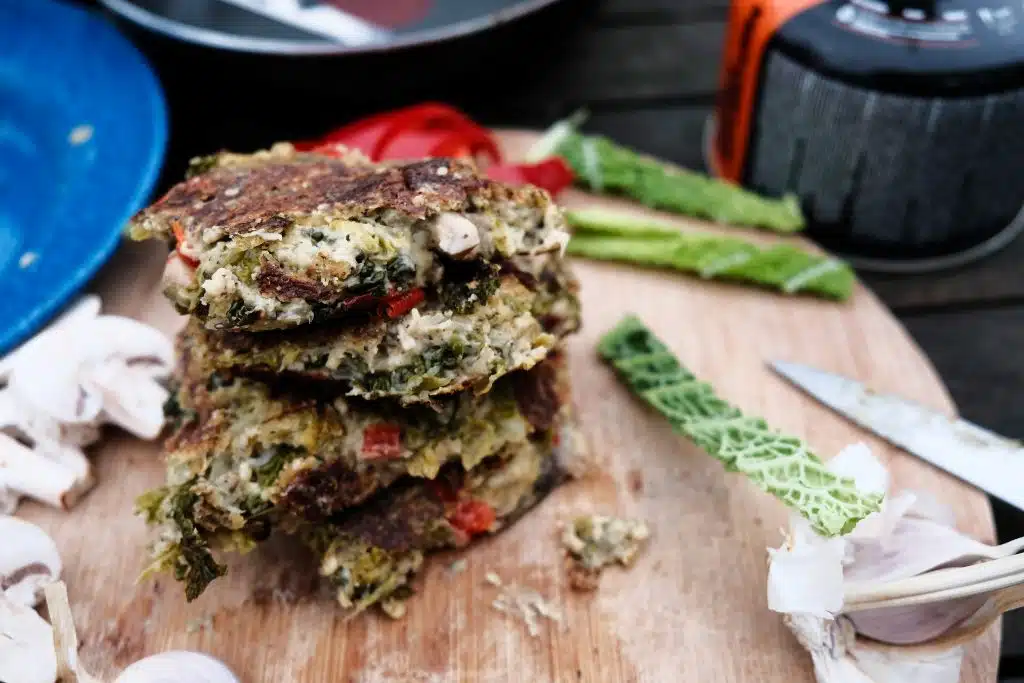 Give this recipe a go for yourself and let us know what you think in the comments below!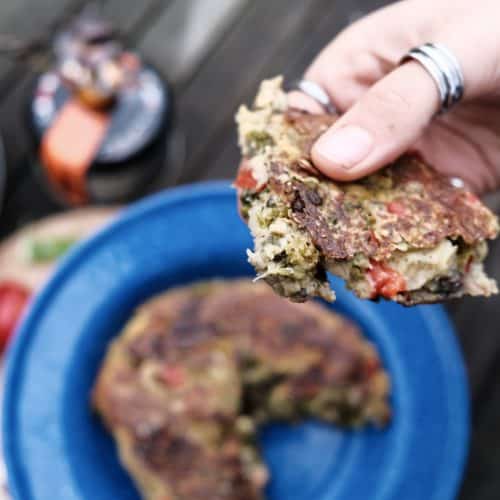 Chickpea Flour Omelette Vegan Recipe
Fluffy on the inside and crispy on the outside, delicious and easy vegan chickpea flour omelette recipe
Ingredients
2

shallots

2

cloves

garlic

2

leaves

cabbage

½

red pepper

3

mushrooms

⅓

cup

chickpea flour

– a.k.a gram flour

⅓

cup

oat milk

– You can substitue for any plant milk

⅓

cup

water

1

tbsp

dried basil

1

tbsp

dried oregano

1

tsp

English mustard

1

tbsp

mayonaise

salt and pepper to taste

1

tbsp

margarine
Instructions
Heat the butter in the pan on a low-medium heat whislt slicing the shallots and crushing the garlic.

Add to the pan to brown slightly, meanwhile slicing the cabbage, mushrooms and pepper.

Add the veg to the pan and cover to cook for about 5 mintues or until softened.

Whilst the veg cooks prepare the batter by combining the gram flour, water, plant milk, dried basil, dried oregano, mustard, mayo, salt and pepper in a bowl and whilsking to combine.Then leave to set whilst stirring the veg ocassionally.

Once the veg has softened a little pour over the chickpea flour omelette batter and allow it to cook for about 10 minutes. You may want to use a spachelor to scrap the sides to avoid any sticking as it cooks.

After 10 minutes use a plate to flip the omelette and cook on the other side.
Nutrition
Calories:
250
kcal
Carbohydrates:
26
g
Protein:
8
g
Fat:
13
g
Saturated Fat:
2
g
Trans Fat:
1
g
Cholesterol:
3
mg
Sodium:
183
mg
Potassium:
538
mg
Fiber:
6
g
Sugar:
9
g
Vitamin A:
1343
IU
Vitamin C:
42
mg
Calcium:
176
mg
Iron:
5
mg
Chickpea Flour Omelette: Delicious and Simple Vegan Recipe