After putting this sustainably made rucksack to the test, here's our Cotopaxi Tarak 20L review
---
Cotopaxi is a conscious company who have designed the Tarak 20L backpack in line with its ethical principles. TheTarak 20L is from their Del Día range, which uses repurposed materials from off-cuts to create completely unique products.
This rucksack is designed to be multi-functional for ice climbing, hiking and lead climbing. With purpose-built features, it's intended to be lightweight, practical and adaptable.
Over the past several months I've been putting this eye-catching pack to the test to see how it holds up. Here's what I thought of it and how it's faired in the wild.
This product was sent to us to review by the manufacturer but the thoughts and opinions are completely our own. This article may also contain affiliate links.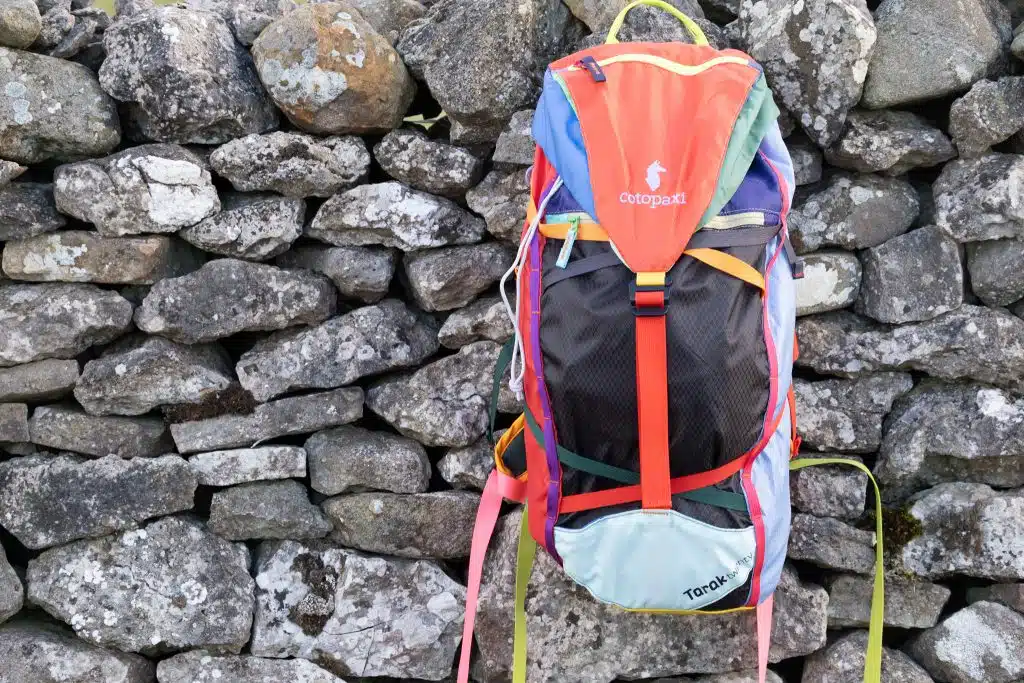 What Does It Say on the Box
Cotopaxi says the Tarak is designed for multi-pitch lead climbing, backcountry skiing and all-day hiking. The no-frills, streamlined, lightweight design has purpose-driven features with the wearer in mind.
The ice tool system demonstrates this with its simple and easy-to-access design. There are multiple configurable compression and lash points to carry extra gear. The zippered top lid lets you access small essentials and doubles as a lash point for a rope.
In total, it has three zippered pockets and a bladder sleeve. The hip strap and foam back pad are also removable.
The Tarak bag is from the Del Día range which is made from repurposed materials, meaning each bag is unique.
Material: 210D ripstop nylon
Volume: 20L
Size: 50.8 x 30.5 x 17.8 cm (20 x 12 x 7 inches)
Weight: 562 grams (1.24 lbs)
Removable foam frame and hip belt
Lightweight streamlined design
Icetool carry system
Configurable compression and lash points
How I Put the Cotopaxi Tarak to the Test
Cotopaxi has designed this rucksack to be multifunctional for climbing, skiing, hiking and general use. I have predominantly used it hiking, bikepacking and for casual use.
It's accompanied me on all-day hikes, bikepacking trips and a few pints at the pub. It's been used from winter through to summer to get an idea of the comfort in different temperatures.
I've packed it pretty full at times and also a bit lighter to see how the pack weight is distributed.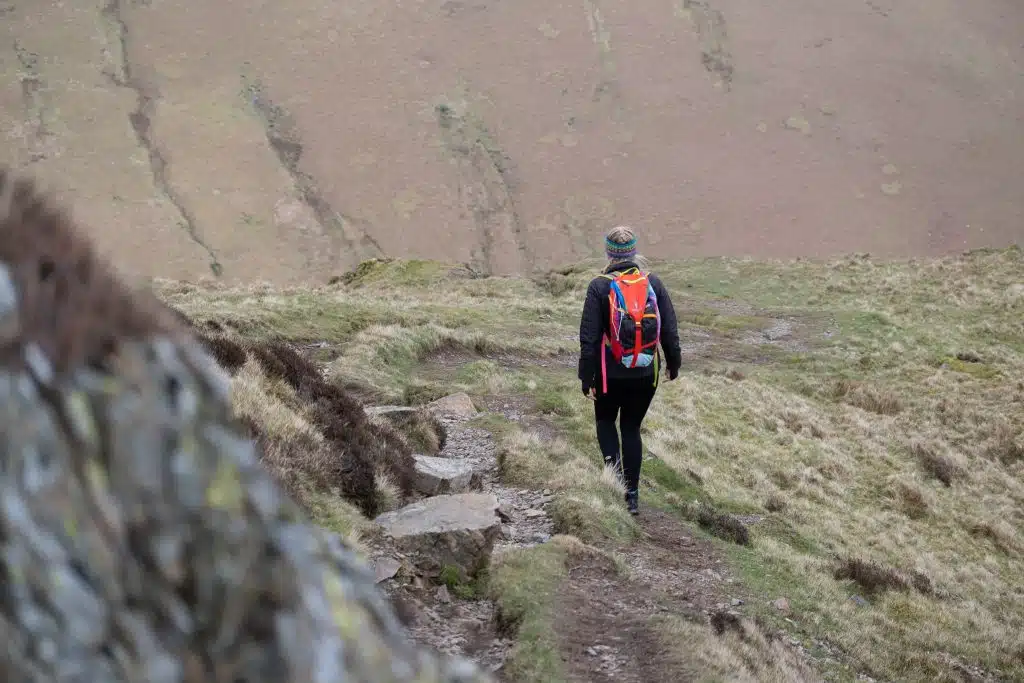 Comfort
The backpack is comfortable and after wearing it all day with a full load, you're not gagging to take it off. The weight from my gear and supplies inside stays put even with the flexible design of the bag.
It has a detachable hip belt and a sternum strap which add to the overall comfort and are features that I really appreciate to take the load off your shoulders. These can sometimes be missing from smaller capacity bags so I was glad to see them feature.
The padded back panel offered comfort but isn't too bulky or restrictive. I will say the bag is fairly long measuring 20 inches which some people may find restrictive. At 5'ft 4″ I never had an issue with this but it may be something to consider if you're shorter.
For all-day use, I did find the hip belt a little uncomfortable. The lightweight design of the bag means the strap is very minimal with no padding. Through winter this was less of an issue as my warmer layers added some cushioning between the strap and my body. In the summer, however, the straps are less comfortable. Especially compared to other hiking rucksacks and the padded hip pads that this bag lacked.
---
If you're after more outdoor guides and honest gear reviews, sign up for our newsletter to get our latest posts
---
Versatility
As I mentioned, Cotopaxi has designed the Tarak 20L to be multi-functional, for a range of outdoor activities.
It's designed with skiing and ice climbing in mind and with purpose-driven features. The size of the bag easily accommodates a ski helmet with a secure system for carrying ice tools. The simple buckle of fabric at the bottom and straps at the top mean tools can easily be accessed on the move.
The multitude of attachments on the outside of the bag lends themselves to multi-pitch lead climbing trips. The lid also doubles up as a lash point for a climbing rope.
The 20L capacity of the bag means it can easily carry all you need for a day hike, even through winter. I have managed to fit a 2L bladder, waterproof, layers and supplies easily. It's also big enough to carry a laptop and some groceries for lugging about town running errands.
Practical Features
The lid pocket is deep enough to easily carry your phone, purse, suncream and other easy-to-access bits. There's also an additional front pocket and inside pocket for additional organisation that are handy. I'm a sucker for pockets.
The bladder pouch is big enough for a 3L bladder with a buckle at the top to keep it in place. The only snag is there is no hole for the bladder to come out of the top of the bag. This means it has to hang at the side rather than exiting towards the wearer's face.
The foam frame sheet at the back of the bag is easily removable which can make the bag even lighter and malleable if you want to stuff it for longer trips.
There is no built-in waterproof bag cover. This isn't too uncommon for a bag of this size but it does mean carrying a separate one for rainy days.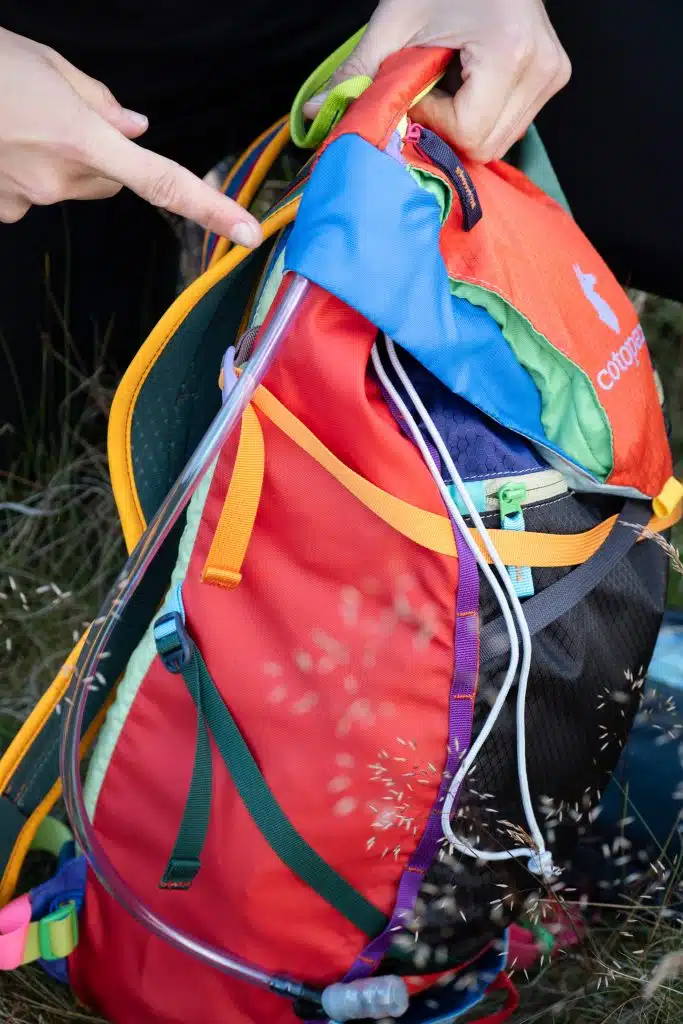 Durability
I've worn this pack from winter through to summer and so far there are no obvious signs of wear. Top-load drawstring bags do tend to have a longer lifetime so I expect it to last.
The Tarak backpack is made from 210D ripstop nylon, which isn't considered very abrasive resistant, so you may expect to see more signs of wear when climbing with it frequently.
Weight
At 562 grams / 1.24 lbs it's about mid-range for a bag of this size. When considering the lightweight materials used and the lack of additional features such as padded hips, this seems weighty. You can remove the hip strap and foam back pad which will make the bag a little lighter.
---
---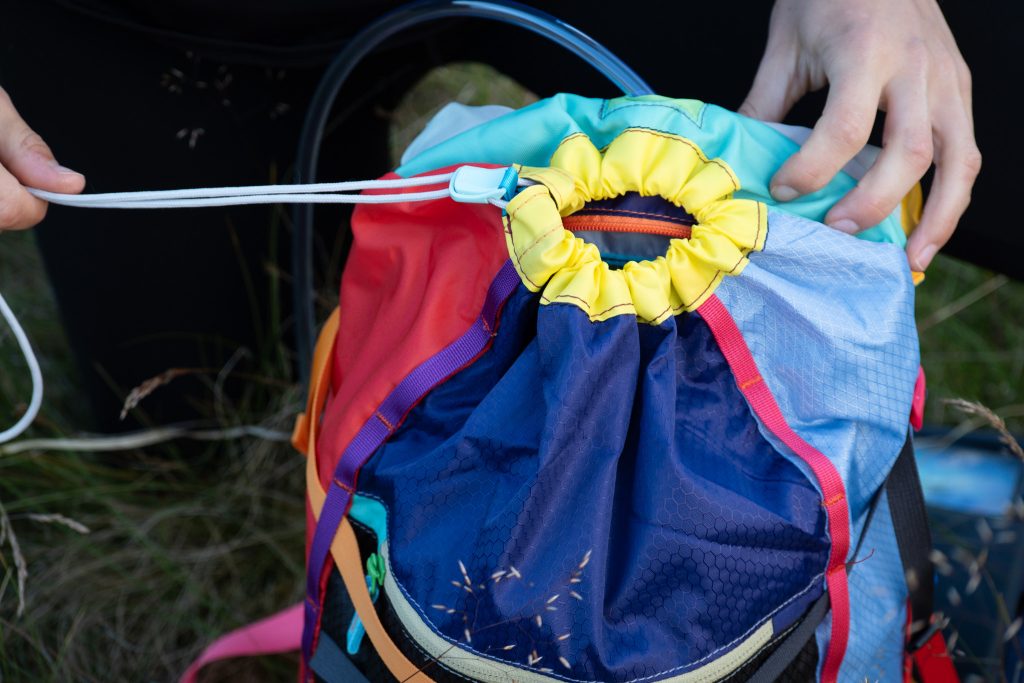 Sustainability & Vegan
The Tarak rucksack is from Cotopaxi's (Re)PurposeⓇ Collection which uses up fabrics left over from other companies' production lines. The Tarak bag is from the Del Día range where the off-cuts are used to make completely unique items. This means each bag is one-of-a-kind with a completely different design to the next. This makes the bag extraordinarily eye-catching and distinctive, I also really love that no two are the same.
Although not clearly labelled these bags are also accidentally vegan. Most outdoor rucksacks use synthetic materials which makes them animal-free.
The bag also comes with a lifetime warranty and repairs which gets an extra big green thumbs up from us.
Cost
The Cotopaxi 20L rucksack comes in at £100 or $100 which is on the pricier side for a rucksack of this size. However, when you consider the lifetime and repair warranty, along with the sustainable ethos behind the bag and company, it puts this price in perspective.
Verdict
The eye-catching unique design and sustainable ethos behind this bag means it gets a thumbs up from me. It's on the pricier side but the practical design and storage options make it great for trips.
Pros:
Vibrant and unique design
Sustainably made by an ethical company
Multiple pockets and storage options for a range of outdoor activities
Cons:
On the pricier side for a bag of this size
No bladder hose hole towards the user's face
No waterproof bag cover
Where to Buy Cotopaxi Tarak Rucksack