Planning to spend the day on the trail but not sure what to take? This guide has everything you need to know so you can pack for a day hike like a pro!
Day hiking gives you the best of both worlds. Experience all the awesomeness of the outdoors in a day, without worrying about the extra planning and heavy rucksacks that come with multi-day options.
Pick a short path for the afternoon or a gruelling route that makes the most of 24 hours. Whichever you pick, some of the most beautiful hiking trails in the world are easily manageable in a day. Day hikes also generally require less planning and equipment, making them ideal for last-minute trips or the perfect introduction to hiking for beginners.
With that said – there are still plenty of day hiking essentials you shouldn't leave home without – for two reasons…
Taking the right gear will help you embrace the outdoors even in bad weather. This means you can

get outside more often and make the most of your time on the trail!

No matter how short or easy your hike may be, going unprepared can turn even the most stunning hiking trail into an unenjoyable and potentially dangerous experience.
Now, if you're thinking 'I have no idea what to wear hiking… or what to pack', you're in the right place!
Over the years, through lots of trial and error, we've whittled down our day hiking gear to include only the best outdoor essentials you need and nothing extra to weigh you down.
This packing list includes:
Hiking essentials (the stuff you should always take with you)

Hiking clothes for summer and winter

Medical and safety gear

Food and water

Extra bits and sustainable considerations
As always, all the products below are vegan-friendly and were picked with sustainability in mind.
This article contains compensated links which means if you make purchases through them we may earn a small commission. This is never of extra cost to you and goes to help Veggie Vagabonds keep running.
Before we start…
Your hiking checklist should be determined by your destination, the geography, time of year, hiking infrastructure etc. You probably don't need all the latest and most expensive outdoor gear, instead, this guide will show you a recommended kit list for summer and winter hiking trips, you can then pick the right gear for you.
If you're planning on hiking in new or remote regions, through potential weather extremes or on your own, it is very important to go with the right equipment and the hiking essentials.
In this article, we've listed Hiking Essentials! which you should strongly consider taking on every hike to stay safe. It's also worth spending more on them and saving on the others.
And, if you're planning a longer, more challenging trip, you might want to check out this article on planning big adventures. 
Ethical Adventures
The world will be a better place with more ethical adventures and part of that means buying responsibly.
If you're planning your first hike in a populated area that you're familiar with, in good weather, then don't feel like you need to purchase lots of specialist outdoor equipment.
Go in comfortable activewear that's suitable for the weather with a good pair of shoes and get outside. Once you've caught the outdoors bug, which I'm sure you will, then think about upgrading your gear if you need to. You can find out more in our guide to ethical outdoor gear.
Fancy trying hiking for the first time, or want some extra tips? Check out our Beginner's Guide to Hiking or our Hiking Tips for Beginners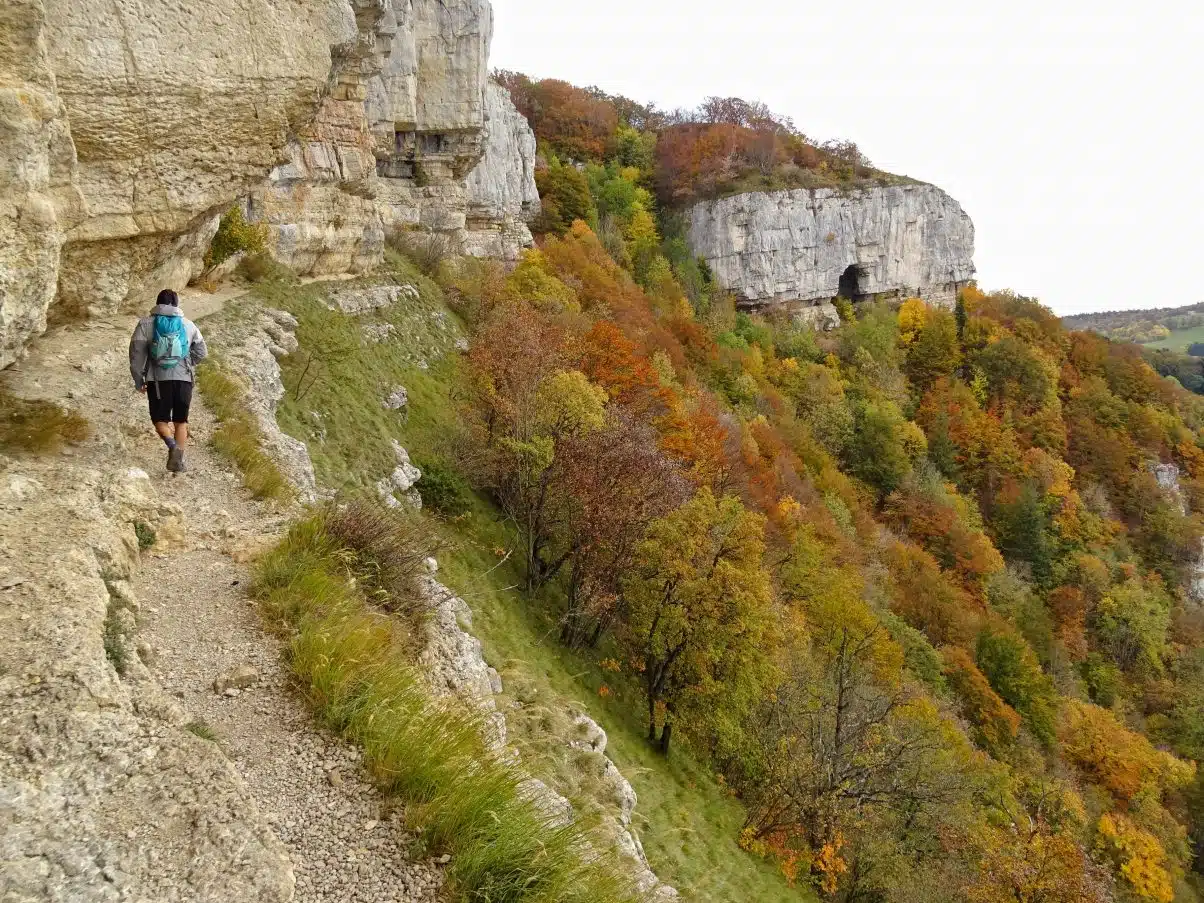 Day Hiking Essentials
As mentioned above, consider taking these essentials on every trail, they don't weigh much but they will keep you safe. Our advice, keep them stored together so they can't be forgotten and you're more prepared for last-minute adventures!
Hiking Backpack (W. Rain Cover) –
Hiking Essential!
We recommend: Deuter Speed Lite 24
The best daypack size is around 20 – 30 litres, with enough room for all your essentials but without any unnecessary weight. It should evenly distribute weight across your back and shoulders whilst being comfortable for long days, even with heavy loads.
The Deuter Speed Lite has size options from 12, 16, 22, 26 and 32 litres, with specific designs to fit men and women. The 24-litre model has an impressive size to weight ration (only 770g), adjustable strapping to suit your body type and padded hips for extra comfort.
It's reasonably priced, hardwearing and has an inside hydration compartment for water bladders – everything you need for a day hiking backpack.
Money/Wallet –
Hiking Essential!
Keep your money, bank cards or wallet safe in an inside compartment of your bag and make sure it stays dry. You'll find waterproof drybags for this further down the packing list.
Planning a trip abroad and now sure how to handle your money? We wrote a guide!
Phone –
Hiking Essential!
We recommend: Motorola G6 Play
The Motorola Play ticks all the boxes, being affordable, taking good pictures and a battery which will run for 2 days using GPS on aeroplane mode. Just make sure you save the battery for emergency situations!
This is the phone we both use as the battery never lets us down!
Hiking Navigating system (GPS/map and compass) –
Hiking Essential!
We recommend: Garmix eTrex 30
It's recommended to have two forms of navigation, particularly if you're hiking in remote areas you don't know. You can use a GPS app on your phone (like Maps.Me) and then a map and compass or GPS system.
For handheld hiking GPS machines, you can't go wrong with the Garmin eTrek 30. It's a cost-effective topographic map and tracking system you can follow routes and upload your own GPX files to keep on track.
NOTE: a GPS for hiking is advised if you're getting off the beaten track or going out in difficult conditions. If you're planning a hike in populated areas that you know then you can probably skip this one.
Penknife –
Hiking Essential!
We recommend: Leatherman Rebar
We love the Leatherman Rebar, it's a real lifesaver in the outdoors, doing everything you could need in a nice handy size and comes with a lifetime warranty. Keep it in an easy to access part of your backpack.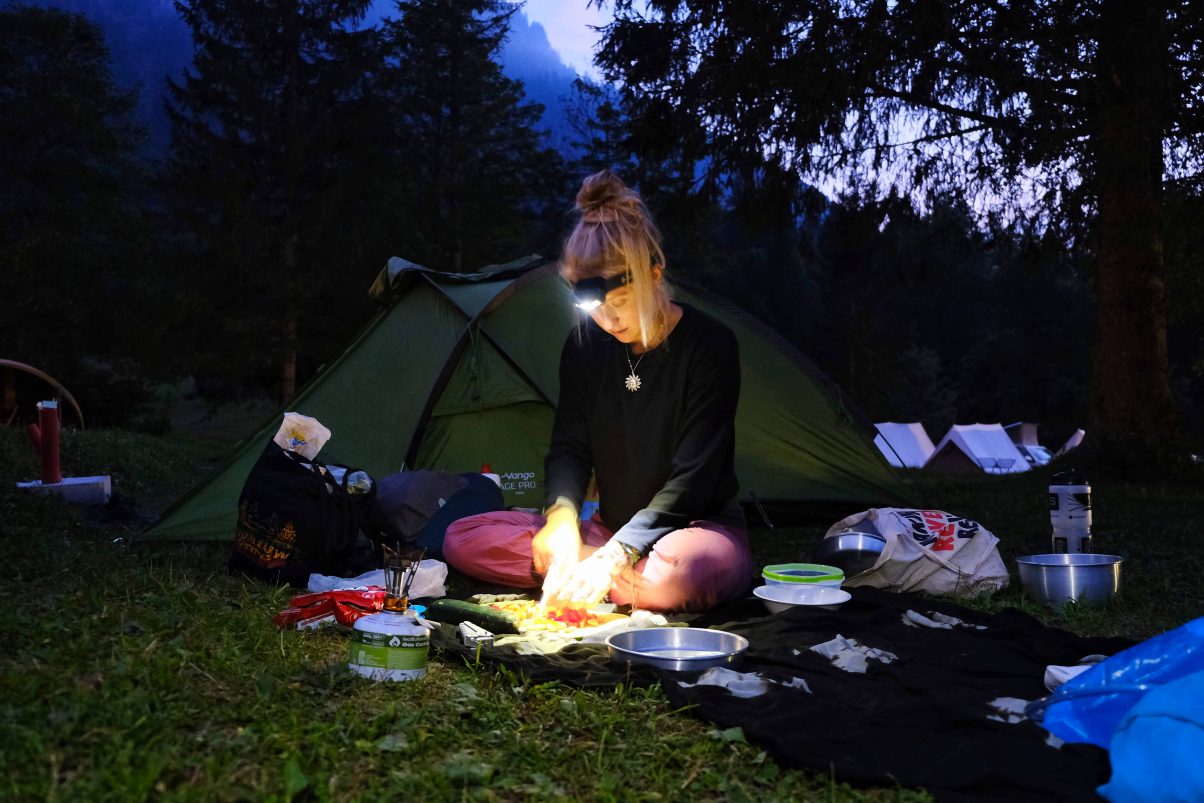 Outdoors Headtorch –
Hiking Essential!
We recommend: Black Diamond Storm
Even if you're not hiking at night it's best to take a headtorch just in case. This Black Diamond torch is waterproof, 350 lumens (BRIGHT!) and one tough cookie – keep it in your rucksack!
Wristwatch –
Hiking Essential!
We recommend: Casio (cheap and cheerful!)
Knowing how many hours of daylight you have is important so you don't end up needing that headtorch. The Casio is cheap with no thrills but does exactly what you need it to do and will last. It hasn't let us down yet!
Medical and safety gear –
Hiking Essential!
We'll get more into this a bit further down, but make sure you pack it!
Hiking snacks and water –
Hiking Essential!
We recommend: Our guide to vegan hiking snacks!
Without doubt, this is a seriously important aspect you shouldn't neglect. Always take ample food and water, even if it seems like it's going to be an easy hiking trail. We get on to this properly further down, so keep reading!
Camera
We recommend: Fujifilm X-T30
It won't save your life but if you enjoy photography I think you'll agree it's an essential, whether it's for a day hike or a multi-day adventure.
Fujifilm's X-T30 is seriously lightweight, has good battery life for a mirrorless camera and takes absolutely beautiful photos straight from JPEG. It's a joy to use and the perfect way to document the wonders you find.
READ MORE: Preparing for a photo-based hike? You might want to read this guide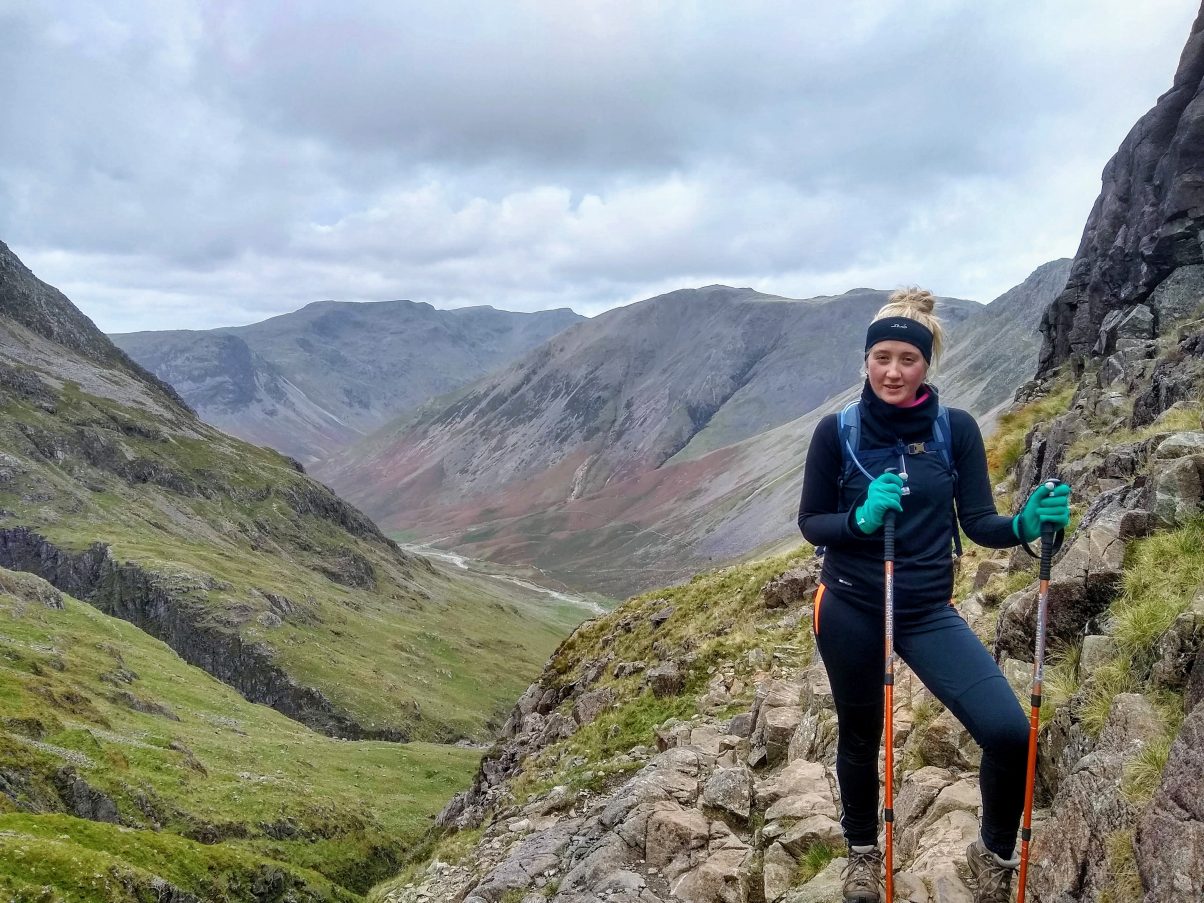 Day Hike Packing List: What to Wear Hiking in the Summer
Unless you're going out in extreme heat, you can be slightly more relaxed with your summer hiking gear, just as long as you know the weather won't turn.
As a general rule, try to avoid cotton and make sure your hiking clothes are lightweight, loose-fitting and moisture-wicking. This will help your body regulate its temperature by quickly drying and removing moisture from your skin, which helps to stop chafing too: the summer hiker's arch-nemesis!
If you want more tips on hiking it hot conditions, here's our handy guide!
Lightweight hiking shoes –
Hiking Essential!
We recommend: Merrel Agility Peak Flex 2
A good pair of hiking shoes will keep you steady on unsavoury terrain and should be your first consideration when thinking of what to wear hiking.
In warmer temperatures, a good option are low ankle hiking shoes or trail runners, which are often lighter with better breathability. We whole-heartedly recommend the Merrel Agility Peak Flex, they're 100% vegan and have barely been taken off since buying them
You can read our review of these awesome outdoor shoes here
Moisture-wicking underwear
We recommend: Men's Under Armour shorts & women's sports bra
For men, these breathable lycra undershorts from Under Armour can be a godsend as regular boxers do not allow air to ventilate properly and can cause chafing (you don't want to chafe there, believe me!).
Good hiking underwear for women would be well-fitted synthetic or spandex briefs that avoid chafing and a fitted sports bra.
Hiking socks
We recommend: Bridgedale lightweight hiking socks
These socks are hardwearing and breathable which helps stop chafing, athletes foot and heat rash.
Lightweight hiking shorts/trousers
We recommend: North Face trousers
The zip-off North Face trousers are very versatile, lightweight and durable. The shorts and trousers option is useful if the weather looks unpredictable, so you can change according to the weather.
Moisture-wicking longsleeved baselayer
We recommend: men's & women's Mountain Warehouse Endurance baselayer
You want one that's lightweight, well-fitted and importantly moisture-wicking to help you feel comfortable in the heat.
Microfleece
We recommend: Berghaus Prism Fleece Men's & Women's
Temperatures drop with a breeze or at higher altitude so it's good to pack a lightweight fleece or top. Get one which is moisture-wicking and warm enough for your hike.
Waterproof –
Hiking Essential!
We recommend: Mountain Hardwear Thundershadow
The right hiking waterproof will be lightweight, well ventilated and can be used to protect you from wind, rain and other elements. Even on a warm day, you can end up uncomfortably cold if you get caught in a shower and your clothes get wet.
It's a good idea to keep your waterproof with just in case the weather changes. I love the Thundershadow and the ventilation slits under the arms mean it's still comfortable to wear when it warms up.
Sun hat & sunglasses
We recommend: Columbia Bora Bora Hat
The hat can help prevent heatstroke and the glasses are helpful on dusty trails.
Buff/bandana
We recommend: Unisex Buff
Shield your head from the sun, hold back your hair or cover your mouth and nose in dusty conditions. A buff can also provide a surprising amount of warmth when used as a scarf around your neck. Being so light and cheap it's worth keep one in a compartment of your rucksack in case you need it.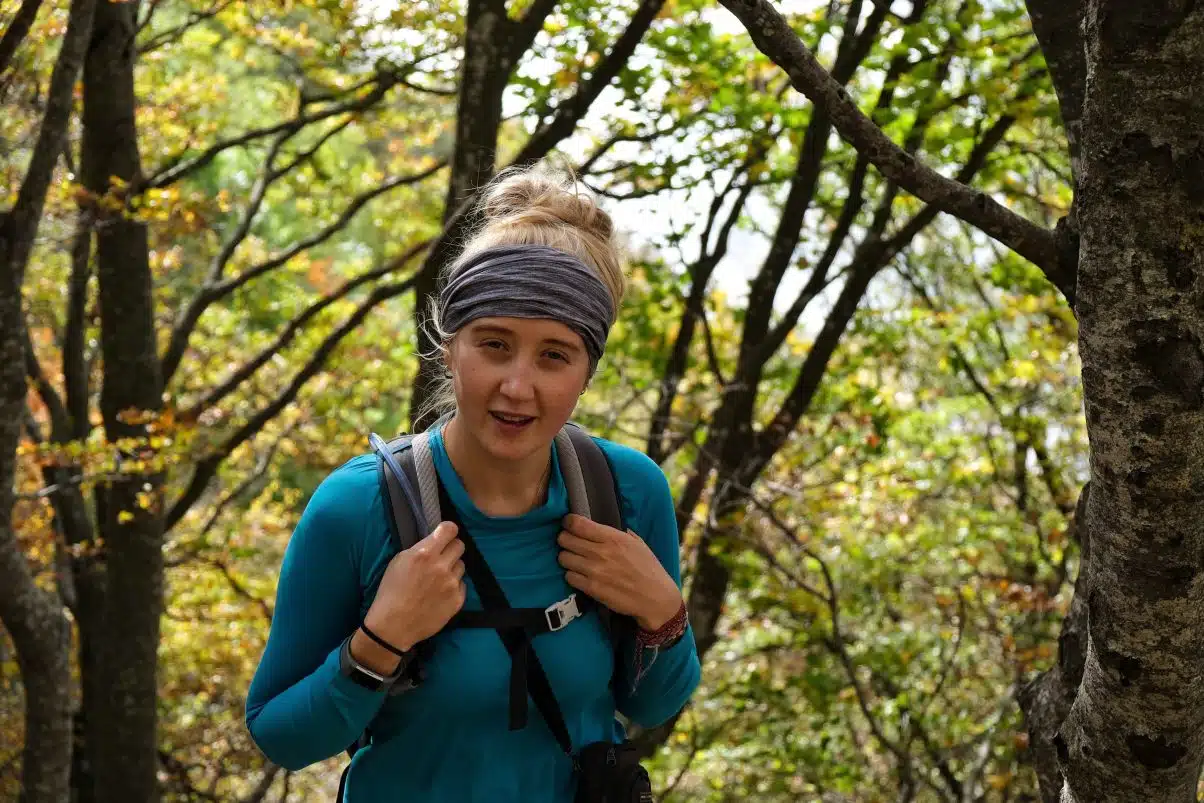 Day Hike Packing List: Hiking Clothes for Winter
When it comes to hiking in the winter you do need to be more careful about your gear. Conditions can change quickly, temperatures plummet and snowy conditions intensify quicker than you'd think.
A few important tips for the winter:
Plan your day hike properly and check the weather forecast so you know exactly what to expect.

If you are thinking of hiking in snow or extreme cold then assume it's going to be colder than it is. In bad conditions, it's

always

better to have it and not need it than need it and not have it.

To stay warm you need to stay dry, so waterproof layers are crucial if it's wet. Also, make sure all of your inner layers are quick-drying and moisture-wicking to help keep your body dry. In cold weather, any moisture on your skin will have you feeling ice cold!

Cover as much exposed skin as possible. This means full-length arms and legs, gloves, hats and neck warmers.
If you're going to be hiking in winter or camping, you might appreciate these extra tips!
Waterproof hiking boots –
Hiker's Essential
We recommend: La Sportiva Trango TRK GTX
When it's cold, wet or snowy it's best to go with high-ankle, waterproof hiking boots. These will give you the best ankle support and help to keep your feet warm and dry. If water gets through to your feet in cold temperatures it can ruin the whole day.
The La Sportiva Trango boots are surprisingly lightweight, have great breathability and are completely waterproof.
Whilst hiking they're very comfortable and supportive, thanks to the 3D Flex section, plus they're 100% vegan!
It's worth investing in a pair of these and taking them on trails for years to come, rather than finding a cheaper pair you might need to replace every year. Mine were bought second-hand and have still lasted me for years!
MORE INFO: Want more vegan-friendly hiking boots? Check out this guide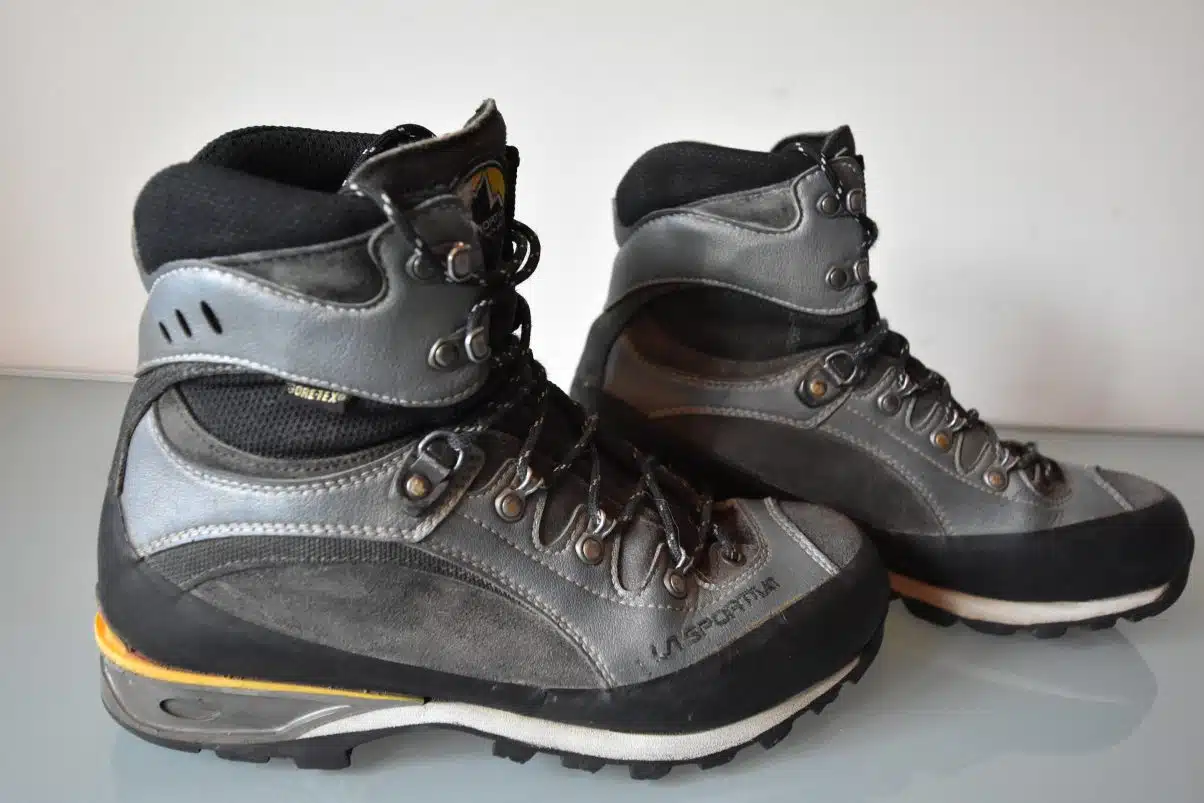 Thermal underlayers (long-sleeved top and trouser bottoms) –
Hiking Essential
We recommend: Sub Sports Thermal Underlayer Men's & Women's
Get the right thermal underlayers and you won't have to worry about hiking in big coats, which can be tiring and slow you down.
These thermals from Sub Sports are best when fitted tightly but are lightweight, affordable and really keep you warm, even in extreme cold. You can get short versions but for maximum warmth go for long ones.
Insulated hiking socks
We recommend: Bridgedale Trailhead Socks
Bridgedale make awesome vegan hiking socks which are made from synthetic Coolmax materials and are perfectly suited for hiking in cold weather. Remember, if it's seriously cold, there's nothing wrong with wearing two pairs!
Waterproof/insulated hiking trousers
We recommend: Berghaus Deluge Waterproof Trousers & Women's Under Armour Leggings
The Deluge waterproof trousers from Berghaus are light, warm and waterproof whilst still allowing lots of movement and breathability. If things get really cold then you can also opt for insulated hiking trousers which have a thermal lining.
Another popular option for women (and Sarah's prefered leg layer) are these Under Armour leggings which are extremely comfortable and can be worn with another thermal layer underneath or a waterproof layer over the top.
Moisture-wicking longsleeved baselayer
We recommend: Berghaus Tech Thermal Long Tee Men's & Women's
Very similar to the one mentioned in the summer hiking gear, just go for a thicker, warmer one you can wear on top of your thermal underlayers. You can also go for insulated baselayers or wear more than one if it's really cold.
Insulated fleece
We recommend: Berghaus Prism Fleece Men's & Women's
A nice thick fleece layer to wear on top of your thermal and baselayers is great way to keep warm. This one from Berghaus has great warmth for its light weight and packs down easily so you can throw it in your rucksack if it gets warmer.
Insulated jacket –
Hiking Essential!
We recommend: The North Face Thermoball Jacket Men's & Women's
These jackets are designed to give maximum warmth with the smallest size and weight. They're also designed to be active in, so they insulate warmth and allow movement but still have ventilation so you don't overheat. You can wear them as an outer layer if it's dry or with a waterproof over the top if it's wet – they're an essential piece of hiking gear that will likely become your best friend!
Probably my favourite piece of kit is my Thermoball jacket from The North Face. It's the perfect size to always keep with you but can really keep you warm when it starts to get cold. I love it and highly recommend it for pretty much any outdoors packing list.
Want to read our full review of the Thermoball? You also might want to see our insulated jacket buyer's guide which has lots of other options too!
Winter hiking coat –
Hiking Essential
We recommend: Mountain Hardwear Thundershadow
There are two options:
Firstly, you can go for a regular waterproof outer layer to keep you dry and add more inner layers for warmth (e.g more baselayers, fleeces).
Secondly, you can go for an insulated waterproof coat which will keep you dry and warm.
However, insulated waterproof coats are often heavy and can be too warm. If you get too hot and want to take it off you then don't have a waterproof layer.
We go with option 1 as you are more agile and it's better suited to changeable weather.
We picked ours up second-hand, just go for something warm and lightweight!
Neckwarmer
We recommend: New Balance Fleece Neckwarmer
This will help you to stop losing body heat at the neckline of your layers/jackets etc. You can tuck it into your baselayers and have it covering your mouth, nose and face which really helps for warmth.
Gaiters
We recommend: Berghaus GTX Gaitors
Hiking gaiters are attached between your shoes and trouser leg to provide waterproof protection. If you're hiking in the snow or heavy rain on a cold day then these are a must to keep your feet dry.
Make sure to take additional layers!
Always keep additional warm layers with you in your rucksack, just in case the weather turns.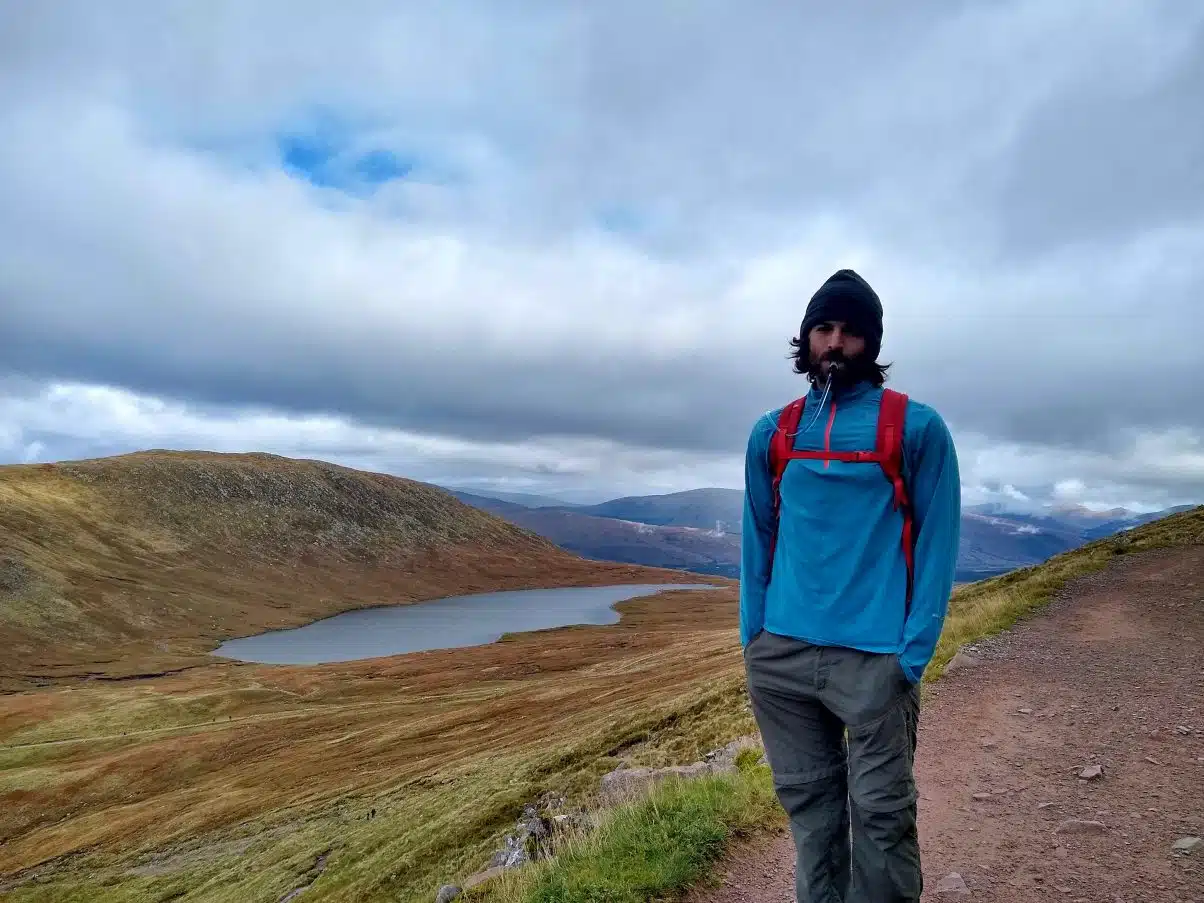 Day Hike Packing List: Medical and safety gear
All of this section is small and lightweight but should be considered a Hiking Essential that you take on every hike. If you're going hiking abroad make sure you've got the best travel insurance too!
First aid kit –
Hiking Essential!
We recommend: Camping and Hiking 100 Piece First Aid Kit
Not sure what to put in a hiking first aid kit? This mini kit comes with all the essentials you could need, including:
Antiseptic/antibacterial wipes or ointment

Assorted bandages and gauze pads

Hand sanitiser

Medical tape

Blister relief

Antihistamine/bite relief

Non-stick pads

Butterfly bandages

Emergency foil blanket

Tweezers

Safety pins
Then you can add in extra health products, like:
Rehydration salts

Personal medication and prescriptions

Insect repellant

Suncream

Toilet roll
Hiking emergency gear –
Hiking Essential!
Again, these are small, cheap products that could save your life if you get into a difficult situation.
Emergency food and water supply (more info below)
Day Hike Packing List: Food and Water
Besides being able to have lunch in a beautiful location, taking enough food and water is an important safety factor. Even if you're planning a simple outing, plans have a habit of changing so it's best to be prepared
Hiking food
We recommend: our guide to vegan hiking foods
Make sure you take enough food to keep you filled with energy. The best foods for hiking have lots of calories and carbohydrates, you'll also want to take something salty to replenish your electrolytes. You can find more information on vegan hiking foods on the link above.
Remember to take extra food!
Water bladder
We recommend: Sports Tail 3 Litre Water Bladder
This water bladder is weight-efficient and slides conveniently into your backpack, allowing you to drink whilst you're on the go through the extended mouthpiece that attaches to the strap of your backpack. For £10 it's a bargain and makes staying hydrated much easier.
Water purifiers
We recommend: Aquatabs Water Purifiers
Use these to clean natural water sources (from rivers or streams). It's very useful if you're not around drinking water and means you don't have too much water at one time.
Remember to take extra water!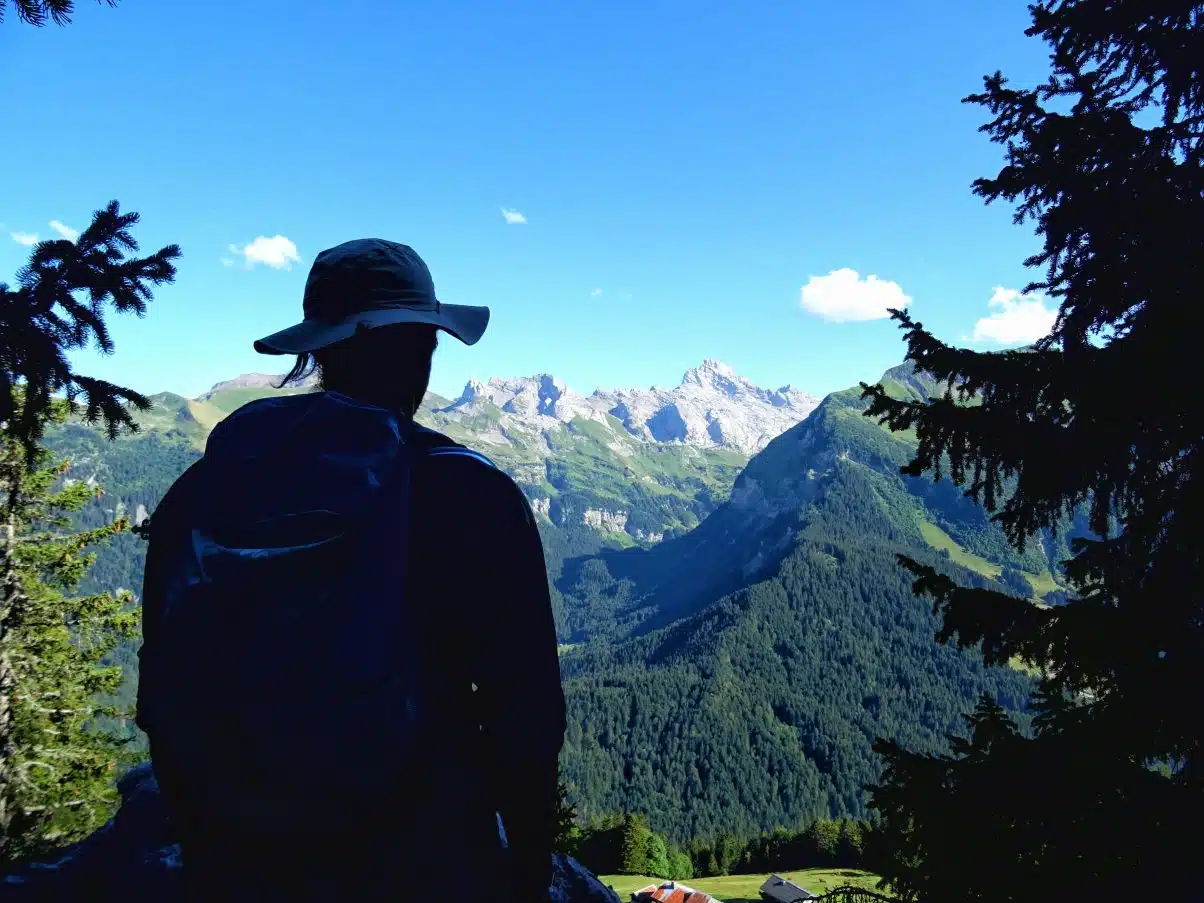 Day Hike Packing List: Extras
Hiking Poles
We recommend: Black Diamond Trail Sport 3 Trekking Poles
Hiking poles can take a lot of weight from your knees really help when you're going along rough terrain or at a steep incline/decline. These ones are lightweight and can be strapped to your rucksack easily.
Tripod
We recommend: Joby 3K Gorilla Pod Tripod
The Joby tripod is perfect for hiking photography as it's small and robust. The adjustable legs mean you can attach it to trees, posts or uneven ground and still get the perfect shot.
Waterproof bags
We recommend: Lightweight Multi-sized Dry Bags
Use these to keep all of your valuables safe in your bag – very important!
This book is a survival essential and if you like the outdoors, likely the best thing you'll ever buy. It's pocket-sized and has all the info you'd need to deal with any disaster situation and survival skills needed if things go wrong on the road.
Sustainable Hiking Considerations
When you hike you can explore some of the most beautiful parts of the world. They're also likely some of the most fragile environments too, so it's really important to make your hiking experience as sustainable as possible. Here are some tips that will help:
Leave no trace (take bags for your rubbish or food waste)

Don't disturb the wildlife or vegetation

Take responsible foods, a refillable water container and try to go plastic-free

Share the eco ethos!
For more suggestions, check out our sustainable hiking tips and planning guide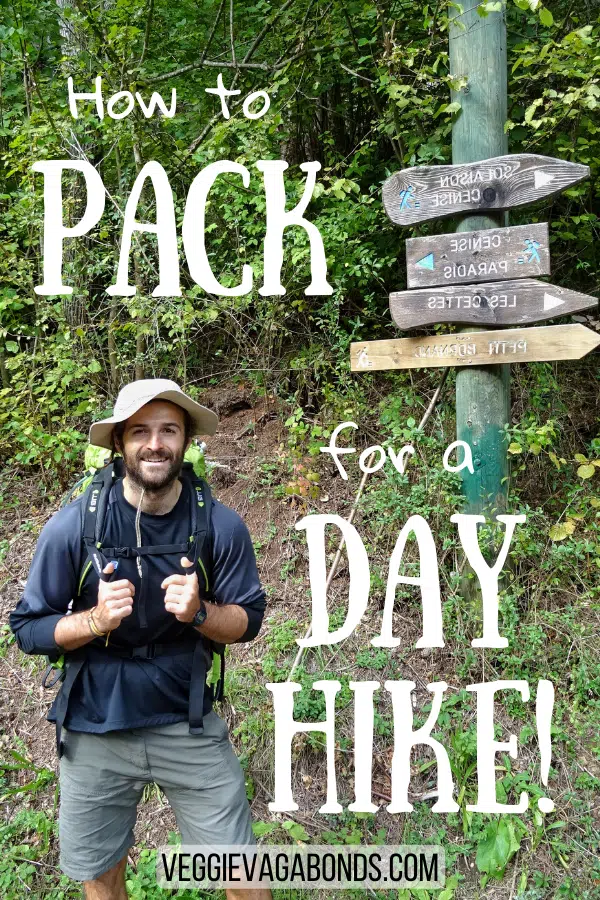 Day Hike Packing List: Outdoor Clothes, Gear & Hiking Essentials
If you've got to this point, now you can pack like a pro for your next day hike! As we mentioned in the article, pay close attention to the Hiking Essentials, these are the things which will really make the difference on the trail. You can make do with a cheap base layer if you're hiking in the summer but a good pair of shoes are invaluable.
Most importantly though, get out there and explore!
As long as you're safe and comfortable then go get hiking and slowly build up your hiking gear – don't let it hold you back. The natural world is filled with an untold amount of adventures and day hikes are one of the best ways to find them!
Remember if you have any questions, or want to share some of YOUR day hike packing list then drop us a comment below!
Keep exploring…
The Complete Guide to Hiking The Pyg Track, Snowdon
18 of the Very Best Hikes in the UK You Need to Explore
Start Your Own Accessible Adventures
Find the rest of our Gear and Reviews here
Outdoor fanatic? Vegan adventurer? Nature lover? Sign up for our mailing list to see all our latest articles, antics and also get the Ethical Adventure Planning Guide!