Simple but effective eco camping tips to make your next trip an ethical adventure
---
After finding a beautiful spot – perhaps in front of a lake or overlooked by towering trees – your bags go down, the tent goes up and cosy layers go on.
The fire gets lit. You begin preparing a feast, feeling the heat of the flames on your face and listening to embers crackle under the twilight sky. With a full belly, you zip up your sleeping bag and drift off to the symphony of wildlife in the environment around you.
In the morning, you rise with the sun and the smell of dewy grass, warm your cockles with a brew and marvel at the landscape around you.
This is camping.
It's probably the best thing ever and it's all because of the breathtaking natural settings you can do it in. But, these wild places are also some of the most fragile in the world and we've all got a responsibility to protect them (especially as camping lovers!).
That's where these eco-friendly camping tips come in.
It's honestly easier than you might think, can save you time and money too. But most of all, it means you can spend your nights sleeping under the stars and know you're helping to protect that experience for generations to come.
In this guide you will find:
This article may contain affiliate links, they will never cost you more money but helps Veggie Vagabonds keep making content like this – thank you!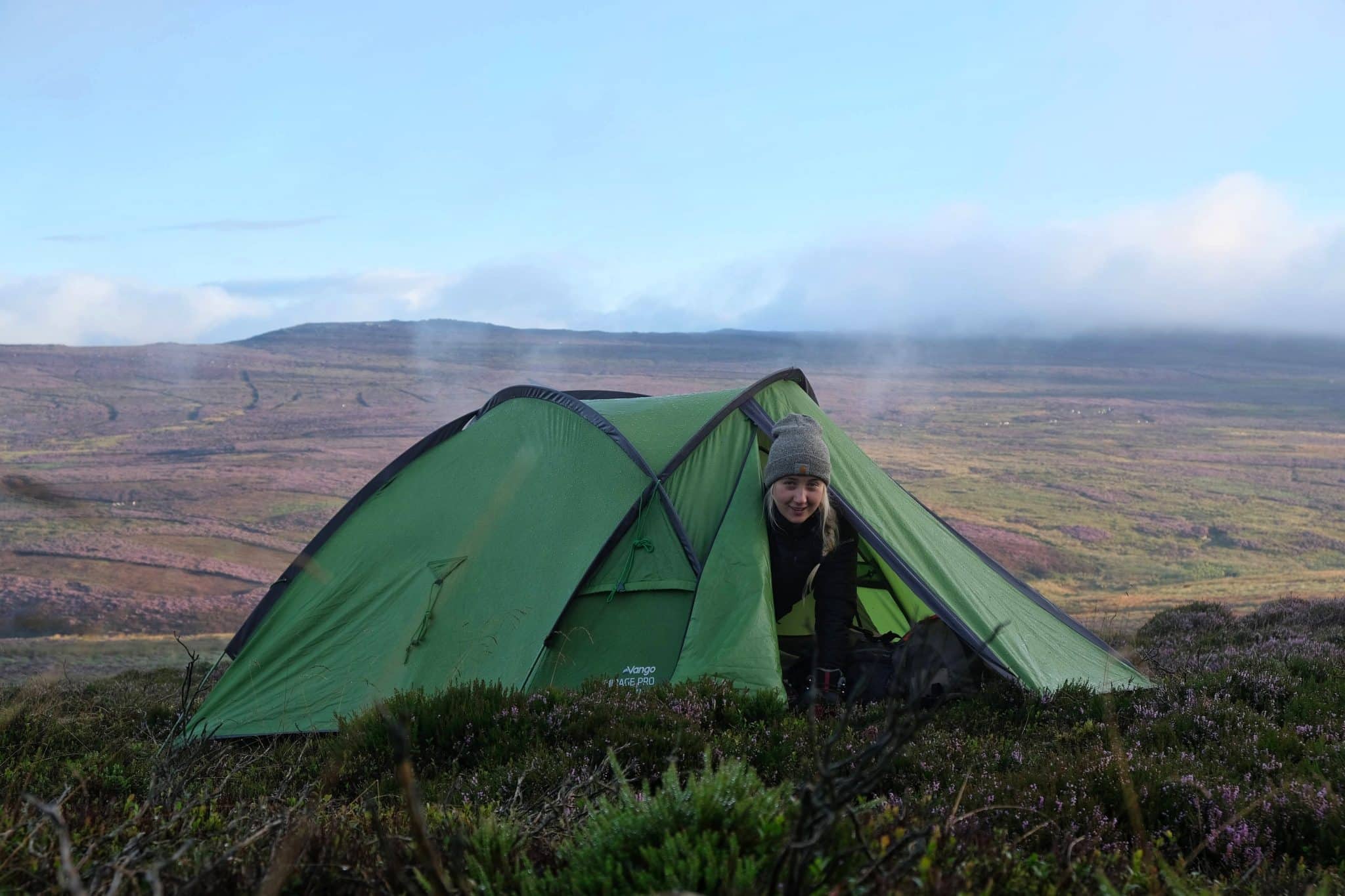 Why is Eco-Friendly Camping so Important?
Camping has become seriously popular, and rightly so.
Whether it's a one-night nature fix or a multi-day expedition, us happy campers are spending more time in natural areas than ever before.
This is AWESOME – we just have to be careful how we're doing it because our actions have a big impact, especially in wild areas.
Exploring hiking trails, observing local wildlife, camp stove cooking, lighting fires, disposing of rubbish and even going to the toilet… it can be easy to cause damage without realising…
As Mufasa famously says in the Lion King: "it's our duty to protect these places whilst we're here"
Wise words from a wise king!
That's Where These Easy Environmental Tips Come in
This eco camping guide will help you protect your surroundings and make your tent-time a beautiful experience for all.
A bit of planning, a few considerations and some ethical alternatives can go a long way – it becomes second-nature after one sustainable camping trip – so becoming an eco camper is surprisingly easy!
Honestly, it's not hard, it can save you money and even add to the adventure!
And a Quick Word Before We Get Into Things…
Making a camping trip more eco-friendly is not about perfectionism. It's about making steps in the right direction. Don't feel like you gotta take all these tips on board straight away, do it by bit.
Make a few sustainable swaps here and there and build your way up!
For loads more ethical adventure inspiration and outdoor resources, be sure to sign up for our mailing list below!
Stage 1: How to plan an eco-friendly camping trip like a pro
1. Pick the right camping location and go at the right time
Camping hotspots get REALLY busy, particularly in high season, and it can put a strain on the environment.
Consider choosing an alternative destination or planning your camping trip in the low season. Besides it just being better for the environment, checking out unexplored places is definitely more fun.
It's also important to consider the local wildlife in the area. If, for example, it's deer mating season in a particular place it may not be a good idea to camp. It could disturb the natural order of things and you could also end up on the receiving end of a horny deer!
READ MORE: our Beginner's Guide to Camping is also a great resource for trip planning that will be useful if it's your first time.
2. Can you use green transport options?
How you travel to your chosen camping spot can help make your trip a sustainable one. How far do you have to travel? Could you walk or cycle? If not, think about greener transport options like buses, trains or lift-sharing.
If none of these are an option, perhaps you could offer a lift to another happy camper? You'd be surprised how many keen outdoorsy folks might be grateful for a lift (we're often in this section of society!).
3. Pick sustainable camping equipment that will last
Your outdoor gear is key for comfort and safety, but it also has a big environmental footprint too. It's CRUCIAL to choose eco-friendly outdoor brands and green camping gear that will last – see it as an investment!
A poor-quality tent ain't so cheap if you have to replace it after every trip… do some research, read reviews and pick the best option.
Nowadays, finding ethical outdoor equipment has been made that much easier with certificates from companies like Bluesign, Fairtrade or vegan symbols. These symbols show the materials have been produced in a responsible way and you can also look for products that use recycled materials.
Camping essentials you'll need and eco tips
Tent – PFC-Free tents are best to go for. PFC is a nasty chemical used to make tents DWR (durable water repellent) but you can find plenty of high-quality waterproof tents without it.
Tent footprint – This is an extra layer you put underneath your tent to help protect it from scratches on the floor. It's normally an additional purchase but will help to prolong the life of your tent.
Sleeping bag – Many brands nowadays use recycled insulation or biodegradable materials.
Sleeping pad – Make sure you're using a sleeping pad suited for your camping i.e. if you're going to be doing long-term backcountry camping on very rough surfaces, don't opt for the lightest sleeping pad available with little protection.
Outdoor clothing – The outdoor industry has come on leaps and bounds in producing ethical adventure gear – you can check out this guide for more info.
Brands such as Kathmandu, Patagonia, Black Diamond and Vaude are leading the way with their pledge to sustainable gear too. As the demand for eco-friendly gear increases, as does the supply so we the consumers have the power!
---
---
4. Sustainable food and water choices
If you're camping throughout an active outdoor trip, packing the right grub is seriously important to keeping you in tip-top shape. These are some green food choices you can make:
Shop local – this means there will be fewer food miles and it will have a lower carbon footprint.
Keep it vegan – one of the simplest ways to make sure you're fueling up on sustainable nom.
Make your own – again keeping that carbon footprint low and minimise food packaging
Invest in good food containers and a water bladder – this cuts out the unnecessary waste of single-use plastics.
Take some biodegradable rubbish bags for your waste – so you can dispose of your rubbish properly.
Take a water filter – drink from natural water sources and save plastic-waste.
For more inspiration and ideas for your next camping trip, check out our guide on the best vegan camping food.
5. Pack eco-friendly sunscreens, insect repellants and ointments
At the end of a long, hard day in the bush, you can't really beat jumping in a lake, river or any other appetising body of water.
If you want to jump in without a second thought, wearing eco-friendly creams and ointments will help to stop nasty chemicals from polluting the water.
These eco-friendly sunscreens and natural insect repellant are perfect when you're exploring in the great outdoors. You can also buy biodegradable toothpaste – an eco-friendly solution to oral hygiene!
6. Before you're out the door check you have EVERYTHING!
Whether it's for a night or more, there are some essentials required when camping. Checking you have everything means you won't need to make unnecessary purchases in a hurry or buy things like single-use plastic. Plus, there's no point buying all that great outdoor gear if you're not going to put it to good use on the trail!
Our Camping Packing List can help you make sure you've ticked off all the important bits
Stage 2: Going on your sustainable camping trip – tips for the trail
1. Pick the right camping spot
We can all picture the ideal camping spot: nestled amongst the trees, moonlight glimmering off the lake, breathtaking mountain peaks overhead and front row seats for that sunrise view…
There's no reason you can pick a camping spot like this, just bear in mind a few considerations.
Firstly, a designated campsite can make sustainable choices easier, with compost loos, rubbish recycling, specific camping spots etc. For first-timers, this can be the simplest option.
If you're going to be wild camping, these tips can help you pick a friendly camping spot:
Pick a spot with naturally cleared flooring, such as somewhere you can see someone has camped before.

Avoid moving or damaging vegetation to pitch your tent.

Avoid spots where rain could gather as this could lead to a soggy sleeping bag – not fun.

Camp away from the trail for your own peace of mind and not to disturb others.

If you're hammock camping, be sure to tie on to sturdy trees and use straps rather than rope as to not cause damage.
Check out our Guide to Picking a Wild Camping Spot for more tips
2. One of the most important eco-friendly steps: LEAVE NO TRACE!
It's easy enough: take everything you brought with you back out too.
Even small bits of litter can do a whole lot of damage to the environment and local wildlife. This also includes biodegradable things like toilet roll or fruit remains – bin it!
Bring biodegradable bin bags to carry around unwanted waste until you can dispose of it.

When camping leave your rubbish somewhere safe so that animals can't get into it.

Dispose of your rubbish in designated bins and close the lid to stop animals from getting in and eating anything they shouldn't.
3. Wildlife and your surroundings
Stick to designated trails and camping spots where possible and just be mindful of how you explore. After all, we're the visitors to these beautiful landscapes. This also means leaving those pretty flowers, rocks and shells where they are…
With wildlife: what may seem cute, fluffy and hugable is a wild animal, one that may feel threatened by a big smelly camper. Observe from afar and don't feed them. Being too loud at night can also scare animals, so it's a time to embrace tranquillity rather than blaring a soundsystem.
4. Light fires responsibly
First and foremost check whether you're allowed to light fires in the area. If they're banned, it's probably for good reason.
Even if they are allowed, if it's summer and you're surrounded by dried up twigs and leaves, it's probably best not to – you don't want to be responsible for a forest fire.
Check out these useful beginners tips if you are allowed fires in the region.
5. When nature calls, how you gonna answer?
Camping means you're outside for a prolonged period of time. Chances are you're going to need to pee or poop, so some camping toilet tips are not going to go amiss:
Don't do your business within 200 feet of a food or water source as this could ruin the resources in the area.

No pooping on the trail – nobody wants that!

Dig a small hole, do what you need to do, then cover it. Some areas require you to take your business with you so make sure you check before you go.

Take any toilet paper away with you
You can find our full guide to peeing and pooping in the outdoors here, with environmental considerations and tips to help you go like a pro.
6. Washing your crockery in the wild
Wipe off any excess food before washing and make sure you use biodegradable soap at least 200 feet from a water source. If the area you're in allows greywater dumping (wastewater) then tip wastewater on a different plant each time. If greywater dumping isn't permitted, bring a container so you can dispose of any dirty water properly.
Stage 3: Keep up the sustainability after your camping trip
1. Unpack and store your gear carefully
Without some TLC your expensive outdoor gear will wear out prematurely and won't be so sustainable after all.
Clear off any excess mud from your boots and store them somewhere dry, not out in the rain. Dry out your tent and store airbeds blown up to keep them in tip-top shape. Looking after your gear will ensure it lives a long life and in return, it'll look after you in the great outdoors.
Our guide on how to maintain and repair your gear will help it last for adventures to come. If you've got anything you no longer need, why not donate or recycle your old gear?
2. Shout about sustainable camping from the rooftops
Now you're an eco camping expert, be sure to spread the word!
Encourage your pals to employ some of these sustainable tips for their next trip (maybe you could send them this article 😉 or inspire a friend to go on their first ethical adventure and show them the ropes.
This eco-conscious mindset doesn't have to end on the trail so bring this way of life into your daily routine!
Eco Camping Tips for Adventure Seekers
On your next camping trip, see if you can incorporate some of these eco-tips. Don't feel you have to tick them all off at once if it's a little daunting. Aim to master one, then add another, and another… before you know it you'll be a professional eco camper!
Are there any other things you do to be an eco camper? What do you think is the most important thing to consider when spending time outside? Tell us in the comments below!