10 awesome eco-friendly cycling tips for cycle tourers and bikepackers to make your time in the saddle a little kinder to the places we ride
---
There's not much that trumps days spent exploring from the saddle. With your tent and belongings strapped to your bike, heading off into nature and a smile plastered to your face.
It's the chance to immerse yourself in your surroundings and truly appreciate them. That's why it's so important to protect the places you love to ride.
These 10 eco-friendly cycling tips will help make your adventures a little greener and kinder to the places you pedal.
Exploring by bike is one of the greenest ways to travel and these 10 tips will help to do that little bit more for the planet.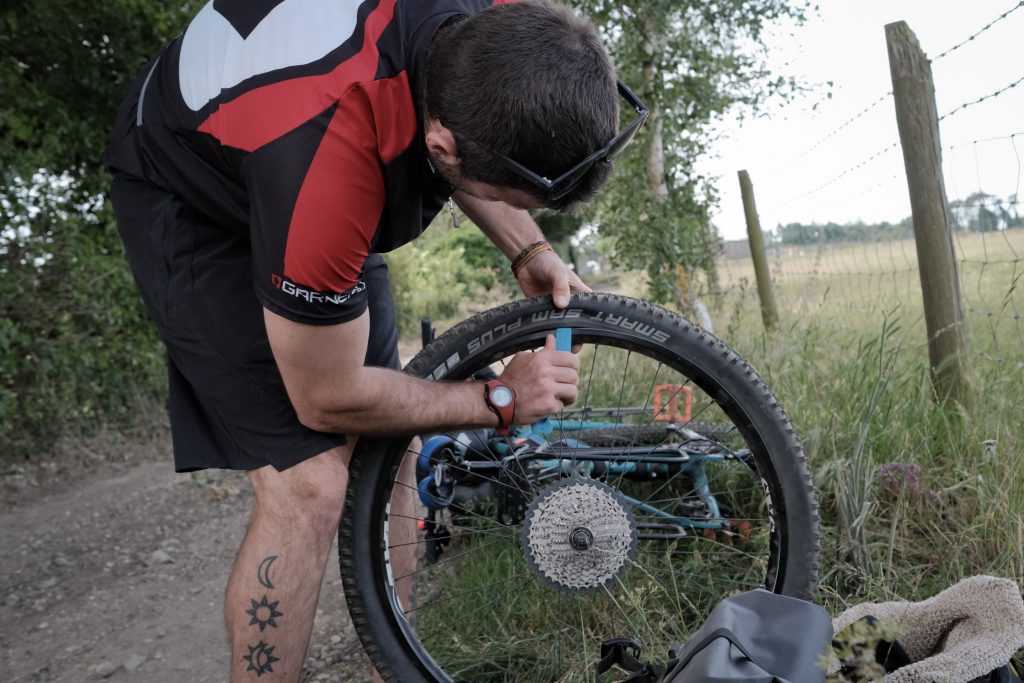 1. Patch-Up Popped Inner Tubes
Punctures are a pain, especially when you're on the trails with a loaded bike. But they can be salvaged.
New inner tubes are expensive and if you're clocking up miles on your bike, all those annoying punctures start to add up. Rather than chucking the old tube in the first bin in sight, a simple puncture repair kit will patch that hole right up.
Puncture repair kits basically comprise of patches and glue. You can repair your tube roadside or wait until you get home and submerge the tube in water. Submerging the tube means you'll be able to see the air bubbles escaping, which makes locating the culprit a hell of a lot easier.
Fix it up and your tube is ready for action again, avoiding it being wasted and sent to a landfill.
2. Check Your Tyre Pressure
Whilst we're on the subject of tyres, making sure you have the correct tyre pressure will help to prevent any punctures in the first place. Avoiding the need for repairs and any bigger splits that may result in the tyre being completely fudged.
This will change depending on the type of riding you're doing and how loaded you ride.
3. Pack Homemade Snacks
Getting munch on the road can mean you're limited to the shops immediately available. Grub may be restricted to individual plastic-wrapped snacks or small portions. This means all that munching can accumulate a lot of waste over a multi-day trip.
Opting for homemade snacks means you can ditch the plastic and bring ingredients from your home supply. Buying in bulk avoids unnecessary packaging and it's cheaper. Winning all around!
We've also got tons of homemade snack recipes and guides with ideas of what to gobble down in the outdoors: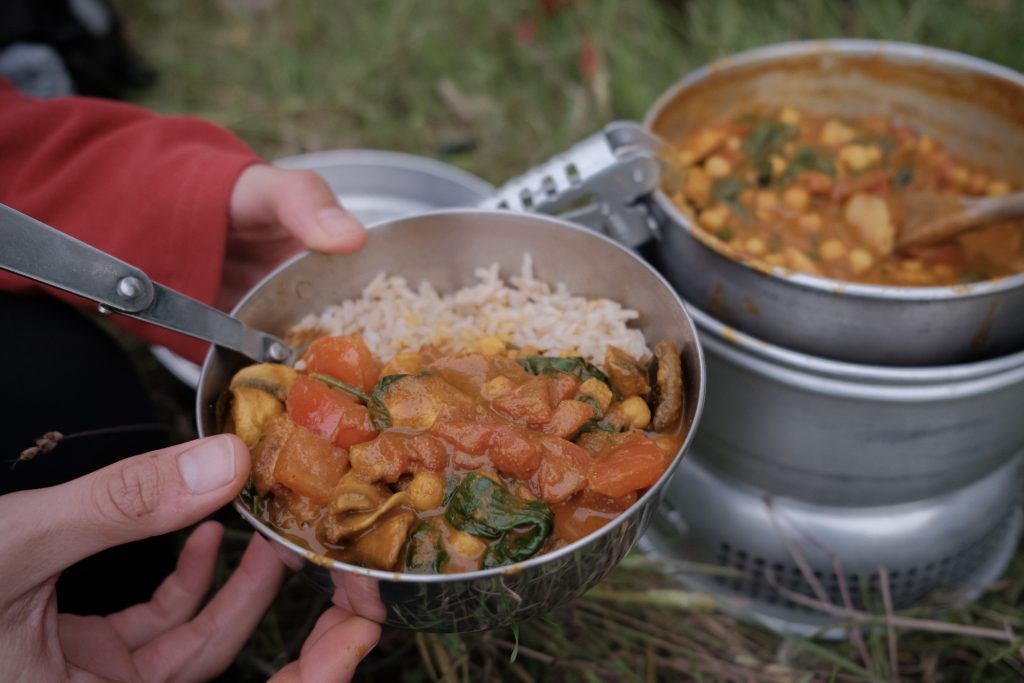 ---
Looking for more ethical adventure fodder in your life? Sign up for our newsletter to get our latest articles and updates
---
4. Your Rubbish, Your Responsibility
The golden rule of spending time outside is to leave no trace. Anything you gobble or use needs to come home with you or be disposed of properly. It's the best way to protect the places we ride.
Take one step further to make your cycle trip green and pick up any rubbish you see lying around. Natural places and the wildlife that inhabits them are precious. So although that banana peel may seem harmless, it's still waste and can still damage the places we explore.
5. Use Rechargeable Bike Lights
Batteries are notoriously bad for the environment as they're problematic to dispose of and recycle. Opting for rechargeable lights means you can ditch the need for batteries and recharge your batteries. It saves the hassle of having to find batteries on the road and paying for them each time.
Electricity outlets may also be a little hard to come by on longer multi-day trips. We use a power bank which we keep charged with a solar charger or a rim dynamo. You can keep your lights and other electricals topped up using the renewable power of the sun or your riding.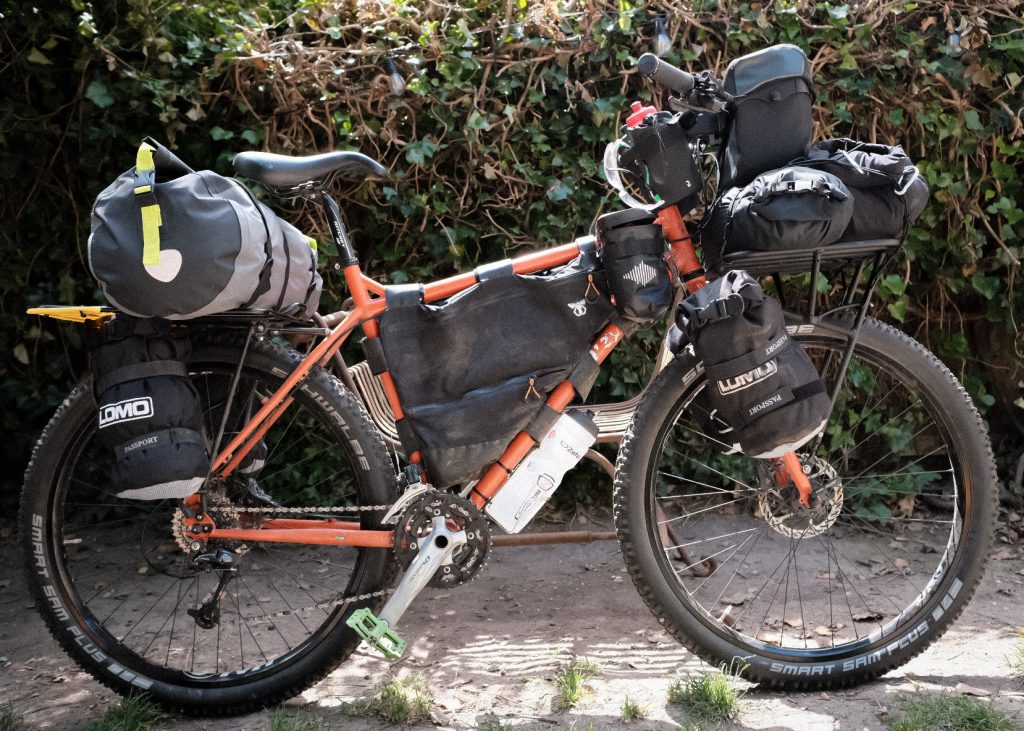 6. Maintain Your Bike
One of the best ways to make your bikepacking trips sustainable is to look after your two-wheeled companion. Look after your bike and its parts and in turn, it will accompany you for countless miles around the globe.
On trips, it can be easy to throw caution to the wind and just focus on the riding. But, a little bit of TLC can go a long way to increasing the longevity of your bike and make riding a lot more enjoyable in the long run.
Although we give the bikes a thorough going over after trips, we take some bike tools along with us for any roadside repairs and maintenance needed along the way.
7. Use Eco-Friendly Cleaning Products to Clean Your Bike
When it comes to a post-trip clean-down, using eco-friendly cleaning products is a great way to be kinder to the planet.
A lot of cleaning products contain nasty chemicals, which can damage the soil and environment with runoff and production.
We use Muc Off as all their products are PTFE (Polytetrafluoroethylene) free. PTFE's are chemicals that can cause a lot of environmental harm so keep your eyes peeled for products that are free from them if possible.
---
---
8. Opt for Sustainable Cycling Brands
The fashion and textiles industry is one of the biggest polluters worldwide. Therefore, what you wear can have a huge impact on the environment.
It's been said that the greenest gear you can get, is the gear you already have. Buying more clothing will just contribute to the booming problem of pollution caused by old clothes going to landfills and the production process. If you can recycle and maintain what you already have, it's the most eco-friendly option.
There may be times when you do just need new gear, so it's important to invest in sustainable brands:
Seeing your gear as an investment to maintain and look after, means it'll last whilst you after you clock up all the miles in the saddle.
9. Fill Up From Taps and Natural Water Sources
Over the course of days and weeks on a trip, you'll consume a hell of a lot of water. Even more when camping and cooking from the stove.
In some places in the world, taps and friendly locals are aplenty offering to fill up water bottles and quench your thirst.
In more off-the-beaten-track places, indoor plumbing is harder to come by. However, natural water sources are a lot easier to find. Investing in a water filter will give you the freedom and peace of mind to fill up when you pedal. We have used the Sawyer Squeeze for years and it's not let us down.
Opting for tap and natural water sources will avoid the need to buy bottled water which accumulates so much plastic waste over the course of a trip.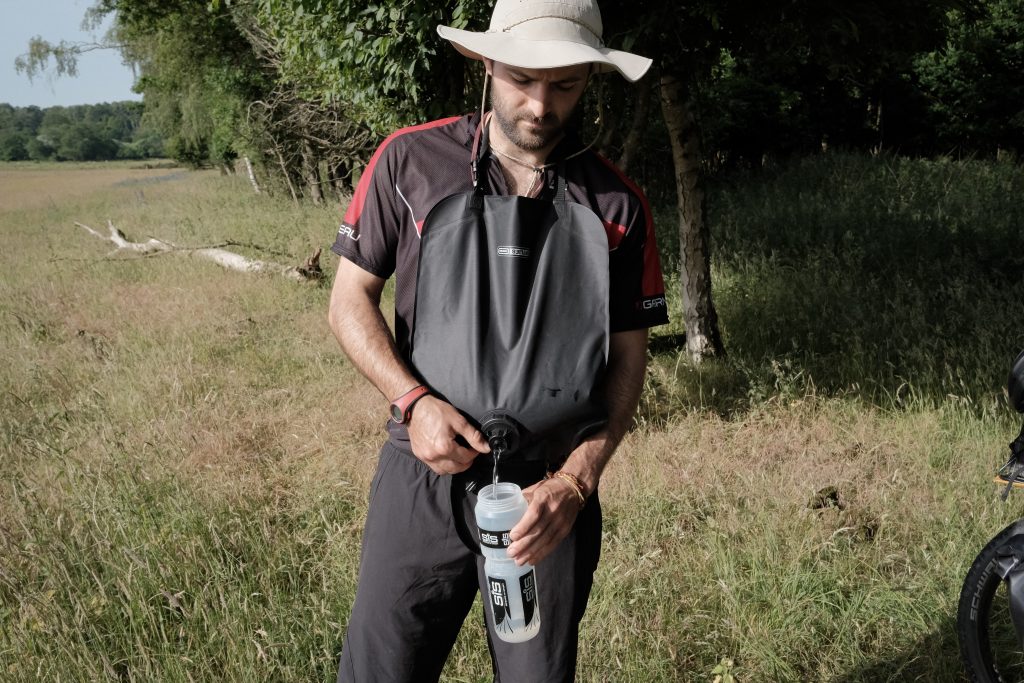 10. Eat Plant-Based Meals on Trips
Eating plant-based meals and snacks is one of the simplest ways to make cycling trips sustainable. Opting for vegan and locally sourced foods will reduce the impact of your trip massively. After all, it's the fuel powering your pedalling.
We have tons of food guides and recipe ideas to help you find and cook food on trips. Depending on the type of trip you're having, the food you consume will differ.
For bikepacking trips, weight and space may be tight so calorie-dense and lightweight meals will be top of the menu. For longer cycle touring trips, however, space and weight become less of an issue so you can enjoy a wider variety of foods.
Cycling is Eco-Friendly
At its core, cycling is eco-friendly! Using your legs to power your adventure and ditching motorised vehicles is massively beneficial to the planet. It reduces emissions and the strain on the places we explore. So, just by hopping in the saddle you're choosing the greener option and looking after this big ol' beautiful planet.
Happy riding!