Travelling from England to France without flying is now quicker, cheaper and easier than ever – not to mention much more sustainable. In this article we look at the different Eurostar, Eurotunnel and ferry options to see which is best for you.
---
Perhaps you don't like flying, want to take a bicycle or car to Europe, or don't like the thought of emitting 55 kg of carbon emissions in an hour journey. Whatever the reason there are now great alternatives to jumping on a plane; with competitive services and an exciting experience in themselves.
Yes, there are also options like swimming, paddle boarding, kiteboarding or even rowing but they all seem far too tiring. Here we'll be looking at the Eurostar, Eurotunnel and ferry options, to see what makes them so popular and which is the best option to take you from England to France.
Why not fly from England to France?
Once upon a time flying was a remarkably quick and convenient way to take you from England to France. Now things have changed.
The cheapest flight from London to Paris was £121 (found on Skyscanner, flying on the coming Saturday). The flight itself takes 1 hr 10 but with check-in times and baggage collection it's closer to 3 hours. Of the two times available at that price one leaves very early in the morning, the other very late at night.
On top of this you're limited to carry-on luggage and also have to deal with airport security and baggage restrictions. Altogether, it's not such a great deal.
Most importantly for us, Eurostar, Eurotunnel and ferry options use 10% of the carbon emissions used by planes. A flight from London to Paris produces nearly 55 kg of carbon emissions and with over 4 billion people expected to fly this year that's A LOT of carbon. We all need to cut down our carbon footprint and this is a great way.
Read more: Accommodation in France for Outdoor Pursuits and Adventure Travel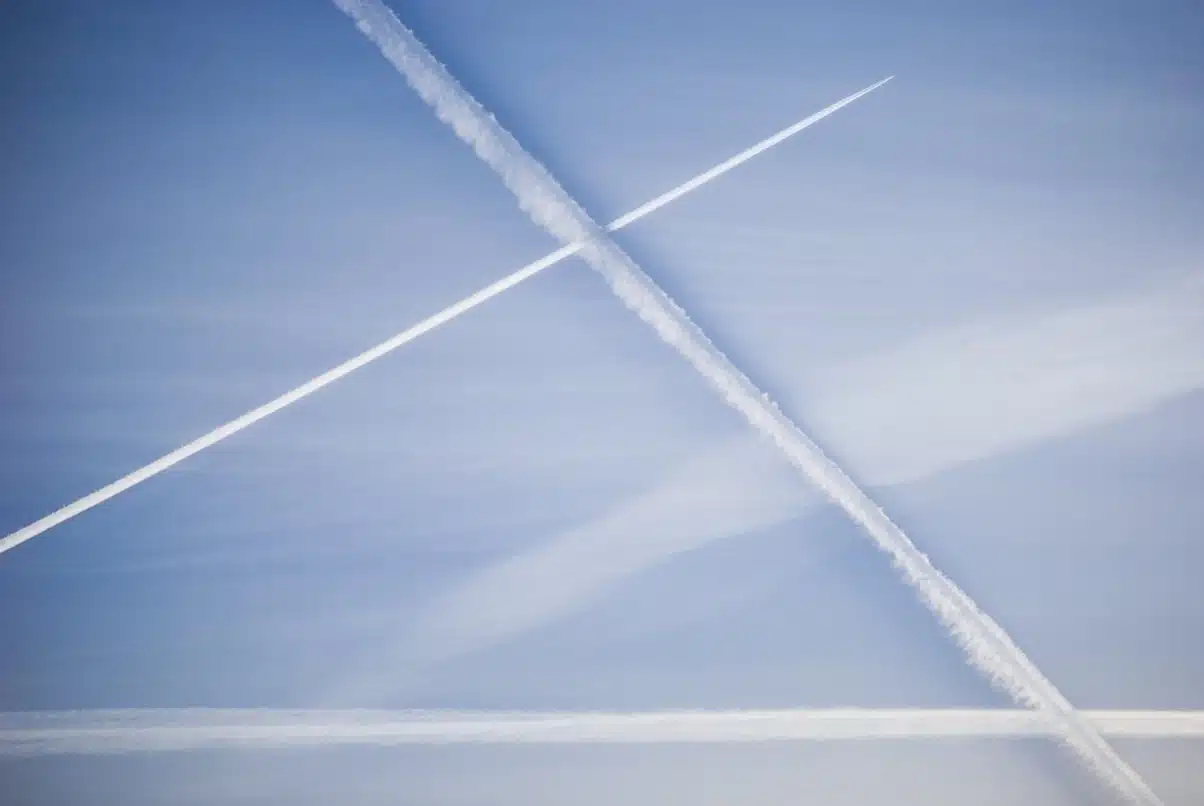 How we compared Eurostar, Eurotunnel and ferry services
We looked at transport options travelling from England to France leaving on the coming Saturday and returning the following Saturday. No coupons or discounts were used and the 'standard' option was chosen. So, the prices shown are the prices you'll also find at this time of year (March).
Option 1: Eurotunnel from England to France (sometimes called Le Shuttle)
The Eurotunnel crosses from Folkestone to Calais using the Channel Tunnel and for most people is the cheapest option. You can travel from England to France in 35 minutes and altogether it's a very easy and problem-free service.
The Eurotunnel is only available to people with vehicles (cars, vans, motorcycles, coaches) or bicycles (more explained further down) and claims to be the most sustainable option for crossing from England to France (besides swimming). You're also charged per vehicle which means it's a well priced option for groups, but not so great for lone drivers.
Important to note the Eurotunnel is NOT available for foot passengers.
How Eurotunnel works
Tickets are bought in advance through the Eurotunnel website or can be bought in the check-in area (subject to availability). Bikes need to be booked over the phone with 48 hours notice.
In your vehicle, once you pass through passport control, you simply drive on-board a large cargo train. The doors close, train moves under the sea, and 35 minutes later you're in France. As simple as it sounds.
Eurotunnel costs
A return journey in a car (up to 9 passengers included in price) leaving on Saturday and returning the following Saturday showed prices of £181 – £213 depending on the time you decided to travel. There are roughly 10 different leaving times throughout the day.
One way journeys are roughly half the cost of a return (£94 – £108) although there are specific discounts for returning within certain amounts of time (within 48 hour, 1 month etc).
Bikes are charged at £20 each way regardless of when you travel.
Eurotunnel for cyclists
In our opinion the Eurotunnel is the best option for cyclists to get from England to France (or the other way around).
A one-way journey costs £20 per bicycle and needs to be booked with 48 hours notice. From Folkestone (as of March 2019) you will be picked up from the Holiday Inn Express Folkestone and have your bikes loaded onto a minibus. You're able to load your bikes even with a large amount of panniers (we travelled with 4 panniers each plus frame/handlebar bags) and don't need to dismantle.
Once on-board the minibus driver will take you onto the Eurotunnel train with the rest of your fellow vehicles and take you under the sea. It's actually the longest underseas passenger tunnel in the world!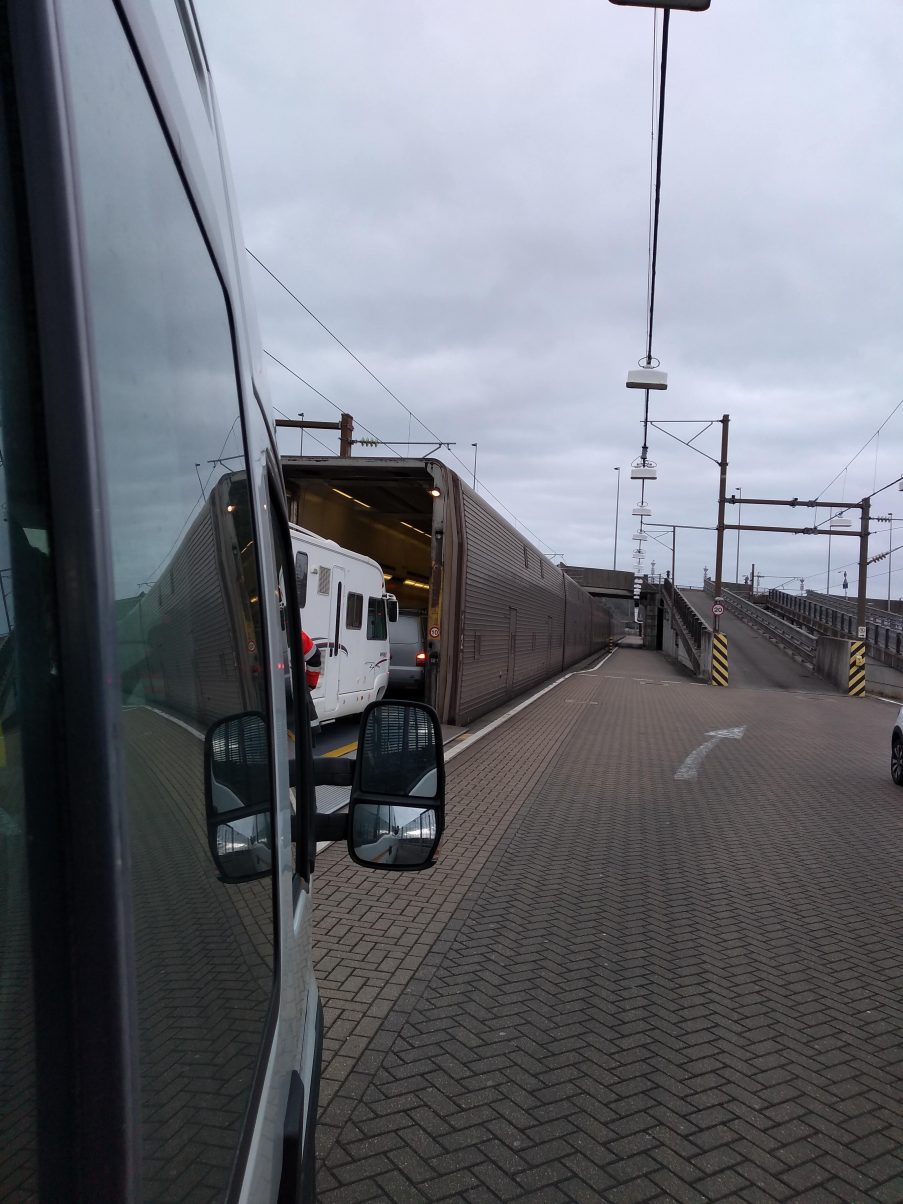 Loading our bikes on the Eurotunnel minibus
Eurotunnel pros
Price for cars includes 9 passengers making it a great deal for full loads

The quickest service from England to France at just 35 minutes

The most regular running schedule with up to 4 crossings per hour

No luggage or fuel supplements so nice for people with a lot to carry (like the hundreds of trucks you'll be travelling with)

Motorway to motorway access

You'll have your own transport to explore France and the rest of Europe

Unlike the ferry it's not impacted by weather conditions
Eurotunnel cons
Not available for foot passengers

Can be expensive for cars if travelling alone

More prone to delays
---
Option 2: Eurostar from England to France
The Eurostar also uses the Channel Tunnel but is a high speed train for foot passengers only; taking you from 3 UK stations to 8 different European destinations. It takes 2hr 16 from London St. Pancras to reach the centre of Paris and allows you to bring bikes and large baggage onboard.
Within England the Eurostar leaves from London St. Pancras International, Ebbsfleet International and Ashford International with journeys to Paris Gare Du Nord, Brussels Midi/Zuid, Lille Europe, Disneyland Paris, Calais, Amsterdam and Rotterdam. From these stations you can then take connecting trains throughout Europe.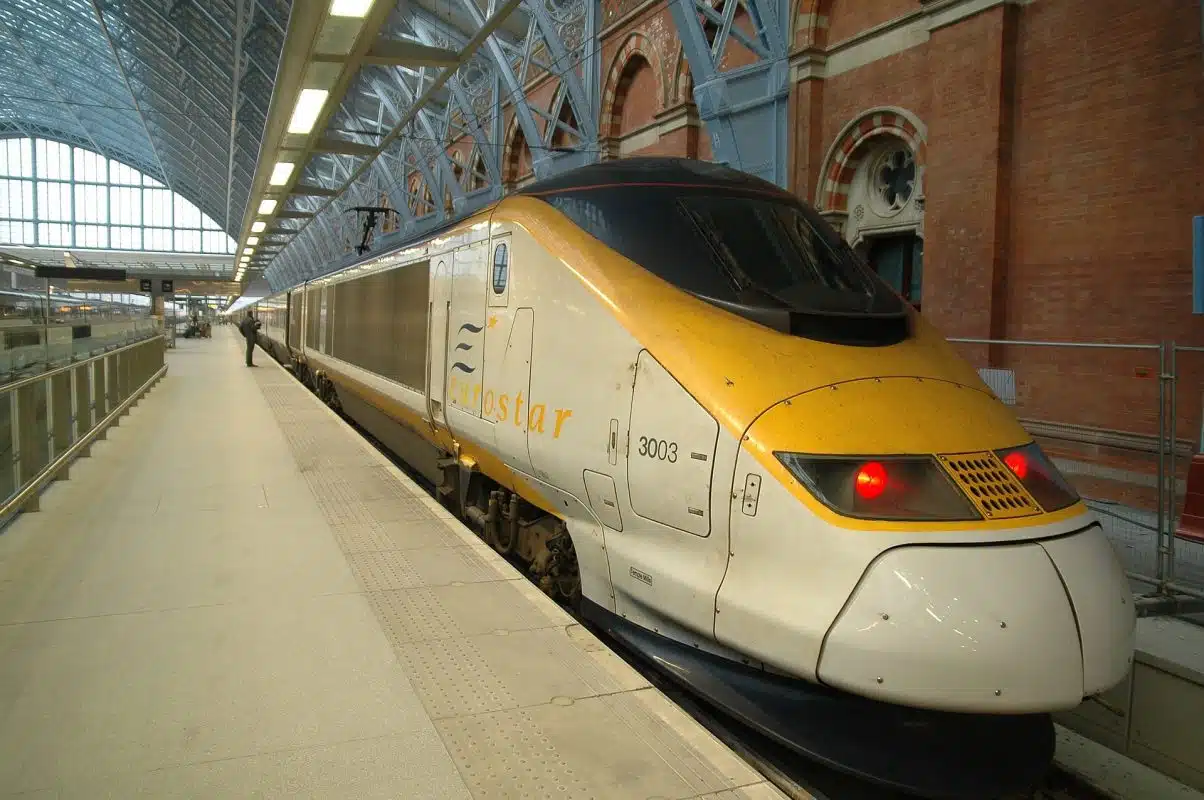 How Eurostar works
It really does feel just like your normal train journey, just with a long dark tunnel in the middle, probably a mild ear popping and the need for passports. Tickets can be bought in advance through the Eurostar website or bought from stations on the day (subject to availability). If you're travelling with a bike this needs to be booked in advance and potentially dismantled – more details further down.
Eurostar Price
For one person leaving on the coming Saturday and returning the following Saturday showed prices of £157-£338 depending on the departure time (12 times available).
A one-way ticket cost £101-£191 depending on departure times.
Booking bikes costs £25-£55 (keep reading below).
Eurostar for Cyclists
Cyclists can most definitely get their bikes from England to France with the Eurostar but there are quite a few options to get your head around.
Firstly, bikes need to be booked in advance through EuroDespatch and we'd advise calling before you make your train booking. The cost depends on how large the bike is, whether it is boxed or not and how far in advance you make the booking but prices range from £25-£55.
Folding bikes smaller than 85cm when folded don't need to be booked on any services, whilst bikes larger than 85cm can only be boarded from major stations (London, Amsterdam, Paris, Brussels).
You can find a more detailed breakdown on the Eurostar website and also with this comprehensive guide to taking your bike on Eurostar.
Eurostar Pros
Ideal for foot passengers or people travelling individually

Takes you right to the heart of European destinations

Option to leave from 3 UK train stations and more than 8 European stations
Eurostar Cons
Only for foot passengers, can't take vehicle besides bicycles

Quite expensive compared to other options

Taking bikes on board can be a long process
Option 3: Ferries from England to France
There are a number of different ferry options taking you from England to France. The most popular is from Dover to Calais however there are a number of different destinations available for vehicles and foot passengers. The quickest option takes 1hr 30 and you can wave goodbye to the stunning white cliffs of Dover from the deck of the boat!
How the Ferries Work
You can travel via the ferry on foot, with a bicycle or in a vehicle. The most popular routes leave from Dover and go to Calais or Dunkirk. There are also ferry routes between Portsmouth and Newhaven to Caen and Dieppe but these are less travelled and more expensive.
Boarding at your chosen port you travel via ferry to your destination and simply walk, drive or cycle off the ferry. There are passport controls when embarking and disembarking as well as the option to declare any goods required.
It's advised you buy a ticket before arriving at the dock as this ensures there is enough room for you to board and you're more likely to get a cheaper price.
Cost of Ferries
On average travelling by car with two people from Dover to Dunkirk is £54 which is the cheapest option and takes 2 hours. For a return journey combing back a week later it costs £109. There is only one ferry company that currently works this route which is the DFDS Seaways service.
Dover to Calais is slightly more expensive at £63 one way and takes 1 hr 30. For a return journey a week later it costs £162. Two services operate this route, the DFDS Seaways service which runs 14 times a day also P&O Ferries which runs 24 times a day.
Prices may differ depending on the make and model of your vehicle so be sure to check before you board.
Foot passengers can only travel from Dover to Calais, £30 one way or £60 for a return journey a week later. and takes 1 hour and 30 minutes to travel.
If you want to compare prices and select the location you want to travel to you can use the Direct Ferries website.
Ferry Options for Cyclists
Travelling with your bicycle is cheaper than travelling as a foot passenger and from Dover to Calais or Dunkirk costs £17.50 one-way and £30 for a return.
The ferry is also the easiest to organise as you can just buy a ticket online and cycle to the port. Although, it can be a headache staying in the undercarriage with your bicycle or wandering off to the upper decks.
Ferry Pros
Can travel with your own vehicle

Can walk around and stretch your legs with on-board shops, restaurants and services

Up to 24 ferries leave each day giving you lots of flexibility
Ferry Cons
Bicycles need to be left in the undercarriage so if you want to walk around your things will be left unattended

Can be liable for departure and arrival delays

You're at the mercy of the weather and ferries normally won't run with wind speeds over 45 mph

As a foot passenger you're dropped of at the port and will then have to find transport to your next destination
England to France Without Flying – Eurostar vs. Eurotunnel vs. Ferry Options
This year we set off on an England to India cycle tour and the only bit of water we needed to cross was the Channel. We did a lot of research to see which option would be best so all of this information is completely up-to-date as of March 2019.
Originally we had planned on taking the ferry but because of bad weather conditions we opted with the Eurotunnel. The bike service was faultless and highly recommendable for cyclists or groups travelling in vehicles.
With such a huge carbon footprint from flying it's time to start finding ethical alternatives and with such good choices to get from England to France now is the chance. Next time you make the journey check out the Eurotunnel, Eurostar or the ferry and we're sure you'll ditch flights for good!
Keep exploring…
How you can make flying more sustainable