Here's Our List of the Best Completely Free Things to Do in Lyon, France
---
There are very few cities which have really captured our hearts like Lyon. We spent three weeks house sitting there and would go back for more in an instant. For the atmosphere, the diversity, the pace of life, the people, and most importantly for cheapskates like us, the amount of free things to do.
Lyon is full to the brim with incredible experiences which cost absolutely nothing.
Every city has free things to do but often the highlights come at a high cost. This isn't the case in Lyon, here you'll find many of the most exciting, authentic and important things to experience are completely free. This is a city where you can spend nothing and not feel like you're missing out. Make sure you take a look at the map at the bottom so you know where to find them all!
21 Completely Free Things to Do in Lyon, France
1 – Check out the free jazz night at La Clef de Voûte
I would argue this is the best thing to do in Lyon, free or not. La Clef de Voûte is a small, unassuming jazz club in the Croix-Rousse district. It's actually pretty hard to find so make sure you take a look on the map at the bottom and pin it on your phone. The club itself is in a bricked basement with a capacity of less than 100 so you get a really personal, intimate experience.
The atmosphere is electric and the program is constantly varying with different styles of jazz 5 to 6 days a week. On the night we went a local group was playing Django-Reinhardt-inspired gypsy jazz, it was probably the coolest thing we've seen.
Jazz clubs around the world can cost some serious money but this one is completely free, every night. You need to reserve tickets online but at no cost and when you arrive you'll find a nice little name tag on one of the handful of tables. The bar itself is pretty cheap for Lyonnais standards, they even have a vegan mezze board, but there is no pressure to buy drinks or spend any money.
Definitely go, you won't regret it. Here's the link to their site for more info.
2 – Make your own street art tour
Did you know that Lyon has an incredible street art scene? It's actually home to one of the biggest number of commissioned murals in Europe AND the biggest mural in Europe. The Mur des Canuts took 9 months to finish and is awesome to see firsthand. The scene has a real Lyonnais feel and is brought to life with the optical illusion.
It's not just the Mur des Canots, Lyon is filled with equally amazing paint all over the place. You'll find the biggest concentration around Croix-Rousse and can follow this map to make your own tour.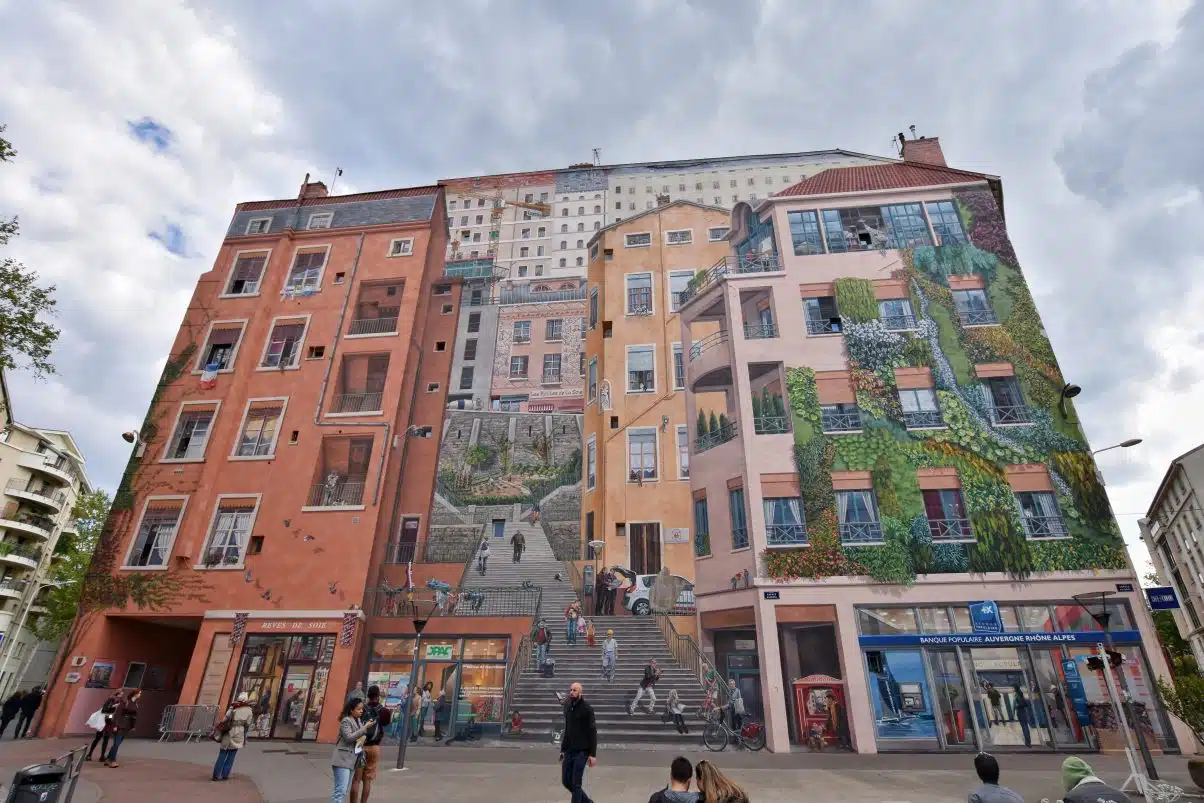 3 – Discover the courtyard at Musée des Beaux Arts de Lyon
The entry to the museum might be pricey but the gardens inside the courtyard are completely free. Oh yeah, and they're bloody beautiful. The streets outside are some of the busiest you'll find in Lyon but once you step inside it's a completely different world. Large trees blot out the sun in the dusty courtyard, giving the whole place a glowing green tinge. Time seems to go at a slower pace and you can sit and watch artists painting and elderly residents playing chess.
4 – See the modern architecture in Confluence
Lyon has a very classically rustic feel, that is until you get to Confluence. The terracotta roofs, aged shutter windows and sleepy churches are replaced by huge pieces of contemporary architecture, loud colours, nightclubs and fancy galleries.
The Confluence area is just to the south of the city, tucked in between the Saóne and Rhone Rivers, and is an industrial area reborn. After two decades of construction, millions of euros of investment and work from world famous architects the area has transformed from a bland caterpillar to a fairly garish butterfly.
The modern architecture isn't to everyone's taste but it's definitely worth looking around. It's free, so what can you lose, ey?
READ MORE: Explore the French Riviera!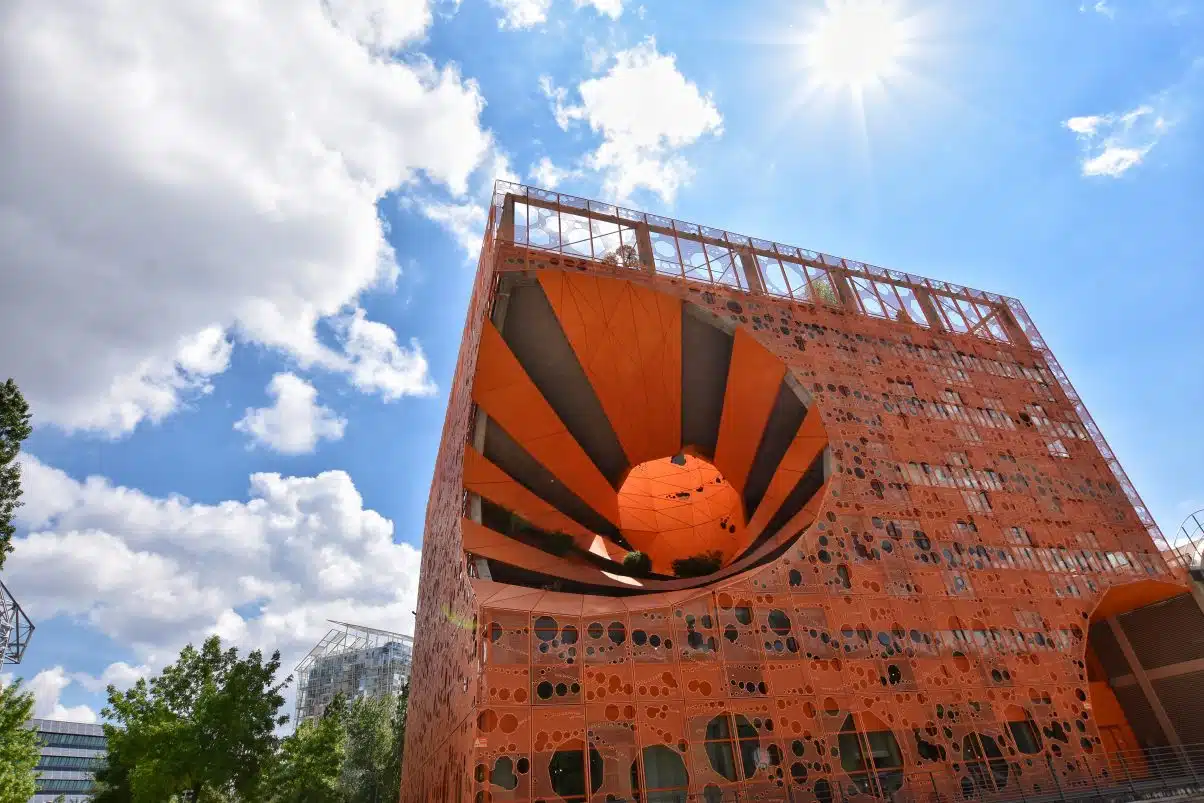 5 – Watch over the city from Jardin des Curiosites
If it's a nice evening you can't beat taking a beer up to Jardin des Curiosites and watching the city as the sun sets: it was one of our favourite things to do in Lyon at night. It's in an unassuming location up a big hill, slightly out of the city centre but it's definitely worth the walk.
Instead of fancy flower beds and gardens you'll find some randomly placed chairs and sculptures with a very peaceful atmosphere. It may not sound appealing but it's the perfect place to get away from the crowds and take in your surroundings. You'll quite often have the place to yourself and in our opinion it has one of the best views of Lyon!
6 – Learn about the dark history of Montluc Prison
We heard there was an abandoned prison which was free to explore so it quickly went to the top of our to do list. We didn't realise until arriving but the prison has a very sad and sombre past. During WW2 it was used by the Nazi Gestapo for detention and interrogations, as well as a stopping point for prisoners before being sent to concentration camps. More than 15,000 prisoners of war were kept here with nearly 1,000 executed on the grounds and thousands more sent to other camps around Europe.
Once the Nazis were overthrown and WW2 finished it then turned into a public prison all the way until 2009. Since then the prison has been opened for visitors to explore during selected hours and is a fascinating but quite saddening experience. The prison has changed very little since the Nazi occupation and inside the cells are photos and stories from the inmates, many of them whole families, that were imprisoned here and suffered at the hands of the Gestapo.
7 – Enjoy the rose gardens and fountains at Parc des Hauteurs
Parc des Hauters may not seem big but it starts at the bottom of the city and slowly winds all the way up the banks to the top. You can slowly make your way to some incredible lookouts, through rose gardens and water fountains. A must for nature lovers.
8 – Explore the secret labyrinth of the traboules
If the jazz night was our favourite thing to do in Lyon the traboules have to be one of the coolest. The traboules are underground passageways created in the 4th century that run through the old parts of the city. They were used by the famed silk workers to transport products quickly from one part to another without having to take huge diversions.
With more than 400 traboules, some are now closed to public but many are still open providing a labyrinth for you to explore. They can be very spread out and difficult to find but in Croix-Rousse you'll find small signs on the walls pointing you in their direction. You can spend the day looking for clues towards the next ones, almost like an urban treasure hunt!
9 – Get lost in Parc de la Tête d'Or
Whilst some gardens impress with subtlety and quirkiness the Parc de la Tête d'Or wows with shear size and grandeur. You can literally spend the whole day wandering around and it's probably one of the most beautiful parts of Lyon to spend a sunny day. In the 117 hectare park you'll find a botanical garden, a zoo, world famous rose gardens and a lake where you can hire boats to paddle around in.
Entry to all parts of the park is completely free so it's the perfect place to while away a day in the sunshine.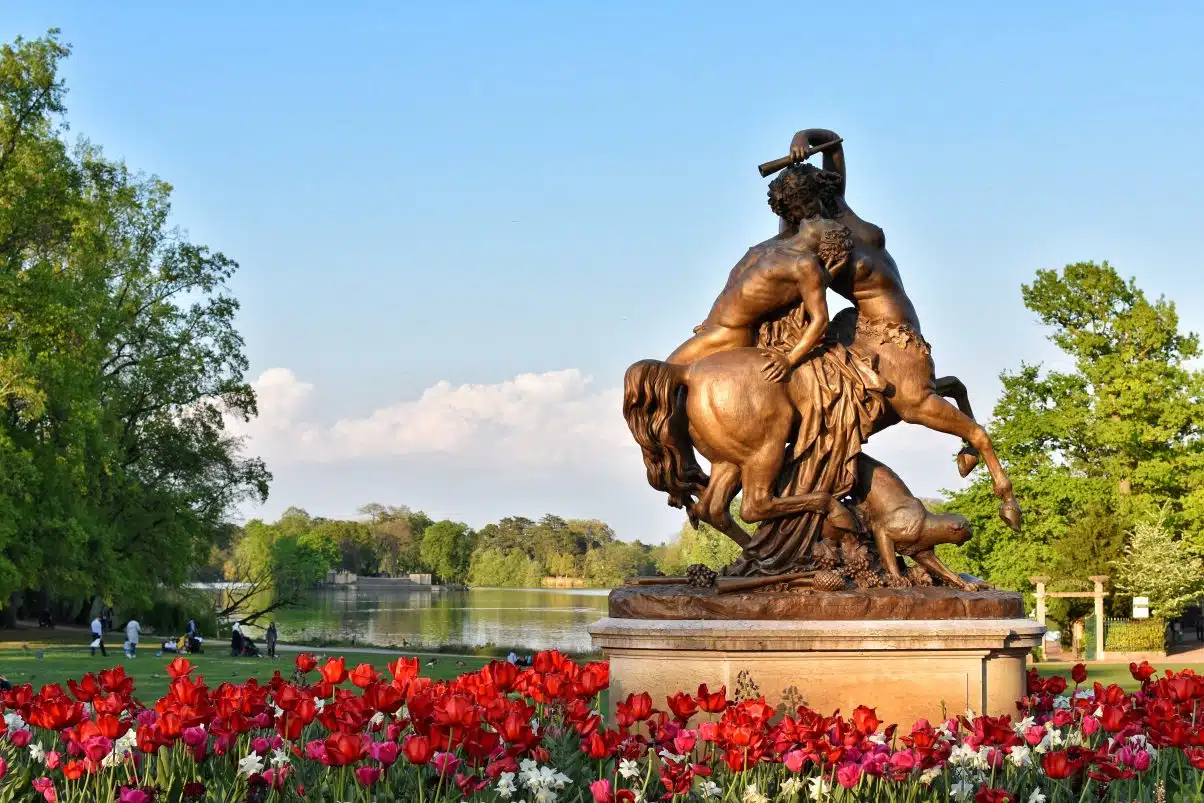 10 – People Watch at Place Bellacour
Place Bellacour's bland gravel floor is quite a sight for sore eyes but it's a very interesting place to people watch. It seems to be a meeting spot for the young and old, locals and people of every international variety. There are benches dotted around the perimeter and trees providing shade from the hot Lyonnais sun, so you can take a perch and watch life go by free of charge.
11 – Find the free garden at Musées Gadagne
The Musées Gadagne is right in the heart of Vieux Lyon and has a beautiful rooftop courtyard and cafe which is free to the public. The coffee shop has a very relaxed feel and the gardens are beautifully kept with colourful flowerbeds and displays.
12 – Spend the day in Vieux Lyon
This Renaissance region of the city is a UNESCO Heritage site and is steeped in history and charming character. It is quite touristy but is still filled with timeless architecture, fascinating history and one of the best vegan ice cream selections we've ever found.
Glacier Terre Adélice has more than 50 types of vegan ice creams and sorbets. Unfortunately they're not free but walking around the Vieux Lyon most certainly is.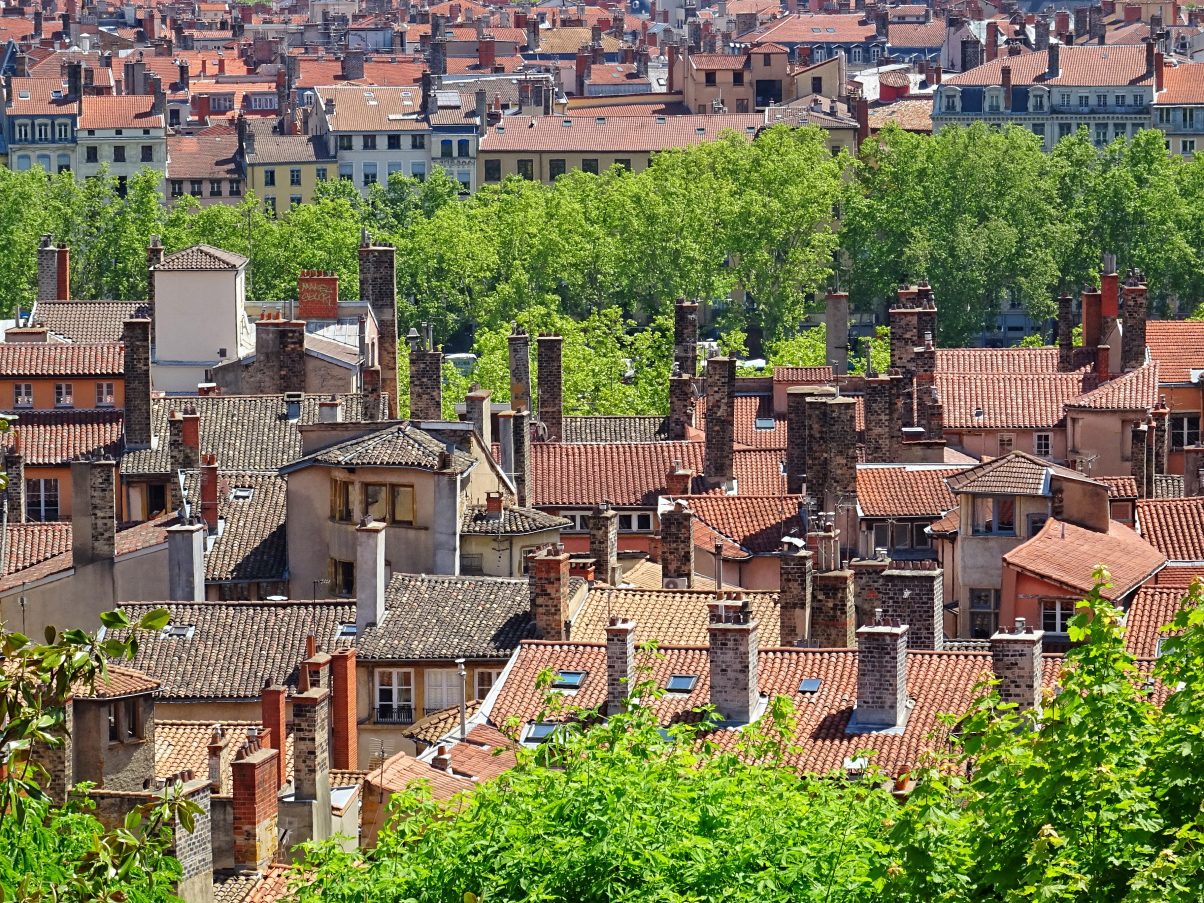 13 – Take a trip to Íle Barbe
If you have your own transport another cool free thing to do in Lyon is to head towards Íle Barbe just south of the city. This tiny island in the middle of the Saóne is home to 5th century monasteries and druid legends. It's an interesting place to explore and you feel very far from Lyon despite only being 5 miles away.
14 – Les Halles de Lyon
A word of warning, this is probably one of the least vegan-friendly places you're likely to come across but it's an interesting insight into French and Lyonnaiss gastronomic culture. The indoor foodie venue is in tribute of famous chef Paul Bocuse and showcases all foods famously French, with some big name chefs having eateries inside.
Despite many free tasters the food does cost. Damn. Even if you're not eating it's worth the visit for the picture postcard views of French culture, with families sharing food and wine together and business people negotiating over local delicacies.
15 – Marvel at La Basilique Notre Dame de Fourvière
Regardless of your faith there is no denying that the La Basilique Notre Dame de Fourvière is mighty impressive. The building stands high over all of Lyon and its impressive architecture can be seen from miles off. Inside and the building is even more spectacular, with bright gold structures bursting through the shadows, ancient Christian relics and intricate designs. The atmosphere inside is incredibly peaceful so you can sit and take in the holy vibes free of charge.
16 – Find the Ancient Theatre of Fourvière
In many cities sites like this would cost quite a price but in Lyon it's not the case. This ancient roman theatre is surprisingly well preserved despite being originally built in 15 BC. As with many of the things to do in this list you get an awesome view over the city so it's a cool place to bring a book or a snack and gaze at life ahead.
17 – Follow the Saóne and Rhóne River
Lyon has a very interesting geography with two major rivers dissecting the heart of the city. Both rivers gentle wind for hundreds of miles so you can make a beautiful free day just following the rivers away from the city buzz. It's a great spot for cycling and you'll find lots of unique bridges crossing from one bank to the other. If you've got the time the Rhóne goes all the way from the Mediterranean to Germany so you can really make an adventure out of following it!
18 – Find the Roman Aqueducts
The Romans were very clever people and constructed aqueducts to carry water from one region to the other. These are still visible all over the city and look especially impressive when you get a double rainbow!!!
19 – Watch the skaters
There are some great skate parks in Lyon along the riverfront which make a perfect place to spend a few hours watching the local skaters. Besides the impressive extreme sports it's quite a cool place to hang out and watch local life, especially on the weekend.
20 – Explore the city at night
I know what you're thinking 'this is on every free things to do list' but it's on this one for good reason. Lyon really comes to life at night with many of the most famous monuments incredibly lit up for all to see. What also makes this a great thing to do is that Lyon has a remarkably safe feel meaning you can wander at night, camera in hand, and still feel relaxed.

21 – Wander the local markets
Markets are always one of our highlights to a city and one of our favourite things to do on the weekend in Lyon was to find new ones to explore. Here's a cool list of the markets you can find.
Keep exploring…
The Complete Guide to Hiking the Pyg Track Snowdon
Ditch Flying and Embrace Local Adventures