When you think of Cambridge what do you think of?
---
Exquisite architecture, a world-famous university, tranquil gardens, punting, quintessential English culture, cosy pubs and … extortionately high prices? Well, you were completely right up until the last part. Yes, Cambridge can be a pretty costly affair but with this guide you'll find a whole bunch of awesome free things to do in Cambridge. There's something for every traveller and for every time of year, plus it's all free. Not cheap. Free. Absolutely free.
Here are a whole bunch of free things to do in Cambridge including a map at the bottom so you can find your way around!
Take a stroll to Granchester Meadows
Granchester Meadows is a beautiful natural area a gentle stroll along the river away from the centre of the city. You can get away from the busy streets of Cambridge and watch punters floating along the river and enjoy a BBQ on the banks in the summer or watch the autumn leaves fall in the cooler months. Unfortunately, you can no longer see Pink Floyd frolicking around in the fields taking LSD but it's still a lovely spot to visit when the sun is shining.
Test your musical skills at the Earl of Beaconsfield open mic night
Definitely a local favourite and one where you're unlikely to find many other tourists. Nonetheless there's an incredibly friendly atmosphere, varying levels of musical talent and a bar billiards table in the back – what more could you ask for?
Find the giant fin whale at the Museum of Zoology
Probably our favourite free thing to do in Cambridge, the Museum of Zoology has just completed a full refurbishment and is now better than ever. The museum has over 10,000 treasures on display from all over the animal kingdom and includes species discovered by the man himself: Charles Darwin. It's a great way to spend an afternoon and you're welcomed in at the entrance by a seriously huge skeleton of a fin whale!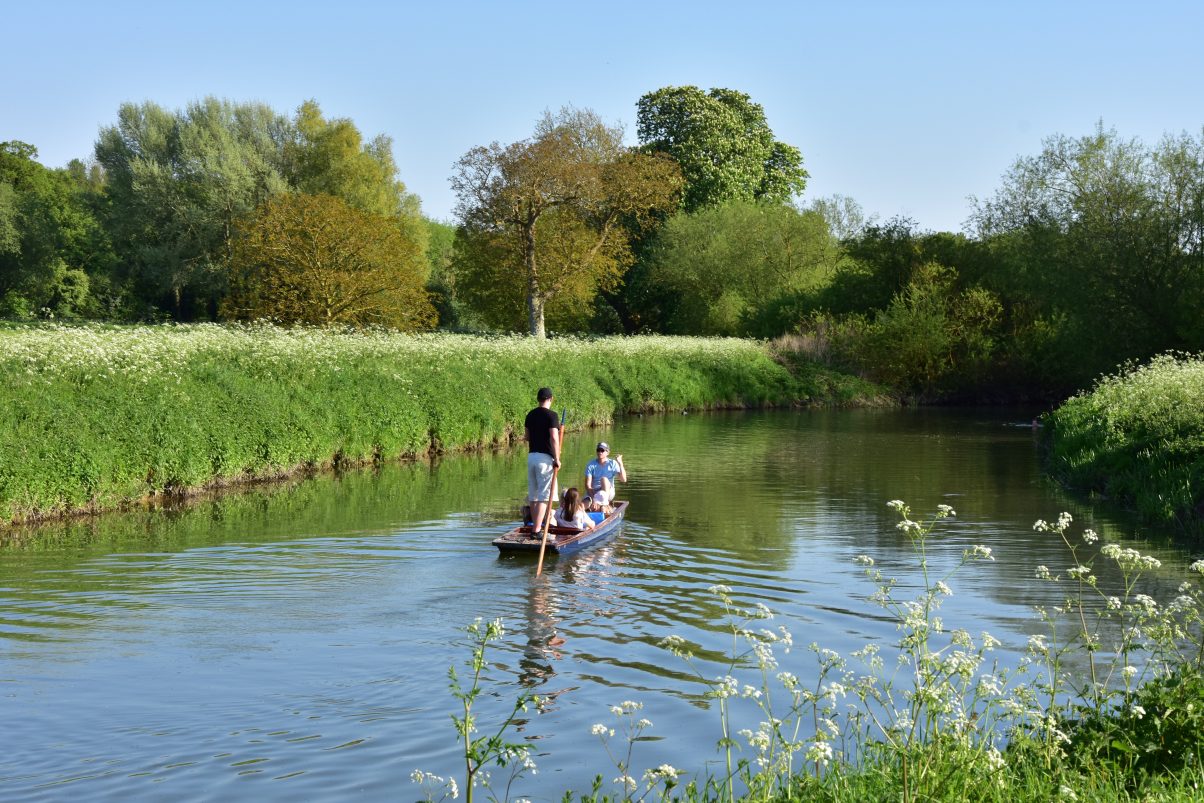 Be blown away by Evensong at King's College
It's hard to believe this world-famous event is completely free – you should definitely add it to your trip, choir fan or not. Set in the grand King's College Chapel the choir performances are so spectacular they're broadcast on the BBC during Christmas and other important services. They are free but they're very popular and have limited spaces inside so make sure you check online here for opening times and information.
Explore the Cambridge Market Square
Although you may not have guessed it Cambridge has a vibrant multicultural community and nowhere is this more evident than at Cambridge Market Square. Located slap bang in the middle of the city you'll be able to find traditional souvenirs, locally grown fruit and vegetables and delicious street food from all over the world (with loads of vegan options!). The market is open 7 days a week throughout the year and Sundays' host a craft market with work from some of the region's most talented artists, craftspeople, potters, sculptors and photographers.
Find Winnie the Pooh at the Wren Library
One of the most historically iconic parts of Cambridge, the Wren Library, should be on everyone's travel list. The library itself is still in use, though it was completed by Sir Christopher Wren in 1695, and inside you'll find exquisite architecture, scholars studying, first editions from Isaac Newton and A. A. Milne's original Winnie the Pooh. How much does it cost? Nothing!
It's a simple trip to visit Bristol and Bath after Cambridge, here's a useful guide!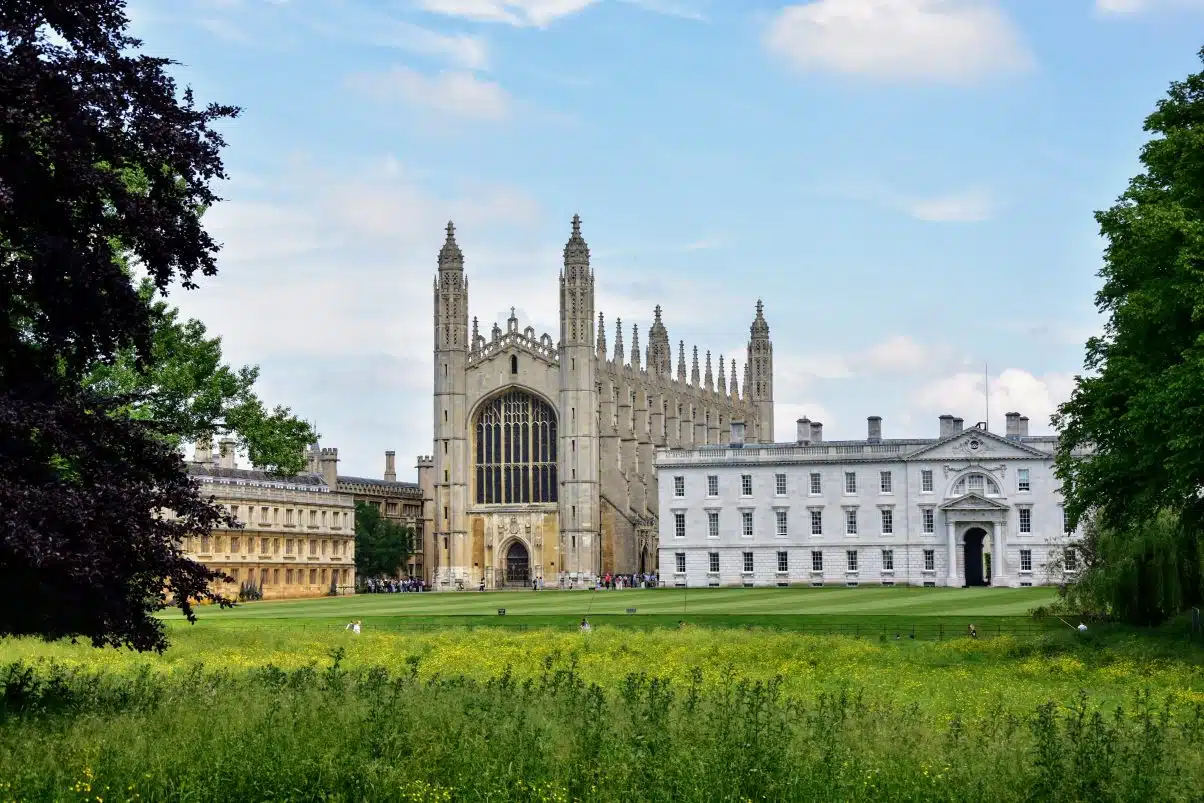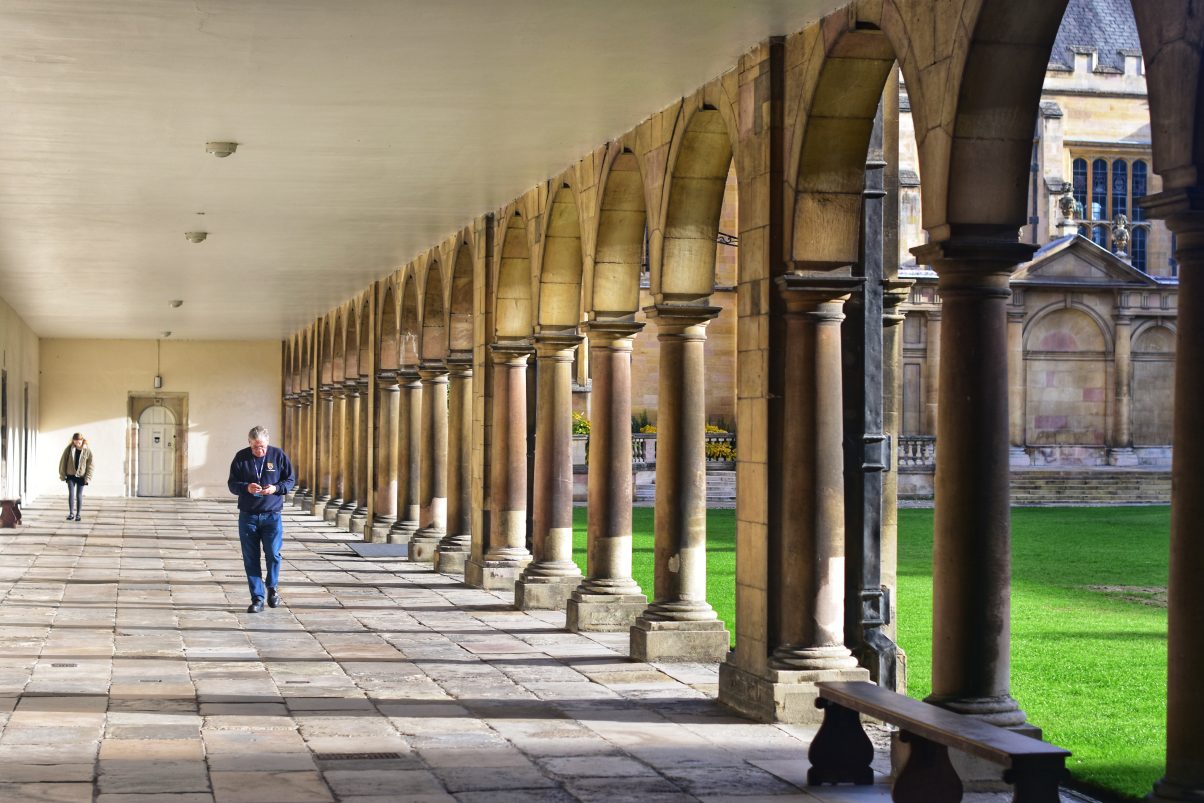 Experience river life at Quayside
No matter when you visit it's unlikely you'll leave Cambridge without spending some time at Quayside. This hub of Cambridge river life comes alive during the summer months when locals and travellers alike sit along the riverside, watch the punts go past and indulge in at least a few afternoon bevvies – Pimms if you're trying to do it Cambridge style!
Wander through Wandlebury
This is 100% our favourite in the autumn months when the leaves are on fire. Just outside of the city centre Wandlebury Country Park offers miles and miles of scenic woodland walks and meadows grazed by highland cattle. If you want to amble through nature then this is the spot and it's open all year round completely free of charge.
See how many Cambridge University colleges you can find
Unlike many other universities around the UK Cambridge University is made up of 31 colleges which are dotted all around town. This is one free thing to do in Cambridge that can fill all of your trip if you want it to. Although not all areas are free to the public there are many stunning college grounds which are open to wander through.
Take a walk along the college Backs, explore St. John's and then walk over the Kitchen Bridge and take a look at the iconic Bridge of Sighs. If you're on your own and feeling sneaky you could even tell the college porter you're there for an interview and see how many colleges you can explore.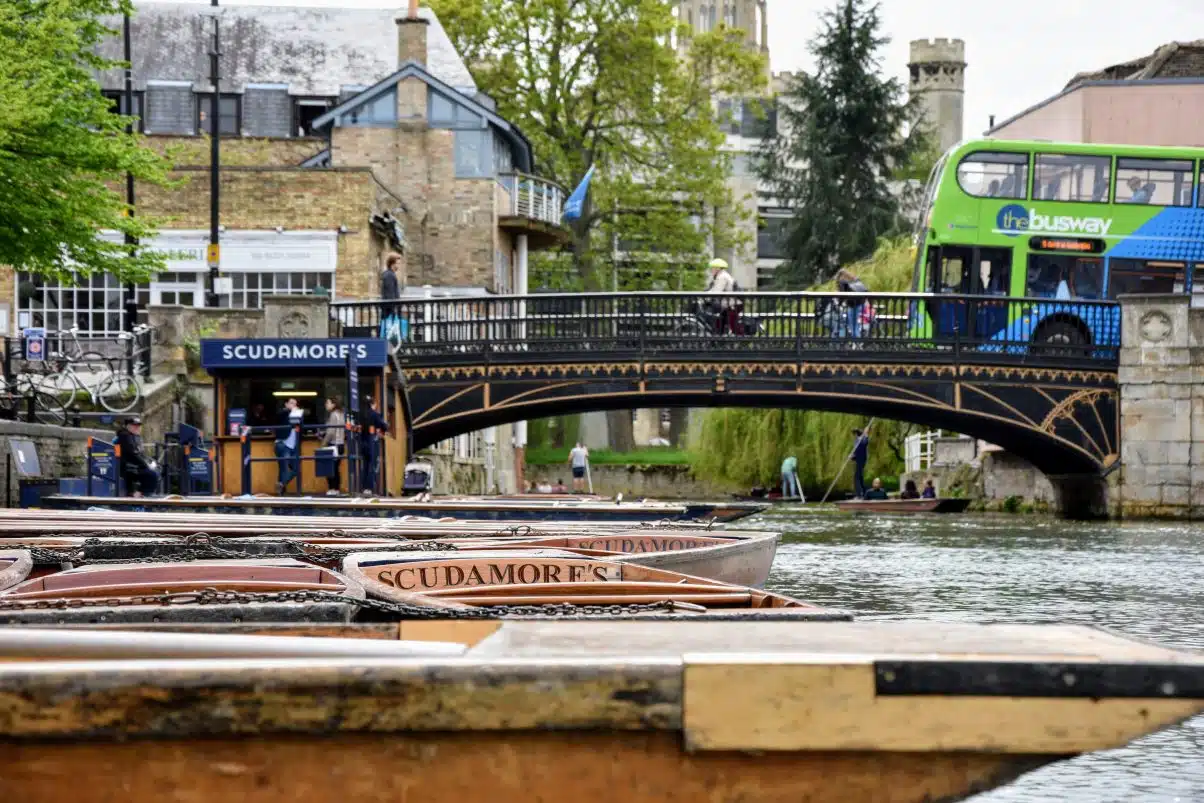 Discover DNA and war-time graffiti at the Eagle Pub
The most famous pub in Cambridge and quite rightly so, the Eagle pub dates back to 1667 and is more than worth the visit even if you're just after an OJ. Historically the Eagle was very popular with Cambridge University folk and it was actually the place that Francis Crick and James Watson announced the discovery of DNA along with the help of Rosalind Franklin. As well as the academic clientele the pub has also got graffiti covered ceilings from RAF airman who used to frequent the spot in WWII – pretty cool ey?
Cycle from Cambridge to Ely
If the weather is nice the cycle route from Cambridge to Ely is one of the best ways you can spend a day. The route is well maintained and signposted along National Cycle Paths making it suitable for everyone. It's 23 miles each way and crosses over river streams, farmers meadows, nature reserves and prolific bird nesting spots. You can leave right from the university buildings of Cambridge and finish at the mighty impressive Ely Cathedral!
Check out Mill Road and the cemetery
Mill Road is another fantastic area filled with multiculturalism and communities working together in one lovely cultural melting pot. Make some friends at the independent business, people watch from a cafe or while away hours with a good book in the peaceful cemetery.
If you're going to the capital, here are some free things to do in London!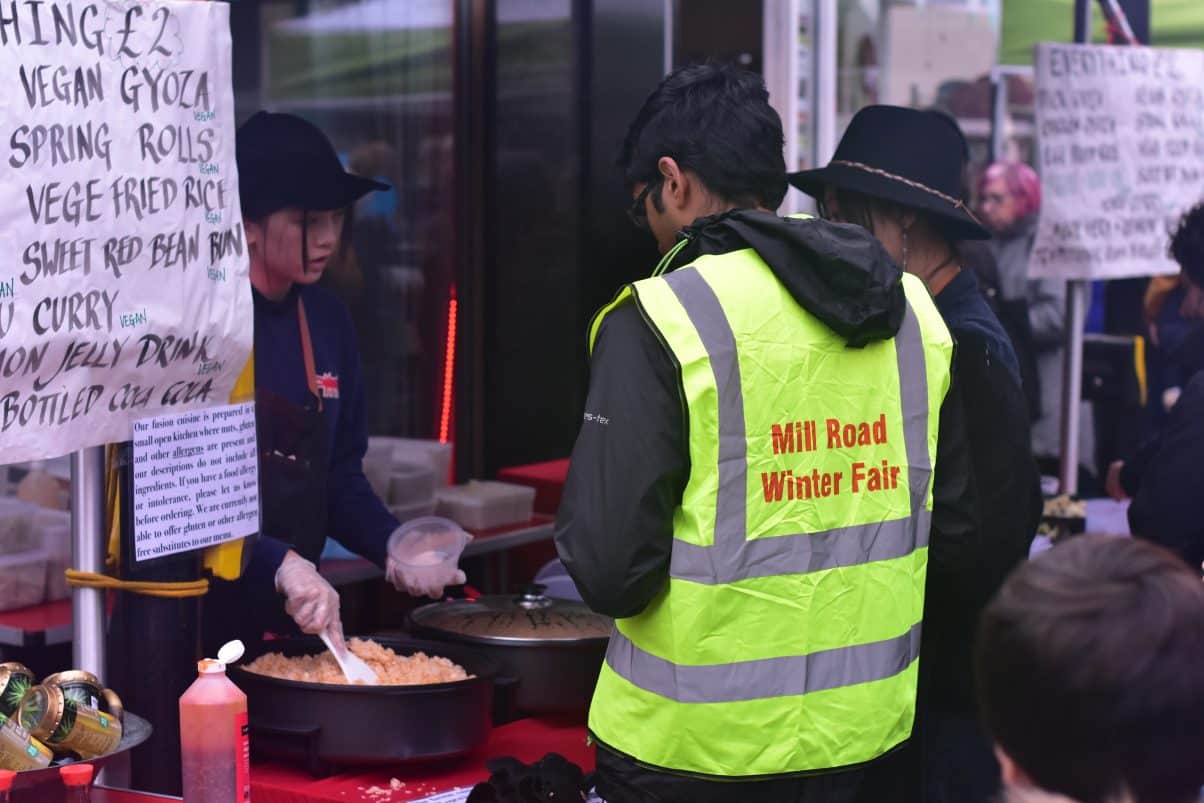 Watch the sunset from Castle hill
Despite Cambridge rarely rising above sea level there is one hill, feared by cyclists and pedestrians, which juts above the skyline of the city – this is Castle Hill. Probably an overly dramatic description but Castle Hill really is a smashing spot to watch the sun go down a 2 minute walk from the middle of town. As a warning, on a nice evening you'll likely be sharing the space with local love birds wooing each other.
Go for a swim at Millpond
The Millpond area is at one end of the lower River Cam, it's filled with tranquil fields, grazing cows, pubs and restaurants and lots of water pools you can jump into. Unless you're hardcore this is probably best saved for a nice summer's day but a swim at Millpond is great experience (and how I spent my childhood!). We can't vouch for the cleanliness of the water so best not to swallow any when you jump in…
Try free vegan fudge at the Fudge Kitchen
Every day the Cambridge Fudge Kitchen makes batch after batch of delicious fudge, open for you to watch and free for you to try. The guys in there are super friendly and show you all of the processes to make some of their finger-licking products. To make things even better they normally have 3/4 vegan options that are free to try!
There are plenty of vegan restaurants in Cambridge too, check em out!
Get involved at Jesus Green
Whether you want to shred the skate park, play tennis, visit the swans or watch the quidditch players, at Jesus Green you're spoiled for choice. This leafy part of Cambridge fills up in the summer months with picnickers and friends but is equally nice to walk along in the colder months and take life at a slower pace.
Spend an afternoon at the Fitzwilliam Museum
One of the perks of travelling in the UK is that all museums are free, and top of the Cambridge museum list is the Fitzwilliam. This bloody grand building was opened in 1816 and is home to some "of the greatest art collections of the nation and a monument of the first importance". There are lot of groundbreaking exhibitions and the museum proudly displayed King Tutankhamun for a number of years.
A Whole Bunch of Free Things to Do in Cambridge
It's a proven fact that everything is better when it's free, especially when travel is involved. Some travellers may be put off by costs but truly the best experiences you can find are the free things to do in Cambridge.
Enjoy your travels and if you find any more awesome free things to do in Cambridge then tell us in the comments box so other travellers can experience them too!
Keep exploring…
12 Epic Climbing Documentaries to Inspire Your Next Adventure
11 Epic Hiking Trails That Will Make You Want to Go Hiking in France
5 Awesome Hiking Trails in Yosemite National Park