This is a sponsored article from We Are Graphene.
It's more important than ever to stay carbon-neutral while exploring around the globe. You can cycle instead of taking buses and planes, avoid single-use plastics and leave no trace when exploring nature.
But when you live an adventure lifestyle, you burn through a lot of gear—especially clothing. The textile industry is one of the biggest polluters on Earth. The production of just one pair of jeans or one jacket results in as many as 34 kg of carbon emissions. That's PER PIECE of clothing manufactured!
Fortunately, the GAMMA jacket and graphene clothing are able to prevent millions of kilos of carbon emissions per year.
How?
GAMMA is an all-season, all-climate graphene jacket that's guaranteed to last for life. Its insulation is so advanced that you can wear it in any weather and keep cool or warm. It's made of graphene, the strongest known material, and, it's 100% cruelty-free.
That means, you only need one jacket for life, preventing the need for mass amounts of textile production and reducing even more rubbish from entering landfills.
GAMMA Jacket: The Perks
GAMMA Jacket is packed with features thanks to its innovative graphene material (more on that in a moment). Here's a quick roundup of the perks it brings to you and the planet.
All-Climate Comfort: Wear GAMMA year-round, no matter where your adventures take you
Built-in Heaters: Stay warm in temperature as low as -30˚C with built-in carbon fibre heaters
Graphene Strong: Graphene is the strongest material on Earth, making Gamma totally damage-resistant
Waterproof: Graphene blocks all liquid from passing its barrier, stopping moisture and stains
Windproof: No wind or chill can pass through GAMMA's graphene barrier
Moisture-wicking: GAMMA moves sweat from within to its outer layer to keep you cool and comfortable
UV Proof: GAMMA blocks UV rays on hot days to protect your skin and prevent overheating
Antibacterial: Stay clean, safe and odour-free on the trail with antimicrobial protection
Hypoallergenic: GAMMA acts as a shield against allergens, mites, mould and more
Insect repellent: Graphene prevents mosquitoes from sensing your blood—GAMMA is like an invisibility cloak to bugs
10 Pockets: Including 2 hidden pockets, GAMMA is ready to keep all your stuff safe and dry
Ultralight and Packable: GAMMA weighs just 500 g and packs down to the size of a t-shirt
Cruelty-Free: GAMMA is made with organic graphene (100% carbon) and vegan materials
Lifetime Guarantee: GAMMA will be the only jacket you need for life
How can one jacket do all of this?

GAMMA is not a normal jacket. It's not made of down or cotton or synthetic materials like other softshell activewear. GAMMA is made of a new kind of material called graphene, which brings totally new features to textiles. GAMMA is literally the evolution of adventure gear.
What is Graphene? Super Fabric for a Cleaner Planet
Never heard of graphene before?
Graphene was discovered in 2004, and it was such a big deal that it won its discoverers a Nobel Prize. Graphene is a 100% organic material with a number of amazing properties. It's both an incredible conductor and insulator. And it's the strongest, thinnest and most flexible material on Earth. It's even stronger than diamond!
Aside from that, graphene is naturally waterproof, windproof, UV proof, antibacterial and hypoallergenic.
As you may imagine, adding graphene to clothing would change the textile industry forever. Imagine buying clothes that could never fray, tear or stain. Or socks that would never get stinky. Or a jacket that keeps you comfy from 20˚ to -30˚C.
That's GAMMA Jacket. It took more than a decade after the discovery of graphene to infuse clothing with this super material, but now GAMMA is ready to change the world.
Graphene clothing:
Requires zero animal products to produce
Will prevent countless tonnes of carbon emissions
Eliminates countless tonnes of landfill refuse
Is completely recyclable and reusable
---
---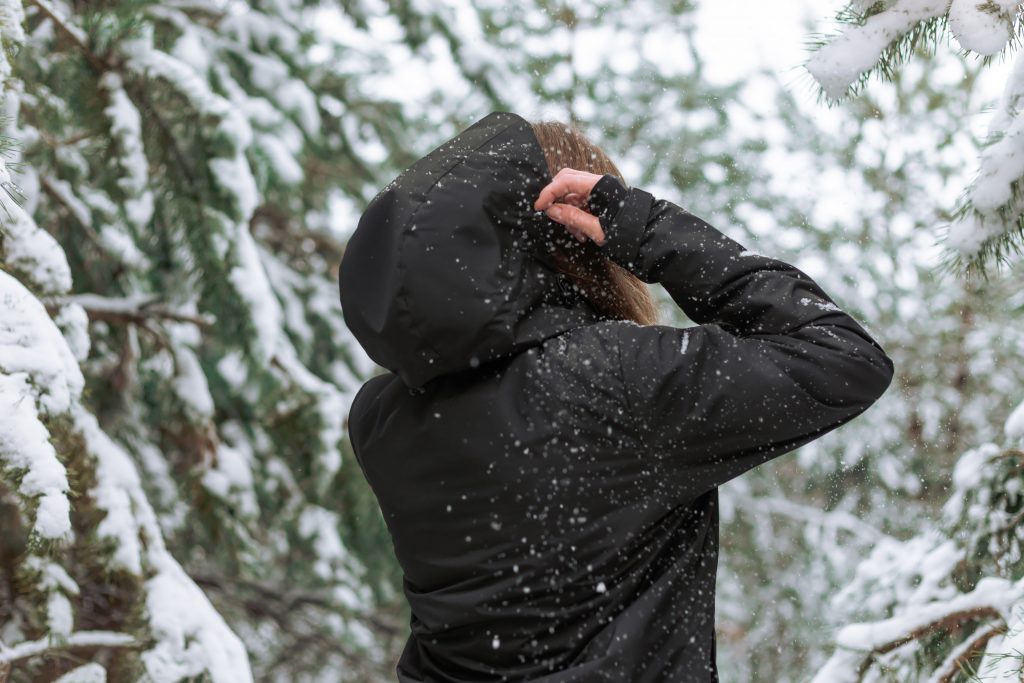 Why Take GAMMA on Your Next Adventure?
GAMMA is great for the planet, but it's also a better jacket for your next hike, city stop, marathon or commute to work. Here's what GAMMA brings to your adventures, long and short.
Temperature Control
GAMMA is the first jacket that will keep you comfy in just about any temperature you encounter—from muggy spring days to sub-freezing mountain hikes.
Graphene plays a big role thanks to its excellent insulation and acting as a second skin. The latticed nanostructure "senses" your body temperature and moves heat across its surface evenly. That means your arms, head and hands will receive heat from your torso, keeping your entire upper body warm without the need to layer up.
But your body heat can only do so much. When things get really cold, turn on GAMMA's built-in heaters by plugging a power bank into one of the jacket pockets. Carbon fibre heaters will heat up to 50˚C in 30 seconds. There are three heat settings to choose from, depending on how cold it is outside.
In warm weather, graphene blocks the sun and maintains a cool, dry interior.
Comprehensive Climate Protection
One of the toughest things about travelling is that you can't keep clothes with you that protect against every type of climate. You have to pick and choose.
Now, GAMMA will provide total climate protection no matter where you go. It blocks water, sun, wind, snow and anything else Mother Nature throws at you.
And we're not just talking about the weather, either. GAMMA can protect you from whatever awaits on your hike. If you need to climb craggy rocks, scramble through brush or wade through rivers, GAMMA will protect you and come out the other side unharmed.
It's practically impossible to damage GAMMA thanks to its graphene layer. The manufacturer is so confident that it has included a lifetime guarantee.
Lightweight and Packable Design
GAMMA is so lightweight and flexible that you can almost fit it inside a pocket. It weighs just 500 grams and is supremely packable.
Not only that, but you won't need to pack your windbreaker, rain jacket and winter fleeces, saving loads of room and weight in your bag.
Even when you're not hiking, there are big benefits to having a lightweight jacket. In the winter months when everyone is bundled up in giant puffer jackets (of which many are terrible for the environment), you'll be plenty warm in a jacket as light as a windbreaker, maximizing your range of motion and ensuring you stay comfy.
Stylish Look
Softshell activewear is in style, and GAMMA looks better than the rest. With separate men's and women's designs and many sizes to choose from, GAMMA is made for your body type.
Free exchanges are available if you don't get the size right the first time.
Practical additions include drawstrings for when the weather gets nasty, a hood and fingerless gloves to extend graphene's insulating protection to your hands.
GAMMA is activewear and adventure wear at heart, but it's suitable for year-round use. The sleek black look makes it an ideal jacket for work and going out. The best part is that you can move in GAMMA all weekend and then wear it to work on Monday without worrying about odours—graphene is immune.
Get GAMMA Now
The more clothes you burn through on your adventures, the more fossil fuels are burned to produce new textiles. It's time to upcycle the textile industry to make clothes more sustainable. With graphene clothing like GAMMA, that's now possible, and it comes with a lifetime warranty.
What are you waiting for? Adventure better and support cruelty-free clothing with GAMMA Jacket. Learn more at weargraphene.com.