Stumped for what gifts to get rock climbers this time of year? Check out this list of awesome gifts climbers will dig
---
Are you finding yourself pulling your hair out wondering what to get the rock climber in your life? What do they really want? What could you need to haphazardly climb up big rocks?
Fear not! We've got you covered with this list of the best gifts for rock climbers.
You're right in thinking rock climbing is a little niche… spending hours working out ways to manoeuvre your body up a rock face isn't for everyone. But for those who are into it, they really dig it. That means there are LOADS of climbing-related things your pal would seriously love.
Us climbers are usually a savvy bunch of people who appreciate stuff that will keep them safe and last. They're after gear they can make use of for years to come.
Our list of climbing gift ideas has been compiled with this in mind, only containing options that will enhance the experience for your rock climber. It's also all 100% vegan – whatever you choose, you know you're making an ethical choice.
This article may contain affiliate links, they will never cost you more money but helps Veggie Vagabonds keep making content like this – thank you!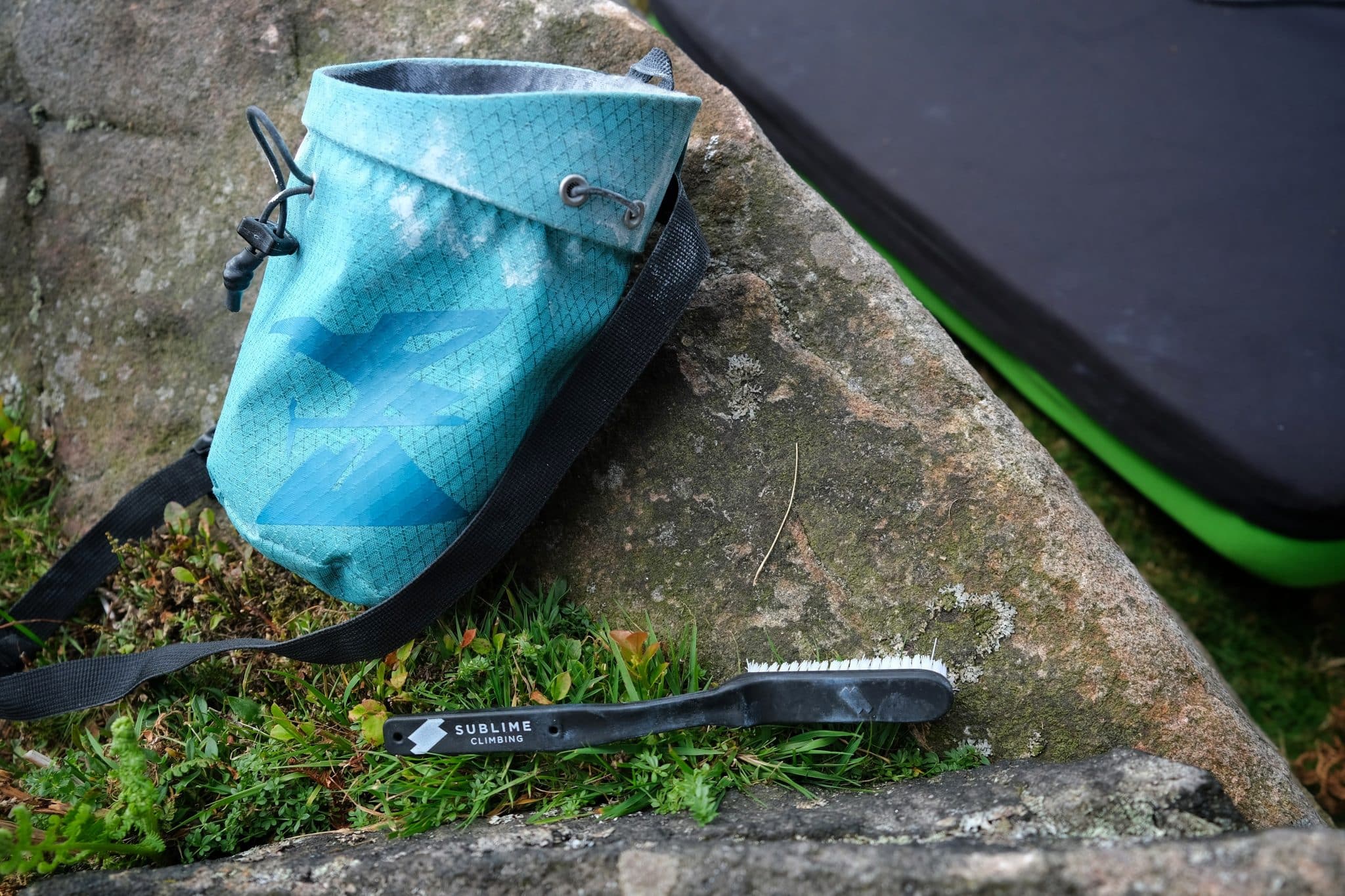 Chalk bag, chalk and brush
Three essentials any climber will need for hitting the crag and sending routes.
Climbing chalk helps climbers grip to holds and rocks when the dreaded sweaty palms kick in. Friction Labs' Gorilla Grip is a favourite amongst climbers as it's made with pure ingredients, is super absorbent and helps promotes hand health.
It's no good having all that chalk with nowhere to put it. These chalk bags from Organic are made from recycled materials and come in awesome eye-catching designs. Your climbing chum will be the coolest cat at the crag.
Chalk and moisture builds up on holds making them slippy and so a good climbing brush is needed to brush off any excess. We struggled for a long time to find a vegan climbing brush but discovering this one from Sublime was a real win. It's lightweight whilst still be durable enough to remove any chalky build-ups.
---
Black Diamond Climbing Harness
If you're looking for a lead or sport climbing gift, this Black Diamond Climbing Harness is complete with all you need. It includes a harness, belay device, carabiner, chalk and bag, which are most of the essentials needed to climb with ropes.
The women's and men's come in different sizes so you can find the right one below.
---
Climbing protection and quickdraws
Depending on the type of climbing, different tools for protection are needed: cams and nuts used in trad climbing, ice screws used in alpine climbing etc. These are essential for keeping the climber safe whilst on the wall.
In order to get the right gift here, you'll need to do a bit of sleuthing to find out what type of climbing your buddy does and what they'll use. Then, you'll be able to find all the climbing protection needed on the links below.
Find options here at Cotswolds // REI
---
Edelrid Swift Eco Climbing rope
Although you won't find Edlerid Swift Eco rope in your typical gift guide, it's something any rock climber would be over the moon to receive.
Edelrid are an eco-friendly company, with the Swift Eco rope being made from recycled yarns and Bluesign-approved materials. It's made with durability in mind, with a thermo-shield to help it last longer and low water absorption rate which helps to give it longevity.
An integral piece of kit to any rock climbers' equipment list and sustainable too!
---
For more outdoor inspiration and adventure guides, be sure to sign up for our mailing list below!
Rock climbing shoes
This is arguably the most important bit of kit a rock climber needs. Climbing shoes are like a second skin and a good pair are essential for a life spent clambering up rocks. Getting the right pair is really important!
We wrote a whole going on how to choose the best vegan climbing shoes, which will help you pick just the right ones.
---
Black Diamond climbing helmet
The best climbing gifts will keep your loved one safe and this Black Diamond climbing helmet will do exactly that. It's been redesigned for comfort and practicality with one-handed adjustment straps plus a headlamp clip – everything you need to keep your noggin safe.
---
Metolius Project Training Board
Climbing is a weather dependent sport but this Metolius Project Training Board is the perfect rock climbing gift to keep training on those rainy days.
These fingerboards are used to develop fingers of steel and strength to pull on smaller holds. A crucial tool for progressing as a climber.
This board comes in different colours, with instructions on how to fit it and a training guide to help get any climber into the swing of things.
---
Climb Skin Hand Cream
Rock climbing plays havoc on climbers' hands, leading to sore fingers and scraped knuckles. Climb Skin Hand Cream is an integral bit of kit for looking after all those cuts and cracks. Its specially designed formula is made especially for climbers and is completely vegan, something which can be hard to find.
---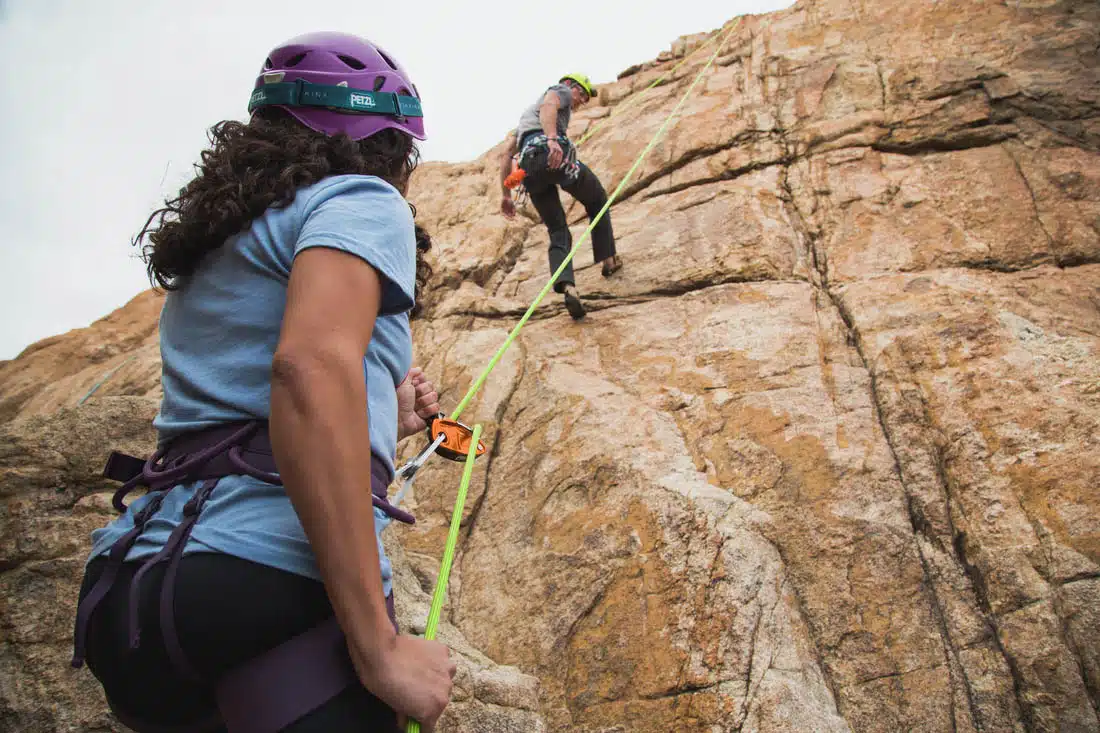 A climbing training course
No matter what age or ability, with climbing there's always room for improvement and the chance to upskill. With so many intricacies and the safety element, gifting a climbing course or training program can be massively appreciated.
Check out what's on offer in your local area and you can find the right course to suit your climbing companion.
Find options on BMC (UK) // REI (USA)
---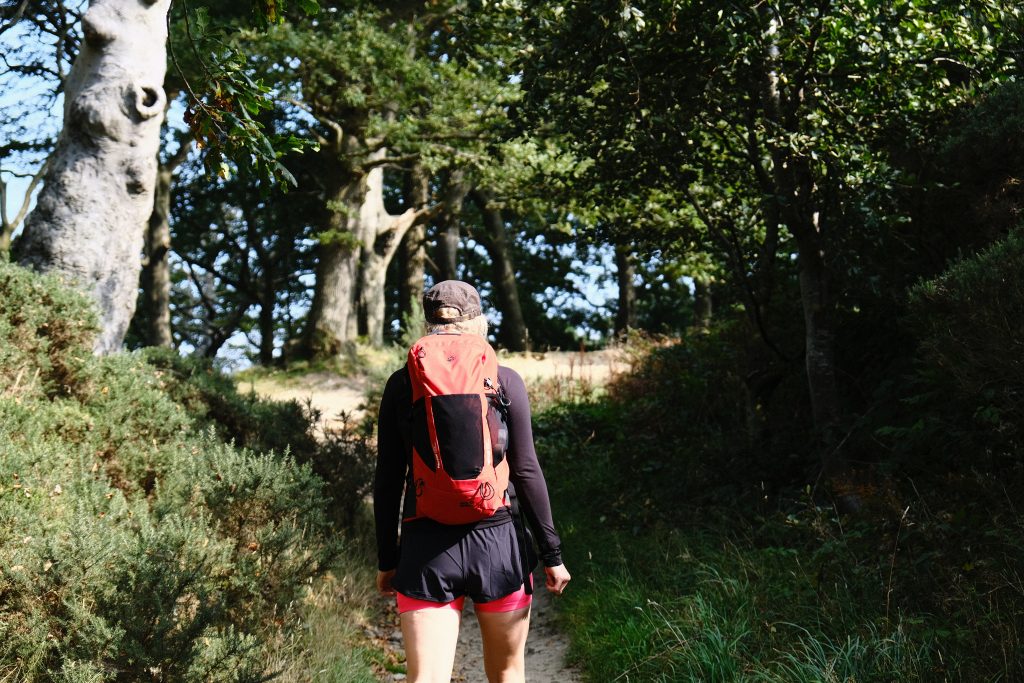 Rock climbing rucksack
As you may have noticed by now, climbers have a LOT of gear and it all needs something to transport it in.
As outdoor lovers, climbers are big fans of ethical gear choices and buying them an eco-friendly rucksack is a foolproof way to put a smile on their face. Our list of the best sustainable rucksacks has the perfect options for lugging all their rock climbing gear in.
---
Boot Bananas
Designed in the UK and with natural ingredients, these little beauties help keep shoes smelling fresh until they turn brown and need replacing, much like a real banana!
If you've ever had a whiff of a climbing enthusiast's shoes, you'll know these will be a well-loved gift (for them and anyone who comes within sniffing distance of their shoes).
---
Adventure and climbing book
The next best thing to climbing mountains yourself is reading about someone else's epic tales of ascents.
Some favourites amongst climbers are Chris Boddington's Ascent, Alex Honnold's Alone on the Wall and Touching the Void by Joe Simpson.
If there are tales of big walls and palm-sweating moments, chances are it'll be a sweet present for rock climbers. Our list of Awesome Outdoor Books has some great inspiration.
---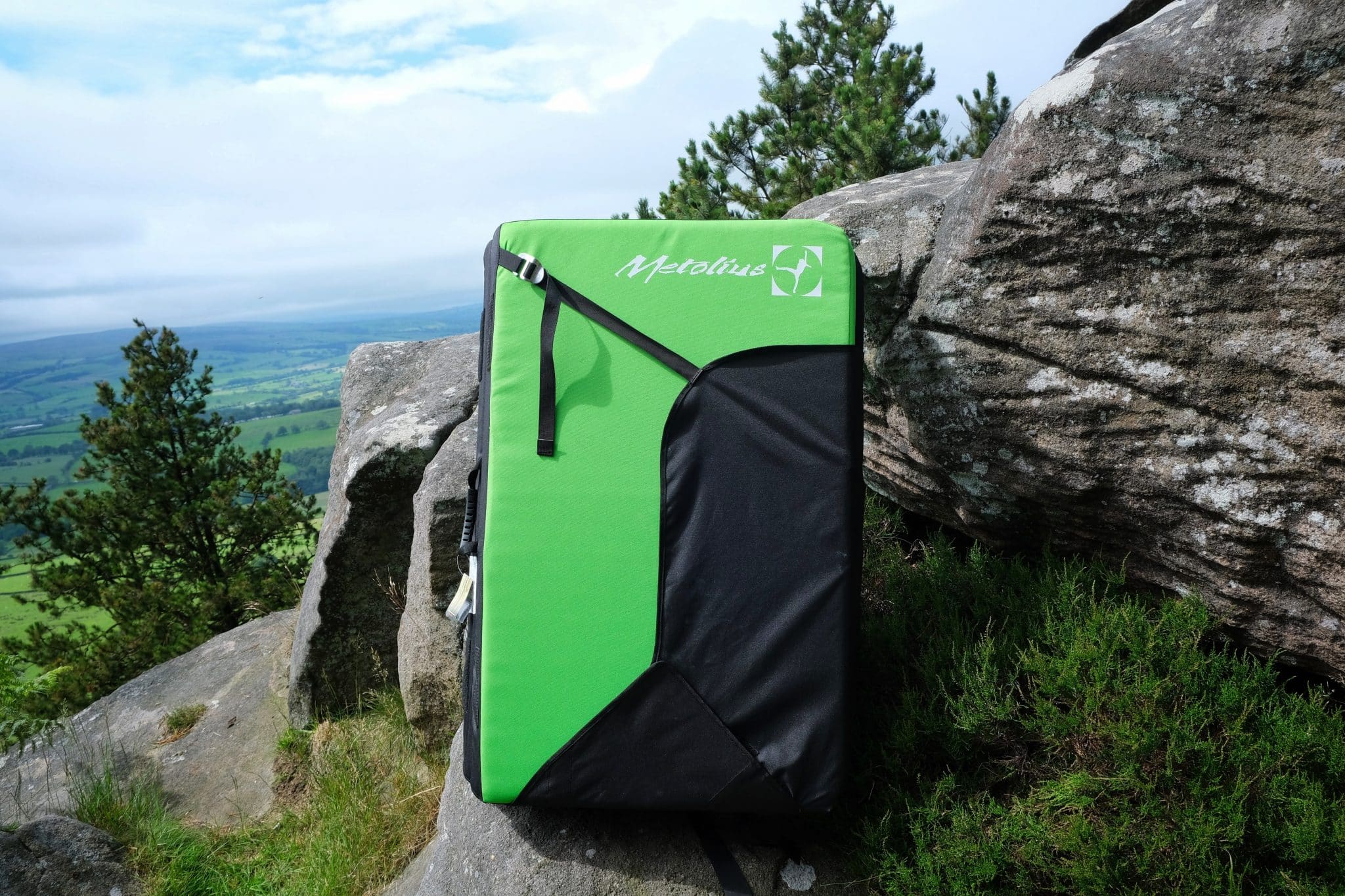 Bouldering Crash Pad
Any outdoor bouldering session requires a crash pad and this one from Metolius is the ideal adventure-enabler. It weighs only 9 pounds but is cushioned enough for any mishaps or falls.
Its handles make it easy to transport and move at the crag, plus there's a carpeted section to dry off shoes before getting on the wall. Our go to crash pad!
---
Petzl Actick Core Headlamp
Whatever the adventure, a good headtorch is a must. This Petzl Actick Core Headlamp is an ideal rock climbing gift idea, with multiple lighting functions, it's easily adjustable and rechargeable. It can also be attached to helmets making it a good gift for mountaineers or trad climbers.
---
Climbing guide book
A guidebook to local or prospective crags can be like a bible to climbers. They cover whole regions to national parks and give all the info you'd need to find and attempt the different routes in that area.
You'll have to do a little investigating to find out the right location but it can end up being a very warmly-received gift for rock lovers.
---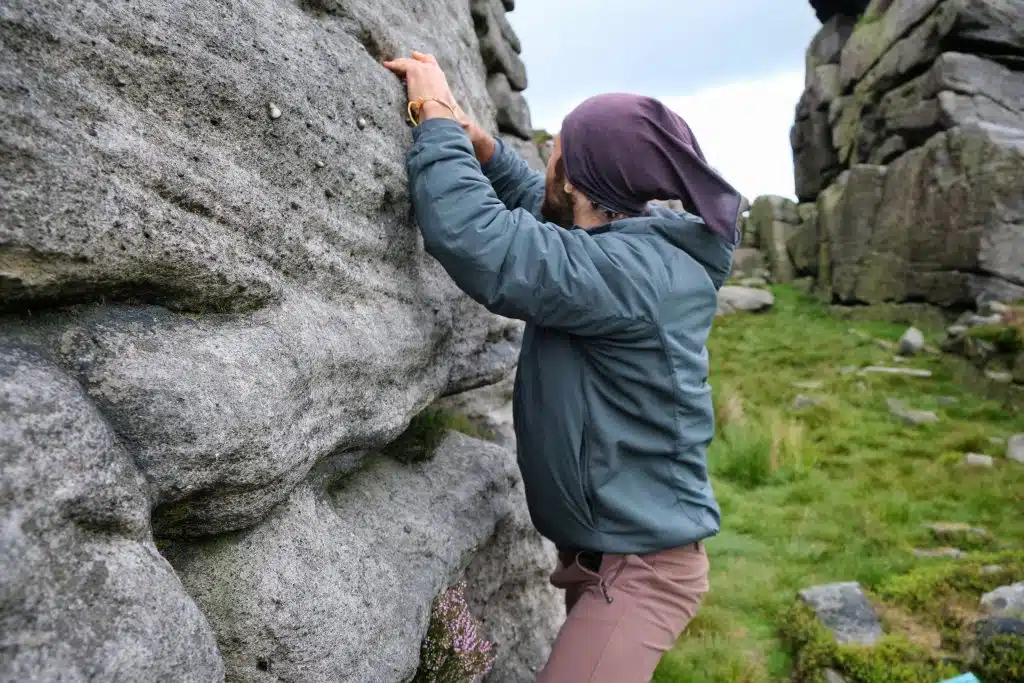 Climbing insulated jacket
Rock climbers like to make the most of days spent outside, sometimes starting or finishing in darkness and standing still belaying in biting conditions.
For such chilly occasions, a synthetic insulated jacket locks in the heat but is super light and even keeps warm once wet. It can easily be brought along with all that heavy rock climbing gear and becomes a climber's best friend.
We put together a list of the best synthetic insulated jackets which are also vegan-friendly so you've got plenty of options to pick from.
---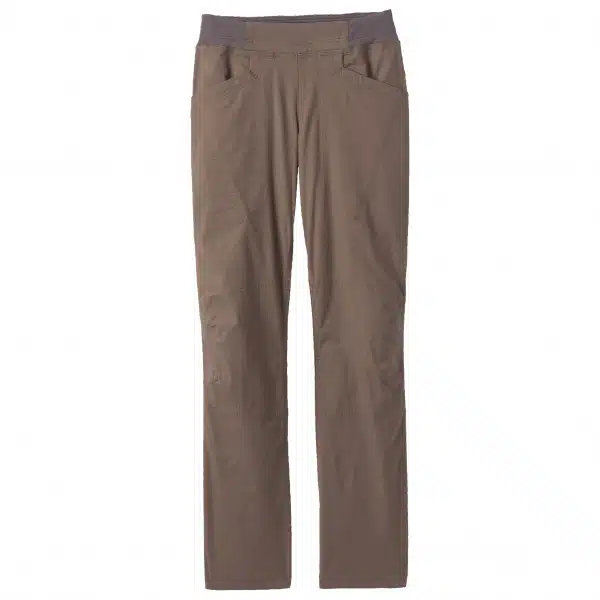 Climbing clothes
Us climbers are a frugal bunch who like getting every last use from a piece of gear. The best rock climbing clothes will last for years and are sure to bring smiles.
Specially designed climbing trousers would be our first choice, which allow you to move with ease but are built strong to last scraping up rock faces.
If you're unsure of sizes or styles, you can never go wrong with a gift card so they can pick for themselves.
If you know your climbing friend is in need of more sustainable outdoor clothing, check out our Ultimate Guide to Ethical Outdoor Gear
---
Climbing documentary
For rock climbers, there's nothing more inspirational than watching some of the world's greatest adventurers accomplish great things outside. This list of the Best Climbing Documentaries will have anyone on the edge of their seat, gripping the armchair in suspense.
Buy one for your loved one or watch it together and prepare for some nail-biting viewing of epic proportions!
---
Plan a climbing trip
Chances are your climbing buddy would love to go clamber up some rocks with you. You get to spend the day outside with great company and they can teach you something new (with lots of laughs watching failed attempts!).
Need some trip inspiration? We'd 100% recommend climbing in Fontainebleau, it's a Mecca for bouldering!
19 Gifts for Rock Climbers That They'll Dig
Hopefully, this list gives you a little inspiration for what to buy the rock lover in your life. Or, maybe you're an avid climber and plan to send this list to everyone you know in the hope they'll get you something other than socks this year?
Do you have any other sweet gift ideas? Tell us in the comment below!