Our trip to the Lake District came at the perfect time
---
After a tough ol' winter crammed with cold weather, coronavirus and lockdown, the 10-mile radius we could technically explore was feeling smaller and smaller each day. By this point, we could've plotted our own OS map of the local hills, streams, walking paths and bridleways.
We're damn glad to have had so many green spaces nearby, but, there's a magic you'll only find from exploring new and unfamiliar places. The thrill of seeing a mountain landscape for the first time or climbing a jagged peak and not knowing what will be on the other side. And that's what we were after.
Overnights were now back on the menu and wild camping a possibility. The whole of the country was once again free to roam. We decided on a 4-day hiking trip through the Lake District, getting a train to Penrith and back from Kendal.
We'd go armed with 4-days worth of food in our packs and no real plan.
There are literally hundreds of miles of hiking trails between the two towns, filled with famous Wainwrights, tarns, peaks, valleys and waterfalls. Instead of plotting a route we'd follow our feet, guided by the views in front of us and water sources available.
Day 1 – I don't think we need the winter gear…
It took us longer to get out of Penrith and into the hills than we'd hoped… an espresso pit stop for Sarah, two visited cash machines that weren't working and even finding a purse on the floor that has now been reunited with its owner, Judith!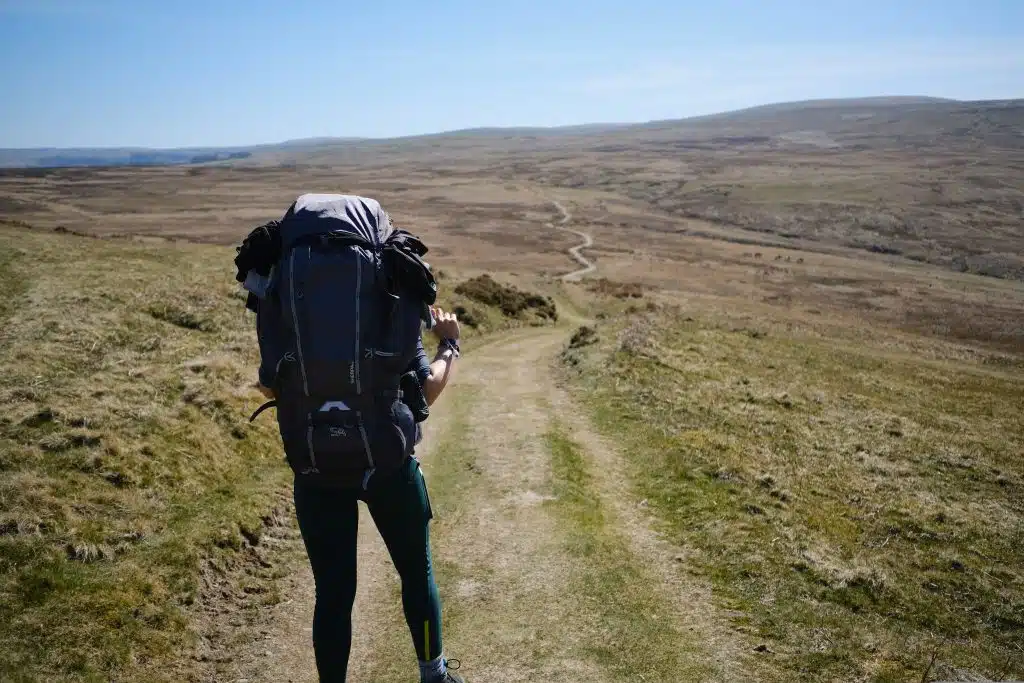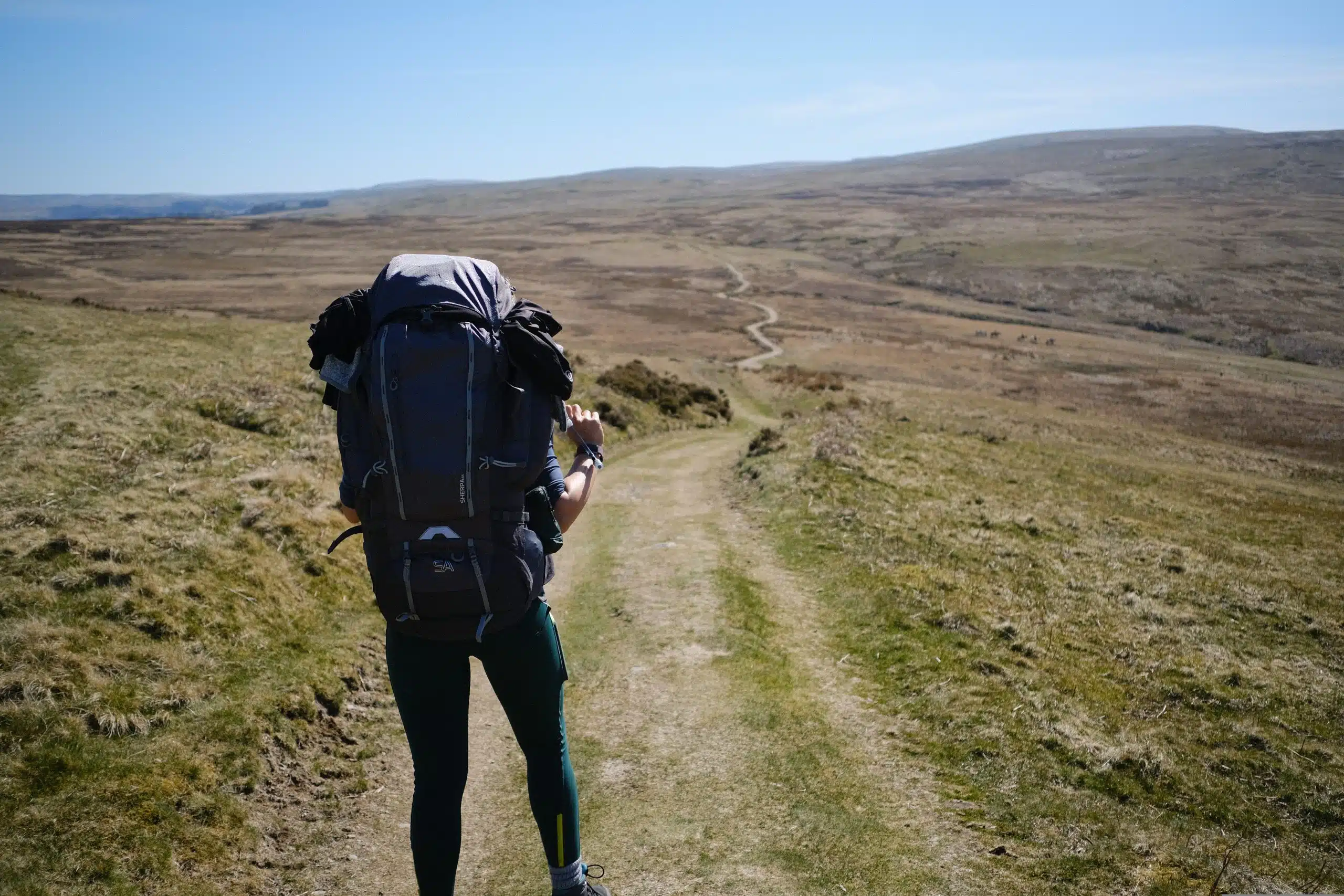 Slowly, we found our way to the first signs of the Lake District National Park and started weaving upwards towards Ullswater.
As you might be able to tell from the photos, we weren't packing light.
We'd seen that temperatures could drop down to -3C and to avoid another mountain rescue situation, had decided on winter sleeping bags, mats and thermal clothing…
As you may be able to tell from the photos, it was actually pretty damn hot. All socially acceptable layers got stripped off within a few kilometres.
The winter gear combined with the entire trip's food, three litres of water and feeble shoulders that hadn't worn a weighted pack since autumn… we were struggling.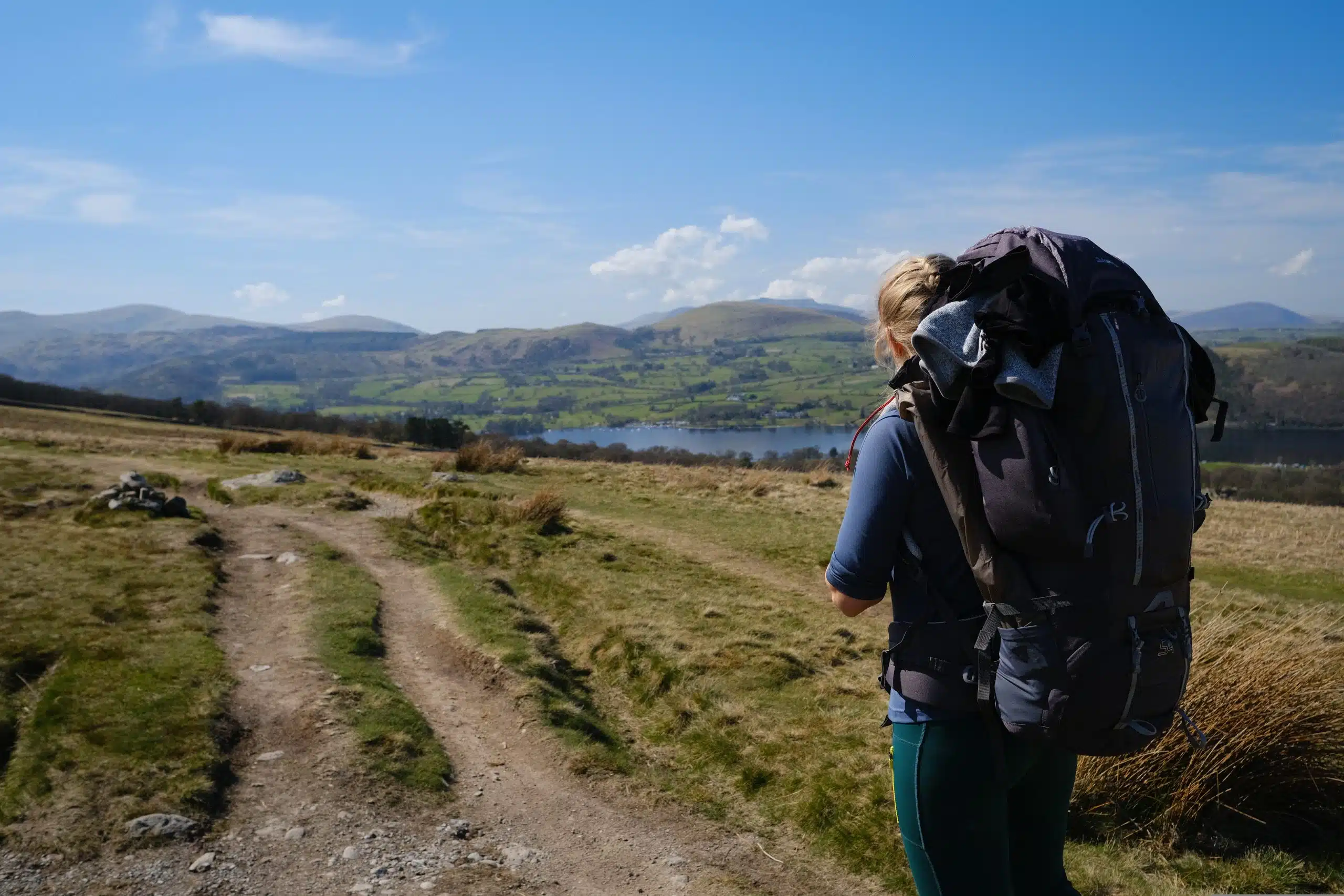 Popping over a small hill, we got the first glimpse of Ullswater: the second-largest lake in the Lake District, surrounded by rolling pastures, towering fells and peaks. Freshly emerging from our lockdown cocoon in Skipton, we were beaming from ear to ear knowing the next 4 days would be filled with beautiful new natural scenes like these.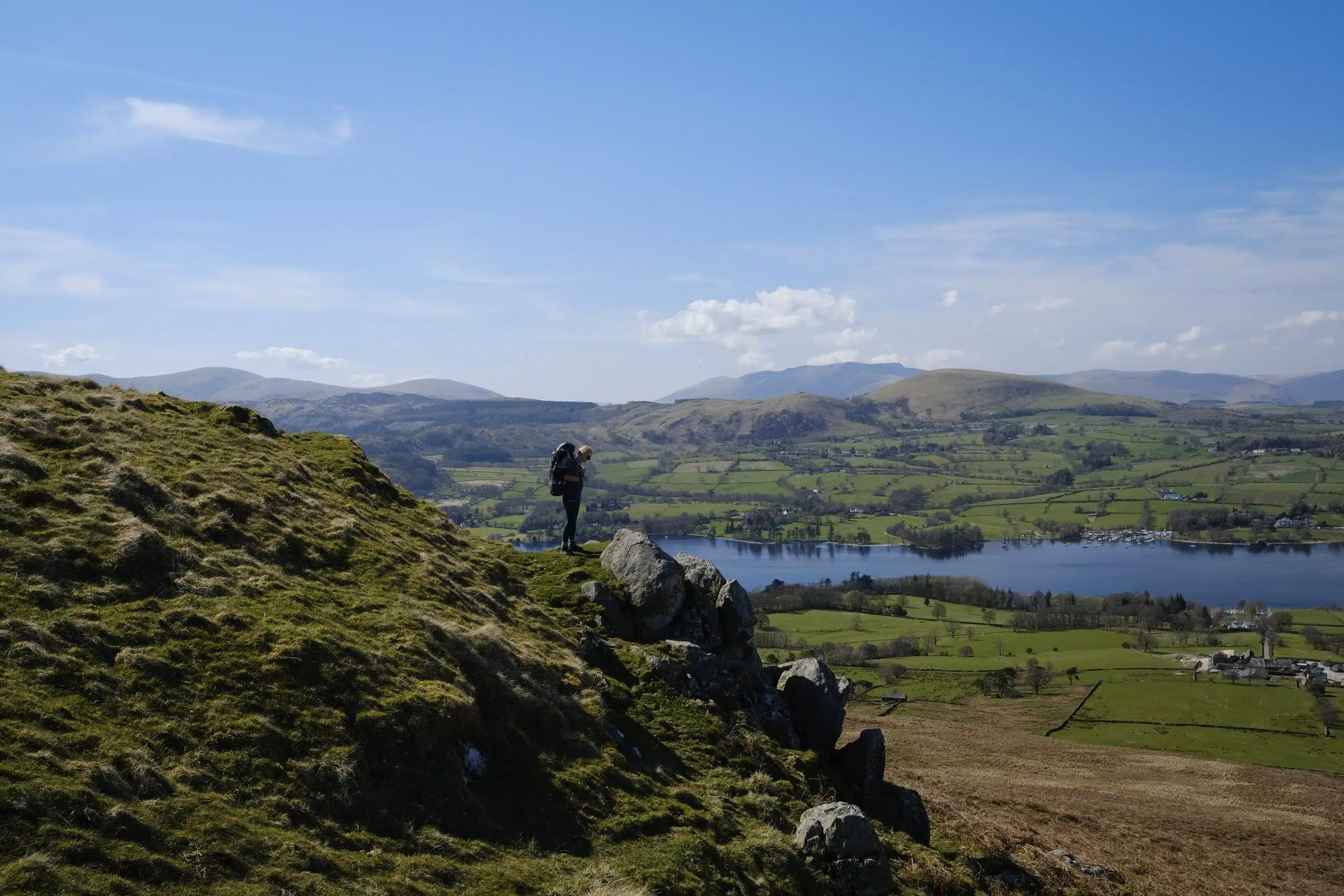 Our first mini goal was to reach Arthur's Pike: a 533-m fell that hangs over Ullswater. It was about midday by this point and roasting. There was no breeze to help either. The initial ascent was sweltering and our faces were glowing.
Despite the heat, oh man if felt good to be back in the hills.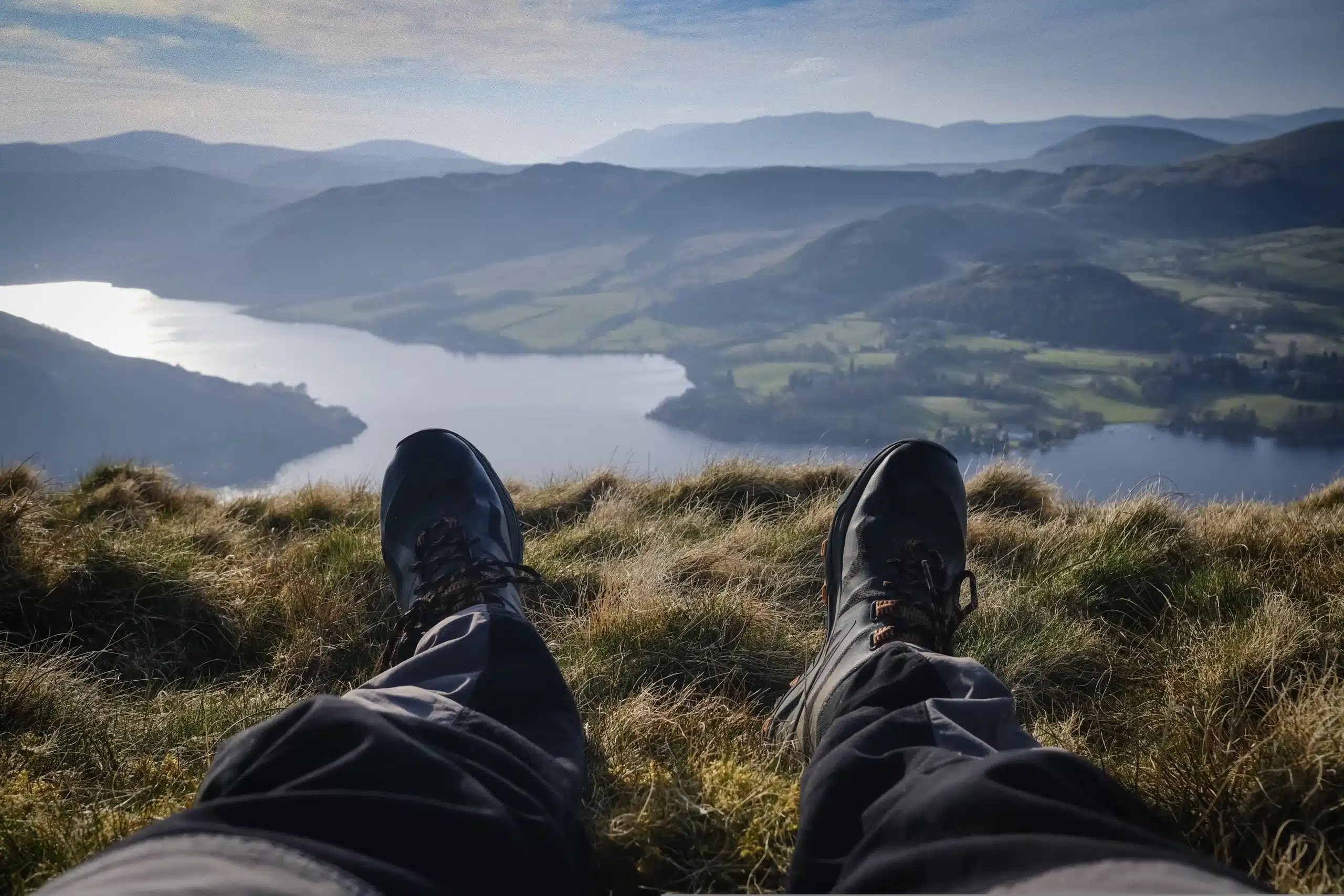 We found a stream to fill up with our water filters and finally got to Arthur's Pike by 5 pm. Taking off those rucksacks had never felt so good, especially when you can flop back and take in views like this.
All the aches, pains and excessive sweating was completely worth it.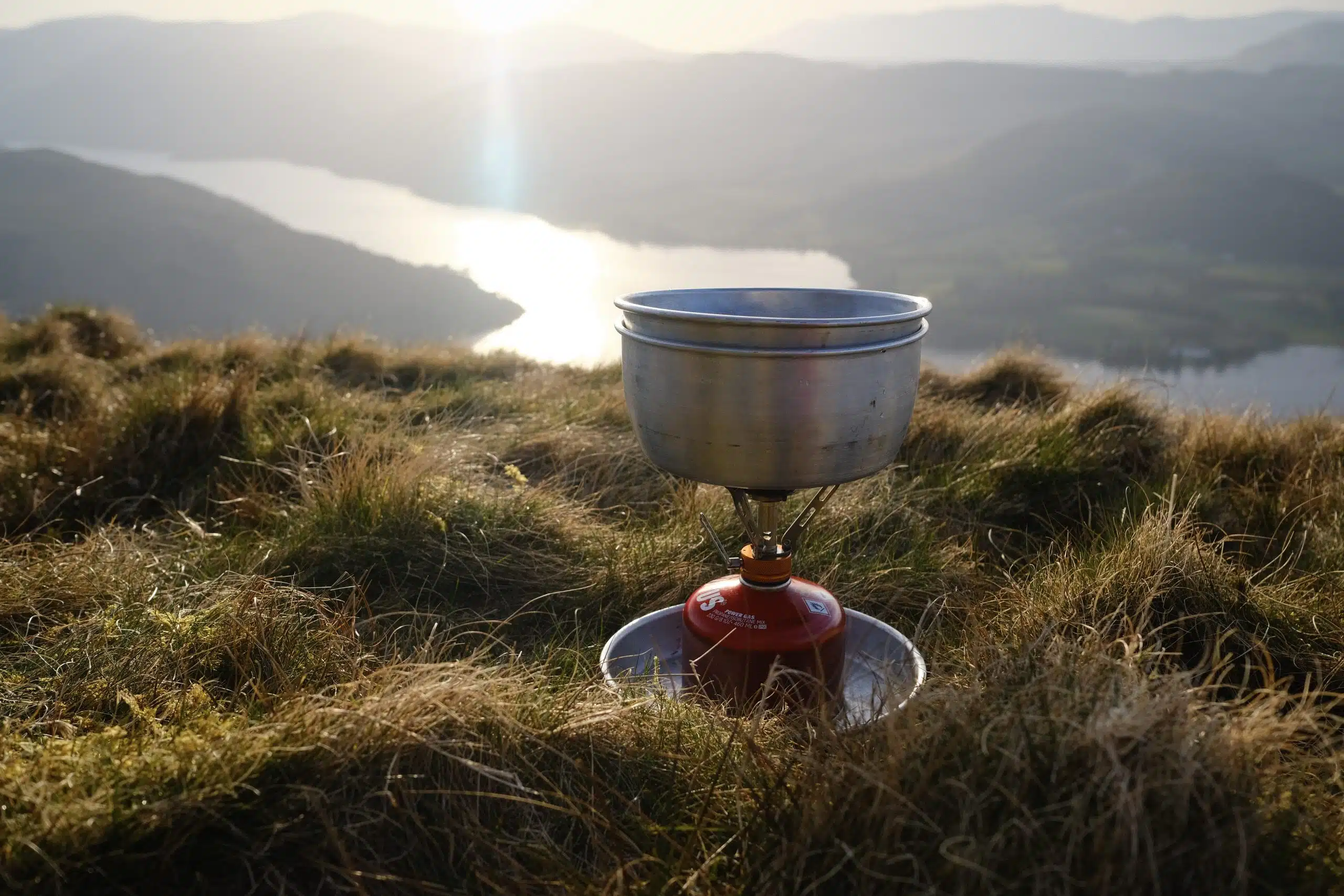 After a good 9 hours of being on the move, we stayed perched up high and got the cooking pots out. Sarah had created a new dehydrated curry recipe which was ace, all washed down with some dissolvable electrolyte tablets. Oh, the heat.
We'd pick camp stove meals with views like this over fancy restaurants every day of the week!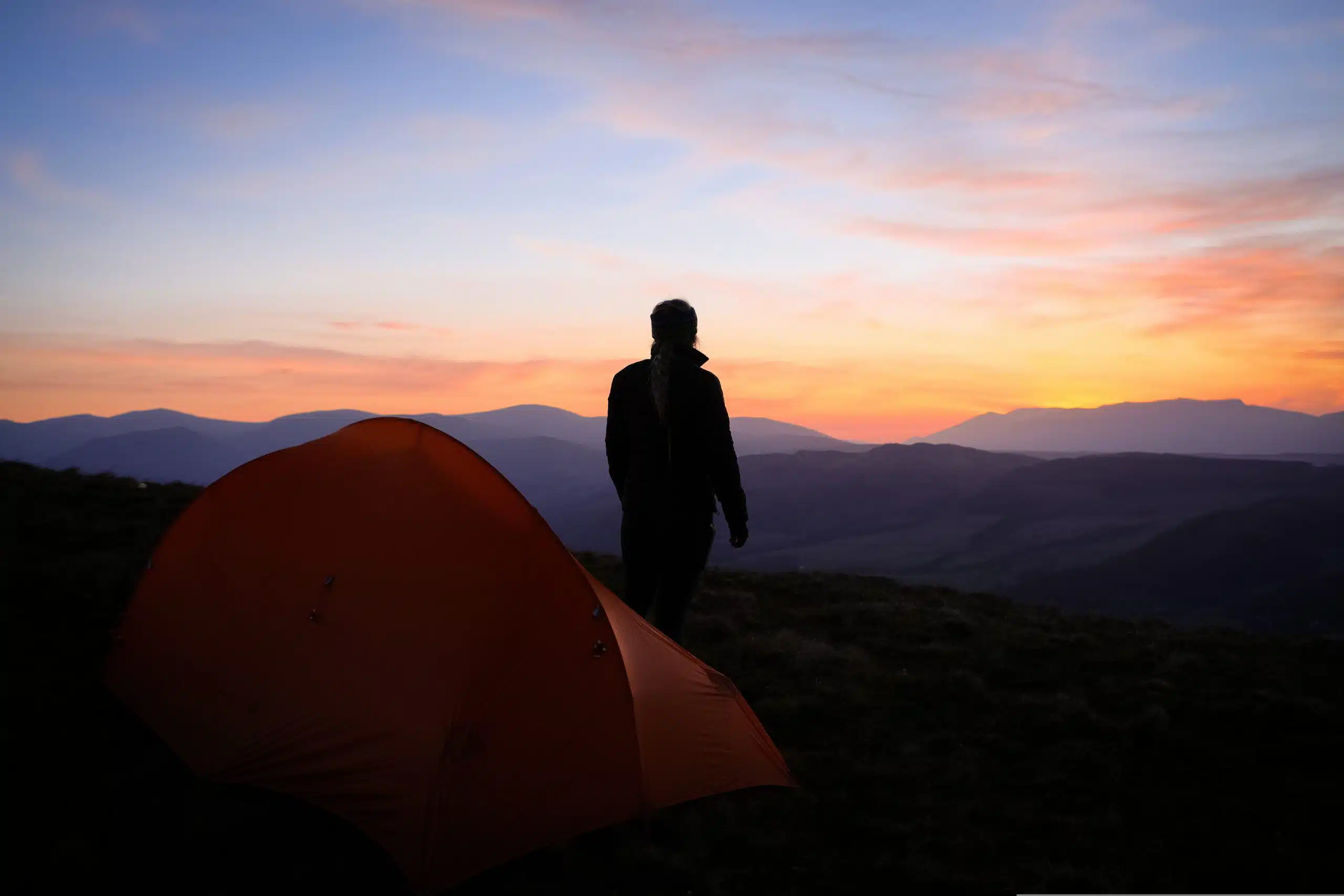 The sunset view was too good to leave so we waited for the sun to drop and then pitched up for the night.
It was our first time camping together since autumn and damn it felt good to be back in the tent.
Day 2 – Our favourite High Street in the UK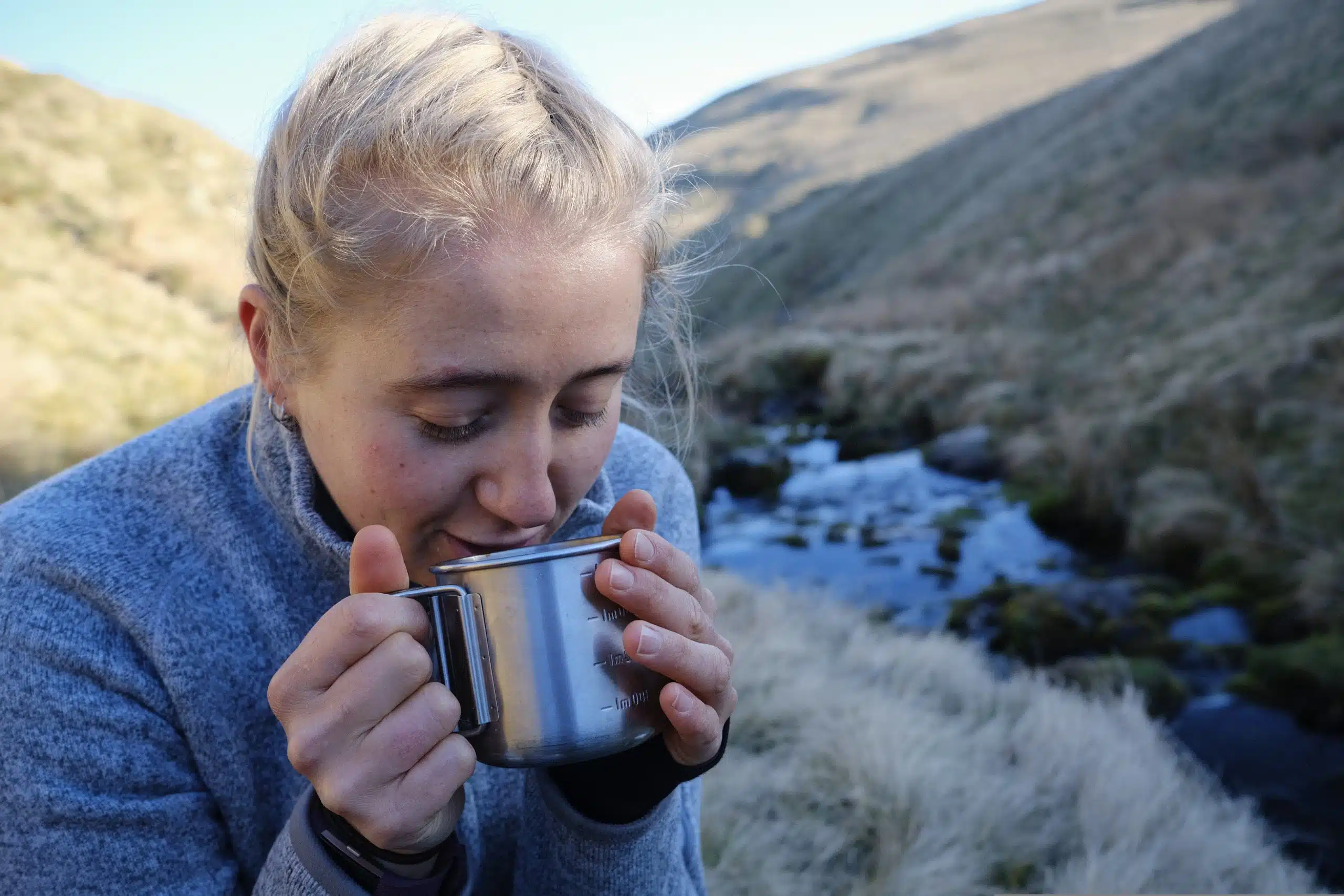 We rose with the already-powerful sun and made our way to the closest stream to refill water and chow down some breakfast in the shade. I'm not sure about you but we can't function in the morning without some grub and a warming brew!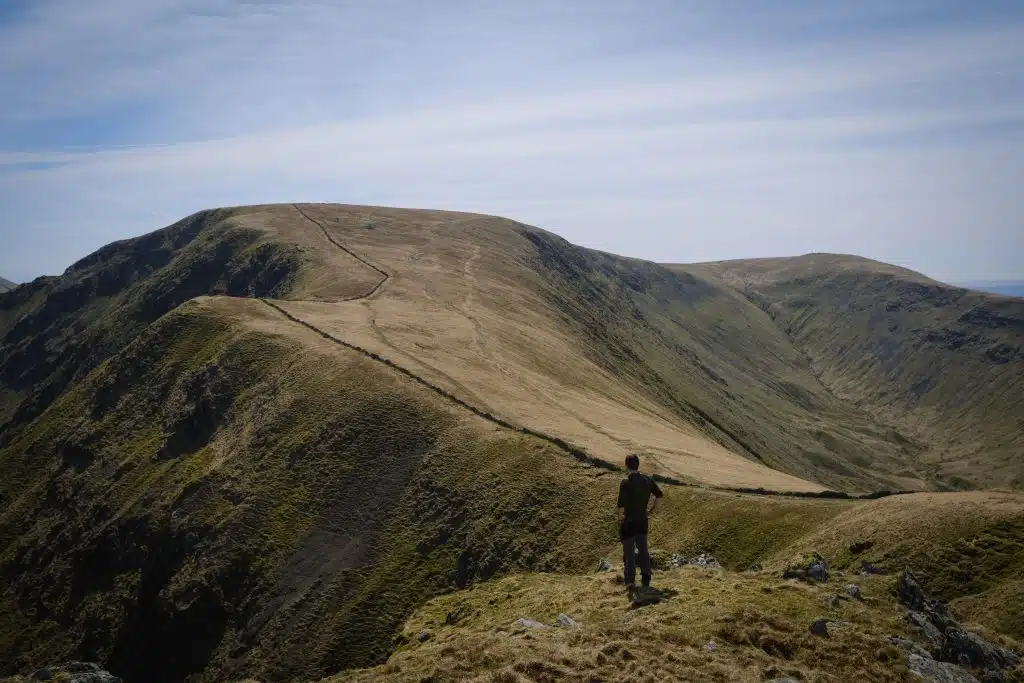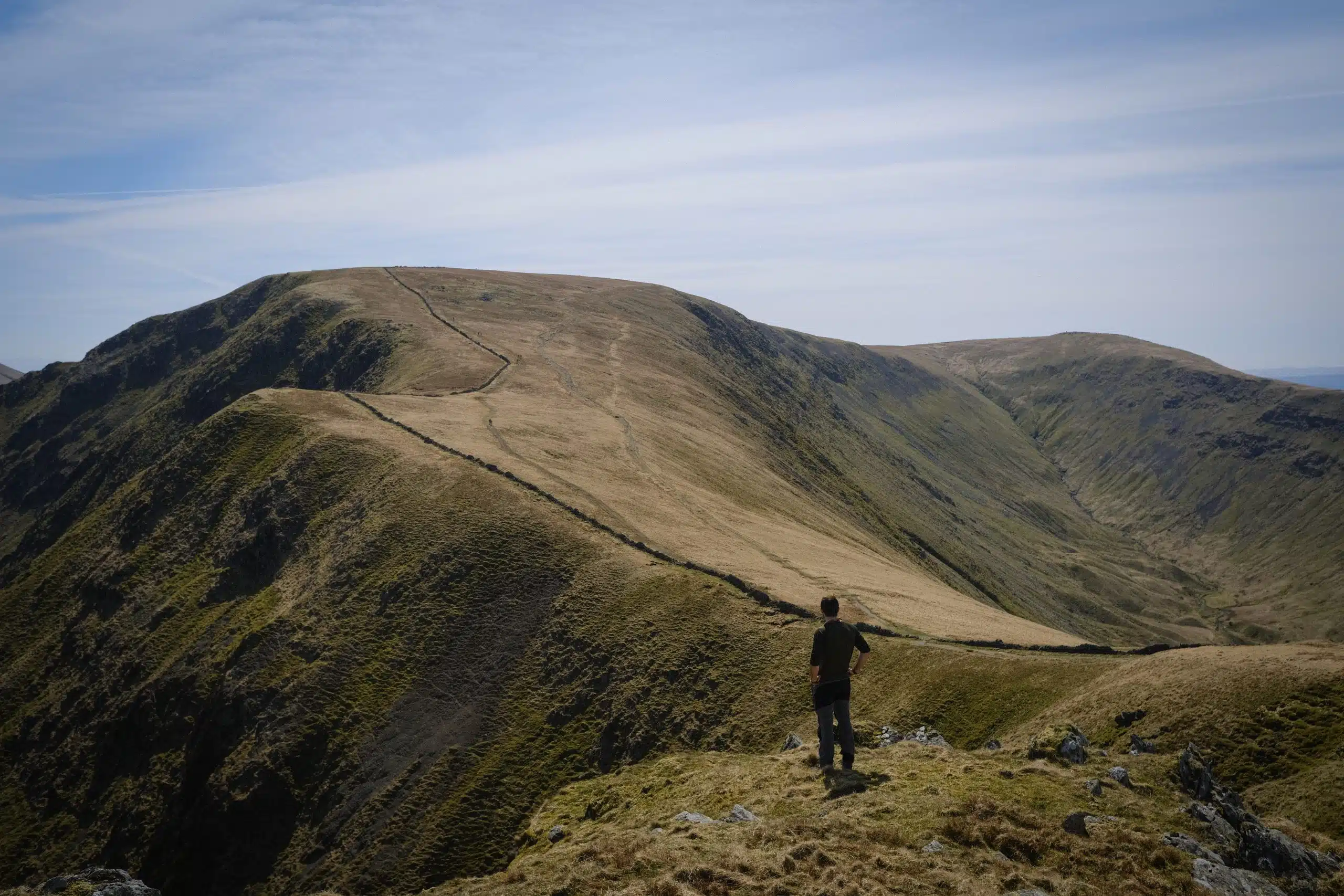 From Arthur's Pike, we made our way to High Street: the highest peak in the eastern Lakes, standing at 828m.
It was a gradual climb, taking you away from the civilisation in Ullswater and snaking towards more remote landscapes, with nothing but nature for as far as the eyes could see.
The trails were empty for the best part of the morning and the feeling of being in an expansive environment with not another soul in sight was priceless.
For more outdoor content and adventure inspiration, be sure to sign up for our mailing list below!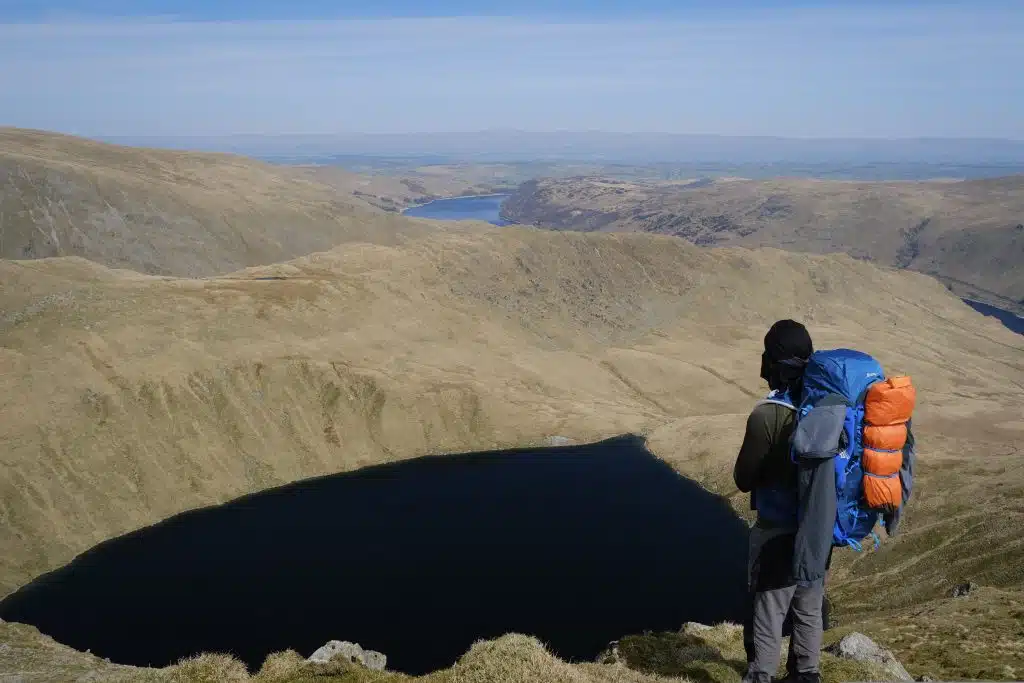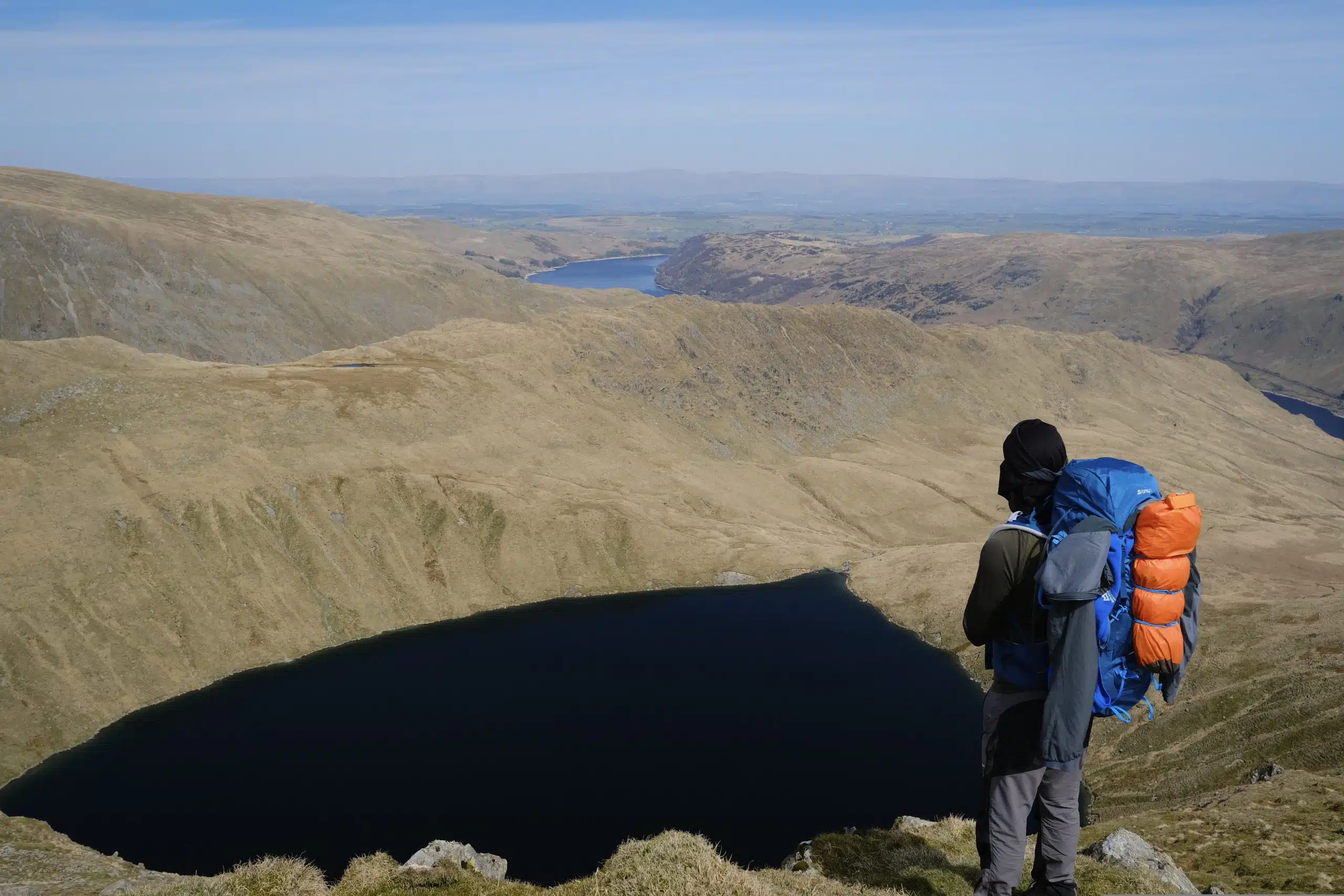 From the top of High Street you're surrounded by nearby wonders: the Helvellyn Range, Skiddaw, the Scafells and Great Gable, the curved banks of Haweswater reservoir, the deep blue of Hayeswater down below and Blea Water once you drop down slightly.
We sat on our packs, munched some energy balls and daydreamed about all the different adventures that could be had around us.
Oh, and by this point I'd resorted to wrapping my spare t-shirt around my head to shield from the sun…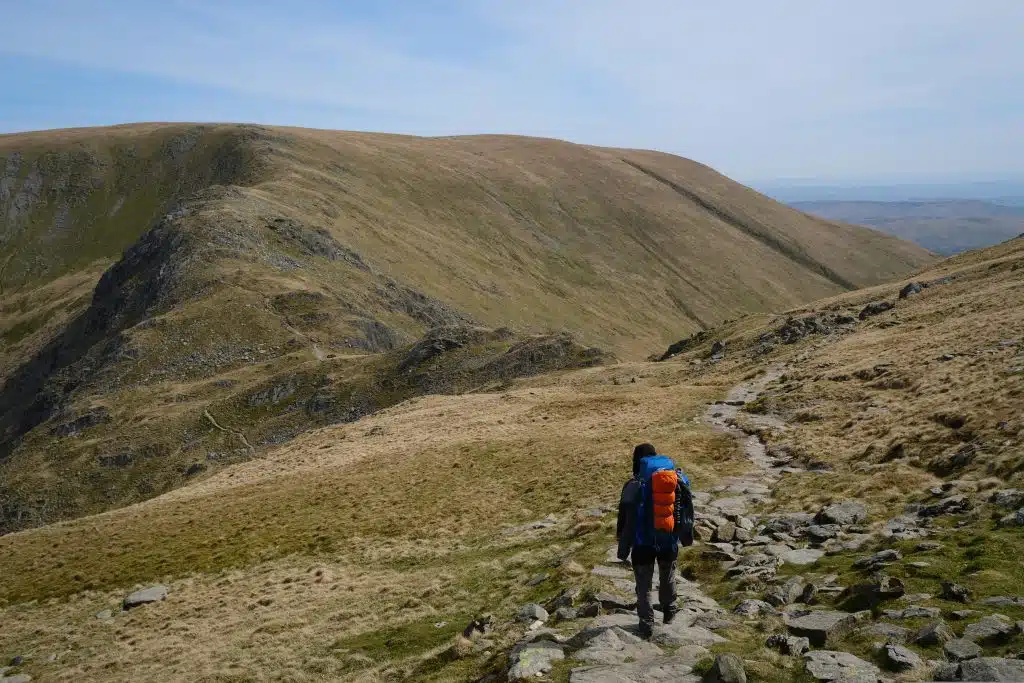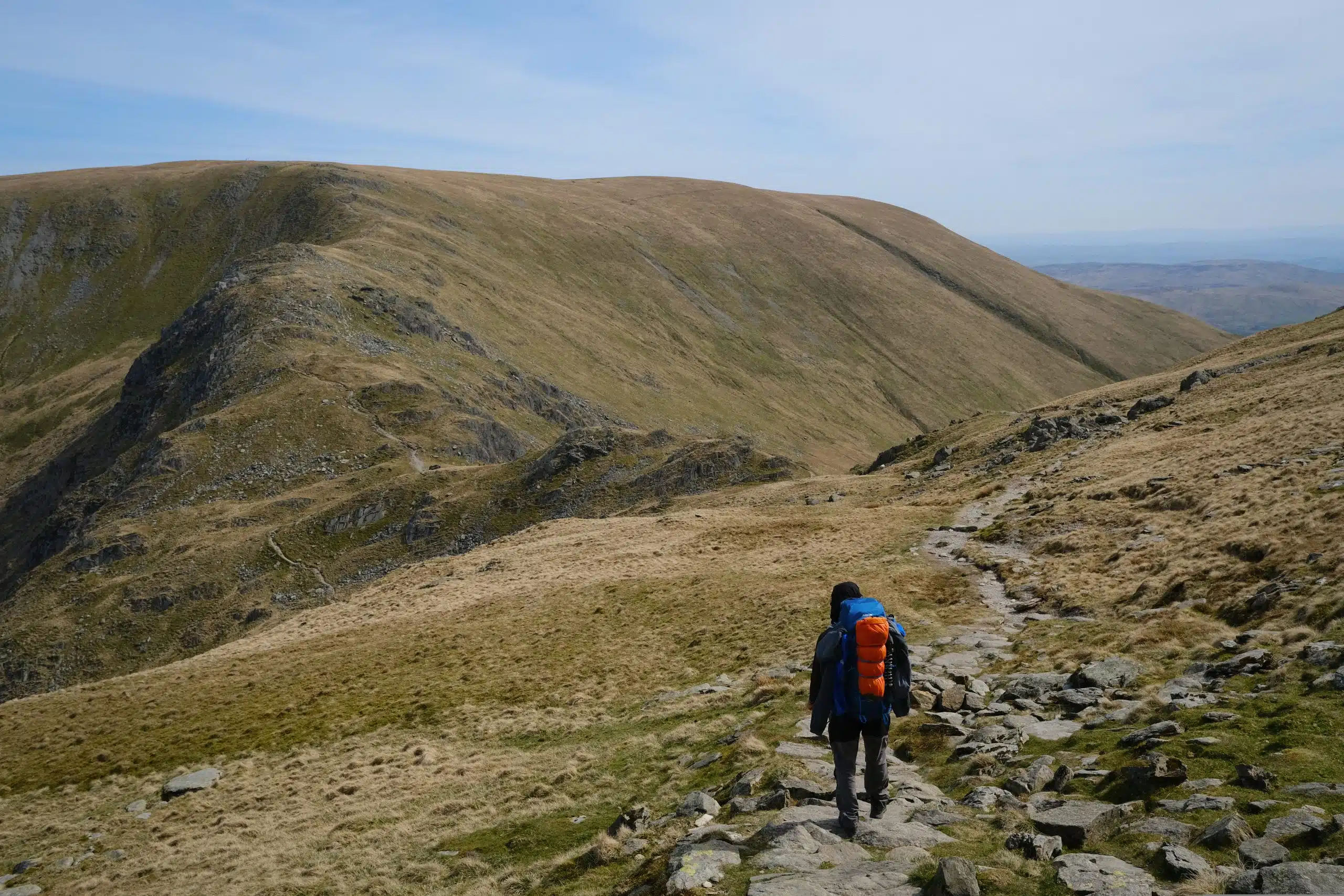 Compared with other mountainous areas, hiking in the Lake District is damn relaxing. Instead of rugged peaks and sheer drops, the hills are rolling and calm. They're still imposing and epic, just not in the I could easily fall to my death kind of way.
It all feels very different from our time in the Alps and makes for much more chilled hiking!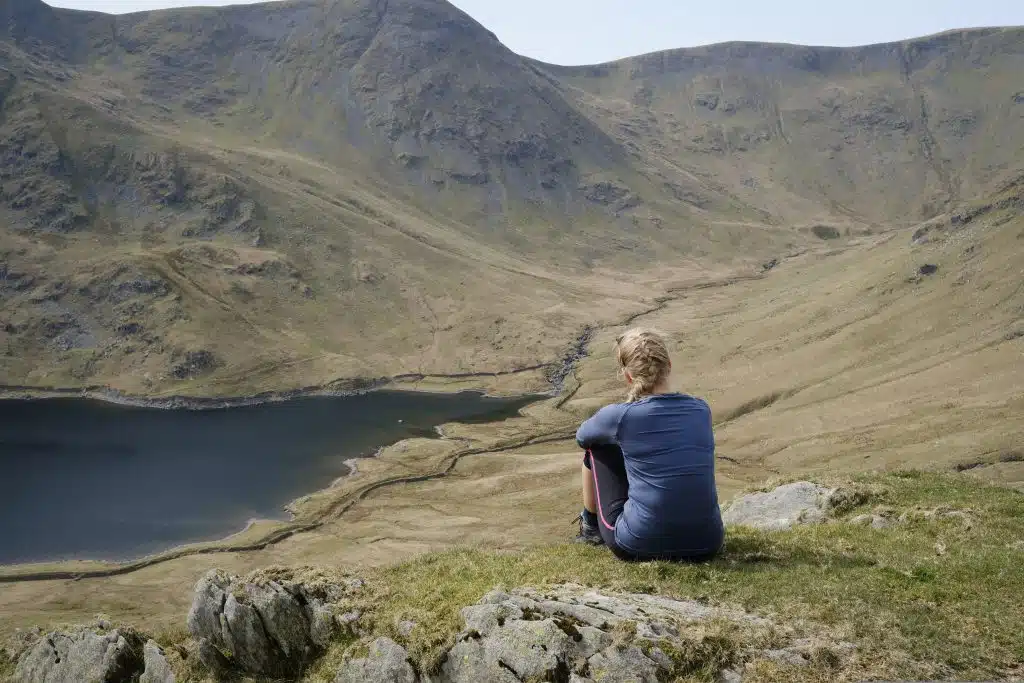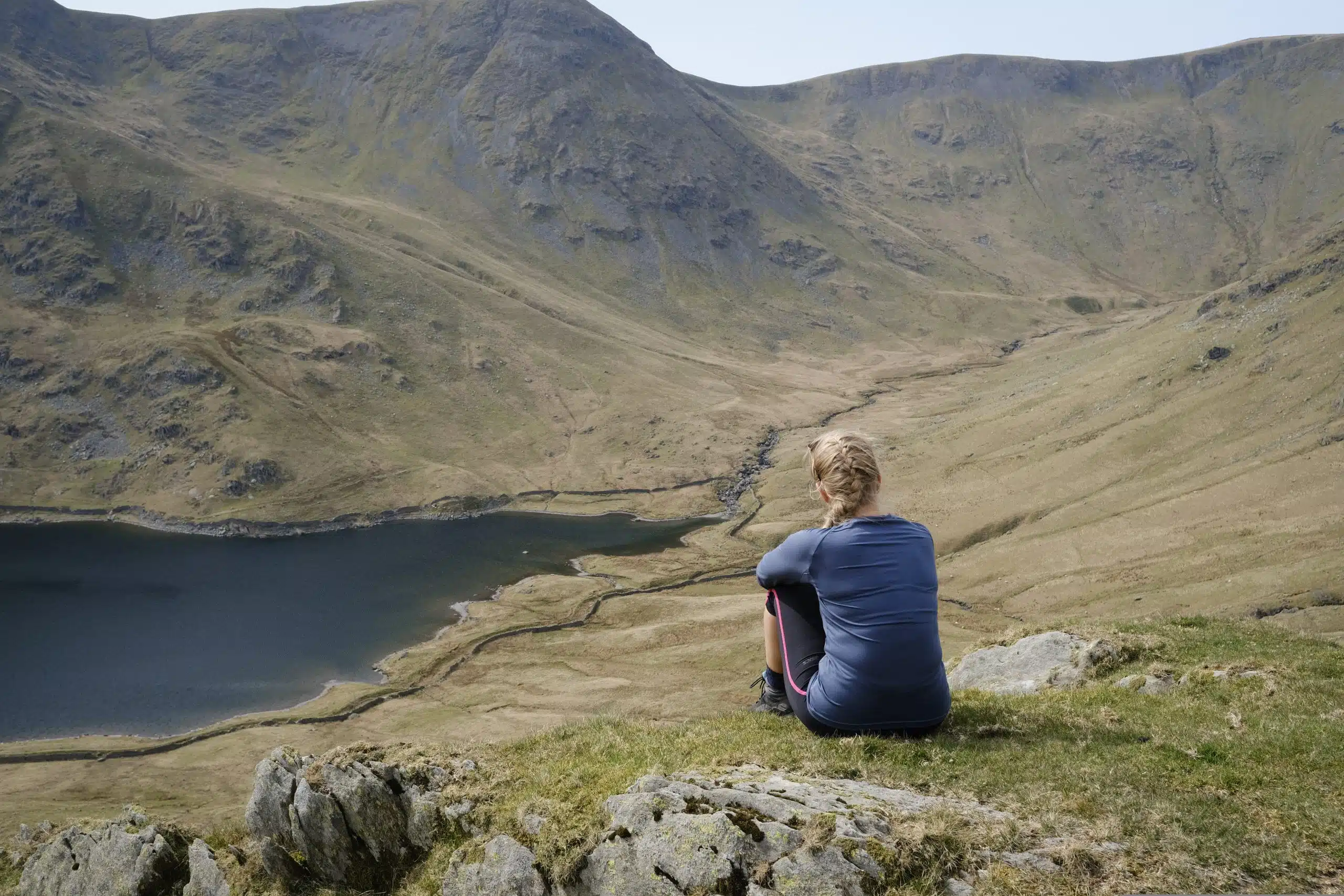 It took some time to tear ourselves away from the views up high, slowly descending towards Kentmere Reservoir and the River Kent. By 5 pm, we'd been hiking for 9 hours and were smashed.
We spent a good 20 minutes here just admiring the view, tracing all the vains of water that fed into the valley.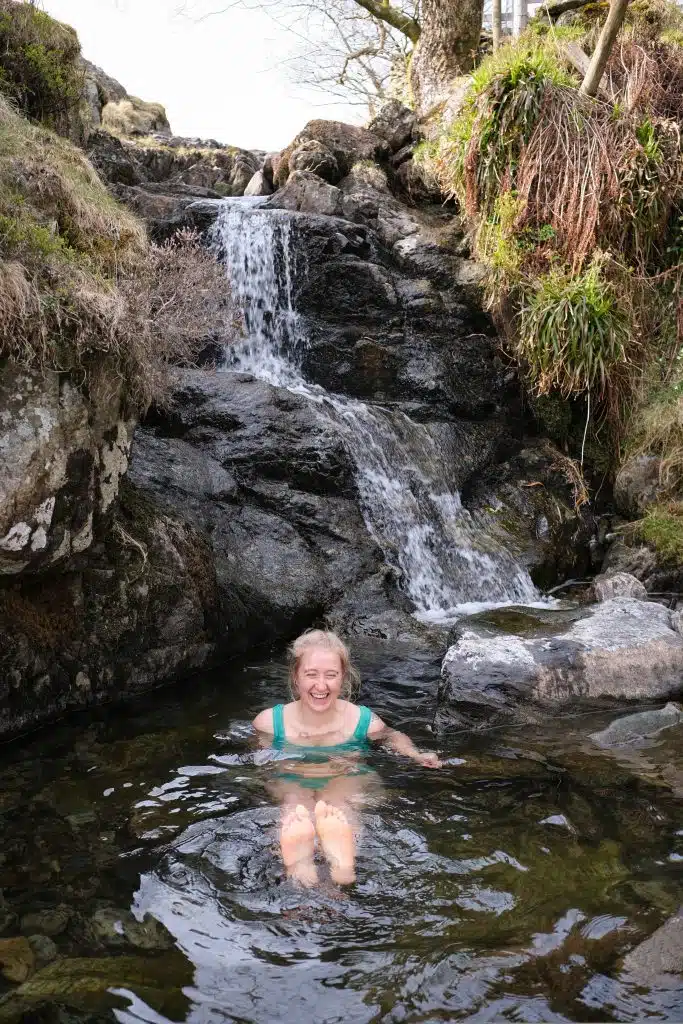 Our water was almost dry and we were on the lookout for wild camping spots.
Most of the sources that fed into the river had almost dried up in the hot weather but a stream could be heard in the distance. Its sounds led us to the most perfect, level camping spot. Right next to the stream, with a perfect swimming pool metres away.
What a way to cool off from a hot day hiking!
Crashing out after a good day, firing up the stove and cooking some grub whilst chatting about the day – gotta love it.
We'd dehydrated an aubergine, pepper and courgette and added it to some super noodles with dried soya mince for protein. It actually turned out to be a pretty awesome lightweight meal!
---
---
Day 3 – Lowland hiking and lots of sheep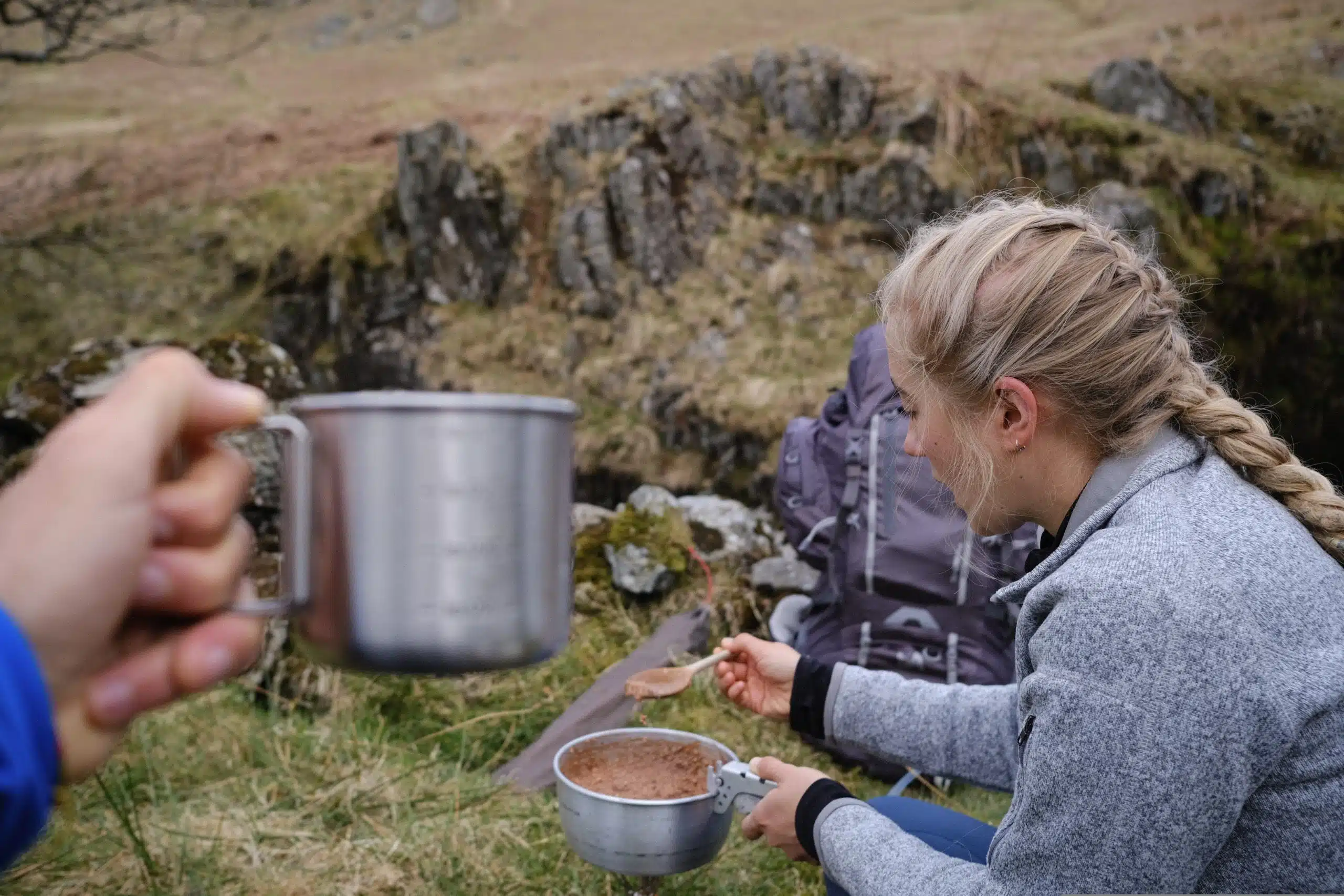 Getting lulled to sleep by the sounds of a flowing stream and wind gently rustling past your tent is pretty hard to beat. Particularly when you wake to the sounds of birds chirping in the morning.
The lack of camping majorly got us down through lockdown. There's something special about rising and falling with nature, not being constrained by big concrete walls. After two days of absolutely pristine camping spots, we really felt like we could just sell our belongings and live life in the hills from the tent.
After another morning dip and an extra-large power porridge, we packed up and made our way through to Kentmere.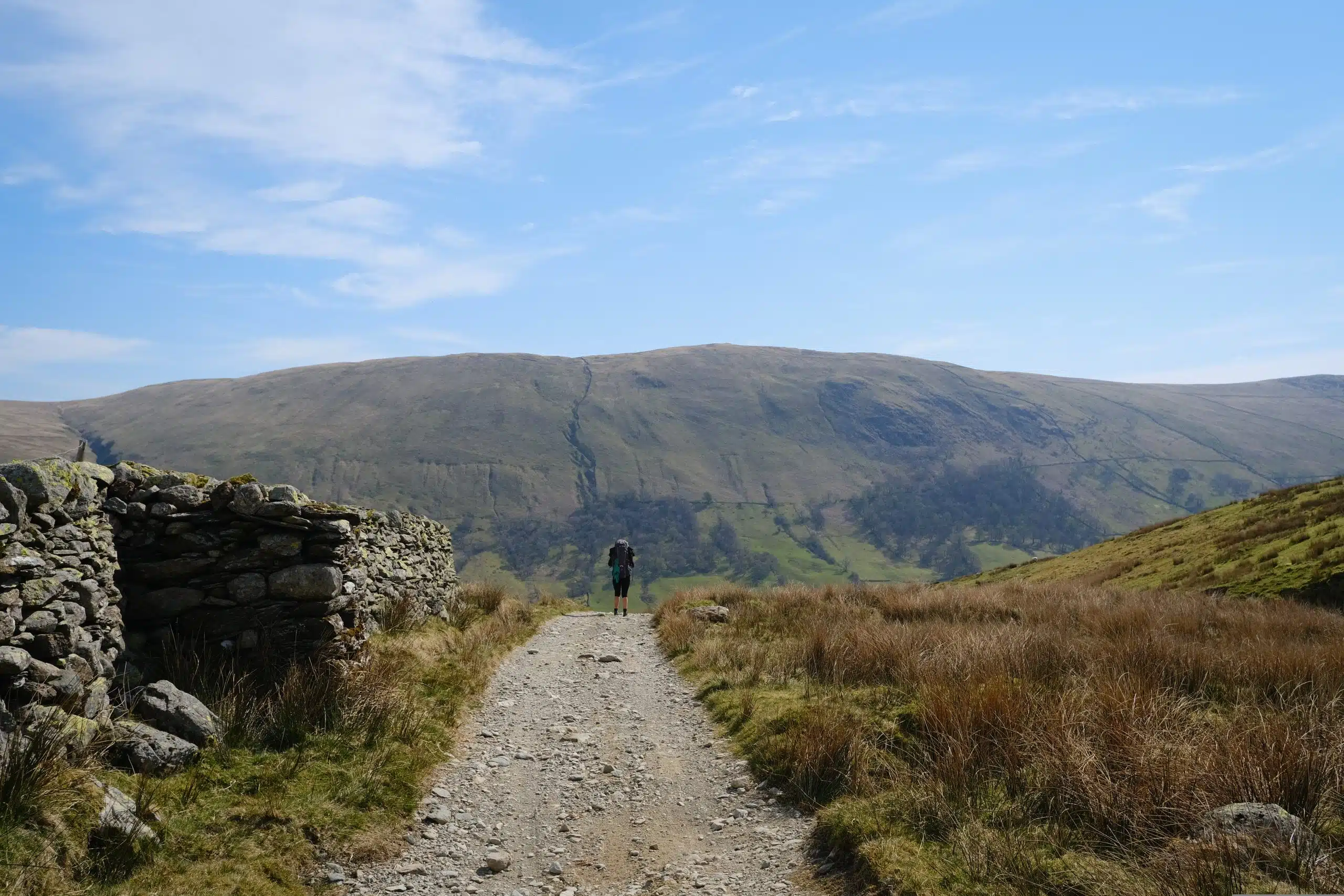 Besides one small climb, Day 3 took us downhill, through lowland valleys and scorched pastures.
We were joined by weekend mountain bikers and sheep. It's always interesting getting a perspective of mountains from above and below. Sometimes you don't realise just how bold they are until you see them from the valley floor.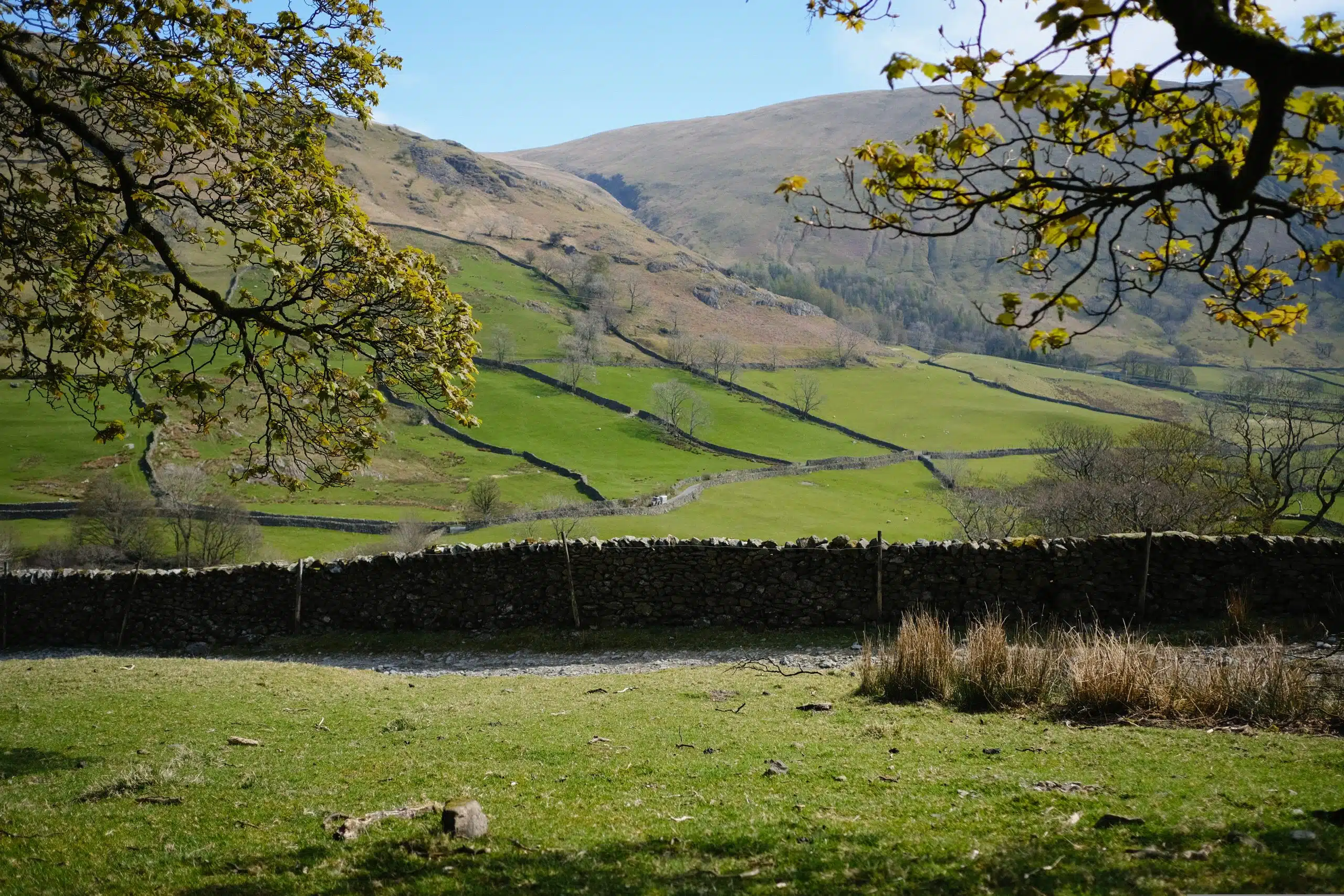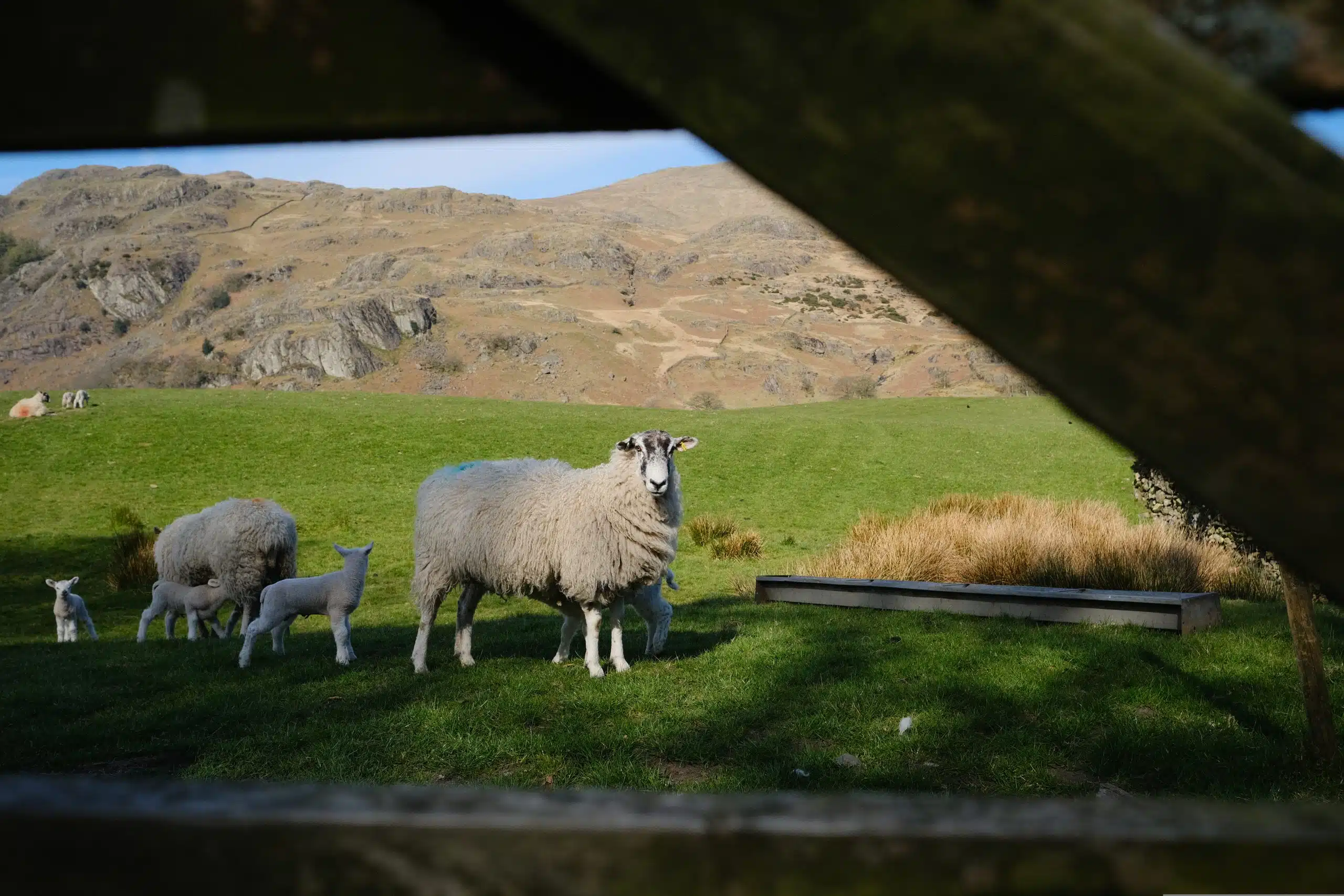 The upland landscape quickly changed as we dropped.
The valley became sliced and dissected into smaller portions, with uniform grass mowed by flocks of sheep.
We ambled through a small village and realised it had the first bins and telephone lines we'd seen in two days – a nice thought. The more time spent away from bins, telephone lines and all that comes with it the better!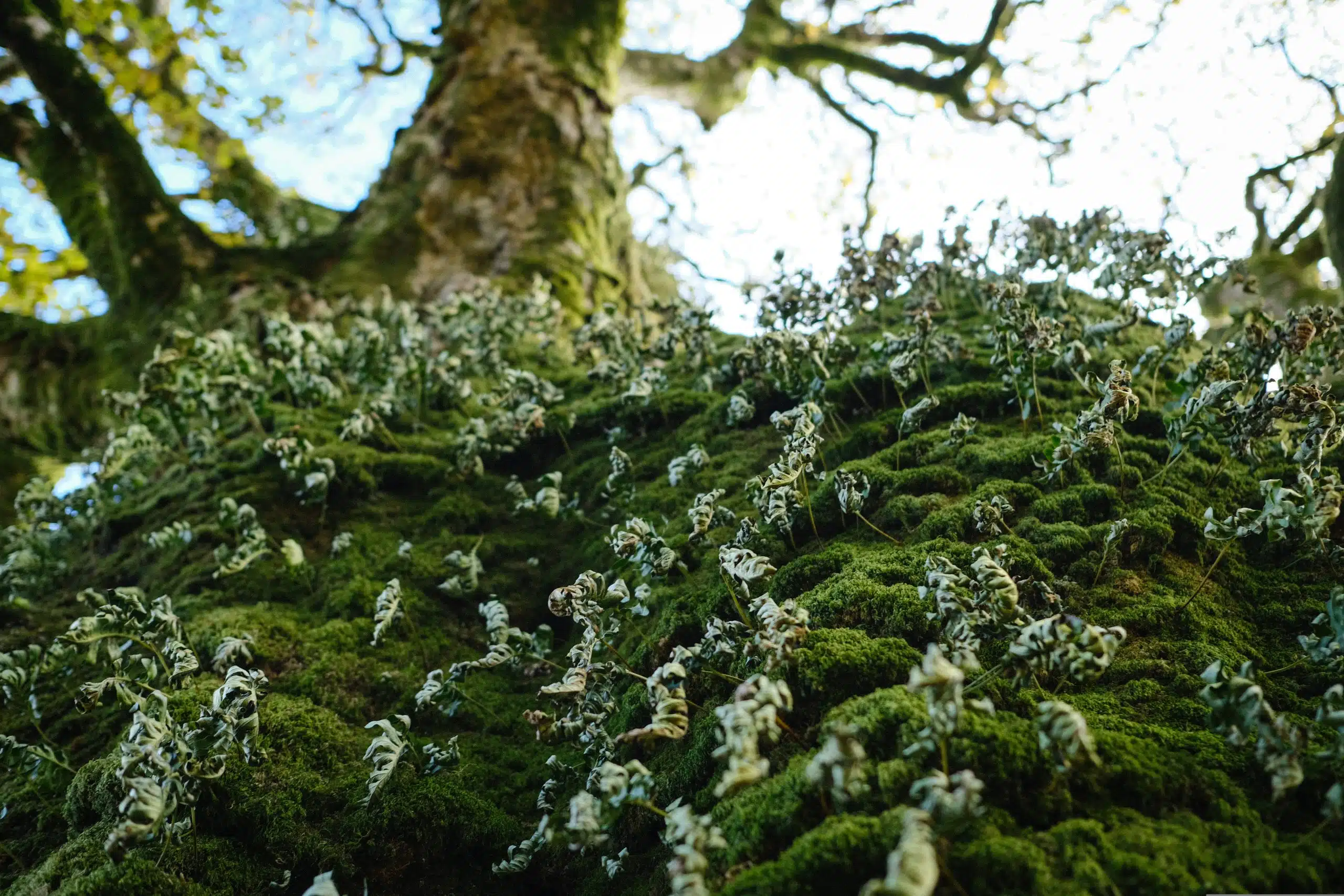 The rest of our day was spent following the River Kent, leaving the looming mountains behind.
We'd scoped a good wild camping spot on the map next to a stream a few kilometres from the river. But, thanks to the warm weather, the stream was dry and so was our water supply.
Instead of chance the murky trickling water, we pushed on ahead and are seriously glad we did.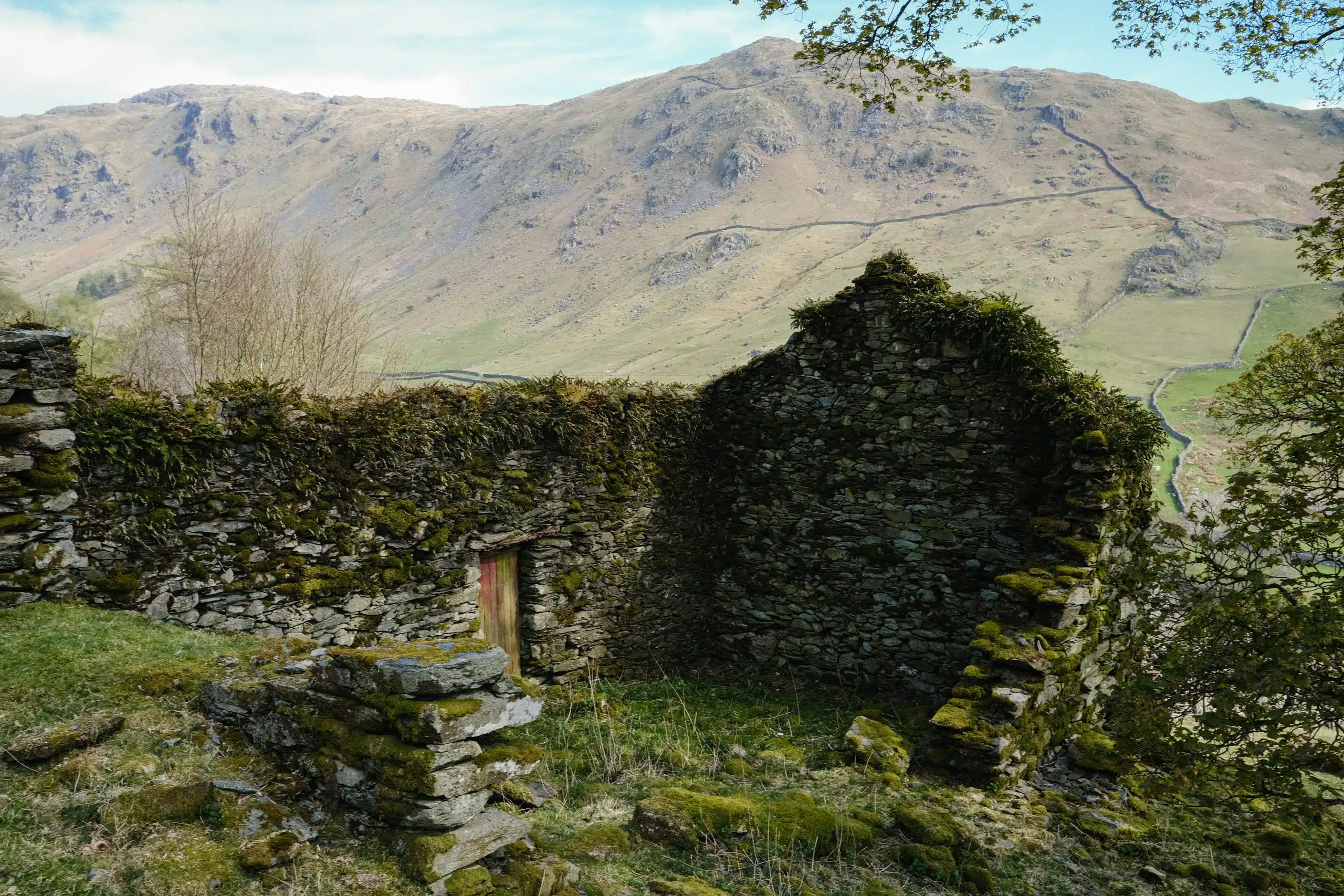 Day 4 – The coolest of encounters
As Day 3 was pulling to a close, we'd pushed our way closer and closer to Kendal in search of a good water source.
Eventually, we pushed through the bushes into an opening to see an enchanting allotment, filled with quirky bits of art, handmade woodcraft and decorative signs.
This section of the route followed the Dales Way hiking path and led straight through the grounds of an old Mill. We walked through to see a grand yet slightly dilapidated 3-storey mill on one side and a large, old stone house on the other.
It was honestly one of the most interesting places we'd seen.
All the windows and doorways of the mill were open and you could see extravagant woodwork, old carpentry tools, dozens of traditional old bicycles and environmental activist signs from the seventies.
As we walked through, somebody shouted out: "are you looking for somewhere to camp?".
We obviously were.
It turned out the 15-acre Sprint Mill is one of the oldest mills in Cumbria and the owners, Edward and Romolo Acland, were two of the most inspiring people we'd met.
The site is part of Nature England's Environmental Stewardship schemes and Edward and Romolo run rewilding projects, community events and pioneer sustainable farming. All of their land is tended manually by non-electrical machinery!
Oh, and it had the river running straight by it. Obviously we indulged in another few dips!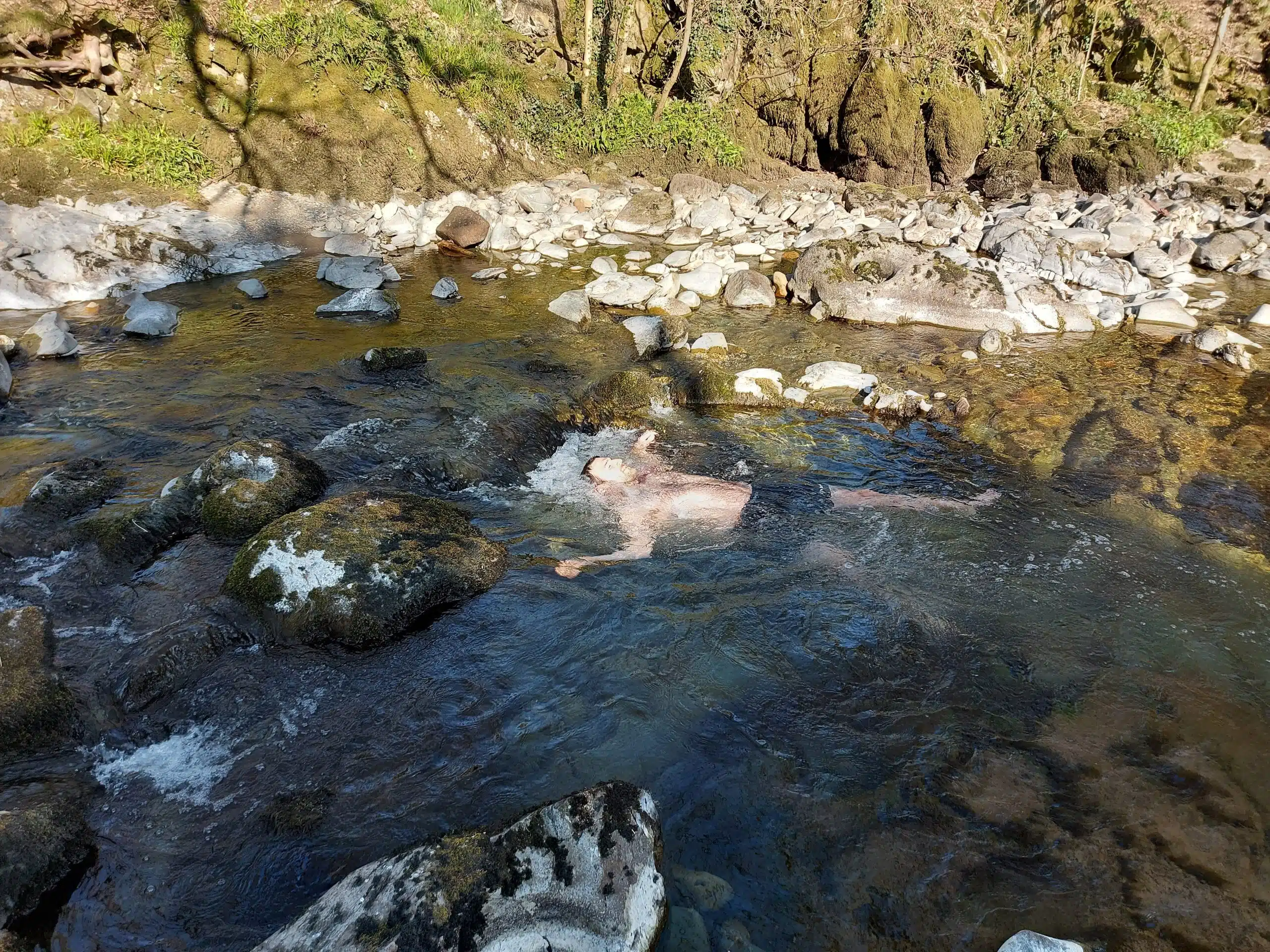 We had a lazy start, a morning dip and chatted with our hosts for hours about their UK cycle touring adventures.
By midday, we'd packed up and headed off on the short journey towards Kendal.
Our first real steps back into civilisation were beside a landfill site… a crude awakening from the 3 days of blissful nature we'd just experienced.
With a 5 pm train back to Skipton, we bought some snacks and crashed out on a field in the sunshine until the time came for us to go home.