Expert advice on how to go hiking in the rain and LOVE every minute of it!
---
Let's face it, for most of us, we're not blessed with having year-round perfect conditions. That means, if you're wanting to get out as much as possible you'll need to get used to hiking in the rain.
But, I'll let you in on something… wet weather hiking can actually be the experience of a lifetime!
Sure, there are a few more elements you need to think about but once you've adopted a few tactics it becomes second nature. Then, the next time you see heavy rain forecast you'll be scrambling around to get your hiking boots on in time for the throwdown.
The first thing to remember is: it's nearly impossible to stay completely dry on a heavily rainy day BUT this guide will help you keep it to a minimum and keep a beaming smile on your face!
Keep reading to find:
This article may contain affiliate links, they will never cost you more money but helps Veggie Vagabonds keep making content like this – thank you!
Here's why hiking in the rain is pretty awesome…
A rainy day brings out the smell of the vegetation and ecosystem around you
Colours are magnified when wet, plants come to life and surfaces shimmer with moisture
More wildlife can often be seen
Listening to heavy rain falling can be very therapeutic
You can often have the trail to yourself
You'll find plenty more awesome reasons here!
Do you think there are any other benefits of hiking in the rain? Tell us in the comments at the bottom!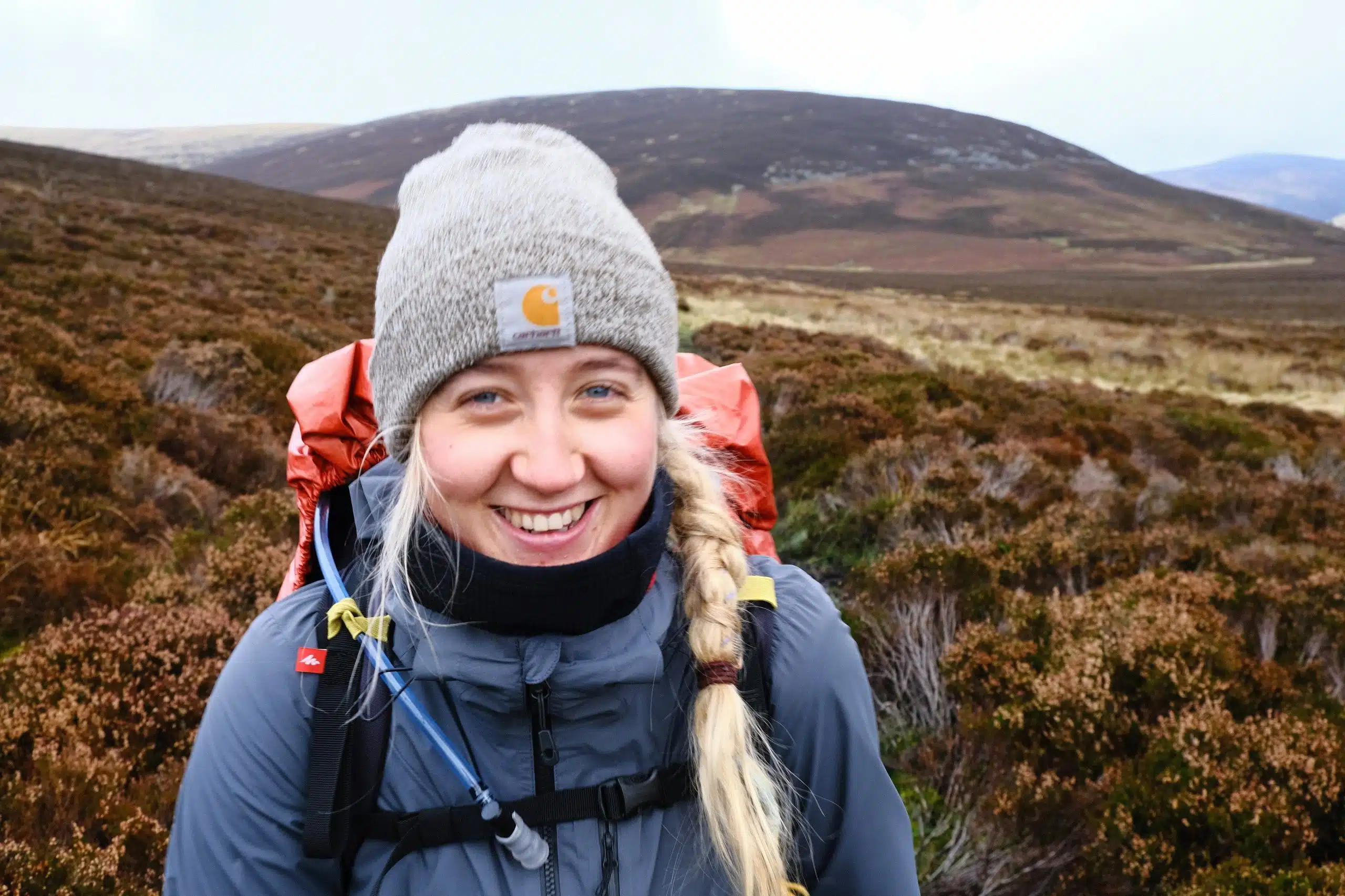 Before we get going, if you want more adventure inspiration and outdoor resources, be sure to sign up for our newsletter below!
Wet Weather Gear Tips
1. What do you need for hiking in the rain?
Rainy hikes are awesome as long as you stay relatively dry, warm and don't come back with soaked belongings (nobody likes a flooded camera!). Your outdoor gear is the key ingredient to this.
You don't need to spend a fortune on hiking rain gear but you will need reliable essentials if you want to have a good time.
Essential waterproof hiking clothes and gear:
Waterproof hiking boots – besides just keeping your feet dry, the right pair of hiking boots will give you sure footing over wet or slippy terrain. Opt for boots rather than hiking shoes to stop water pouring down your ankles.
Waterproof hiking trousers (pants) – good rain trousers will keep your lower half dry and will be comfortable to wear all day. Sarah wears Mountain Hardwear Rainpants (UK men & Women / US men & women).
Waterproof hiking jackets – this is one of the most crucial pieces of gear and you should opt for the best hiking rain jacket possible. Josh wears an Arc'teryx Zeta (UK & USA).
Backpack w. waterproof rain cover – the most important aspect is the rain cover, to keep all your belongings dry. Most good outdoor backpacks have stowable covers.
Dry bags – even with a good waterproof bag cover, it's still safest to put your valuables in a dry bag, plus they're pretty cheap.
Spare dry clothes – for really rainy day hikes, bring spare hiking clothes in a drybag. Spare socks are a must!
Synthetic base and internal layers – synthetic materials dry quickly, retain more warmth when wet and won't hold much water.
Extra rain gear that can be handy
Hiking/trekking poles – this can help you keep balance on very muddy/slippy terrain and stop you skidding on your backside down verges. Don't worry, it's happened to the best of us!
Waterproof phone holder & map holder – trying to navigate in wet weather can be difficult. Waterproof map holders & phone holder can be a good option which could also be used for a GPS.
Gaiters – debatable an essential for heavy rain as they stop mud/water entering between your shoes and trousers. Have them over your hiking trousers but underneath your waterproof trousers so water doesn't run down your legs into your shoes. We use budget-friendly options from Decathlon.
Zip-lock bags – cheap, makeshift waterproof bags. Good for things like phone, passport, wallet, keys etc.
Insulated jacket – for cold weather, a synthetic insulated jacket will keep you warm even if it gets wet. Josh wears an Arc'teryx Atom LT (UK men's & women's / USA men's & women's)
Waterproof gloves – even on a mild day, you'll be surprised how cold your hands can get if they're wet and the wind picks up.
Cap – when the rain is coming down heavy, a cap can help stop it from going into your face/eyes.
WARNING: avoid cotton or heavy non-waterproof clothing as this will absorb moisture, turn cold and take a long time to dry.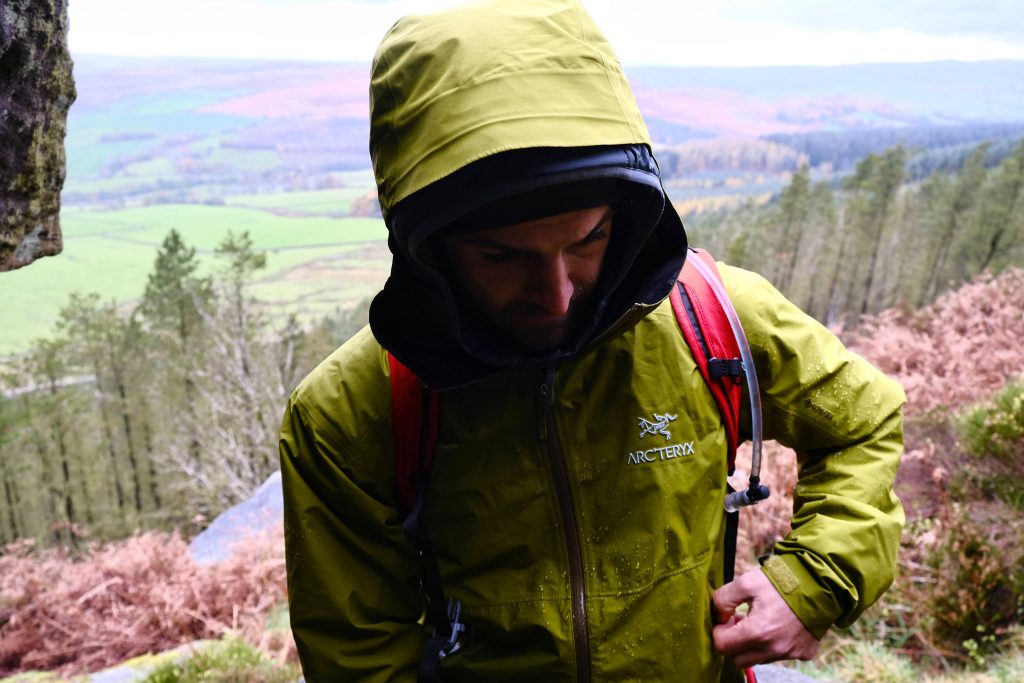 2. Tips for hiking in the rain when it's cold
If you're going to be hiking in cold rain or in winter then you need to be extra vigilant. Hypothermia is no joke and can be a threat at surprisingly mild temperature if you're wet.
Be certain your outer shell is reliably waterproof (shoes, gaiters, hiking trousers, and rain jacket).
For warmth add synthetic thermal baselayers, gloves and neck warmers.
Opt for warm synthetic mid-layers, like a fleece or an insulated jacket.
Bring spare clothes and keep them dry
Cold weather laying: on your top half, make sure to have a reliable waterproof outer shell, then a synthetic midlayer, then synthetic baselayers. For more cold weather hiking tips, check out our guide here.
Going to be hiking in warm but rainy weather? To be safe, still bring waterproofs, a warmer layer and keep your bag and belongings dry. I like my Klattermusen waterproof for a lightweight alternative that can be easily stored in your bag OR you could opt for a rain poncho for added breathability.
3. Don't wear too many layers!
Try to avoid sweating as you can get very cold once you stop moving and your body heat drops. Waterproof clothing can be very clammy so wear just enough layers to stay warm and dry whilst moving, then keep extra layers to add in your bag.
4. Before you go walking in the rain, waterproof your clothing
Even the best waterproof clothing will lose its durable water-repellent finish (DWR). This can easily be fixed with some Nikwax (UK / USA), which you can use to re-waterproof walking boots, your hiking rain jacket, bag cover, rain trousers etc. You'll find more information in our Gear Maintenance Guide.
5. Take spares!
We said it before but we'll say it again, take spare clothes in case you get soaked and it gets cold!
Some more to explore…
20 Top Tips for Camping in Wet Weather
Plan Properly for a Rainy Hike
6. Pick the right hiking trail
If the weather is going to be severe, it's best to pick a modest hike that doesn't cross technical terrain, go into high altitude or be at risk from flooding/landslips.
Check the forecast before and if rains are going to be particularly heavy, have extra caution.
Personally, we think hiking in the woods is a perfect experience on a rainy day and well suited to beginners. For more info, check our Hiking 101 Guide.
7. Don't expect to hike too far
Hiking in the rain is slower, harder work and you'll struggle to cover as much ground as normal. Opt for shorter day hikes and if it's part of a multi-day trip or backpacking, plan camping spots closer by.
8. Think about your hiking food
If it's raining cats and dogs, it's unlikely you'll be able to tuck into a nice, leisurely hiking meal. Plan on-the-go hiking snacks you can eat quickly and easily instead, then you can go for a bigger meal once you've found shelter.
9. Plan transport carefully
The last thing you want after a wet day on the trail is to be waiting at a bus stop or train station in cold, soggy clothes. If you're going to be hiking in wet weather then having your own transport is ace and you can keep dry clothes in the car.
If you are travelling on public transport, make sure you have a dry change of clothes to get into for the journey.
On the Trail & Safety Tips
10. Tuck in SOME of your rain gear!
Make sure baselayers/hoods/clothing are not poking out from your waterproof layers and getting wet.
At the same time, do NOT tuck your waterproof jacket into your trousers (rain will run straight into your pants!) OR into your gloves (rain will run into your gloves) OR have your waterproof trousers OVER your gaiters (rain will run straight into your shoes!).
In summary: have your waterproof jacket hanging over your trousers; your gaiters ON TOP of your hiking trousers and then your waterproof trousers ON TOP of your gaiters and hiking trousers; your jacket sleeves hanging OVER your glove wrists.
11. Protect those valuables
Keep everything of value securely packed up in waterproof bags and kept in a backpack with a waterproof cover. Then, whilst hiking, try to avoid regularly going into your pack.
12. Be careful with your footing
In the rain, everything becomes slippy, slidey and on a mission to put you on your arse. This is why hiking poles can be a good option.
On mud, try and step on grassy sections, rocks or solid, flat surfaces to avoid slipping. On rocky terrain, look for grip on hard edges rather flat surfaces which can be slippy.
Be EXTREMELY careful stepping on tree roots which can put you on your behind quicker than you can say 'SH!T'.
13. Multi-day & backpacking trips in the rain
For longer hikes in the rain, keep dry clothes to change into and try and dry wet items asap. This can hard so it's important to plan points of shelter along the route, whether that's a secure wild camping spot, a campsite, hostel or other accommodation.
If you're going to be camping in the rain, make sure to keep your cooking and sleeping gear dry too. Synthetic sleeping bags will stay warm when wet so are the best option.
14. Keep safe on the trail!
Is hiking safe in the rain? Yes, but there are a few more considerations to have. The points below will help…
Wear the right gear and plan your trip properly
Be wary of thunder or lightning – seek lower ground and shelter if you get caught in an electrical storm
Watch for swollen rivers or valleys/canyons which are prone to flash floods
Don't attempt to cross fast-moving rivers/streams
Change out of wet clothes ASAP once you've stopped hiking
Move slowly and carefully
Keep an eye on the forecast to see any weather changes
Remember to eat and drink enough
15. Most importantly: EMBRACE IT!
Really, hiking in the rain can be such an exhilarating experience. This article was written the week after going for a regular woodland hike but the torrential rainstorm we went in made it unforgettable.
Just plan and prepare properly, wear the right gear and take spare clothes – you'll have a corker!
Want some more advice or have your own tips for hiking in wet weather? Share them in the comments below!
How to Embrace Hiking in the Rain: 15 Watertight Tips
Follow these hiking in the rain tips and you'll be able to get out more often and discover a whole other world of hiking. Without a doubt, the little bits of extra planning and the potentially soggy socks are definitely worth the experience of strolling through water-soaked woodlands or getting a good downpour in the mountains. Grab your waterproofs and get hiking!