A Guide to Hiking Le Môle – Stunning Panoramic Views of the Alps Close to Geneva
A detailed guide to hiking Le Môle a day trip from Geneva with stunning panoramic views
---
Even when there is low visibility you can see the impressive curved peak of Le Môle from Geneva. The peak stands boldly in front of Mont Blanc, like a little brother admiring his older sibling. But, Le Môle is a mountain to behold in its own right.
With stunning 360° panoramic views of the Alps, Geneva and the Jura mountains from the summit it really is a spectacle. You'll be blown away as you gaze at the snow topped peaks and valleys beneath you, we certainly were. This 9 km hike is an easy journey from Geneva with a moderate incline throughout, making it a very accessible and easy trail with a huge reward at the top!
Hike details
Hiking distance: 9.2 km round trip 

Hiking duration: 2 hour accent. 1 hour descent.

Altitude: 1,863 m

Elevation gain: 800 meters

Difficulty: Easy
Suitable for: All ages and levels of fitness if you take it slow. Caution for children towards the top as there are some sharp drops.
Why hike Le Môle?
Because you get world-class mountain views of the Alps whilst only needing to hike for a few hours – you get a lot of bang for your buck!
It's actually nicknamed "The American's Mont Blanc" because when it's too cloudy to see the Alps tourists mistake Le Môle for Mont Blanc and are equally impressed.
Along the hike you begin the first sections following a clearly marked path, winding through forests along the mountainside. The forest is home to lots of wildlife, it's a great place to spot birds and we had deer darting across the hiking path.
Gradually you reach the smaller summit of Petit Mole: a perfectly domed peak covered in beautiful mountain grass. Here you have magnificent views of the surrounding Bornes and Giffre mountain regions, it's also a great spot for a quick snack to get you to the top!
As you reach the final summit along the trail, at an altitude of 1,863m, to one side you have pristine views of the Alps with Mont Blanc standing proud, on the other you can see all the way to the Jura Mountains with Lake Geneva and Jet d'Eau projecting into the skyline.
Sounds amazing right? That's why we've put together this guide on hiking Le Môle, including;
Le Môle hiking trail

How to get there

When to go

Local amenities

What to take
If there's anything else you want to know tell us in the comments or send us a message. We're more than happy to answer any questions and would love to know what you think of the hike!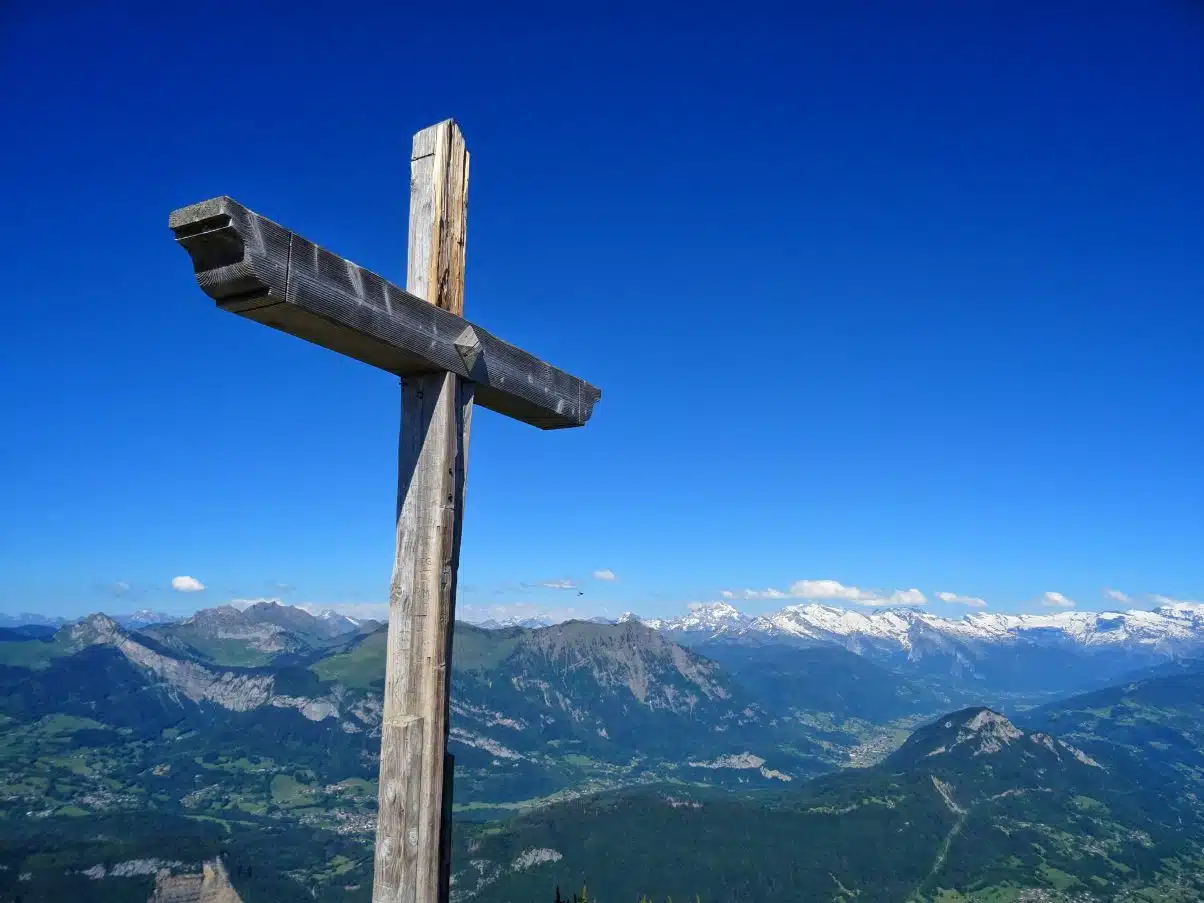 Le Môle hiking trail
Ascent: From the car park take the path into the forest and follow it to the left along the mountainside. The trail gently rises on a clearly marked path and in about an hour you will reach Petit Môle. From here there are stunning views and as it gets steeper afterwards it's a good spot for a rest if you're tired.
From Petite Môle continue to follow the path up the slope, zigzagging through patches of trees and the rocky outcrops. The route gently rises at the start becoming steeper quickly towards the summit.
A few kilometres after Petite Môle you'll start to see a large wooden become visible on the further side of the peak. Follow the route to the ridge-top path and you'll find the highest point to the left, with a convenient bench for you to sit and admire the surroundings.
From here you can walk the ridge-top path to the other side of the mountain where the wooden cross is positioned. It's here you'll get the best views of the Alps, Mont Blanc and the surrounding massifs – enjoy!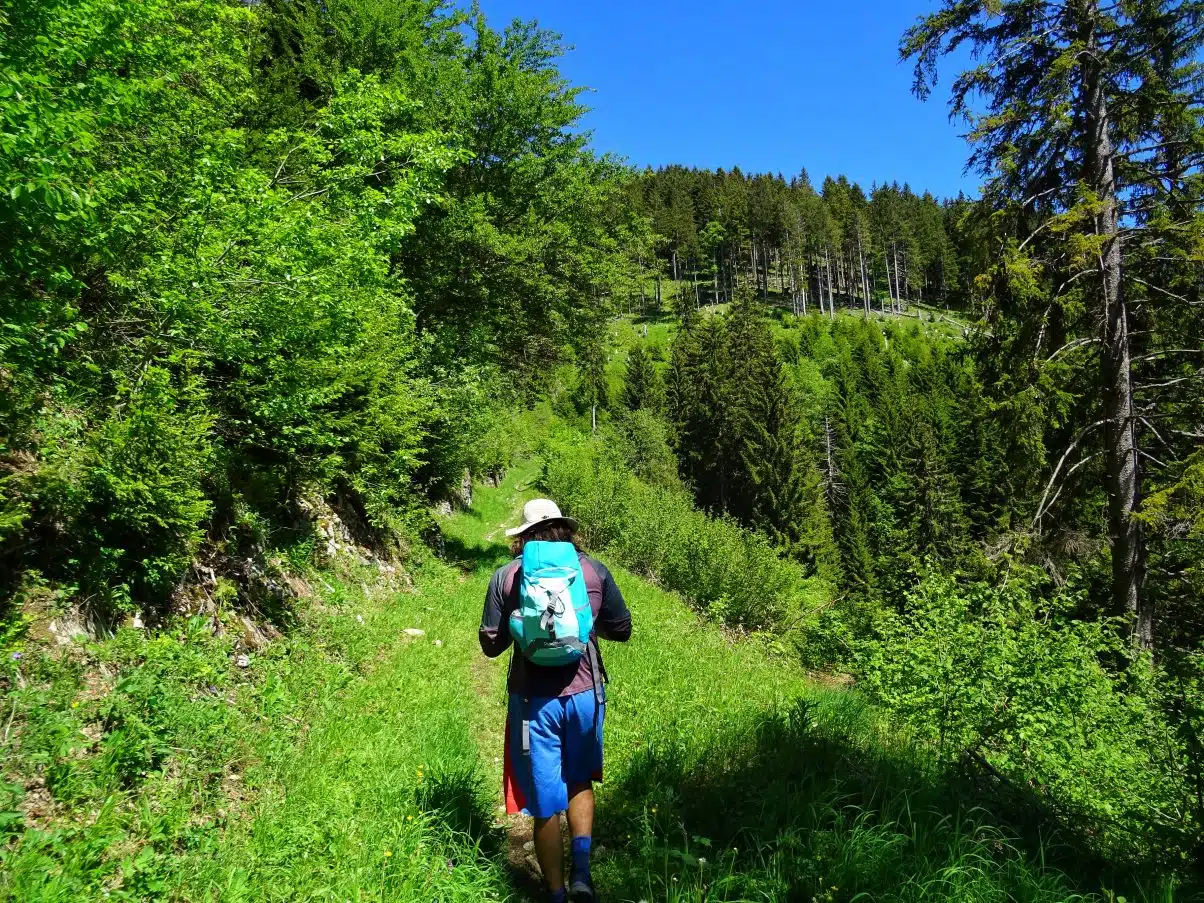 Descent: There are two options for descending the peak. You can either retrace your footsteps or follow the ridge trail from the wooden cross in order to make a loop. You'll go through some undergrowth before joining back close to the trail at Petit Môle. The ridge path is steep and slippery in places so caution is advised.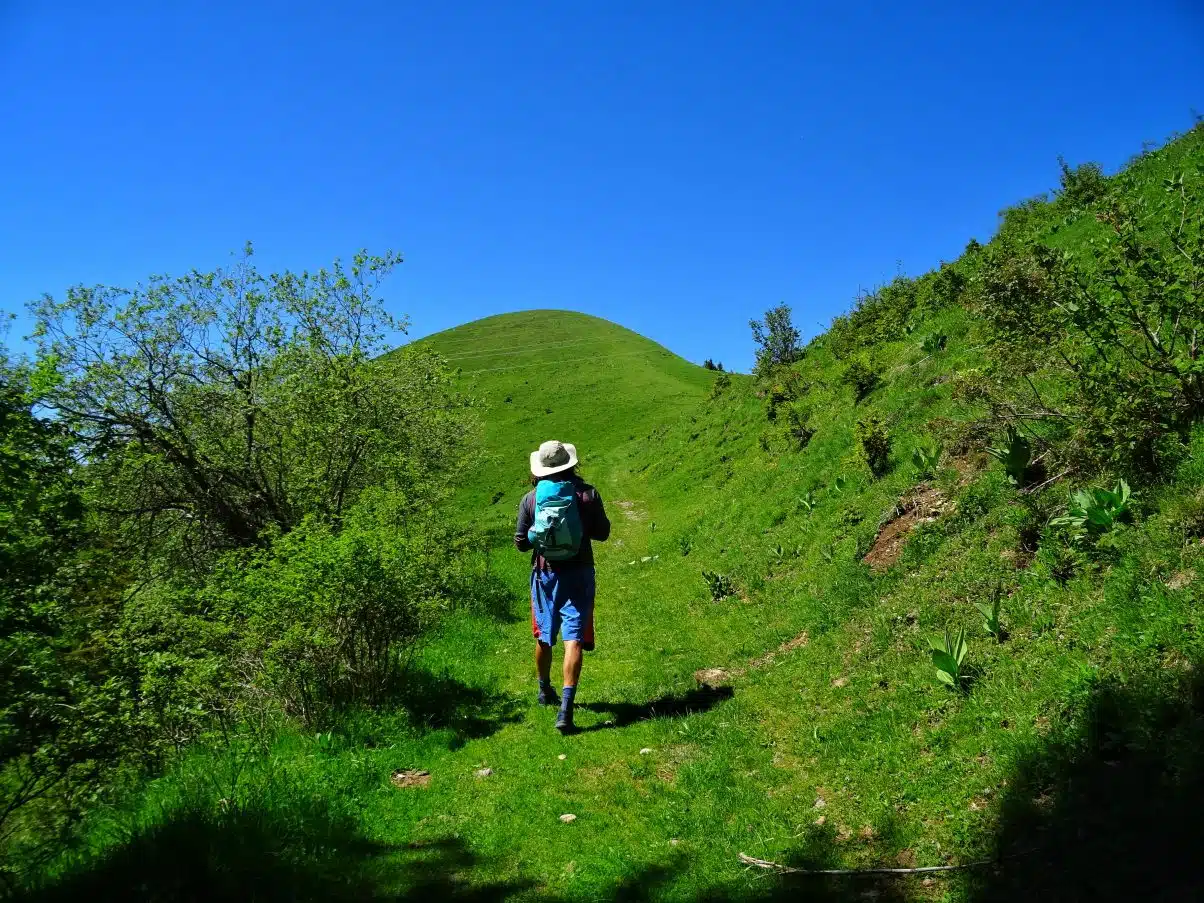 How to get there
Whether you're arriving by car or bicycle go to St-Jean de Tholomé and continue in the direction of Bovère. From here cross the villages of Chez Baron, Vers Chateau and Chez Folliex until you reach the end of the road where there is a bar: Chez Béroud. There is a car park and although there is no bike park there are plenty of places you can lock you bicycle.
If arriving by bicycle be warned there is harsh incline and depending on where you're starting this may dominate much of the route. St-Jean de Tholomé is close to the trail start but the elevation gain is 373m and can make the short hike up Le Môle much harder.
We started cycling from Annemasse and had a nearly 1,000m climb, meaning we were cream-crackered by the time we reached the trail. Not ideal in 33° heat!
You can travel via bus from Geneva to St-Jean de Tholomé from Geneva but from here you will still be 5.5km from the start of the hike. From here you can either hitchhike the popularity of the route means cars passing are often heading to the hike. Or begin your hike from St-Jean de Tholomé which will make the hike significantly longer.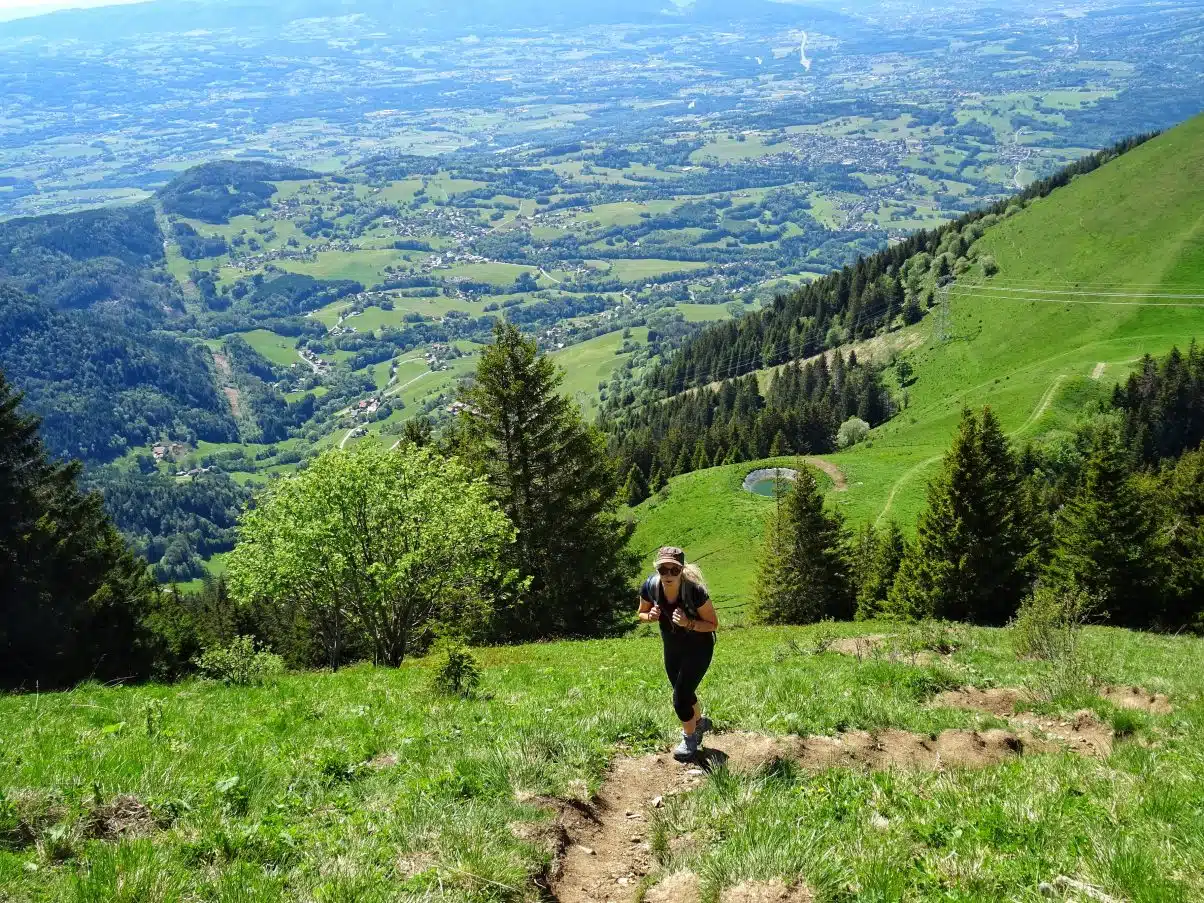 When to go
The recommended period to hike is between 15/05 to 01/11 however it is possible to hike year-round. If you do wish to hike outside of this window enquire with tourist information about the conditions of the trail as rainy and snowy periods can make the route inaccessible.
Local Amenities
There aren't any shops or cafes in the immediate vicinity so make sure you pick up any liquids or foods beforehand. They are currently in the process of developing a restaurant and cafe at the trailhead but this wasn't complete at the time of writing.
Your Hiking Packing List
Not sure what to take or what clothes to wear? You'll find lots of information on our Beginner's Guide to Hiking, or take a look at our Hiking Packing Guide, which includes:
Hiking essentials (the stuff you should always take with you)
Hiking clothes for summer and winter
Medical and safety gear
Food and water
Extra bits and sustainable considerations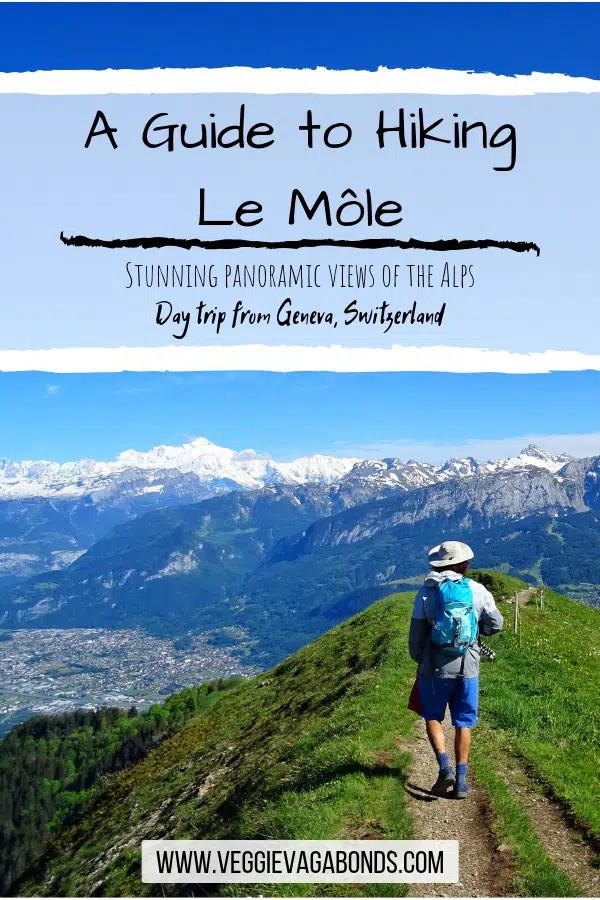 A Guide to Hiking Le Môle – Stunning Panoramic Views of the Alps Close to Geneva
The hike is very straight-forward and a great one to summit if you haven't got a whole day to spend hiking but want to be surrounded by epic views. We highly recommend hiking on a clear day when you can make the most of the panoramic views and the beauty of the neighbouring peaks.
If you have any questions or want some more information on the hike then like I said drop us a comment or send us a message. If you've done the hike we'd love to know what you think!
Keep exploring…
The Best Vegan Hiking Food for Adventure-Driven Herbivores
Snowshoeing in Chamonix – A Complete Guide for First-Timers
Cycling the Via Rhôna: A Guide to Eurovelo 17
Swiss National Park Hiking Trails
Outdoor fanatic? Vegan adventurer? Nature lover? Sign up for our mailing list and you'll also get the Ethical Adventure Planning Guide!