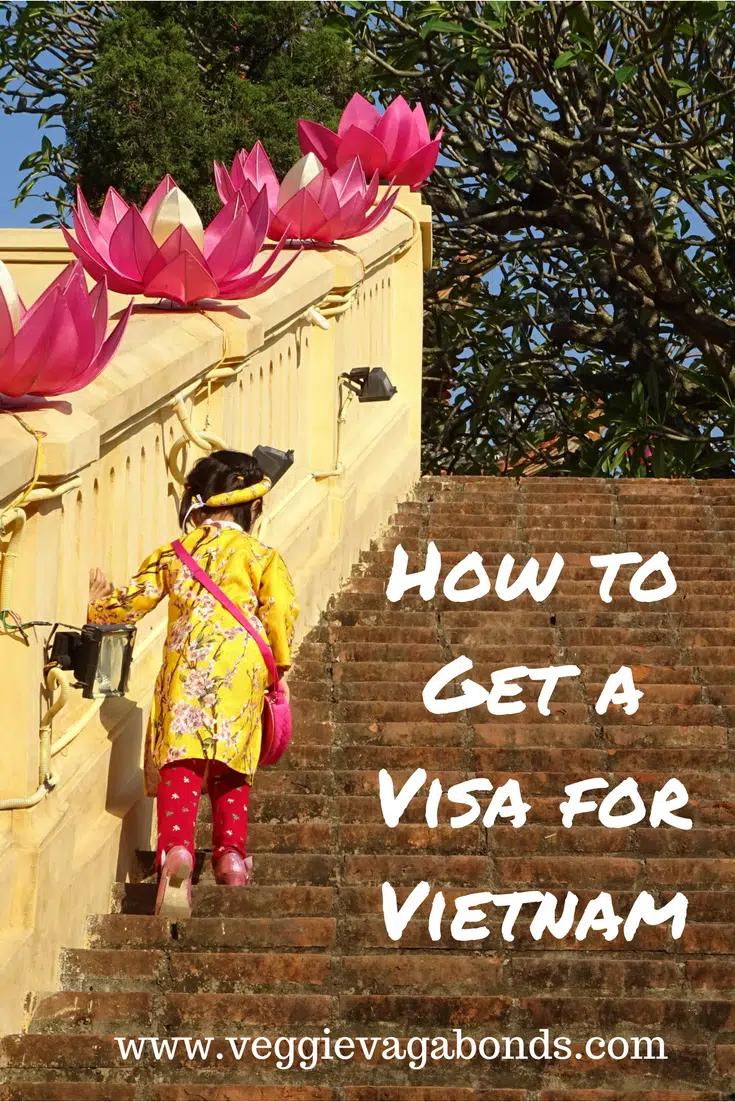 Congratulations! If you're reading this then you've probably made the brilliant decision to visit Vietnam: the land of floating villages, hill tribes and world famous food. Now all you need to do is get your tourist visa. Despite what you may have heard getting a visa for Vietnam can be surprisingly easy. This article will tell you exactly how to get a visa for Vietnam and get through immigration problem free.
With two passports filled with Vietnamese visas we've mastered the immigration and application process.
This article will tell you;
3 different ways to get a visa for Vietnam
(Visa On Arrival, from the Vietnamese embassy at home, at a Vietnamese embassy abroad)
What you need to get a visa for Vietnam
How much it will cost to get a visa for Vietnam
Foolproof tips to get you through immigration problem free
Important Stuff!
If you're from UK, Italy, Spain, France, Germany, Norway, Denmark, Finland, Sweden, South Korea or Japan you don't need a visa for stays under 15 days. Just rock up and they'll let you in!
If you're visiting for less than 15 days your passport needs to be valid for a minimum of 6 months. If you're staying longer than 15 days your passport needs to be valid for at least one month after your Vietnamese visa expires. This applies to all methods of visa application. Also Make sure your passport is in good condition, it's not unheard of for travellers to be turned away because of extremely damaged passports.
But I Wanna Stay For Longer!
Good idea. If you want to stay for longer than 15 days then you have 3 options; apply online for a visa on arrival, apply directly to the Vietnamese embassy in your home nation or apply directly to the Vietnamese embassy in a foreign nation.  In the next section I will explain all the different options and tell you everything you need to make it a smooth process.
Option 1 – Visa on Arrival (VOA)
This is definitely the quickest and cheapest option, which also makes it the most popular option.
You can apply for the VOA online with 3 easy steps. The only rule is you must fly to either Ha Noi, Ho Chi Minh or Da Nang aiport to get your visa stamped. IT IS NOT AVAILABLE BY BORDER CROSSING OR SEA ENTRY.
What you need to apply online
Personal details and passport number
Days of arrival and departure to Vietnam (it is best to have flights booked before you apply for the visa)
Payment method (paypal, debit/credit card)
Internet
VOA step 1 – Apply for approval letter
This is not done through a government site, it is done through third-party site online. We suggest using https://www.vietnam-visa.com/ a tried and tested company we used. There are many different companies online with different prices but be careful as some scam sites are out there.
Once you've completed the application you will receive an approval letter and an application form. The approval letter will be written in Vietnamese with your name and details on it. Don't worry if there are other names on the letter, this is normal.
How to apply
Visit https://www.vietnam-visa.com/  or click on the link above and choose your type of visa
Enter your details and pay for the approval letter
Wait to receive approval letter and application form
How much does it cost?
For all visas you must pay for the approval letter (paid online) and a stamping fee (paid in cash at the airport)
1 Month Single Entry –  $21 ($25 stamping fee)
3 month single entry – $34 ($25 stamping fee)
1 month multiple entry – $26 ($50 stamping fee)
3 Month multiple entry – $55 ($50 stamping fee)
The approval letter normally take 2 days to be processed however you can pay more for a faster service. Once it's processed they will email it to you along with the application form.
Single or Multiple Entry?
With a multiple entry visa you can leave Vietnam and return as much as you wish within your visa validity. This is a good option if you're thinking of flying in and out of Vietnam but also want to visit other countries close by.
VOA Step 2 – Get Your Shit Together
After you've received your approval letter and application form
Print out the approval letter and the application form
Fill out the application form and attach two passport photos
Make sure you have $$ to pay for stamping fee at the airport ($25 single entry, $50 multiple entry)
***tip*** make sure you fill out the application form, it will save you lots of time at the airport
***tip*** Make sure you have the correct money at the airport, good luck getting change if you don't
VOA Step 3 – Get On That Plane Baby!
You're almost ready to go, get your bag packed and make sure you have;
Approval Letter
Completed application form
2 x passport photos
Passport
Correct $$ for stamping fee ($25 single entry, $50 multiple entry)
Nobody likes going through immigration. To speed up the process make sure your stand in the foreign visa line and have everything on the checklist above to hand. At the counter they will take all of your documents and your money. Take a seat and wait for your visa to be processed, your name to be shown on the screen when it's ready. Collect your passport, with a nice big visa sticker, and go adventure!
***tip*** many travellers will queue for ages and upon reaching the desk realise they haven't filled in the application. Don't be that person. Make sure you fill in the application form before you arrive!
Option 2 – Apply for Visa from the Vietnamese embassy at home
It's possible to apply directly to your local Vietnamese embassy, click here to find your closest embassy. Once you've found your embassy visit their website and download and complete the visa application forms. Most embassies will have the option to apply in person, by post or email. They will process the application, give you your visa stamp and then you can either collect you passport in person or they can send it to you via courier. 
What you need
 Passport valid for one month after you plan to leave Vietnam
 Completed application form
 2 x passport photos
 Payment will depend on the service you choose
Whilst this is a reliable service it will take around 5 days to process you're application AND it can cost more than 3 x the price of a VOA. 
Option 3 – Apply for visa in foreign country
If you're already on the road you can also apply for a visa from a foreign country. 
If, for example, you're already in Thailand then you can go to the Vietnamese embassy in Bangkok and apply for your visa in person.
To do this;
Go to the embassy and fill in the necessary forms
Wait 3-5 days for the visa to be processed.
Go back to the embassy and pick up your passport and visa.
If you choose this option, make sure you contact the Vietnamese embassy in your current country to check the process.
This is also not the most reliable option as;
a) You will be abroad without your passport whilst your visa is being processed
b) You will have to travel to the embassy and back twice which may be costly and time consuming
c) It will cost significantly more and take more time than the VOA
Final Thoughts
The VOA is by far the quickest and most cost effective option. As long as you choose a reliable company to process your approval letter and follow this guide, you'll be fine!
To my mind, the only reason you would pick options 2 or 3 is if you're scared of the internet, have no access to internet or no online banking. If any of these apply to you, then definitely go for options 2 or 3 🙂
How to Get a Visa for Vietnam?
If you've got to this point you're now an expert of the Vietnam visa and immigration process. Congratulations, You can now advise your friends like a clever clogs and look forward to your trip! If you're a vegan travelling to Vietnam, make sure you read this article before you go!
Share me!
Get our latest articles, adventures and insider news by signing up below - you'll also receive our Ethical Adventure Planning Guide!