How to get more fibre camping and what fibre-rich foods are best for multi-day trips
---
Fibre plays such an important role in how we feel. If your tum isn't happy you can end up feeling sluggish, which can impact a whole trip.
Yet the importance of fibre is often overlooked. Protein and carbs seem to steal the show when it comes to their importance in meals. But fibre plays a crucial role in keeping your gut happy. Especially on multi-day trips when your food is powering you on.
We are big fibre fans. As proud veggie munchers, fruit enthusiasts and roughage devotees, we've put together some of the best fibre-rich food for camping trips. Because not all foods are ideal for the camp stove.
We've also shared some tips to help get more fibre whilst on trips. To help keep you and your tum happy for your next multi-day adventure.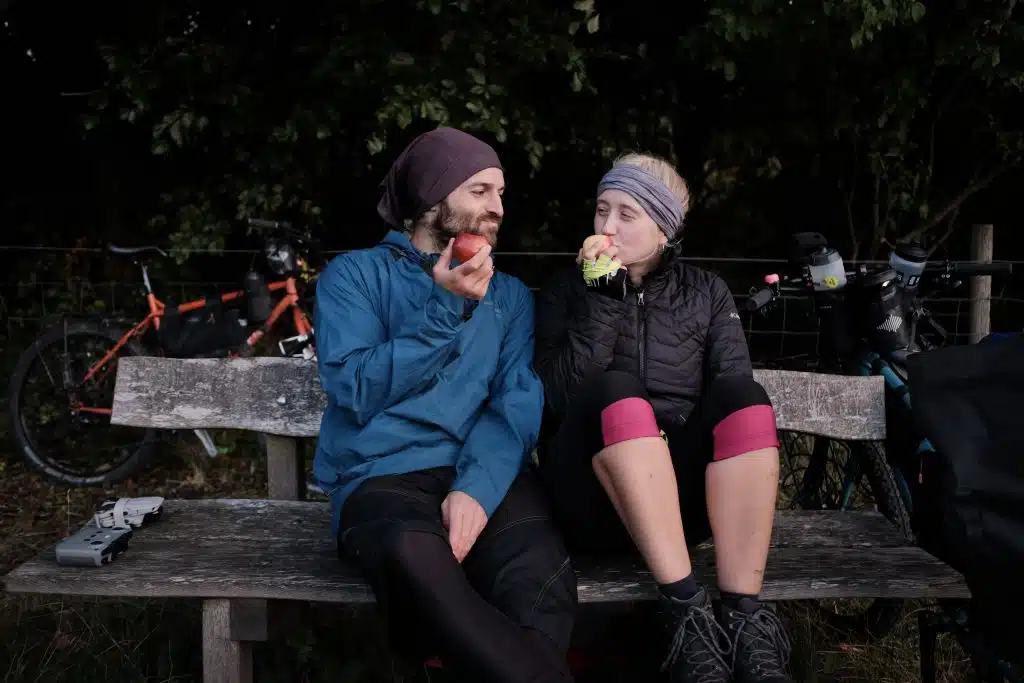 Why is Fibre Important?
Fibre is the stuff that keeps your gut in good nick. A diet rich in high-fibre foods has tons of benefits as these foods often contain a wealth of nutrients and vitamins.
Fibre can:
Aid digestion and relieve constipation (definitely one to avoid on camping trips)
Lowers your risk of heart disease
Makes you feel fuller
Lowers your risk of strokes
Helps prevent heart disease
Fights against bowel cancer
Foods with prebiotic fibre can promote healthy gut bacteria
It's recommended that women should eat 21-25 grams of fibre a day, whilst men should try to eat 30-38 grams a day.
What to Consider When Picking Fibre-Rich Foods for Camping Trips
Although they're a lot of foods high in fibre out there, they're not all ideal for camping trips. Ideally the food you pick for trips needs to be:
Lightweight – to lug around before you can next get a resupply
Non-perishable – again so it will last for as long as you need it to
Nutritious – to provide the nutrients you need. Consider foods that aren't only a source of fibre but are also high in protein and carbs
Inexpensive – some camping-specific foods can be really costly and you don't want to break the bank for a camping trip
Packable – to hack a battering in your bag
Versatile – so it can be thrown into whatever delicious plant-based camping recipes you conjure up
Easy to find – on multi-day trips, resupplies can be limited, so you don't want to be banking on ingredients that are hard to come by
Tasty – because you're going to have to eat it so it's best to make it a food you like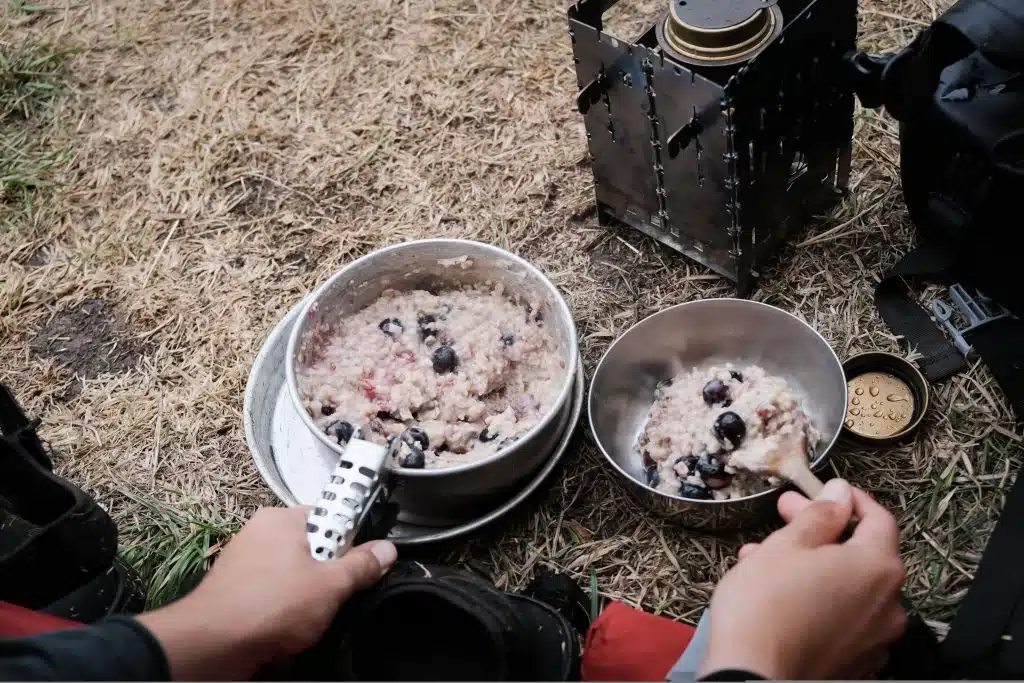 High Fibre Foods for Camping Trips
With the above in mind, here are some foods and recipe ideas that are ideal for camping trips:
Lentils – 7.9 grams of fibre per 100 grams
Lentils are pretty great as not only are they a good source of fibre, but they also pack a good amount of protein and energy. They're versatile to bulk up curries, stews and sauces on the camp stove. They're also pretty cheap and relatively easy to find in shops. Lentils are also non-perishable so can be shoved into your bag, ready to eat when you need them.
This easy and creamy lentil dahl recipe is a great way to incorporate lentils into your camping meals.
Apples – 4 grams per 100 grams
Apples are a good source of fibre and are also a very satisfying fruit. You can find apples commonly and they are pretty cheap too, making them a good choice for trips.
They are however pretty heavy and although they can take a bit of a battering, they're not invincible. With this in mind, you can dehydrate apple slices at home to take with you on the trail or buy them dried. You can also pick them up to be gobbled down that day after a resupply, to get a good dose of fibre.
---
Sign up for our newsletter to get our latest food guides & recipes for your next adventure
---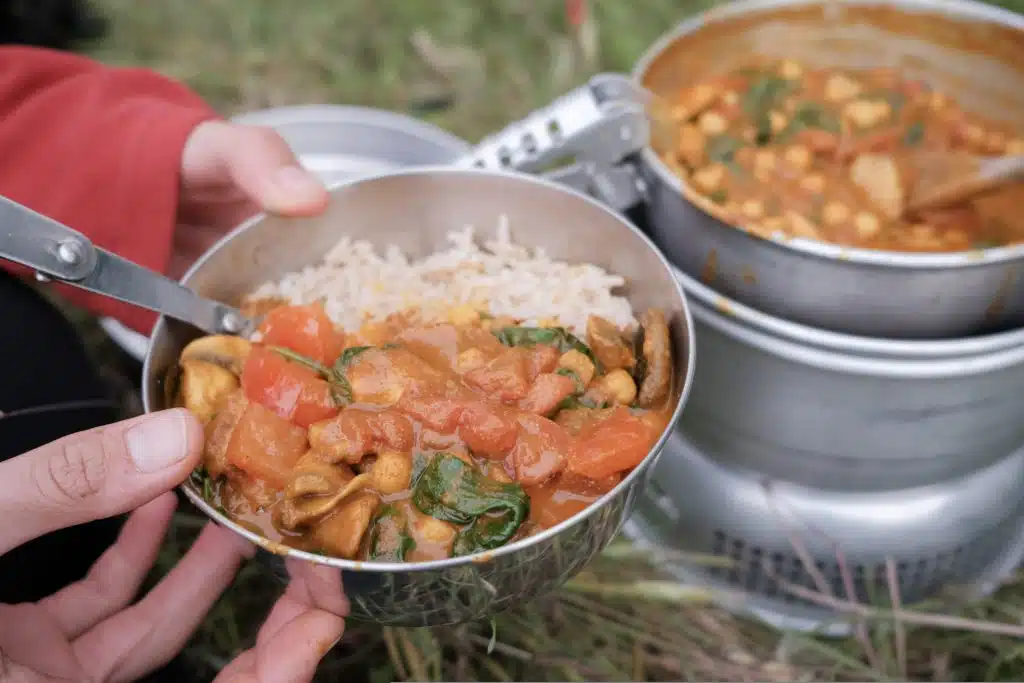 Oats – 10.1 grams per 100 grams
Oats are one type of food that comes with us on every trip. We also eat them almost every day at home, so it's safe to safe we're big oat fans.
This mighty grain is a good source of fibre, protein and energy. Making it a great food to take on trips. It's cheap, versatile, non-perishable and easy to find around the world we've discovered.
Oats make a great breakfast as you can top them with dried fruit, nuts, seed and powders to suit your taste and what's available. They're also great in recipes and snacks for the trail, like these easy energy balls or tasty cacao bars.
Chia Seeds – 34.4 grams per 100 grams
Probably the most fibrous food on this list, chia seeds are also really nutritious. They're high in calcium, magnesium and phosphorous.
You don't need much of them to pack some goodness into your meals so they're a good choice for camping trips. Great sprinkled on your morning porridge or baked into adventure snacks.
Chickpeas – 7.6 grams per 100 grams
Another pulse on this list, that's not only rich in fibre but also protein and other nutrients. Chickpeas are versatile to throw into curries, stews and salads.
They're also the base for hummus which is ideal to dehydrate at home. Then rehydrate on the trail for a super lightweight dip for veggies or to smoother in sandwiches. Chickpeas are also delicious in this warming peanut mushroom curry or this super creamy chickpea curry.
Chickpeas are pretty cheap, easy to find and non-perishable, so they're a good choice for multi-day trips.
Berries – roughly 2 – 6.5 grams per 100 grams
In their fresh form, berries aren't the best food to take on trips. They're delicate and perish easily so even the thought of putting them into your rucksack can turn them to mush.
But berries are a really great source of fibre and vitamins. And there are ways to enjoy them that are more adventure-ready.
You can make these dehydrated berry fruit leathers, which are a lightweight way to get some goodness on the trail. Or buy them dried or baked from shops to gobble down as a snack, or top your morning porridge.
Some berries have more fibre than others:
Strawberries 2 grams per 100 grams
Raspberries 6.5 grams per 100 grams
Blueberries 2.5 grams per 100 grams
Blackberries 5.3 grams per 100 grams
Kidney Beans – 6.8 grams per 100 grams
Like other pulses, kidney beans are a good source of fibre, as well as being packed with protein and energy.
They are pretty cheap and easy to find so are great to add to dinners on the camp stove. They're also non-perishable and can take a battering in the can. They are, however, heavy to lug around so not ideal for lightweight trips.
Our favourite ways to have kidney beans is this spicy and warming vegan campfire chilli recipe or tasty plant-based campfire tacos. Just what you fancy after a day in the hills.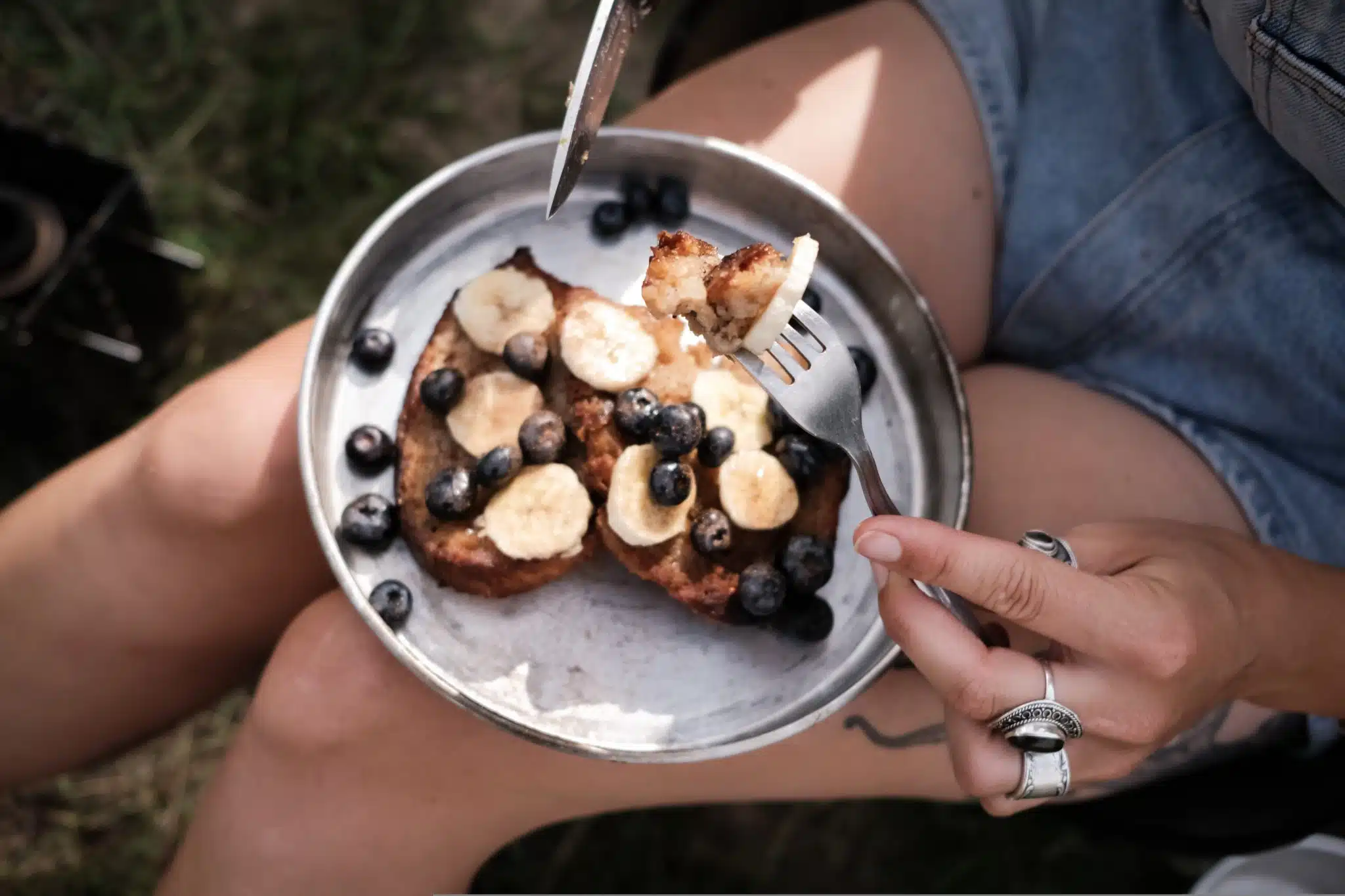 Almonds – 13.3 grams per 100 grams
Almonds are crammed with fibre, carbs, protein and a whole bunch of other nutrients. They're a good source of vitamin E, magnesium and manganese too. They're non-perishable and can take a real battering making them a good food to have on hand when resupplies aren't as frequent.
Almonds can be eaten raw in trail mix or baked into snacks like these ultimate adventure flapjacks. You can also throw them into stir-fries or top your morning porridge.
Almonds are however on the costly end of the list, so arent's ideal for gobbling down in the bucket load if you're on a tight budget.
Wholemeal Bread – 7 grams per 100 grams
Bread is a pretty foolproof food to grab on trips. It acts as a great vehicle for other ingredients and can be whatever you want it to be. It can facilitate savoury or sweet toppings and acts as a mop for sauces dishes at dinner.
Bread is lightweight, easy to find and packs well into your rucksack for a few days. But make sure you pick wholemeal over white if you want to be adding a good dose of fibre to your meals.
Wholemeal bread is great for lunch or to have at breakfast with this tofu scramble on top, for a good serving of protein too.
Bananas – 2.6 grams per 100 grams
Now I know you might be thinking, bananas are notoriously prone to bruising. They wouldn't last 5 minutes in your sweaty rucksack before turning to mush. In their fresh form bananas of course should be consumed quickly, but there are plenty of other ways to get them into your camping meals.
You can dehydrate slices of banana or buy them baked for a tasty fibre-rich trail snack. You can also use them in recipes like this delicious banana bread that's crammed with good stuff for your adventures or this moreish camping french toast recipe.
Fresh bananas are also great gobbled down when you get a resupply or sliced on these simple 3 ingredient pancakes.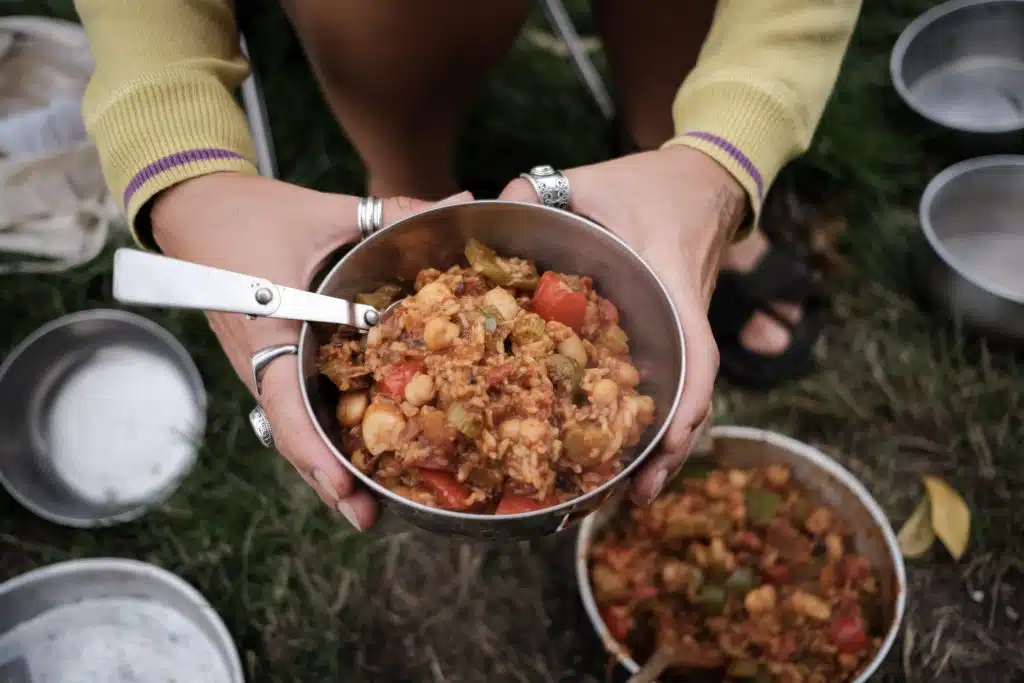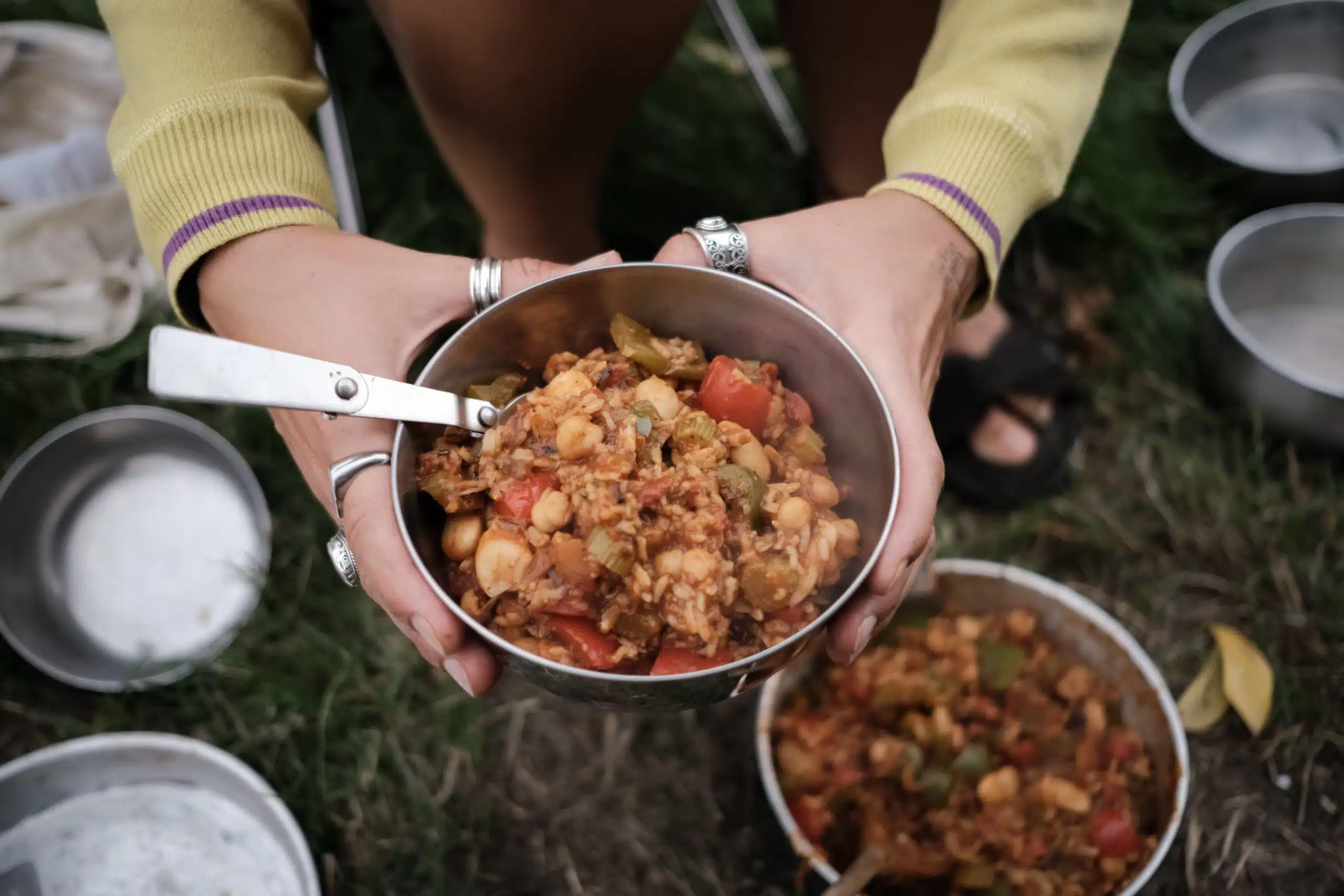 Brown Rice – 8.7 grams per 100 grams
Much like bread, brown rice is the nutrient-dense older sibling of white rice. Brown rice is not only high in fibre, but it's also a complex carb that releases its energy slowly.
Rice is easy to find, cheap and non-perishable making it a good base for meals. It is, however, pretty heavy and takes a while to cook, so it's not ideal for lightweight trips when fuel and space are scarce.
Opting for instant rice sachets is a good alternative as they're already cooked and are pretty convenient. You can use brown rice to make this punchy jambalaya recipe on the camp stove.
Dried Fruit
Fresh fruit isn't the best food companion for multi-day trips. Dried fruit on the other hand is ideal.
It contains all the goodness and nutrients but is lighter and packable. Dried fruit has a long lifespan, can take a battering and is versatile. It's packed with fibre and other vitamins that will keep you feeling good in the outdoors. Buy from shops, add to your trail mix or top your morning porridge.
Some high-fibre dried fruits
Figs 12 grams per 100 grams
Prunes 7.1 grams per 100 grams
Sultanas 4 grams per 100 grams
Dried pear 12 grams per 100 grams
---
---
How to Get More Fibre on Camping Trips
Now that you have a bit of ingredient and recipe inspiration, there are a few tips that'll help you to increase your fibre intake camping:
Choose wholegrains where possible – as an easy way to incorporate fibre-rich foods into your meals.
Make breakfast fibre-heavy – breakfast is an easy meal to cram with fibre. Oats topped with seeds, nuts, dried fruit or banana is a good way to get your fibre intake in early, setting you up for the day.
Snack on foods high in fibre – to ensure you get a little bit of fibre throughout the day, snacking on fresh, dehydrated or dried fruits and veg will mean you're getting a bit of the good stuff your gut needs.
Choose complex carb sources – fibre is a type of carb found in fruits, whole grains, starchy vegetables and pulses.
Leave the skin on fruits and veggies – this is usually the most nutritious part and leaving it on will mean you get all the goodness and fibre you can.
Include pulses and legumes in your meals – as they're also high in protein, so you can get both from one ingredient. Ideal when you're trying to make meals as nutritious and condensed as possible.
Eat nuts – nuts are also a good source of protein and fibre. They're so versatile you can throw them into curries and stir-fries, or eat them raw if you're a purist.
Chop up veggies into sauces, curries and stews – chopping up veggies small or even dehydrating them before your trip, means you can cram them into sauces and dinners easily. A genius way to up your fibre intake.
Fibre supplements – if cooking meals on trips isn't so easy and ingredients are hard to come by, supplements are an alternative to get the fibre you need.
Include fibre with every meal – a good way to eat more fibre is to make sure you include a bit of it with every meal. That way you never miss out.