It's pretty easy to make camping more comfortable, here's how…
---
Let's cut to the chase: camping can be pretty terrible if you don't do it right. We all hate a bad night's sleep, but when you're sleeping in a tent, in the wild and potentially far from home, it can be oh so much worse.
So why is tent camping so damn popular? Because once you learn a few tricks of the trade and find the right gear it's honestly the best experience ever. Rising and falling with the sun and constantly being surrounded by the wonders Mother Nature gave us is an opportunity you shouldn't pass up!
To get to this awesome stage, you can have perseverance and learn independently through trials and tribulations OR you could just follow this guide and be completely prepared for your camping trip in the space of 10 minutes? Sounds pretty good, right?
These camping tips will help you find:
Pick the right camping spots and get pitched quickly
Find the right camping equipment and foods for your trip
Create a camping set up which will help you get an awesome night's sleep
Prepare for a camping trip and know what to expect
Basically, everything you need to make camping more comfortable and straightforward, right from the planning stages to packing up your gear at the end of a cracking camping trip.
This article may contain affiliate links, they will never cost you more money but helps Veggie Vagabonds keep making content like this – thank you!
11 Camping Tips for a Better Sleep
1. Don't neglect some forward camping planning
In complete honesty, the biggest factor in getting a good night's sleep in a tent is planning. If you don't pick the right spot, bring the right things, go at the right time etc. it's going to be pretty tough going. This can all be solved by spending a short time thinking about the points below.
1.1 Ensure comfort by picking the right destination
For a good kip when you're tent camping, the destination makes a big difference:
Are you camping in a campsite? If so, is it going to be busy? What facilities does it have? Does the location have a different climate/weather? Are you wild camping?
If it's your first time camping, perhaps think about going somewhere closer to home, in an environment you'll feel the most confident in. You could even think about camping in your back garden first?
1.2 When's the best time to go camping?
Once you've picked your destination, when you go camping is also crucial to a being comfortable.
The most important thing is to think about the weather: is it going to be hot, cold, wet, dry, humid, windy etc. Thinking about this will help you bring the right camping equipment.
If there's bad weather forecast, why don't you think about changing the dates, if that's a possibility? We love camping in the rain and stormy weather but it's definitely more difficult. If you're new to camping, try and go for a period with the best conditions.
IMPORTANT: going at the right time of day can also make a big difference. Learning how to pitch a tent in darkness is pretty different to during the day. If it's one of your first camping trips, think about going nice and early so you have ample time to get set-up and comfortable.
First time sleeping in a tent? Take a read of our Beginner's Guide to Camping
2. Make sure you bring the camping essentials
Once you've done some planning, the next stage to creating a comfortable camping trip is your gear. You don't need to splash out on the most expensive camping items, instead, pick the right items for YOUR trip.
First off, think about how much you can comfortably bring.
"It's better to have it and not need it than need it and not have it"
This can be a good approach if you're reaching your camping destination by car, but if you're travelling on foot/bicycle/public transport etc. you don't want to be carrying too much either.
Here are some camping essentials you'll need for a good night's sleep:
Tent – the best camping tent will be easy to assemble and able to withstand the elements whilst giving enough room for your trip. For a great 2-person midrange option, we recommend the Vango Tempest Pro 2 – find prices here or look at our pick of the best 2-person tents.
Sleeping bag – make sure your sleeping bag is suited to the temperatures you'll be camping in. There's no point taking a 4-season sleeping bag if the temperatures will stay warm. Our sleeping bag buyer's guide gives a lot more detail and recommendations.
Sleeping pad (camping mat) – a good lightweight sleeping pad will be comfortable and durable. We use the Mountain Equipment Helium which is awesome – click here to buy.
Lighting – it's really useful to have some form of lighting for your tent. Whilst a lantern is the traditional option, we find fairy lights to be smaller, lighter and have better battery life whilst also giving your tent a warming glow!
Headtorch – a good headtorch is a camping essential, particularly if you're prone to getting up at night. The Black Diamond Storm (UK & USA) is our choice as it's waterproof, 400 lumens and is affordable.
Water storage – you might not have a nearby water source so taking some form of water storage is really helpful, particularly if you're camping in hot weather. The Camelbak water bladders hold 3L and also have a mouth valve so can be used for outdoor pursuits too.
Camping cooking gear – the minimum you'll need is a camping stove, gas, cutlery, plates and pans but there are plenty more optional items.
Camping furniture – if you've got the room to carry one, a small camping chair can be handy to keep you comfortable around the campsite. Check out UK or USA options here.
Insect repellant – boy can buzzing and itching keep you awake. This one is deet-free or you can even make your own DIY insect repellent.
You'll find a full breakdown of camping equipment in our Camping Packing List and Guide.
There are plenty of optional additional items that can make your camping experience more comfortable, like earplugs, eye mask, bug repellant, pillow, cooking gear or camping furniture. If you're looking for more gear, check out the links below.
3. Time to go for a camping test run
Camping in a tent isn't rocket science but it's still pretty crucial to go for a test run, particularly if you're using new camping gear.
Before you go on a big camping trip, make sure you do a small test run closer to home. This is a fun way to practice pitching a tent, make sure everything is running smoothly and you have all the items you need. Even if you do it in your garden, it's better to have a problem there than out in the midst of the wilderness!
The next step to getting the best night's sleep in a tent is picking the right place to pitch your tent. For all camping options it's normally best too:
Find a flat surface without roots, rocks or sharp features which will be uncomfortable to sleep on and could damage your camping sleeping gear
In hot weather, picking somewhere shaded is good but be careful under trees in windy conditions and you also might get treated to some mucky birds overhead!
Be aware of the natural landscape – exposed areas may be windy, near rivers/streams may be boggy etc.
If you're in a campsite, you might also want to think about how close you are to campground amenities. Too far away might be inconvenient but too close might be loud or disruptive at night/in the morning.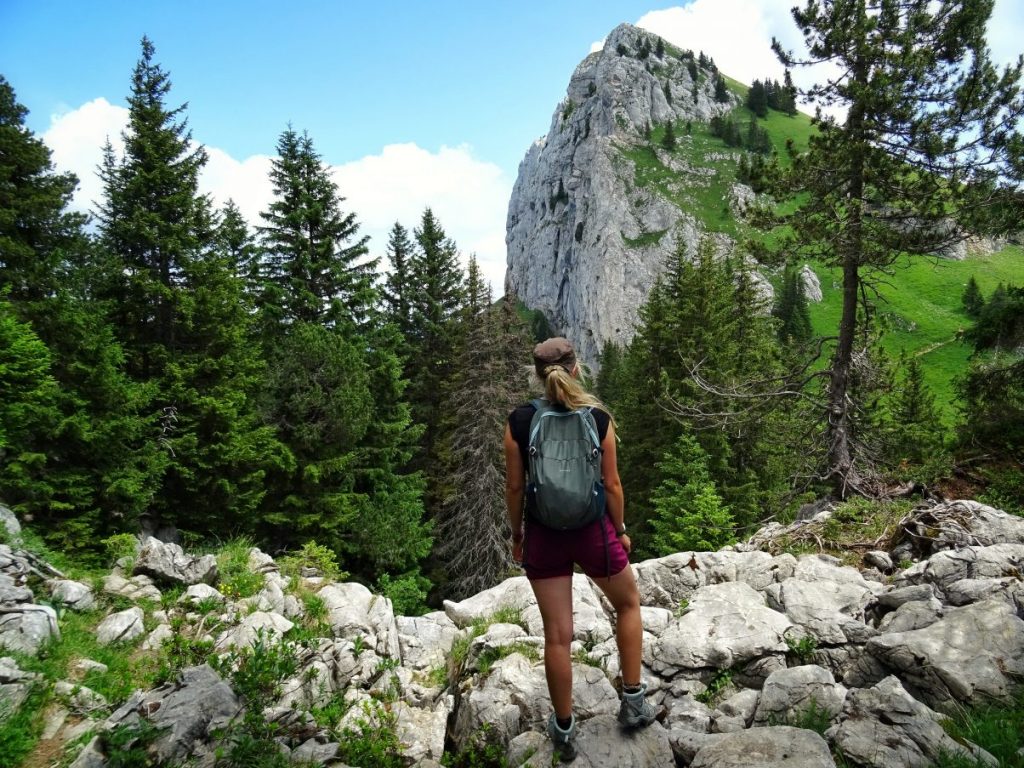 5. Choose the right camping food
Going to bed feeling bloated or queezy isn't a good start to a tent in a tent (especially if you've got a long walk to a toilet!).
Try and opt for lighter foods which will allow for a good night's sleep and opting to eat earlier will help too. For a full rundown of vegan camping foods, take a read of this article!
6. For the best camping experience, stretch after exercise!
You've had a hard day on the trails, climbing or even paddling through white waters, if you're muscles are achy then a good stretch will help you rest well. Make sure to focus on stretching out your legs and back to feel comfortable throughout the night and in the morning.
7. Go to the loo before bed
Pretty simple stuff: if you have to wake up in the night to go to the loo, you're losing valuable time you could be asleep. In a tent this is particularly important as going to the loo and back can be more of an ordeal (peeing in the cold can really wake you up, no matter how weary you are!).
8. Keep everything organised and don't block the tent entrance
If you do need to get up at night, you'll find it much simpler if it's easy to get up and out. Make sure your things aren't blocking the exit so you're not tripping over tent chairs and rucksacks on the way to the loo. A stubbed toe is pretty good at making you feel completely awake!
9. Have water and a head torch nearby
If you're camping, chances are it's going to be dark and so a head torch is pretty essential to have right by you. It can also get surprisingly hot in zipped up tents, leaving you thirsty at night. Keeping water by you will stop and half-asleep trips to the nearest water source.
10. Go for less layers for more comfortable tent camping
It might be a little fresh but don't make the mistake of falling asleep with too many layers on, particularly if you're wrapped up tight in a sleeping bag. You'll end up getting too hot and sweaty during the night, then will wake up really dehydrated.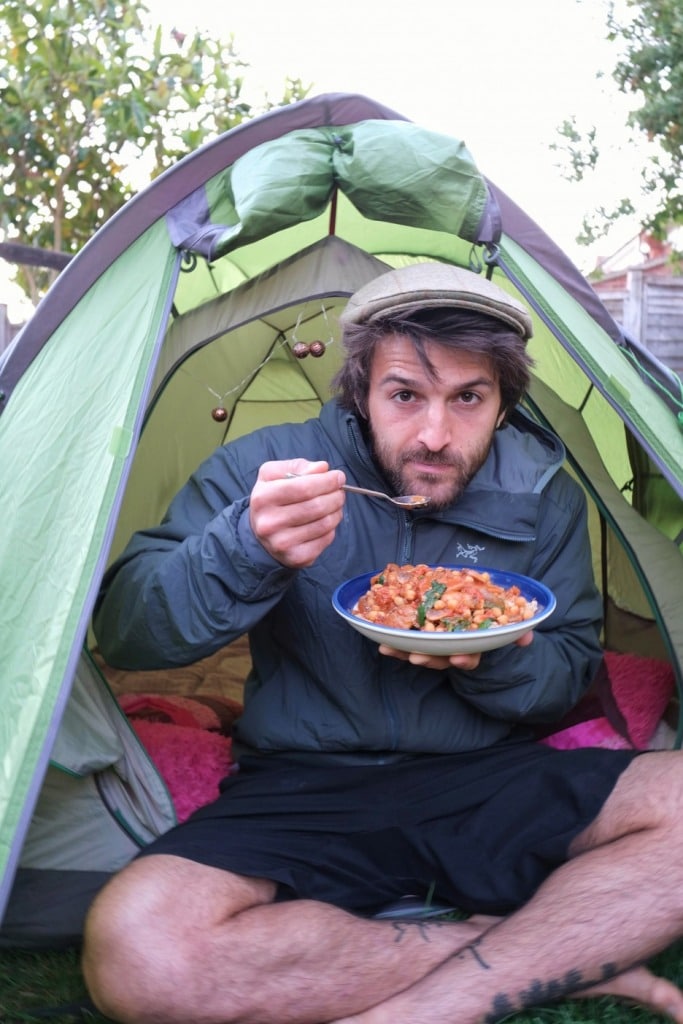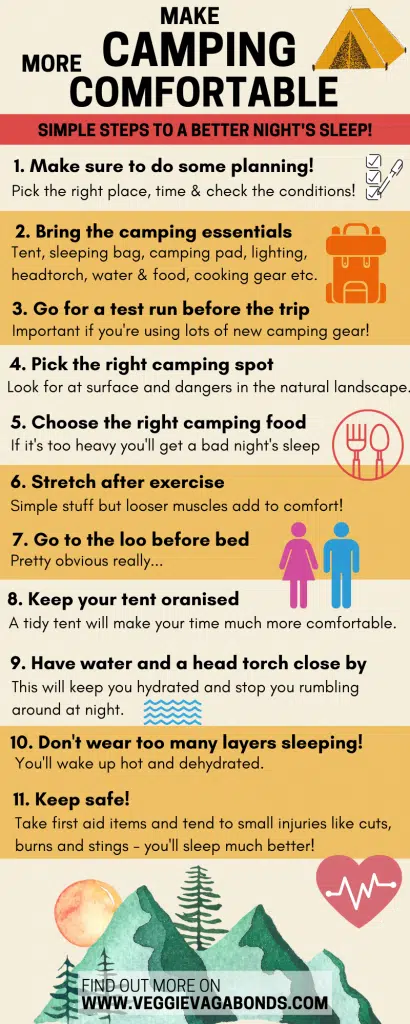 11. Stay clean and safe on your camping trip
If you're out camping for multiple days, infected cuts, blistering burns and insect bites are all things which can keep you away at night. Stay clean whilst camping and make sure you take a good first aid kit topped up with any extra things you need, like medication or antihistamine. We like this one here in the UK and you can find similar options in the USA.
Bonus tip: think green!
Okay, so eco-friendly steps might not directly help, but you'll probably get a better kip with a clear conscience! The best rule to follow is 'leave no trace' and you could even bring some extra bin bags to clear any other litter you find. Want more tips? Check out our sustainable camping guide!
Got any more camping hacks or tips for sleeping well? Drop us a comment at the bottom!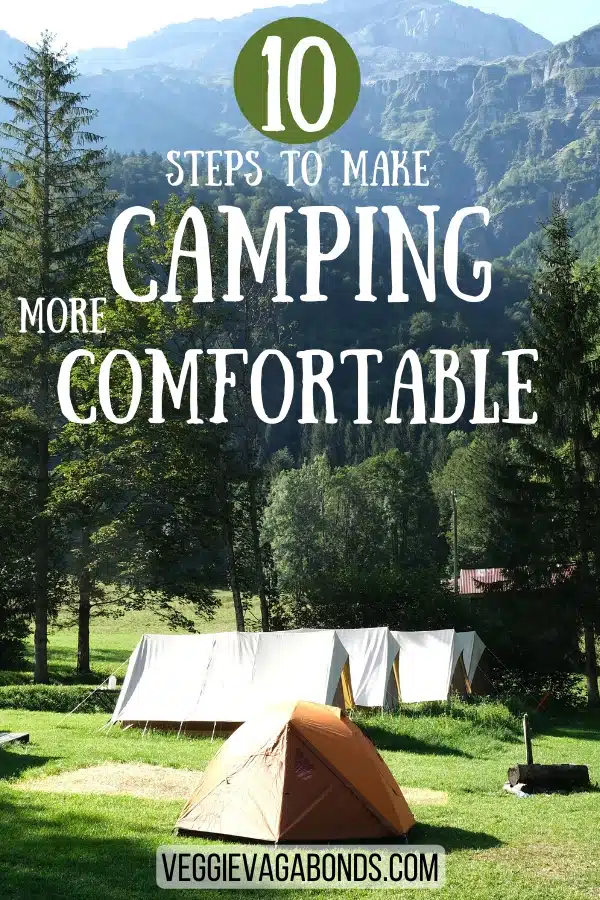 11 Steps to Make Camping More Comfortable
Camping can be the experience of a lifetime if you're prepared. Make your camping trip as comfortable as possible by following these tips and let us know how you get on!
Keep exploring…