Whether it's because of poor conditions, the Coronavirus or being under the weather, these indoor activities will make cabin fever a thing of the past!
---
Like it or not, there will come points in our lives when we're stuck at home. Even the likes of Dervla Murphy and Tenzing Norgay had times when they locked up the bike and kicked off the mountain boots. Still, this doesn't mean the adventure has to stop. Even if you're stuck somewhere as flat and adrenaline-retracting as Cambridge, UK (our current location), you can always bring the outdoors to you.
With the world currently being gripped by the Coronavirus, finding the right indoor activities is pretty damn crucial for this stint inside. Getting a big dose of adventure is crucial for the mind, body and soul, and, as we're all spending more time at home than normal, we gotta get imaginative with ways to get that adventure fix!
From things to do on a rainy day to cool longer-term project, these ideas are perfect for when it's not possible to embrace the wild. They'll keep you physically fit, mentally strong and technically prepared, so, when the storm blows over, there will be nothing holding you back.
Oh, and they're pretty much all free or cheap as chips – always a bonus!
Bring the adventure to your home or garden and turn this time into an exciting opportunity, rather than a claustrophobic mess. After this, getting stuck indoors won't seem so bad after all.
Check 'em out and start getting ready for your next trip – if you've got ideas of your own, hit us up in the comments at the bottom!
This article contains affiliate links. If you buy something through these links we may make a small commission – this is never of any extra cost to you – but helps support Veggie Vagabonds, thanks!
Home and Indoor Activities for Outdoor and Adventure Lovers
Hone your adventure skills
Nature is the best classroom but you can still practise indoors too. Try these for starters and you may find yourself developing a new hobby:
Start a new hobby
A huge part of the outdoors is new experiences, but you can still have them without leaving your front door. A new hobby can keep you active, giving you something to practice and work on as a project.
We love juggling and have recently got into yoga (Yoga with Adriene is awesome!). Hackie sack, yoyoing, circus skills, hula hooping, origami, sewing, balance boarding… there's probably a bunch of things you've always wanted to try that can be done from home – now's the time to start.
Brush up your language skills
What's this got to do with adventure? Well, if you're planning a trip abroad then learning some of the local lingo really adds to your experience. For vegan adventurers, this can be especially useful! We use Duolingo, textbooks, multilingual books and podcasts (Coffee Break Spanish is a good one).
Use the time to fix up your gear
Caring for your equipment will give it a longer life, save you money and keep you safe for when you next hit the road. Re-waterproofing tents, coats and shoes, sewing tears in backpacks, fixing punctures, servicing your bike or even making note of things that are missing from your kit list, there's tonnes to keep you busy.
Get creative with home training
With a bit of imagination you'll find heaps of indoor ways to keep up your strength and fitness:
Start putting together bodyweight workouts or use Darebee for some inspiration

Put weights in a rucksack to make things like squats, press-ups and pull-ups harder (or get your partner/kids/cats to jump on your back!)

Use your stairs or a garden bench for step-ups or jump training

A skipping rope, TRX cables and an exercise ball can open up a whole world of pain fun!

Keep strong and limber with yoga, Thai Chi or pilates

You could even build your own climbing wall or hang board
Keep challenging yourself with indoor activities
Setting yourself challenges is a good way to keep focused and motivated, especially if you're used to gruelling outdoor challenges too.
I'm working my way up to handstands and one-arm pull-ups, Sarah is determined to reach 10 full press-ups and a pull-up and we're both building up to 100 good burpees!
What could you set as a personal challenge?
Virtual national park visits
Oh, the wonders of technology! Now you can visit national parks and famous outdoor areas all from your living room.
Embrace mental calm
Meditation has a million benefits, but, when you're not able to get outdoors, it's real useful for keeping a clear mindset and maintaining positivity. You could even visualise a beautiful outdoor setting like a mountain. We like the free Insight Timer which has a huge selection of grounding guided meditations.
Get inspired!
Your time indoors will always come to an end, so now's the time to lap up as much adventure inspiration as possible for trips of your own. Here are a few suggests:
Books – we're currently reading Full Tilt by Dervla Murphy and Touching the Void by Joe Simpson – why not check out our list of 20+ awesome books for armchair expeditions?
Films – spoiled for choice with these climbing movies or hiking films.
Documentaries – can't beat anything by David Attenborough (his latest Seven Worlds, One Planet is particularly awesome!)
Podcasts – highly recommend Terra Incognita
Magazines – do you have any TGO magazines or National Geographics laying around?
Blogs – there are thousands of people doing crazy things and sharing their experiences with the world and this is a good list for starters – do you have any favourites?
Do you have any other sweet sources of motivation?
Start planning the ultimate expedition
Now you're feeling inspired, one of the best indoor activities has to be planning your next expedition. Will you go solo or do you need to get a team together? Will you need any more gear? How long is it going to take? When should you start saving? Time to get the maps out and take to the drawing board, now there's no excuse for being unprepared.
Make a den or a treehouse
Who cares if you don't have kids – everyone loves treehouses and dens. It is quite a big project but think how nice it would be to read your new adventure novel from a treehouse!
Keep learning with online courses
Stay mentally stimulated with completely free online courses by the likes of Harvard University, Open Education and Coursera. There are plenty which could benefit your next trip, how about something geography-based? Or learning about weather systems?
Get those fingers green
Get outside, bask in the sunshine (hopefully) and get those fingers green. Growing your own fruit and veg is great for nature lovers and gifts you with fresh and delicious food too.
Sell to save
Look in those cupboards, rumble through the wardrobe and turn out that shed. Anything you've not used in the last year is unlikely to be used again. Take a photo, post it on Gumtree, eBay or Facebook Marketplace and let it find a new home. This is the perfect way to add to your adventure fund and clear some space.
Test that adventure munch
Whip out your camping stove in the living room, or, If you've got a garden, why not make a firepit? Now couldn't be better for test-baking hiking snacks, trialling camp stove meals or finally trying to dehydrate backpacking food. Check out our recipes for some vegan adventure food inspiration!
Experiment with your sleeping options
Get out those tents, sleep in those hammocks, whip out the bivies and say goodbye to your bedroom. This can be a sweet way to try out different sleeping options and see how they fare in the elements. You can also get experimental with different types of tarp shelters.
Climb a tree
This shouldn't be reserved for your childhood, it's actually probably more fun as an adult. A personal favourite of ours, we just wish we had more trees in our garden!
Edit that photo or video footage from your last trip/s
If you're anything like us, you'll have an overflowing backlog of photo and video footage which is screaming to be organised and edited. It's always been one of our rainy day activities and a brilliant way of reminiscing over past journeys.
Share your experiences
If you've done something awesome, why not share it? Start a blog to share your expeditions, tell the world through freelance writing, create a printed photo album or post that edited video onto YouTube and Vimeo.
Connect with other adventurers
Real importantly, use this time to connect with other like-minded people. Talk to others about your trips, ask about theirs, find out how they're doing and what they've got planned for the future. During the Coronavirus, we're all in the same situation. Stick together and we can get through it as a community.
Address the things which could hold back your adventures
That big bit of housework or maintenance, clearing out that attic, selling those old hiking boots or fixing the campervan and bicycle. There are always things that can delay or even stop exciting opportunities. Get the boring stuff out of the way now, so, when the opportunity comes to get back outside, you can go all guns blazing.
Go wildlife spotting
Insect hotels and bird feeders are cheap and simple to make but can really increase the biodiversity of your garden. Try making a few and you can enjoy watching the wildlife from your window.
Our No. 1 Tip – have a positive mindset
Go into anything with optimism and you'll have a more rewarding experience. See this time as a dreadfully dull patch that's stopping your fun, that's what it will likely become. See it as the perfect opportunity to embrace other activities and build towards future trips, say goodbye to any cabin fever.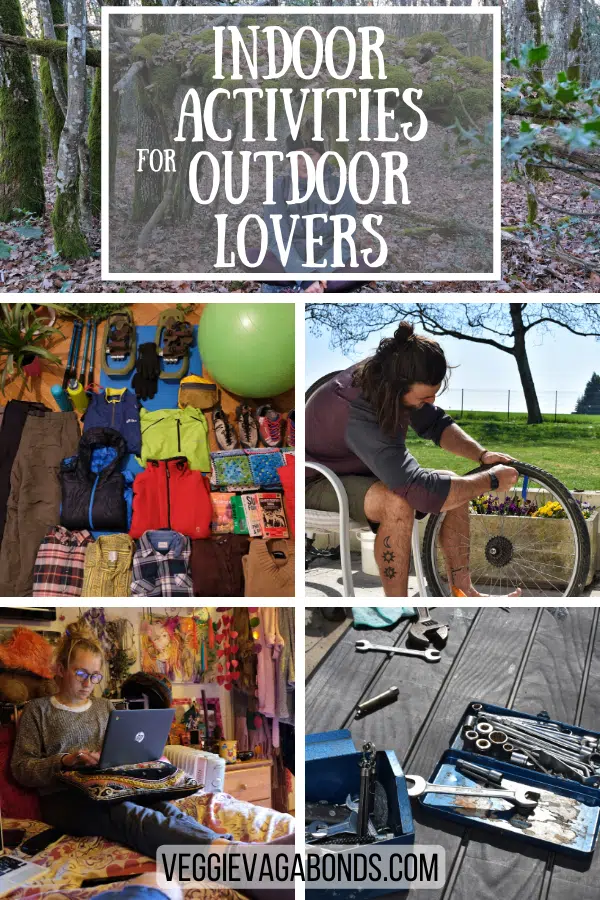 Home and Indoor Activities for Outdoor and Adventure Lovers
Outdoors as well as indoors, we gotta make the most of every situation, life is too short not to. Like we said in our last tip – positivity is key – and, actually, there are a whole load of cool things you can do that will keep you ready for the next adventure.
Embrace your time at home, cos, when the time comes to get back to the wild, you'll wish you'd finished that book, edited that video and made that goddam treehouse!
Keep exploring…