Here's our Inov8 Rocklite Pro G 400 GTX V2 review, after months of putting these upgraded boots from Inov8 to the test
---
UK brand, Inov8, has unleashed its upgraded version of the Rocklite Pro G 400 GTX as its toughest boot yet. A bold statement indeed. And over the past months, I've been putting these boots to the test, to see if they live up to the hype.
I tested out the previous model from Inov8, so when the opportunity came to test out the new improved version, I was keen. They're designed to be multi-functional across varying terrains and tough conditions.
These boots have been my sole boot for adventures to really see how they faired in the wild. Here's how they held up and all the details of how I really found them.
This product was sent to us to review by the manufacturer but the thoughts and opinions are completely our own. This article may also contain affiliate links.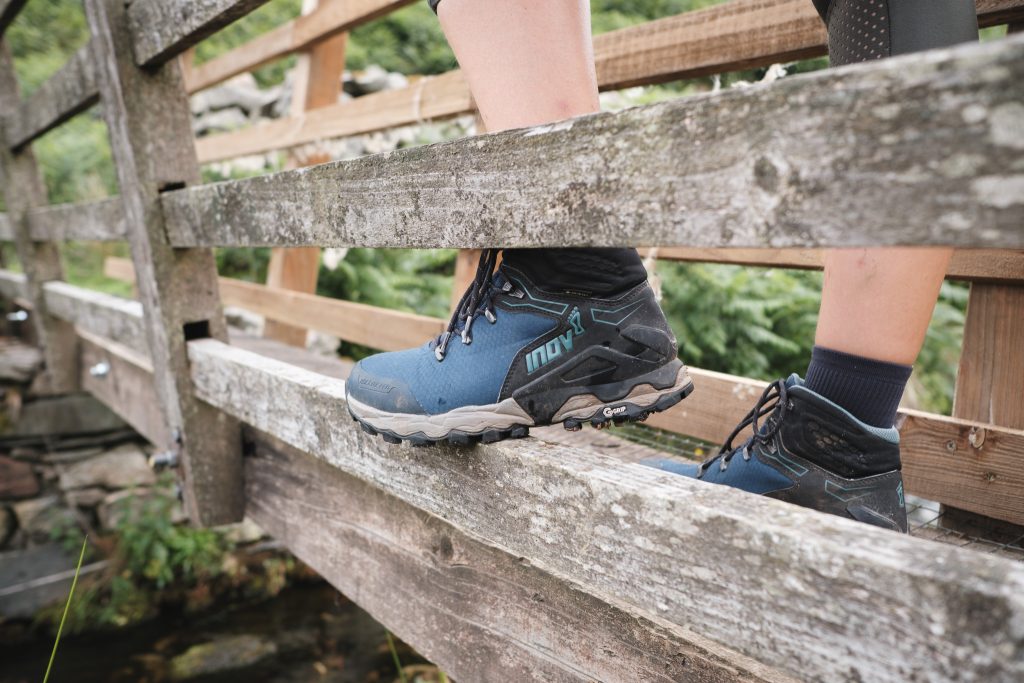 Rocklite Pro G 400 V2 in a Nutshell
Waterproof – yes with GORE-TEX membrane
Lug depth – 6mm
Midsole stack – heel: 20mm, forefoot: 12mm
Sole compound: Graphene G-GRIP rubber
Footbed: 6mm EVA foam
Midsole: POWERFLOW MAX foam
Weight: 400 grams / 14.1 ounces across size curve
Available sizes: Women's: 4 – 8.5 (UK), 37 – 42.5 (EU). Men's: 6 – 14 (UK), 39.5 – 50 (EU)
Different designs: the women's and men's come in two different colour options, both of which are dark with some colourful detail
What Does it Say on the Box?
Inov-8 released this boot as a tougher and more hard-wearing upgrade to the Rocklite Pro G 400. With increased durability and support it's designed for demanding hikes and technical conditions.
The improved cupped footbed and heel lock system gives more support and comfort for tough terrain and downhills.
The POWERFLOW MAX midsole gives more cushioning and greater energy return with each step. While the flexible rock plate protects your underfoot and the tough 6mm lugs offer strengthened grip on loose and bumpy terrain.
The rip-stop upper material, with its tighter weave, is designed to improve durability and better protect the waterproof GORE-TEX membrane underneath by repelling dirt.
The lightweight Rocklite Pro G 400 V2 is designed for tough terrains and tricky hikes so you feel protected and nimble.
---
Looking for more ethical gear guides and review? Sign up for our newsletter to get our lastest posts
---
How I Put Them to the Test
I've been testing the Rocklite Pro boots to the test through the tail-end of winter to summer 2023.
They've accompanied me on all-day fell hikes, bikepacking trips and multi-day adventures. Through some snowy and icy conditions, very wet deluges and warmer summer escapades, from temperatures as low as -4 to 22 °C.
I've worn them on rocky and loose terrain hiking, as well as wet grass and dry compacted trails.
Although these are hiking boots, I've worn them bikepacking on some rough and off-road terrain also. A lot of our trips involve a mix of cycling and hiking, so naturally, these boots have been an all-rounder for adventures although that's not technically what they're designed for.
I tend to look for hiking boots over hiking shoes as they offer superior support. These boots seemed like they'd be an ideal lightweight boot offering the grip and stability I was after, whilst also being flexible.
Comfort, Support & Fit
All-day comfort and support are super important to me when finding the right boot. Our hikes often last all day and our trips are usually an amalgamation of cycling, hiking, scrambling and general stomping about, so I need a boot that can adapt to varying terrains.
The comfort of your boot can really affect the trajectory of your trip so it's important to get it right. I have found these Inov8 boots to be very comfortable and felt very flexible straight out of the box.
The lightweight design of the boots means they're not clumpy so you don't feel weighed down in comparison to some more formidable, rigid boot designs. Immediately they feel like they're somewhere in between trail runners and hiking boots.
The padded ankle cuff offers support but isn't restrictive as it doesn't come up too high. Enabling flexibility going up or downhill on uneven terrain. As a natural ankle roller, I appreciate the supportive and lightweight design which offered a lot of fluidity.
In order to be completely honest I will say I've had some heel rubbing with these boots first off. This isn't too uncommon for a new pair of boots and I don't know if the heel lock system may be responsible for trying to keep my heel in place. It isn't anything major and a little plaster tape keeps the blisters away.
After a month or two of use, this did subside as the boots moulded more to my feet but I want to be completely open about my experience.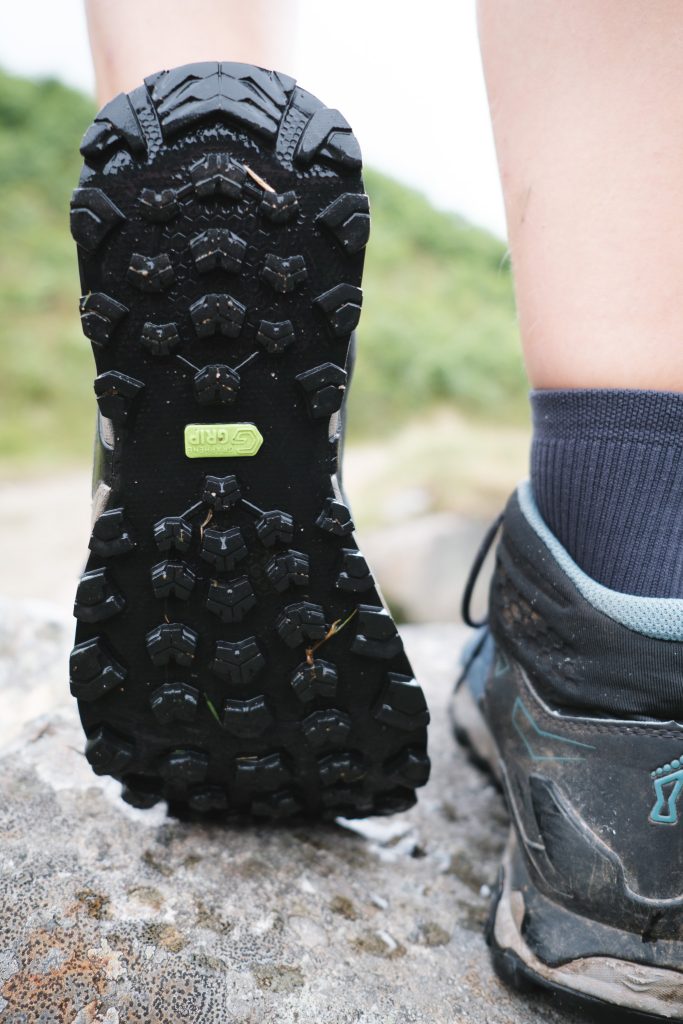 Grip & Stability
This upgraded version of the Rocklite Pro is hailed as having improved grip and stability from their previous model. The Graphene grip and 6mm lugs are designed to bite down into varied terrain to keep you feeling sure-footed.
The pattern on the soles is made to shed mud and water, which helps you to feel confident on wet stone or grass. I've also found them to grip my pedals well on wet days and bumpy trails.
Inov8 were the first company to use Graphene in their soles to improve the longevity of their boots. After months of using the V2, I've been impressed with the lifespan of the soles. These boots have accompanied me over many miles on some tough ground and haven't shown signs of wear yet.
They continue to offer superior grip on what would otherwise be some precarious hikes and rides.
Durability
I have been impressed with the durability of the graphene soles, which continue to offer grip on technical and slippy terrain after months of use.
The ripstop upper however does show more signs of wear in comparison. The tighter weave of the improved V2 is designed to be durable and protect the gore-tex membrane beneath. However, it has creased slightly with some scuff marks over the months I've been testing these boots.
It's nothing too major and purely aesthetic as it hasn't affected the waterproofing of the boots. But, I did have a similar issue with the upper of the previous Rocklite Pro G 400 model and was worried about durability for these.
Whilst the V2 version has not shown the same issues, the upper does to have worn quite quickly. I'm hoping they will be tougher than their predecessors.
Waterproofing & Breathability
Overall I've been mighty impressed with the waterproofing of these hiking boots. I've stomped through puddles, cycled over streams and hiked through long wet grass as they've not let in any water.
The tighter weave on the upper is designed to protect the waterproof gore-tex membrane and should increase its lifespan to keep your feet dry.
Although the boots are gore-tex, I've still found them to be highly breathable. Their lightweight design means they don't feel rigid like some hiking boots can. I've worn them through summer and although I have found my feet get a little hot on warmer days above 17°C, they're still comfortable enough to wear in temperatures up to the low 20°C.
In cooler temperatures, I did find my toes getting a little cold. These aren't winter boots and although I wore them into temperatures as low as -4°C I wouldn't recommend them for such chilly climates. The mesh uppers are not designed for wintery conditions and instead lend itself to breathability rather than warmth.
---
---
Versatility
I've been using these boots as an all-round adventure boot and they've held up well. They have great grip and stability on some rainy and icy hikes through winter, as well as being cool and comfortable through summer.
I've used them bikepacking on some rugged off-road terrain and multi-day trips, where they've continued to keep my feet dry and comfortable.
Green & Vegan
Inov-8 has said that these, along with their other synthetic hiking boots, are 100% vegan. This is great, particularly as not it's rare that leading brands can guarantee their production line.
As a company, Inov-8 also take steps to consider the environment in producing their products, which you can read about here.
Price
These boots are on the pricier side when it comes to hiking boots. There has been a lot of effort gone into improving the previous model and they're designed to be Inov-8's toughest boot yet with improved comfort.
With this in mind, you may feel the price reflects the technology, however, these aren't budget boots, if that's more what you're looking for.
Verdict
I've been impressed by the waterproofing and grip of these boots that have held up across the season and varied terrain.
Pros
Superior graphene grip sole
Waterproof with the gore-tex membrane protected for longevity
100% vegan
Cons
Upper shows some ascetic signs of wear
At the higher end of the price scale
Limited design colours
Where to Buy Inov-8 Hiking Boots