Is the Inov-8 Terraultra G 270 the ultimate wet weather trail running shoe?
---
Boy were we excited to get our hands on a pair of the Terraultra G 270 to test out, for a bunch of reasons. First off, they're an updated version of the hugely popular Terraultra G 260 (we'll get into that further below), they've been used for some pretty crazy record-breaking runs AND they're one of the few brands to outright say their products are vegan-friendly.
Basically, on the box the G 270 seem like the perfect trail running shoes.
Over the last month, we've been getting blown about, wet, sweaty and muddy testing them out across the Yorkshire hills to see if all the hype is justified.
Keep reading this Inov-8 review to find out:
This article may contain affiliate links, they will never cost you more money but helps Veggie Vagabonds keep making content like this – thank you!
1. The Terraultra in a nutshell
Intended use – hard, rocky paths, trails and roads
Weight – 540g (men's pair)
Width – 5/5 (the widest pair of Inov-8 shoes)
Drop – zero drop
Lug depth – 4mm
Midsole – POWERFLOW Max
Midsole stack height – 12mm/12mm
Sole – Graphene Grip
2. What does it say on the box?
The G 270 makes bold statements and is suggested as the ultra running shoes for long distances in wet conditions. Perfect for UK trail running!
It's been designed for ample cushioning, awesome comfort and a smooth ride, with a responsive sole and breathable uppers. Inov-8 also claim its Graphene Grip is the toughest in the world.
In terms of conditions, the Terraultra is built for hard, rocky paths and trails but should hold its own on roads too.
It's all fighting talk which is pretty solidly backed up by Damian Hall's record-breaking Pennine Way run, wearing these powerful little shoes. Oh, and he's vegan too!
3. What's the difference between the Terraultra G 260 and the G 270?
The G 270 adds an additional 10 grams to the G 260 (hence the name).
The Graphene Grip on the sole has been remodelled so the lugs provide more grip over slippy and technical terrain.
New POWERFLOW Max adds an extra 3mm of cushioning for extra comfort, return and bounce.
Lighter upper with better breathability.
A revolutionised insole that promises 40% more energy return.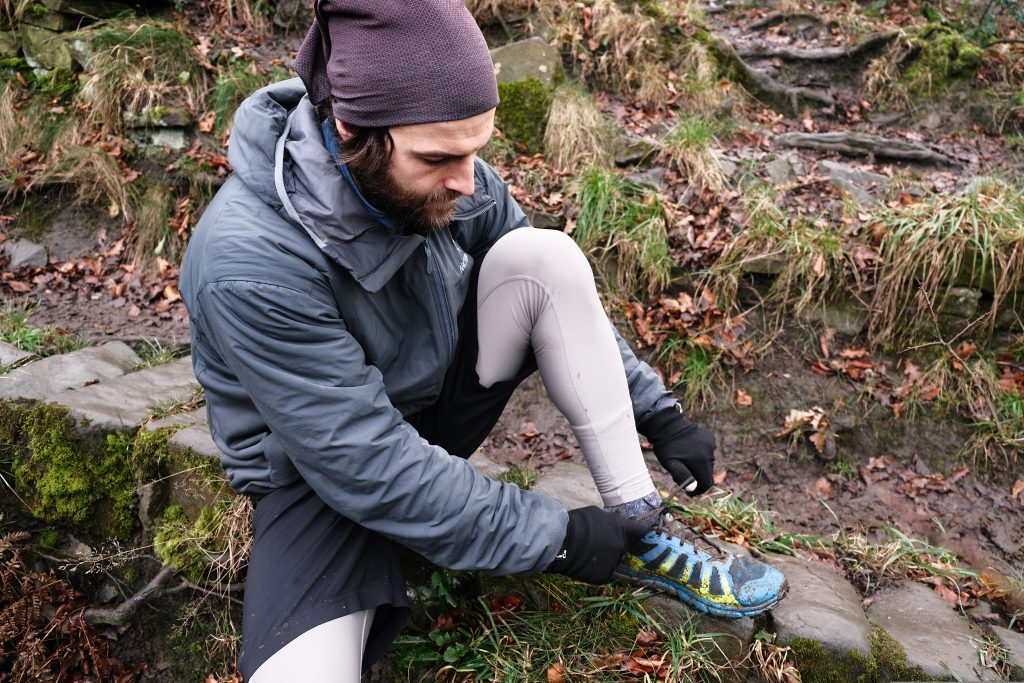 4. How I tested these Inov-8 trail runners
These have almost exclusively been used in and around Yorkshire hills, peaks and paths, from autumn to winter.
As you can imagine, it has been very wet, muddy and cold.
Most runs have been road-to-trail, going from tarmac and gravel to steep grassy sections, bogs, rocky points and thick mud. I've definitely used them for muddier conditions than they're intended for but that's been unavoidable.
I'm 6ft 1′, roughly 85kg, a mid-to-forefoot striker, size 11 and went for the men's trail running shoe in size 11. I can't say I'm an ultrarunner but tend to run 10-30 km across varied conditions or hill work with iffy surfaces.
For more outdoor gear reviews and adventure content be sure to sign up for our newsletter below!
5. Field results
5.1 Outsole and grip 5/5
This is something I've been the most impressed with – the traction is awesome.
Like I mentioned, I've used them in far muddier conditions than they're designed for (my regular 10 km route begins going through a very steep woodland with a long, muddy climb). Don't get me wrong, there are better shoes specifically for mud but the Terraultra G 270 really holds its own.
The 4mm lugs eat up ascents over grassy verges, muddy tracks and rock and, though the Graphene Grip is very dense, you still feel confident on wet rocks. On the few occasions I've chanced dry weather, it's been ace across all surfaces.
Slick mud requires a bit more caution but Inov-8 have other models better designed for this.
5.2 Midsole and comfort 4/5
The G 270 adds an additional 3mm of cushioning (up to 12mm) with its POWERFLOW Max and it's beautiful to run on. I'm yet to find a trail shoe which strikes such a sweet balance between a natural feel, energy return and foot protection.
I typically wear trail runners with a moderate drop but there was barely a transition and didn't feel like much of a break-in was necessary. There's far more cushioning than most zero drop shoes so I didn't experience any Achilles or muscular issues.
The G 270 has no rock plate and a moderate flex which help the natural feel. It's responsive and awesome to climb with but there's more than enough protection crunching over bits of wood or jagged rocks.
Running has a real bounce and, whether or not it was just a placebo, it noticeably felt like I was running further onto my forefoot with a faster stride (one of the perks of zero drop running shoes).
---
---
5.3 Upper and fit 4.5/5
Getting the G 270s out of the box and the upper is surprisingly thin with little to no padding on the tongue. It seems as though you'd have quite a bare and vulnerable experience, but it's not the case.
The G 270 are Inov-8's widest trail shoes and I felt very comfortable with moderately wide feet. Once laced up, the feeling is secure but not tight, the large toe box allows your toes to sit unbunched and foot strike the floor naturally.
I was surprised with the tongue, thinking there might be too much volume or chaffing. It was actually perfectly fitted and its gusseted-style hugs the top of your foot.
Equally, when laces were tied tightly at the beginning of the run the fit was great, staying consistently tight even after getting fully submerged in mud or snagged on bracken.
5.4 Breathability and weatherproofing 5/5
The upper material is super thin but its coating keeps out moisture well. Running in wet conditions, I was really surprised how dry it kept my feet.
Despite the great weather protection, the G 270 still has pretty awesome breathability, letting water easily flow out from the shoe and stopping clammy feet. A great point in the fight against foot pong!
5.5 Extras
Protection 3.5/5 – there's quite a thin toe bumper so you can't be too kamikaze in rocky areas but the protection is respectable for the weight.
Looks 4/5 – boy, these are some flashy shoes. They stand out a country mile and look pretty cool so if you're a fan of bright shoes you're onto a winner.
Weight 5/5 – super light! Actually, at 540g they're lighter than almost all competition and it makes running in them a breeze.
5.6 Vegan and Green 4/5
Inov-8 state that these are 100% vegan trail running shoes (as well as all of their synthetic models). This is pretty great as not many other brands outright say this.
In terms of sustainability, whilst the Terraultra G 270 doesn't use sustainable materials that we're aware of, Inov-8 does make strong steps to lower its environmental impact as a company.
Want some vegan running inspiration? Check out our interview with the amazing Fiona Oakes, the vegan runner that ran the world!
5.7 Price 3.5/5
There had to be one iffy point… with all the awesome features of the G 270 there is a higher price tag.
These shoes stand out from the crowd but are moderately more expensive than their average competitors. They are still similarly priced to La Sportiva or Salomon trail runner options.
6. The Verdict 4.3/5
An almost faultless shoe that's perfect for racking up big miles in questionable terrain. It's versatile, it's comfortable and honestly a joy to run in.
Pros
Super lightweight
Amazing comfort and ride
Impressive breathability
Brilliant traction
Cons
Expensive
Average toe protection
Some might not like the bright design
These guys are hugely fun to run in and had me knocking off minutes from previous PBs. In honesty, for what it's aimed at, I struggle to fault it. Perhaps if I was pushing on ultra territory this would show some cracks but for middle-to-long-distance and heavy wear 'n' tear in crap conditions, this is your shoe.
Where to buy the Terraultra G 270?
These guys are widely sold throughout the UK, Europe and Inov-8 also deliver to North America. You'll find both men's and women's trail running shoes with a bright blue colour (as we tested) and an equally bright green option too. Check out the options below to compare prices.
Men's Terraultra G 270
Inov-8 (shipping options to US)
Women's Terraultra G 270
Inov-8 (shipping options to US)