No trip to England (or even Europe) would be complete without going punting in Cambridge, along the peaceful River Cam – this guide will help you plan your trip!
---
By punting, I'm talking about those long wooden boats, pushed along with the long wooden poles through the world-famous Cambridge University grounds. You've seen it in photos, you've seen it in films, and, yes, punting in Cambridge is every bit as awesome as it's hyped up to be.
For such an iconic experience you want to make sure you find the best punting Cambridge has to offer. Lucky enough for you I have all the secrets. All the tricks of the trade to make sure get on the right boat, at the right place, at the right time and for the right price, plus a load of other tips. I can tell you this because I was a punter for 6 years. Here's my insider's guide to punting in Cambridge.
In this guide you'll find: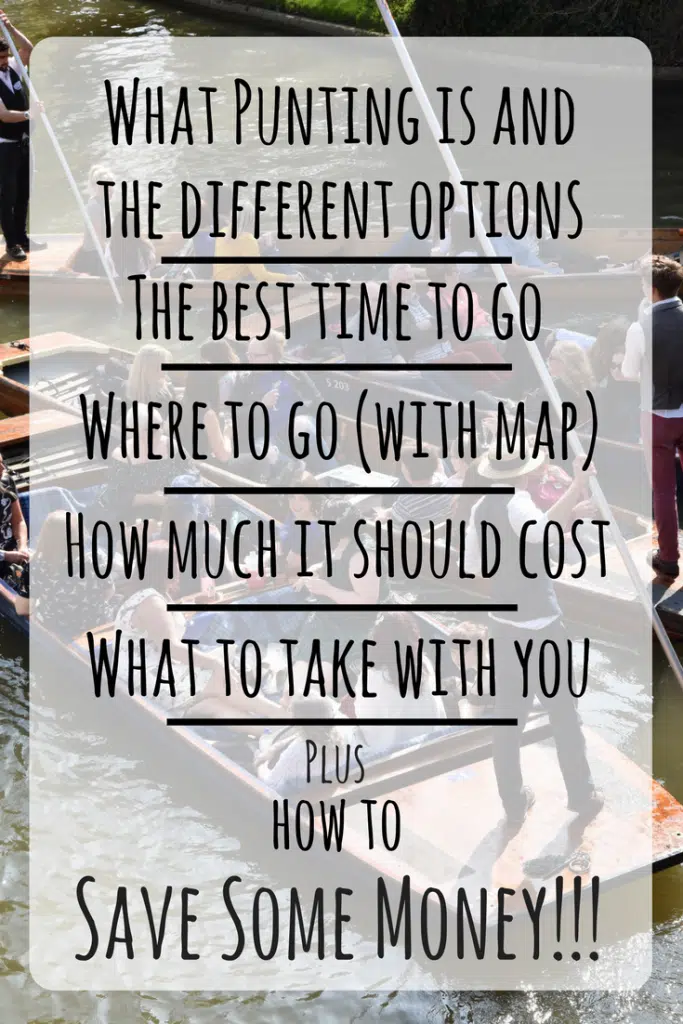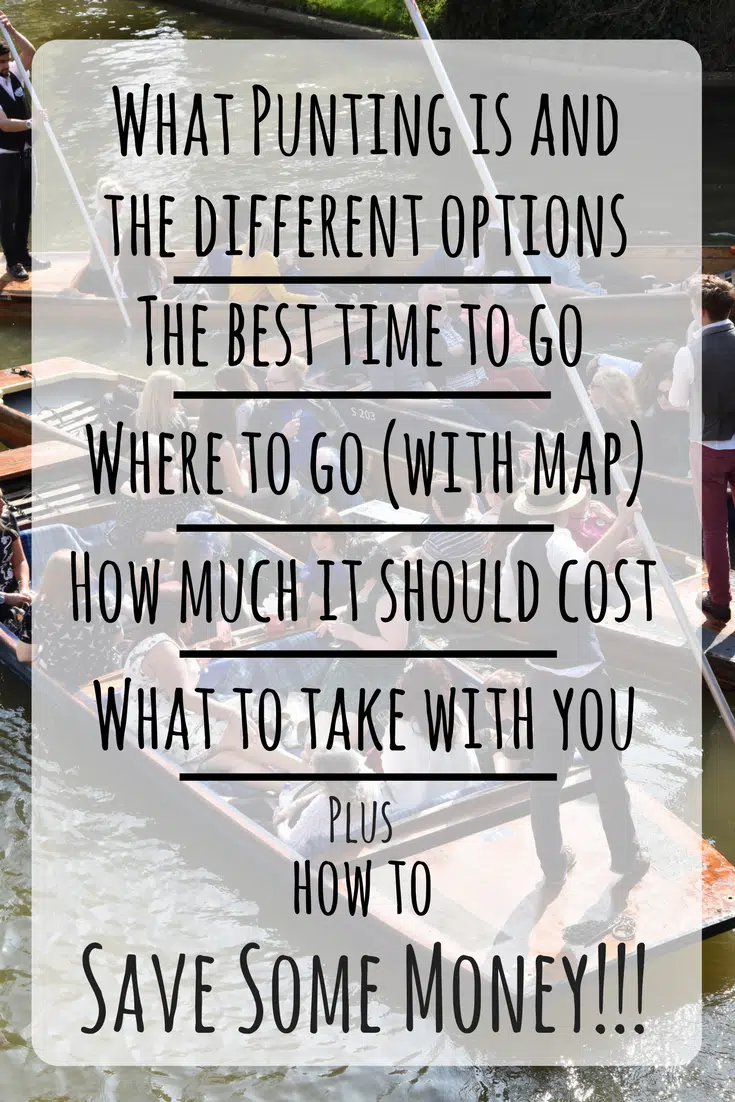 So what is punting? And some history!
For those of you that don't know what punting is where the hell have you be hiding let me fill you in. Punts are long, flat-bottomed, wooden boats pushed along by someone call a 'punter'. The punter stands at the back and pushes the boat along with a long pole, altogether the activity is called punting. It's sometimes mistaken for the gondolas in Venice, although there are similarities, the gondolas are definitely not as cool!
Punts were originally used to ferry goods along rivers too shallow for conventional boats to navigate. As river trade began to decline this gave way to 'Pleasure Punting' in the 1900s (don't worry, it's not as dodgy as it sounds). Ditching the cargo for passengers, punting became a quintessential part of local life and one of the most popular things to do in Cambridge.
Why did it become so popular? Firstly because the river runs through some of the most historically important areas of the UK, and secondly because it's bloody beautiful. Plus, it's as typically English as you can get, literally a caricature of middle-class Britain come to life. It's so popular in fact that celebrities travel from far and wide to swan around on the waters and the Queen comes down on Tuesdays to enjoy a river tour. I joke. She only comes on Sundays.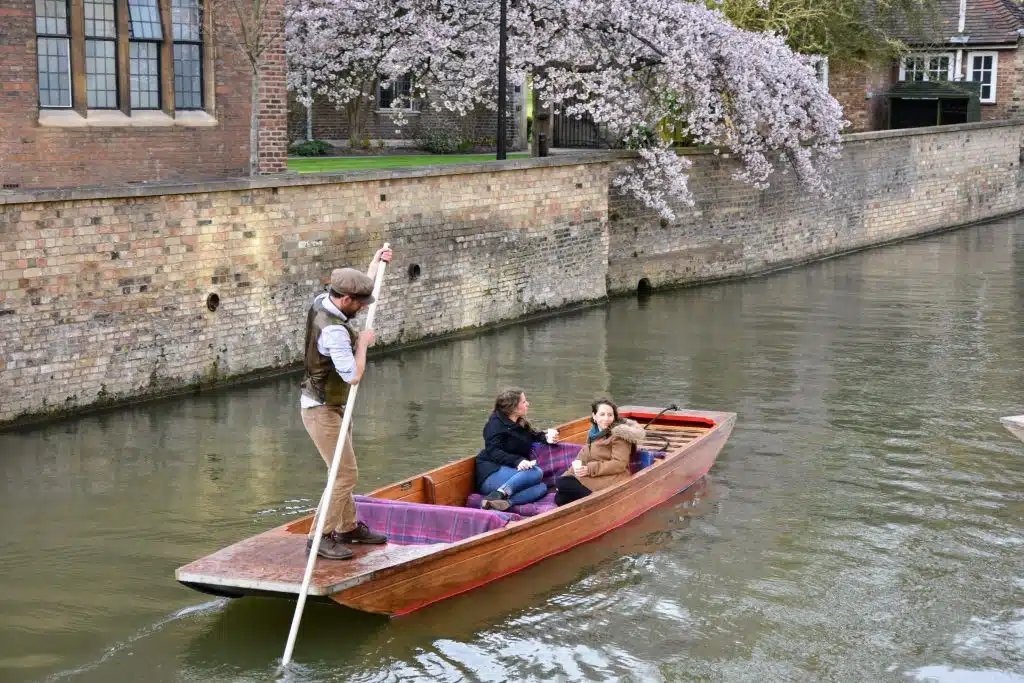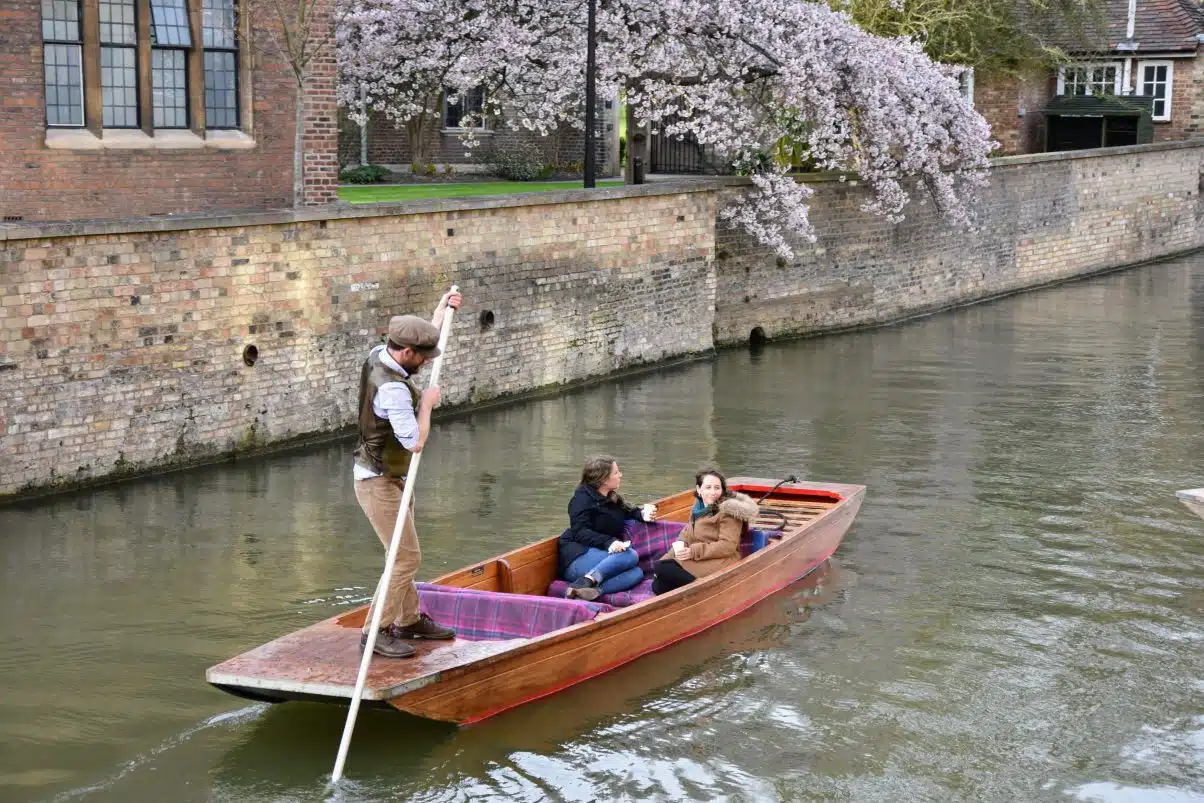 All of these incredible punting experiences in Cambridge take place along two sections of the River Cam: the upper river and the lower river. Although it's the same river, the punting experience is entirely different – we'll get onto that properly further down.
And, to make things extra special, going along the river is the only way you'll be able to see many parts of this majestic town (unless you're a Cambridge student). Many areas are closed to visitors so it's the best way to view some of Cambridge's most secret spots.
All the photos below are from spots you wouldn't be able to access without jumping on a punt!
Because of how great it is, punting has become a pretty big business. It's no longer a handful of students and local families drifting along the river in the sunshine. There are many different companies in different locations offering different services at different prices. This is why you need this insiders guide to punting in Cambridge; An honest opinion from someone who has been there and done that!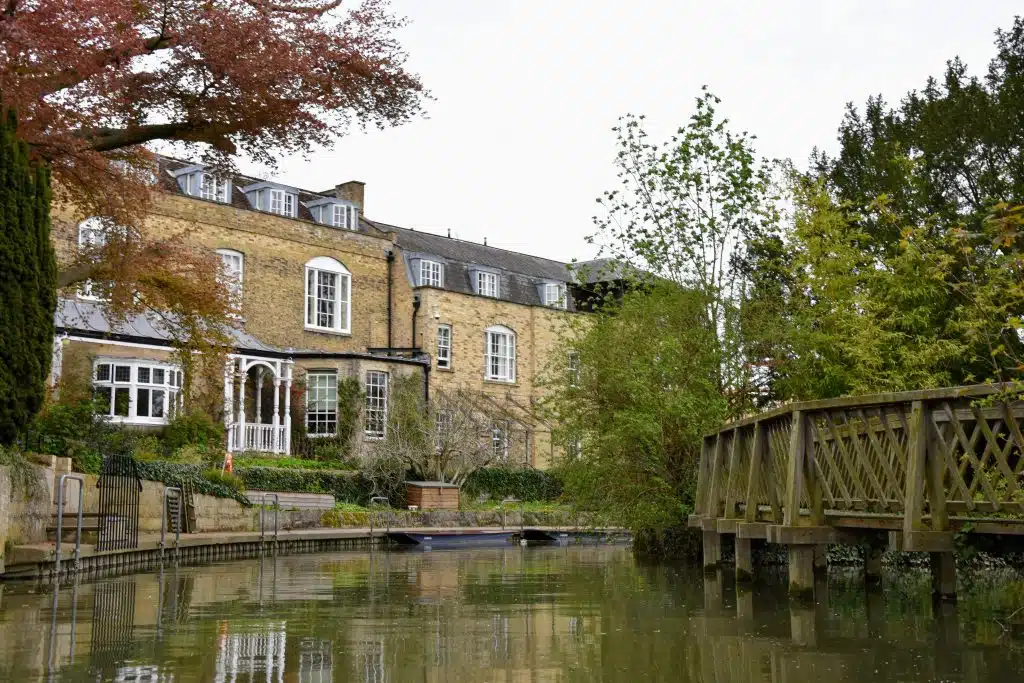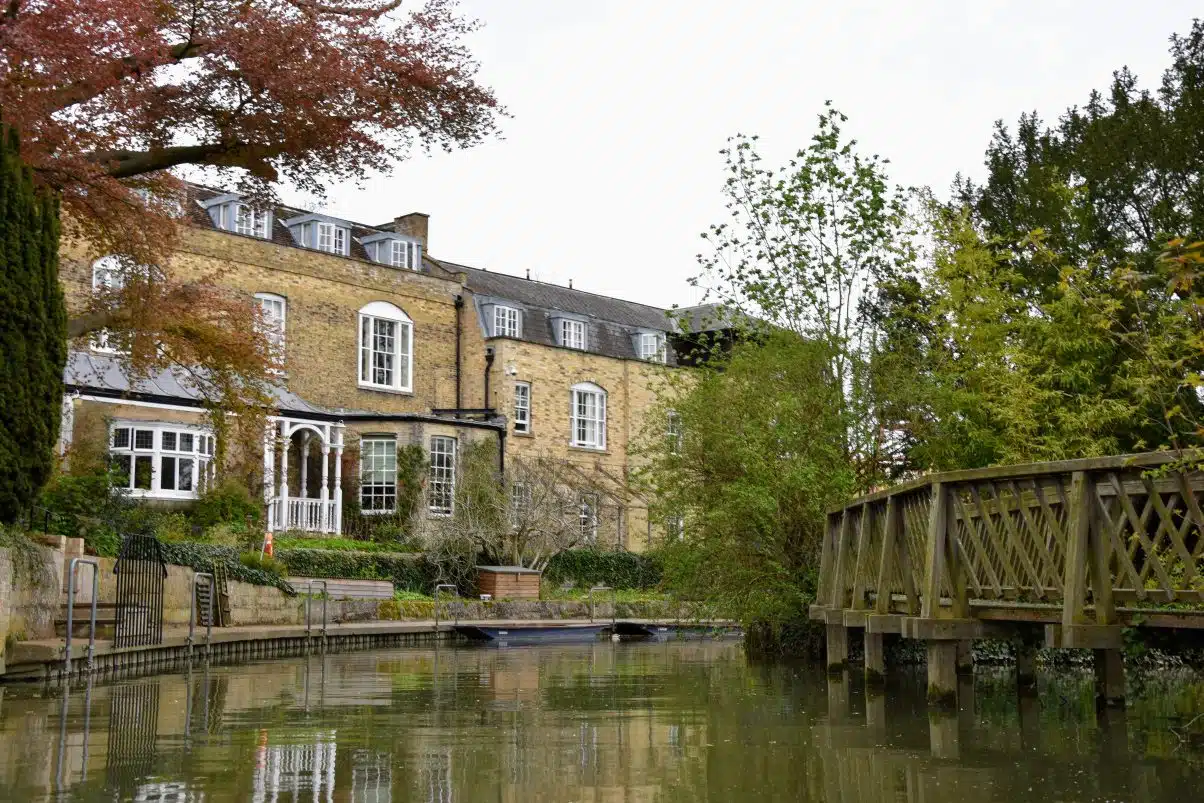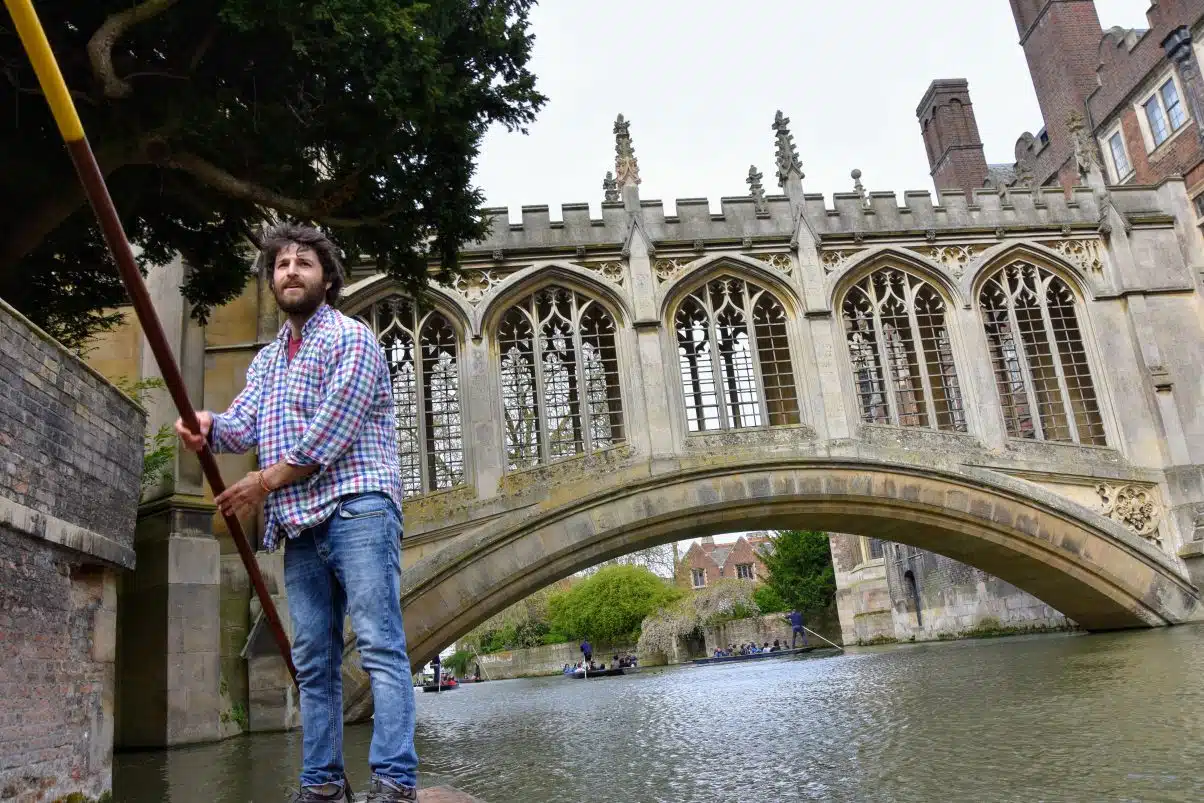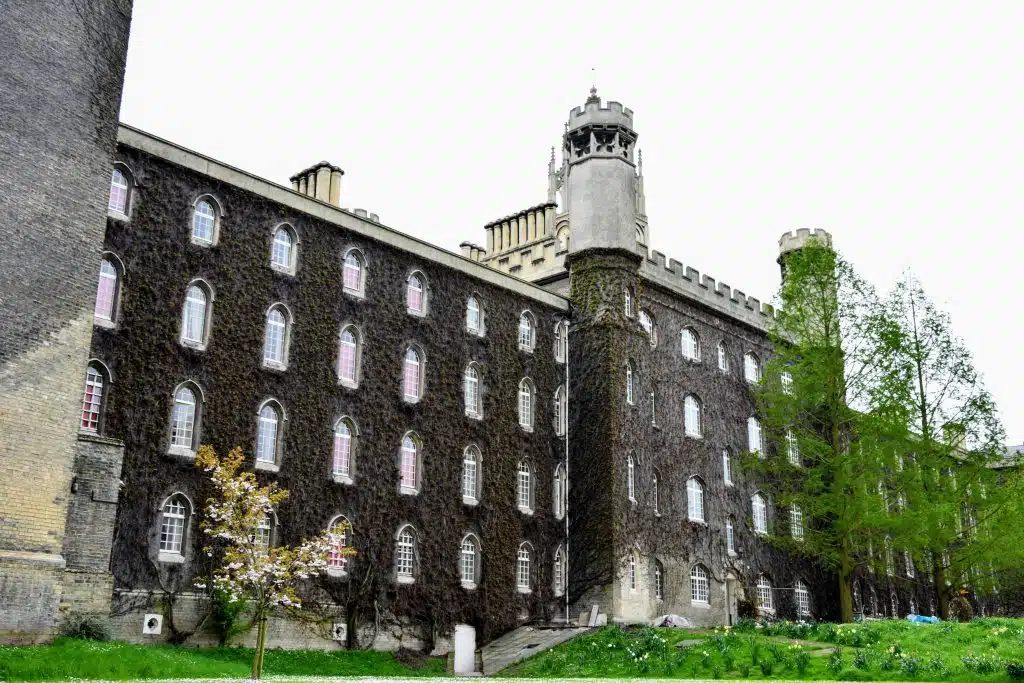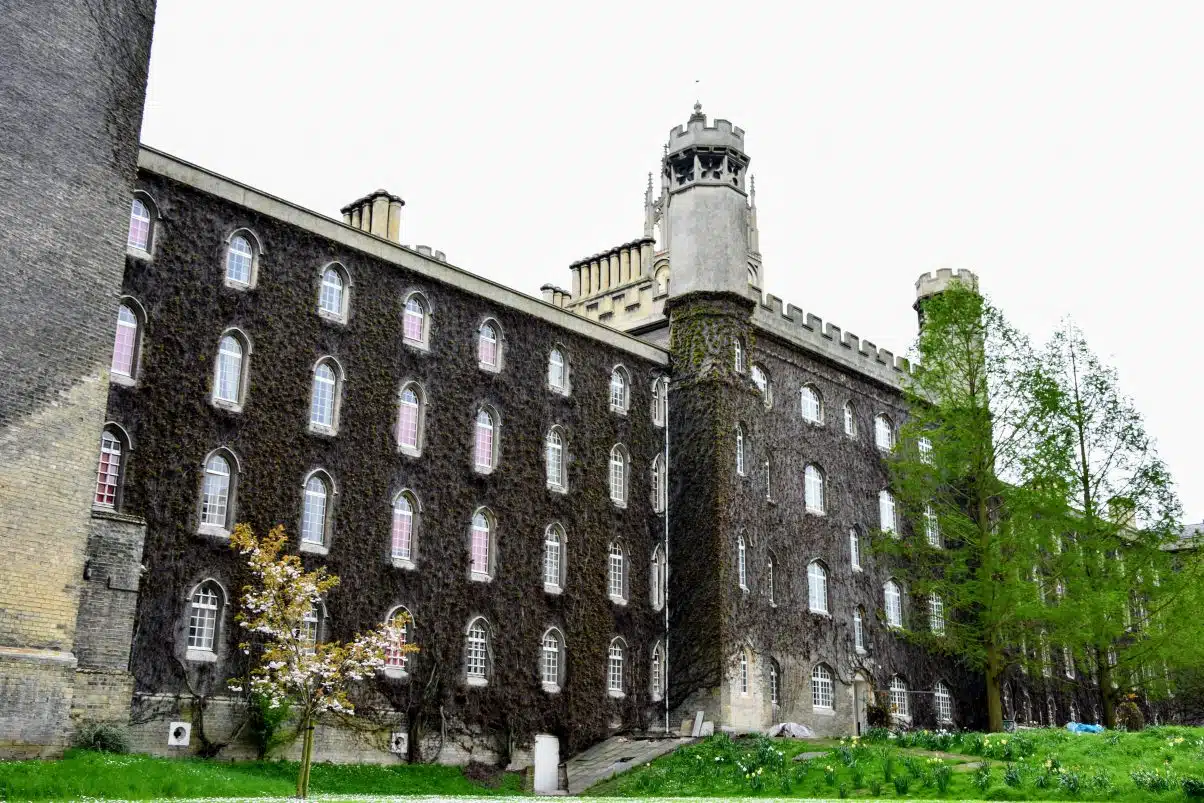 When is the best time of year to go punting?
The good news is you can go punting any time of year regardless of the weather. The bad news is, this is England: we're not famous for beaches and suntans. The only thing which stops the punting is VERY heavy rain, however, this rarely happens or lightning as the punters often use metal poles.
There is no 'perfect' time to go, instead, here are some pros and cons to visiting in the different seasons.
Punting in Winter
It will be beautifully quiet and you're more likely to get cheaper prices without having to wait for boats to become available. Punting in the snow or frost is absolutely beautiful if you're prepared, and there's something very unique about having the whole river to yourself. BUT, you're on an open-top boat, travelling through water. It's going to be incredibly cold and if you're pushing the boat then good luck feeling your hands for the rest of the day.
Punting in Spring
Spring weather is hit and miss. Temperatures are warming up and there's a good chance you'll get clear skies and sunshine. The river is starting to get a little busier but you can still float along at a relaxed pace. You're also still find cheaper prices and you'll start to see Cambridge river life flourish on a nice day.
Punting in Summer
The secret is definitely out, as soon as the sun shines everyone in the world decides to go punting. It gets busy. And I mean crazily busy. On a sunny weekend expect river congestion, boats crashing into each other and people falling in. It's exciting, not relaxing and is definitely an experience to see all the punters in action, even from the river banks.
Punting in Autumn
With huge trees overhanging all sections of the river, autumn can be one of the most beautiful times to go punting in Cambridge. The summer crowds have died down and there's still a good chance of a sunny day. That being said, the weather is definitely less predictable and temperatures are starting to drop.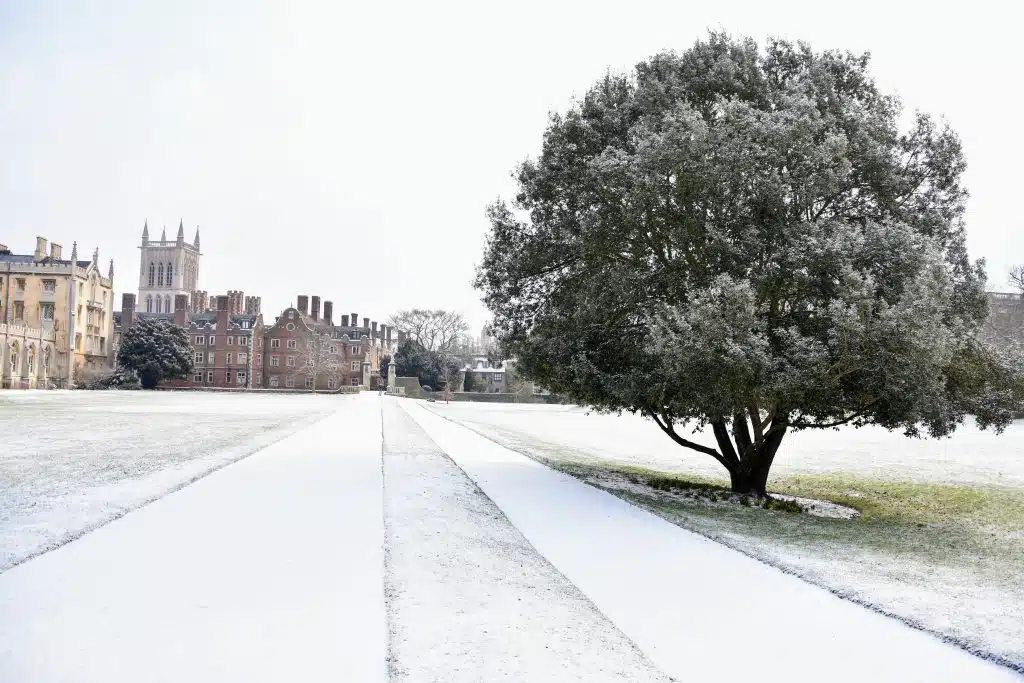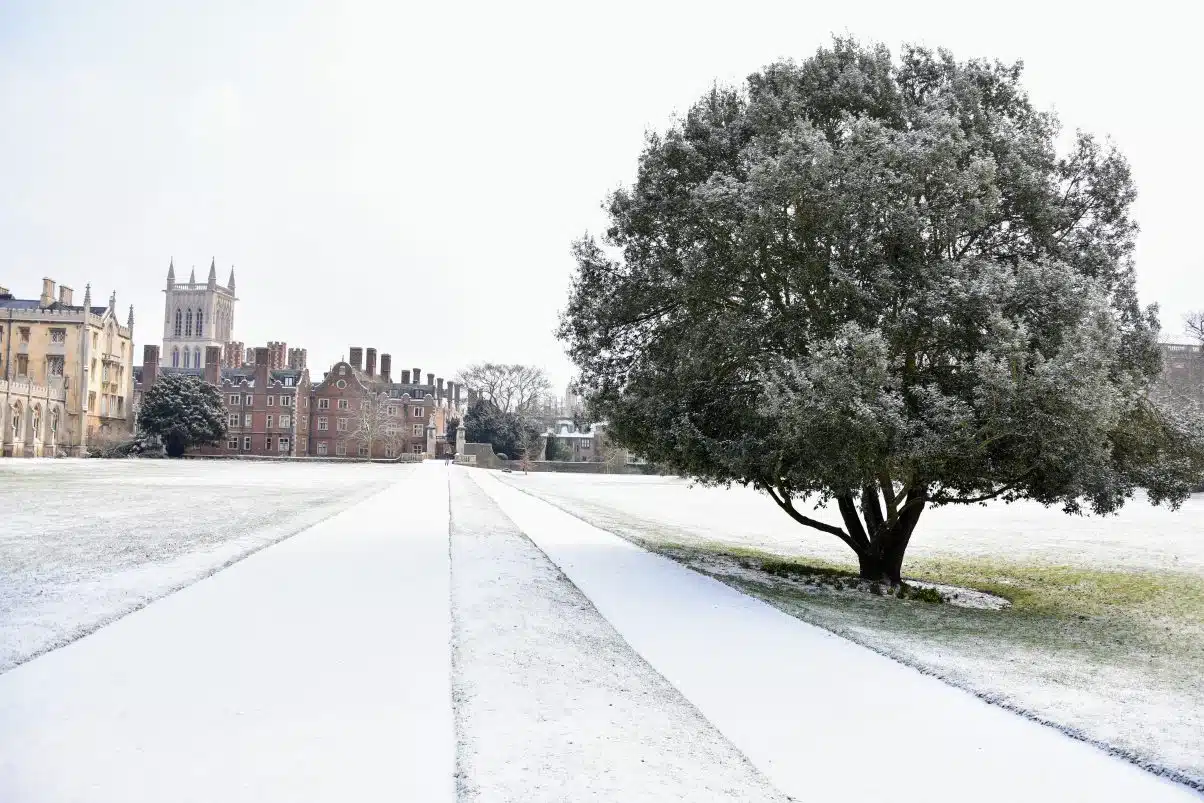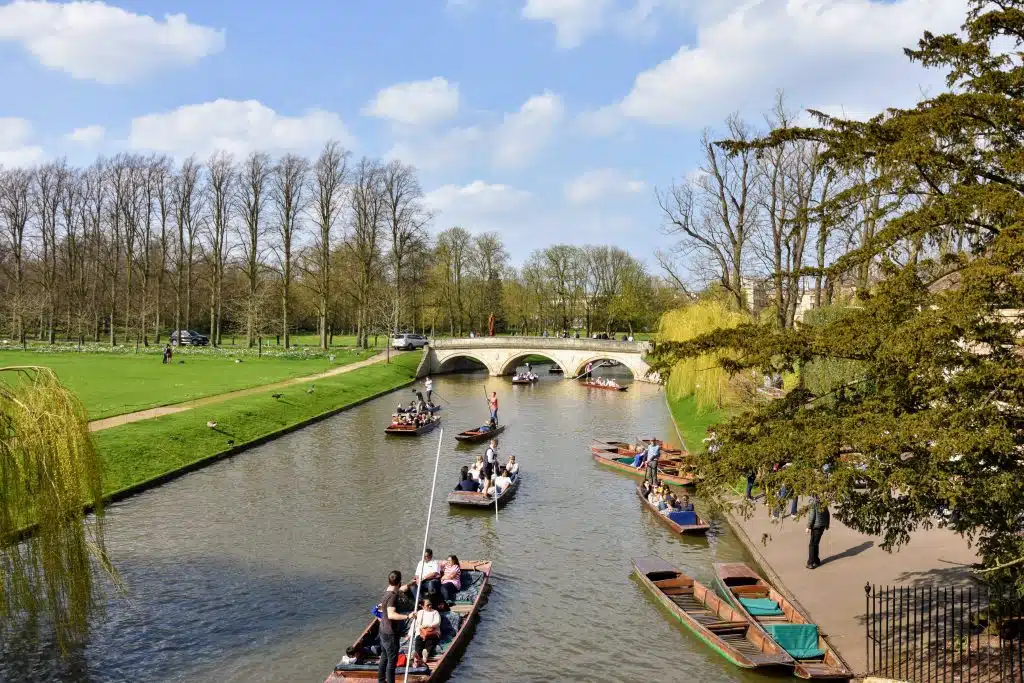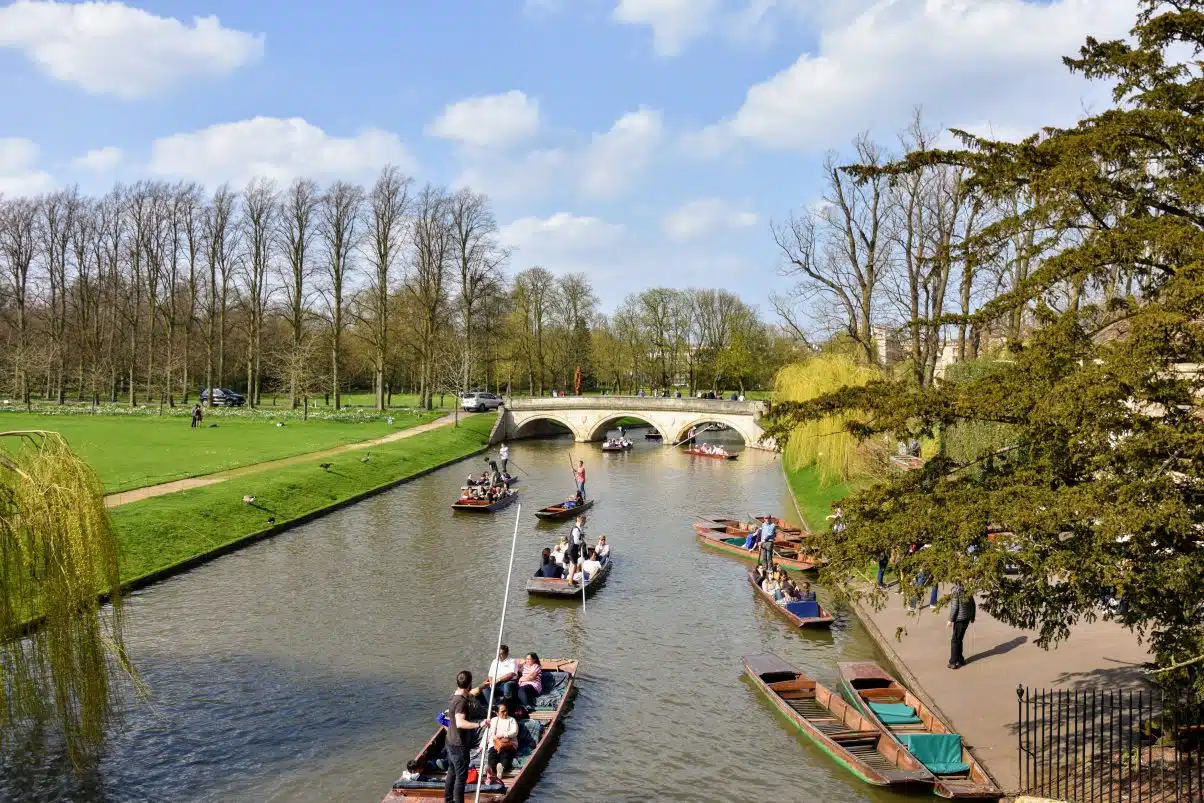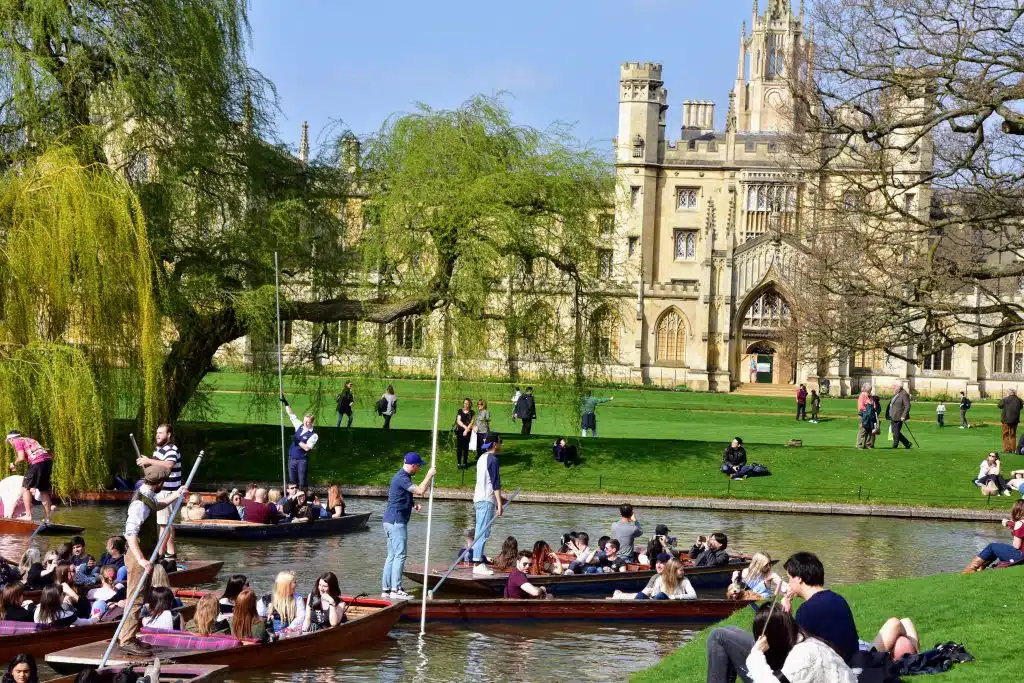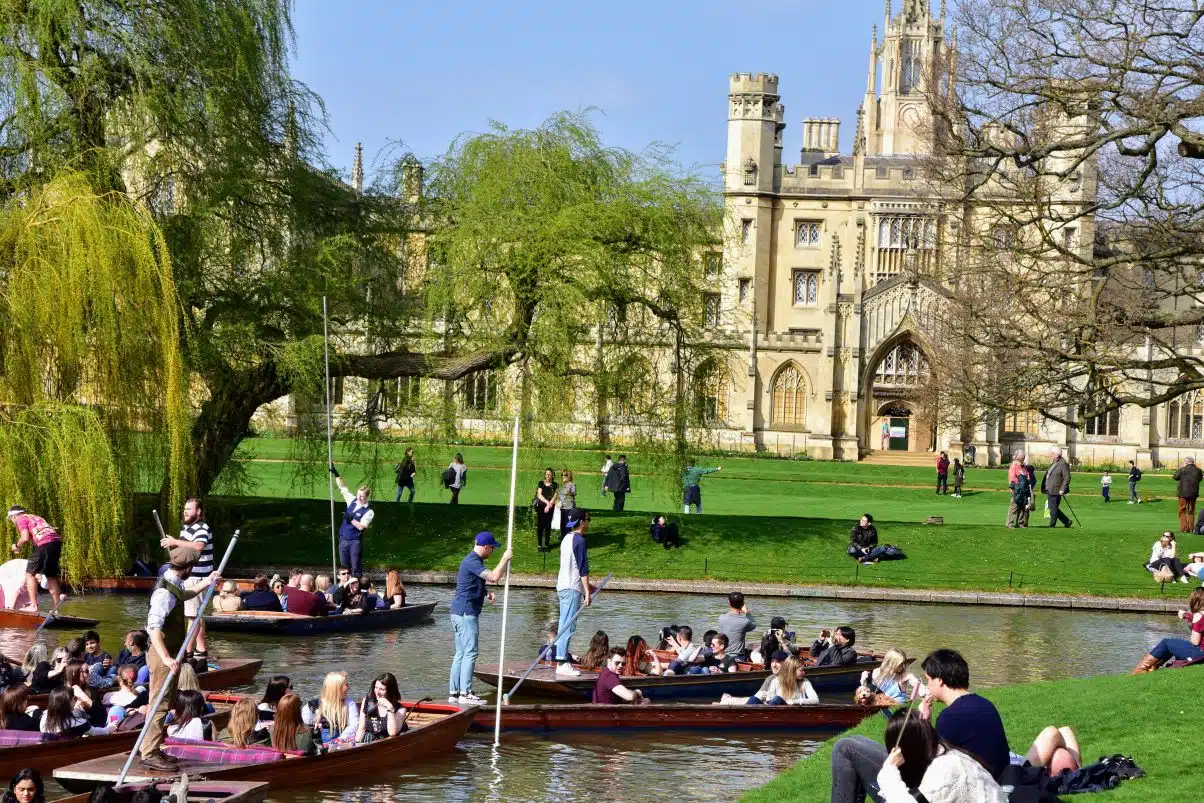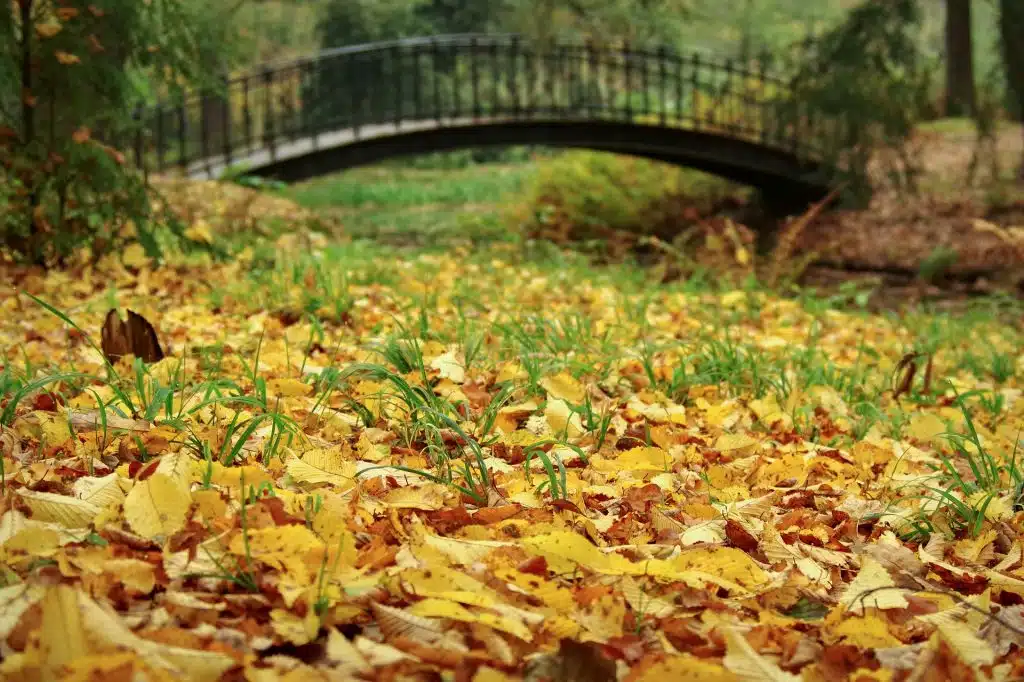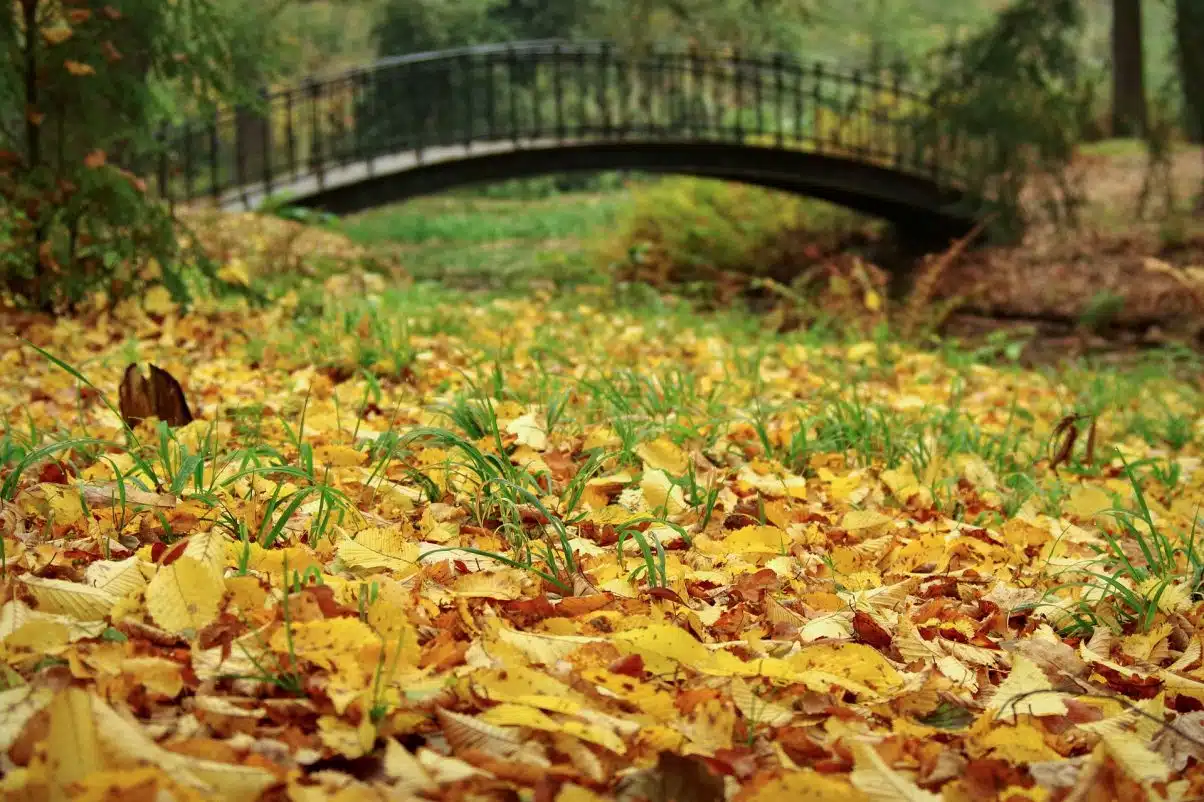 Other things to consider when picking a time to punt
Weekends and bank holidays will be a lot busier regardless of the weather. Going midweek will give you more of a relaxed experience and it will be easier to take in your surroundings. To experience the river at it's quietest go as early or as late as possible, with 12 pm to 4 pm being the busiest. As there's little to no lighting along the river the punts only operate during daylight hours (unless you make friends with the punters, then they're probably the best place for an evening drink, floating along the river…).
As the river flows through Cambridge University grounds punting in Cambridge can have a different feel if the students are around. If you're really keen or seeing Cambridge University life go during term-time or towards the May Balls (end of year celebrations in May and June). Expect to see hundreds of smartly dressed intellectuals rat arsed and trying to manoeuvre a boat.
In our opinion, the best time is either Spring or Autumn on a nice day (obviously we can't promise the nice day). Although you will be more likely to have sunshine, punting in the summer can be ruined by crowds. Trying to pick the quietest time with the best weather is the best option, though not so easy. Still, if you're lucky enough to visit during frost or snow it's worth putting up with the cold to see the Cambridge landscape covered in white.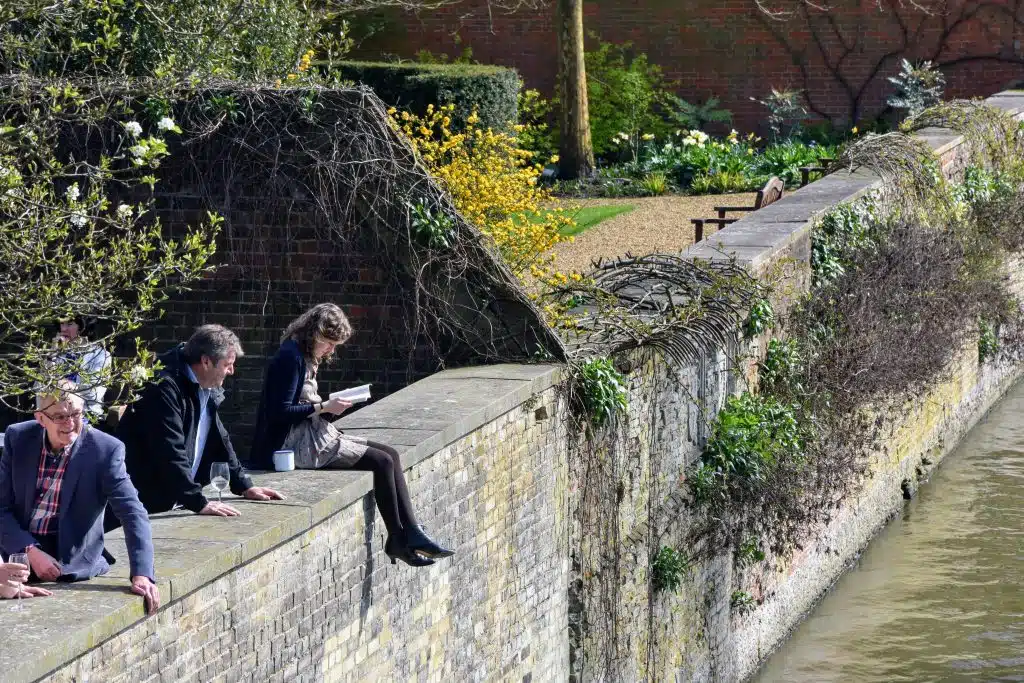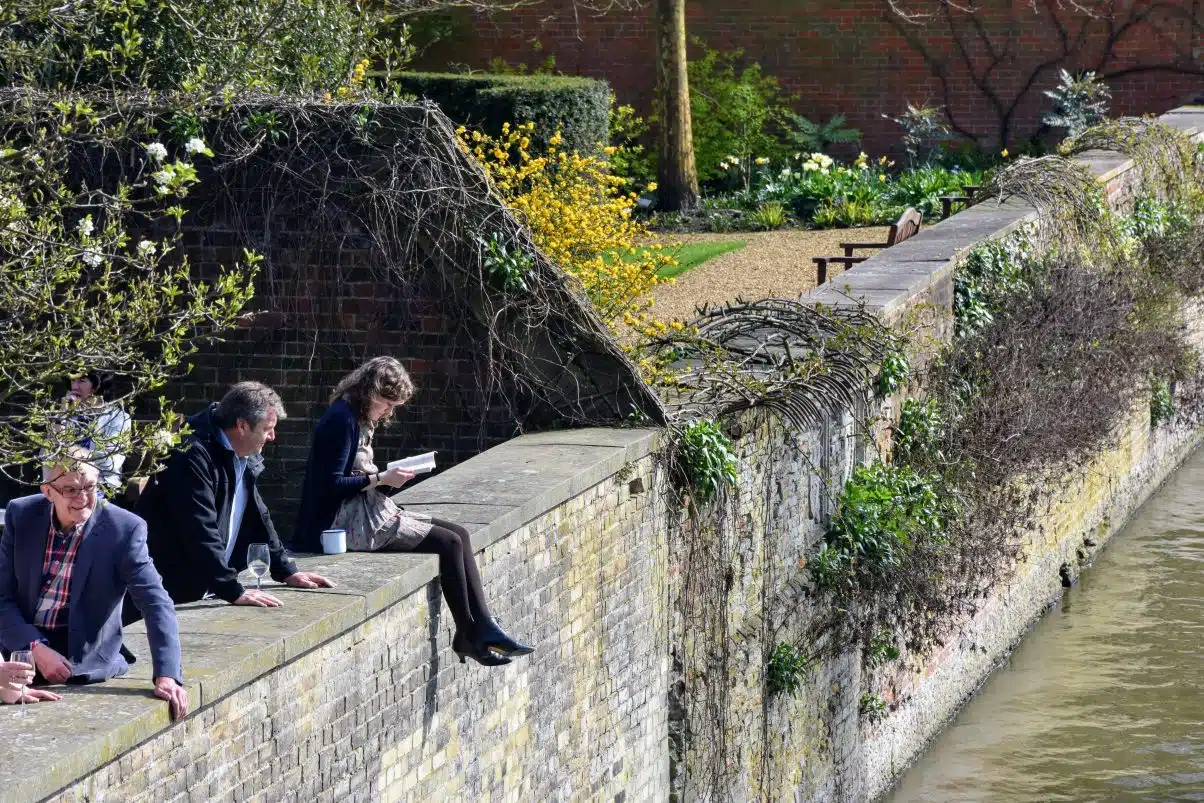 Your next decision is… Self-hire or a chauffeur-driven punting tour

(basically, are you going to push the boat or is someone else)
Self-hire punting
Quite literally, you hire a punt yourself (minus the chauffeur) and the world (or river) is your oyster. If you want to explore on your own, go at your own pace and try to look like the person in the punting pictures you've seen, this is for you. Once you do get the hang of the punting it's a beautifully personal experience for you and whoever else is in your punt. For self-hire punts you pay by the hour.
Remember…
If you've seen chauffeurs effortlessly looking really cool, they've done it for a long time. You probably haven't seen the countless visitors spinning the boat round and round for hours and then falling in. Self-hire boats are smaller than chauffeur boats and can be difficult to manoeuvre. On a busy day, you WILL be crashed into and crash into other things. It can be tiring and you won't have any of the history that you'll be told on a tour. Although, you can always tail behind one of the many chauffeured boats and listen in!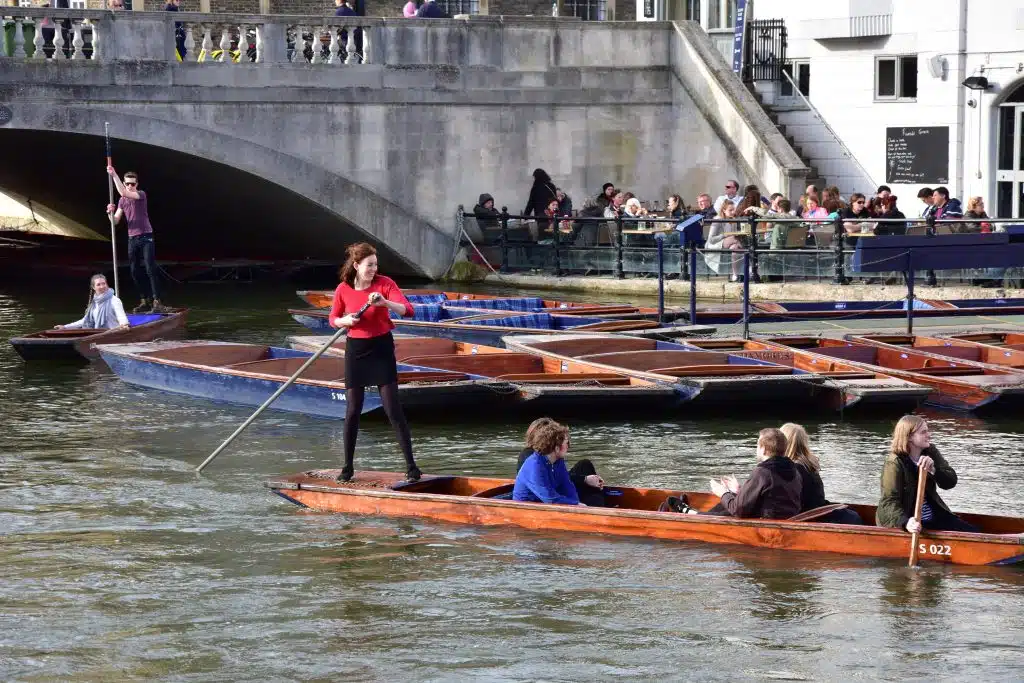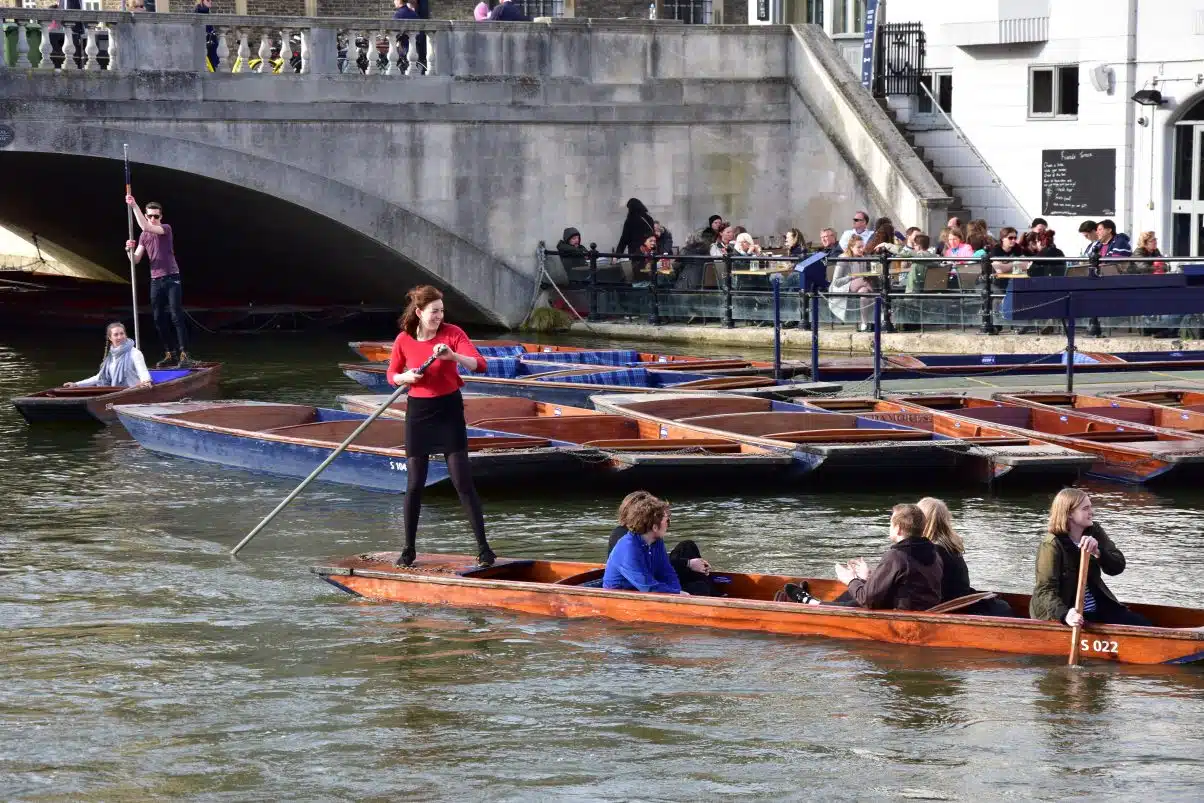 Chauffeur punting tours
On a chauffeur-driven punt, you'll have a charming Cambridge punting guide you along and tell you all the interesting, bizarre and often fictional stories of Cambridge and the University. This is generally done on 12-seater boats so you can relax with a big group of friends whilst taking in the sights on a 45-minute to 1-hour tour. The history really is fascinating and it makes your surroundings even more incredible when you know the stories behind them.
For chauffeur tours, you have the option of a private or shared tour. On a shared tour, all the seats on the boat are available to the public and you may end up with 3 or 4 different groups on the boat. On a private tour, it's just your party and the chauffeur. This is generally a more expensive option as you're booking out all the seats. More info below.
Remember…
A full 12 seater boat can be uncomfortable, especially if it's full and you're a larger person. You're heavily reliant on having a good chauffeur and you have less freedom to explore the river.
In our opinion, If you want to learn about the history and have a relaxing, typical Cambridge experience, go for a tour. Plus there's no chance of anyone falling in.
Pushing the boat can be very fun so if you don't like the sound of a guide you can enjoy the beautiful sights on your own with a self-hire. Just remember, unless you like the thought of playing bumper cars go for a self-hire at quieter times!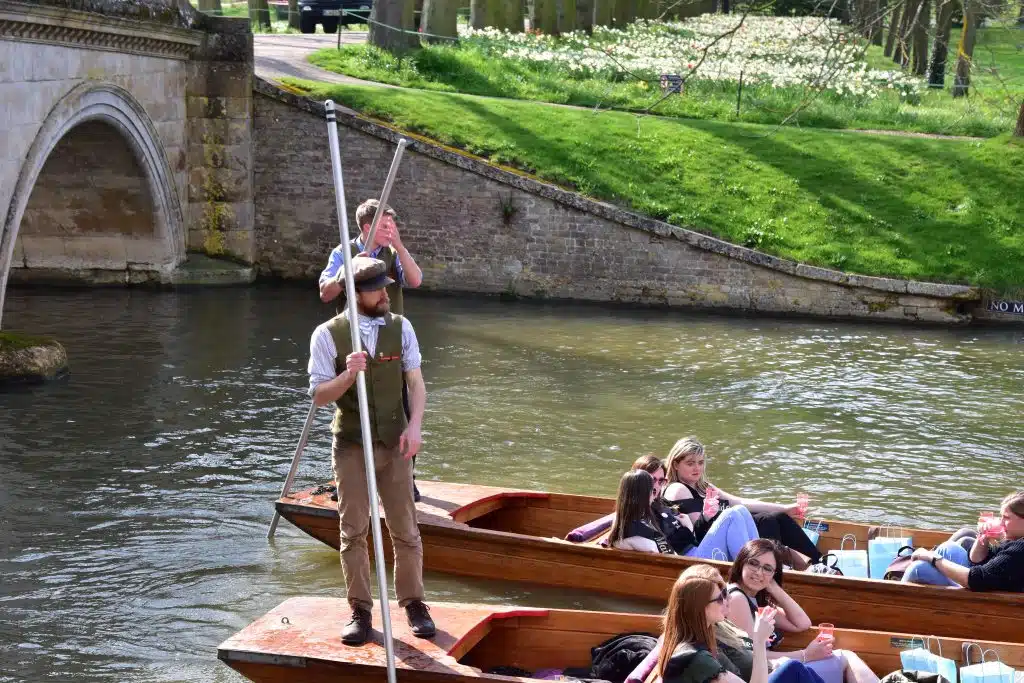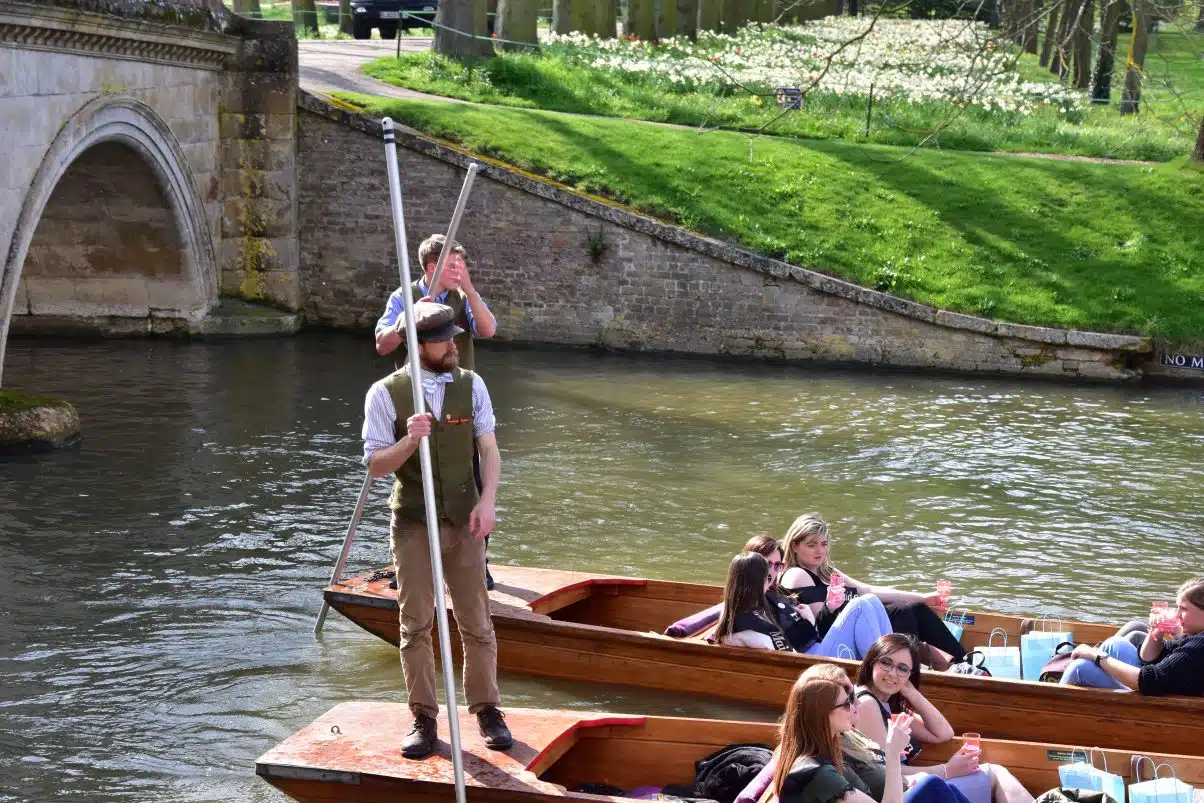 Which part of the river is best?
As mentioned above, there are two options for punting in Cambridge: the upper and lower river. Both options include water, a punt and a punter but that's about all of their similarities.
The lower part of the river runs straight through the heart of Cambridge University and its world-famous buildings. With some dating back to 1350, you'll be punting past the likes of the iconic Kings College Chapel, the Bridge of Sighs and Trinity College. All of these buildings are steeped in history and are incredibly preserved, making a punting trip feel like stepping back in time.
A shorter stretch of river running through the heart of Cambridge and Cambridge University

Better suited for tours as you travel past all the famous Cambridge University landmarks

Gives you a real experience of Cambridge student life

The most popular option because of the famous views

The only way you can see a lot of iconic buildings and university grounds

Better to spend shorter times on the river

Can be EXTREMELY busy in the summer and you may have to wait for boats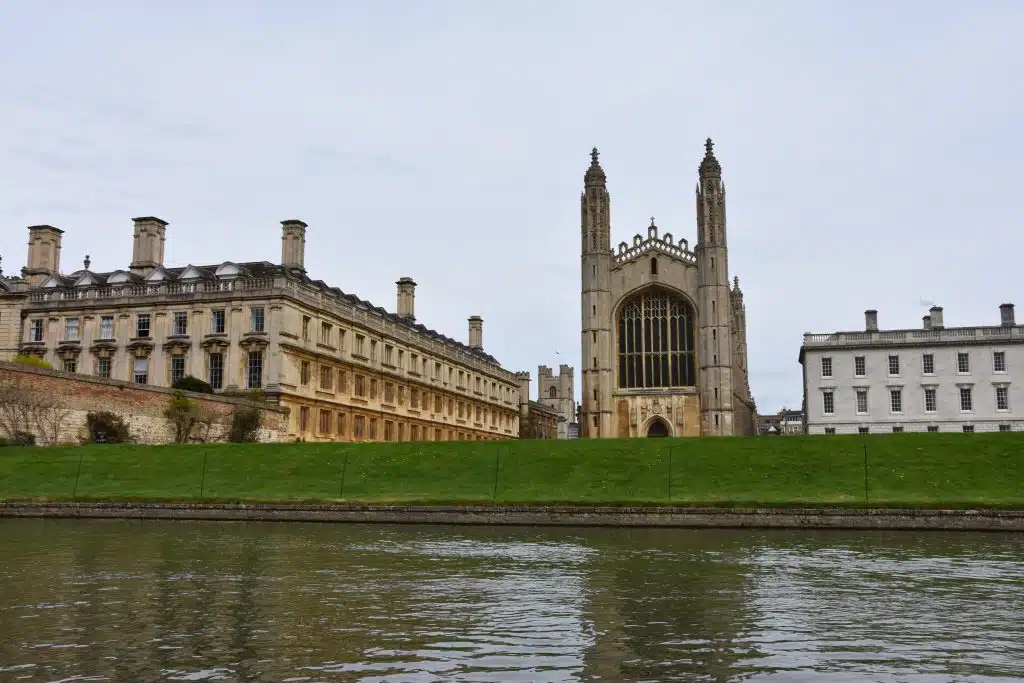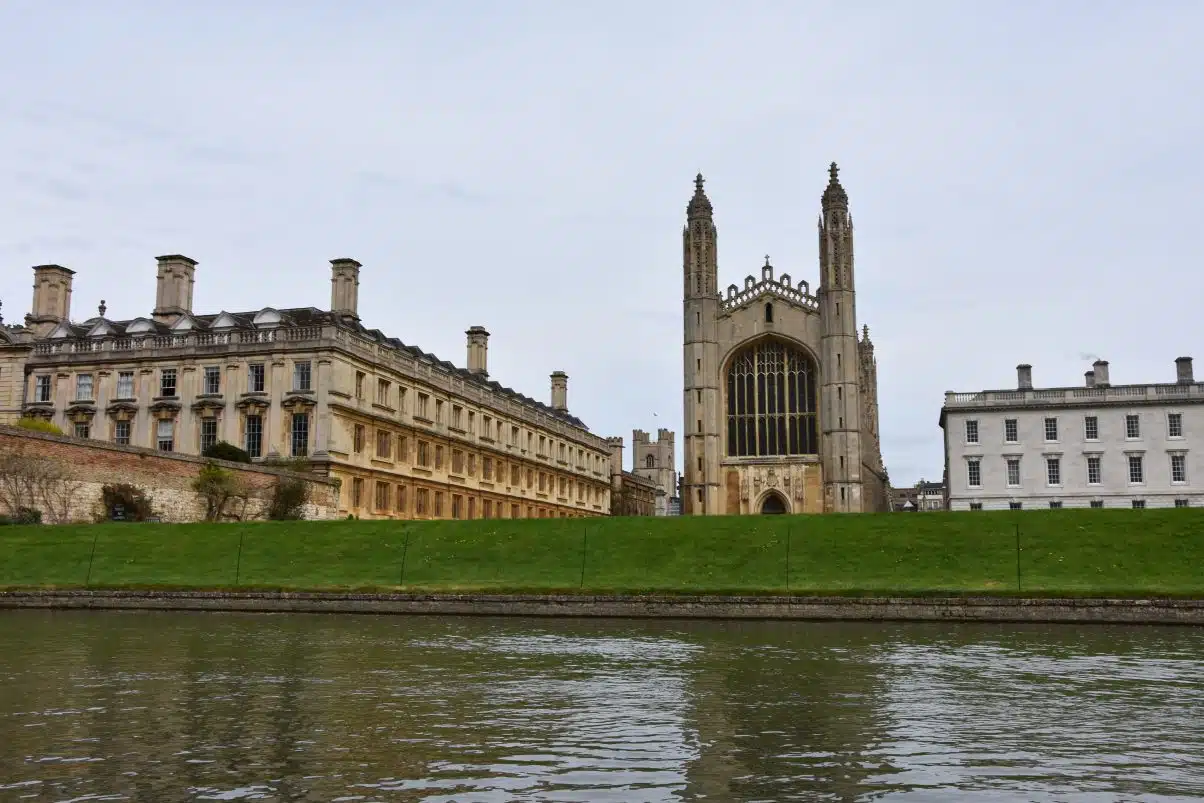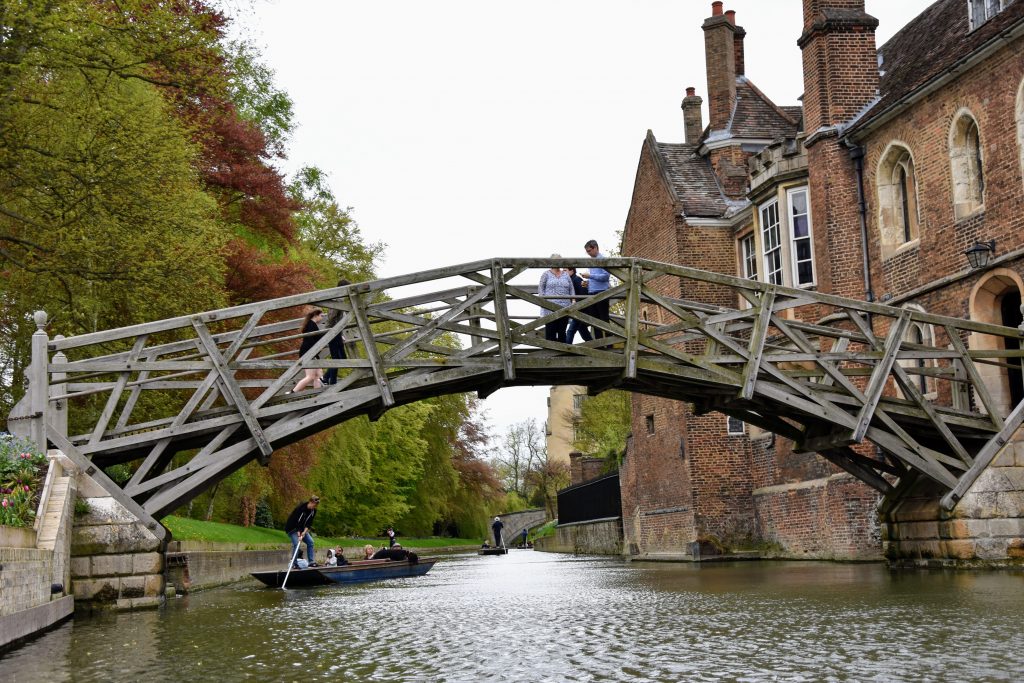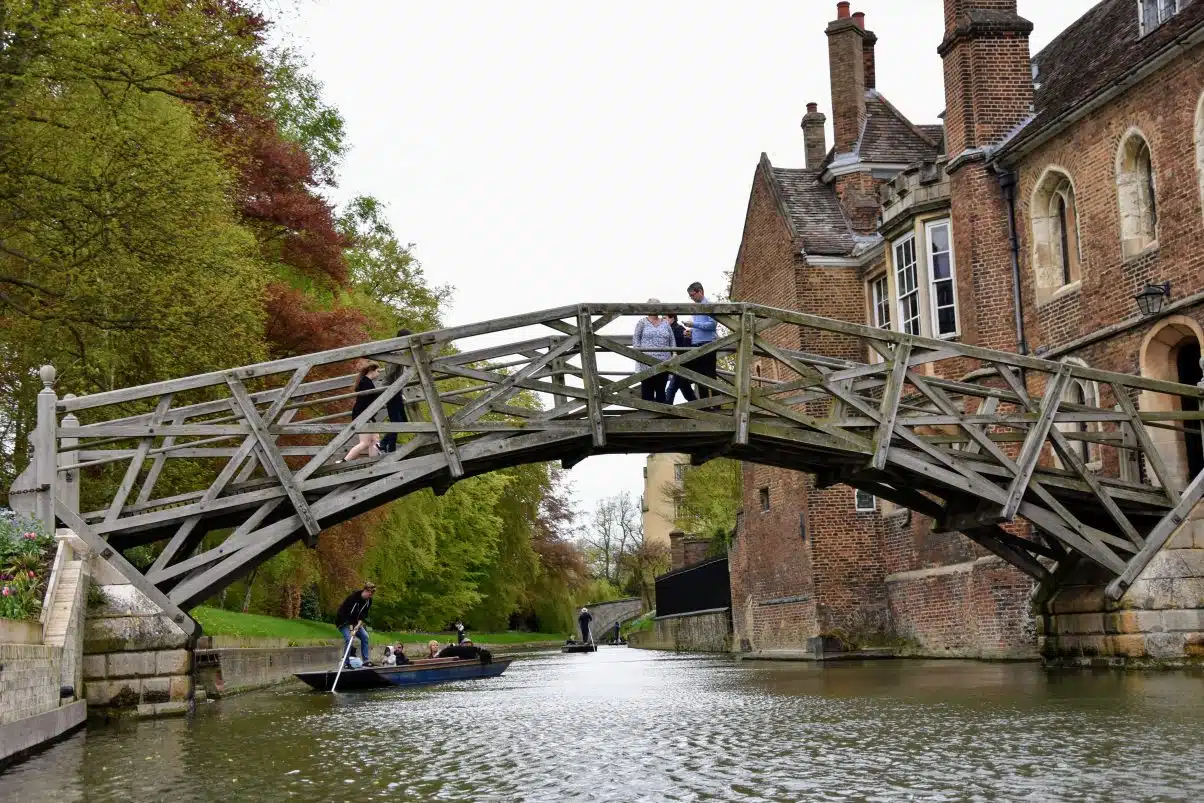 Punting on the upper river goes at a relaxed pace, flowing through perfect Cambridge countryside towards the surrounding villages. With picture-perfect views of the meadows and traditional tea gardens along the way. This area has been made famous by the TV series Granchester, filmed right here, and the fact that Pink Floyd used to run around the fields taking LSD.
A long stretch of river leading towards picture-postcard villages outside of Cambridge

No buildings just rolling countryside and grazing cows

Better suited for self-hires as the river is wider with fewer things to bump into

Extremely peaceful and relaxing with very few other boats on the river

Many spots to stop and have a picnic (beware ducks and swans will try to take your food!)

More of a locals choice or an alternative tourist choice

Better to spend longer times on the river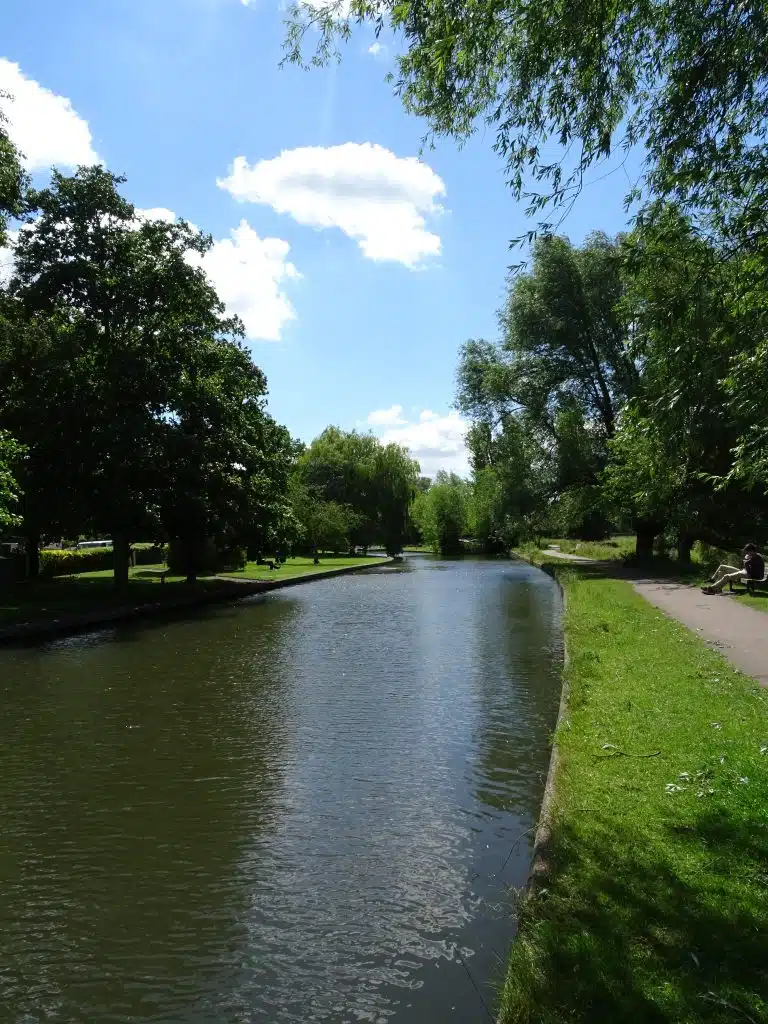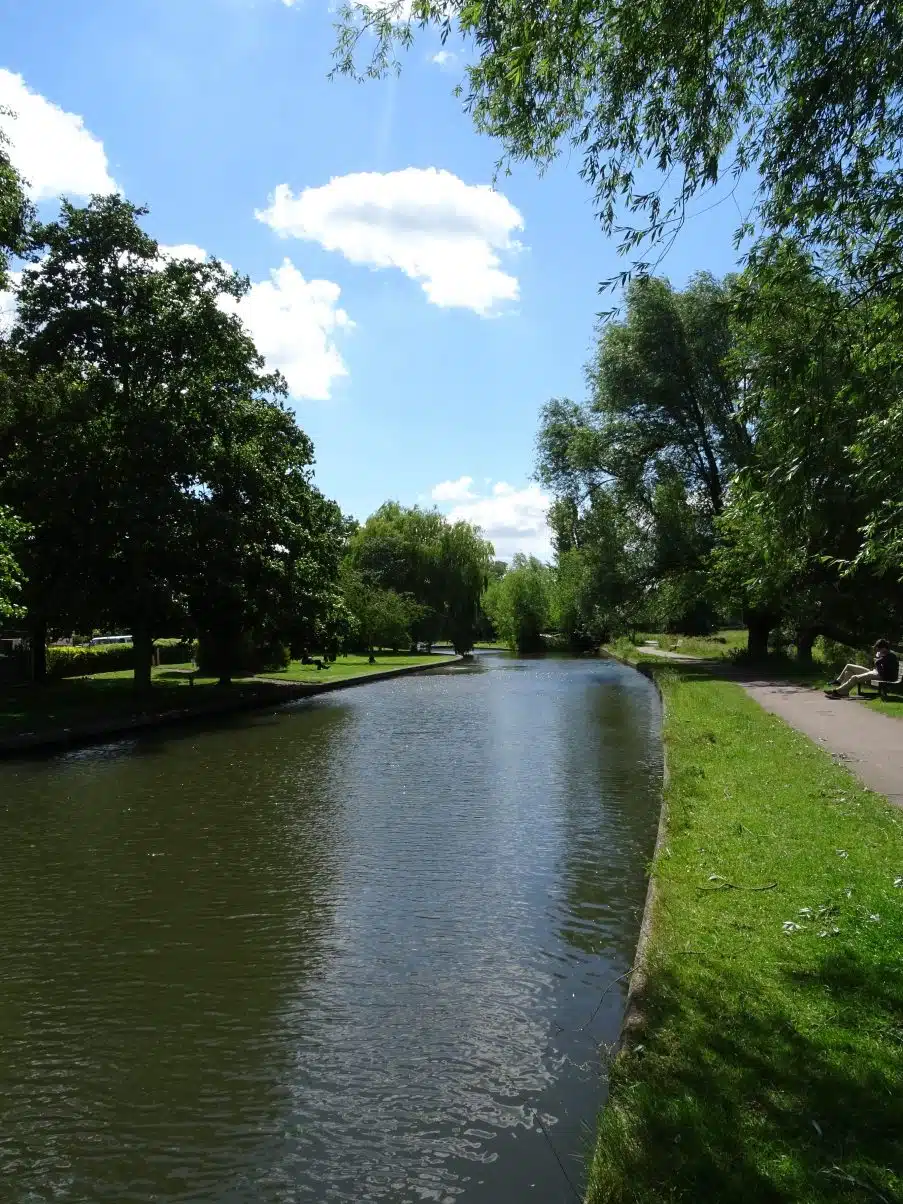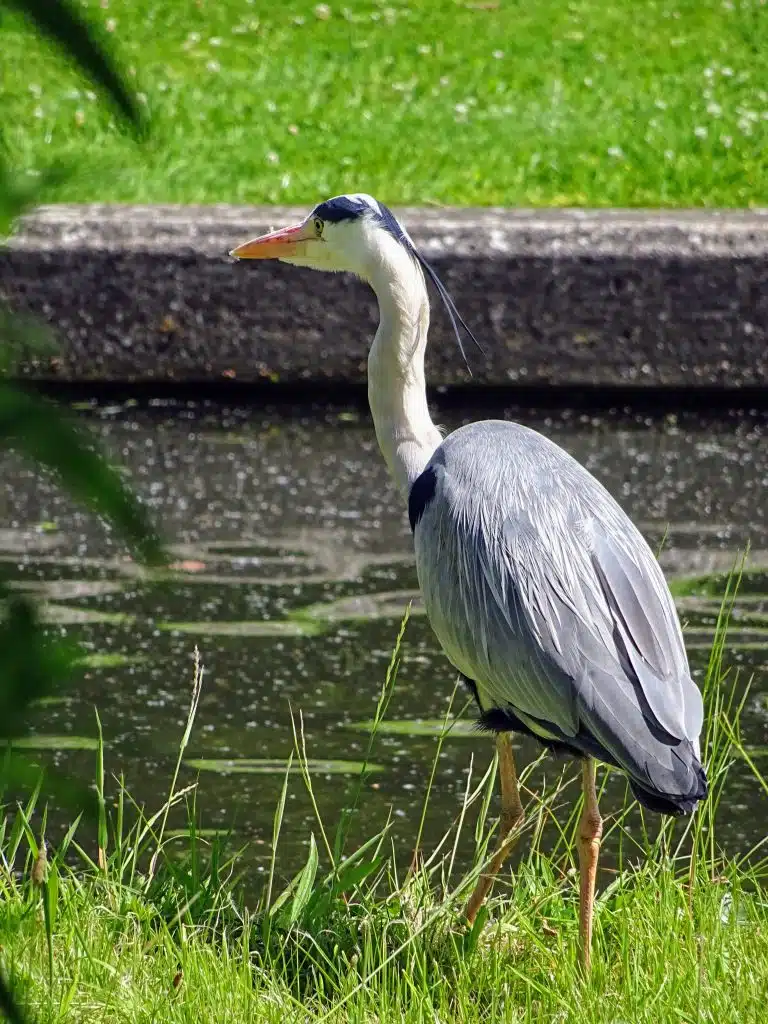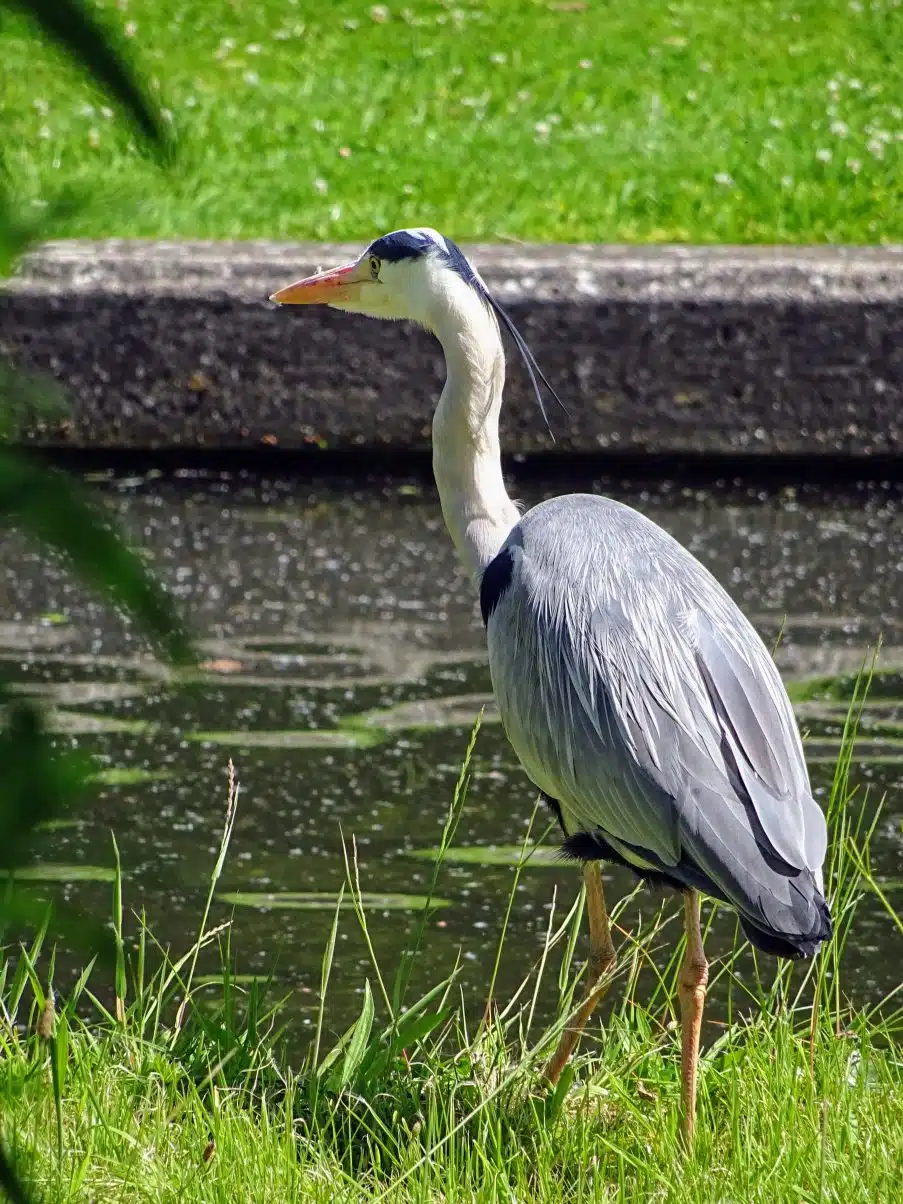 Where can you find the punts?
As we said, punting in Cambridge is big business. There used to only be a few companies, now there are many at different locations around Cambridge. To make things nice and easy we've put explained all the different areas and exactly what's on offer.
And how do I actually go punting? Most commonly, people go to one of the punting areas (mentioned below) and buy tickets from the punting station or punt touts (more info below). You can also buy tickets from the tourist information centres, some souvenir shops or online. Prices are explained below!
Quayside Punting
The furthest North on the map. Quayside is a beautiful area along the river with lots of bars and restaurants overlooking the water. A number of Cambridge punting companies situated here offer both self-hire and chauffeured tours. This is arguably where you'll find the most companies so you can decide which one takes your fancy. For an authentic punting experience we recommend: The Traditional Punting Company, Scudamore's, Cambridge Punters or Scholars Punting.
Are any of the companies at Quayside that different? Not really, most companies have a long history and good reputations. They'll all be competing for your customers so you can shop around for the best option. Your best bet is to go down, take a look at the companies and see which one is for you.
If you're wanting to go to Granchester then this isn't a good spot because you're a long way away.
Garret Hostel Bridge and Trinity College
A surprising number of boats used to leave from Garret Hostel Bridge, however, this is less common now. You can still go with a Cambridge University punting option and arrange self-hires or tours directly from Trinity College next to the bridge.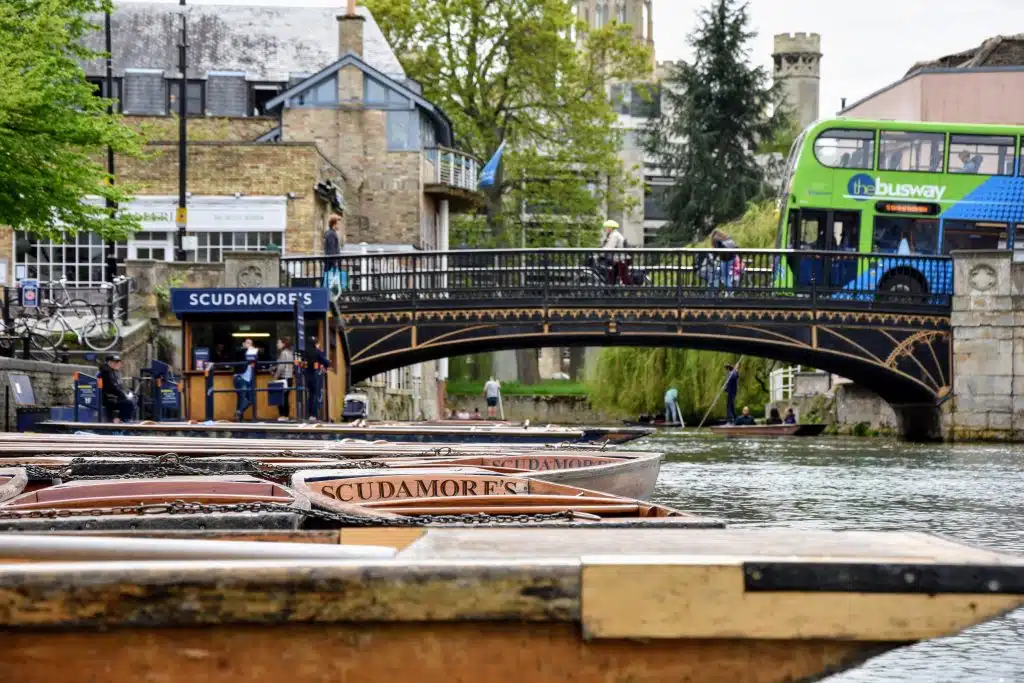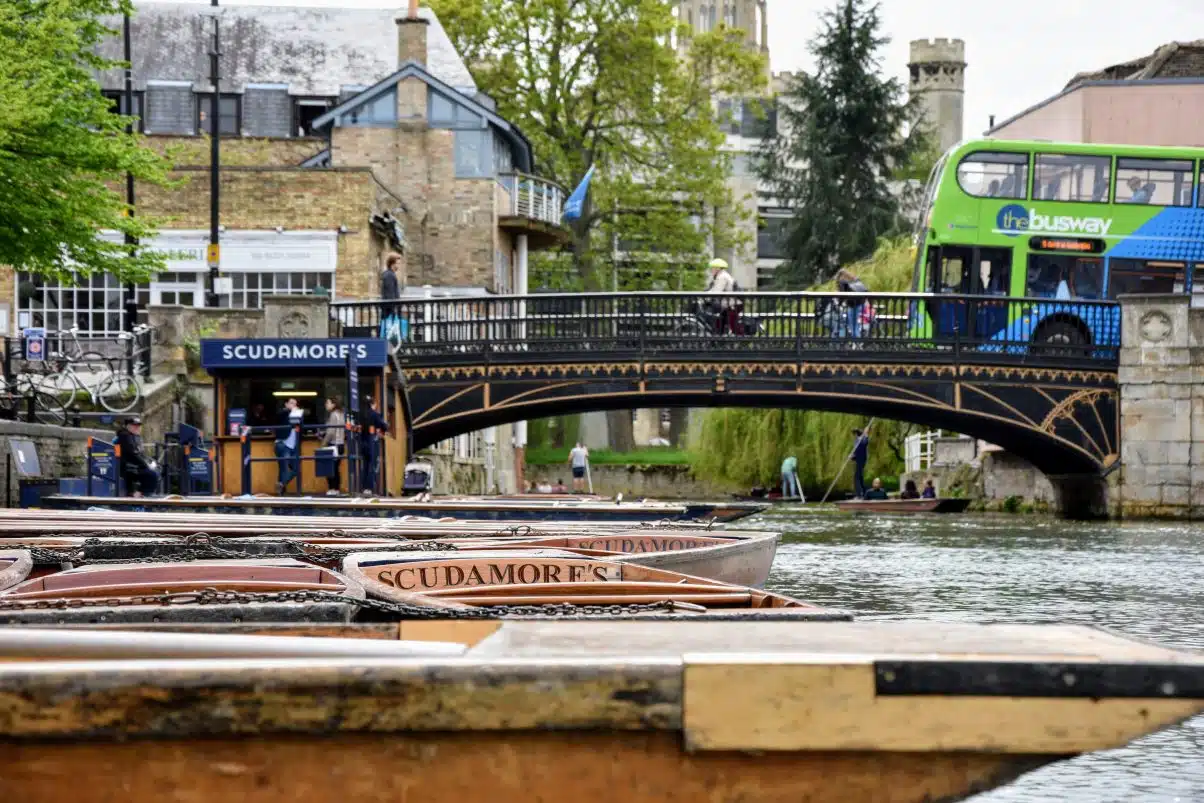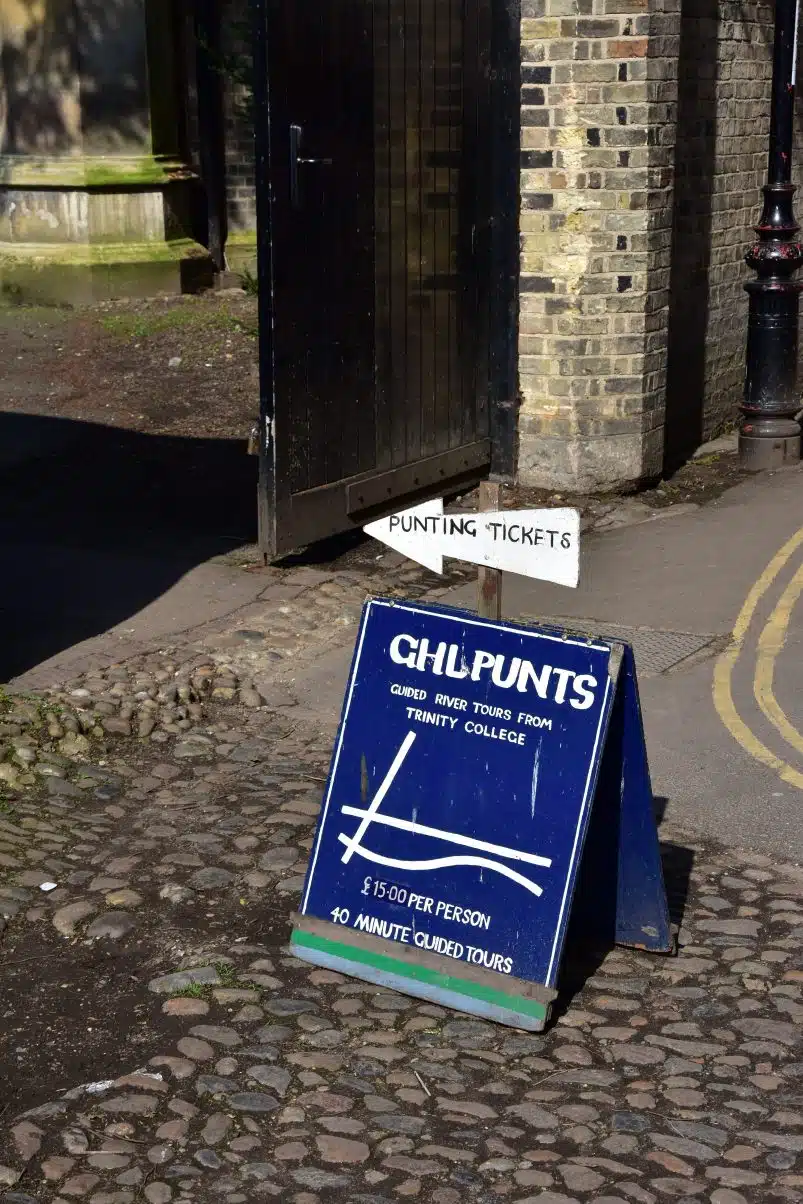 Mill Pond and Granta Punting
Punting here goes at a slower pace with fewer companies operating in the area. It's a very beautiful part of Cambridge with pubs spilling onto the waterfront and a large green busy with picnickers or summer drinkers when the sun is out.
This is a good place for first-time self-hires as there's a large area of open water close to where the boats leave you can use for practice. From here CCP and Scudamore's have punting stations and offer more traditional style tours.
Probably the most beautiful location to take boats from is from Granta Punting, a sleepy, leafy area away from the busy parts of the river. You'll see a slightly longer stretch of the river if you do a tour, as most other companies don't travel as far as the Granta.
From the Mill Pond and Granta, you can find self-hires and tours that go along the lower and upper rivers.
It's possible to move boats from the lower to the upper river but it's no easy job and isn't advised unless you know what you're doing. If you're planning on going to Granchester or punt on the upper river, speak to one of the companies in the area.
Most companies will be able to arrange tours and self-hires for the upper river, however, it will be cheaper going with the punting companies closer – Mill Pond and Granta will be your best option!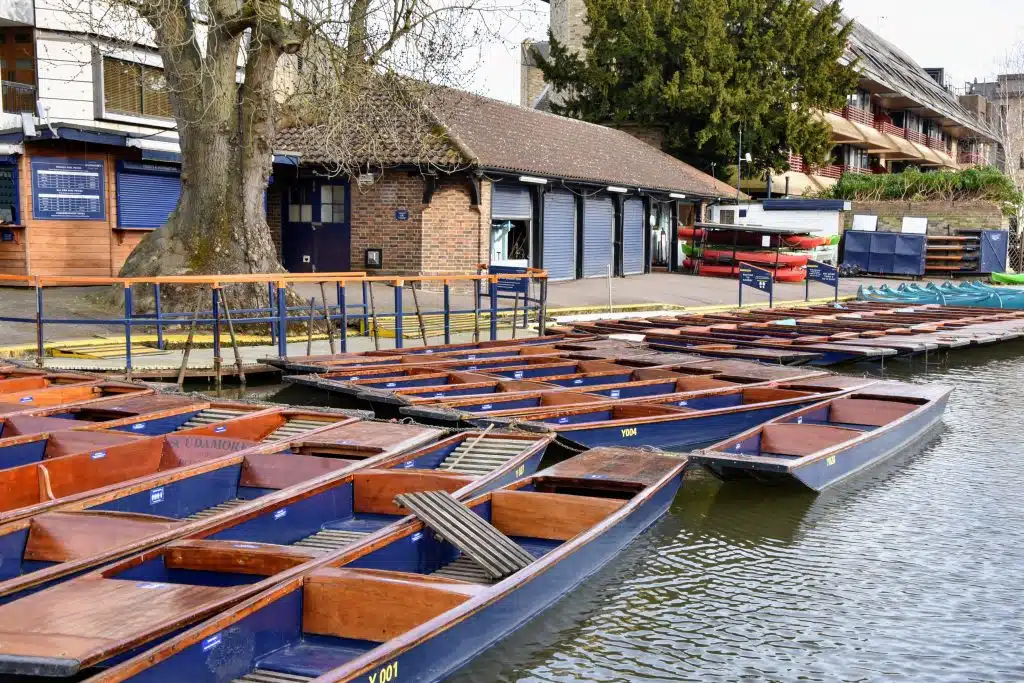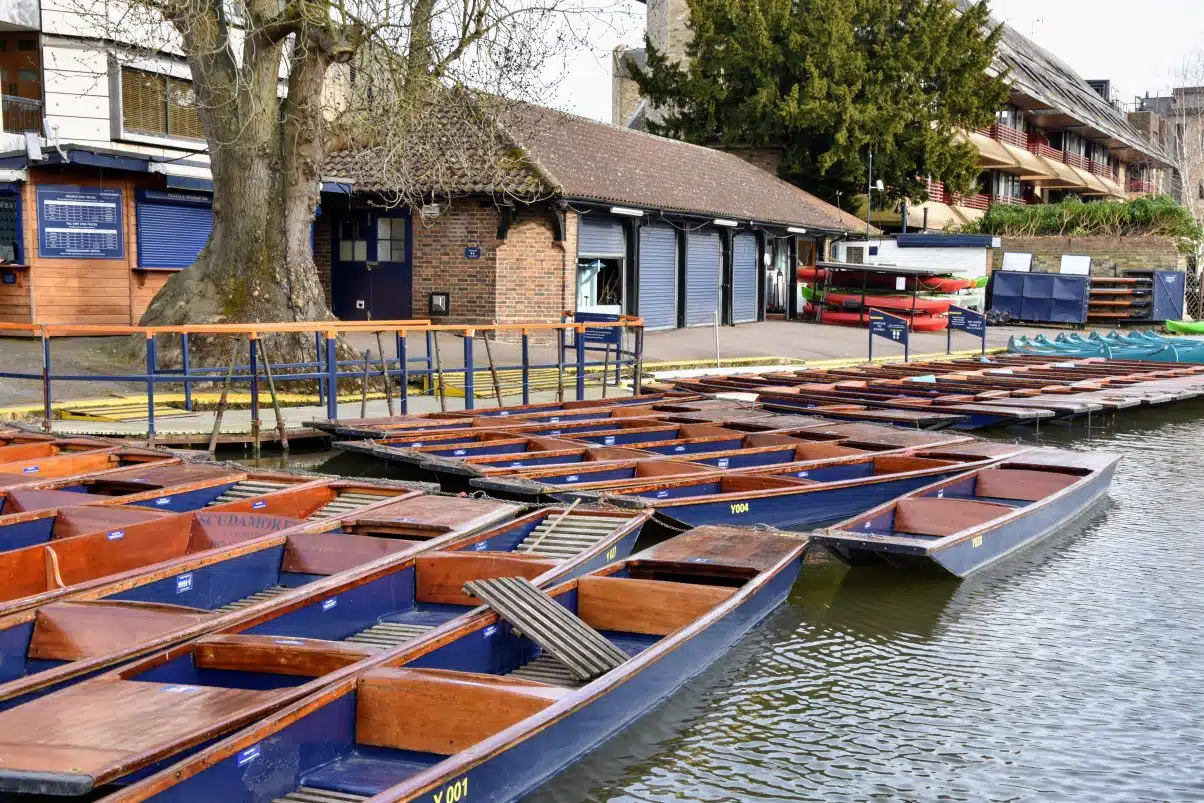 Do all Cambridge punting tours go to the same places?
As long as you go with a reliable company, all lower river tours will go to the same places but will just have different starting points. This is with the exception of Granta who are positioned further down the river, so will see a lil extra.
For the upper river, this is a much longer stretch so you will normally negotiate the journey before starting the tour.
Who are these punt touts?
These guys sell tickets for the punts, are commission-based and relentless. They really want you to go on their boat and have every reason why their boat is the best option for you.
At Veggie Vagabonds we're all about honesty and as I once was one of them I'll happily say they can be a pain in the arse. These guys have hawk eyes and if you look remotely like a tourist you're likely to be asked countless amounts of times if you want to go on the boats.
Our advice: If you don't want to go with the person asking you it's easiest to say you've already been. There are plenty of different companies so pick which is perfect for you and don't get charmed into something you don't want to do.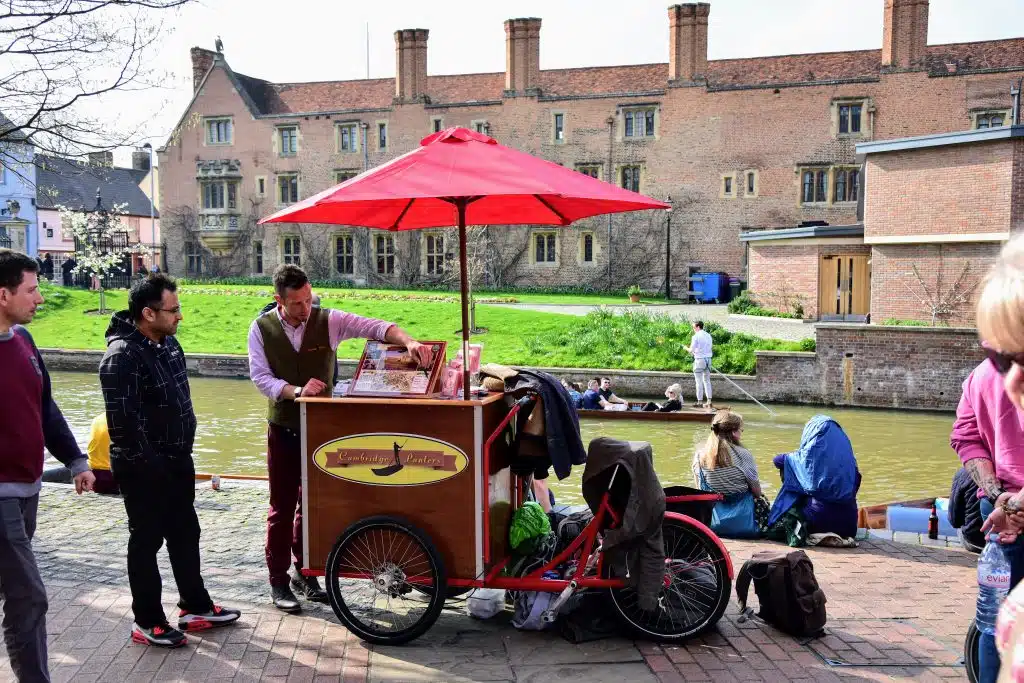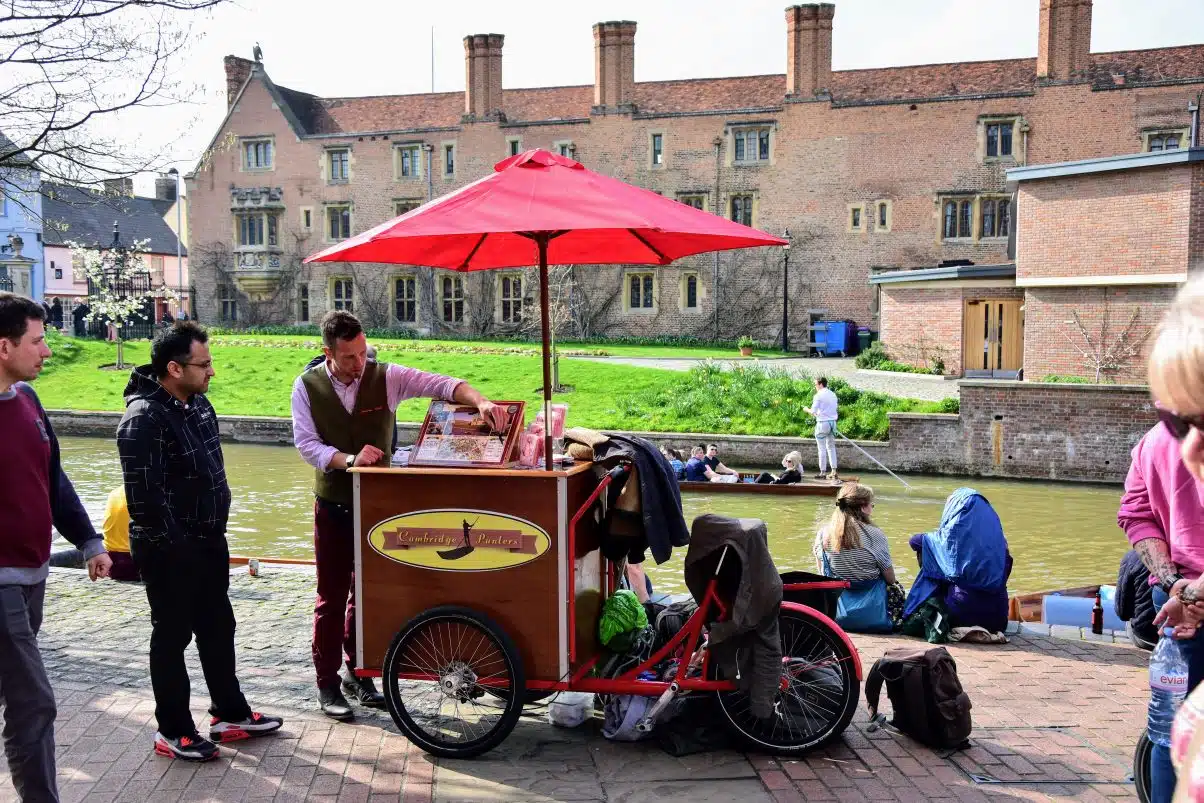 Cambridge Punting Prices!
The price can vary depending on where and when you buy your tickets (as mentioned before prices change with seasons). Below are rough adult prices for all the companies throughout the year (children, students and seniors are often given discounts).
Shared chauffeur tours – £12.50-£20 per person
Private chauffeur tours – £80-140 per 12 seater boat
As you're renting the whole boat with a private tour the price will probably be the same regardless of how big your group is. If they're nice (or you're good at negotiating) you may be able to agree lower prices for small groups or couples.
Self-hire – £20-35 per hour but can also be rented for the day upon request (both require a deposit)
To see all of the colleges on the lower river will take a newbie punter much longer than an hour (particularly if it's busy). If you're wanting to go to Granchester then this can take the best part of a day. Most companies will require you to drop the boat off the same place you picked it up so keep an eye on the time!
SPECIAL TOURS – £?£?£
Many of the larger punting companies can arrange a variety of unique tours. Some of these include hen party punting, nighttime ghost story tours, candlelit and proposal tours and many can arrange picnics, champagne and meals on the boats. If this is something you're interested in then take a look through some of the companies linked above.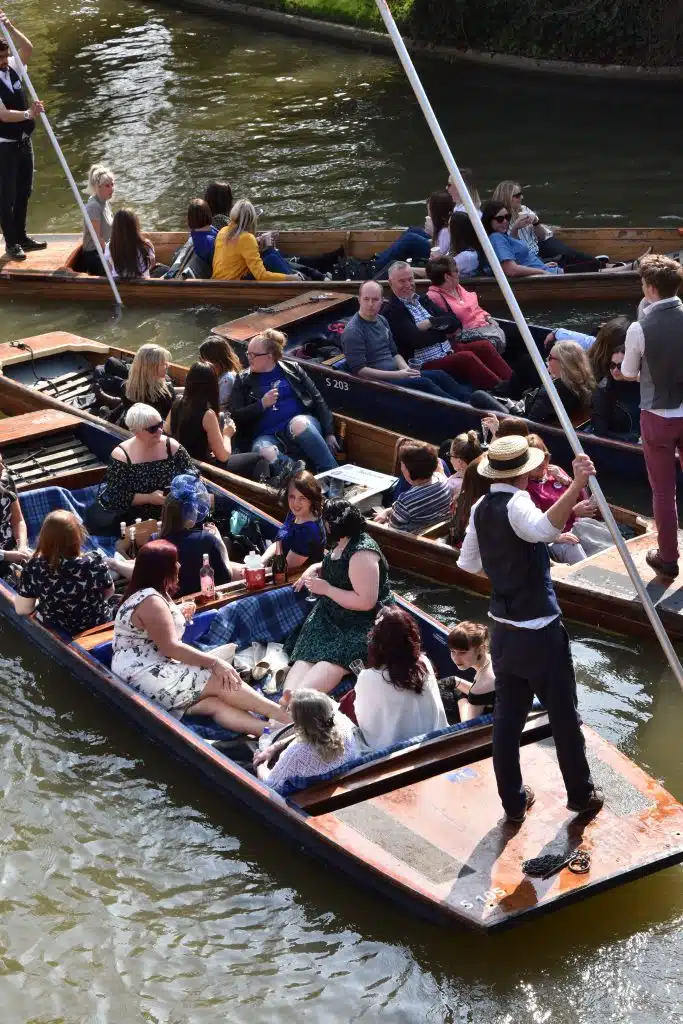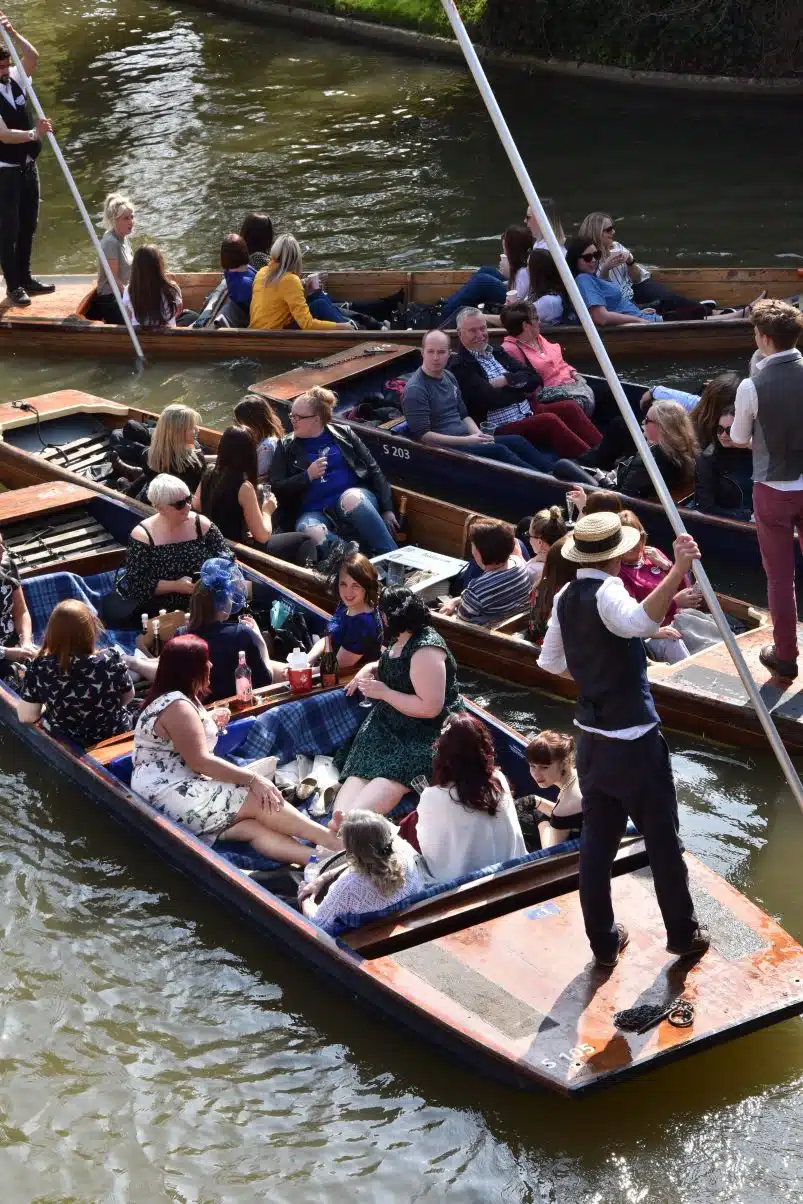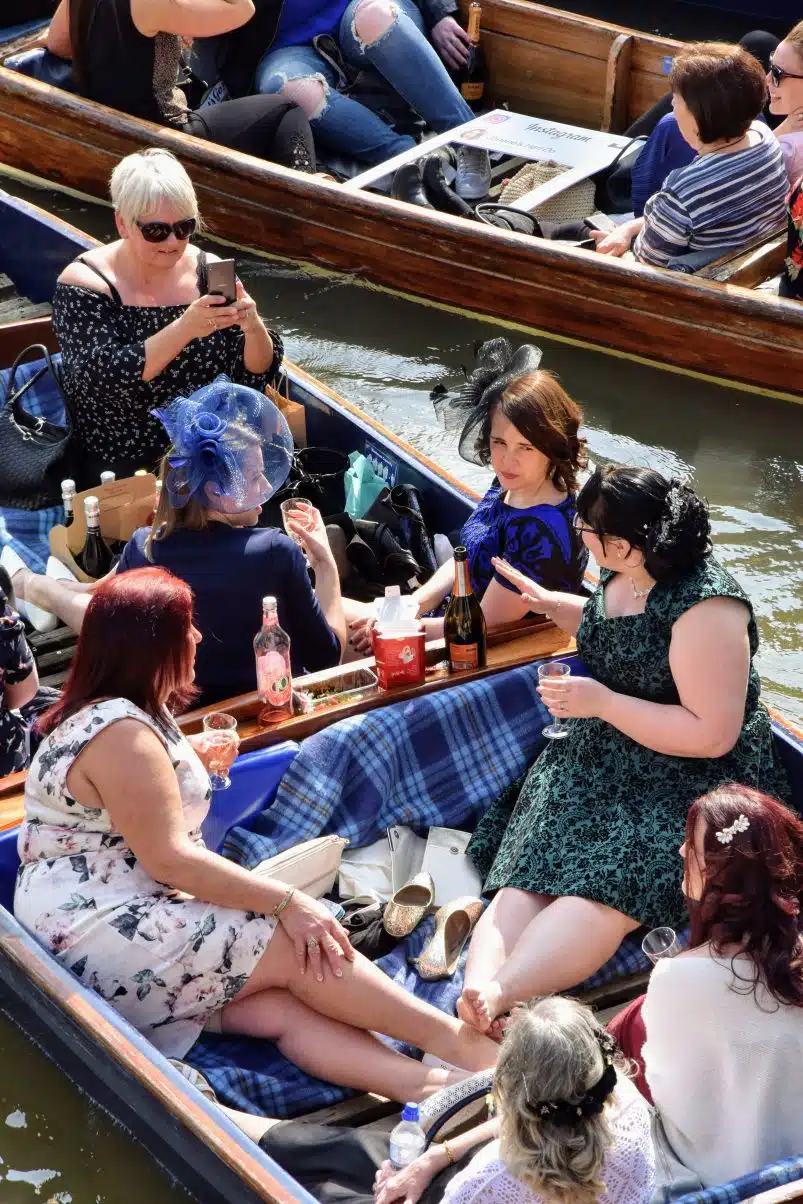 How can I save some money punting?
If you want the most straightforward experience you can buy your tickets from the tourist information centre (shown on map) or book online. Ticket prices will be more expensive and are generally not viable for discounts.
If you fancy negotiating a better price you can go directly to the punt stations or touts (shown on the map). Generally, the price of self hires is non-negotiable however shared and private chauffeured tours are open game and can be a fun way to get to know the punters.
Prices can vary a lot depending on what time of day/year it is, what the weather is like, if the tout has had a good day etc. but here are some insider tips that will save you some money
When negotiating, say you've been in past (this way they'll know you're aware of the prices)

Go outside of peak times (12-4 pm summer weekends, bank holidays) and peak season

Don't be shy, ask for a discount,

If you think the price is high, say you'll think about it and come back, chances are they'll drop the price

Be flexible. Touts will often give better prices if your group fits well at a certain point of the day

Go when the weather forecast is bad or there is bad weather, it will be quieter and you're more likely to find cheaper tickets

Book your tickets early in the morning, it's often easier to get discounts before it gets busy

If you have a student card then showing this may get you a discount
It is also much easier to negotiate discounts with bigger groups. If you're a group of 8-12 people it may also be cheaper/more convenient to arrange a private tour. If you have a big group and need more than 1 boat then you can probably negotiate prices lower than £12.50. Go get your haggle on!
Do I need to book punting ahead?
If there's a big group wanting to go at a specific time at a busy time of year then it could be a good idea to book ahead. This can be done online on one of the websites linked above. However, booking ahead can risky. Firstly, the weather in the UK is very changeable regardless of the time of year. If you book your tickets and it's starting to rain you're stuck. You also don't get to see the boats or facilities you'll be using. Despite what the punting websites may say, it's only cheaper to book online if you're buying from the tourist information. Generally, you'll get a much better deal if you go straight to the touts and use the tips above!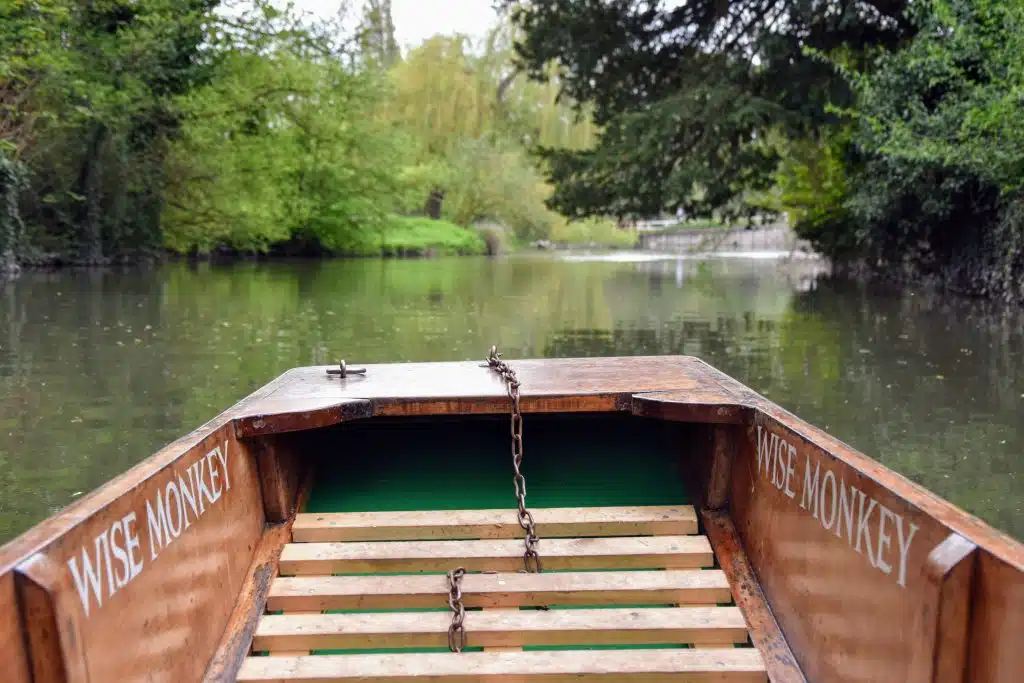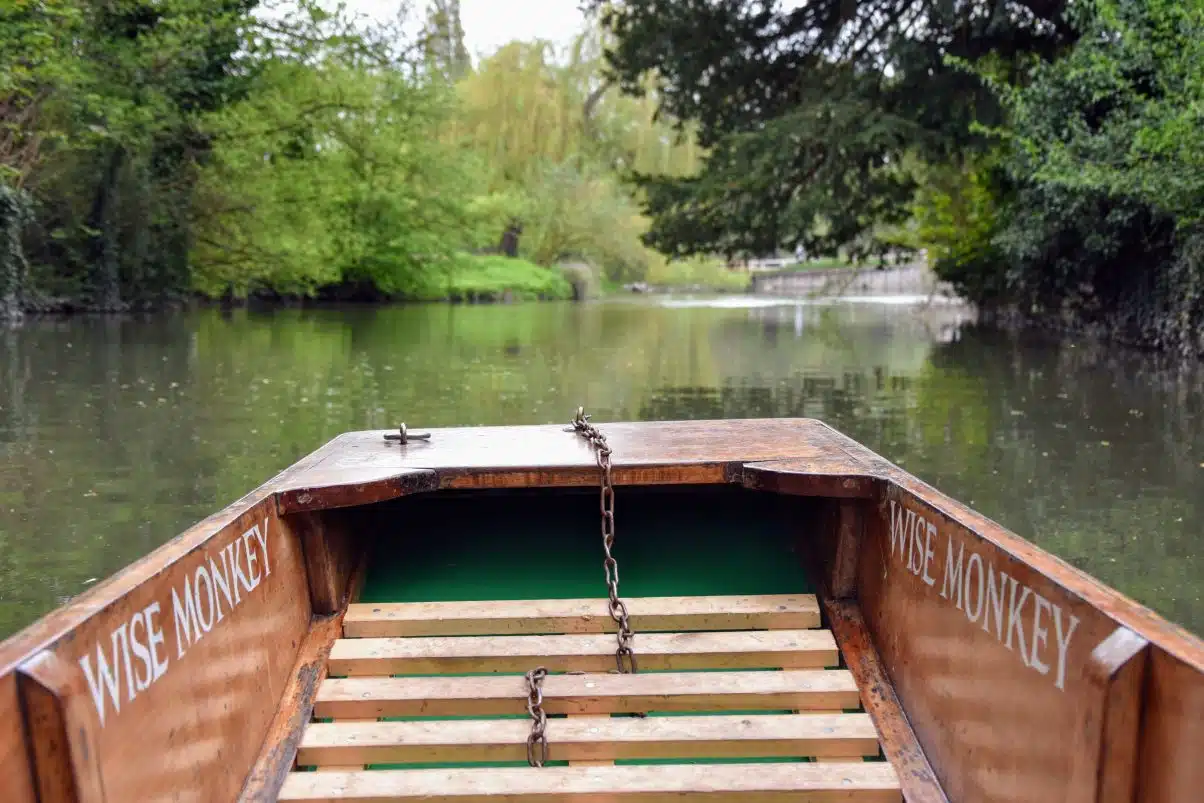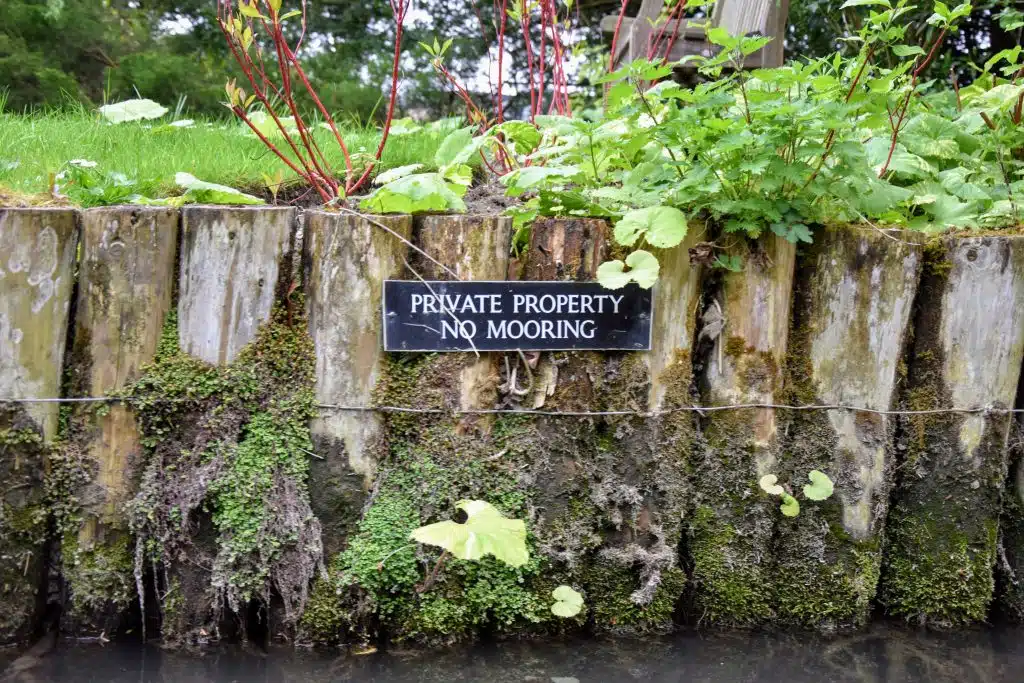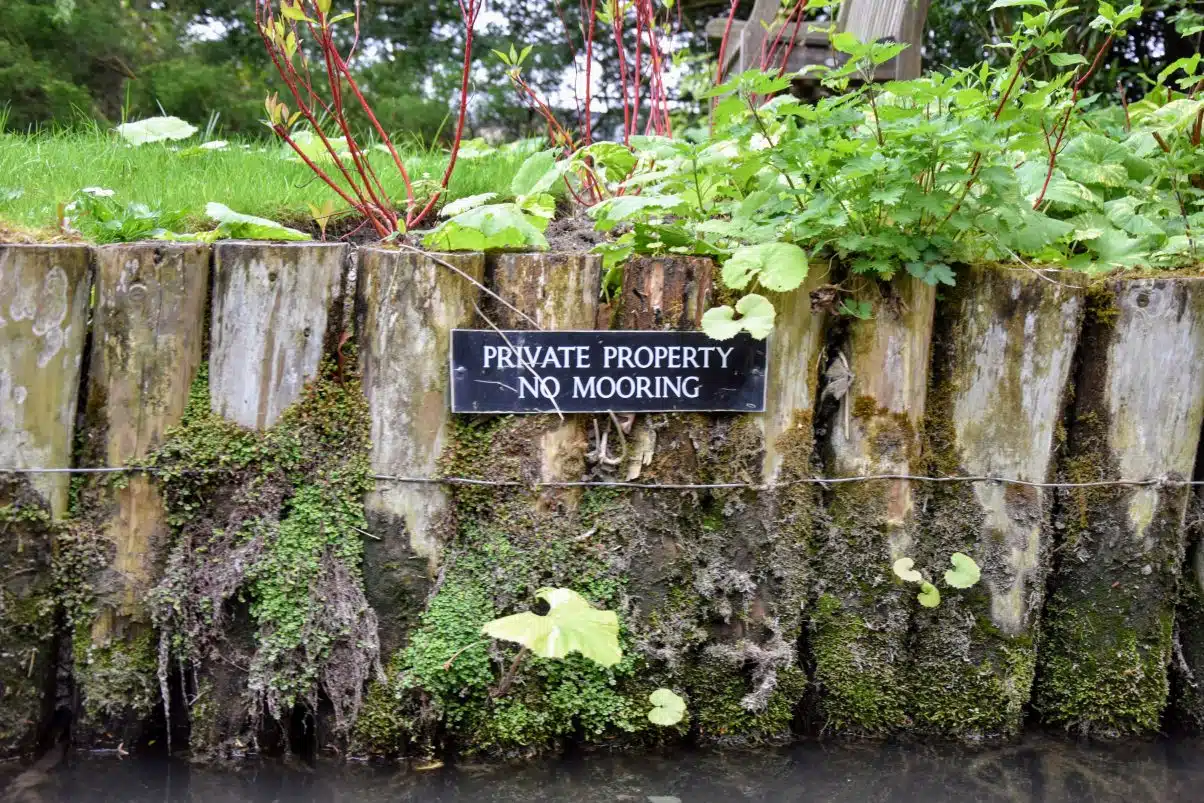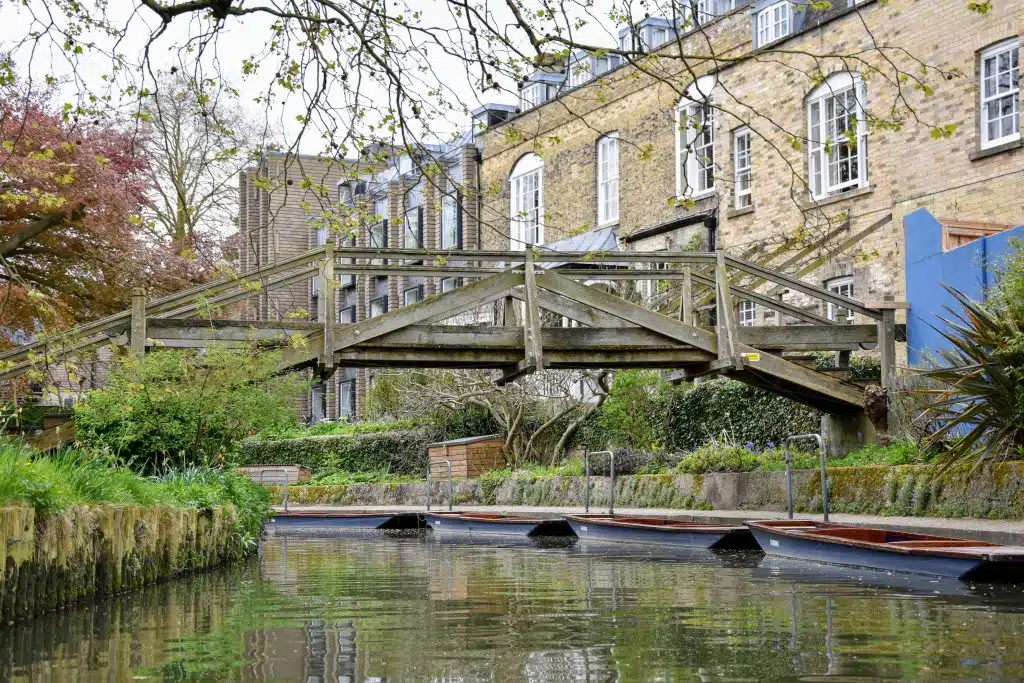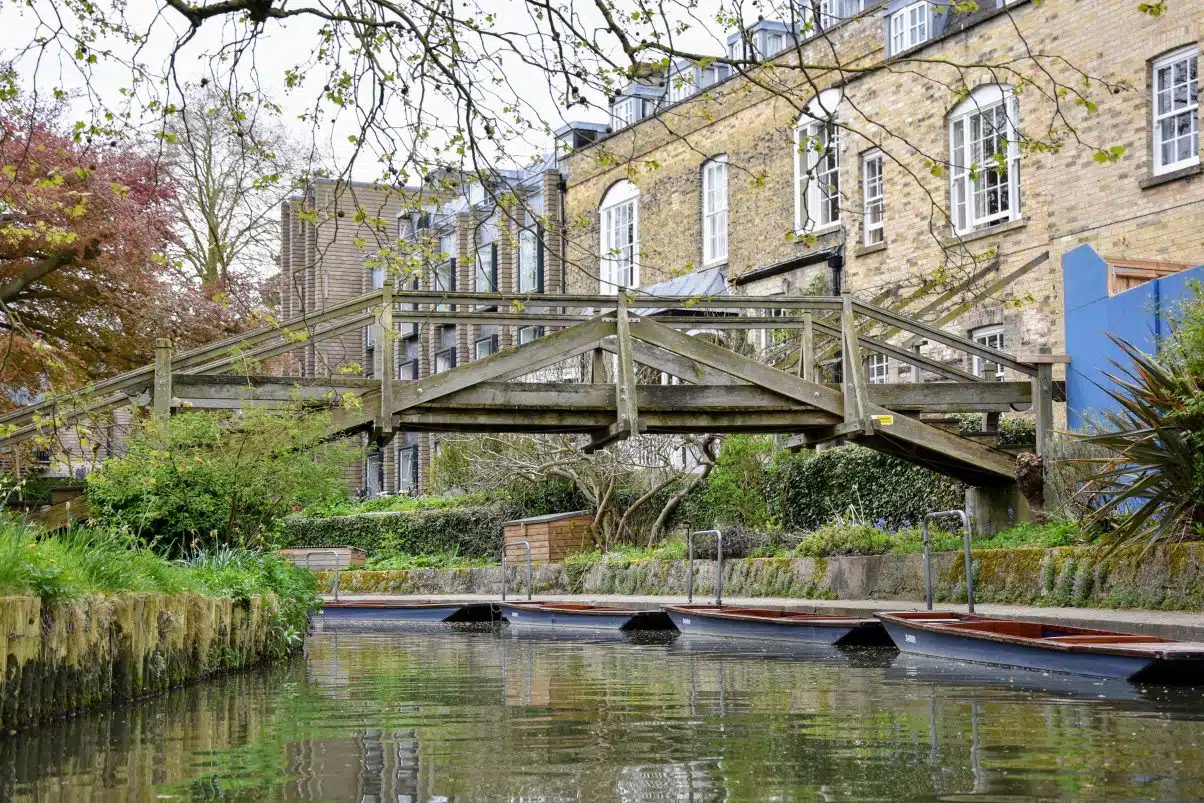 What should I take punting?
The typical punting refreshments are Pimms (a gin-based liquor with a fruity taste) and strawberries. If that's not to your taste then any food or drink will do. Bear in mind that on a full chauffeur tour you're sharing the boat with lots of people who might not appreciate your picnic on their lap. If you want a full picnic spread then it's probably best to hire a boat yourself. If you're heading towards Granchester then why not take a BBQ with you? And obviously, a camera – you'd be mad not to get some snaps of these beautiful Cambridge sights. If you've timed your trip well and manage some hot weather then some suntan lotion wouldn't be a bad idea either.
If you're planning on staying the night, Cambridge has some fantastic accommodation options. For the best selection, take a look here on Booking.com
Anything else I should know?
Prams, dogs and shopping bags are generally welcomed on the boat if it's not too busy. If it is busy then you may be able to leave items at the loading areas (generally babies or unwanted friends can't be left). All visitors will be helped on and off the boat but it's generally not possible to sit in a wheelchair on the boat because of low hanging bridges.
One last tip
There are no toilets along the river so make sure you go before!
Have you been punting in Cambridge and have any other tips? Or some more questions about organising your trip? Drop us a comment below!
An Insider's Guide to Punting in Cambridge
After working as a punter for 6 years I can guarantee that if you follow this guide you'll have the punting trip of a lifetime. Punting in Cambridge is an experience like no other so make sure you get the most out of it. If you're heading to Cambridge in the future and would like some tips or if you would like to arrange a tour with one of our friends then shoot us an email or comment below!
Keep exploring…
The Best Hiking Trails in the UK