Lac de Taney is an area of astounding natural beauty, easily accessible and best explored during winter
---
Lac de Taney in the Valais region of Switzerland is a wintery utopia that sits tucked away at the base of Le Grammont and Rocher de la Tache, two rugged mountains that dominate the skyline. During the winter months expect a quiet trail which gradually leads you up to the frozen Lac de Taney, with a surrounding of snow-covered trees around the shoreline that gives way to daggering peaks crudely jutting up behind.
Most of the residents in the village of Taney use this as their second home with only the odd inn and a few others staying put over winter. The lull of activity and vastness of the frozen lake gives a very tranquil feel to the whole valley. As you listen to the gentle crunch of snow underfoot, it's hard to imagine this place as a bustle of activity in the summer months. The Lac de Taney camping ground brings a swarm of visitors when the weather is warmer, but, during winter, it's not uncommon to find you're the only one exploring this mountaintop oasis.
This walk is a popular day hike from Geneva due to the ease of access and gradual terrain which can be enjoyed by all ages and abilities. Though there are plenty of options to extend the hike, for Lac de Taney plan for the perfect for a half-day wander. With that being said once you've feasted your eyes on the snow-dusted peaks and stunning landscape, it might be hard to pull yourself away – speaking from experience.
Much of Lac Taney sits in shadow from the surrounding peaks, resulting in some seriously cold temperatures in winter. The whole landscape is an explosion of ice and powdery snow. Despite the blistering cold at the end of December, it was hard to not spend hours bumbling about admiring the view and marvelling at the crispy, white-covered environment. We even settled down to have a picnic in the snow!
To support the local economy, we warmed our cockles with a flaming mulled wine at the inn, before being ushered down the mountain by a disappearing sun.
In this article you will find:
This article contains affiliate links. If you make purchases through these links we may make a small commission, this is never of any extra cost to you but helps support Veggie Vagabonds – thank you!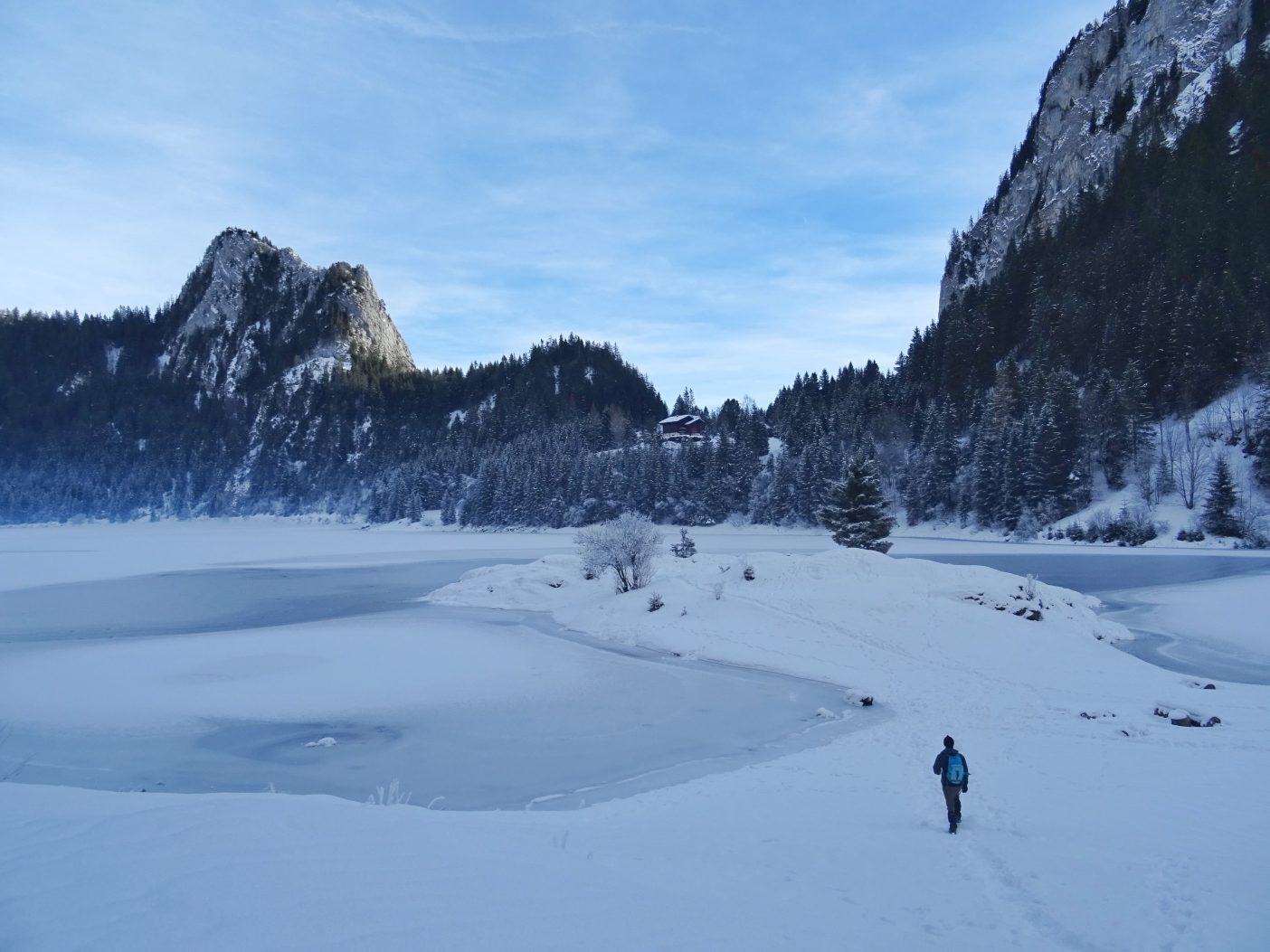 Lac de Taney hike details
Also known as: Lac de Tanay, Lac de Tannay or Lac Taney
Hiking distance: 5.2 km if you take the same path up and down / 9.1km if you do a loop
Hiking duration: 1 hour 30 minutes for the same path / 1 hour 50 minutes for the loop
Altitude: 1,408
Elevation gain: 470 meters / 850 meters
Difficulty: Easy
When to hike: You can climb all year round. During winter expect snow and the lake will most likely be frozen with fewer hikers insight. In the summer, however, expect larger crowds and the surrounding fauna in full bloom. We recommended doing the hike in the winter when the trail is peaceful and the landscape transforms into a wintery feast for your senses.
Suitable for: All ages and abilities – bare in mind that some parts of the trail are steep at times and may be slippery if there has been rainfall.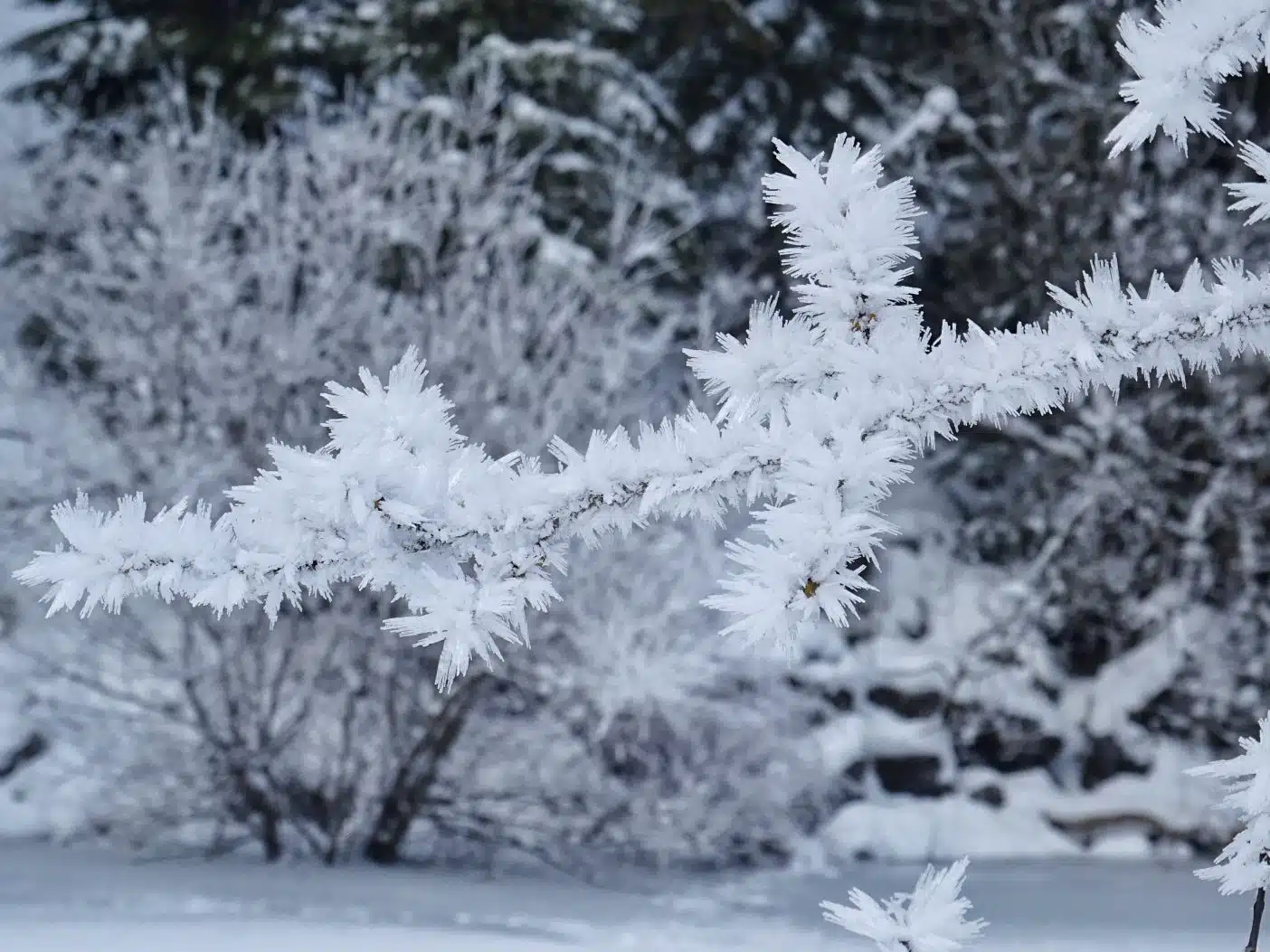 Why hike Lac de Taney?
Often referred to as a little slice of paradise, once you've been here it's easy to see why this Swiss hiking trail is so popular. Lac de Taney is nestled in the valley between the surrounding towering peaks; the hike up through the thick pine forest is pretty special but nothing prepares you for when you enter the hollow where Lac de Taney lies. When covered in snow, it really is magical.
Hiking during winter means you'll pretty much have the trail to yourself surrounded by snow-draped trees and frosted peaks. If you're lucky the lake will be frozen which, along with the snowy landscape, make you feel like you've stepped into another world.
Walking around the lake you can spot the icicles as thick as arms that have formed on the traditional wooden chalets and frozen branches outstretching from frozen tree trunks. Though the hike to the lake is relatively easy, if you are wanting a harder day in the mountains you can extend it to take in a number of other peaks and vistas too.
READ MORE: Explore Mount Titlis and Engleberg from Lucerne, Switzerland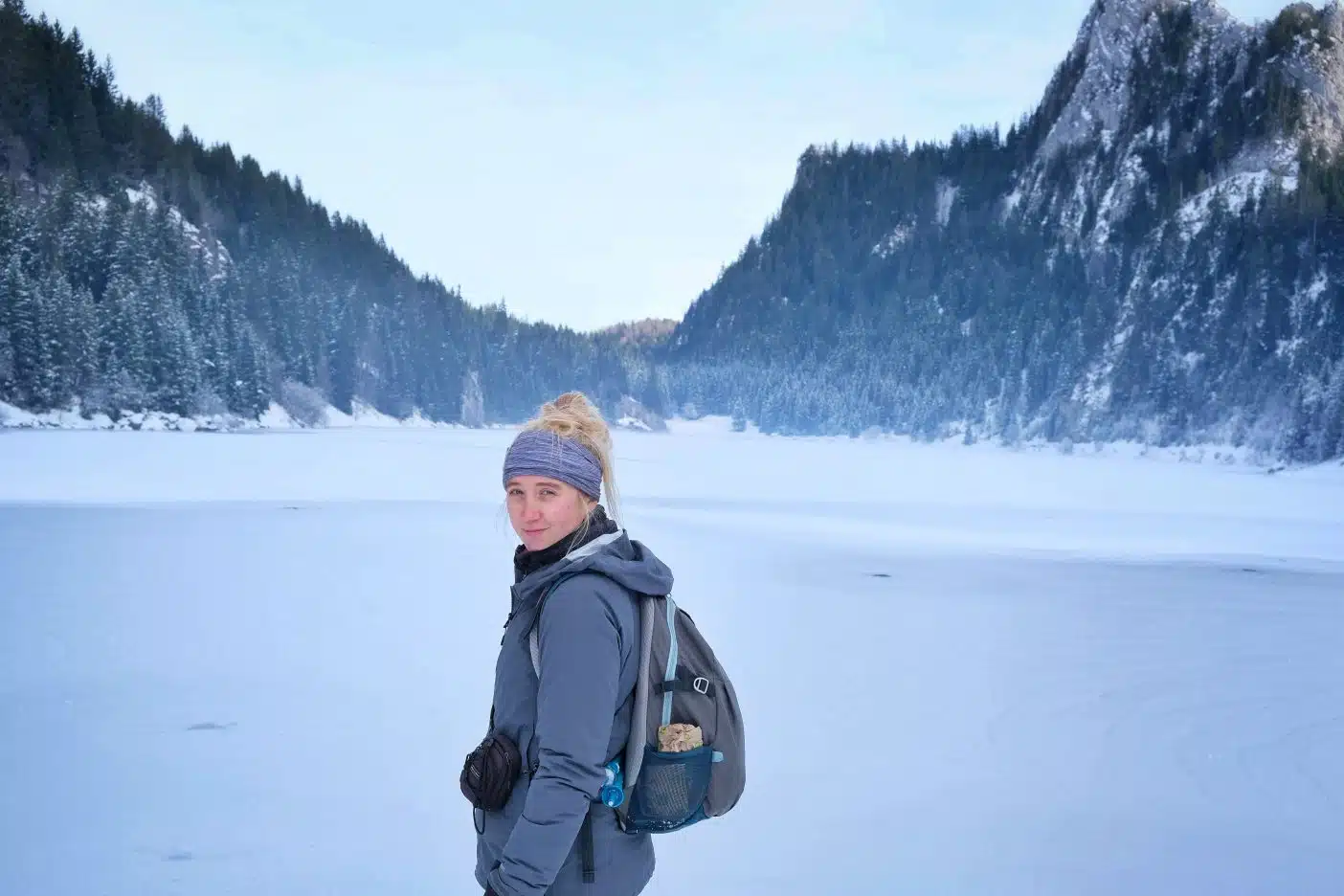 Ascent
From the Le Flon car park, you'll see the road that continues on from the back, as well as a walking path leading off from the right. Take the path on the right which then climbs through the pine forest, at times cutting across the paved road. The ascent meanders up through the undergrowth becoming steep at times, and crossing the paved road in parts.
The trail then joins with the Col de Taney road for 200m as you wade through snow to reach the lake. Once you arrive at the lake you're met with views of snow-enveloped wooden chalets, huddled between the frosty evergreens. From here, I advise taking the path on the right to lead you around the lake. This will give you spectacular panoramic views over the lake and dominating peaks.
The path around the lake loops back to the village of Taney, which is the perfect place to warm up with a hot mulled wine at the Lac de Taney restaurant or you can extend your hike to Grammont and some of the other trails in the Valais valley.
Sign up and get your free ethical adventures planning guide here with all you need to kick start your next trip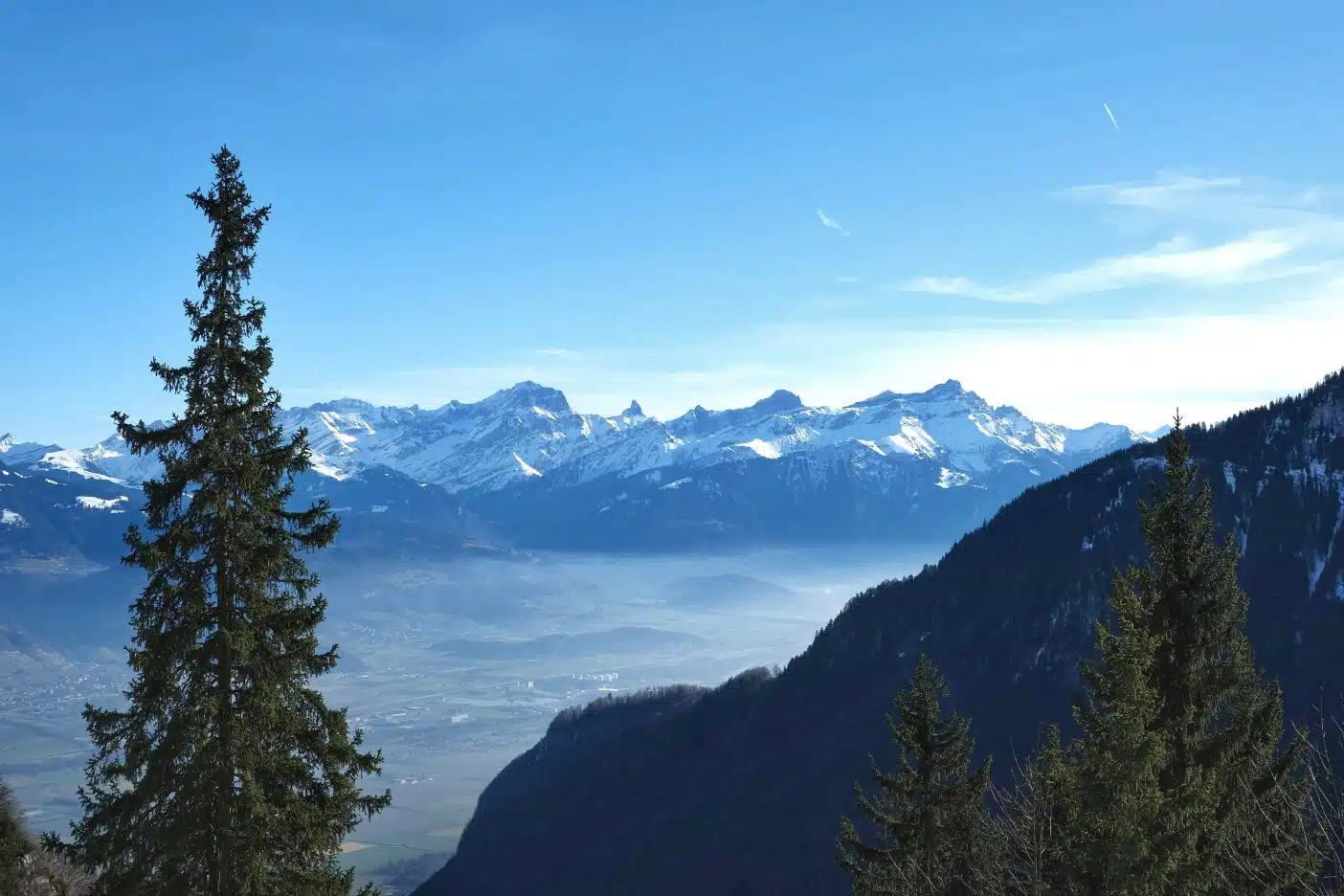 Descent
To descend you can either take the same route as above or you can take an alternative route starting at the other end of the lake. The path passes the Alpe de Prélagine offering extending views of the Rhône Valley and Lac Leman. The trail inclines slightly before descending into Prélagine to reach a steep road at Miex which is then a 10-minute walk to the Le Flon car park. This trail extends the hike but is a great way to explore more of this alpine landscape.
For more hiking inspiration and outdoor resources, be sure to sign up for our mailing list below!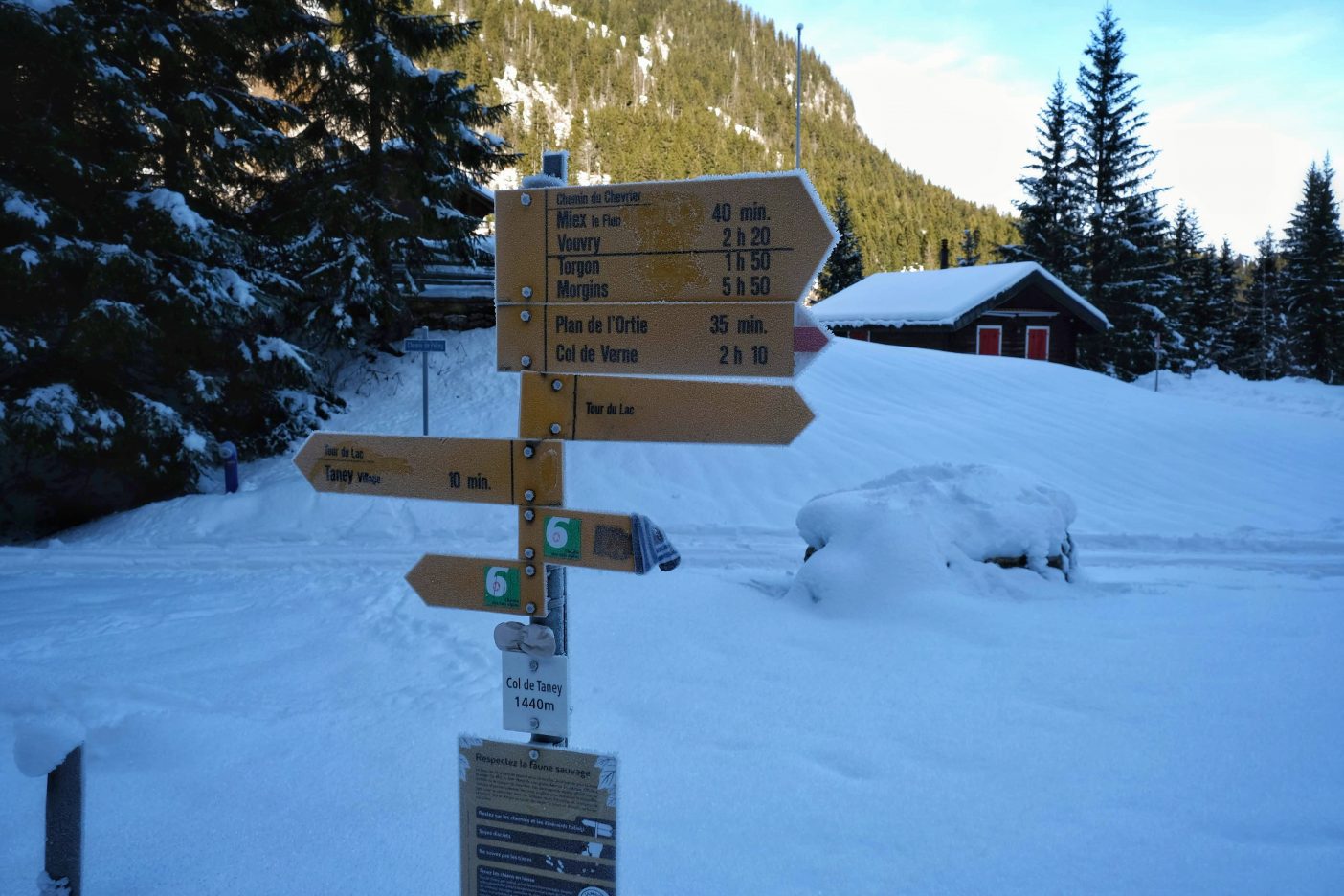 How to get to Lac de Taney
When visiting such extraordinary places of natural beauty considering your impact is crucial. This means that any steps you can take to lower your carbon footprint are paramount, including how you travel to the trail. What may seem like the most convenient option may not be the greenest so consider this when planning your trip. Can you travel on public transport or is lift-sharing an option?
Arriving at Lac de Taney with public transport
Fortunately, Lac de Taney is easily accessible with public transport which isn't always the case as we've discovered whilst hiking in the region. From Vouvry train station, which is reachable with French or Swiss train lines, take the 53030 post office bus and get off at the last stop Miex-Le Flon.
Travelling by car
From Lausanne, exit on highway 16 Villeneuve-Evian and follow directions for Evian. You will then cross Pont du Rhone after which, turn left towards Vouvry, from here follow signs for Miex-Taney to Le Flon car park which is located just after Miex village.
Lac de Taney from Geneva is reachable from Lusanne or by following the D1005 towards Evian-les Bains, then continuing on the D1005 towards Port-Valais. From here continue on to Vouvry and follow the directions as above.
From Martigny, exit on highway 17 Aigle-Vionnaz following directions for Vionnaz, then turning right for Vouvry. From here follow signs for Miex-Taney to the Le Flon car park where the hike starts, just after Miex village.
Car rental near Lac de Taney
If you're staying in the region then you may be considering renting a car for your trip. Europcar is a popular choice and the closest pick-up centre is in Montreux. Got free spaces in your car? Think about lift-sharing!
Travelling by bicycle
If you have thighs of steel (congratulations if so!) then cycling is a great option. The long winding mountain roads have stunning views as you incline over 1,000 meters to reach the Le Flon car park to begin the hike. Just make sure you've tightened your brakes before you descend…
Want more hikes in the Swiss Alps? Check out this list of the best 5 hikes in the region
Accommodation near Lac de Taney
There are several accommodation options in the Vouvry region including refuges next to Lac Taney itself, which are perfectly located if you want to spend some time exploring this stunning valley.
You can find choices in the Vourvy region at Booking.com as well as places on Airbnb (£34 with this code!).
Amenities around Lac Taney
The Lac de Taney restaurant offers a wide menu of traditional Swiss dishes and drinks including mulled wine in the winter months. I will forewarn you there's not much in the way of vegan options so best to bring some snacks if you're a herbivore.
Vouvry is the closest town where you can find the train station, a couple of supermarkets and other amenities.
If you want to try some skiing whislt in the region this list has all the best places to ski in Switzerland
What to take hiking
Depending on what time of year you're hiking you can encounter varying climates when hiking. You can hike to Lac Taney all year round so checking the weather before you go is crucial to ensure you're prepared.
Our Hiking Packing List covers everything you need to hit the trail, whether you're hiking in the summer or winter, so check it out for more info.
Some basics you should definitely pack:
Hiking clothes and gear for summer or winter

If there has been snowfall, snowshoes are advised

Safety equipment and first aid

Food and water (link to vegan hiking food)

Though the hike is well signposted, a form of navigating is always advised
If you're a newbie to the trail then also check out our beginner's guide to hiking that will have you hitting the trail with ease.
Best time to hike Lac Taney
As I've said you can make the climb all year round. This in itself is a treat as a lot of other trails in the region are inaccessible in the winter due to snowy conditions.
Lac de Taney, although beautiful when blooming in the summer is, in our opinion, best hiked during winter. Why you may ask? With a quieter trail and the majority of residents leaving over the winter the tranquillity is truly captivating.
Always remember to check the weather before you hike as though this is a well-trodden path, icy conditions can make the path slippery and heavy snow can affect the running of public transport to the region.
Lac de Taney Hiking Guide, Switzerland
Lac de Taney truly is a staggering pocket of natural beauty, tucked away in the valley of the formidable Grammont. During winter the whole region is a sight to behold, with snow-dusted rugged peaks that tower over the vast expanse of the frozen Lac Taney.
Hopefully, this article answers any question you may have had about the hike but if not drop us a comment below and we'll be happy to answer all we can. Also, don't forget to let us know what you think of the hike. We found Lac Taney to be exceptionally magnificent but would love to know what you think? Until then, happy hiking fellow wanderers!