Make No Bones, Sheffield – A Veggie Vagabond's Review
When we knew we'd be venturing back to Sheffield the first thing we did was see if there were any new vegan spots. Back when we were living in Sheffield four years ago Chesterfield road and Abbeydale road were the hotspots for ethical eaters. Returning back for the first time in nearly half a decade this is still the case but with Make No Bones sitting high on the throne. Pioneering the Sheffield Vegan scene for the last few years, we needed to see if Make No Bones, Sheffield was the rightful wearer of the vegan crown. 
Recommended by friends, the internet and causing a riot on Happy Cow, Make No Bones obviously had an impressive reputation. But we needed convincing. The vegan community are die hard with their support and encouragement of vegan companies, particularly start ups, which is great. Sometimes though, this can make recommendations unreliable. On quite a few occasions we've been told about a 'really great vegan place' which has gained it's reputation purely by being 'the only vegan place'. Sometimes us hungry vegans are so excited about vegan options that we forget whether it's actually good or not. As there's a lot of competition in this area of Sheffield we wanted to see if Make No Bones was the rightful wearer of the crown.
Bright yellow walls and an avocado spray painted outside. Definitely a vegan joint.
Fortunately the cafe was just round the corner from where we were staying, literally a 5 minute walk away.  Our friend was coming with us and at 1 pm we were set to put this beast to the test. Us being always hungry, we arrived early. It's a small place, easy to miss were it not for the bright yellow walls and the avocado spray painted outside. Definitely a vegan joint. Inside and it's nothing much to look at. 6 or 7 old wooden tables tightly packed in, quirky local artwork on the walls, tin cans holding the cutlery and chilled music wafting from the kitchen. Condiments at the ready on the side – Sriracha and Hendo's along with the other usual suspects. Good start.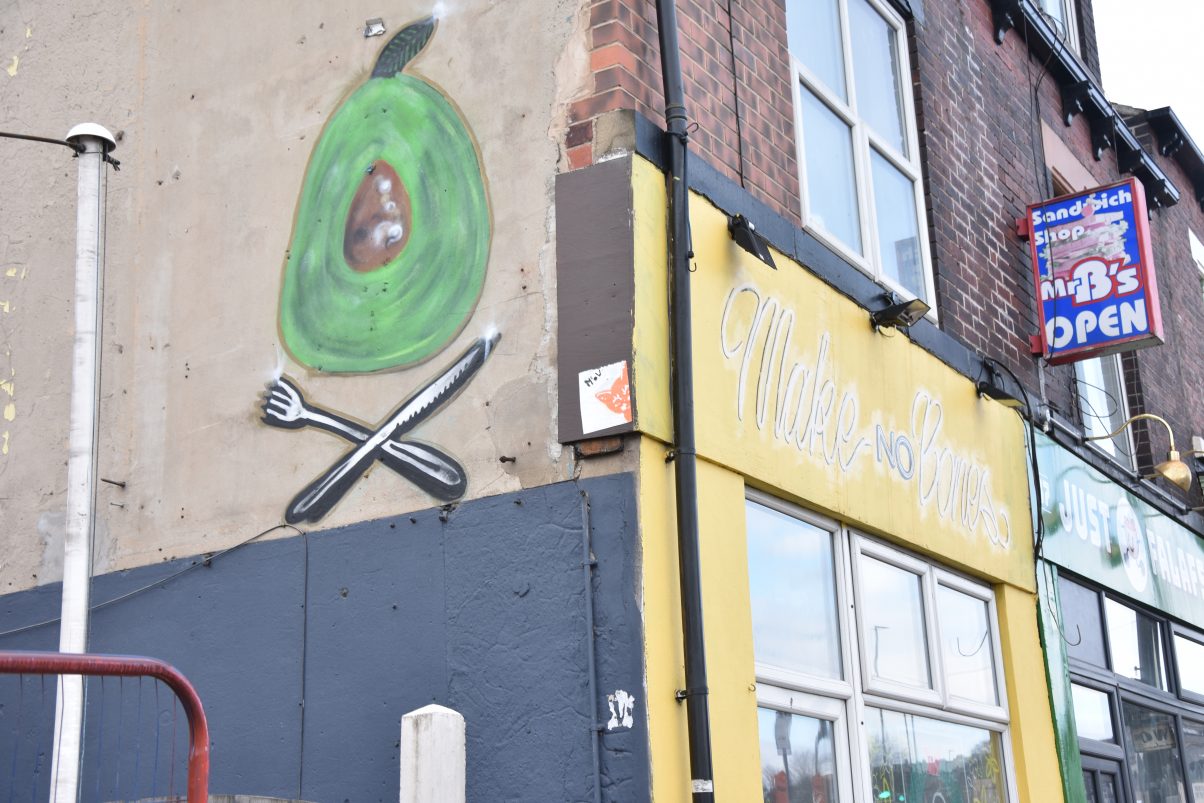 Three of the tables are taken when we get inside. Two old dears having a good natter, whether or not they know it's a vegan place I'm not sure. Two trendy lads and a skinny looking young guy sitting on his own. Quite a diverse mix of people that you wouldn't normally put in a vegan cafe.
Once we'd sat down I realised I didn't actually know what type of food they served. I'd looked online but hadn't seen a menu and our friend who'd recommended Leave No Bones hadn't told us about the food, just said 'go go go'. We picked up the menu and suddenly realised what we were in for.
We love food, like, really love food. Any chance we get to try new vegan grub and we jump at it. Still, we'd never tried anything like what was on offer here. From the first thing on the menu I was sold. I'm not gunna lie, being brought up a veggie, I didn't even really know what Surf 'n' Turf really was but I knew we were getting it.
'BBQ seitan ribs with blue cheese dip and tofu scampi drizzled in tartar dressing, served with crispy french fries and red pepper, corn and broad bean succotash'
Pants wet? Mine were. It was the first time in a long time that I'd happily order everything from the menu, everything looked insane! Sarah and I are a culinary force to be reckoned with but I knew that we couldn't order everything (purely for financial reasons, our trousers would definitely stretch). Starters over desserts kind of people, we crossed off the the sweet stuff. The Surf 'n' Turf was a given, there was no way I was going to miss out of BBQ ribs. The cheese and veg pie was nearly an option but then I saw the Philly Cheesesteak Sub brought out to another table. HOLY SHIT. We had to eat one of those. So we agreed on the Surf 'n Turf, a Philly Cheesesteak, the Avocado Wings and the Poutine. Our hungry vegan minds had concluded this would be a good spread of food we'd never tried before.
Order placed. Condiments at the ready. Boom, five minutes later and the food is brought to our table starters first. You could see the waitress had a smile on her face as she brought it over. She knows this shit is good.
The poutine, from first inspection didn't look like much. A quick glance and it just looked like a portion of fries. But we gave it a mix and realised the fries were lying in a sea of mushroom gravy, filled with almond cheese and seitan bacon. Once it was mixed in with the sauce it was incredible (with some sriracha sauce for good measure). The seitan bacon was salty and smokey, without  the nasty tough texture a lot of vegan bacon has so it went perfectly with the mushroom sauce.
Beautifully crispy fried on the outside with the avocado fresh and fine on the inside.
From the food on the menu, I didn't think presentation was going to be a priority but the Avacado Wings looked preeeeetty smart. And, they were frickin delicious. Some of the cooked avocado we've had before has been a bit mushy and lost it's taste but this wasn't the case at Make No Bones. The batter was beautifully crispy fried on the outside with the avocado fresh and fine on the inside. The ranch dressing was great and the chilli sauce gave the perfect spice to bring the flavours out.
Then the mains came out!
As Sarah eats gluten free we'd agree that I'd do most of the damage to the Philly Cheesesteak and she'd go to town on the Surf 'n' Turf. Visually, I thought she'd definitely picked the winner. The surf n turf looked amazing, like nothing you expect to see on a vegan plate. The Cheesesteak looked like… a big sloppy Cheesesteak. My first impression was 'I picked the short straw' but then I tried to pick it up. The photos definitely don't do it justice because this sub was heavy. Then I took a bite and remembered that you shouldn't judge a book by it's cover.
Biting through the warm sub and there's an explosion of taste. The cheese sauce was rich and overflowing from the sides and the seitan beef was packed in til there was no more room. The sauce had a beautifully thick creaminess that's hard to create in vegan cooking, the seitan was crispy and full of flavour but moistened by the sea of cheese sauce. The peppers, onions and mushrooms had a smokey charred taste and added with the sweetness of the gherkins.
It all worked together to make this sub taste like fucking naughty heaven.
I loved how generous the fillings were. It definitely wasn't like the usual stingy portions we've all become accustomed to. It seemed like it had been made by someone who's spent all day getting high and has had a vegan brainwave. VEGAN PHILLY CHEESESTEAK SUB! Has then gone to the shop and spent all their pocket money on the best ingredients to make one mammoth meal. It didn't seem like it was made to make money, it was made to impress and fulfil. at £6 the amount of fillings crammed in to that beautiful white roll was hella impressive. It was definitely a task loading it into your mouth. That's an understatement, It was messy as fuck, but we went to town. We're all good friends, so we literally ended up with cheese sauce up to the elbows and bits of gherkin hanging off the eyebrows.
I didn't get to try much so I knew the Surf 'n' Turf was good – Sarah didn't want to share
I did manage to steal a few mouthfuls from her and I was so glad that I did. The ribs were like nothing I'd ever tried before. The sauce was think, sweet and sticky with an amazing smoked flavour, lashed on generously. Of course. The ribs were chewy and juicy with every bite with apparently a very realistic meat texture.
The ribs matched perfectly with the blue cheese dip. I swear you could give the dip to a cheese lover and they wouldn't know it's vegan. Dunking the ribs in the blue cheese sauce took everything to the next level and I was genuinely trying to distract Sarah to slip a few more mouthfuls from her plate.
I'm yet to find a vegan fish substitute that I like. Somehow they just don't tick all the boxes for me. The tofu scampi was good, had all the right textures but for me the taste wasn't there. I think with a whole table of mind-blowing flavours it would be hard for anything to keep up with the rest of the crowd. I was so busy trying to work out the best way of tackling the sub and trying to steal Sarah's ribs I didn't even notice. 
I've been around vegan health food for far too long
Food finally finished, it was one of those meals where you wish you had a bigger belly and wallet to order more. I realised that, man, I've been around vegan health food for far too long. This is where it's at. We spent about 2 hours in Make No Bones and you could see that the customers were not your average vegan crowd. The diverse food is opening up ethical eating to everyone, vegan or not. It's amazing and it's just what we need to get more people moving towards a plant based diet. Make No Bones are shattering the misconception that vegans just eat salads and quinoa. Fuck that bring me the ribs!
We loved every bit of the meal and are trying to arrange our hiking trip in The Peak District so we can stop by for another Philly Sub on the way back home. To top it off, we asked if we could take a picture of them in action in the kitchen to which they politely declined. Killer chefs and modest. Perfect.
Make No Bones, Sheffield – A Veggie Vagabond's Review
Do you know any killer vegan spots we should check out? Tell us in the comments box!
Share me!
Get our latest articles, adventures and insider news by signing up below - you'll also receive our Ethical Adventure Planning Guide!