Looking for a pair of men's vegan shoes that you can use for hiking or the outdoors? We've found the perfect pair!
---
If you're anything like me, searching for and buying new shoes can be hard work. When you start searching for a pair of vegan shoes for men, that are hardwearing, good quality and suitable for the outdoors, it becomes even harder.
That's why it's a huge bonus when you find items which are versatile and can be used for a bunch of different things. Why have 4 pairs of shoes when you could have one? It'll save you money, time and it's also much more environmentally friendly. If you're reading this and nodding along, I think you'll love the pair we found!
Finding vegan shoes…
With the rising demand from us vegan adventurers, it's becoming increasingly easy to find synthetic shoes that are free from leather. This is obviously great news, but, unfortunately, often it ain't that simple. Whilst many companies are creating leather-free shoes they still might not be 100% vegan-friendly, due to animal-based products in things like glue or smaller materials.
Whittling it down even more, once you have managed to find a pair that are 100% vegan, the amount which are good quality and can cope in the outdoors means you normally end up with slim pickings. The shoe manufacturers know this, so, when you do find a shoe which ticks all the boxes the price tends to skyrocket. Nightmare.
Fortunately, we've found a pair of men's vegan shoes which ticks all the boxes AND come at a good price!
They quickly became my everyday favourite: comfortable to wear for long periods and to work but also do the job when you want to get active outside.
I've used them hiking, cycling, for climbing approaches, dog walks and park strolls, in hot, cold, wet and snowy weather… basically they haven't been taken off. The end result is… a crazily versatile pair of vegan shoes you'll love having on your feet. We've spoken to many others who are also looking for a pair of affordable shoes that are adventure-ready, so I thought you'd be keen to know.
Introducing the Chameleon Wrap Slam Vegan Shoes by Merrell!
This article contains affiliate links. This means if you make purchases through these links we may earn a small commission. This is never of any extra cost to you but goes towards supporting Veggie Vagabonds grow – thank you!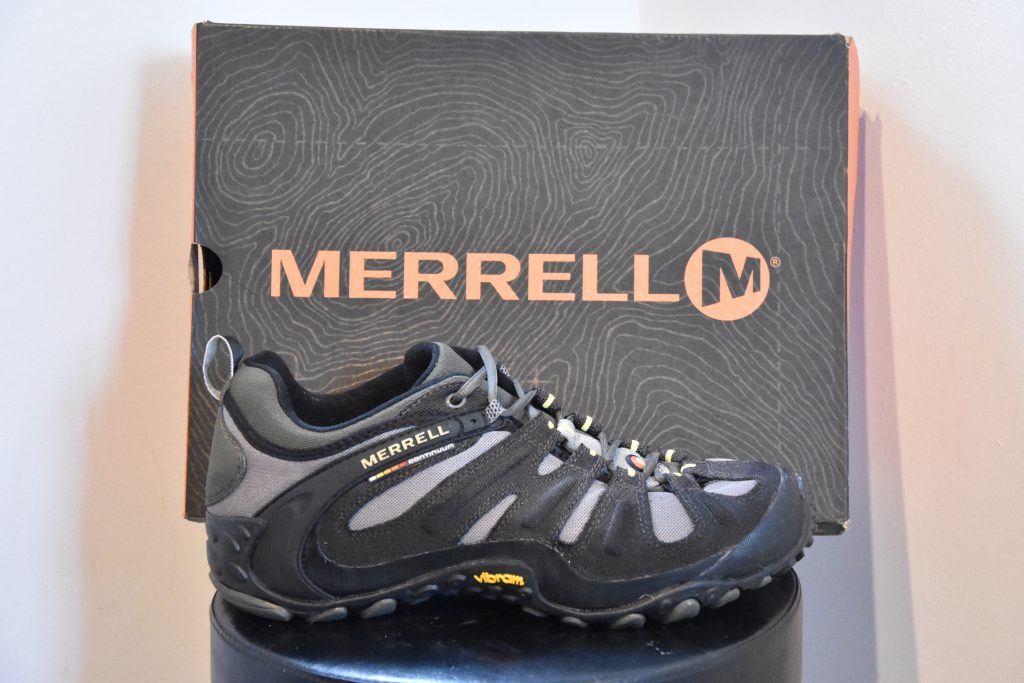 Lightweight comfort
Most importantly, the low ankle hiking shoes are incredibly comfortable with a nice cushioned heel and lacing which hugs your feet. You can spend a long, hard day with them on and they're a pleasure to wear. There's also an elasticated band from the sole to the tongue on the inside which keeps your feet snug even if your laces loosen.
At 482g you don't feel weighed down like you might with vegan boots and this really helps keep a spring in your step throughout the day. They also have good breathability, so, when you do get outdoors and work up a sweat, your feet stay nice and cool which also stops them smelling.
Sturdy protection and a reliable brand
Considering the light build there's a good amount of protection, ankle support and toe cushioning for knocks and bashes. This sturdy build means you feel secure and make for a hard-wearing, long-lasting shoe that is more than capable for adventures outside.
The Vibram rubber outer sole helps this with awesome grip on all surfaces, from mossy rock faces to dusty trails. The shoe doesn't have any faux-leather and instead uses breathable synthetic materials that are fast drying and air out quickly after a wet walk.
Another thing that sticks out is the brand.
I've owned lots of great Merrell products in the past, they have a good reputation and are always reliable. I like that they often have sustainability in mind and produce many pairs of eco vegan shoes. On top of this, they're also recommended by PETA which is a big brownie point!
Personally, I like buying gear from a company I've used before so I know what to expect. As soon as I saw Merrell had a low ankle hiking shoe made from completely vegan materials I knew I had to give em a try.
Looking for more vegan clothes for the outdoors? Check out our Gear & Reviews section
Good for changeable conditions
Having worn these shoes in hot summer temperatures and snowy conditions, it's impressive how adaptable they are.
There's a good amount of insulation around the shoe and the soles are thick enough to keep you warm in even freezing climates. For a low ankle shoe, this was particularly impressive, and for warmer temperatures, the breathability means your feet still don't get too hot or clammy. Altogether it again makes them a seriously practical choice for men's shoes.
A great vegan shoe option for the casual adventurer
For me, probably the biggest selling point for these Merrell shoes is how versatile they are. The low ankle, style and colour options (from bright colours to black and grey) make them a comfortable choice for work or around town. They're light enough to wear all day and not feel weighed down.
Then, if you fancy an outdoor adventure, you can go for it! They offer far more support and protection than a pair of vegan trainers would, making them perfect for hiking long routes up mountain tracks or just casual countryside strolls from pub to pub. They'd be great dog walking companions or awesome all-around vegan travel shoes for active holidays.
If you're after a pair of vegan-friendly trail running shoes, we know just the thing!
Is there anything bad about them?
Low ankle shoes are not ideal for seriously cold conditions. For this, I would definitely opt for vegan hiking boots with more insulation. Also because of the rigid outer sole, they're not great for cycling in wet weather as your feet can slip on the peddles. They're absolutely fine for work commutes or for shorter cycle trips but I wouldn't use them for cycle tours unless you have toe clips.
I have normal width feet and they're an ideal fit but I do think the length comes up fractionally smaller than other shoes. Consider buying a half size bigger especially if you are planning on outdoor use where comfort is crucial.
On to a crucial point: the cost
As I mentioned before, the cost can quite often be steep for men's vegan shoes, but this isn't the case. I bought mine for £55 which is I think is great value for such a versatile shoe. Because of the high-quality materials, even if you give the shoes a battering they'll last a long time.
Currently, you can find them at Amazon for £60, which is a steal!
You'll also find a large selection of Merrell women's shoes and other women's shoes for hiking.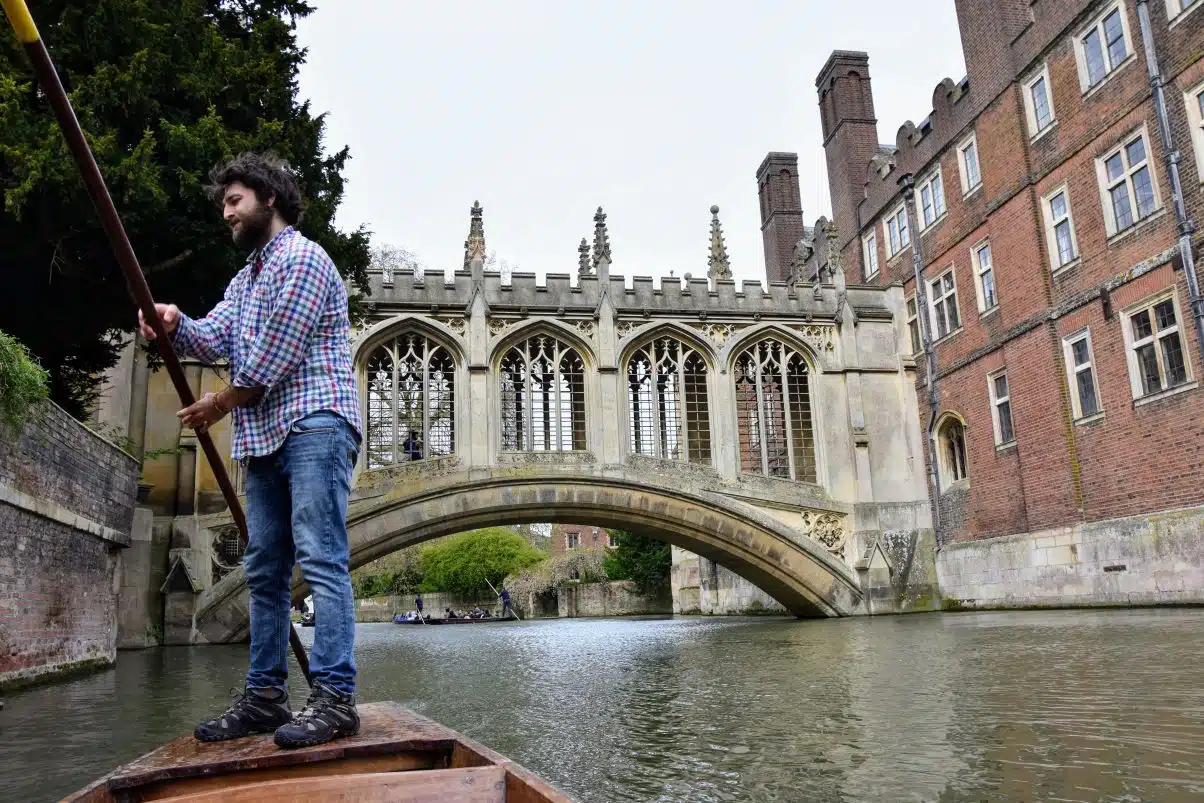 Do you need a vegan shoe?
Personally, I think if you care about animal welfare then wearing animal products is no different to eating them. Enough light has been shed on the leather industry to know that their practices are extremely cruel, inhumane and very bad for the environment. Now that we know about the animal products in glue I think it's important to make a stand and find alternatives.
Years ago, finding vegan shoes men would love was a) very difficult and b) very expensive. Times have changed and now you can have affordable quality and comfort but without the cruelty. We can all encourage the clothing industry to move towards ethical products by supporting the ethical products they already have.
If you're looking for a casual pair of vegan hiking shoes that can be kept on for a bunch of other purposes then these tick all the boxes and do exactly what they say on the tin. They're very versatile and whilst it is perfect for your adventures outdoors it's also great for indoor comfort and at work!
Fancy a pair of vegan hiking boots instead? Check out our guide
Men's Vegan Shoes Perfect for the Casual Outdoorsman
Have you tried these shoes out? Or, do you know any other great vegan shoe options for men? Tell us what you think in the comments below 🙂
Keep exploring…
Why YOU Should Be Vegan Already
Things at Home You Thought Were Vegan but Aren't