When outdoor adventures are on hold there are other ways to get your outdoors fix and look after your mental well-being
---
For many in the outdoors community, the natural world is a place to find solace and positive well-being. It's often a sanctuary of calm and clarity, especially for those who struggle with their mental well-being.
Mental health affects 1 in 4 of us in the UK. If it's not something that you've personally experienced then it's likely someone close to you has. Then why is there not more conversation around mental well-being? The subject is largely taboo, with some sections of society taking the "pull your socks up" approach. However, this is shifting with organisations, groups and individuals taking the subject of mental health into the open, the outdoors community is one of them.
The connection between nature and psychology is powerful; it can be a crucial lifeline through difficult times. With organisations such as Mind and Mountains for the Mind shedding light on the psychological benefits of being in nature, there's an increasing amount of people finding well-being in the outdoors.
For J and myself, this connection with the natural world has grown over many years to the point where getting our 'outdoor fix' is now damn crucial. Between us, we have personal and professional experiences with mental health and seriously recognize the importance of prioritizing it. That's part of the reason we're so darn passionate about encouraging others to make the most of their natural surroundings – we know first hand what an overwhelmingly positive impact nature can have on the stuff going on in your head.
Read about J's own personal experience with mental health and how the outdoors has been a place of positivity through darker time
How does being outside improve mental health?
Improved mood and happiness

Improved quality of sleep with fewer disturbances

Higher energy levels

Reduced feelings of stress and anger

Improved confidence and self-esteem

Higher levels of productivity when working

Improved physical health

Chance to form new relationships and establish peer support
There are plenty more benefits of spending time in nature to be found here.
Spending time outside can reduce your risk of depression by 30% – Mind
But what about when getting outside isn't an option?
Unfortunately, be it from weather, injury, logistical obstacles or a Coronavirus pandemic, there will be times in life when accessing nature's medicine isn't an option. We experienced this frustration during winter in the French Alps, when trails were inaccessible and public transport was pants. We also grew up in one of the flattest parts of the UK: not great if you're in need of a mountain. And, now we're all united by Covid-19 lockdown. Whatever the reason, not being able to get your release outside can really add to a clouded mind.
When stuff like this happens and the outdoors becomes inaccessible, this is often when we truly realise the staggering benefit it has on your psyche. This is why it's crucial to recognise there are other ways to get your adventure fix. Fixating on the things you can't do will only cloud your mind further. Instead, get creative ways you can bring the great outdoors to you.
10 alternative ways to find mental well-being
It's unlikely you can climb a mountain in your back garden but there are still tons of ways to bring the wonders of the natural world home. Employ your imagination and have an open mind, you can still use this time productively and open up a whole world of possibilities.
1. Most importantly, make your mental health a priority
When your normal routine is thrown off it can be easy to slip into bad habits: bad sleeping routine, binge-watching TV all day, major boozing etc. Although there's no harm in this once in a while, if you know your mental well-being can struggle – you need to make it a priority.
If a routine is important to keeping your mind clear, then adapt to make sure you're doing what's right for you. Falling into a negative cycle will only perpetuate a clouded mind, so stay in tune with what's going on upstairs to look after yourself during uncertain times.
2. Use this time as preparation for future adventures by honing in on a new skill, fixing up your outdoor gear or planning your next adventure
We've compiled this list of 20 home and indoor activities for outdoors lovers that are completely perfect for whilst the mountains are closed. These activities should help scratch that itch until getting back out there is an option again.
3. Keep up your fitness
Even if the outdoors isn't a possibility, you can still stay physically prepared for when it is again. Besides keeping you in shape, regular exercise is proven to:
Improved mood

Lower levels of stress

Improve levels of self-esteem

Boost cognitive ability, especially in older people

Reduced risk of depression and anxiety
Physical exercise helps you release endorphins and serotonin, some of the chemicals that make you feel happy and uplifted. Although multi-day hikes might be out of the question, a gentle walk or something to get you sweaty in your living room will do the trick to keep those happy juices flowing.
4. Go for healthy eating
We often see food and nutrition as a way to keep physically fit, but it can have a big impact mentally too. Eating buckets of kale all day every day might be unrealistic, but a healthy, balanced diet is just as important for your mental health as it is staying fit and strong
5. Top it off with a solid sleeping pattern
When your usual routine is thrown off-course it can be easy to slip into a poor sleep routine. A good night's kip is actually damn important for a clear head, especially in winter when daylight hours are limited. Keep on top of your sleeping pattern and aim to get at least 7 hours a night.
6. Take the time to connect with yourself
The chance to unwind and catch-up with yourself is never a bad thing. Once you do take this time for yourself you might realise how much you truly needed it. Constant adventuring sounds amazing, but, in reality, we all need to stop and take heed of how we're doing mentally and physically from time to time. This gives your mind time to unwind and your body a chance to recuperate, ready for the next challenge.
7. Try mindfulness, meditation and yoga
You might not think it's for you, but all of these things can be done for free, independently and at home with apps and videos. Practising grounding and breathing techniques as part of a daily routine can really help to keep a clear mindset and positivity.
A simple 5-minute breathing exercise in the morning can be an uplifting start to your day and doesn't require more than a place to sit. We use the insight timer app for meditating as it's free and has a huge variety of meditations to choose from.
8. Take advantage of the nature you have available
Cycling across counties and continents may be off-limits but there may be other ways to embrace the natural world. Make use of your back garden or balcony and get some vitamin D on your skin. Just 30 minutes spent outside or in sunlight has far-reaching effects on your mental well-being.
We've been garden camping and sleeping in hammocks, it's not a cycle tour but it gives a mini adventure-fix until we can get out properly!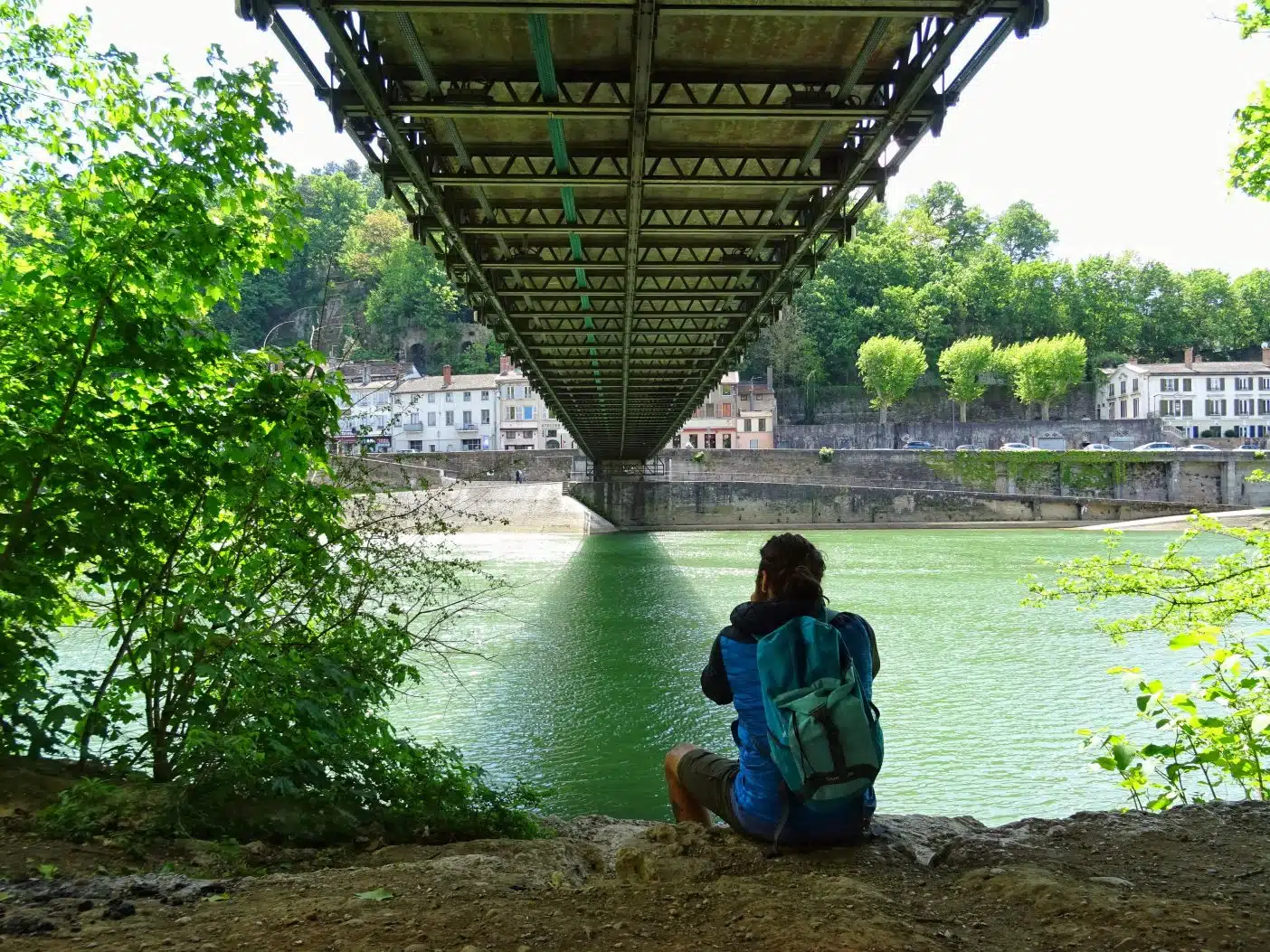 9. Get inspiration from others with the power of modern technology.
Teleportation ain't a valid option just yet but you can still find a world of uplifting content online from other adventurers and their exploits. From expedition novels and documentaries to podcasts and films, there are thousands of tales from people who have done some damn incredible stuff. Heck, our latest England to India cycling challenge is inspired by the courage and determination of Dervla Murphy cycling from Ireland to India in the 1960s.
10. Reach out to other adventurers, they may be in the same boat as you
Human connection is one of the most powerful tools for happiness, and so connecting or reconnecting with loved ones can have a profoundly positive impact. Share tales of past trips and get adventure ideas and inspiration from each other for future journeys. You'd be surprised the power a phone call can have!
Finding Mental Well-Being When the Mountains Are Closed
For so many of us, the outdoors is a priceless source of positivity through dark times. Still, there will always be points in life when you have to pack away your tent and switch the hiking boots for slippers. This is when we have to adapt and find well-being in outdoor-inspired activities, somewhere closer to home or even indoors.
Just like in the mountains, life is about reacting to circumstances and your current environment; although it's shite when the outdoors is off-limits, learning happiness from alternatives is crucial.
Don't spend this time counting down the days until you can get back out there – this will only cloud your mind further – instead, embrace this time indoors and prioritise your well-being. The mountains will always be there but your ability to make the most of them depends on you finding positive headspace. Focus on how you can use this time to your advantage, upping your skillset, perfecting your next trip, or even just binge-reading some great adventure tales. Then, when adventure is back on the menu, you'll be raring to go.
Keep exploring…