Is the Merrell MTL Long Sky the race-day shoe every trail athlete needs?
---
To say I was thrilled to test out the Merrell women's MTL Long Sky running shoes would be an understatement. Designed with Anna Frost, ultrarunning pro athlete, these shoes seemed like the ideal adventure-enabler.
Their awesome grip and breathable upper made them a perfect weapon for muddy trail runs in the Yorkshire Dales, and our favourite bit? Merrell is one of the few brands to label their products as vegan-friendly!
Eager to try out these bad boys, I've found every opportunity to get outside over the last few months and put them to the test.
Keep reading this Merrell trail running shoes review to find out:
This article may contain affiliate links, they will never cost you more money but helps Veggie Vagabonds keep making content like this – thank you!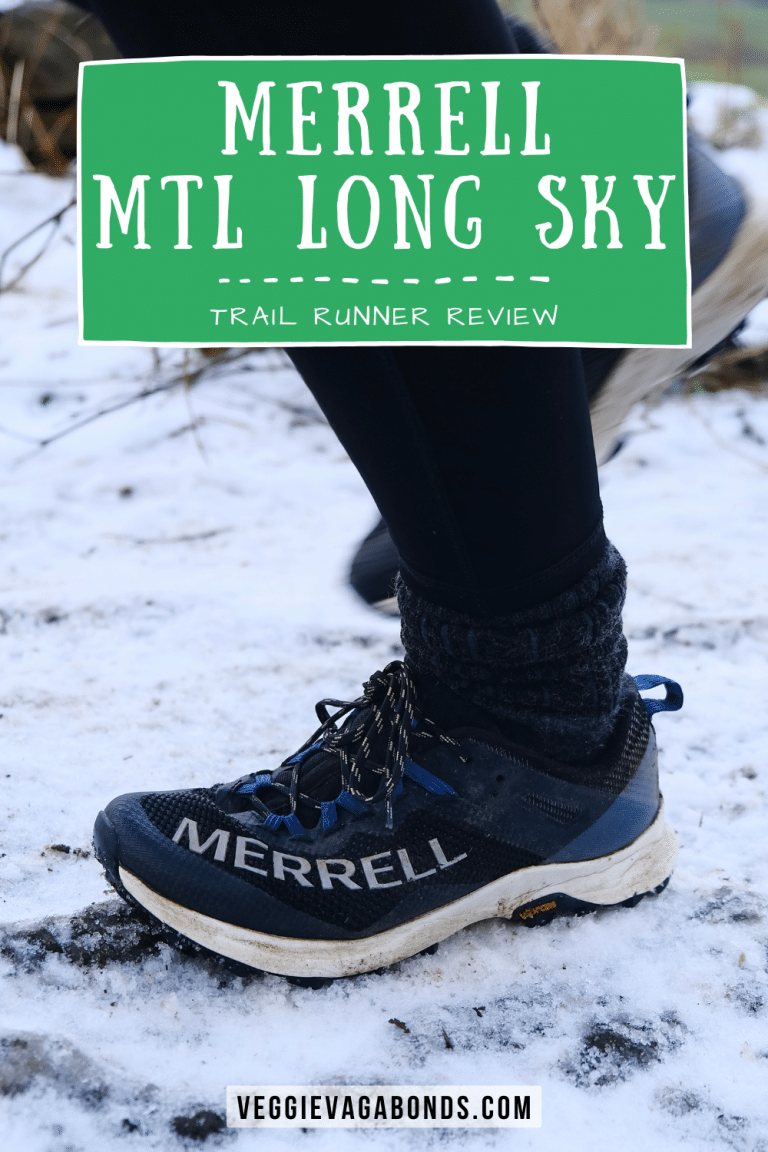 1. The Merrell MTL Long Sky Women's in a nutshell
Intended use – A race-day shoe for ultra-marathon distances on rugged terrain
Weight – 460g (pair)
Width – Sold as regular with a wide fitting toe box, arch support and heel cup (keep reading for more info)
Drop – 8mm
Lug depth – 5mm
Midsole – EVA foam midsole
Midsole stack height (toe/heel) – 27.5mm / 19.5mm
Sole – Vibram® Megagrip
2. What does it say on the box?
The Merrell MTL Long Sky women's are labelled as a light-weight race-day shoe with a formidable Vibram® Megagrip sole.
Cushioned midsoles make these trail runners a dream for longer distances on rugged mountain terrain but also suitable for shorter stints too. The internal bootie, thin tongue and mesh lining offer breathability, making them versatile between seasons.
On the sole, the 5mm lugs give sweet traction on slippery mud and wet rock, ideal for hilly trail runs through winter in Yorkshire.
Anna Frost helped create Merrell performance shoes with superior underfoot grip, a protective upper and enough sensitivity to still feel the trail. A balance that is hard to perfect!
For more ethical adventure action, we think you'll love our newsletter!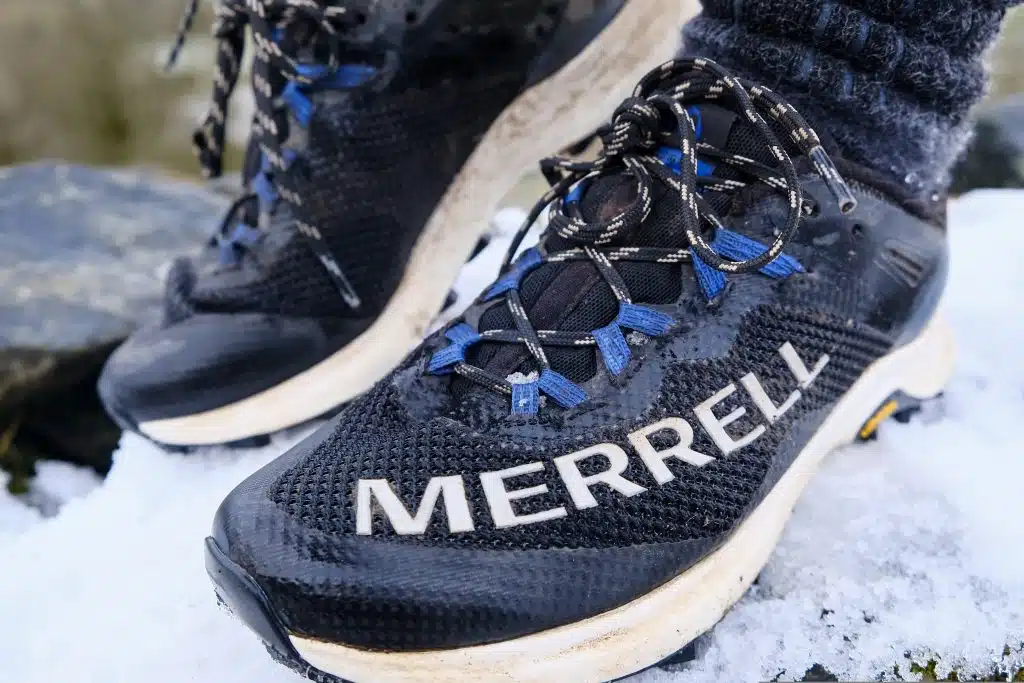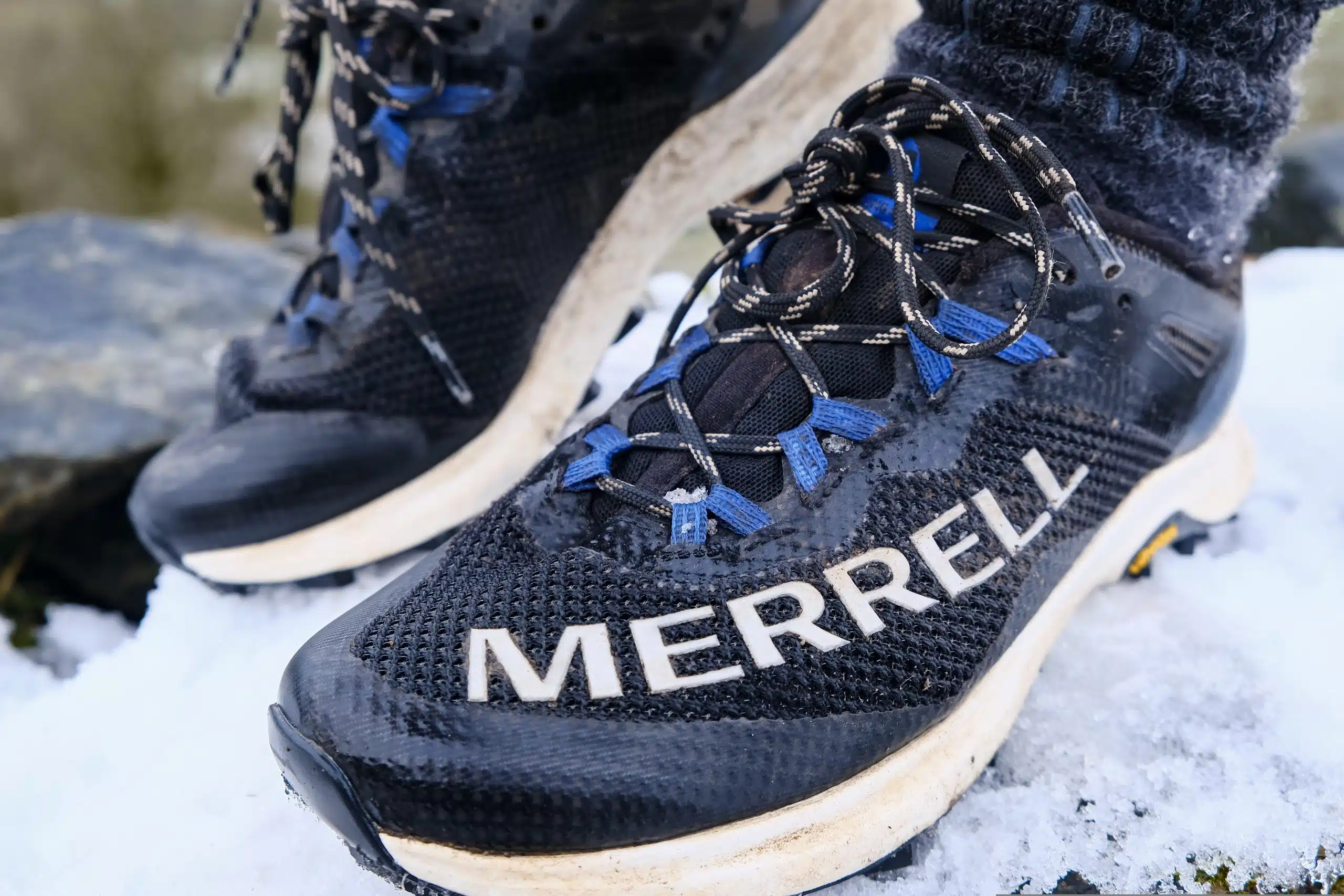 3. How I tested these Merrell trail runners
These guys have been used predominantly in the Yorkshire Dales, from early autumn through to the depths of winter.
If you're not familiar with North Yorkshire in the winter, allow me to acquaint you: it's almost exclusively a combination of wet, muddy and cold, with occasional snow and ice. Sometimes it's an amalgam of it all which can make for a precarious run…
Most runs have been from road to trail, covering tarmac, rock, bog, tree roots, grass and plenty of mud. These running shoes have done the rounds!
I'm of average build, with an average stride and slightly narrow size 5 (UK) feet. I have the women's size 5 trail running shoes and run up to around half-marathon distances.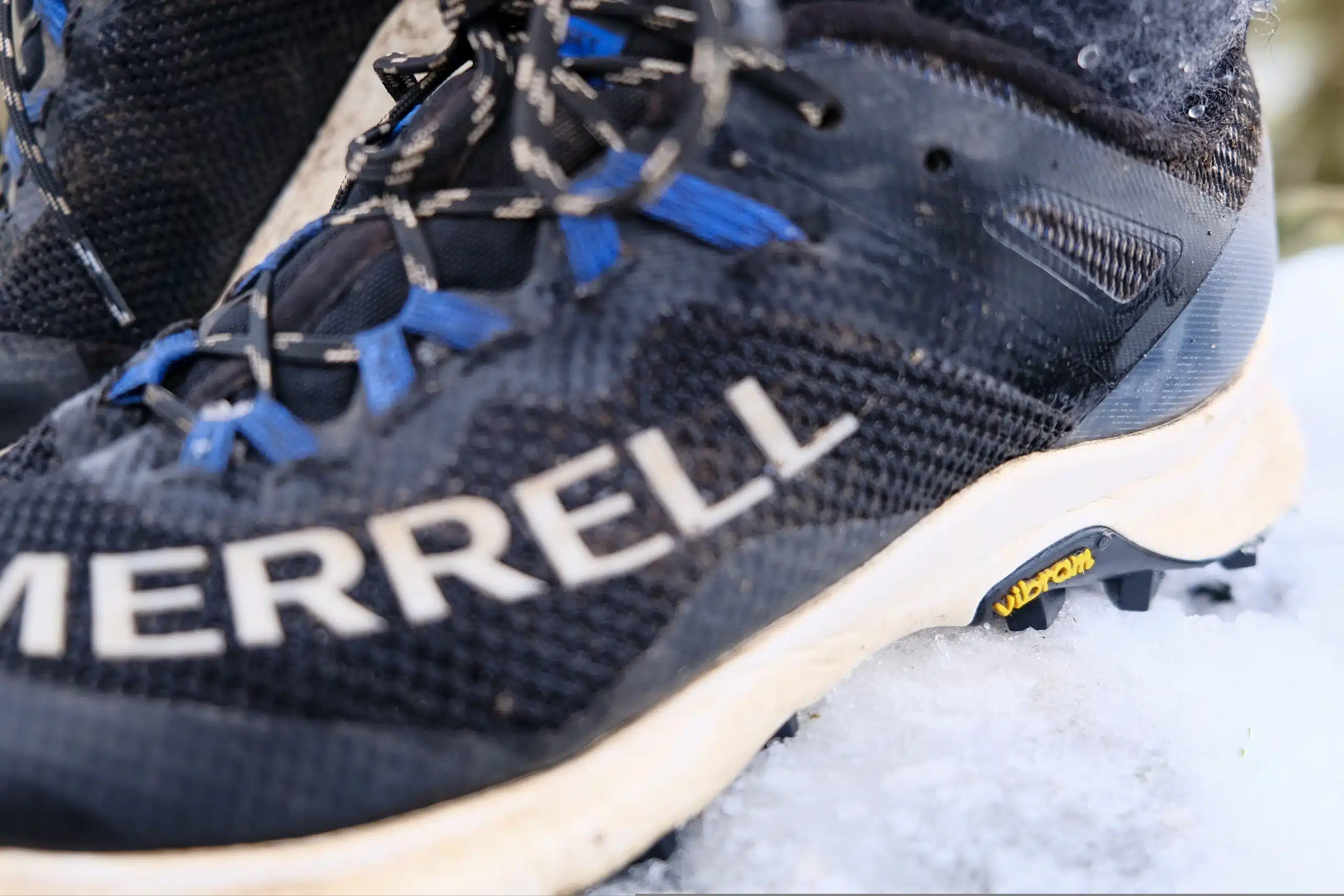 4. Field results
4.1 Outsole and grip 5/5
By a country mile, the most impressive part of the shoe is its outstanding grip. From the first run, I could really feel the traction on these bad boys over muddy patches that usually required more caution.
The 5mm lugs and sturdy Vibram® rubber sole cling on to slippery rocks and treacherous muddy hills like nobodies business. I've not fallen over (yet) despite many fast-paced descents.
The Merrell MTL's also shed mud well, so you can blaze right through that bog without the fear of any lingering muck to throw off your stride.
4.2 Midsole and comfort 4/5
With all the protection on these shoes, the level of comfort is brilliant. The EVA foam midsole has a medial post (a firmer bit in the middle of the midsole) which cushions your feet, even over rough terrain.
The stack height (material between your foot and the ground) is 27.5 mm at the heel and 19.5mm at the toe, giving your whole sole a good level of protection.
I found this very supportive, especially when tested over long distances on sharp and rocky trails. There are no underfoot obscurities and my feet didn't ache at the end of runs.
That being said, there is still enough sensitivity to feel the trail. If you're a fan of more natural feeling or barefoot shoes, you might find these more cushioned and protected in comparison.
The 8mm drop in the Merrell MTL's is average for a running shoe so you shouldn't feel the transition that much when switching, if at all.
What's more, I love how light this shoe is, it almost makes you feel like you're bounding over clouds!
4.3 Upper and fit 4/5
The upper of the Long Sky is pretty rugged, with a mesh internal bootie for easy draining.
I'm not shy of a good puddle and it's no problem with these shoes as they've drained in a few 100 yards. A good thing, when running in near zero degrees Celcius.
These are relatively high volume shoes with a wide toe box. I have fairly narrow feet and they were on the wider side for me. Once the laces are done up tightly, they have a secure fit and I've found them to be highly comfortable despite my narrow feet.
On the first runs, I did actually experience some rubbing on my right heel which resulted in a blister. This might be due to them being tough new trail running shoes and my narrow feet. Either way, there was some rubbing but after that initial run, I haven't experienced it again.
I also liked the tongue, which is thin and breathable but gives enough protection from the laces. I did find the elasticated laces loosened over longer distances and needed them tighter than normal to be consistent through the whole run.
Other pros are the arch support and the tight-fitting heel cup. They give enough support and flexibility to comfortably move over varied terrain and as a natural ankle roller, the Merrell MTL Long Sky has given me confidence over pretty sketchy conditions.
4.5 Extras
Looks 3.5/5 – A classic shoe that comes in a range of colours, from vibrant green and orange or the more subtle black and blue like I have. All models are designed with reflective details for increased visibility in low light.
Weight 5/5 – At 460g there aren't many shoes out there that are lighter. For the level of protection offered in these mighty shoes, that's an impressive weight.

Seasons

4/5 – These shoes offer breathability but I'm yet to test them in hot conditions. I found they can slip a bit running on snow but they're not a winter shoe. Merrell has a range of winter trail shoes if that's more of what you're looking for.
Durability 3/5 – The sole, midsole and upppers all have very impressive durability considering their usage. The heel, however, has become quite worn and needs tougher protection.
4.6 Vegan and green 4.5/5
Unlike many outdoor companies, Merrell is one of the few brands who label their products as 100% vegan. This is great and gives you ease when buying.
Merrell is also taking steps towards sustainability, using recycled materials and trying to cut down on waste through the production process.
4.7 Price
As far as trail running shoes go, the Long Skies are averagely priced and in line with competitors (awesome given the number of high spec features they offer).
Looking for a bit of running inspiration? Check out our interview with vegan ultrarunner Fiona Oakes, the fastest woman to run a marathon on all 7 continents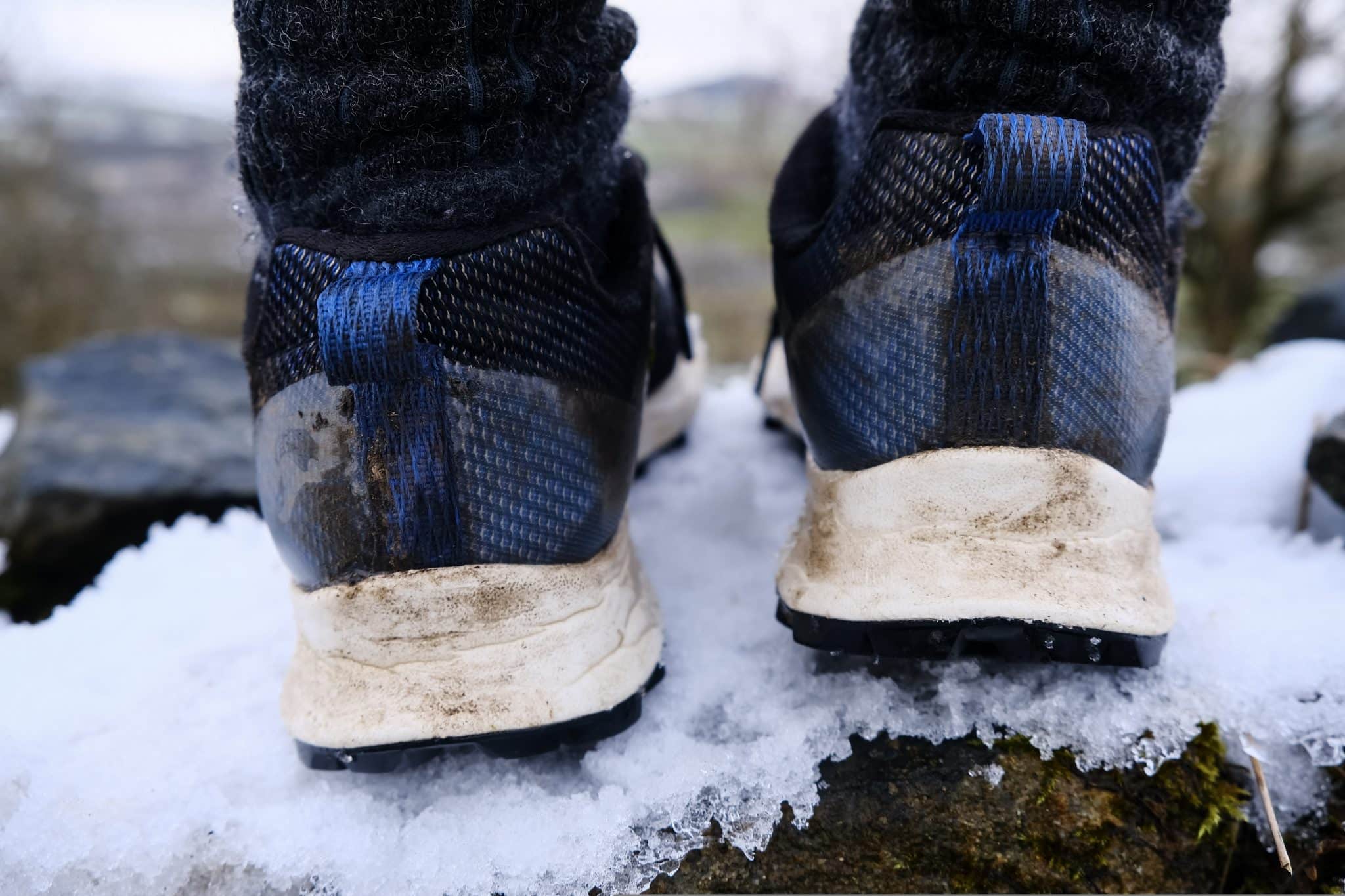 5. The verdict 4.4/5
A superlight, stable and comfortable shoe, for road-to-trail runs over long distances on varying terrain. The protection and cushioning are beautiful, giving me the confidence to really put my foot down over gnarly conditions. Besides the worn heel, it's difficult to fault.
Pros
Stable and protected with flexibility throughout the body
Super lightweight
Amazing traction and grip
Breathable
Cons
Not ideal for narrow feet
Laces can come loose
Initial rubbing
Heel wear over time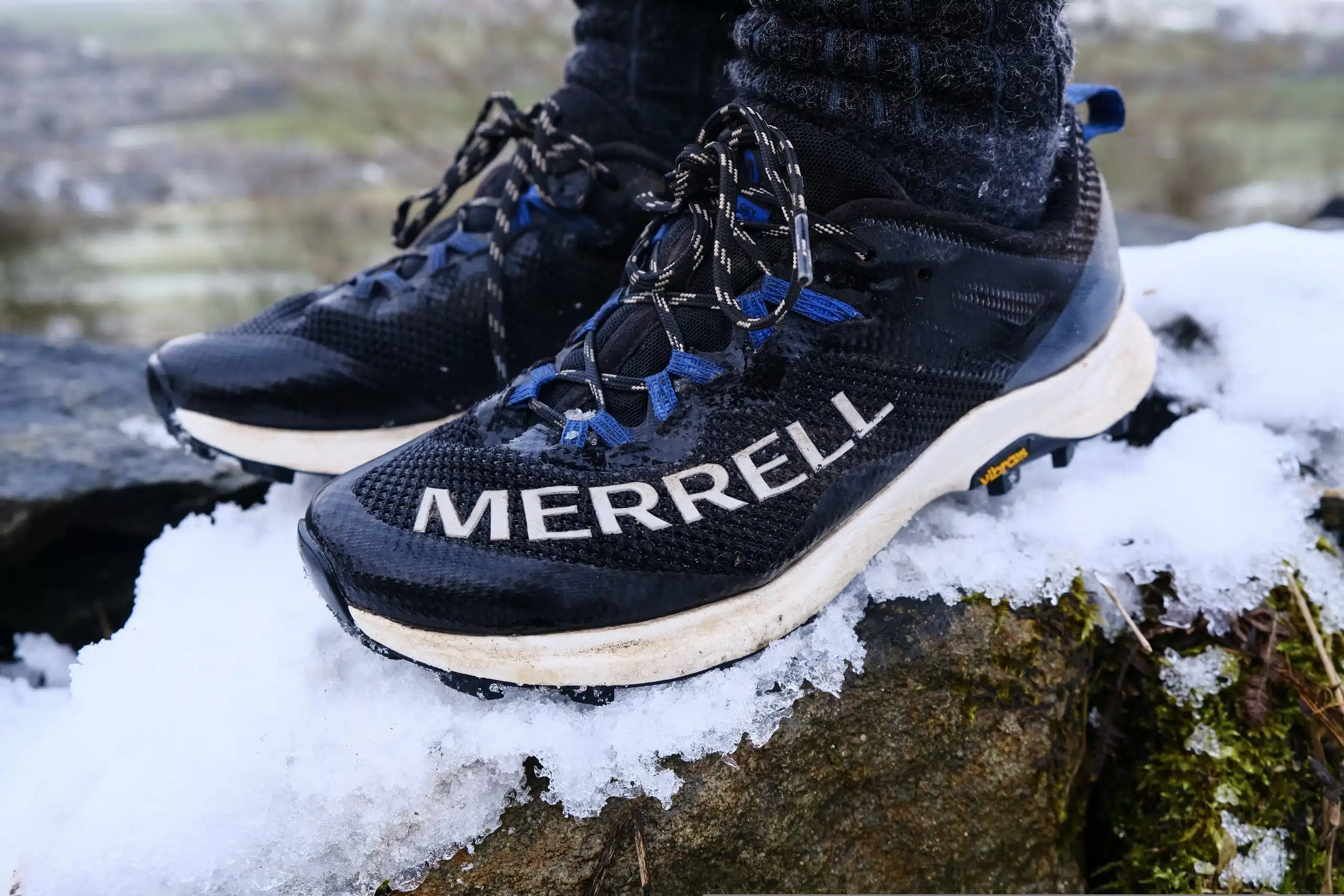 6. Where to buy the Merrell MTL Long Sky
You can buy Merrell shoes in the UK, Europe and throughout the US. You can get them in men's and women's and they come in a range of neutral to eye-catching colours.
Click on the links below to compare prices and designs.
7. FAQ's for Merrell MTL's
Do Merrells run big?
Length-wise, the Merrell MTL Long Sky are true to size but I found them to run wide.
Is Merrell MTL Long Sky waterproof?
No, they have a mesh inner and outer upper which drains water well.
Can you get Merrell MTL Long Sky for men and women?
Yes, Merrell offers both men's and women's running shoes.
Is Merrell Long Sky a winter shoe?
I've tested it through winter and found it to perform well on a range of surfaces, able to hold its own.
Are Merrell MTL's vegan?
Yes, they're vegan-friendly and all of Merrell's vegan products are clearly labelled on their website.
Merrell MTL Long Sky Trail Runner Review