There are plenty more mountaineering movies than just Touching the Void and Meru… these are some of our favourites that you might not have seen!
---
Online you'll find plenty of lists recommending mountain movies. This one is going to be a little different. If you have a craving for the unusual or something just off the beaten path, you will be delighted with this list of suggestions.
We've broken it down into:
Women in mountaineering

Fan favourites

Historical mountaineering movies
Mixing it up
All of the options on this mountain movies list can be watched online, most are free and the others are cheaper than a pint.
I think that is enough background… as John Muir said: the mountains are calling… get your popcorn ready, and let's go.
This article may contain affiliate links, they will never cost you more money but helps Veggie Vagabonds keep making content like this – thank you!
Category 1: Women in Mountaineering
That's right, the first three recommendations are all about the inspiring ladies in mountaineering, and there are some stunning selections in this lot. Made up of groundbreakers and portraits in courage, these women are damn inspiring.
1. Poorna: Courage Has No Limit
Country: India
Language(s): Hindi, English, Telugu
Genre: Biopic
Time: 1hr 40min
Year: 2017
Watch it: Amazon Prime
Poorna is the story of 13-year-old Poorna Malavath, the daughter of rural farm workers in India. This movie chronicles her journey to becoming the youngest person to summit Mt. Everest. The movie was released to a hail of positive reviews and was nominated for two film awards.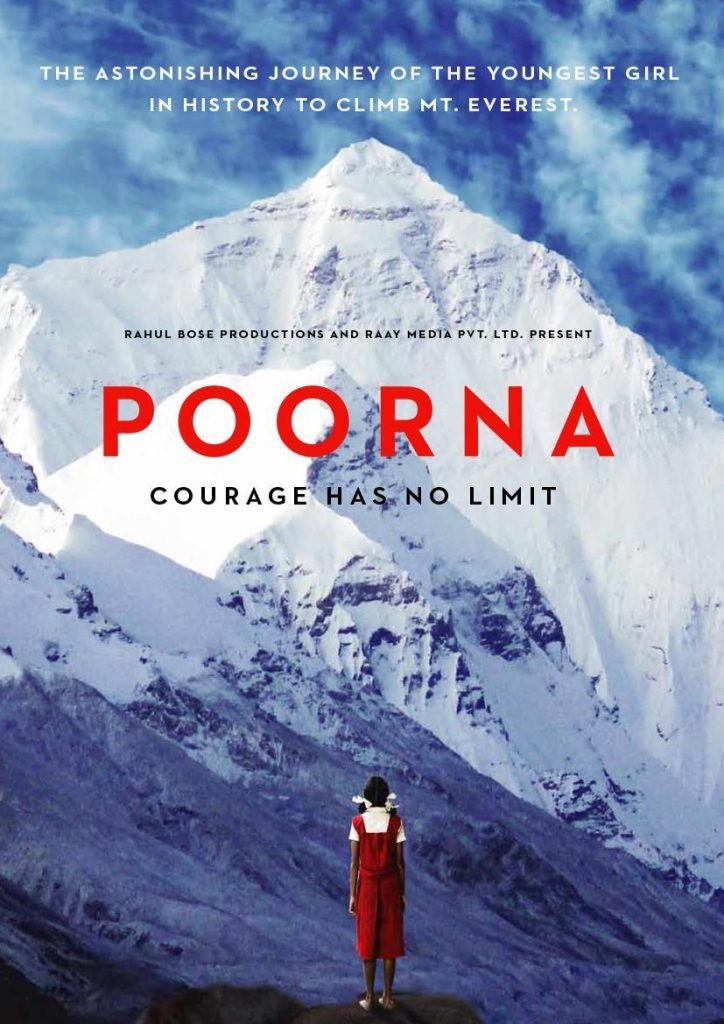 ---
2. Afghanistan's Women Mountain Climbers
Country: Afganistan
Language: Subtitles & English
Genre: Documentary
Time:44 min
Year: 2018
Watch it: YouTube
It's tough to know where to start with this picture. One word certainly comes to mind, and that is profound. The visuals are as stunning as the story of this courageous group of Afgan women who defy cultural norms to ascend a mountain. A tale of ascension that goes beyond any mountain peak.
---
3. Anoncagua: A New Chance
Country: Austria/Brazil
Language: English
Genre: Documentary
Time: 46 min
Year: 2016
Watch it: RedBull
A film that takes things to the extreme is what you get when former lawyer Fernanda Maciel, an ultra Marathoner from Brazil, sets the challenge of summiting 23,000 ft Mt. Aconcagua. The thing is, she is going to attempt to ascend this mountain (the highest in South America) alone and in 24 hours. This film is a lesson in endurance and pure strength of will.
---
---
Category 2: Eye-opening
4. Climbing Blind
Country: Scotland

Language: English
Genre: Documentary
Time: 56 min
Year: 2020
Watch it: BBC iPlayer
This documentary follows Jesse Dufton, one of the most inspirational climber you'll meet, as he aims to become the first blind person to lead climb the Old Man of Hoy in Orkney, Scotland. Seriously motivating stuff!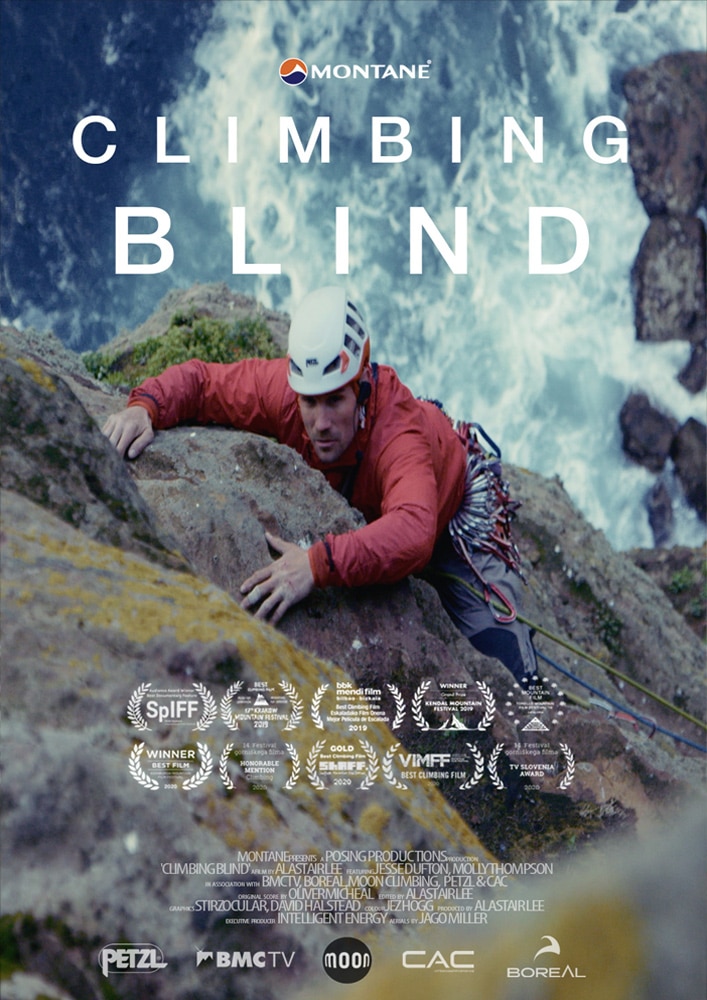 ---
5. Sherpa
Country: Nepal
Language: English w. subtitles
Genre: Documentary
Time: 1hr 35min
Year: 2015
Watch it: Sherpa
There's a side to mountaineering that's often not covered: the story of the Sherpa who make it all possible and the losses they face. This mountain climbing documentary follows an avalanche that killed 16 of the Sherpa community and tells their side to one of the most dangerous jobs in the world. It's an incredible film that every mountaineer should watch.
---
6. The Wildest Dream
Country: USA
Language: English
Genre: Documentary
Time: 1h 34min
Year: 2010
Watch it: Dailymotion
If you haven't seen it, I don't want to give too much away. This is 100% one of our favourite mountaineering films and follows Conrad Anker (also a personal idol) on his mission up Everest. But that's only a slice of the story. Give it a watch!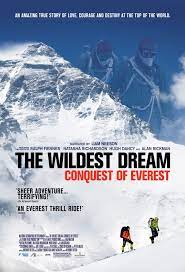 ---
Category 3: Historical Mountaineering Movies
Here is a little something for all of the climbing history geeks. Don't worry, it is not all lecture hall fare. There is plenty of pure entertainment and loads of action included.
7. The Hard Way: Annapurna South Face
Country: Nepal
Language: English
Genre: Documentary
Time: 55 min
Year: 1970
Watch it: YouTube
If you can get past the bad film quality, this is one of the best mountain movies if you're looking for something old-school. It shows the nail-biting first ascent of the Annapurna south face, with mountaineering legends like Chris Bonington and Don Whillans. Expect some dramatic British narration!
---
8. Conquest of Everest
Country: United Kingdom
Language: English
Genre: Documentary/Adventure
Time: 1 hr, 18 min
Year: 1953
Watch it: YouTube
This pioneering film was nominated for an Academy Award for best documentary. It documents the story of the first ascent of Mt. Everest by Tenzing Norgay and Sir Edmund Hillary. A must-watch for history buffs.
---
9. The Challenge
Country: United Kingdom
Language: English
Genre: Movie (Adventure/Drama)
Time: 1h 16min
Year: 1938
Watch it: YouTube
Taking an even deeper dive into historical mountaineering. The Challenge is a groundbreaking early mountaineering movie, released in 1938, which takes the audience as witnesses to the first summit of the Matterhorn in 1865.
---
Category 4: Mixing it Up
Trying to find something for everyone is not as easy as it may sound. Not one to shy away from a challenge, we give you one film on climbing legends, one cheesy shocker, and one visual TREAT!
10. Messner
Country: International
Language: English
Genre: Documentary
Time: 44min
Year: 2002
Watch it: Vimeo
Reinhold Messner is a mountaineering icon, hailing from Italy and with one of the most awe-inspiring outdoor résumés and mountain accomplishments. He completely encapsulates the harshest meaning of adventurous and this awesome biopic looks back over his toughest challenges.
---
11. The Eiger Sanction
Country: USA
Language: English
Genre: Movie (Drama/Adventure)
Time: 2 hr, 9 min
Year: 1975
Watch it: Amazon Prime
Professor, Mountaineer, and Secret Agent Jonathan Hemlock (Clint Eastwood) is pulled out of retirement for one last mission. Wait, wait, wait, no spoilers. You will have to watch it yourself. Picture a peculiar mix of James Bond, Indiana Jones and some mountaineering thrown in for good measure.
---
12. Zabardast
Country: Pakistan
Language: English
Genre: Documentary
Time: 54min
Year: 2018
Watch it: YouTube
This is such a visually inspiring movie, that travels into the heart of the Karakorum, Pakistan, following a team on a ski mountaineering mission. Some of their freeriding is absolutely mind-blowing, starting above 5880m and carving some unbelievable lines!
For more adventure fodder, outdoor inspiration and resources, be sure to sign up for our mailing list below!
Do you know any other awesome mountain climbing movies? Share your faves in the comments!