We put a Men's North Face Thermoball Hoodie to the test – these are the results after 9 months!
---
At Veggie Vagabonds we always recommend prioritising three pieces of outdoors gear: shoes, a waterproof and a good insulated jacket. No matter your outdoor persuasion, these are three things that are invaluable, will keep you safe, comfortable and stop you freezing your arse off!
A little over 9 months ago, before leaving the UK, I was searching for a new insulated jacket to finish off my gear list. It had to be high-quality, lightweight, affordable and versatile. As usual, it also needed to be 100% vegan and as sustainable as possible.
After reading countless outdoor reviews and comparing every available option, one particular jacket ticked all of the boxes: The North Face Thermoball Hoodie. I bought one and have spent the last 9 months putting it to the test.
This is my honest Thermoball review after 9 months of blood, sweat and tears, battling the elements and a variety of harsh conditions. In this article, we'll be covering:
Quick buy!
Already know it's the jacket for you? You can find the Thermoball cheapest on Amazon, where you'll find a variety of different styles and colours.
Find out more on the links below or keep reading to find our full Thermoball Review
Disclaimer. All opinions in the article are honest and unbiased, based upon 9 months of use. This article does contain compensated links, meaning if you make purchases through them we may make a small commission. This is never of extra cost to you but helps to keep Veggie Vagabonds running and enables us to keep providing trustworthy outdoor gear reviews.
Some intense testing!
I bought the Thermoball hoodie in the months prior to leaving the UK on a cycle tour to India. We explore all adventure opportunities whilst cycle touring so I needed a thermal layer that would be hard-wearing, suitable for a variety of conditions and outdoor pursuits.
Amongst other things, it's been used for constant hiking, cycling, camping and climbing as well as for general wear. Basically, it's not been taken off. In terms of conditions, it's been through gale-force winds and heavy downpours, up frozen alpine peaks with temperatures around -5°C and also through hot summer months.
I've tested a huge variety of outdoor products and know how important it is being able to rely on them. This jacket has been put through its paces for pretty much every use and condition you're likely to need it for – it's time to spill the beans!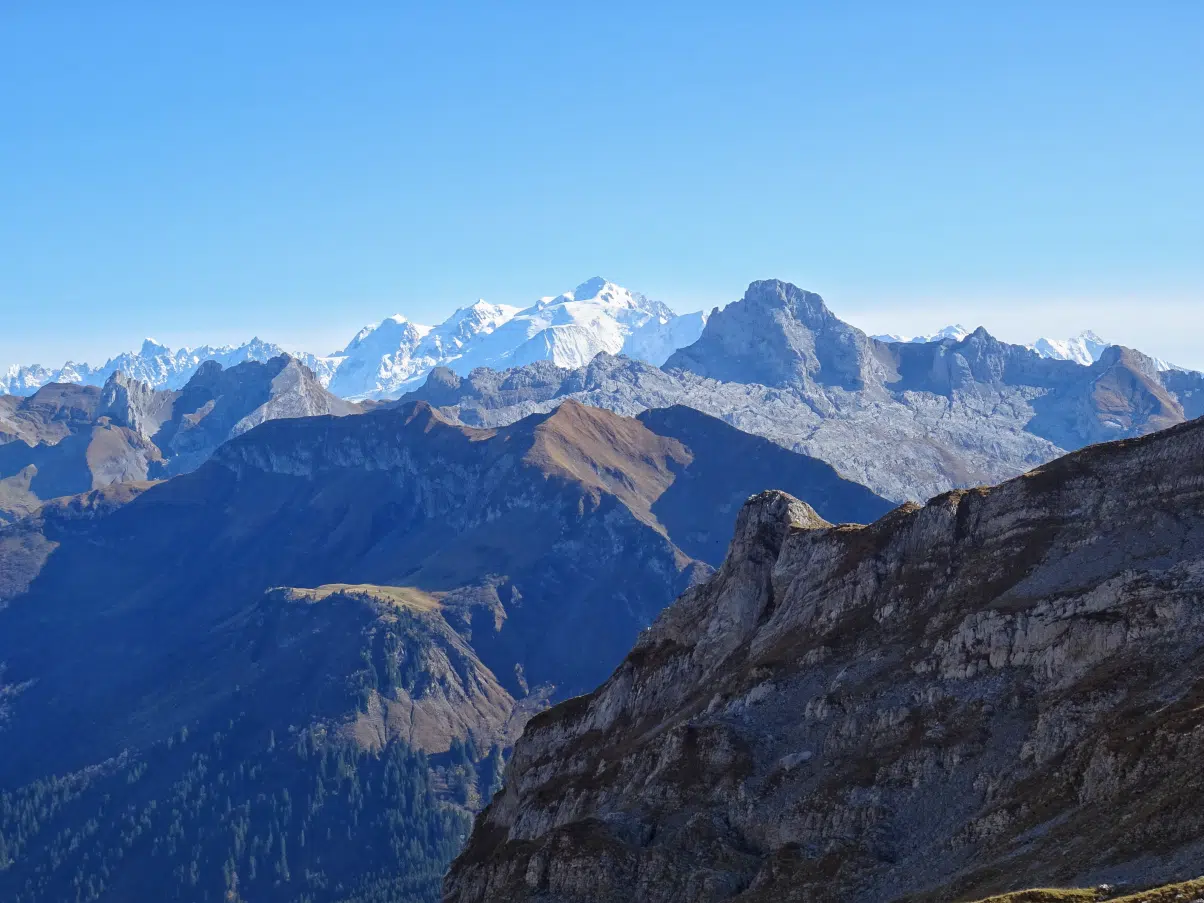 ---
Looking for more outdoors gear?
Merrell Agility Peak Flex 2 GTX Trail Running Shoes
---
The Men's Thermoball Hoodie Details
This outdoor jacket has long been a favourite of the adventure community. The North Face originally released the Thermoball in 2013, teaming up with Primaloft to create the groundbreaking synthetic Thermoball insulation. This insulation not only rivals the warmth of down insulated jackets, but it also performs when wet, making it better suited to a larger variety of outdoor pursuits and environments.
Since its release, the Thermoball has gone through many further updates and improvements, making it a strong contender for the best synthetic insulated jacket on the market. Some of the major selling points for this North Face jacket are:
The Thermoball insulation, which is equivalent to 650-fill down

It's 100% vegan (want to find out more about vegan insulated jackets?)
There are new sustainable options with the Thermoball ECO Jacket

It's better priced than many competitors like the Patagonia Nano Puff or Arc'Teryx Atom

Has models with or without a hood, in a variety of colour, with men's and women's Thermoball options

They look pretty damn cool!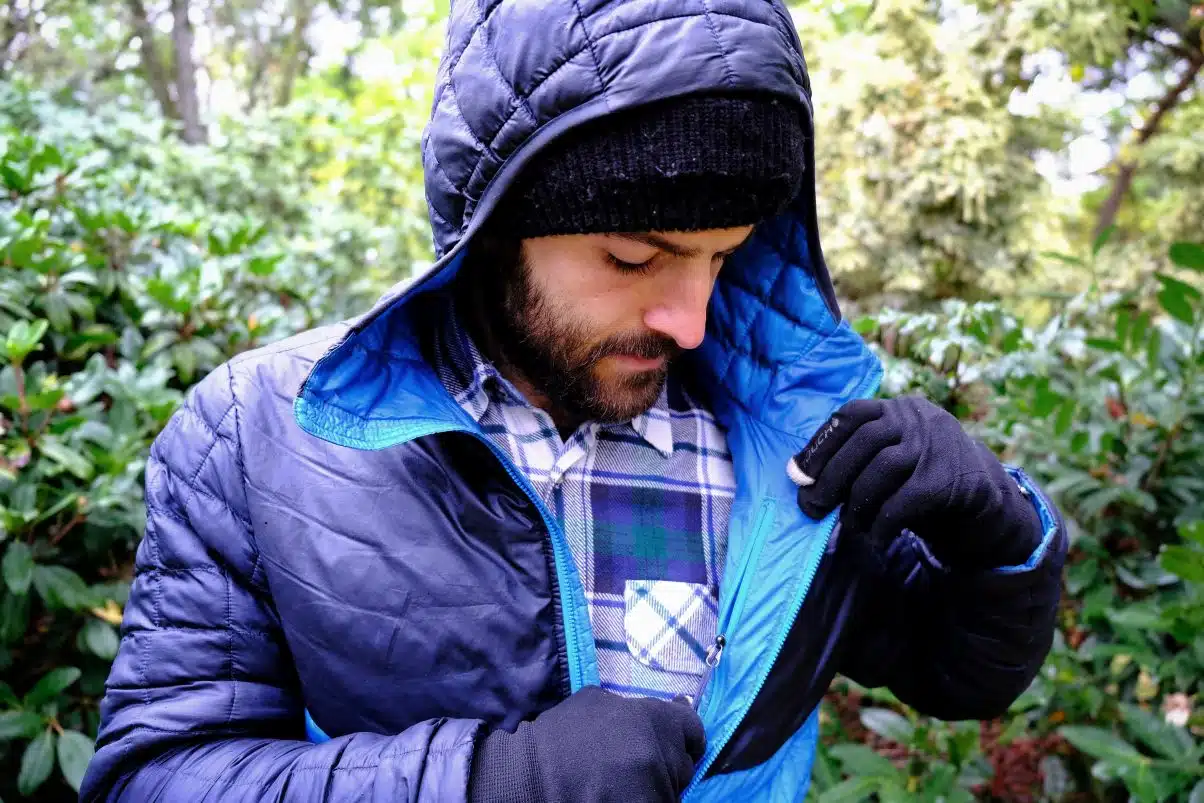 Features at a Glance
| | | |
| --- | --- | --- |
| Feature | Spec | Opinion |
| Weight | 465g (Men's Thermoball Hoodie L) | Though slightly heavier than some other insulated jackets, 465g is still pretty good and the impressive compressibility means it's easily stowed in your bag when not needed. |
| Insulation | 13g PrimaLoft® ThermoBall Synthetic Insulation | The Thermoball insulation is equivalent to 650-fill down which is impressive for its size and cost. It uses synthetic fibre clusters rather than padding which make it highly compressible and, unlike down insulation, continues to insulate even when wet. |
| Shell & Lining | 15D X 15D 33 G/M² 100% Nylon Ripstop With Durable Water-Repellent (DWR) Finish | 15D is slightly thinner than other insulated jacket shells but does the job and adds to the comfort. Highly water repellant finish and bottleneck quilt pattern stops cold spots, improves durability and helps water run off the surface rather than soak through.  |
| Pockets and zipper | 2 outer hand pockets, 1 internal chest pocket | Zippered hand pockets with a generous size. Inner pocket also zippered with enough room for a phone or GPS plus extra. |
| Hood | Attached pre-tension hood | Designed to be worn under helmets, the hood is standard-sized, contains heat and has a pre-tensioned hem. |
| Fit | Standard | Advertised by The North Face as slim fit, however, feels more of a standard fit. Keep reading for more information in the next section |
| Adjustments | Pre-tensioned elastic hood and cuffs, adjustable cinch-cord on waist/hem | At the hem/waist, there's an adjustable cinch-cord to tighten and trap heat. Note, newer models also have adjustable cinch-cord on the hood. Hood mentioned above.  |
| Stowing | Stows inside pocket | Stows into the coat pocket and can easily be further compressed in a backpack. |
| Care | Machine wash | Very practical and more sustainable than dry clean.  |
| Warranty | Lifetime warranty | Not had to use it but great to have. |
The Thermoball Field Review
Fit & Comfort Score 4/5
Overall the Thermoball hoodie is supremely comfortable, whether you're using it as an overall active jacket, a thermal mid-layer, an outer layer in drier weather or just something casual and cosy for around the house.
As mentioned, it's a slightly looser fit than advertised. Unlike some other North Face coats, the Thermoball is more relaxed and doesn't have V cut sides. This suits it to inner layering and the right size will have room for fleeces and thermals underneath, whilst still being compact enough for a fitted waterproof layer on top. If you're only wearing 1 under layer it can feel a bit airy, however, I've appreciated the extra room.
I'm a relatively broad 6ft 1 man and a large size has been a good fit. The length on the arms and waist is long enough to keep you covered and warm, however, stretchier materials might have achieved this to a better degree.
If you are wanting a slimmer fit with fewer underlayers, it's probably best going for a size smaller than normal.
Another aspect that really won me over is the weight and feel. At 465g it's nice and light but still has a substantial feel to it, something you appreciate in the cold. The inner and outer material is also surprisingly soft, making it extremely comfortable to wear, particularly with just a t-shirt underneath. And, If you're camping, even in minus temperatures, it's pretty awesome to wrap up in with a toasty sleeping bag.
Looking for a sleeping bag? Here's our guide to some of the best vegan bags on the market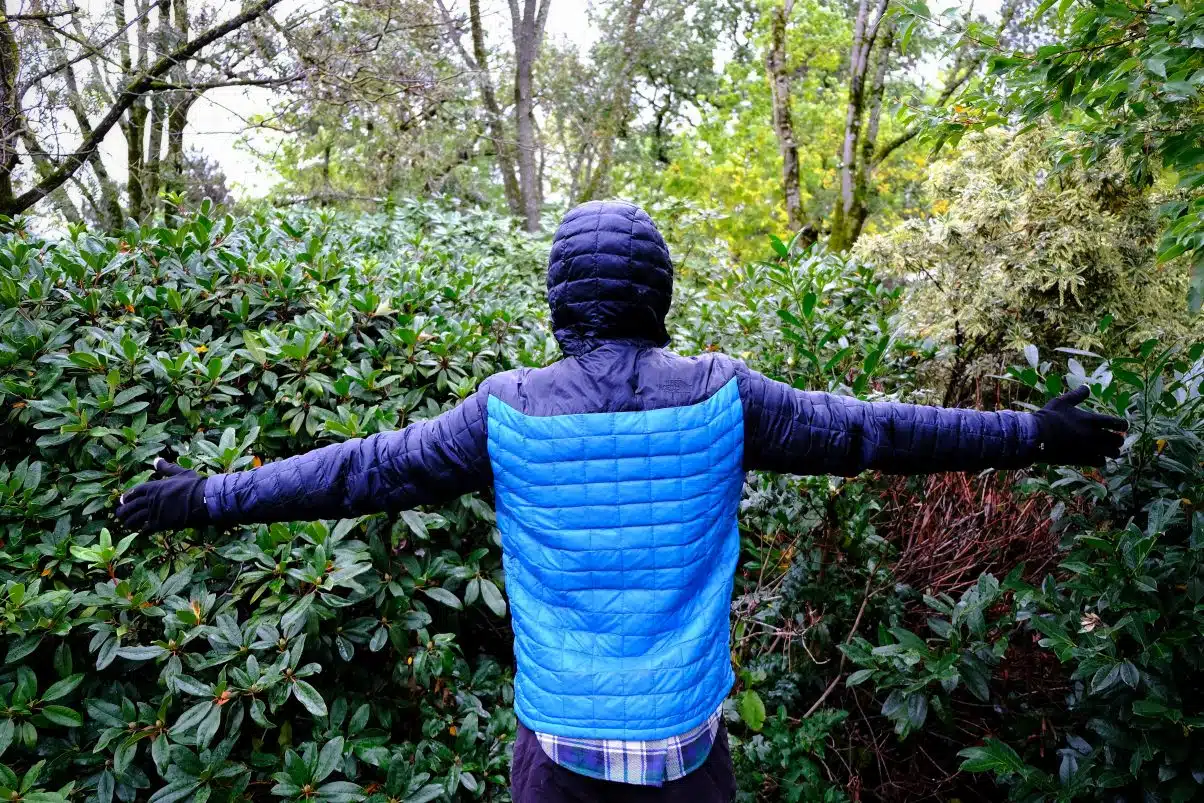 Insulation & Warmth Score 4/5
I would say the Thermoball temperature rating is comfortable for -5°C to 15°C but manageable up to -10°C depending on other layers.
At the coldest end of the spectrum, it performs well as an insulating mid layer, with an outer shell on top and thermals underneath. Once the hood is up and waist tightened with the cinch-cords it insulates a treat. For milder temperatures, it can be used as an outer layer and you won't need many extra layers.
Noticeably, it retains heat very well: once you get moving you really do stay warm for a long time, even once stopped. I also found the jacket impressive once wet, whether it's from rain or sweat, the warmth isn't hugely impacted. This is good for the inevitable times you'll get caught in a shower.
One negative thing is that in windy conditions the jacket doesn't provide such strong protection, which is probably due to the quilted design. For maximum warmth, a shell layer on top worked best.
Want to find out more about layering and cold weather backpacking?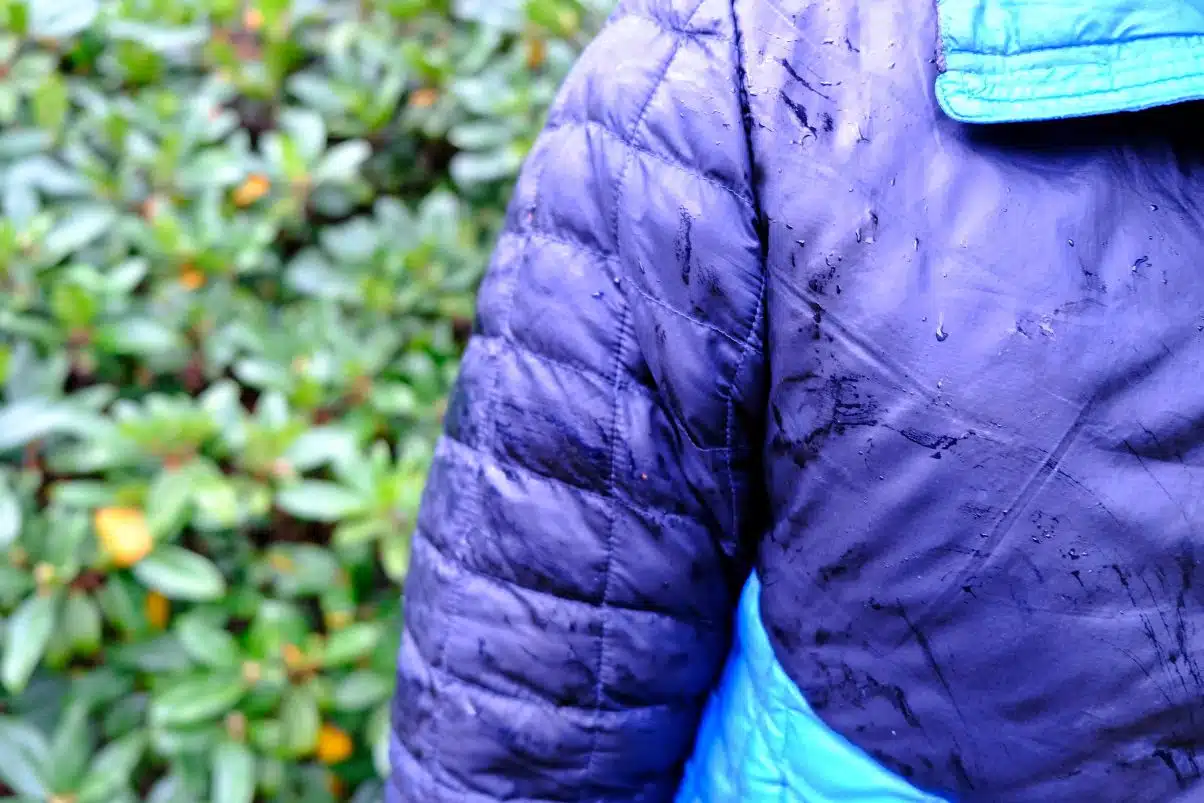 Breathability Score 3.5/5
The Thermoball blocks and traps heat to maintain warmth and this is generally not great for breathability. With that said, the jacket still does okay during higher-intensity activities and the relaxed fit allows air to ventilate, stopping you turning into a complete sweaty mess.
There aren't any ventilated sections, however, which some other jackets do offer. If you're looking for a jacket to keep on for a whole day of intense movement it's probably not the best option. Still, it's small enough to just throw in your bag if it does get too hot (photo below). 
Durability Score 4/5
Considering the soft outer material and how light it is, the durability of the Thermoball has been a very nice surprise. After nearly a year or scratching along rock faces, snagging on bushes and no TLC, there are no tears or pulls. It's never been washed yet after lots of muddy hikes, lying floors and being crammed in dirty bags, there are also almost no colour changes or marks.
The pre-tensioned elastic cuffs are able to withstand lots of stretching and the durability of the pockets and zips is also worth noting. In the 9 months of use, the zippers haven't snagged once – big brownie points! I also often carry far too much in the pockets and despite the lining being very thin they're coped well.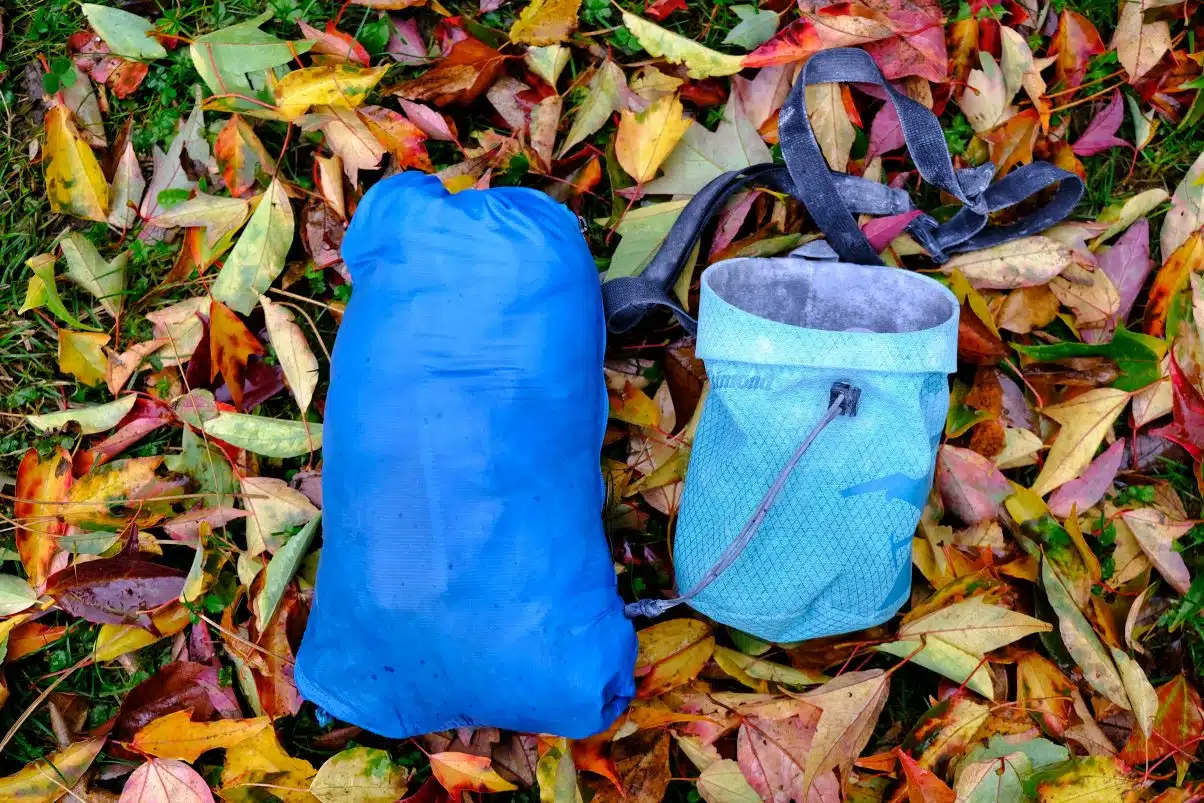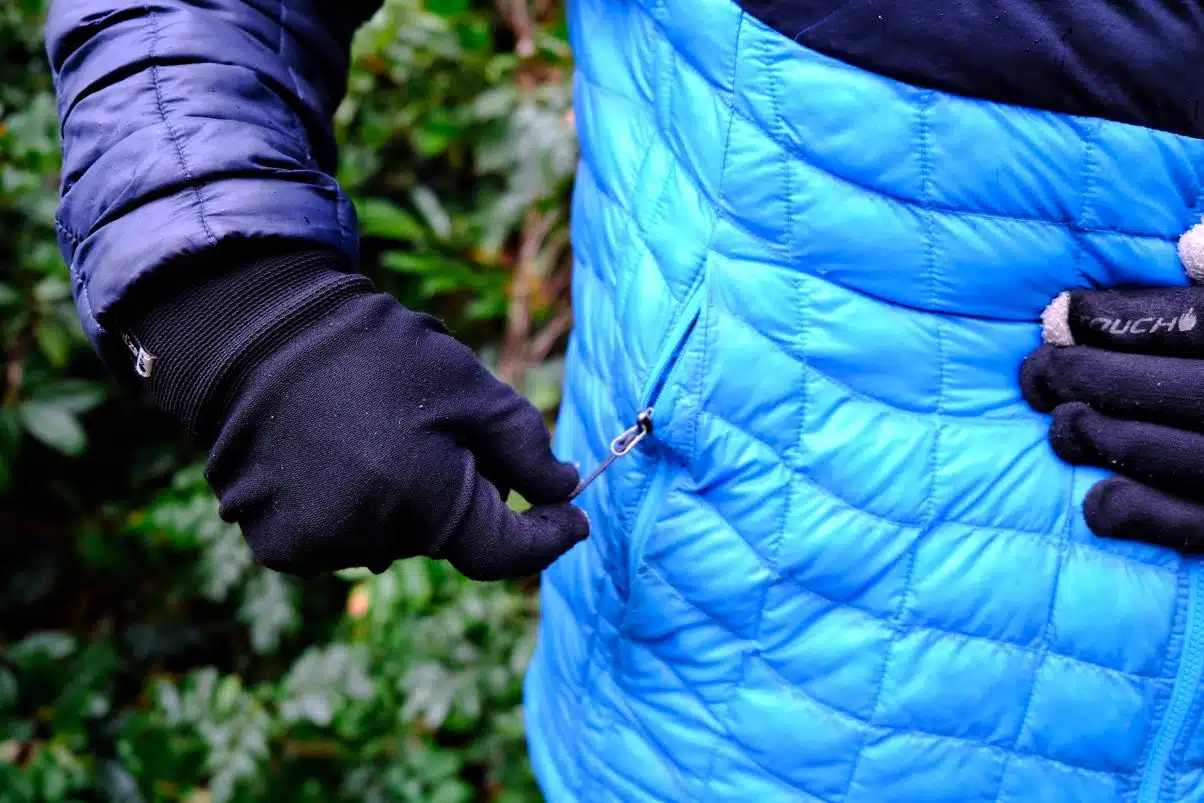 Practicality Score 5/5
For me, practicality has been the winning point of the Thermoball. It's well suited to a variety of different outdoor pursuits, performs in a wide range of climates and conditions, whilst being cheaper than similar jackets from other brands.
Having the option to use it as a mid or outer layer is real handy and it's small enough to keep in your bag just in case. The DWR finish makes getting caught in downpours much less of a problem and the fact it still insulates once wet opens it up to a much wider variety of activities.
Extra things, like the large pockets and the durability, make it practical for everyday use and also for camping. I like that it's machine-washable too, as it's much more practical and sustainable.
My main criticism is the pre-tensioned hood, which might be nicer to have with cinch-cords. However, the updated models which are available now do have this feature. What do you think of cinch-cords on hoods? Prefer them, or is a pre-tensioned hood better?
Outdoor Activities
The Thermoball for Hiking
The North Face market the Thermoball as a hiking jacket and that makes sense. I'd say it's best suited to temperatures between -5°C to 15°C, then you can switch between using it as a mid or outer layer. Once again, the water-durable synthetic materials make it a strong choice when the weather looks iffy and the shell, though soft, is definitely tough enough. For sure a good hiking companion unless you're heading into the extremes.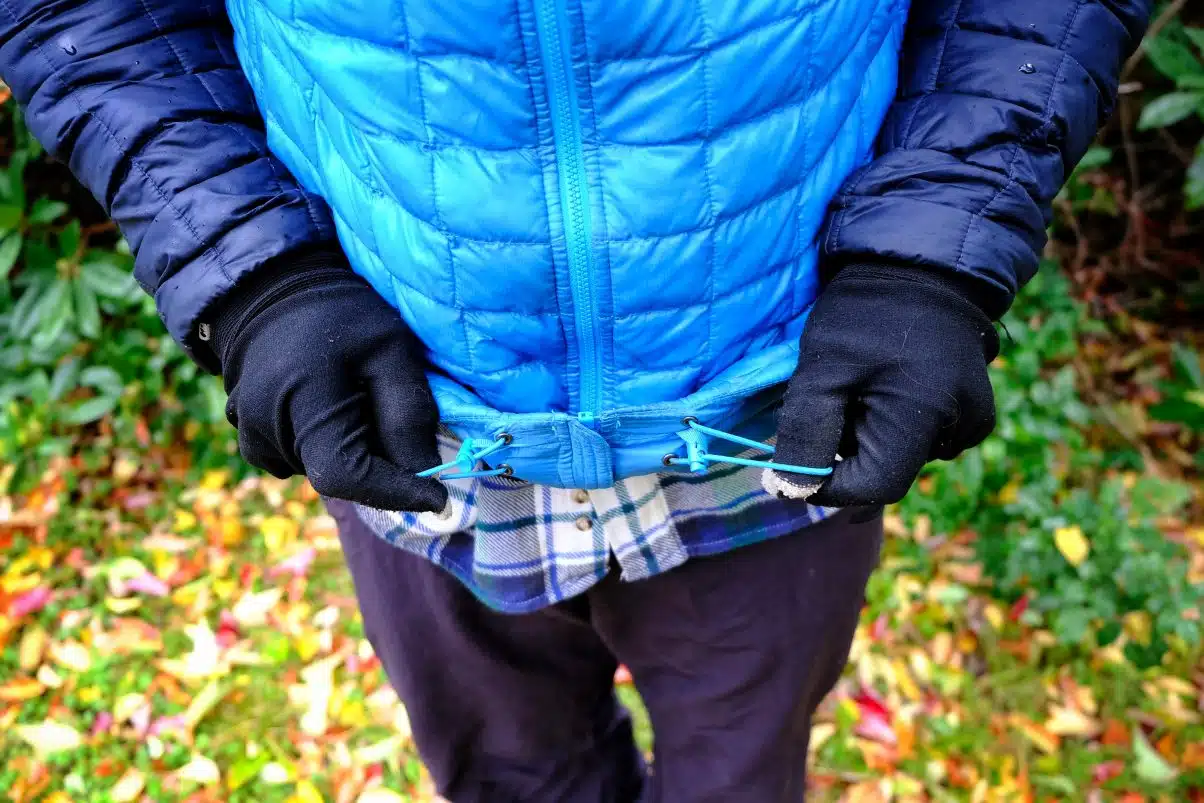 The Thermoball for Cycling
It's not designed for cycling, and whilst I wouldn't recommend it for road cycling, for bike touring it's worth taking for the ride. If you're going to be on the road for a while, you'll likely need a hardwearing jacket that can be used in cold weather, for camping and general use – the Thermoball ticks all these boxes.
On fresh mornings you can keep it on whilst you warm up and then stow away in your bag. On cold days you can keep it on for the whole day and the breathability does well enough unless you come across any long inclines.
The cut is long enough to cover your bum but wind protection isn't great so go with a windbreaker or waterproof jacket on top.
The Thermoball for Climbing
Around the crag, the Thermoball performs well, whether you're climbing, belaying or strewn somewhere on a rockface.
There's no real stretch to the material but the relaxed fit means, as long as you buy the right size, it's fine for most moves you'd make climbing. Despite only having 15D ripstop outer material, it's lasted very well against rock and rough surfaces. Looking at it now, there are no tears or snags.
With the hood under your helmet, it does get a bit sweaty when it warms up but as we mentioned, breathability is not the jacket's strongest point
The Thermoball for Camping and General Use
It's a lovely camping jacket and goes really nicely inside a sleeping bag. The Thermoball is also a smart choice for general active use or a warm round the town layer. Because of their size, the three pockets are enough and the tough material means it's good to wear every day. With the variety of colours and the option to have it unhooded make it versatile and it's got quite a cool style. More details below!
Thermoball Eco Options and Alternatives
The North Face released the Thermoball Eco which is made from 100% recycled materials!
It's got pretty much an identical spec to the original Thermoball so it's the perfect option for ethical adventurers and impressive step towards sustainability.
As well as finding nearly 10 different colours, new North Face releases also include:
A hoodless option, a vest and a long version for women

A more fashionably-styled Snap Jacket

The Triclimate which has a 3-in-1 layering system and can be worn separately as weather permits

A heavier-duty Thermoball Super hoodie which has nearly double the insulation designed for harsh climates
Check out the full Thermoball range on The North Face Website and then save money with the links below!
Is the Thermoball worth the money?
Currently, a men's Thermoball hoodie sells for less than £100 on Amazon (at the time of writing this the same style as mine was £74). Considering the practicality and durability of the jacket I think it's well worth the money. It's considerably cheaper than similar options from other outdoor brands and despite 9 months of almost constant abuse, it's showing no signs of giving up.
Rather than buying specific hiking, climbing, cycling jackets etc. this jacket lends itself to well to a variety of outdoor pursuits, it excels in a range of temperatures and can deal with rain and moisture. Yes, the breathability isn't great and some more stretch in the materials might be useful for climbing but overall it's a solid all-rounder. Plus, if it does get hotter you can stow it away easily.
I'd recommend it to hikers, climbers, bike tourers and for everyday use, as a 3 season option or a whole year warmer with the right layering. Buy or find out more on the links below!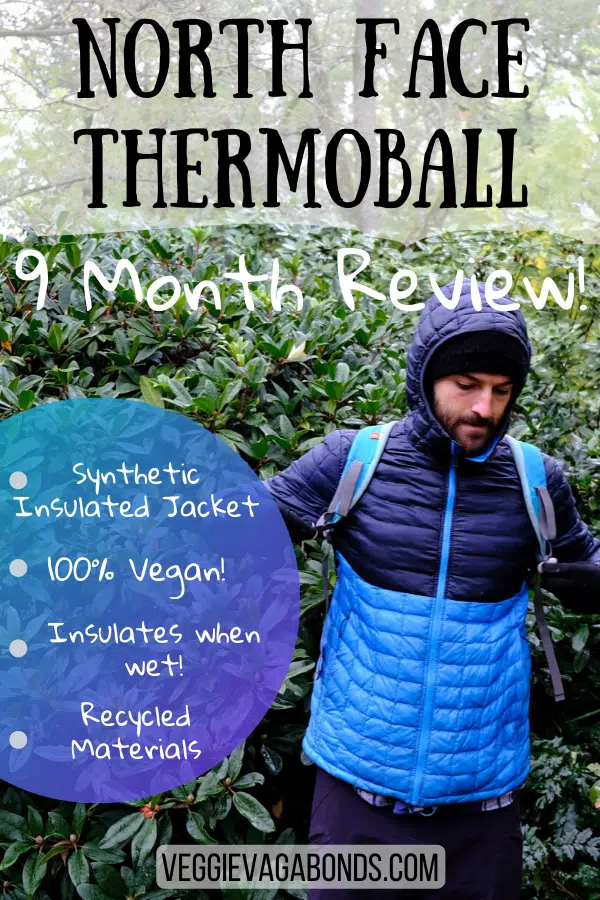 The North Face Thermoball Hoodie Review – 9 Months Later!
After 9 months of adventuring and wear and tear I'm glad I opted for a Thermoball. It makes you feel much more confident heading into the wilderness with the right insulated layer, knowing you'll be okay if the weather changes.
I mentioned in the opening lines about seriously prioritising shoes, a waterproof and an insulated jacket – this is a really valuable step to take. Save money on the other items but make sure you can rely on these, you won't regret it. If you're looking for an insulated layer for under £100 to take on a variety of outdoor adventures, this jacket should be a go-to choice!
Keep exploring…