These 10 outdoor podcasts, telling tales of everyday adventurers to extraordinary athletes, will have you hooked from the first listen
---
Nothing beats the thrill of kicking up dust, with sweat dripping from your brow and the feeling of determination in your gut. For most of us, life isn't a constant stream of climbing up peaks and wild swimming, there's the mundane and necessary that surrounds life's great adventures too. Errands need to be run, preparations have to take place and there's the crucial task of working to save for the all-important adventure fund. It's for the times that outdoor podcasts were created!
Need some inspiration between trips? Stuck indoors on a stormy day? Maybe just some simple escapism? There's a podcast for everything, you've just gotta find them. And that's what we've done…
This list of the 10 best outdoor podcasts has fuelled our passion to explore over the years, and we think you'll love them. We'll bet you'll be binging after the first episode!
Listen to like-minded everyday outdoorsy folks tell tales around the campfire, delve into the mind of elite outdoor athletes and experience the other side of adventure from climbers and rescuers who encounter life-threatening incidents in the wild.
Sounds pretty awesome right? Have a scroll and discover a new favourite pass time for your ears, then tell us your favourite in the comments below!
---
The Curious Climber by Hazel Findlay and Mina Leslie-Wujastyk
Best climbing podcast with long-form conversations, sometimes about climbing, sometimes not.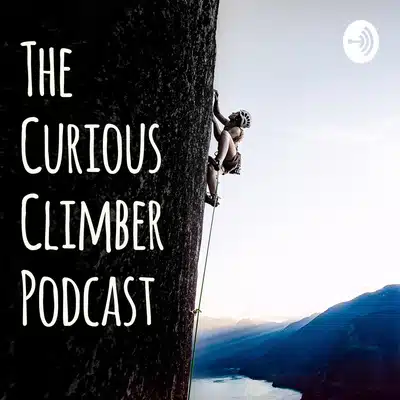 Hosts Hazel and Mina of The Curious Climber have in-depth conversations about so much more than just climbing, delving into topics that are often overlooked in the sporting world. Mental health, social stigmas in the wider world, how crucial physical AND psychological endurance is in the world of climbing. This is one insightful podcast!
Whether you're into climbing or not, listening to each episode is like taking a deep dive straight into a conversation between friends discussing the issues on many peoples' minds.
We got the chance to speak with Hazel about her mental training, some incredible ascents and how she got into climbing – check it out!
---
The Adventure Podcast by Terra Incognita
Best adventure podcast to experience an expedition like your boots are on the ground.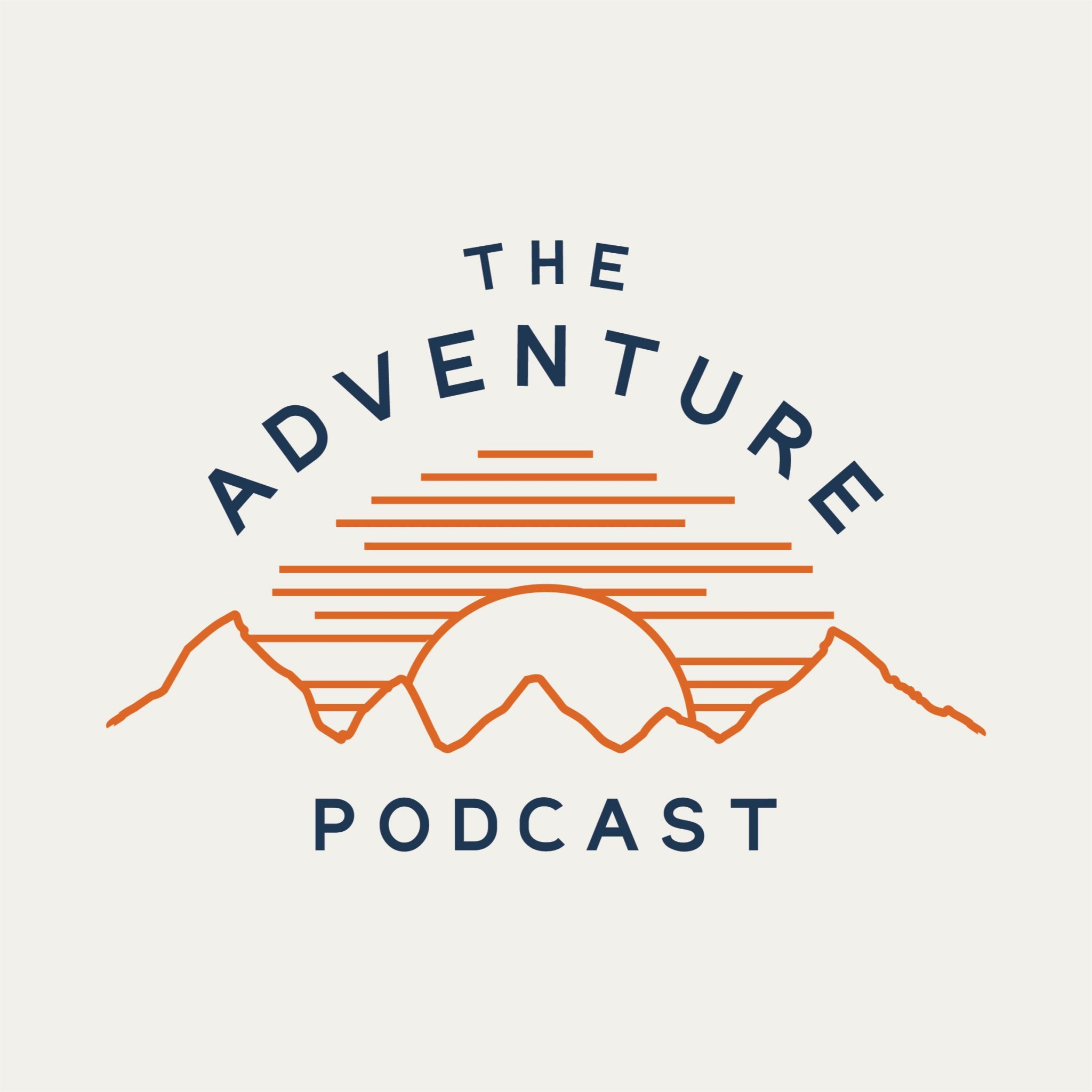 The Adventure Podcast by host and filmmaker Matt Pycroft is a raw insight into the world of adventure and exploration. From the perspective of some of the most seasoned and accomplished experts in their field, each episode transports you to a world of extreme feats. Some episodes are even recorded in the wild, and the podcast documentation of their Mount Roraima expedition made you feel like you were right there with them.
These stories of adventure will have you gripped with suspense and amazement. Each tale so different from the last but each evoking that same desire to get out there yourself and explore to the ends of the earth and your physical ability.
---
Living Adventurously by Alistair Humphreys
Real people and their idea of living adventurously in daily life.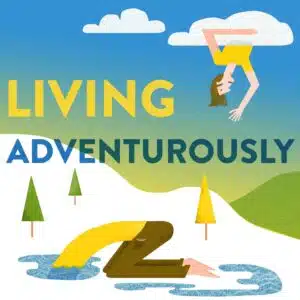 Alistair Humphreys podcast, Living Adventurously is tales of real people and what adventure means to them. As life and its circumstances change, so can our perception of adventure and what it means. Alistair spent 4 years of his youth cycling around the world and completely champions the idea of living adventurously.
Having reflected on how his notion of adventure has changed he wanted to find out what it means to other people. He set off on his bike for a month to chat with people across the UK and ask them what adventure means to them and how it changed over the course of their lives.
---
Dirtbag Diaries by Patagonia
Best podcast that tells stories of outdoorsy folk and their tales of adventure told first-hand.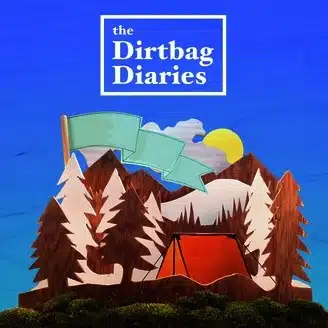 Dirtbag Diaries boasts 12 years of storytelling about wholehearted adventure, told by the dreamers, wanderers and athletes who choose a life outside and all that it brings. Whatever your passion, climbing, biking, hiking, skiing, travel, this outdoor podcast will resonate with the explorer in you. Hosts Fitz Cahall and his team speak to people from all walks of life with their own story to tell. Ordinary people with extraordinary stories, each starkly different from the last.
A real mixed bag of tales told around the campfire that'll have you gripped with intrigue and sucked into moments of adventure with the story teller. These aren't world firsts but are instead from relatable people trying to cram as much adventure into life as possible.
Want more climbing inspiration? These climbing documentaries will do the trick!
---
Outside Podcast by Outside Magazine
Outdoor magazine in podcast form.
The Outside Podcast by Outside magazine brings to life it's long-established tradition of storytelling, this time through the power of soundwaves. After launching in 2016, the Outside Podcast released four series aimed at inspiring and educating listeners with captivating stories from the outdoors.
Season 1 Science of Survival is all about how much the human body can endure in the wild ( or not), exploring physics, biology and psychology when it comes to the great outdoors.
Season 2 features Outside interviews with host Christopher Keyes and some of the biggest names in sport, adventure and politics.
Season 3 Dispatches covers a huge range of topics that dominate the outdoors realm with each exploring a new topic of interest.
Season 4 Sweat Science investigates the furthest reaches of athletes' performance with the biological and psychological limits of the human body.
Want more outdoor shizz like this? Sign up for our newsletter to get the latest adventure and outdoor updates!
---
Armchair Explorer Podcast by Aaron Millar
Cinematic tellings of action-packed adventures from the road.
Host Aaron Millar has a grand repertoire of accomplishments, from being an award-winning writer to presenting shows for the BBC and National Geographic TV. Growing up in Brighton, England and now residing in the Rocky Mountains of Colorado, his passion for travel means he has a keen interest in adventure travel stories.
The Armchair Explorer is adventure storytelling on steroids. Each episode tells a new story from the road told by avid adventurers fresh from the bush. There's no time for small talk, with each story launching straight into the action with music and cinematic effects to truly set the scene.
READ MORE: Adventure and Outdoor Books for Armchair Explorers
---
---
Looking Sideways Podcast by Matt Barr
Best podcast for in-depth stories from some of the biggest names in action sport.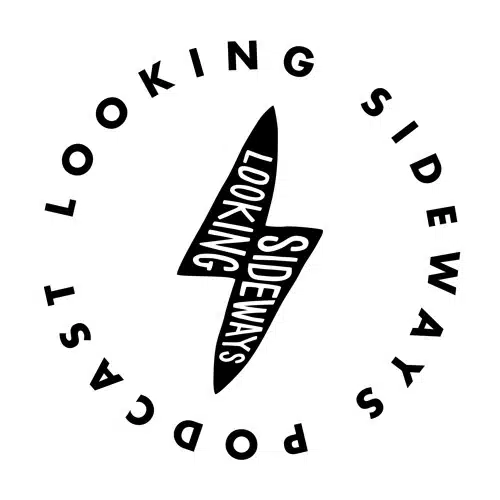 Host Matt Barr created the Looking Sideways Podcast after growing tired of the lacking action sports podcasts out there. After working in the industry for over 20 years and interviewing some of the biggest names in the field, he'd built up a pretty good address book and decided to put it to good use.
The podcast is about going deeper into the realm of action sport and unearthing stories that may have slipped under the radar of the mainstream media. With interviewees like free climbing extraordinaire Alex Honnold and surfing legend Herbie Fletcher to people you may never have heard of such as Rip Zinger, a "self-described travelling monk".
---
She Explores Podcast by Gale Straub
Best podcast for inspirational stories and a safe place for voices to be heard.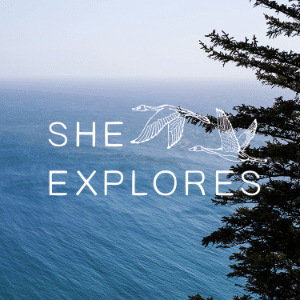 She Explores podcast hosted by Gale Straub is one of the most inspirational listens for me, with her team sharing stories on topics that aim to make the outdoors a safe and accessible place for all. With in-depth conversations about self-love, solo-trekking, conservation and advocacy, mental health and how to make the outdoors inclusive for all. Each episode wanders into the issues that are important within the adventure industry but are often overlooked.
Everyone has vastly varying experiences in the wild but She Explores connects listeners through their shared interest of an outdoors lifestyle. Expect raw and honest conversations that will open your mind to a new way of thinking and shine a light on issues that make you recognise how inclusive this community can be.
---
Further. Faster. Podcast by Montane
Best adventure podcast for stories of extreme feats and world firsts.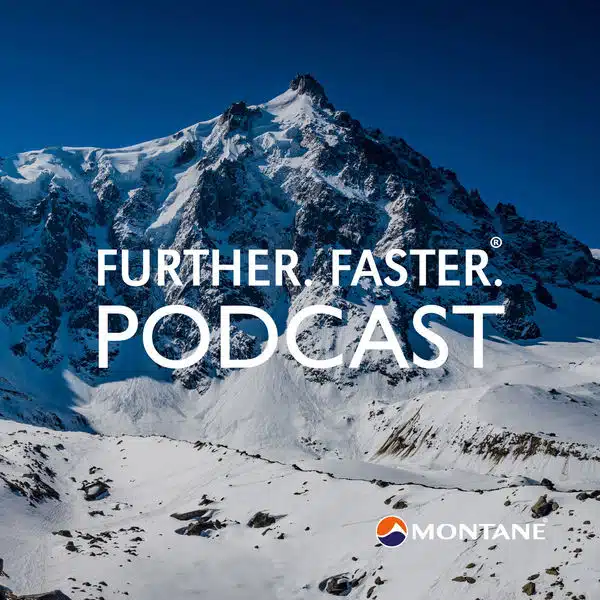 Get into the mind of an elite athlete, pushing their body to its absolute extreme often in risky situations, then going further and faster! Each month host Daniel Neilson unearths the motivations, training regimes and desires of athletes, organisers and experts in the adventure field.
With guests such as Javed Bhatti, the man who completed the coldest ultra race in the world, the 430-mile Montane Yukon Ultra and Steve pain who climbed the seven summits of the world in four months. These are conversations about world-firsts, telling tales of exceptional human achievements in some of the most extreme landscapes in the world.
Intrigued by athletes who push the limits of human endurance? Our interview with vegan ultra-marathon runner, Fiona Oakes will be right up your alley!
---
Sharp End Podcast by Mammut
Best outdoor podcast to get a taste of the other side of adventure.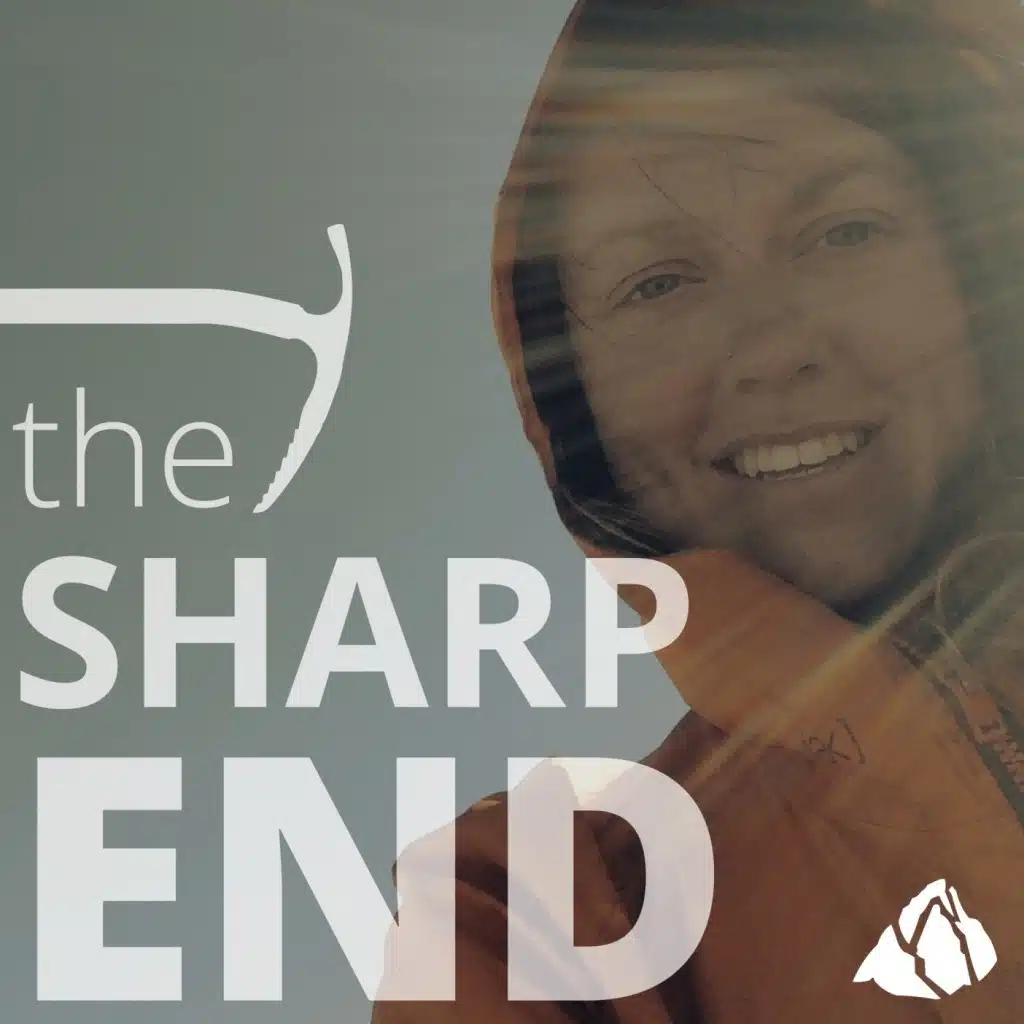 Sharp End is a podcast from the other side of adventure. Hosted by Ashley Saupe, each month you can hear stories about incidents from the logs of Accidents in North American Climbing, the annual publication of the American Alpine Club.
Listen as Ashely interview climbers, skiers and rescuers who find themselves delving into the world of adventure gone wrong. These are stories of life-threatening incidents told from the perspective of those who put themselves into the equation to save others.
Like what we're doing at Veggie Vagabonds? You can help us create more content!
---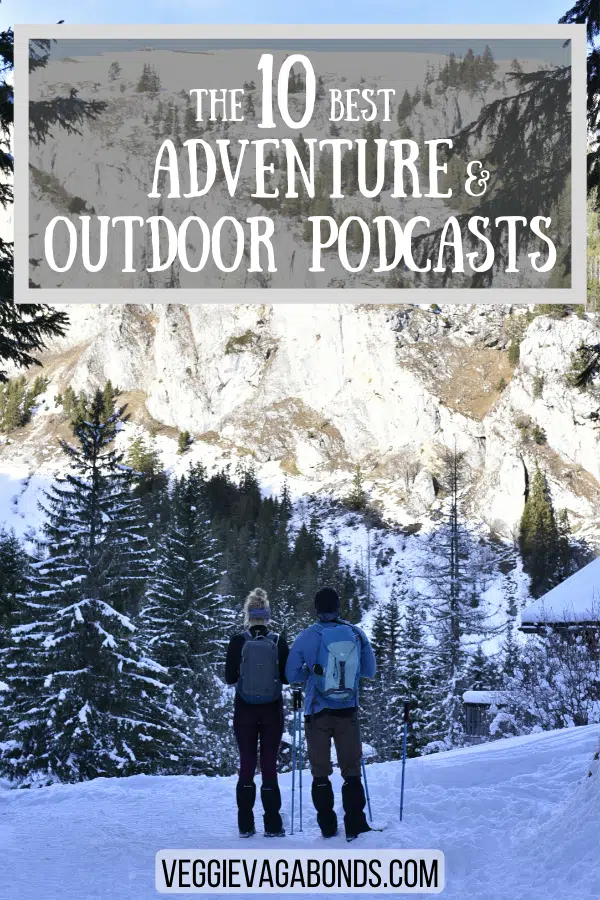 The Best Outdoor Podcasts to Inspire Adventure
Which is your favourite from the list? Have there been any that you are itching to listen to?
For us, the next best thing to being outdoors is surrounding ourselves with stories of the outdoors. Listening to the crazy, methodical and downright mindblowing experiences and also the issues revolving around the adventure realm is plenty enough to inspire the explorer within. This way whether you're trips finished, you're on your commute or at home on a rainy day, the adventure can continue!
Have we missed any from the list? Tell us which is your favourite outdoor podcast in the comments below!