12 of the best Peak District walks, plus all the information you need on how to get there, where to stay and what to take!
---
The Peak District, located in northern England, is the green heart of the UK. Known for its rolling hills, meandering valleys and rugged Peaks, this landscape is steeped in history and, most importantly, walking trails. The Peak District was the first established national park in the UK, and has long been a haven for avid walkers and nature lovers. From gentle strolls through wintery woods or hikes up to marshy mountain plateaus, there's a trail to suit all timeframes, ages and abilities.
This national park is renowned for its green-draped hillsides, home to wild fauna and grazing farm animals in the summertime. Come wintertime these towering peaks are still ripe for exploring against moody skies and it's not uncommon to be hiking in the snow.
With so many incredible trails dotted over this immense stretch of land, it can be hard to know where to start. This Peak District hiking guide gives you all the information you need to pick the ideal trail to suit your needs.
In this article, you'll find:
Whether you're after an easy stroll with the family or a challenging route up the highest peak in the region, take a browse through some of the best walks in the Peak District, lace up your boots and hit the trail!
This article contains affiliate links. If you make purchases through these links we may make a small commission – this is never of any extra cost to you – but helps support Veggie Vagabonds, thank you!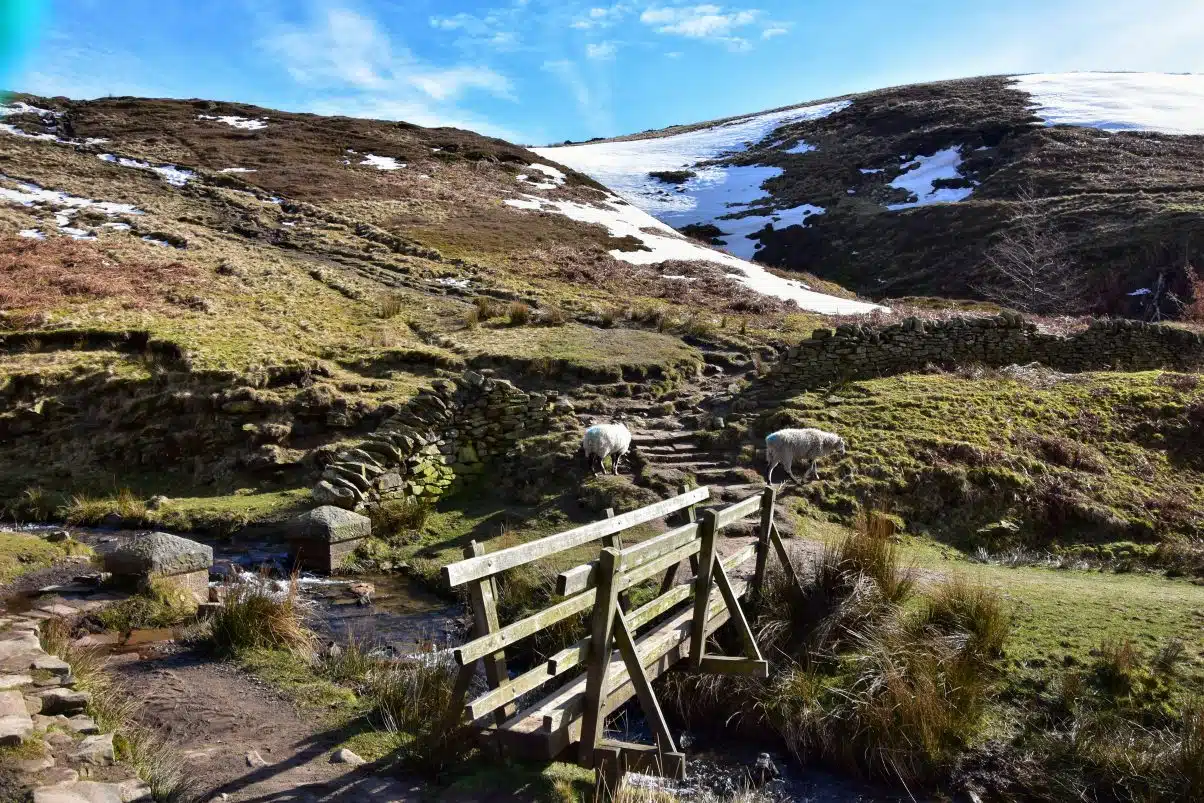 1. How to get to the Peak District National Park and Around
Peak District Buses and Trains
The Peak District National Park is spread over 1440m² in the north of England, roughly between Sheffield and Manchester, then spilling further south. Because of its size, there are plenty of convenient access points and transport hubs which you can choose to fit your trip.
Most of the region is easily accessible because of the extensive rail and bus services on offer.
Peak District trains cross the park, and you'll be able to reach Grindleford, Hathersage, Bamford, Hope and Edale on the Hope Valley Line, the Derwent Valley Line connects Derby to Matlock and Manchester lines can take you towards Kinder Scout, Bleaklow and Bakewell.
From these train lines, you'll be able to use the efficient Peak District bus services for the rest of your journey to get to your chosen hiking trail.
For local trains you can find timetables and tickets on Trainline. If you're also looking for bus routes then the route planner on Omio can be very helpful.
Peak District Cycling, Backpacking & Hitching
Cycling in the Peak District is fantastic as a form of transport and a way to experience some of the local trails. You can find more information about this here or some great suggestions for cycle rides in the Peaks here.
Hitching is also pretty well received in the less-connected areas. You could also think about piecing hikes together and making longer backpacking trails!
Though transport is well-established in the area, to visit some parts a car might be useful. Europcar offers local rental and can be a good option (go with a full car to share the carbon footprint!). Things like Blablacar can be a good solution for sharing lifts too.
For more hiking resources and adventure inspiration, be sure to sign up for our mailing list below!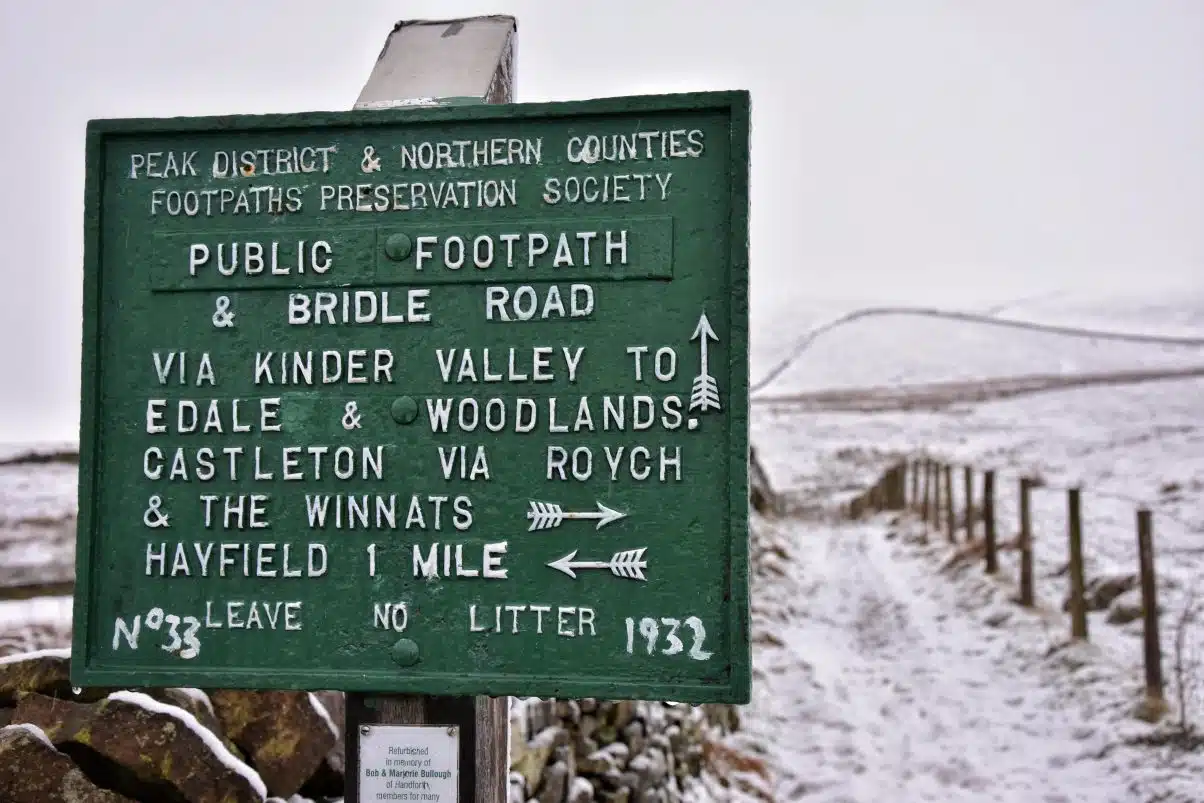 2.
Peak District Accommodation
There are plenty of accommodation options in the Peak District which you can find to suit your hiking trip. Close to many of the trails you'll find a variety of campsites and B&Bs, with more popular areas also having hotels and hostels.
There are campgrounds throughout the region, mostly available from spring to autumn. You'll find a full list and interactive map here.
Wildcamping is possible and fairly popular in more remote parts. It's not strictly legal so be sure to arrive late, leave early, be respectful and follow the laws of the land.
For Peak District B&Bs you can find good rural options on Airbnb, whilst Booking.com has the biggest selection of hotels and hostels (including Youth Hostel Association).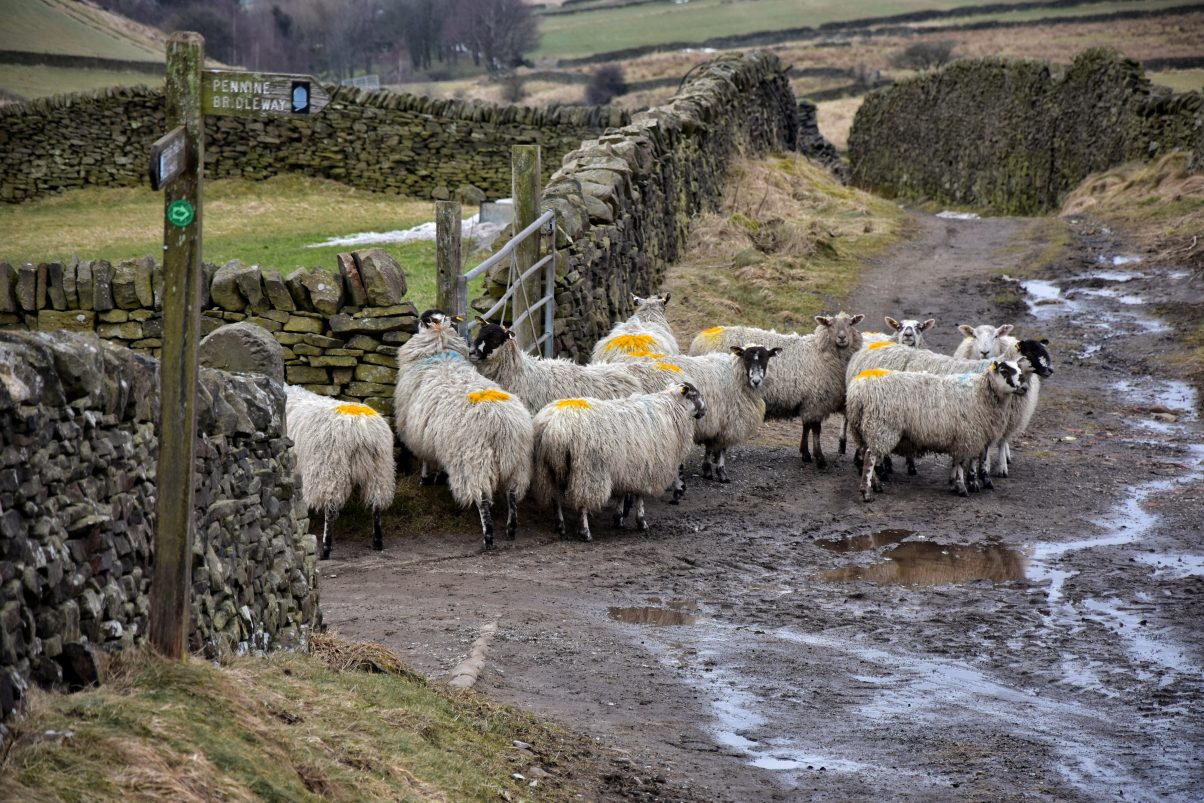 3.
When to visit the Peak District
Fortunately, the Peak District is fantastic to visit year-round for hiking and you'll normally be able to get out regardless of the conditions. With that being said, it's always important to check the forecast as conditions can change.
Summer is the busiest time to visit as the weather is the most predictable. You'll find temperatures from 10-20°C during the day but this can still drop so it's important to take layers as a backup, even on a warm day.
Autumn can be a stunning time to visit, to watch the leaves changing on a frosty morning, whilst spring brings new life, chilly mornings and sunny afternoons. Spring does experience the most rainfall but both seasons can bring some lovely days for the trail.
Winter in the Peak District

can

be harsh, especially venturing into more exposed regions or higher terrain. Expect temperatures from 8

°C

to -5

°C

and the possibility of snow. Don't let this put you off, if you go with the right preparations this can be a stunning time to visit.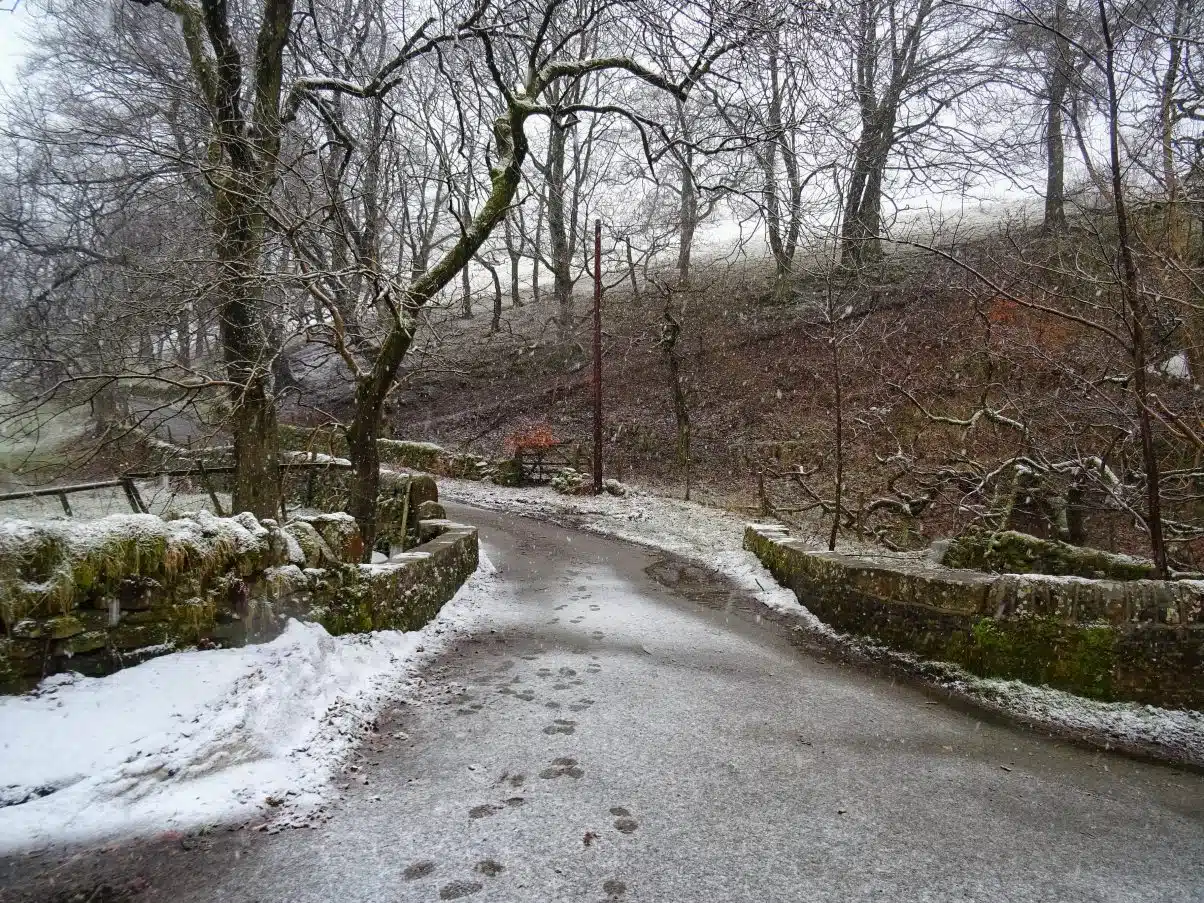 4. Peak District Hiking Packing List
Weather in the Peak District can be changeable at any time of year so it's important to go prepared.
You'll find a complete guide on our Hiking Packing List but a summarised list would be:
Good quality hiking boots or shoes
The right hiking clothes with a good thermal layer and a waterproof
Ample hiking food and water
A way to navigate with a backup. For most hikes, we recommend using Maps.me with local topographic maps and a compass. You can find Peak District Maps at some of the local tourist offices, or buy detailed Ordnance Survey maps here

. For longer hikes, you could also think about a GPS

A mobile phone for communicating
5. Peak District Hiking Q&A
Q. Are there many easy walks in the Peak District? There are lots of easy hiking options and most of the trails recommended in this article (below) would be okay for beginners in good weather.
Q. Can you do many other outdoor pursuits in the Peak District? The Peak District has a plethora of outdoor options. From cycling and MTB to outdoor swimming, kayaking, climbing and caving – you'll find it all!
Q. Can you find long walks in the Peak District? There are a number of long walks listed below but the Pennine Way is an epic option which takes you all the way to Scotland.
Q. Are walks in the Peak District dog-friendly? Yes, walking in the Peak District is very dog-friendly but pay attention to signs which might require leads due to nesting wildlife or grazing animals.
Q. Will a walking holiday in the Peak District be expensive? For English standards, the Peak District is moderately expensive. If you're camping, hiking and eating trail food then it's possible to go dirt cheap. Hotels and B&Bs can be expensive, as can restaurants and pubs, so this will bump up the costs.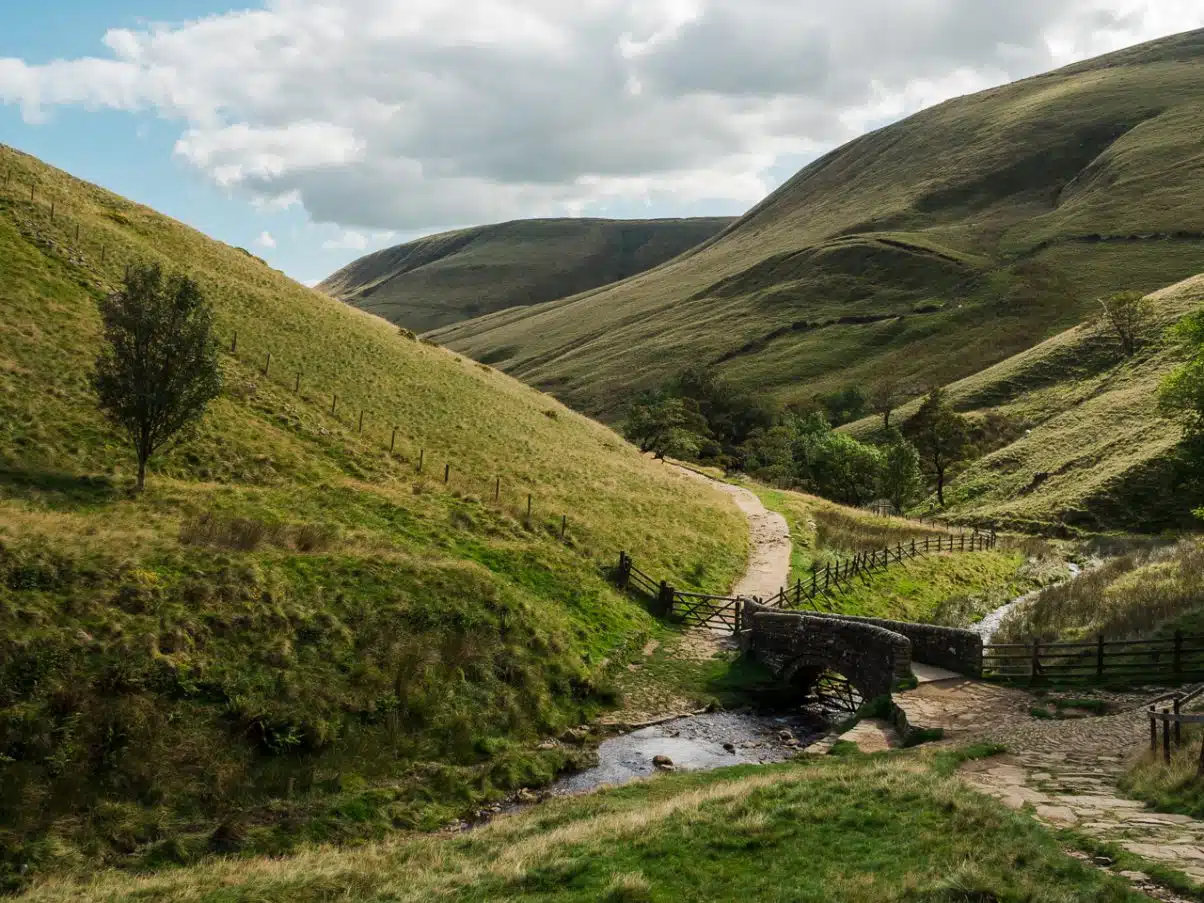 12 of the Best Walks in the Peak District, England
Jacob's Ladder
Location: Pennine Way, Hope Valley
Starting/Finishing point: The Old Nags Head, Edale
Recommended time needed: 2.5 hours
Difficulty: Easy-Moderate – most of the route is pretty easy, but the ascent of Jacob's Ladder is more challenging in comparison
Located along the Pennine Way between Edale and Kinder Scout, Jacob's Ladder is one of the more popular peak district walks. The surrounding area is truly stunning, with a charming stone bridge over the River Noe, a small waterfall, and hills of purple heather (if you visit during late August to mid-September).
While there are numerous ways to reach the 240 stony steps that makeup Jacob's Ladder, the most straightforward route is via the Pennine Way. Starting at The Old Nags Head pub in Edale, follow the Pennine Way trail west through the scenic grazing fields until you reach the paved road by Upper Booth Farm. From here, follow signs for Jacob's Ladder, continuing west and northwest on the Pennine Way. Once you cross the small bridge over the River Noe, you'll find the start of Jacob's Ladder.
The ascent is more strenuous than the easy walk to get here, particularly during or after rain. But, once you reach the top, there's plenty of space to sit, relax, and enjoy the view. At this point, you can either return to Edale the same way you came or continue on down the other side towards Kinder Scout.
Fortunately, you don't need much hiking gear to climb Jacob's Ladder. A pair of sturdy walking or hiking boots is enough, though a set of poles will help immensely on the way down, especially if it's been raining.
Walk recommended by Chelsea from The Portable Wife
---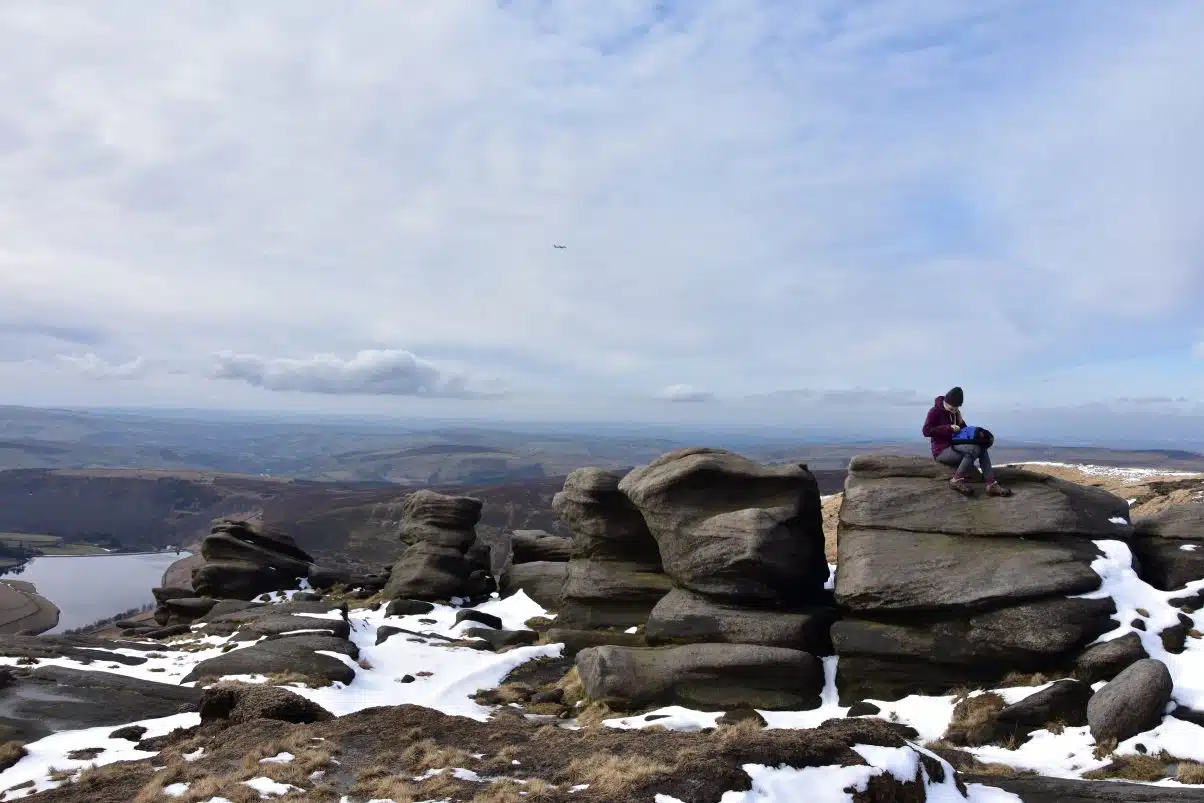 Kinder Scout from Edale
Location: Edale – Dark Peak Area
Starting/Finishing Point: Edale
Recommended Time Needed: 5-6 Hours
Difficulty: Moderate
Kinder Scout is the highest point in the Peak District making this sturdy climb a great choice for those who want a bit of a challenge. Once you reach the Kinder Plateau, brace yourself for glorious panoramic views of the surrounding valley. This view will always be a sincere reminder of the courageous protestors from the 1932 Kinder mass trespass, where people fought to gain access to this beautiful stretch of land.
Brace yourself for the steadily increasing elevation of the rugged Grindsbrook Clough Valley. Once the terrain levels off, walk over to the rocky Kinder Downfall overlook, and check out the scenic vistas of the Kinder Reservoir. The craggy plateau gives way to the rolling hills and marshy moorlands, that define the Dark Peak section of the English countryside.
Amble along the meandering pathway that collides with the Pennine Way before reaching the steep, stony staircase of Jacob's Ladder. A wooden handrail runs parallel to the steps in case you need extra support on the sharp descent.
Cross the Packhorse Bridge and listen to the creek peacefully flow beneath your feet, before sauntering to the splendid greenery of Upper Booth.
Durable hiking shoes are a must and trekking poles are recommended for this difficult trek, that marches through unstable terrain. Wait for dry weather conditions to avoid marching through muddy peat bogs.
Walk recommended by Alexander from Spottico
---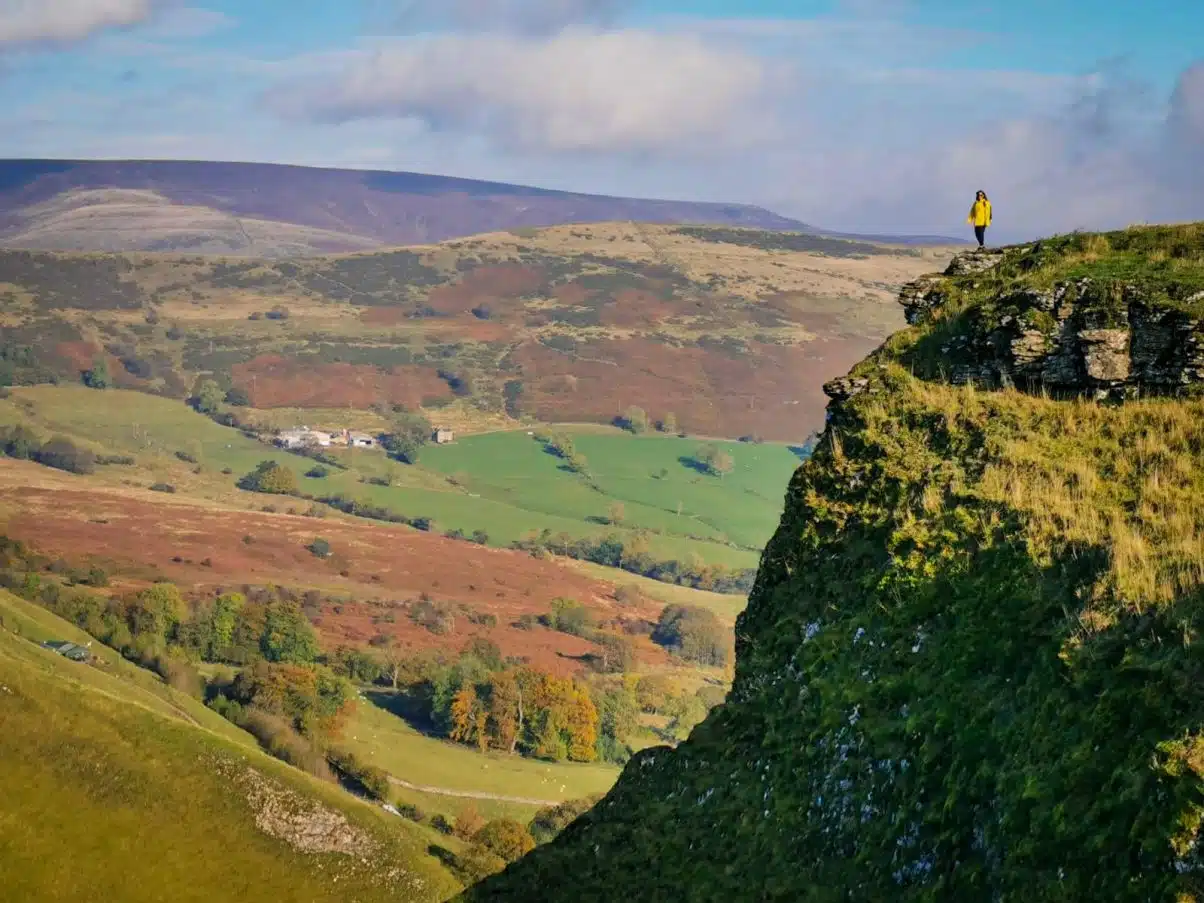 Winnats Pass Hike
Location: Castleton, Hope Valley
Starting/Finishing point: Castleton Visitor Centre
Recommended time needed: 2 hours
Difficulty: Intermediate
This challenging circular Peak District walk takes you through this spectacular mountain pass. Winnats is short for 'Windygates', which is apparent as you walk along the ridge.
The hike starts at the village of Castleton and past Speedwell Cavern before reaching a short but steep section taking you to the top of the pass. This section requires some scrambling though there is a rope to help, and it is advised to go up this direction rather than down as it can be quite slippery. However, the views from the top of the limestone pinnacles are well worth it. You'll see cars driving through the pass below, and it's likely there won't be many hikers, compared to Mam Tor which is adjacent.
This short Peak District walk is the ideal choice for those who like having the trail to themselves, are confident scrambling in places and are limited on time.
Walk recommended by Roshni from The Wanderlust Within
---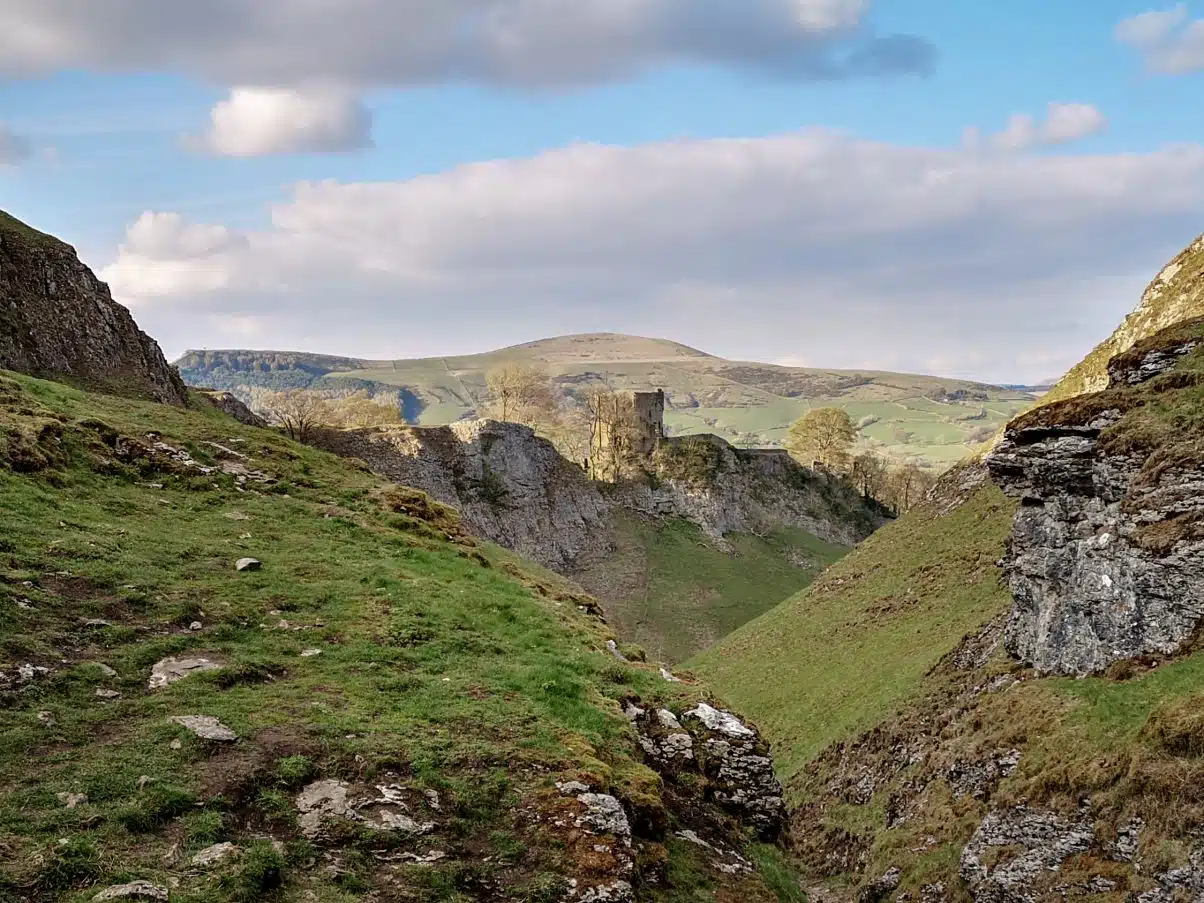 The Limestone Way
Location: The Peak District National Park
Starting/Finishing Point: Rocester in Staffordshire to Castleton in Derbyshire (or in reverse)
Recommended time needed:

Between two and five days

Difficulty: Intermediate but endurance is needed due to being a multi-day hike
If you're looking to challenge yourself with a long hike, the Limestone Way is the route for you.
At just under 46 miles, the trail is often completed as a multi-day hike. However, it is also possible to walk the Limestone Way in two days as demonstrated by Jo and her husband at Backpack and Bushcraft.
The route is beautiful and varied, starting in Staffordshire and ending in the beautiful village of Castleton in the Peak District National Park.
Of course, as its name suggests, this trail will provide ample views of limestone rock as well as rolling hills and fields full of sheep and cows.
It is a mostly quiet route, even in summer with some peaks in hikers around central areas such as Tissington Hall (great for an afternoon tea stop).
The terrain is easy and relatively flat, with some gentle rises along the way. The clearly marked trail and gradual inclines make this walk a great choice for those wanting to take in the beauty of the Peak District on a multi-day hike that's not too challenging elevation wise.
Walk recommended by Jo from Backpack and Bushcraft
---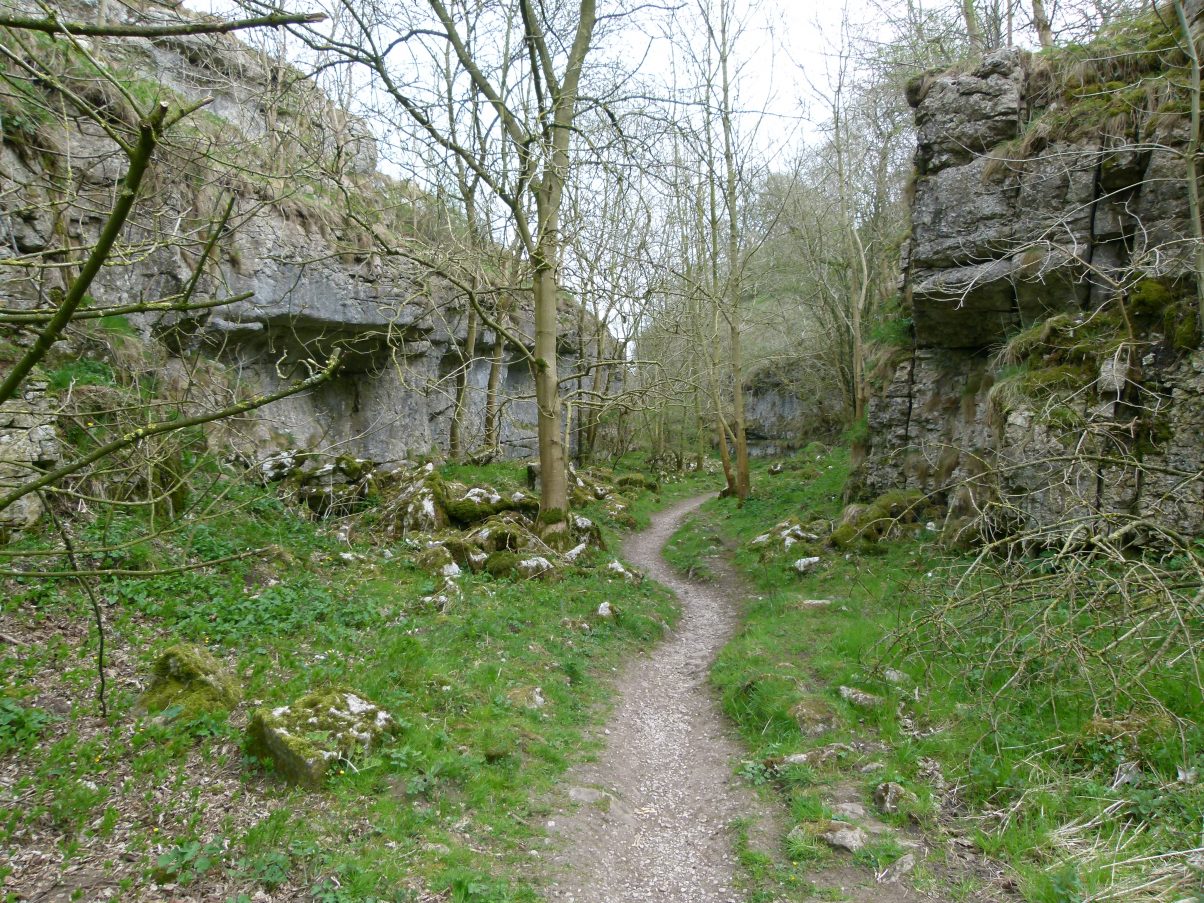 Lathkill Dale Hike
Location: Near Youlgreave
Starting/Finishing point: Parking area at the junction of Back Lane and Moor lane outside Youlgrave
Recommended time needed: 3 1/ 2 hours
Difficulty: Easy
Lathkill Dale, is one of the country's finest limestone valleys and a haven for flora and fauna. It derives its name from the Norse Hlatha-gyll, meaning "barn in a narrow valley", with the River Lathkill's crystal water running along with it.
In addition to farming, the valley has in its time seen much industrial action by millers, quarrymen and lead miners and remnants can be seen. Millstones and the interesting Bateman's House, which has information boards telling you about pumping water from the lead mine and an opportunity to peer into the mineshaft itself.
The walk passes between dramatic limestone cliffs at the start of the trail, before joining the path alongside the river Lathkill. The valley contains an area enclosed to protect the rare Jacob's Ladder flower, so rare that it is listed in the British Red Data Book of plants. It derives its name from the shape of its leaves which resemble a ladder (if you stretch your imagination a little). In the spring you might also see wild orchids making this a great walk for nature lovers.
Walk recommended by John from Happy Hiker
---
Peak Pilgrimage Hike
Location: Staffordshire and the Southern Peak District
Start point: Ilam Youth Hostel.
Endpoint: Miners' Arms, Eyam.
Recommended time needed: 3 days.
Difficulty: Intermediate due to being a multi-day walk
The Peak Pilgrimage is a beautiful low-level walk through picturesque villages and valleys, between two fascinating historical destinations. Ilam is a Swiss-inspired village on the edge of the popular Dovedale Valley, with an impressive castle-esque youth hostel. While Eyam is a village famed for its heroic role in isolating itself from the surrounding area during a 17th-century outbreak of the bubonic plague.
This popular trail takes you through rolling hills and glistening valleys past some of the highlights of the Peak District National Park. Notable features of the hiking route are the Dovedale stepping stones, the beautiful Lathkill Dale and stunning Chatsworth House. But, the most unique feature is the boundary stone just outside Eyam which tells its own story of love and sacrifice. The story of Eyam inspired a play, 'The Roses of Eyam' and this pilgrimage route! It has even been featured on Radio 4's 'Ramblings', and the story will give you pause for thought as you pass.
There are plenty of accommodation options along the trail, with Bakewell making an obvious stopover. Take a look at our Peak District accommodation guide above for options in the area.
This trail is best done in early summer when the trees are in bloom and the streams burbling merrily.
Walk recommended by Julia from Ipse Wilderness
---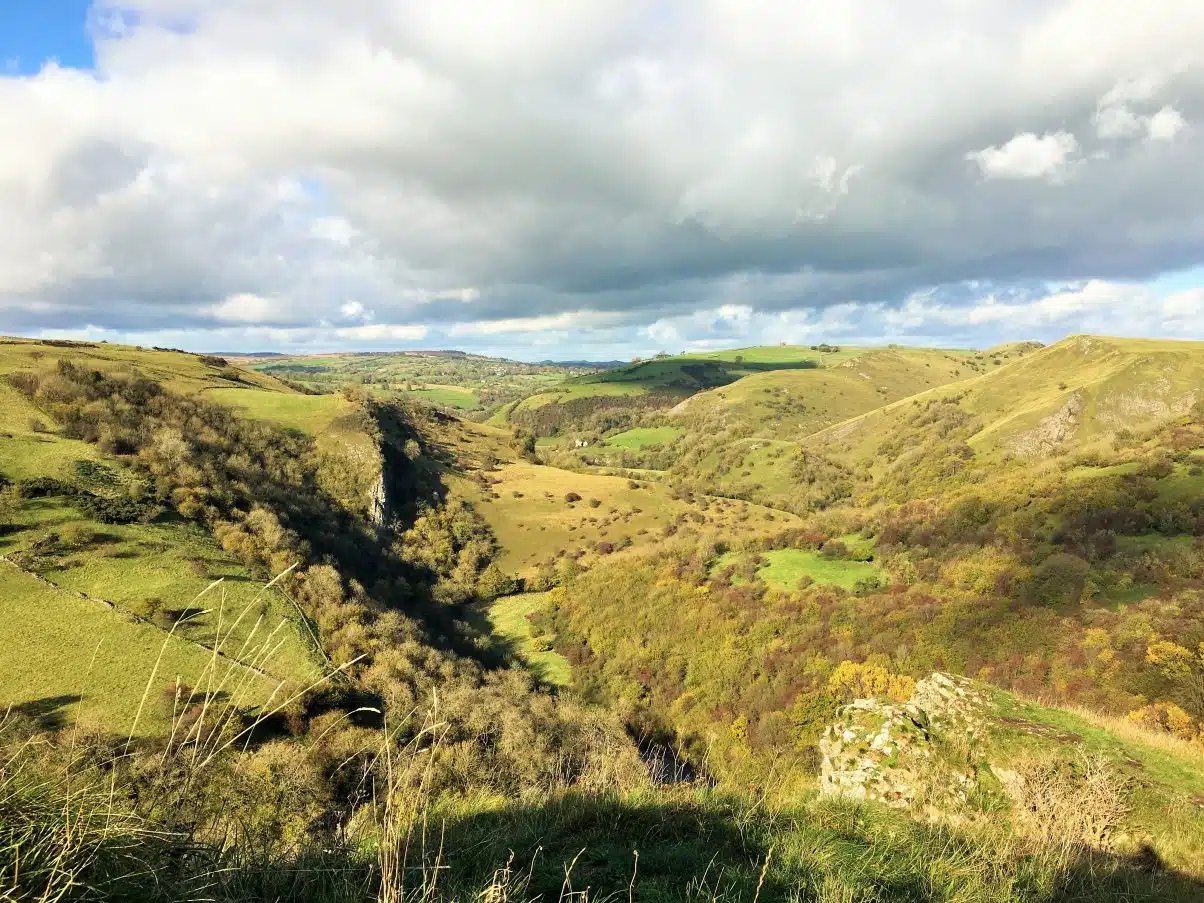 Thor's Cave Hike
Location: Manifold Valley
Starting/Finishing point: Wetton village
Recommended time needed: 3 hours
Difficulty: moderate
The walk begins at the small car park in Wetton with a tea room nearby for refreshments. Beginning in woodland, the path runs next to the Manifold river before crossing it then heading into woodland where there is a steeper section culminating in Thor's Cave: a fascinating wind-carved limestone cave.
From the cave, the walk continues on through a mixture of woodland and open pathways to the church at Grindon before making its way back to Wetton.
The walk is really enjoyable in autumn when the scenery from the viewpoint on top of the cave is particularly impressive, with the many changing colours of the season on display in the Manifold Valley below.
If you're travelling with children, it's worth noting that the cave has very slippery sides when you climb into it (and slide out of it) and there is quite a drop from the viewpoint on top of the cave.
Walk recommended by Annabel from Smudged Postcard
Mam Tor Circular Walk
Location: The Peak District
Starting/Finishing point: Castleton village
Recommended time needed: 2-3 hours
Difficulty: Moderate
This short trek, steeped in ancient history, is often said to be one of the best ridge walks in the country. It is suitable for nearly all levels, with a walk through some of the most beautiful parts of the Peak District.
Starting in Castleton, the path takes you through a short series of steps through the woodlands and across wide fields. The route offers iconic views over Hope Valley, Edale, and possibly Kinder Scout from the top of Mam Tor. This is a good place to enjoy a packed lunch if the weather permits.
While in the area, it is worth exploring a couple of the best attractions in the Peak District, the likes of Peveril Castle, Treak Cliff and Blue John Cavern before completing the circular route and returning to the starting point.
Walk recommended by Rai from A Rai of Light
Kinder Scout walk via Grindsbrook Clough
Location: Edale
Starting/Finishing Point: Main car park in Edale
Recommended time needed: 4.5 hours
Difficulty: Moderate
Kinder Scout is the highest point in the Peak District and definitely worth the hike up. The top of Kinder Scout is less of a mountain peak and more of a large (10km) windswept, rugged bog that has some of the most beautiful scenery and views of the entire area.
The route via Grindsbrook is one of the most popular routes to Kinder Scout as it gives you the opportunity to see lots of different scenery. Make sure that you hike this trail on a sunny day when there has been no previous wet weather as the rock scramble up Grindsbrook Clough can become very slippery when wet.
Bring supportive hiking boots with a good grip as well as layers of clothing in case the weather changes rapidly. A windproof jacket is recommended once you arrive at the top of Kinder Scout as the bog is extremely windy.
Recommended by Jess from Unearth the Voyage
Thorpe Cloud and Dovedale Stepping Stones Walk
Location: Dovedale
Starting/Finishing point: A loop from Dovedale car park
Recommended time needed: 1 – 1.5 hours
Difficulty: Moderate
Thorpe Cloud is a great walk in the Peak District with magnificent views of the surrounding rugged peaks. The trail loops from Dovedale Car Park making this a great option to travel to on bike or car, as you can travel back easily from where you started.
As the name suggests there is a stepping-stone section to the hike which take you across the river running through the valley. This adds an element of fun to the hike also skill if it's been raining and the stones are slippery. There's then a 200m incline to reach the peak which is an ideal place to watch the sunset after your hike.
This is a popular trail so it's not uncommon to meet other hikers as you walk, and with beautiful sweeping views from the top, it's not hard to see why.
Walk recommended by Jacs from Flashpacking Family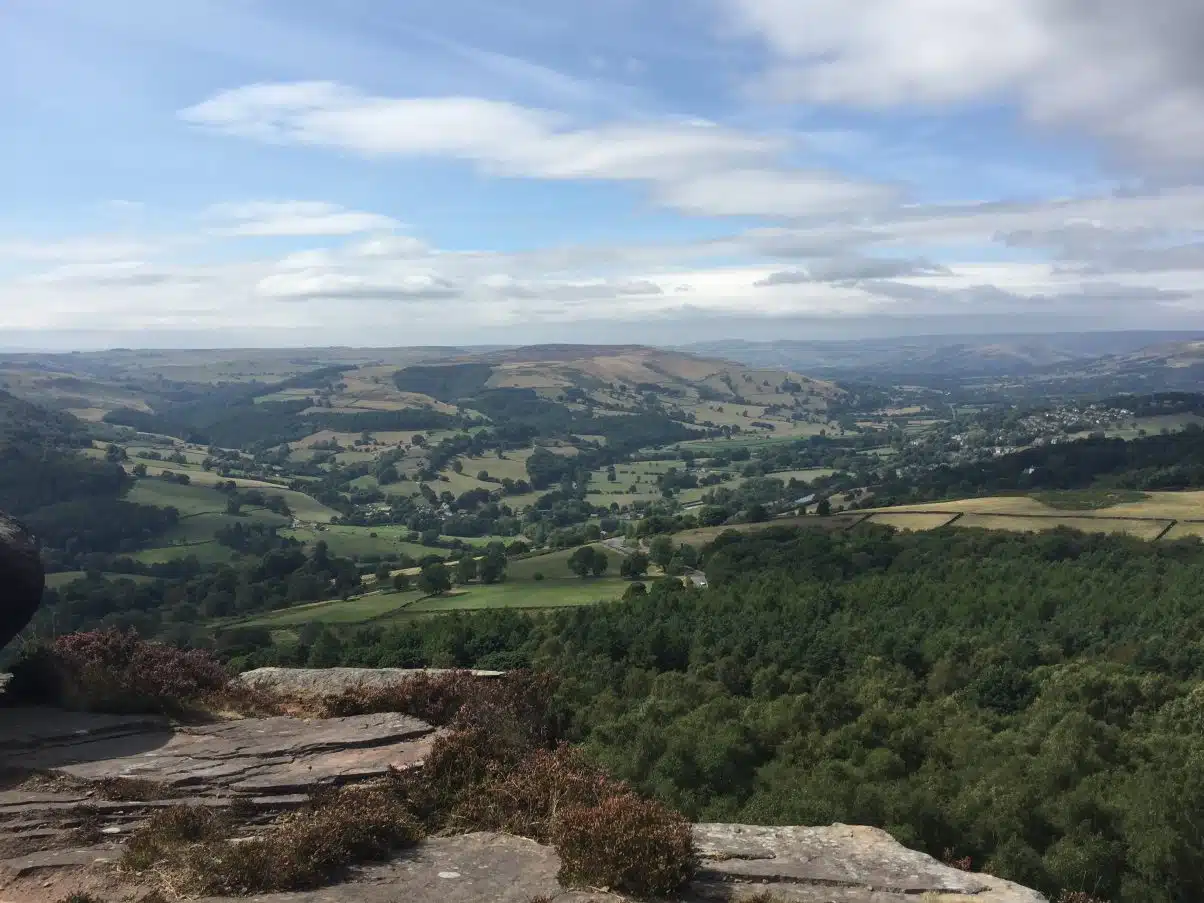 Fox House to Longshaw Hike
Location: Sheffield
Starting/Finishing point: Start and end at Fox House Inn on Hathersage Road
Recommended time needed: 2 hours
Difficulty: Easy
If you want to discover the Peak District but are a little strapped for time, why not consider doing the Fox House to Longshaw trail?
This is a gentle walk over 4.5 miles with a 200m ascent through the rolling hills of Padley Gorge, before heading to Granby Woods on the Longshaw Estate. From here the trail crosses over Whits Edge Lodge, set in the wild moorland landscape, ending in Longshaw. The walk does not have much in the way of hills, however, the path may be muddy and slippery so walking shoes are advised.
This peak district walk is a good choice for a quick morning or afternoon hike, or if you're looking for something a little less strenuous. The trail offers stunning views as you climb steadily taking in the surrounding countryside making this a popular hike for travellers.
Walk recommended by Daniel from Layer Culture
Stanage Edge Walk
Location: Stanage Edge, Hope Valley
Starting/Finishing point: Hathersage Train Station
Recommended time needed: 3/4 hours
Difficulty: Intermediate
Stanage Edge is a classic hiking trail in the Peak District National Park, with an almost continuous line of cliffs across beautiful moorland. It's a great place to rock climb, boulder or hike! Whilst the rocky cliffs only reach 25m in height, the cliff edge runs for about 4 miles.
You can start and finish this trail completely by public transport. Catch the train to Hathersage, wander through the pretty village and through woods before reaching the Dark Peak moorlands. You'll see the ridge looming in the distance.
Once you reach Stanage Edge you can walk up or scramble up the cliffs! This is a super fun hike for all abilities. Furthermore, Jane Austen fans may recognise Stanage Edge as the place where Keira Knightly stands in Pride & Prejudice.
The trail is amazing, regardless of what time of year you go. It can be a little slippy on the rocks though, so be careful in wet weather.
If there is one hike you must do in the Peak District National Park, it's Stanage Edge!
Walk recommended by Anna from My Travel Scrapbook
What do you think of these Peak District walks? Which one is your favourite or would you add others? Tell us in the comments below!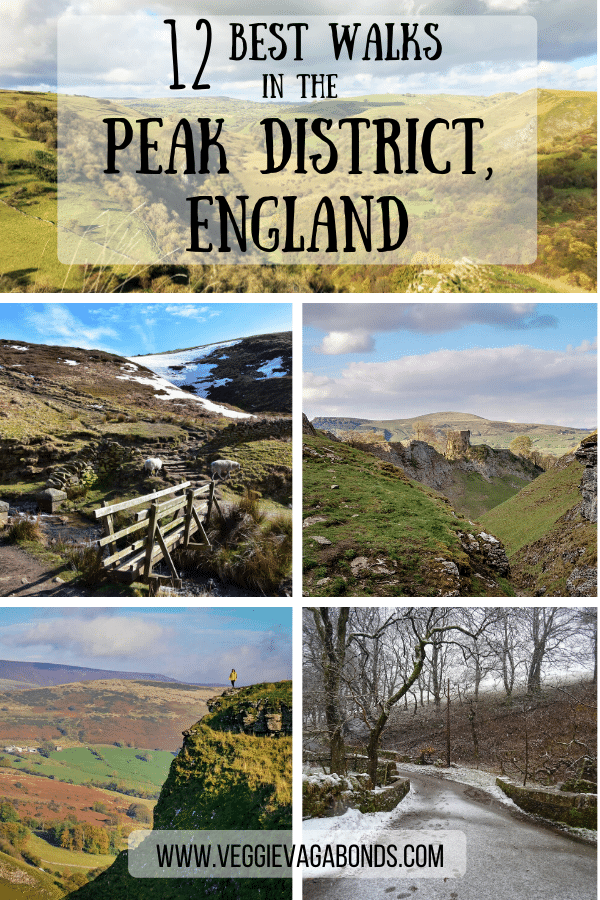 Peak District Walks: A Complete Hiker's Guide
By now I'm sure you're itching to get out there and get hiking. The Peak District is somewhere very close to our hearts, and, with so many incredible valleys and rugged peaks to explore it's easy to spend days here immersing yourself in the countryside.
There's a hike to suit any occasion so depending on your trip you can mix and match any of these options for the perfect experience. If you have any questions about walks in the area, or any other queries about your trip drop us a comment below. Happy Hiking!