A Review of the Petzl Swift RL headtorch, after months of winter biking, hiking and running
---
Trying to extend your outdoor activities into the dark hours can be quite a daunting task without proper lighting.
We've had many outdoor trips where headlamps fail on us, get waterlogged, batteries die painfully quickly, or, just aren't quite bright enough.
I've been putting the Swift RL from Petzl to the test, which is hotly tipped as one of the best outdoor headlamps on the market.
At only 100g, the 900-lumen light uses rechargeable 2350 mAH lithium-Ion batteries with an impressive life. Basically, that's a very powerful light that can run for a long time.
But the biggest selling point is the Reactive Lightning (hence the Petzl Swift RL) which adapts the headlamp brightness to the lighting in your surroundings. Perfect if you're running/biking/hiking between different environments and don't want to keep having to change the brightness. It's also key for maximising use from each charge.
It all sounds very promising, but how does it actually handle in the field? Keep reading below to find out.
Contents:
This article may contain affiliate links, they will never cost you more money but helps Veggie Vagabonds keep making content like this – thank you!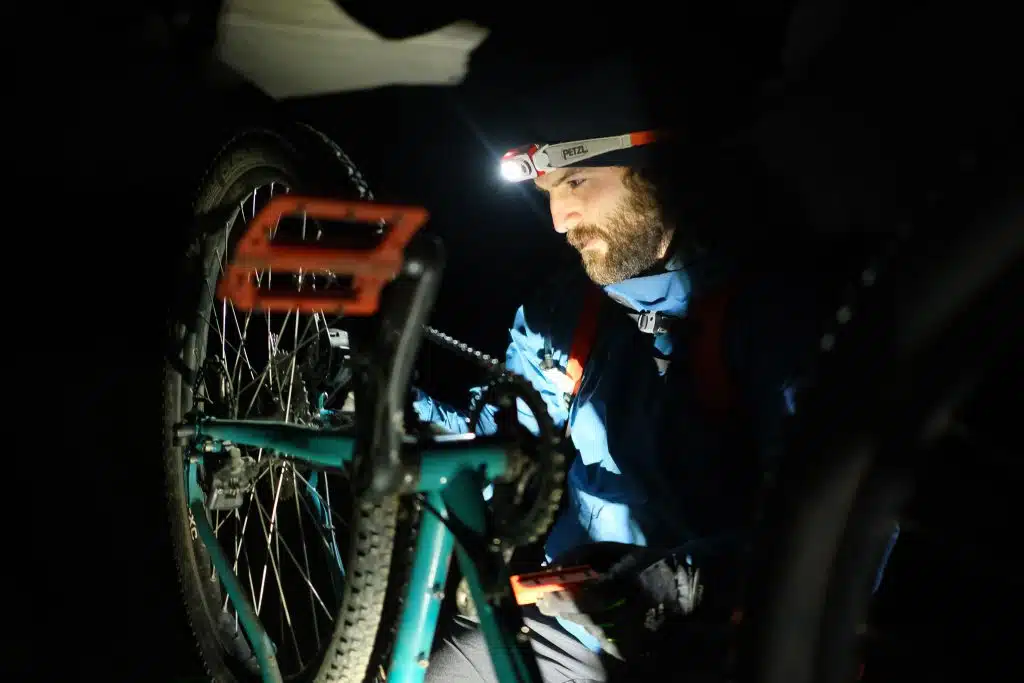 The Petzl Swift RL headtorch features
The Swift RL is a compact and powerful 900-lumen headlight, with rechargeable batteries and REACTIVE LIGHTING technology (more info on this below).
At only 100g, it's a dynamic headtorch aimed at mountaineers, trail runners, skiers, cyclists etc. who need strong battery life for overnight outdoor pursuits.
Specifications:
900 lumens with 3 brightness functions and reactive or standard lighting
100g
Mixed beam pattern
2350 mAH Lithium-Ion rechargeable battery
6 hour charge time
IPX4 weather-resistant watertightness
How I used the Swift RL headlamp
I've mostly been using this as a trail running headlamp, or for MTB and bikepacking. It's also been on my general wild camping and hiking packing list.
For the fast-paced things like cycling and running, it's been used in a mix of remote landscapes with few obstacles all the way to busy woodlands where avoiding low-hanging branches is crucial.
Over the last few months, it's also been used on many group trail runs, which has given some interesting results.
Having it through the winter, it's been in freezing conditions, heavy rain, wind and snow too.
Liking this Swift RL Headlamp review? Here's some more to explore later…
Swift RL results from the field
1. Comfort
First off, the comfort – it's a very comfortable headtorch!
At only 100g, the weight isn't significant on your head and the strapping is soft enough to wear without a hat/buff etc.
I find trail running gives the ultimate head torch test: you need it to be tight and the constant bouncing can be uncomfortable with some head torches. The Swift RL doesn't bob up and down on your head, or slide around. There are also no sharp or painful sensations around the strapping.
This is all helped by the dual straps on the back that help to keep it fitted to your head (instead of a simple single strap that many other head torches have). It does a nice job of keeping the lamp secure and in place. I've not had to readjust it for any outdoor uses.
The strapping also gives enough room if you want to wear it over multiple hats or layers.
Overall, the comfort can't really be faulted.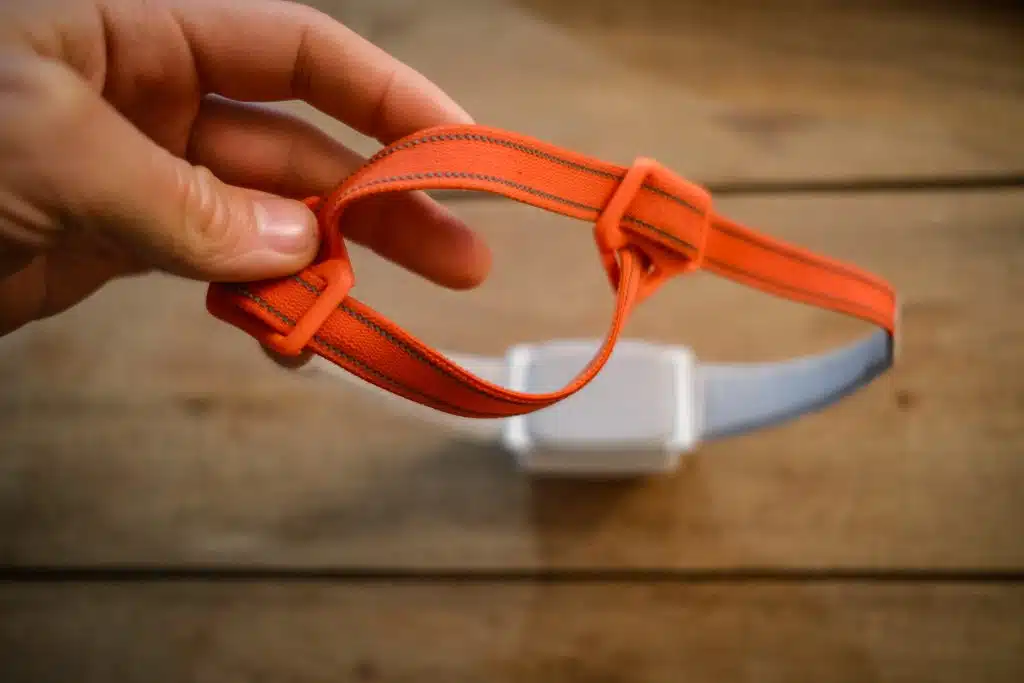 2. Swift RL Lighting
The Petzl Swift RL has 3 brightness levels in either reactive lighting or standard mode. This is all operated from a single button on the top of the head torch.
With one click, the torch is automatically in reactive mode at 100 lumens, two clicks 300 lumens and three clicks 900 lumens. The fourth click switches it off.
To get onto standard mode, you just long-press the button and can then switch between the three modes (10, 200 and 550 lumens) with individual clicks.
I found that around camp and slow-paced movement, the 100 or 300 mode was enough. The 900-lumen mode is impressively powerful for cycling and running if there are obstacles or changes in the surface.
All in all, the brightness has been more than adequate for all my outdoor uses. Each of the 3 lighting levels tick the boxes of all adventure scenarios I've come across.
The Swift RL also doesn't mess around with heaps of different coloured and flashing lights, which I like. I understand they have their uses, but for me, I've always seen them as gimmicks that I haven't used.
But it's not all perfect.
The standard light seems to be more concentrated and far-reaching, whilst the reactive light seems to be more dispersed. Other head torches have modes to switch between dispersed and concentrated beams, which is useful.
It can also be difficult to know which mode you're on. But I'll get onto that in the next section below.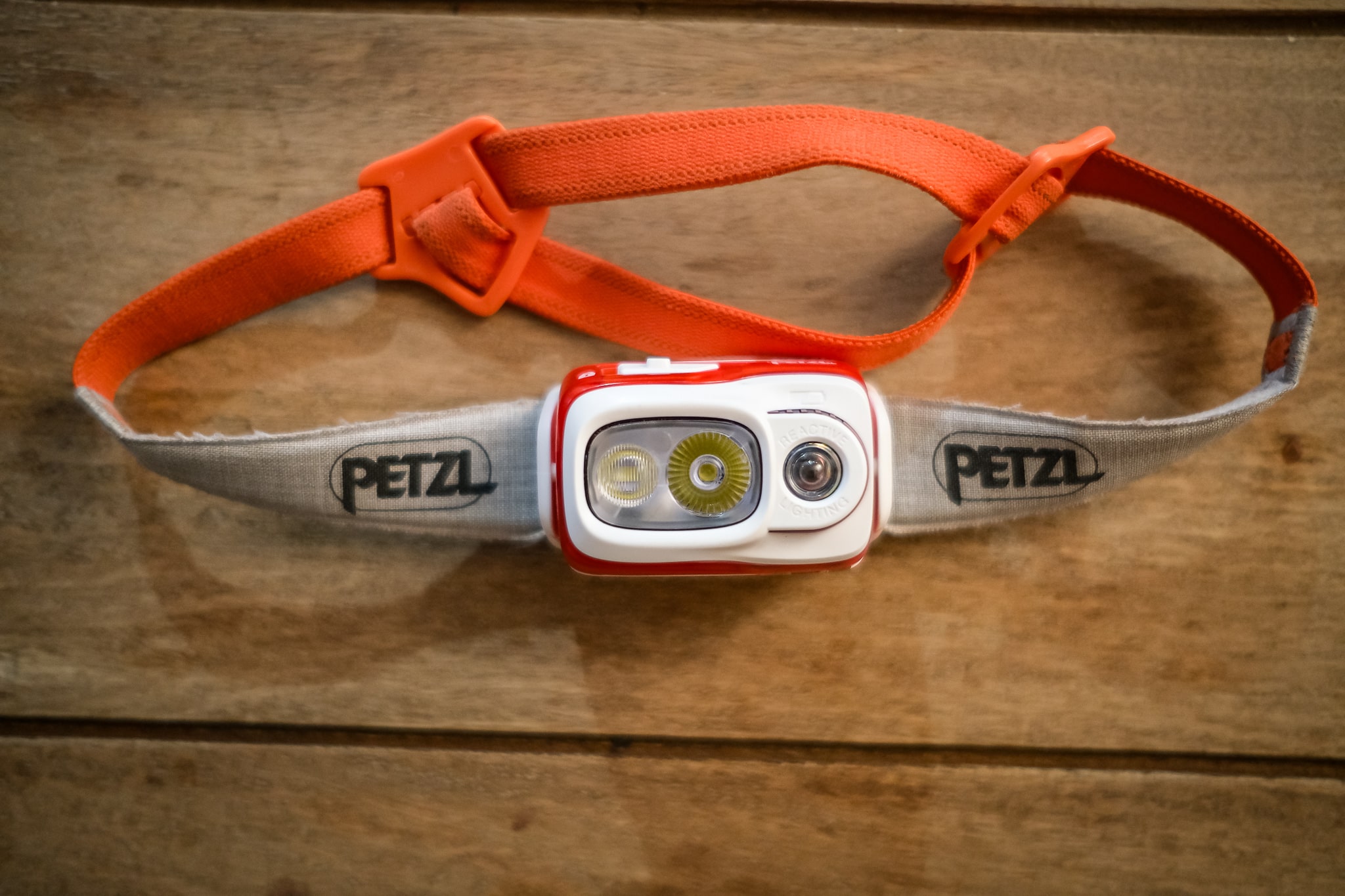 3. Petzl Swift RL headtorch Reactive Lighting Technology
The Reactive Lighting is one of the Swift RL's biggest selling points.
In a nutshell, it uses a light sensor to automatically adjust the strength of light depending on how much light is around you.
For example, if you were running across dark fields, it would automatically use a higher-powered light. This would immediately drop if you ran into a well-lit area. This helps you conserve battery.
It also means you don't need to switch between modes on the move, instead the head torch does it for you. The switch between brightness levels isn't drastic or distracting, but it is sensitive enough to adapt to small changes in surrounding light.
When cycling from dark moors into towns, or running from woodlands to well-lit roads, it's a really useful feature. Ordinarily, I wouldn't think to change the brightness level, and so it does mean you get a much longer burn time.
As useful as it is, it's a double-edged sword. The brightness levels also have a habit of changing when you don't want them to.
I've noticed this most when cycling and the headlight crosses beams with bike lights. Or, when the lights illuminate road signs.
It also happens when running with others who are wearing hi-vis, reflective materials or running head torches of their own. In situations like this, the light will dim, but you may not want it to.
In these situations, I've stuck to standard mode, however, it is frustrating as it only reaches 550 lumens compared to 900.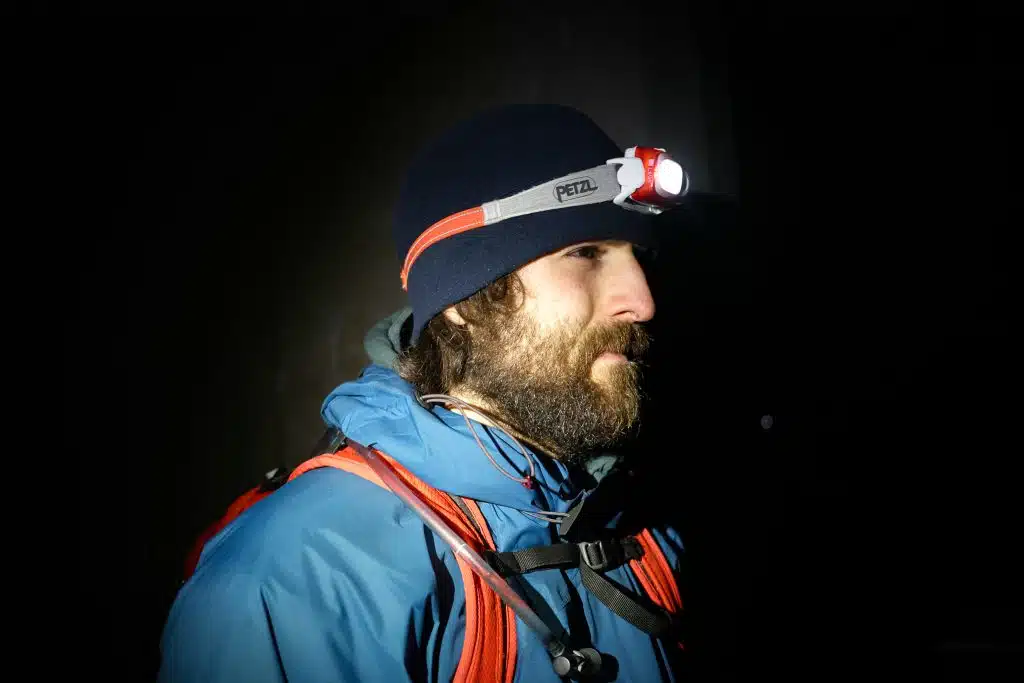 ---
If you want more helpful gear reviews and guides, sign up for our newsletter to get our latest posts
---
4. Functionality
I would say the functionality is one of the best and worst points about the Swift RL.
I love the 3 simple brightness modes, all from one button. You can also slide the button to the side and lock it, to avoid switching between modes accidentally. The ease of charging from a USB port at the bottom is also great.
The battery level is shown on the top of the torch, with 5 small LED lights which go down as the battery decreases. Another handy feature.
And top marks go for the lamp, which can be tilted up and down. This means you can keep the beam pointed at the floor without having to have your head lowered. You can also wear the torch around your neck but keep the beam pointed up.
The main negatives come from the complications with the reactive lighting. There are a lot of moments when the light dims but you don't want it to.
It can also be hard to tell if you're in standard or reactive mode.
The beams are virtually the same on both modes, so once it's switched on, you don't really know which you're in.
The easiest way to tell is by putting your finger over the sensor (right next to the light beam) and if the brightness increases, it's in reactive mode. But, in action, this slows you down and isn't something you'd want to do whilst on the move.
This is also not a waterproof head torch. At IPX4, it's water-resistant. Still, I've worn this in seriously heavy rain and haven't had any issues. However, the USB port is on the bottom of the head torch and is completely open, so it could cause issues.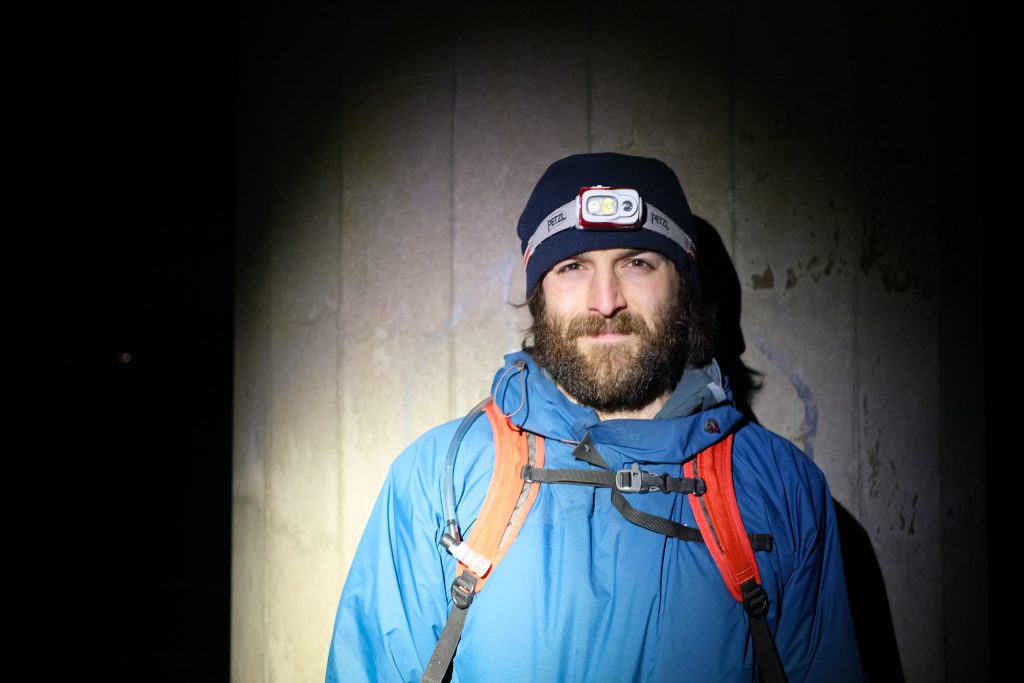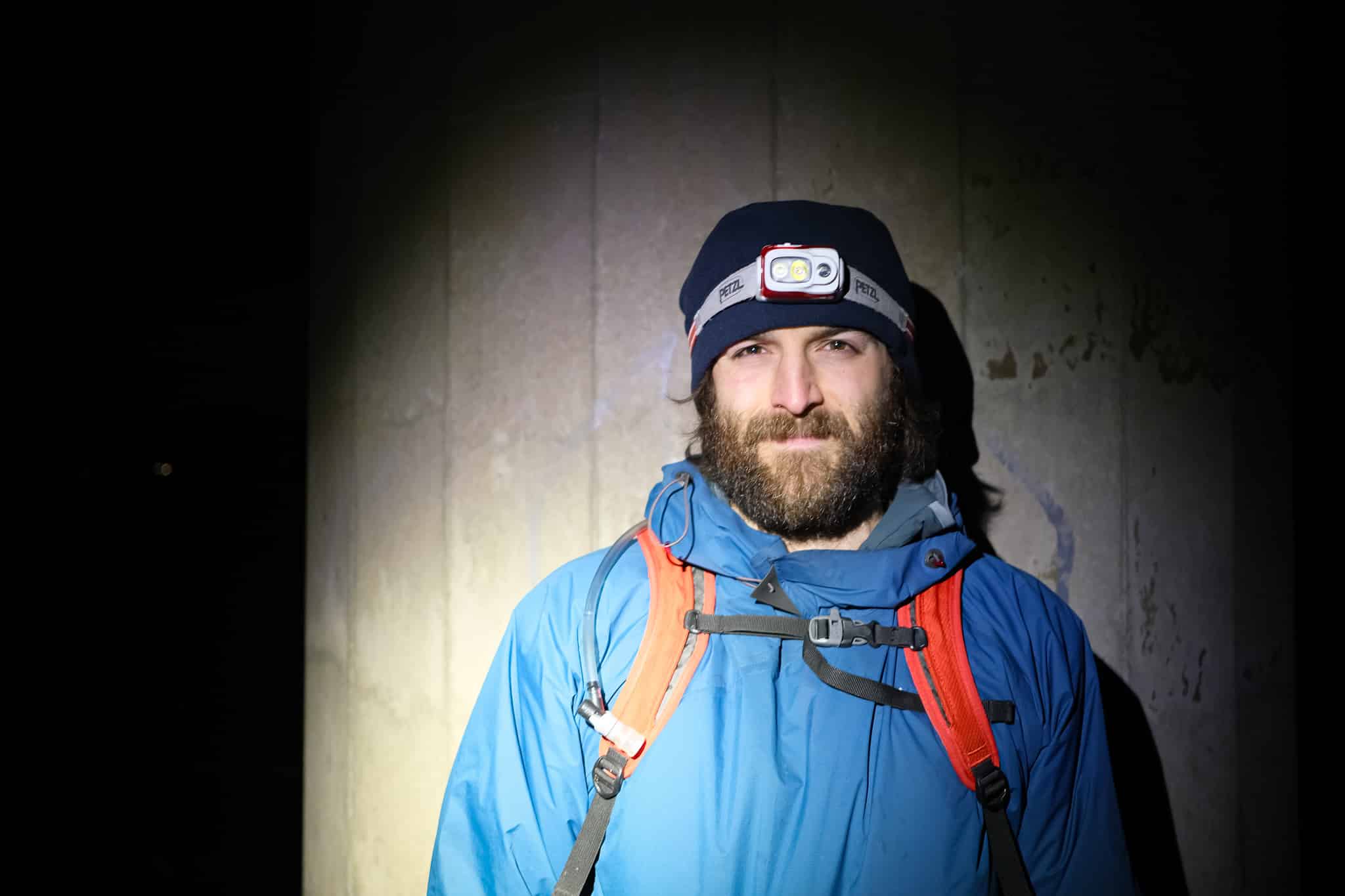 5. Swift RL battery
Overall, I think the battery life is pretty ace.
Mostly, I tend to keep the torch in reactive mode, and switched between the three levels. With this, I found the battery life to be very impressive. The Lithium-Ion rechargeable battery is powerful and helps to stop single-use batteries from being wasted.
As an example, on writing, I've just come back from a 6-day winter bikepacking trip, with around 9 hours of daylight each day. On return, I've still got 2 out of 5 bars on battery charge level.
These are the battery stats from Petzl:
Reactive mode
| | | | |
| --- | --- | --- | --- |
| Mode | Lumens | Distance | Burn Time |
| Level 1 | 100 lumens | 35m | 10-50h |
| Level 2 | 300 lumens | 55m | 5-40h |
| Level 3 | 900 lumens | 150m | 2-30h |
Standard mode
| | | | |
| --- | --- | --- | --- |
| Mode | Lumens | Distance | Burn Time |
| Level 1 | 10 lumens | 12m | 100h |
| Level 2 | 200 lumens | 55m | 5h |
| Level 3 | 550 lumens | 110m | 2h |
When comparing it to other head torches, like the Petzl Actik Core, it gives you more bang for your battery buck.
The difficulty is, in the reactive mode, the light is constantly changing and reacting. That means it's difficult to properly estimate how long it will last. If you stick to level 2 on reactive mode, you can expect 5-40 hours of use. But there's a big difference between 5 and 40.
I guess this is what you'd expect from a reactive mode and changing light beams.
The Swift RL is fully charged in 6 hours and you can bring a spare battery with you. For my use, this isn't needed, but if you're going to be doing night-long trail runs or mountain adventures, then it's something to think about.
6. Uses
I think this is an awesome trail running head torch. It ticks a lot of boxes and only really has down points because of the reactive lighting, not being able to estimate how long the battery will last etc. Though, this is only really an issue for ultra-distance athletes, or people intending on pushing through the whole night.
For cycling, bikepacking and mountain biking, it goes very well alongside a high-quality bike light. Even on tricky descents in darkness, the beam was powerful enough to illuminate the way. When riding, I'd stick to standard mode so the sensor is not confused by the bike lights.
For wild camping, mountaineering or just as a high-quality hiking head torch, it's a super strong performer, besides the reactive lighting issues.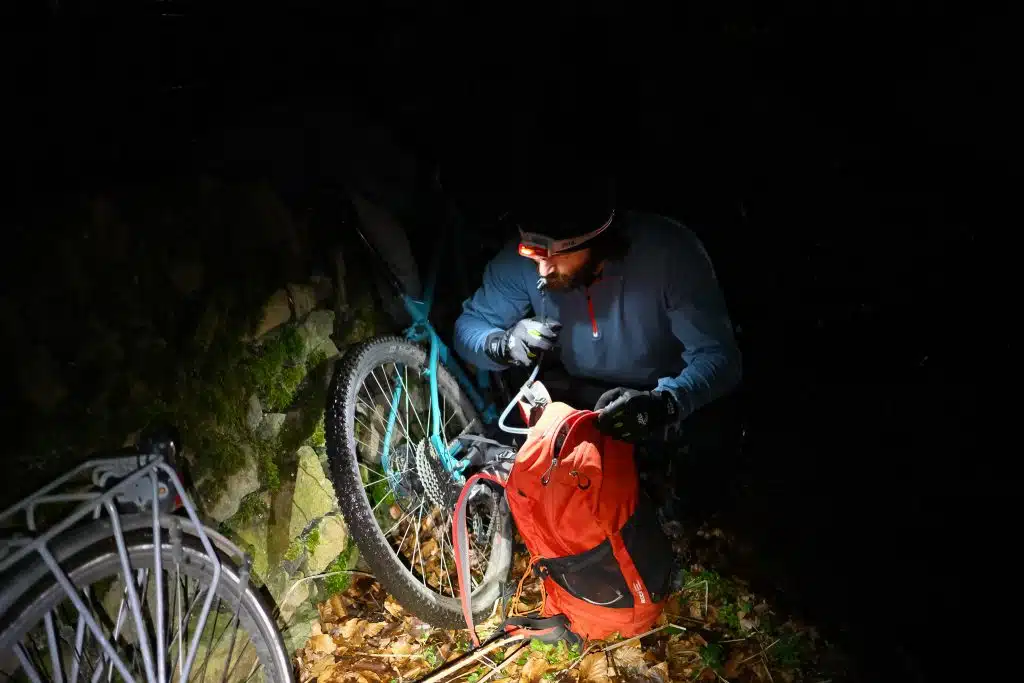 7. Costs
The Swift RL is not a cheap head torch, with prices ranging from around £60 to £100.
When comparing it to others, the Petzl Actik Pro is roughly £50, but only has 450 lumens and doesn't have reactive lighting. The Petzl Nao does have reactive lighting but is £100+ and also only has 750 lumens.
Across other brands, when you start to creep towards 900 lumens – as the Swift RL has – the prices become pretty comparable. Though, most brands, like Fenix and Biolite won't match for burn time efficiency or weight.
8. Pros, cons and verdict
Overall, if you're looking for a reliable, comfortable and lightweight headtorch with a powerful light, the Swift RL is a strong competitor.
For trail runners, mountain walkers and wild campers, I think it's a nice bit of kit. It'll also be on my bikepacking gear list for future trips.
It's got a high price point and there's a way to go to make the reactive lighting perfect. It does save a lot of battery and is very handy on the move, but for fast-paced riding and running, there are still some hurdles with the reactive lighting mode.
Almost excellent, but with a few bumps in the road.
Pros
Powerful lighting (900 lumens)
Clever reactive lighting for some situations
Very comfortable and lightweight
Impressive battery life
Simple design and handy functions
Cons
Expensive
Not waterproof
Issues with reactive lighting
9. Where to buy the Petzl Swift RL?
The Swift RL is available worldwide, across Europe, N. America and further. Prices range from £60 to £100, and you can compare buying options below.
Have you used the Swift RL before? What's your verdict? Let us know in the comments below!