If you're about to begin planning a trip this year and don't know where to start then you've come to the right place. Planning your dream travels should be incredibly exciting but it can sometimes feel like a daunting task – especially for first timers or for a new type of trip.
What things do you need to book before you travel?
What do you need to take?
How long is a good amount of time?
Do you need any vaccinations before your trip?
What arrangements do you need to make before you go?
Before planning my first adventures these were just some of the questions shooting around my head. I was confused. I really didn't know where to start and I didn't know in what order I should do everything. Now after almost 10 years of trip planning I can safely say it doesn't have to be a confusing task at all.
Over the last 10 years Sarah and I have planned adventures of every variety, from weekend city breaks and cultural immersions, to 18 month RTW expeditions, multi-country cycle tours and activity packed adventures holidays. With the whole planning process down to a T whenever new adventures are on the horizon we can kick back and do what really matters: get excited about the bloody trip!!!!
Nobody wants to be stressing about something so awesome and that's why we've put together this step-by-step guide with all the information you need for planning a trip this year. Whether you're going for 24 hour city break, a gap year to distant lands or a 3 week hiking trip through the Pyrenees, these 10 super easy steps will help you plan hassle free and also save you money. Right now we're planning a 24 month cycle journey from England to India and this is exactly how we're doing it!
Wait a minute, do we even need to do any trip planning?
'I'm just gonna turn up and see how it goes…'
Boy, we've heard this quite a number of times. As romantic as the idea sounds it's hard to have an enjoyable trip without any sort of planning. Believe me, I've tried. We're not suggesting that you schedule every aspect of your time away and make an hour-by-hour travel itinerary but a bit of preparation goes a long way.
All of the steps below are straight forward, don't take much time and will save you money and headaches in the future. Not only does some good travel prepping help make your experience problem free, it also gets you pretty damn excited to hit the road!
So here we are, 10 super easy steps to planning a trip in 2019
Step 1 – Get Inspired!
Before you even start planning a trip you need some travel inspiration. Some people have a bucket list stretching to the moon and back and others don't – either way is fine. Inspiration can be taken from every aspect of life, it doesn't even have to be from something travel related.
Reading books, blogs (VEGGIE VAGABONDS!) and magazines or watching films and documentaries can be great ways to discover new interests or fascinating destinations.
What things do you love the most? Favourite food, music, hobby, sports team, historical period… the list goes on and on but can all be foundations for your upcoming travels.
Importantly speak to those around you. Nobody knows you and your interests better than your friends and family. See if they have any exciting stories or recommendations which could inspire you and give you ideas for the trip.
Step 2 – Write It Down
If your memory is as bad as mine (it's really bad!) then this is really important, especially with some of the next steps. Write down your ideas and research. Digitally or in a notepad, it doesn't matter, just make sure it's all in one place so you have all of your planning together.
It's an easy step but saves a lot of time and is a good way to look back at the planning progress, see what you've still got to do and feel motivated by the progress you've made.
Step 3 – Decide on a Trip to Plan
Now that your head is teeming with fantastic ideas it's time to think about the type of trip you're going to be planning. Some people like to see how much time or money they have first but I think this is the wrong approach. Once you're inspired by something that gives you goosebumps work to make everything else fit around it. If you prioritise things, work hard and are willing to make sacrifices then any type of trip is possible (you might just have to rob a bank spend a bit longer saving).
My piece of advice is to remember that no single place you go can be 100% perfect and travelling is very much what you make of it. If you have an idea you like then run with it and don't get to caught up searching for the 'perfect' trip.
When we're trying to finalise our next adventure we'll normally base it on a destination, activity or interest.
Travels based around a destination
Pretty self explanatory, If you know you want to go to Egypt for example then you know you want to go to Egypt. From there you can start to focus on specific things you want to do in the country and scoot on over to part 4.
Travels based around an activity
Maybe you're planning a trip around an activity like hiking, salsa dancing, skiing, surfing etc, do a bit of research to find out the best destinations for the activity and when they're best to go to. If you already have a time period in mind then find out where is best for those months. Once you've got your activity and destination then you're set for part 4.
Travels based around an interest
Love coffee, wine, food, sports, literature, history etc. and want to plan all of your travels around it? Do a bit of searching to find out where you can make the most of these interests and hey presto, you have a trip to plan – on to part 4…
Part 4 – Time to Think & Research
With the wonders of the internet you can do all the research you need for any trip, anywhere around the world (well, anywhere with internet), for free. Doing the right research before is so important for having a successful trip, keeping you safe and saving you money. For your average travels you can easily get this done within a day and this is the order we think is best to do it…
Note*** If you don't know good places to research your travels then I've left links at the bottom of this article to some great travel resources. These include awesome blogs, forums, groups and publications which can help you plan your specific trips and also provide a lot of inspiration.
i. Make a short bucket list
Make a list of the 5-10 most important things you want to do and base the trip around them. These should be things special to you, perhaps which inspired the trip and characterise the country. Plan your trip around them and make sure you tick them all off no matter what.
There's nothing worse than trying to fit too much into a trip and it also sucks hard if you realise you missed out on something you really wanted to do. This baby bucket list is the answer.
ii. How long do you want to travel for?
This depend on what type of trip you're planning, whether you like to travel quickly or slowly and whether you have any time constraints.
For us we always work around our bucket list. Start with the things you want to do most, how long will they take and how long will it take to travel from one to the other? From that you can work out a minimum length for your trip to fit in the most important things. Then you can add in extra plans and work out how long you want for your trip in total.
Remember to take into account travelling times. It's all well and good picking 30 things to do in a country over the space of a week but how long will it take to travel in between? Our tip is always overestimate how long you need to have surplus time instead feeling like you're rushed.
For travels focused around things like multi-day hiking/cycling/sailing etc. find out how long it has taken similar people to complete by searching online or speaking with friends and family. If you're planning on doing a 5 day hike for example give yourself at least an extra day afterwards just in case it takes longer than planned or your encounter any unexpected problems.
iii. When do you want to travel?
In an ideal situation you can pick where you want to go, for how long and then decide what time of year you'll leave. If this is possible then take into consideration what you're planning on doing during the trip. Climate and seasons can impact things like wildlife, outdoor activities like hiking and if certain regions can be reached at all.
Take a look at your bucket list, find out the best time of year for those things and now you have a time frame. Also take into consideration peak travelling seasons for your destination. If you go in high season prices can be higher, booking ahead may be necessary and it will be much busier. Going in low season and accommodation and attractions may be shut and you could be the only ones there (potentially a good thing?).
Obviously it's nice to choose when to travel but this is not always possible. If you only have a specific time you can go away then find out online what destinations might be appealing for that time of year. If you have something specific in mind try google for example 'best surfing destinations in March' to see what the internet suggests.
iv. Getting there and getting around
This can be a large part of travel costs so the sooner it's decided the sooner you'll have an idea of your travel budget. Don't book anything just yet, this is just to get an idea of costs and times. This is also probably a good time to locate your passport or ID and make sure it's in date.
At Veggie Vagabonds we 100% promote sustainable travel. In 2017 we committed to stop flying in a bid to reduce our carbon emissions.
When possible we wholeheartedly recommend buses, trains, boats, cycling, walking, skipping… all incredible transport options with much lower carbon emissions than flying. All areas of Europe are connected by great bus and train options (consider interrailing?), North and Central America are well connected and the Trans Siberian Express can take you all the way from China to Europe. Almost everywhere is accessible, think outside the box and make it an adventure.
Rome to Rio is one of our favourite resources for planning a trip. You can find transport options between pretty much any two destinations in the world. It shows bus, train and flight options along with prices and travel times. Use this to give you a rough idea of prices and duration so you can set a budget.
Another good tool for planning overland journeys like cycling or road trips is Google Maps. It doesn't route perfectly but it's great to quickly get an idea of how long to get from A to B.
We understand it's not practical for everyone to take the overland option, especially if it's for a short trip. If you do choose to fly then Skyscanner is a good tool which compares flight prices with other airlines. Take a note of prices and times. If flying consider carbon offsetting your emissions.
Now is also a good time to do a bit of research on transport options within the country to see how you're going to get around.
v. Accommodation
First of all think about what type of accommodation you want to stay in and what time of year you'll be travelling. It's not always necessary to book before but this will give you a good idea of accommodation options and prices.
These are some of the best accommodation tools and resources we use for planning a trip, starting from free/budget and going towards luxury.
Camping – we love camping. It's a beautiful way to be in nature and it's normally much cheaper than standard accommodation. In many countries/areas it's also possible to freecamp legally.
Couch Surfing – an awesome option and something we wish we did more. Couch Surfing is where you stay with a local, normally free of charge, and is a great way of meeting people and getting to know local culture. This can be done all across the world with accommodation varying literally from couches to dormitories and private rooms.
Hostel World – if you're wanting to stay in hostels then Hostel World is your place to go. Has budget options on every continent with a good reviewing system so you can see which is a good choice. Isn't just hostels also shows budget hotels/guest houses.
Booking.com – for a huge selection of budget, mid range and high end accommodation then Booking.com normally has very competitive prices.
AirBnb – although AirBnb does have some good budget options we think it's best for finding quirky, homely mid range accommodation. They have properties all over the globe and you can really find some interesting locations, unlike many other accommodation sites. Get £35 off your first booking with this link.
TripAdvisor – quite an important one for all aspects of travelling. TripAdvisor is a great resource for finding reviews on accommodation, restaurants, tours etc. Can be very helpful when trying to decide between two different places.
vi. What do you need to take?
Are you going to a hotter climate? Are you going to a fancy restaurant? Are you going to be camping and clambering over rocks and mountains? Your destination and activities will determine exactly what you need to take with you. If you don't know what you need then you can find suggested packing lists for every type of trip online to see what is recommended.
After you have a good idea of a packing list then write it all down. Write all the things you'll be putting in your bags and all the bags you'll be taking. From this list you can note whether you already own the item and if not how much it will cost.
vii. Vaccinations, Insurance & Visas
Not all countries require vaccinations but it's good to find out well in advance. From the UK we use Fit For Travel or the UK Home Office website to see what vaccinations and health recommendations they advice. From there you can look at local travel vaccination clinics and find out how much they will cost. Warning, vaccinations can be expensive!
As soon as you've decided on your trip you should think about visas. Not all countries require them but some do and it may be a pretty long-winded process. Check your foreign office website to see if your destinations require any kinds of permits of visas. The home office website should also give you details about where and how to apply.
Travel insurance is another super important thing when planning a trip. I've always been reluctant to dish out the money after not needing to claim on many trips and Sarah normally has to enforce it. When we were living in Hanoi we suddenly had to come back to the UK because of family illness and our insurance paid for all of our transport costs and future bookings hassle free. Since then I'm all for insurance.
World Nomads is pretty much the best travel insurance you'll find. It has the most comprehensive cover and also lets you extend your insurance over a year if you're already out of the country (very useful for long-term travellers). It isn't the cheapest but it is the best and after our experience in Hanoi I wouldn't go on an adventure without it.
viii. Banking
Travelling with the wrong banking options can burn a whole in your pocket very quickly. Find out how easy it is to take out money in your chosen destination and if there are high withdrawal charges. Next look at your bank and see if they charge for overseas use. Nowadays there are plenty of awesome travel cards which don't charge for transactions or withdrawals which you can set up before.
ix. How much will it cost?
Having researched all other parts of the trip you'll now have a fairly good idea of your cost. In my opinion it's always best to overestimate and save accordingly so you have more than enough. If it's going to take a little longer saving for your trip it's much better than running out of cash halfway through your adventures. Calculate a rough budget so you have something to work towards.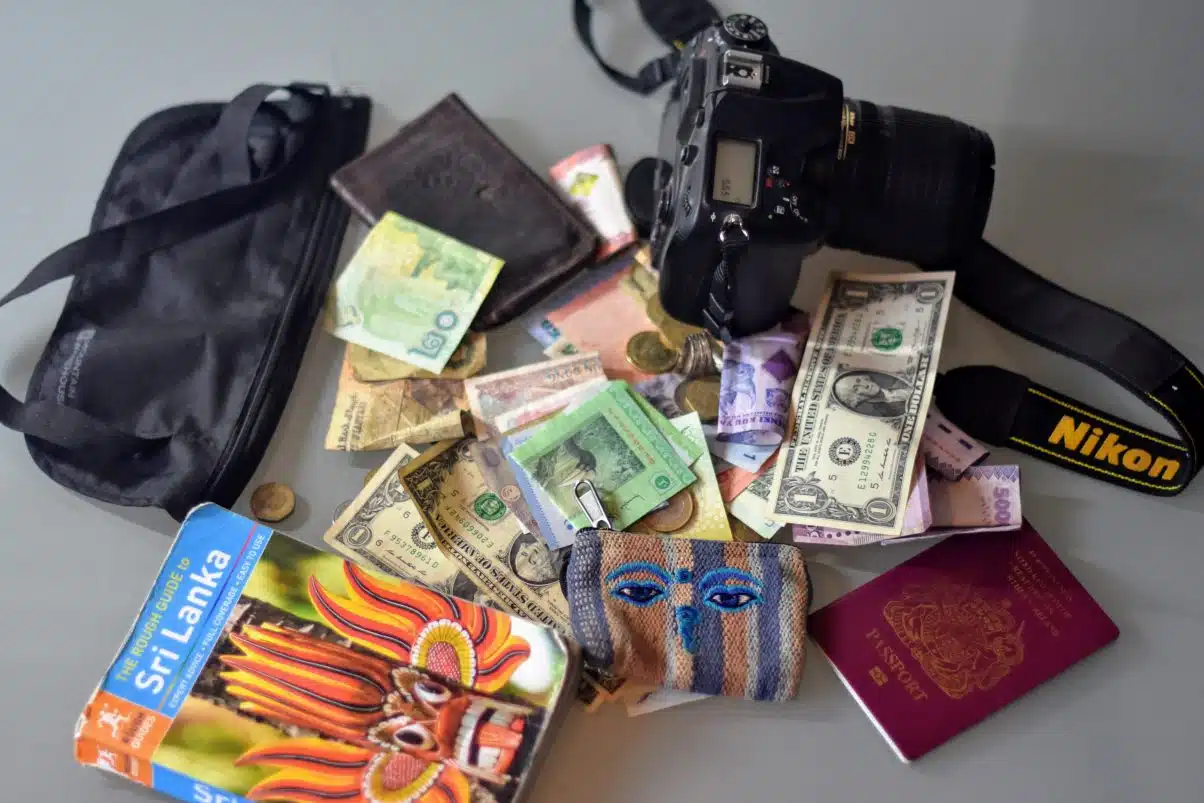 Part 5 – Set Saving Deadlines & Instalments
Are you looking at your travel budget and starting to worry? You don't need to. Start by setting saving deadlines and instalments to make it easier.
After you've worked out your rough trip costs, think how long it will realistically take to save. Work out how much money you can save each week or month and put that money aside so you can't spend it. Think about setting up a direct debit straight into a travel savings account.
Work out your expenses and try and cut back on the things you don't need. Make saving a priority and your bank account will be ready before you know it.
If you already have a ton of money in the bank and don't need to budget for your trip? Consider making a donation to the Veggie Vagabonds trust…
Part 6 – Book Time Off Work & Commitments
This is where it all starts to get exciting. Book your time off work and make arrangements for any commitments you have. Try and give as much notice as possible for anything you'll be taking time away from.
Also think about other things you have that will be affected by the travels. Do you have a dog, or run a course or have a child? Let them know so in advance so you don't have any last minute changes to your plans.
Part 7 – Organise Transport and Accommodation
Now you've got the go ahead from any of the commitments you have you can finally make the adventure official. This is the time to book transport to your destination and accommodation if you need to. Take a look at your research and see if you needed to book accommodation in advance and get booking.
Remember to clear your browsing history, cookies and use an incognito tab to get the cheapest results. Don't just stick to one searching or accommodation site, compare prices and find the cheapest option. 
These transport resources can be helpful with the planning and booking process.
Part 8 – Make a Checklist and Work Through It
Write down a list of all the things you need to do, buy or book and start to work through it.
This could include;
All the things you need buy to take with you

Getting your vaccinations done

Buying insurance

Organising your banking

Arranging baby/pet sitter

Finding your passport and travel bags…
We like to make a big list we can stick up on the wall. It's nice to have it big and visual so every time we see it we can get excited about how close we are to the coming trip.
Part 9 – Get Informed and Learn Some Language
Before you go it's important to know more than just travel practicalities. Learning about the culture, customs and traditions is good to improve your experience and help you travel more respectfully. Are certain behaviours seen as rude? Are there any important environmental issues you should know about to travel more sustainably? Are museums shut on certain days?
On top of this learning a bit of the language can be very helpful and also help you make some friends with the locals.
Part 10 – Get Excited
You've finished planning your trip now you can get excited. Keep working on your checklist, save hard and learn about the regions you'll be travelling. By the time you get to packing your bag you'll be shaking with excitement!
Links to Some Useful Travel Resources
Reddit – you'll find thousands of Subreddits all about different areas of travel but the travel, shoestring and backpacking groups are great to find information and ask questions.
Thorn Tree – run by Lonely planet, Thorn Tree is an online forum filled with travel know-it-alls from all over the world. Split up into different categories and regions so easy to find information quickly.
Facebook groups – there are thousands of different Facebook groups, often specifically for certain types of travel and destinations.
Trip Advisor – good to find reviews and compare travel options.
Wikitravel – huge collection of online travel information.
These apps for travelling can also be very useful!
Share me!
10 Super Easy Steps to Planning a Trip in 2019
When you're next planning a trip take your time to work through these steps and see how easy a process it is. Forget about headaches and worrying you've forgotten things and start looking forward the coming adventures!
Keep exploring…
The Ultimate Camping Packing List
Why We Started a Vegan Travel Blog
Outdoor fanatic? Vegan adventurer? Nature lover? Sign up for our mailing list and you'll also get the Ethical Adventure Planning Guide!